The best shredded pork for tamales is here! We will share how to make masa, fill with this, and then how to steam tamales perfectly for dinner time.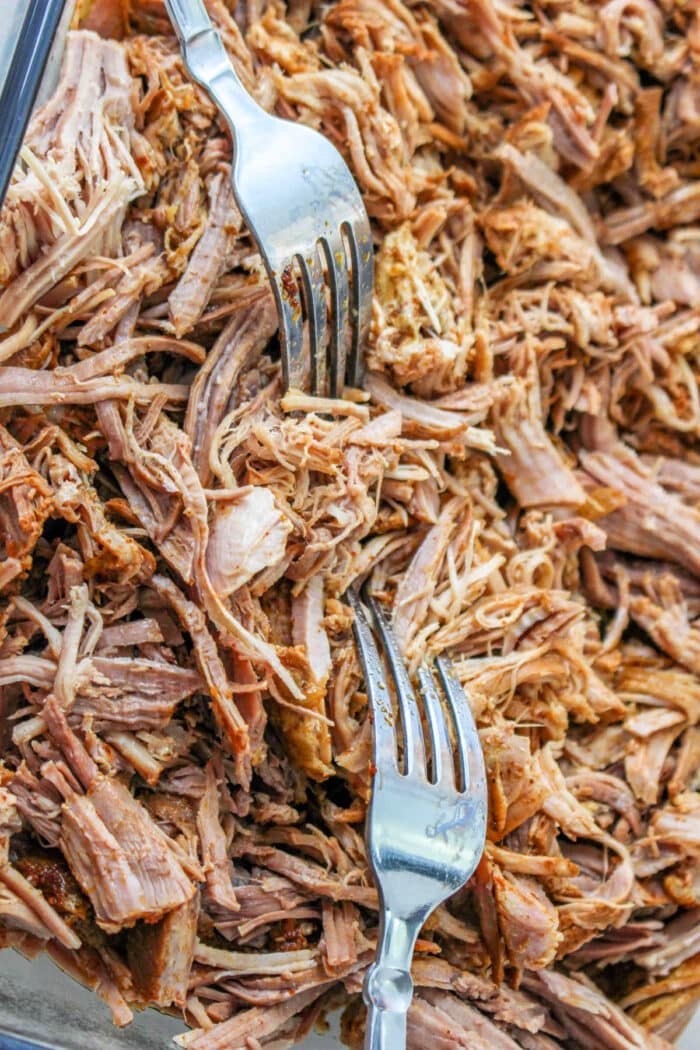 Pork filling for tamales is very popular, I would agree it is one of our favorites. Slow or pressure cooked in your Instant Pot will give you the ultimate melt in your mouth texture, perfect for soaking up your sauces. Let us share a few ways to cook this so you can make a few from scratch at home too. (affiliate links present)
Shredded Pork for Tamales
Pork tamales are a delicious and popular dish in Mexican cuisine. These edible wrapped presents of sorts are made by filling corn masa dough with a variety of ingredients. You then wrap that in corn husks and steaming them until they are cooked through. Typically filled with seasoned pork slow-cooked until it is tender and flavorful, we also have other ways it can be made.
There are many ways of cooking this popular filling. Some take less time than others, some stay super moist steamed essentially while others have a dry rub crust on the outside like our Traeger pulled pork.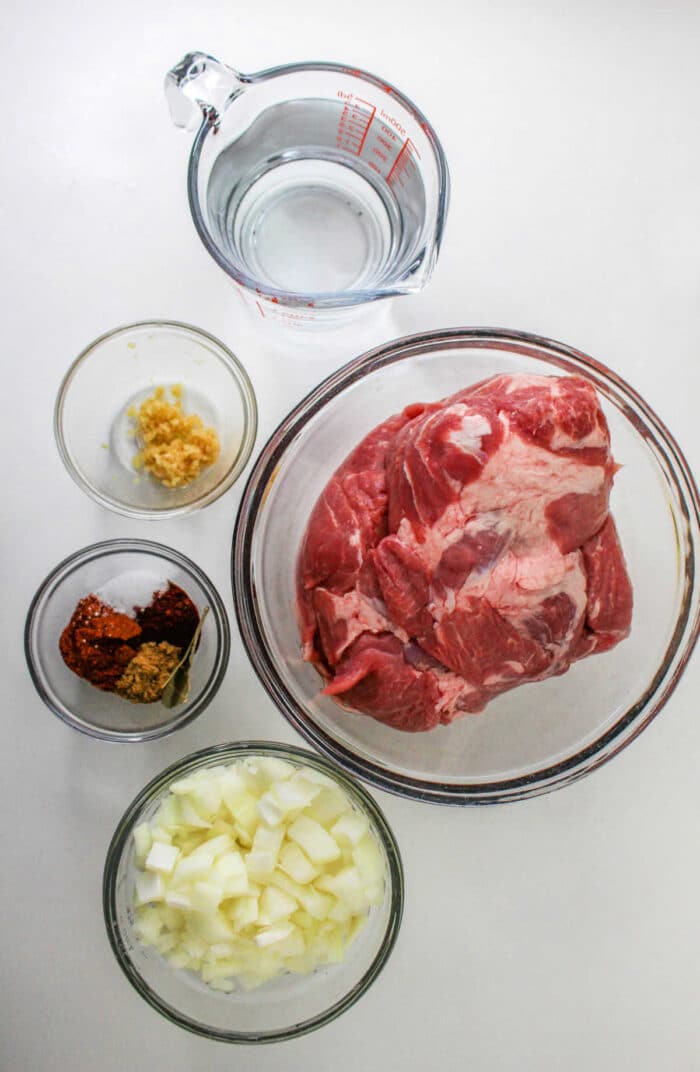 Best Pork for Tamales
The best meat for making shredded pork is pork shoulder or pork butt. These cuts of meat are well-marbled with fat and connective tissue. This makes them perfect for slow style cooking until they are tender and can be easily shredded with a fork. Both types can also be relatively inexpensive too, making them a great choice for feeding a crowd or meal planning for the week.
When shopping for shoulder or butt, look for a cut that has a good amount of fat throughout the piece. You can ask your butcher to trim any excess fat if you prefer but leaving it on will enhance the flavors.
To make shredded pork, the meat can be roasted in the oven, slow-cooked in a Crockpot or pressure cooker until it's melt in your mouth tender. To make this you'll need;
3 lbs pork shoulder bone removed, cut into large pieces
2 c water or beef broth
A yellow or white onion diced or sliced up
A bit of chili powder, or more depending on your heat preference
2 tsp salt
Minced garlic
Chipotle chili powder or red pepper flakes if that is what you have on hand
1 tsp cumin
3 bay leaves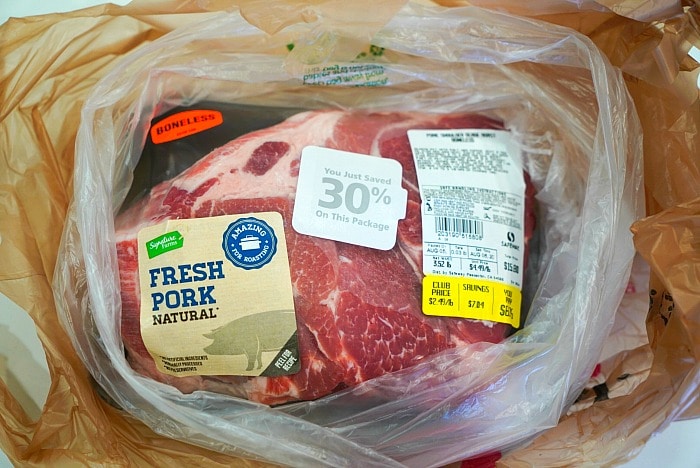 How to Cook Pork for Tamales
We are assuming that you want to cook these from scratch, this would be the first step because it takes the longest. You'd want to get this going and in that tie you could prepare your sauce and masa so that is ready once your meat is done. To prepare pork for tamales, you can follow these steps:
Choose the right cut: For these, you want a cut of pork that is fatty and tender. A few we have made and like a lot are;

If you forget to defrost, this is how to cook frozen pork butt to tender too
You can also use pre-cooked carnitas made the night before or bought at the store
Season the pork: Rub the pork with your favorite spices and seasonings, such as cumin, chili powder, garlic powder, oregano, salt, and pepper. You can also add some chopped onions and garlic to the seasoning mix.
Cook the pork: There are several ways to cook pork for tamales. You can roast it in the oven, braise it on the stovetop or in a slow cooker, or pressure cook it in an Instant Pot or similar device. The cooking time and method will depend on the cut of pork you are using and the recipe you are following.
Shred the pork: Once the pork is cooked, let it cool slightly, then shred it into small pieces using two forks or your hands.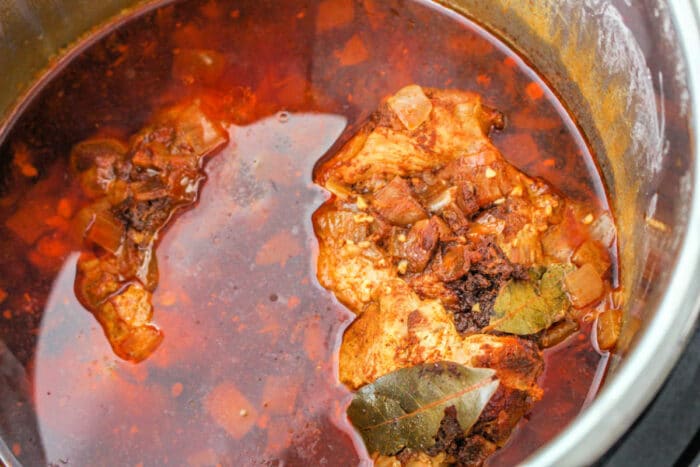 How to Shred Pork
Shredded pork is a delicious and versatile ingredient that can be used in many dishes, including tacos, sandwiches, salads, and more. Here's how to shred pork: To start with you always need to let meat rest. After cooking, let it rest for at least 10-15 minutes before shredding. This will allow the juices to redistribute and make the meat more tender.
Remove any bones or excess fat and discard. Use a knife to remove any bones or large pieces of fat from the meat in front of you. These can make it difficult to shred the meat evenly, and you don't want to eat them anyway.
You don't need fancy appliances, just use two forks. Hold the tender pork piece firmly with one while using the other fork to scrape and pull the meat apart in the opposite direction. Continue shredding the meat until it is fully pulled apart.
If it is cool enough to handle, you can also use your hands to shred to as thin or large pieces as you want. Pull the meat apart with your fingers, separating it remembering that the smaller the size the more sauce will latch on to it
You can use a stand mixer too. Another option is to use a KitchenAid with a paddle attachment. Simply place the cooked meat in the mixer bowl and let it run on low speed for a minute or two until the meat is fully shredded.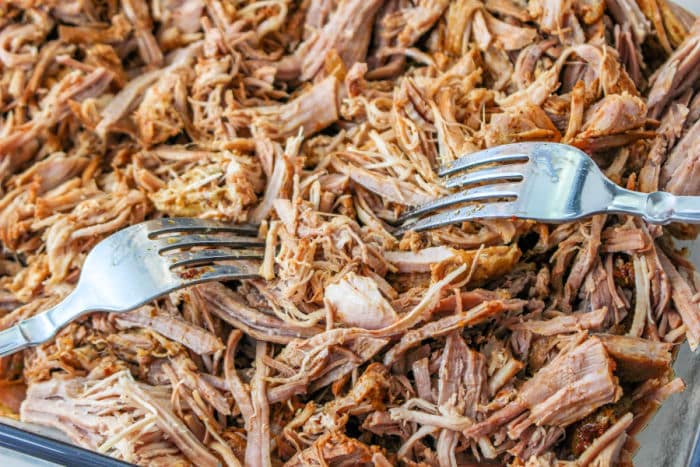 Sauce for Tamales
There are several canned pork tamale sauces that you can use to enhance the flavor of your tamales. Here are some popular options:
Note that you can also make your own sauces from scratch of course. It will take more time for sure but you can adjust the heat better this way. Choose your favorite and mix it in with your chopped meat so it is all coated. It will be used for the top once they are cooked too.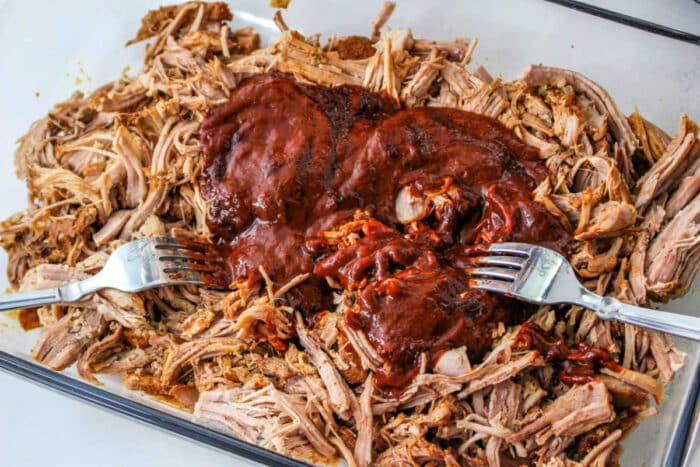 Instant Pot Shredded Pork for Tamales
Among all the ways we have tested out this is by far the best. It takes the least amount of time, gets it the most tender and no moisture is lost. You can trap all the flavors and under high pressure really push them into the meat so it is as flavorful as possible. You could add a dry rub to the outside as well as
Place the pork into an electric pressure cooker.
Add the water, onion, and seasonings in there too.
Set to high pressure for 50 minutes.
Once the cooking cycle is completed, allow the pressure to naturally release all the way, will take 15 minutes to up to 25 min.
Remove meat from the pot and shred it with two forks.

Reserve some of the strained broth if you are making homemade masa and/or red chile sauce

Toss shredded pork with tamale sauce to keep it moist and you're ready to add into your masa dough
When you are ready to assemble your tamale recipe step by step you should lay out the number of corn husks you want to make. This is how to make tamale masa so just combine the ingredients to make your dough and spread the masa on to the husk. Add your meat and any other fillings.
Then wrap them up like a present. You'll want a steamer basket with hot water on the bottom of a Dutch Oven or pressure cooker to cook when your pork tamales recipe is done. This is how long do tamales take to cook from there.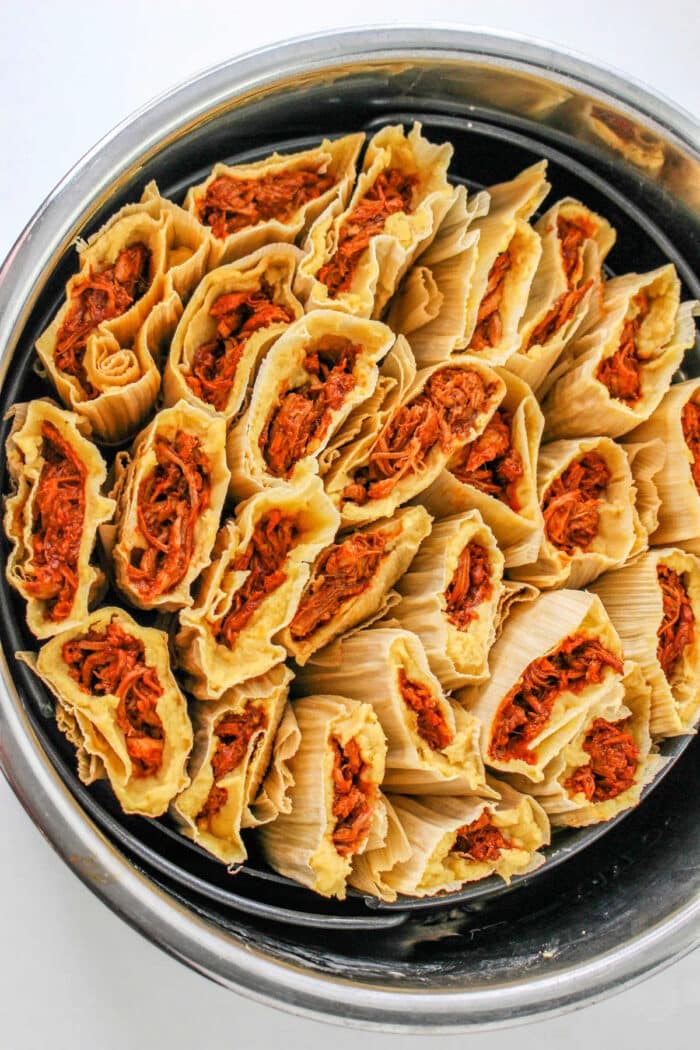 How to Save Leftover Cooked Pulled Pork
You know how I hate wasting food. Meats can be used in a variety of ways if they are stored correctly. Getting 2 or possibly 3 meals out of one hunk of meat is always a win in my book. If you plan on making these a lot you can always use two pots and cook twice as much. Batch cook it all, shred, and then store in freezer bags for later.
Store the leftovers in an airtight container or freezer bag in the refrigerator for up to 4-5 days. You can reheat it in the microwave or on the stovetop, or use it cold in salads or sandwiches as is. If you aren't going to use it that fast it can also be frozen for longer storage.
Place in a freezer-safe container or resealable freezer bag. Mark the date and freeze for up to 3-4 months. Thaw in the refrigerator before reheating.
How to Reheat Leftover Pulled Pork
When you are ready to Mexican pork tamales again, already cooked inside masa harina, you can reheat in a steamer pot for a few minutes, then smothered with tamale sauce to add moisture. If your protein is alone it can be used in a variety of dishes.
Warm it up for another under 30 minutes meal. Like you can throw it into a few red chile pork tacos, authentic Mexican burritos, sandwiches, soups, stews, and casseroles.
You can also mix it with BBQ sauce for quick and easy pulled pork sliders sandwich.
There are tons of other Mexican recipes that use this meat.
Make pulled pork hash with it too! Combine the leftovers with diced potatoes, onions, and bell peppers in a cast iron skillet for a delicious breakfast idea. You can add it into omelets or frittatas with some vegetables and cheese too. Remember to always reheat leftovers thoroughly to an internal temperature of 165 degrees F (74 degrees C) to prevent bacteria from possibly forming and making you sick.
Want to see a few of my favorite things that I am totally obsessed with?? Take a peek and see how many you might already have…twinsies!
Looking for more easy family recipes and tips? LIKE The Typical Mom Facebook page?
Then sign up for my free newsletter, and follow me on Pinterest! 😉
***** If you LOVED this recipe give it 5 Stars below and let everyone know what you thought about it. 😉
Pork for Tamales
How to make shredded pork for tamales is here. The best way to cook fresh or frozen pork shoulder to tender to add into your masa dough.
Ingredients
3

lbs

pork shoulder

bone removed, cut into large pieces

2

c

water

or beef broth

1

onion

diced

1

tbsp

chili powder

2

tsp

salt

1

tsp

minced garlic

1

tsp

chipotle chili powder

or red pepper flakes

1

tsp

cumin
Instructions
Place the pork into an electric pressure cooker. Add the water, onion, and seasonings in there too. Program to the high pressure setting for 50 minutes. Once the cooking cycle is completed, allow the pressure to naturally release all the way, will take up to 20 min.

Remove meat from the pot and shred it with two forks. (Reserve some of the strained broth if you are making homemade masa and/or tamale sauce) Toss shredded pork with tamale sauce to keep it moist and you're ready to add into your masa dough.
Nutrition Facts
Pork for Tamales
Amount Per Serving (2 oz)
Calories 312
Calories from Fat 198
% Daily Value*
Fat 22g34%
Cholesterol 98mg33%
Sodium 480mg21%
Potassium 409mg12%
Carbohydrates 1g0%
Protein 26g52%
Vitamin A 259IU5%
Vitamin C 2mg2%
Calcium 40mg4%
Iron 2mg11%
* Percent Daily Values are based on a 2000 calorie diet.