Best dry rub for pork chops is here! If you want an easy mix of sweet and savory seasonings for grilled, oven baked pork chops or smoked this is it. You can make it in 5 minutes or make a larger batch and save for future use.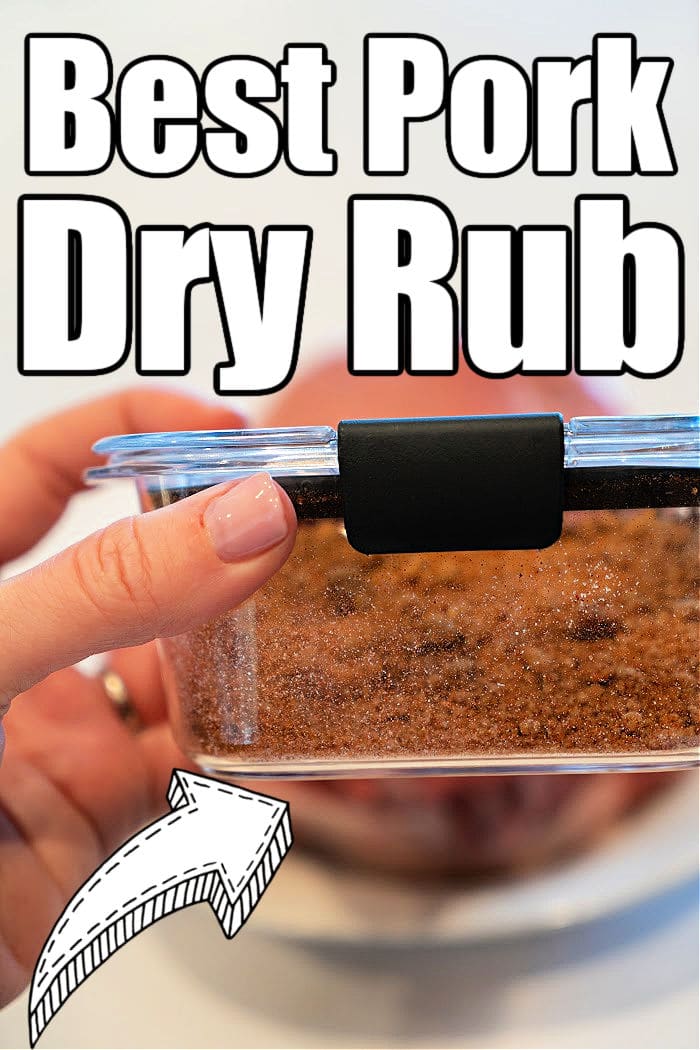 Looking for a killer dry rub for pork chops? You've found it! Stop right there and read on because you will never use any other store bought rub or sauce your meat again after this. It adds tons of flavor no matter what way you cook it. Use on fresh or frozen pork this week. One of many dry rub recipes on our site. (affiliate links present)
Pork Dry Rub
It's simple, you literally dump 6 ingredients into a bowl, break down the clumps and you're ready to coat. Yes of course you can adjust from there if you'd like but to us and hundreds of others this is perfect. It's not just fantastic on our air fryer pork chops but you can even sprinkle it on Instant Pot frozen pork chops with a sprinkle of water.
Want to use it on a larger hunk of meat like a pork roast?? Totally! Doesn't matter what cut it is this takes your bites from good to OMG.
We have coated other types of meat too with it so to make it easier on me to prep I make large batches at a time and keep it in a sealed container (seen above).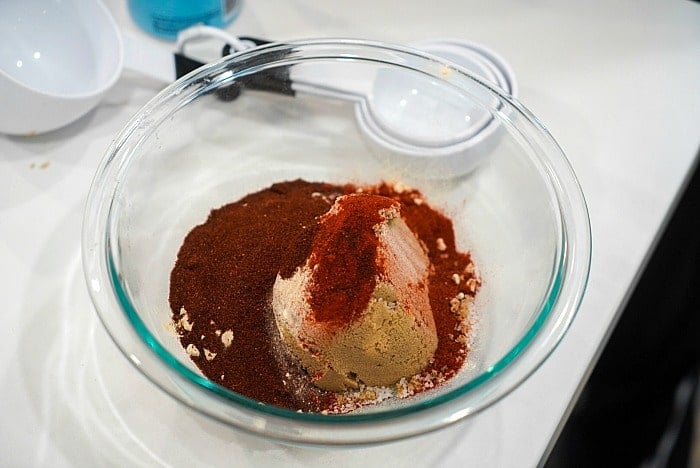 Homemade Dry Rub for Pork and Chicken
Yep, and we aren't stopping there either. We have used this as is on our dry rub air fryer wings and also tweaked it just a bit later on to make it a bit spicy.
You too can do the same with a tsp of dry Sriracha or red pepper flakes is a great option too. There is already a bit of chili powder but it still is only mild made as is below.
This is what you're going to need to make this multi purpose dry rub recipe;
Brown sugar
Paprika or smoked paprika is fine
Salt
Garlic powder
Chili powder or cayenne pepper works
A little bit of thyme
Pork Chop Seasoning
Mason jars are perfect to house this spice mixture / spice rub so you can make a big batch and then not measure going forward. Just use enough to coat the homemade pork recipe you are working on in the future as then there would be no measuring. I tsp per chop is typical. Personally I like it kinda' thick on both sides, that's up to you.
Here are a few questions you might have before you get going;
How long should dry rub sit on pork?
That depends really. It does need a minimum of 15 minutes but could also be prepped hours ahead of time and left in the fridge covered.
The longer it sits on top the more intense the flavors will be so keep that in mind. My preference is a good 60 minutes.
How do you dry rub pork?
For any meat really you want to dab the outside of it with paper towels to dry off the moisture first. Then combine your seasonings and sprinkle on one side.
Rub and pat until it sticks well, then flip to the other side. Do the same and lift off cutting board to allow excess to fall off before cooking.
Can you put a rub on pork overnight?
Absolutely! If you're having people over to enjoy grilled pork chops I would definitely do this. Make multiple batches and lay on a baking sheet with parchment paper in between the layers so they don't stick.
Then cover the whole thing with plastic wrap and keep in the fridge until you're ready to cook them.If it is a larger piece like a Smithfield pork loin in oven I will keep on a bit longer to permeate well.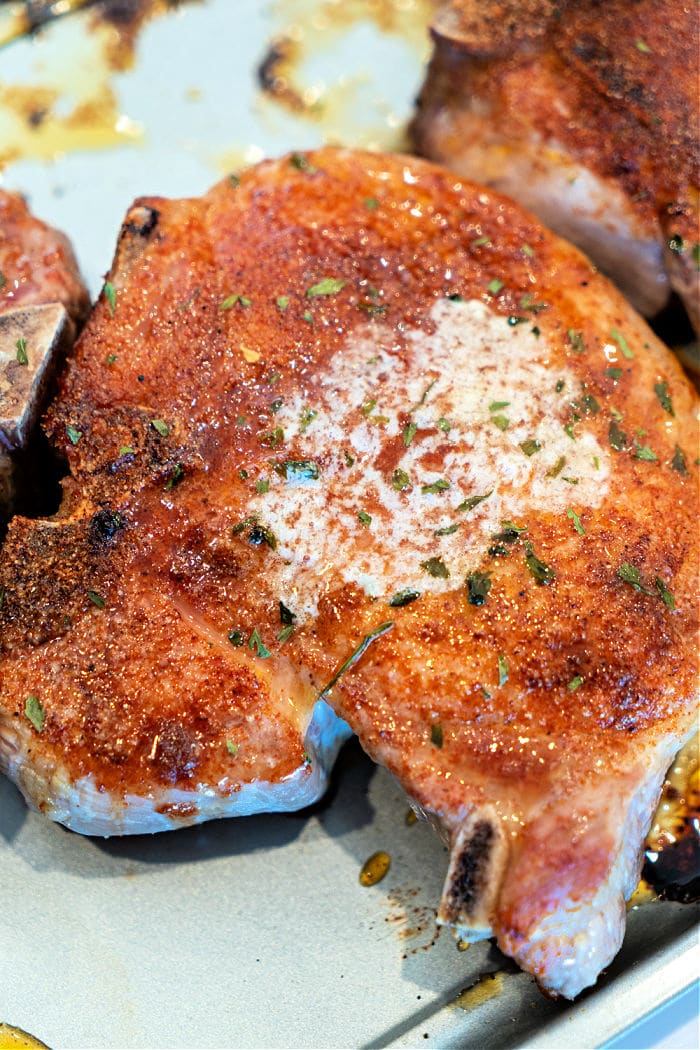 I recommend that you allow the meat to sit on the counter for about 15 minutes before baking or making smoked pork of any kind so it doesn't go from one extreme to the other so fast.
Don't leave it out too long so it gets warm or else bacteria may grow and cause you to become sick.
If you do want a stronger punch of flavor you could keep it on before cooking for an hour or two. You'd need to put the food on a plate with the rub on top and covered with plastic wrap. Then set it into the fridge so it doesn't get warm as the flavors get more intense.
Everything Dry Rub Pork
You can see it here on one of our other favorite recipes, Instant Pot country style ribs. The biggest difference between using a pressure cooker vs. your oven, grill, smoker or air fryer is that it won't get crispy on the outside with the first. That is kinda' obvious but I will say the bit of crisp with these flavors makes it out of this world!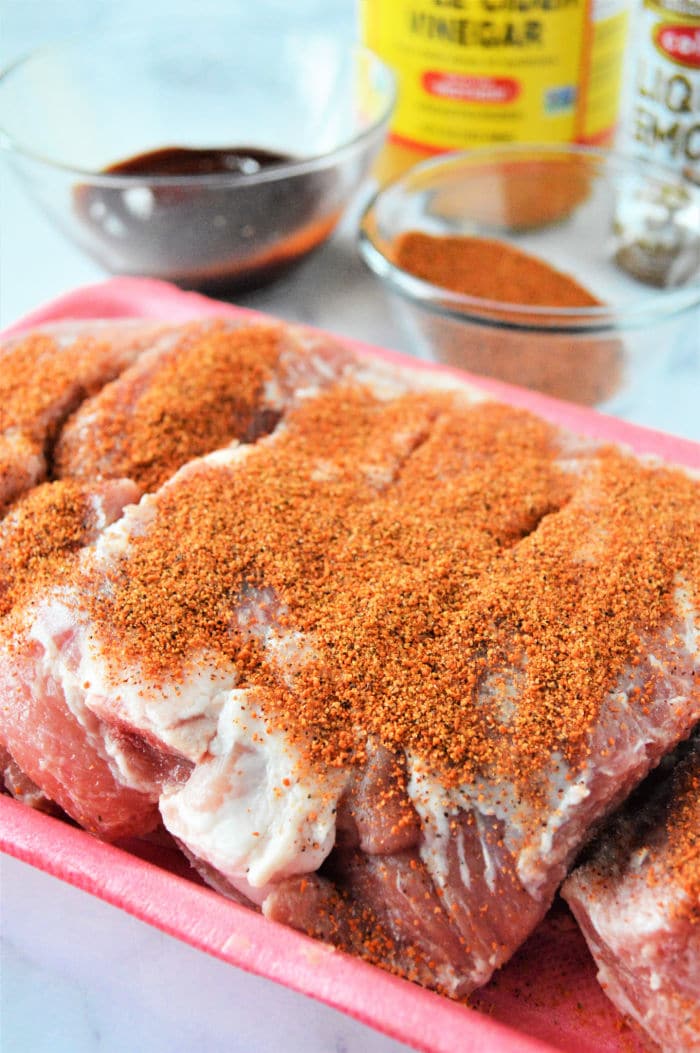 You can print recipe below but first let me tell you a few other things we have used this pork rub recipe on and guests have gone crazy over them:
Pork Recipes with Dry Rub
Most of the time you're goin to use 3/4″-1″ thick but if yours are bigger this is how to cook 2 inch thick Pork Chops. They're best baked in the oven but you could throw them in as Crockpot pork chops with apples too.
Our Instant Pot pork shoulder gets pulled fork tender in a little over an hour which is crazy to me.
Or if you are Mrs. Forgetful like me you can even spray the top of a frozen pork shoulder in Instant Pot to get it to stick and it works great on that as well.
Seasoned pork chops we have already discussed. SO much better than just the boring salt and pepper combo of the past.
Instant Pot frozen pork butt (the name gets a bad rap) cooks tender because of all the fat it has on it. You can always discard that part when it is done but is great during the baking process.
This was so popular we went on to develop other mixtures for other types of meat too. Like I said though, you literally could use this on almost anything. Slight changes were made though to make our tri tip dry rub and salmon dry rub recipes so you can enjoy all 3 now and see what you think!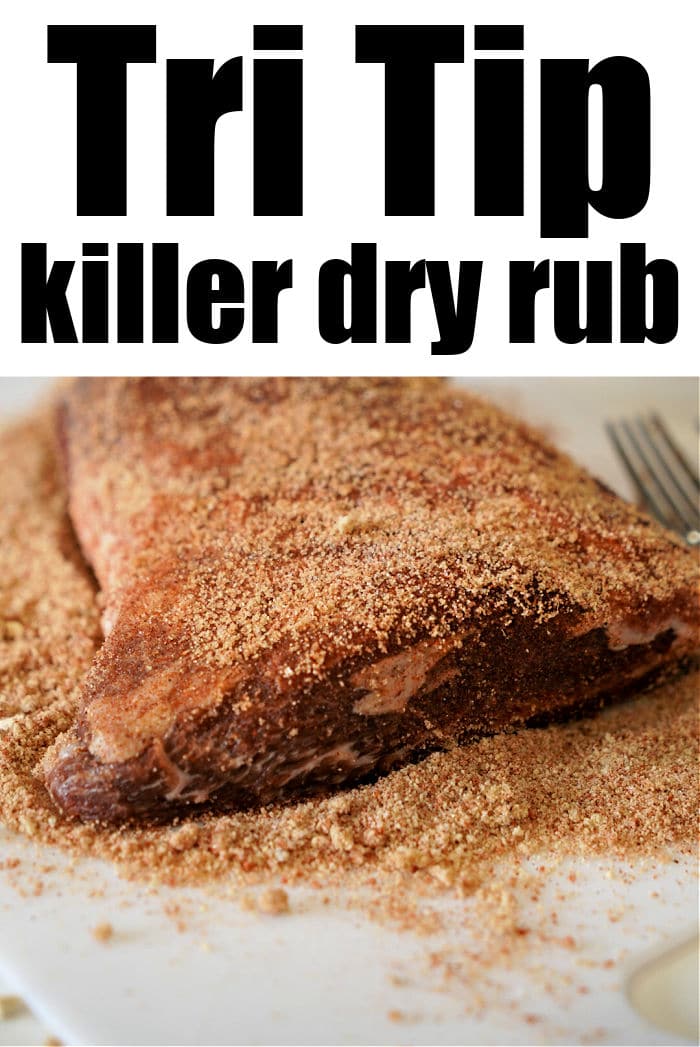 Want to see a few of my favorite things that I am totally obsessed with?? Take a peek and see how many you might already have…twinsies!
Looking for more easy family recipes and tips? LIKE The Typical Mom Facebook page?
Then sign up for my free newsletter, and follow me on Pinterest! 😉
***** If you LOVED this recipe give it 5 Stars below and let everyone know what you thought about it. 😉
Dry Rub for Pork Chops
Best dry rub for pork chops is here! If you want an easy mix of sweet and savory seasonings for grilled, oven baked or smoked pork this is it.
Instructions
Mix together all seasonings in a bowl. Break apart any large chunks so it is smooth. Rub on outside of pork, lift up to allow excess to fall off.

Allow to sit on meat for 15 minutes to 1 hour before cooking. Longer will yield a stronger flavor, refrigerate meat beyond 15 minutes so it does not sit on the counter and get warm. Cook as you wish.
Nutrition Facts
Dry Rub for Pork Chops
Amount Per Serving (0.5 oz)
Calories 38
Calories from Fat 9
% Daily Value*
Fat 1g2%
Sodium 586mg25%
Potassium 26mg1%
Carbohydrates 10g3%
Protein 1g2%
Vitamin A 103IU2%
Vitamin C 1mg1%
Calcium 10mg1%
Iron 1mg6%
* Percent Daily Values are based on a 2000 calorie diet.