Best salmon dry rub that takes your fillet from good to amazing! Rub it on then bake, smoke or air fry your fish to flaky perfection.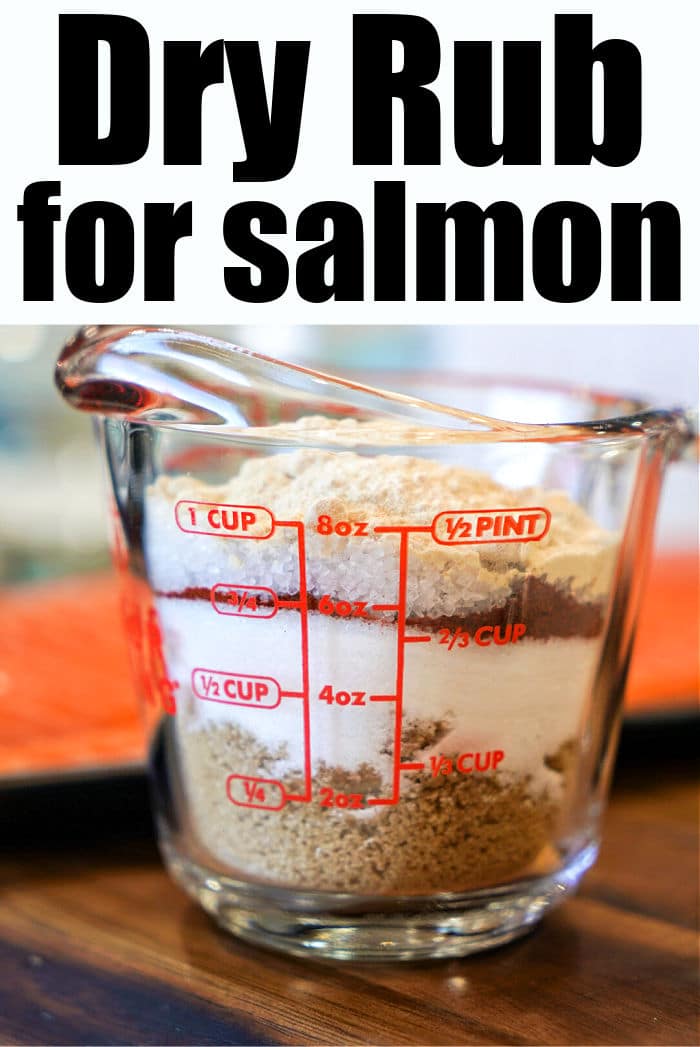 If you love fish with butter and lemon, you've gotta try our salmon dry rub instead next time. A sweet and savory mixture that's easy to mix together, everyone raves about this every time we make it. One of many dry rub recipes on our site. (affiliate links present, originally published 9/20))
Dry Rub for Smoked Salmon
We started using this when we shared how to smoke salmon. It was SO popular that we've used it time and time again on our air fryer salmon, grilled salmon, and would be great on any pressure cooker fish recipe.
I don't buy fish nearly as often as I should. The reason is that I think it's best fresh, not frozen and defrosted. I mean if that is all I have then okay, but I prefer to buy it and cook it all in the same day.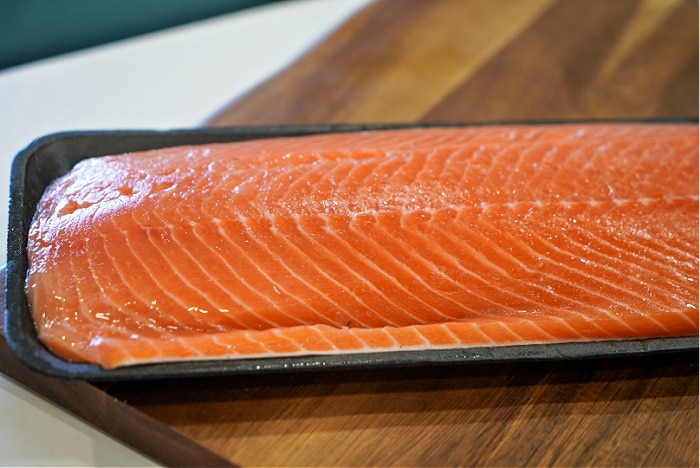 Rub Salmon
It really doesn't matter whether you're going to use your Traeger and smoke it, or throw it into the oven. This dry rub for fish works perfectly every single time. We've done it all!!
What seasonings go well with salmon?
You can keep it really simple if you want like we did with our Instant Pot frozen salmon recipe. Olive oil, butter, dill and salt is all we really used and it was great. Fennel, tarragon, parsley, and/or basil are great choices too. BUT if you want bold flavors, use our dry rub recipe here!
Of course you can just cook and drizzle one of our salmon sauce recipes on top but this requires nothing further once it's done.
Should you season salmon before cooking?
I think so! If you want an even stronger bolder taste, add your rub and then wrap with plastic wrap. Refrigerate for a few hours, or overnight, and then make the best baked salmon.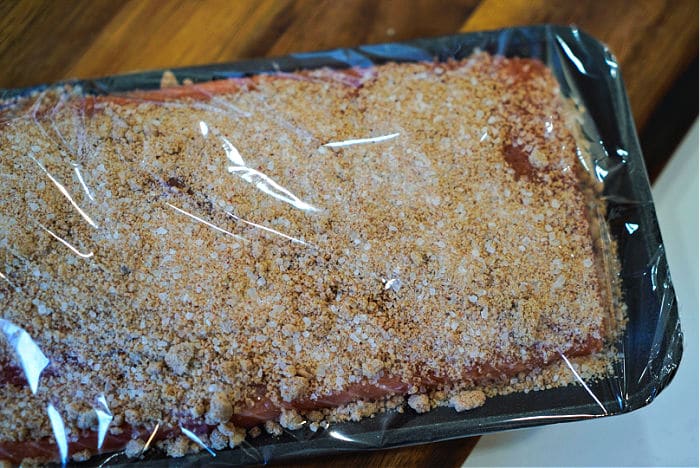 Do you leave the skin on salmon?
Yes. If you leave it on you'll only need to season the flesh side. It provides a barrier between the fish and the heat source so the underside doesn't get overdone while the top is not cooked enough.
Here are the ingredients we used and use on a regular basis. They're simple and you probably have them in your cupboard right now. That is just how I cook…no weird hard to find stuff necessary.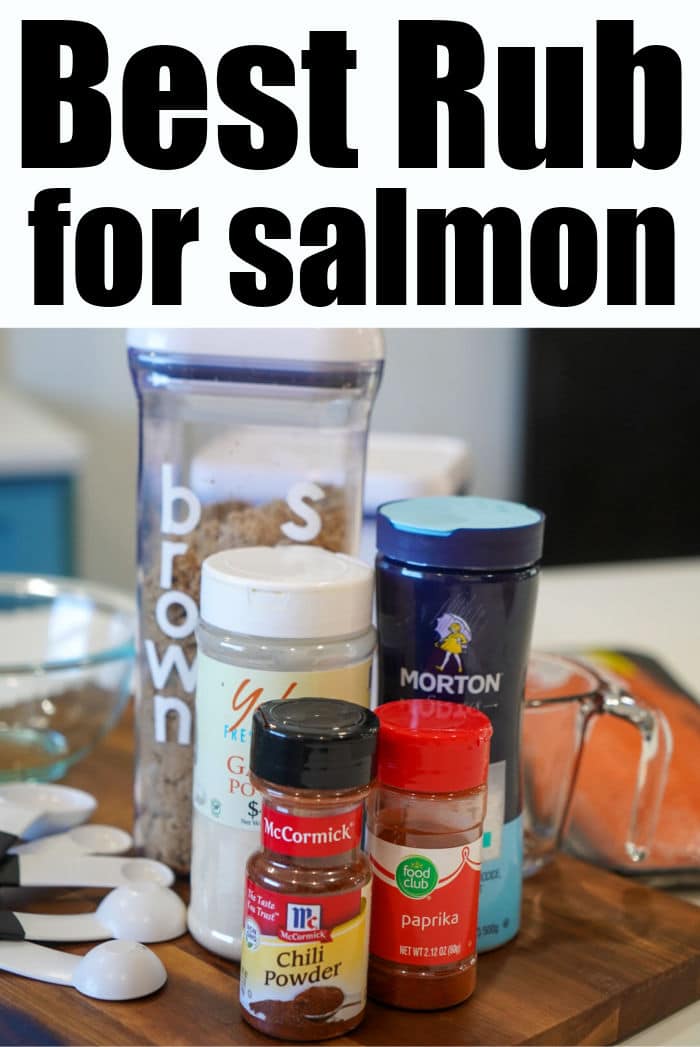 Salmon Seasoning
Brown sugar
Salt – I prefer this one that is a bit more coarse
Chili powder
Paprika
Garlic powder
Small bowl
How long should seasoning sit on salmon
Now if you try this and you're obsessed like us, and many of our followers have been, you can make a big batch. Mix it all together and store it in an empty spice jar container. Then next time you just use as much as you need.
You can add it immediately and then bake or let it sit in the fridge for a few hours for a more intense flavor profile. If you want a spicy rub you can add a bit of red pepper flakes into the mix too.
If you love salmon, give this sweet and spicy rub a whirl next time. Here is how easy it is to throw together and bake perfectly.
Salmon Dry Rub Recipe
Time needed: 5 minutes
Salmon Dry Rub
Mix

In a bowl combine the brown sugar, garlic powder, chili powder, salt and paprika. Break up clumps of sugar so it's smooth.

Prepare

Cover baking sheet with foil or lightly coat pan with cooking spray. Preheat oven to 400 degrees F. Lay fish skin side down on a cutting board and rub mixture on flesh side.

Then transfer to baking sheet to bake, if cooking in the oven.

Bake

Put sheet on middle rack and bake for 12 minutes depending on how thick it is, check after 10 to see if it flakes easily. Internal temperature should be 145 F in the thickest part.

Do not flip the salmon, keep the skin side down.

Rest

Remove to a platter and serve after resting for 5 minutes. Serve with side dishes like air fryer vegetables or the best corn on the cob.
I do recommend you cover the pan with aluminum foil for easier cleanup. Since the rub has sugar in it, what falls off will get quite dark and hard to scrape off. With foil you just roll it up and throw it away.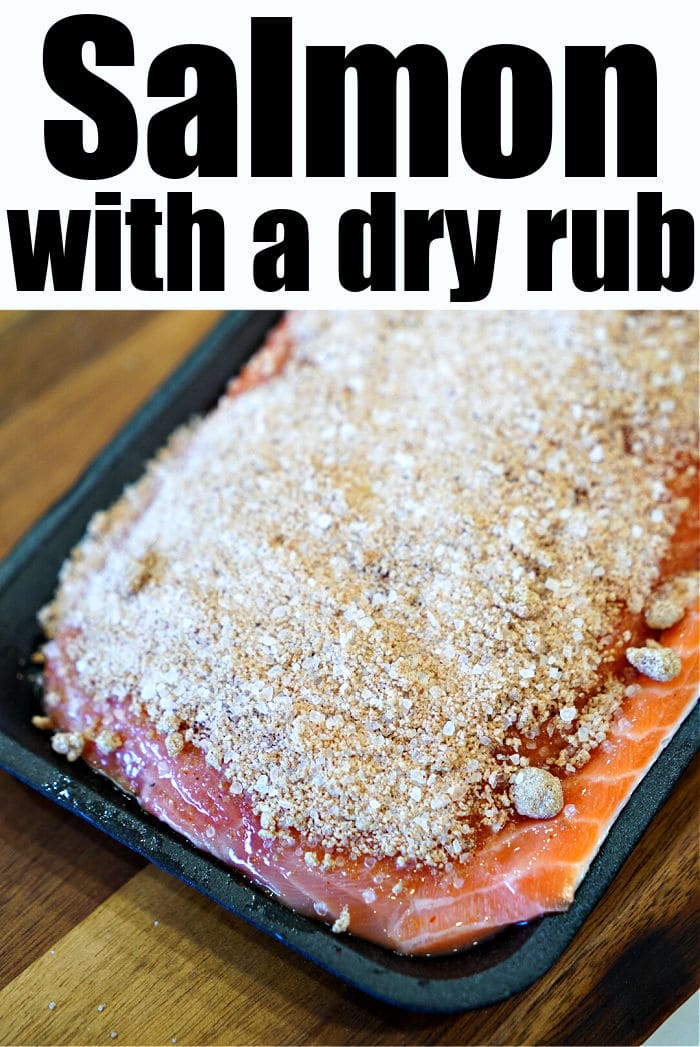 If you want a bit of crisp like you see here below you can bake for 10 minutes and then adjust the high heat to broil for the last 2 minutes. That is the way I really love it!!
How Long Can You Keep Cooked Salmon in the Refrigerator?
The general rule is 3 days. Of course it is best when eaten fresh but definitely don't throw away what is left! There are SO many ways to eat it the next day. My favorite choices are:
What Can I make with Day Old Salmon?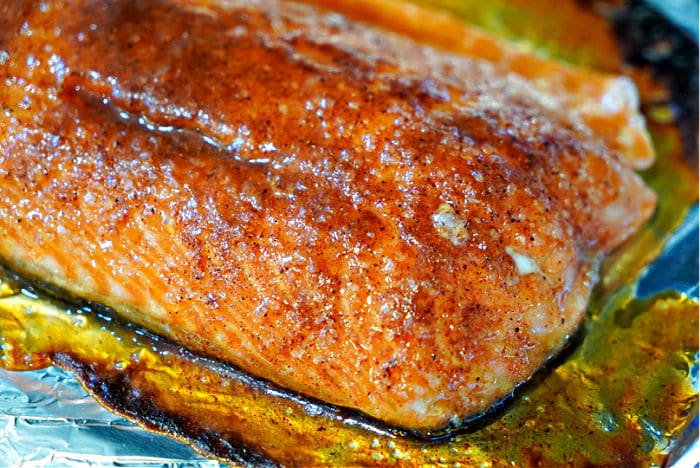 Other recipes we've made that you really should try are:
There is a printable version of this recipe below. Feel free to keep handy or in your recipe folder or just come back so we can "see you" again and again! 😉
Want to see a few of my favorite things that I am totally obsessed with?? Take a peek and see how many you might already have…twinsies!
Looking for more easy family recipes and tips? LIKE The Typical Mom Facebook page?
Then sign up for my free newsletter, and follow me on Pinterest! 😉
***** If you LOVED this recipe give it 5 Stars below and let everyone know what you thought about it. 😉
Salmon Dry Rub
Best salmon dry rub that takes your fillet from good to amazing! Rub it on then bake, smoke or air fry your fish to flaky perfection.
Instructions
In a bowl mix all ingredients together using back of fork or spoon to break up any hard pieces of brown sugar.

Place salmon fillet on a cutting board and pour rub on top. Use hands to gently press it on so it doesn't fall off. If you want a more intense flavor cover with plastic wrap and put in fridge for an hour or more before cooking.

Lay salmon on baking sheet with foil if making in the oven or on a smoker we use a grate. Allow excess to fall off on to the cutting board.
Nutrition Facts
Salmon Dry Rub
Amount Per Serving (1 oz)
Calories 40
Calories from Fat 9
% Daily Value*
Fat 1g2%
Sodium 877mg38%
Potassium 16mg0%
Carbohydrates 10g3%
Protein 1g2%
Vitamin A 85IU2%
Calcium 6mg1%
Iron 1mg6%
* Percent Daily Values are based on a 2000 calorie diet.