6 dry rub recipes to use on chicken, pork chops, steak, salmon, turkey and tri tip beef. Take meat to the next level with sweet and savory mixes. Now you can skip the sauce when serving dry rub air fryer chicken wings and other cuts because you need nothing more.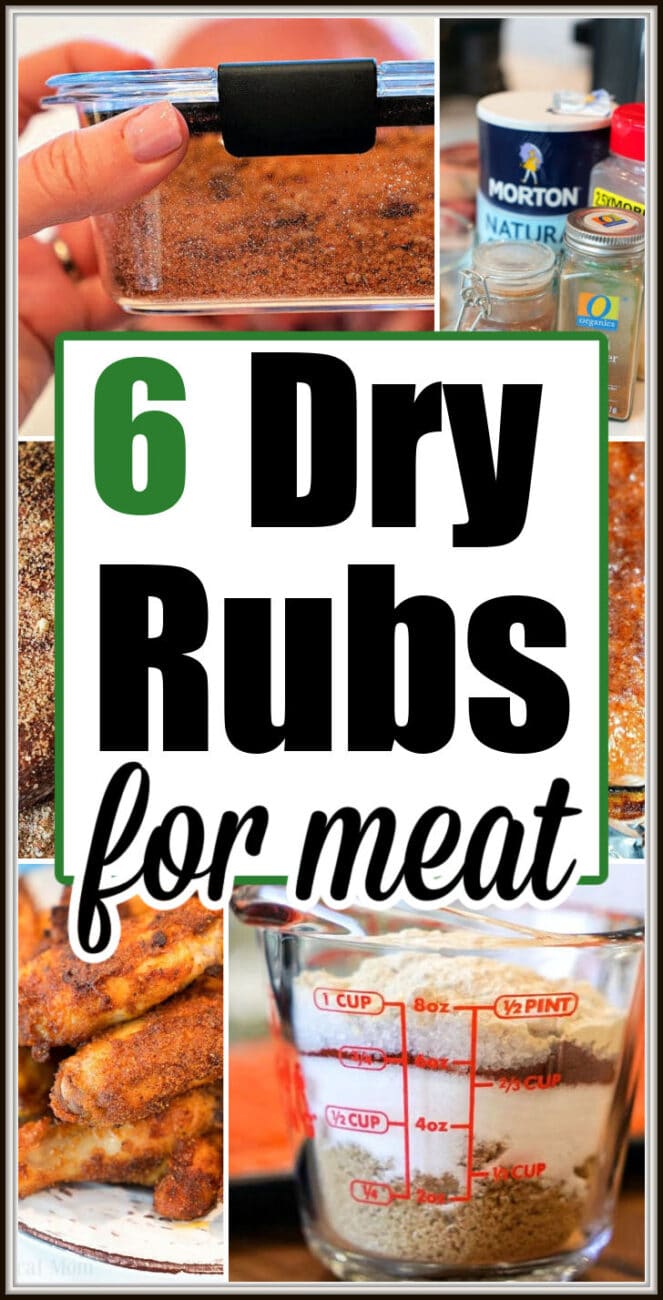 When smoking meats, air frying, or baking in the oven we love dry rub recipes. They are SO much better than just the traditional barbecue sauce brushed on at the end. No need for anything when done, just enjoy as is because the flavors take meats out of this world. (affiliate links present, originally published 522)
Dry Rub Recipe
We have covered all of the proteins over the years so I thought I would put them all together in this roundup. The base remains the same with a few tweaks here and there. Like when it comes to fish we like a bit more sweetness and less heat.
I will say that overall they are all in the mild category when it comes to being spicy, they aren't. You can certainly change that if you would rather have heat with a few options. My favorite way to make a spicy dry rub would be to add;
I love dry Sriracha more than any other I will say. Not only does it add a spice but has a great flavor, a little goes a long way with this y'all.
Red pepper flakes you probably already have in your spice cabinet.
Cayenne pepper or adding more chili powder listed works too
Let's start with our salmon dry rub shall we? If you haven't tried our baked salmon recipe with a coating of this you're missing out. We make it in the oven but have also used it on our smoked salmon as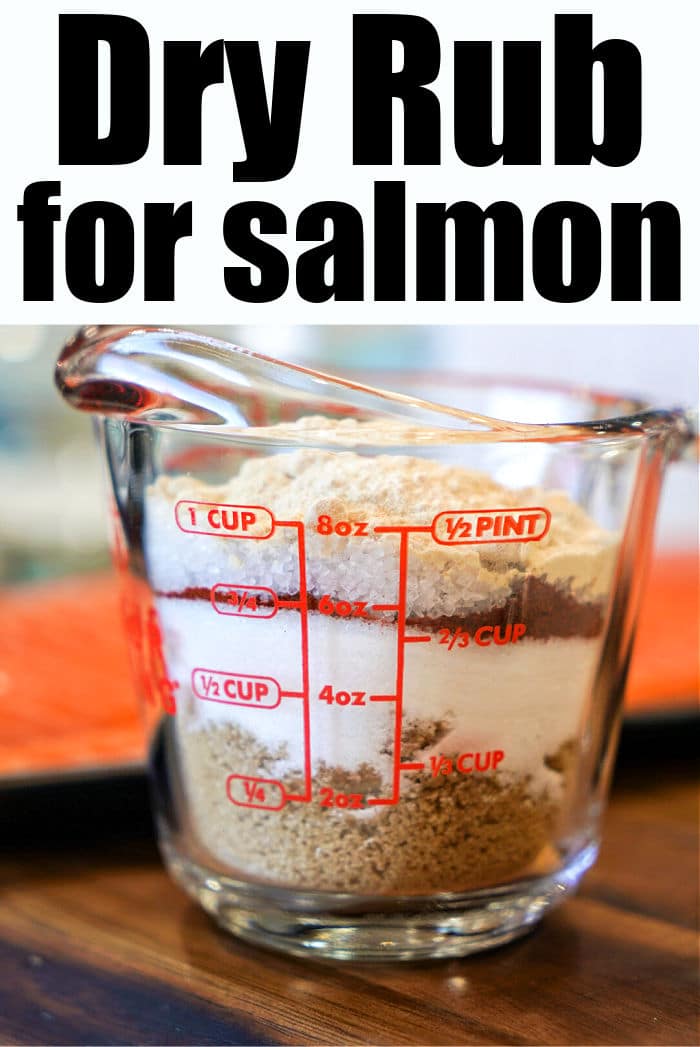 Dry Rub for Ribs Recipe
Now let's talk about the best dry rub for beef. You can use this to smoke ribs on your Traeger, bake a roast in the oven, a batch of air fryer steak bites or any other cut on the cow. We buy in bulk at the beginning of the year so we cook a lot of things. I know beef y'all. There are so many different flavors on the same animal, this makes it better.
During the holidays we have started making things that we actually love, that isn't always ham. If you're like us and kinda' ehhhh about typical choices, try this tri tip dry rub this year instead. Makes every bite delish.
This steak dry rub is best to use on every cut you can get your hands on. I haven't found any red meat that it isn't good on. You just throw it all together, crush so it is smooth and coat all sides. Let the excess fall off and cook as you wish.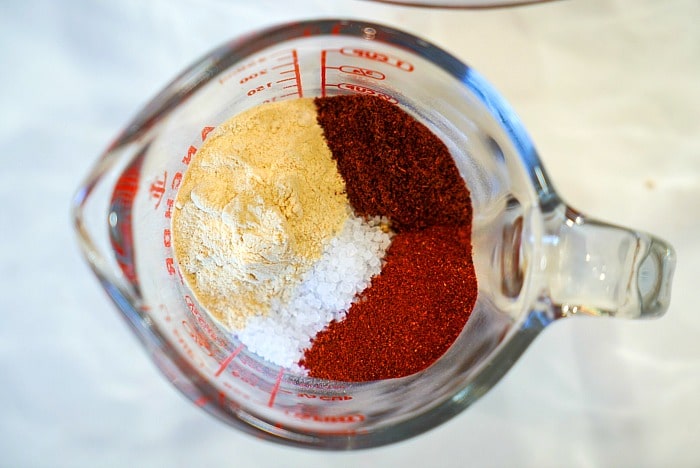 Dry Rub for Chicken
We just added this to our site last week. I don't know why it took me this long to do so because we use it on our air fryer whole chicken all the time, but it did. If you love rotisserie from your local grocery store, this is so much better I tell you. As I said before you can make it a little spicier if you like, or leave as is.
Kids love lollipop chicken drumsticks because they are so easy to pick up and eat all the meat off of. You can bake them in the oven, grill or make smoked chicken. This coating works well on chicken legs for sure and you can skip the sauce entirely.
Most often this chicken wing dry rub is used on, well….wings. I make these for dinner so often that I make a really large batch and store it in a container for later.
When it is time for cooking there's no need for measuring. Just use a spoon to coat the outside of your drumettes or whole chicken wings and seal up the rest for later.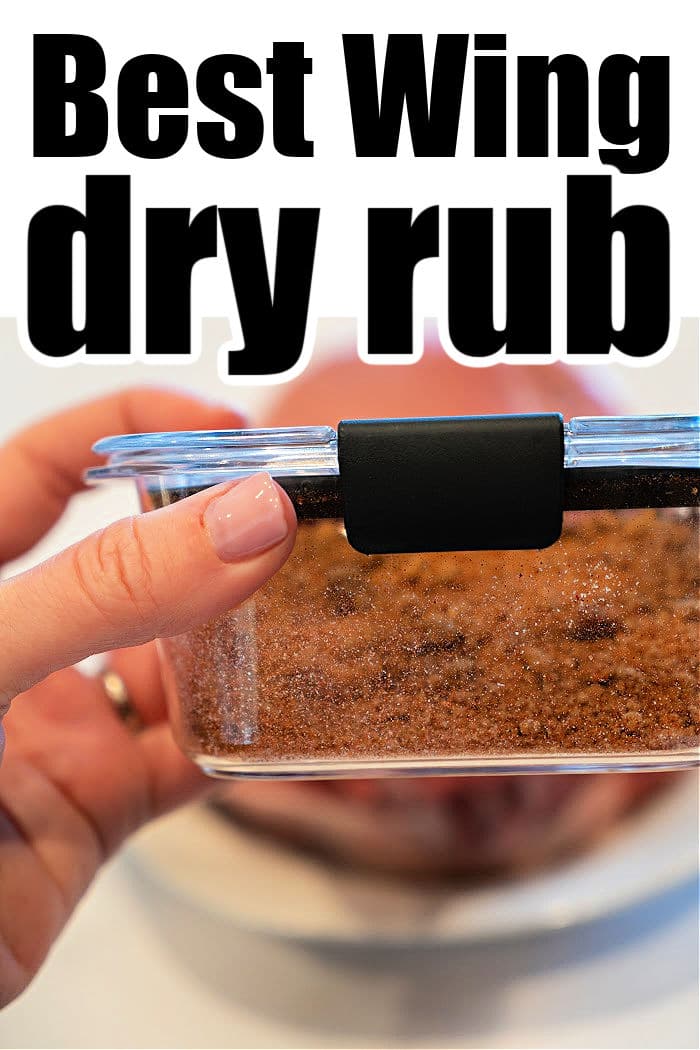 Dry Rub for Turkey
When it comes to the holidays we love this too. Everyone at our house has always raved about our turkey dry rub when we cook it on the smoker or the oven.
Pork Dry Rub Recipe
Moving on to the pig now. Sometimes we get lucky and are able to buy half of a hog each year too. That way we get all the cuts so we can try them all. We have made smoked pork steaks that are OMG out of this world with this mixture featured below, and so many other pieces.
Most of the time we make 2 inch thick pork chops and coat nicely with this. If I have had a forgetful moment and resigned to cook air fryer frozen pork chops you can still enjoy it. Only difference is it won't stick at the beginning real well. Wait until you're ready to flip, sprinkle it on the top, rotate, and add more to the other side.
Want a larger piece to serve a larger crowd? You can even use our pork chop dry rub on a pork roast in air fryer.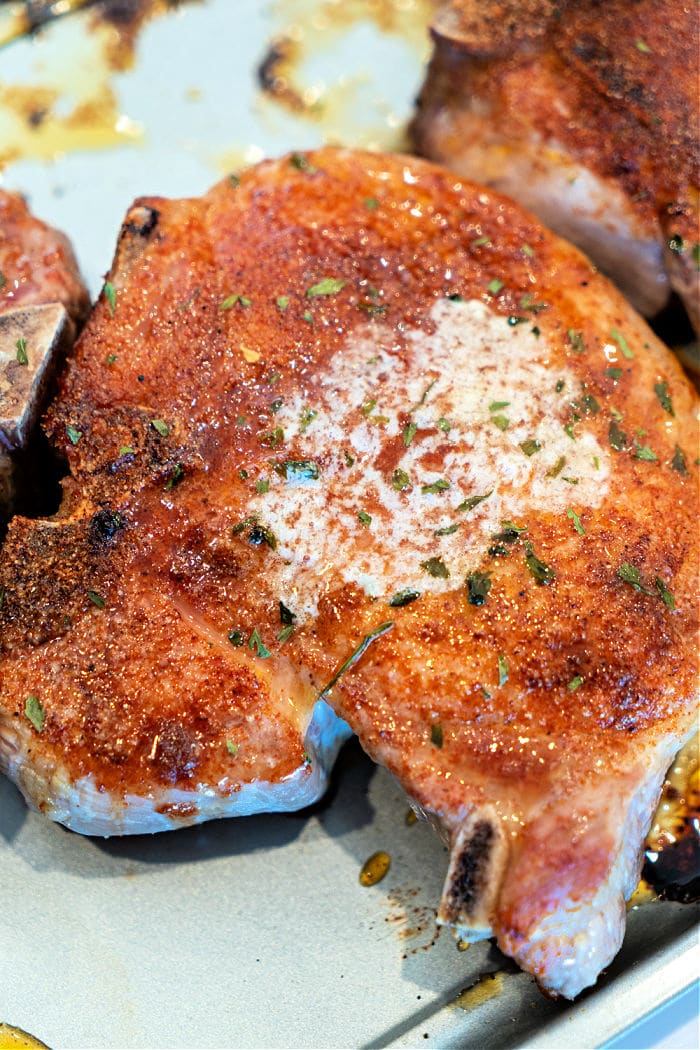 Homemade Dry Rub
No matter which one you choose to use you'll fall in love. So much so that you'll likely want to make a larger batch to keep it for next time. Just use an air tight container or mason jar to do just that. If you double or triple the amounts listed on each one you then will save prep time going forward.
You may find one you love more than the others and they don't always have to be used on the items I specify. Want to use the brown sugar rib rub on your chicken breasts, it will still be an amazing spice blend.
Only ever had bbq sauce on your baby back ribs or chuck roast burnt ends? You're in for a real treat when switching over to this (and it's not as messy).
You can print recipe for pork below, or click on the blue link(s) above and get the one(s) you want from there. Most of them have brown sugar, regular or smoked paprika, garlic powder, salt and pepper if you like. If you want a bit of a zing, dry mustard will do that for ya'. Let us know which you love best or if you tweak one that we should try!
Want to see a few of my favorite things that I am totally obsessed with?? Take a peek and see how many you might already have…twinsies!
Looking for more easy family recipes and tips? LIKE The Typical Mom Facebook page?
Then sign up for my free newsletter, and follow me on Pinterest! 😉
***** If you LOVED this recipe give it 5 Stars below and let everyone know what you thought about it. 😉
Dry Rub Recipe
This dry rub recipe for pork, chicken, fish or beef is amazing and easy to make. Sweet and savory with a little kick of spicy.
Instructions
Mix all ingredients together. Only add dry Sriracha or red pepper chili flakes if you want it to be spicy. Blot meat dry with paper towels, rub mixture on all sides, lift up and allow excess to fall off. Cook as you desire.
Nutrition Facts
Dry Rub Recipe
Amount Per Serving (0.5 oz)
Calories 38
Calories from Fat 9
% Daily Value*
Fat 1g2%
Sodium 587mg26%
Potassium 27mg1%
Carbohydrates 10g3%
Protein 1g2%
Vitamin A 123IU2%
Vitamin C 1mg1%
Calcium 10mg1%
Iron 1mg6%
* Percent Daily Values are based on a 2000 calorie diet.