The BEST air fryer steak bites with a killer dry rub that's salty and sweet with a bit of a kick! High protein dinner idea inside tacos or over rice.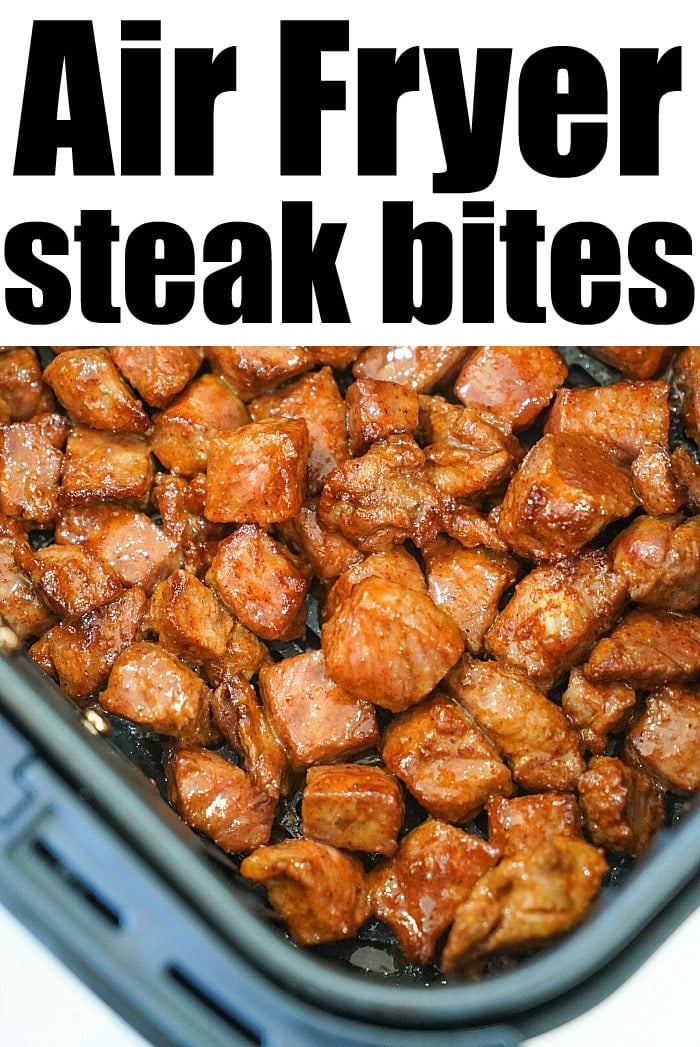 We made air fryer steak bites with a few T bones we had in the fridge and they came out amazing!! SO we thought we'd share our recipe with y'all. Find this and more easy air fryer recipes here on The Typical Mom blog. (affiliate links present)
Dry Rub Steak Bites
I am telling you, these bite size bites of heaven over rice or beside some veggies are the best. Rarely do I ever even grill them whole anymore. Even when it's summertime I'd rather cube and remove the bones and fat and air fry steak this way. Easier to eat and each bite has so much flavor.
We've used this same dry rub on our air fryer filet mignon and it's always a hit, no matter what it's on. T-bone, New York strip or even cubing a roast will work to make this one.
FIRST – You should sign up for my free newsletter so you get new posts emailed to you twice a week and never miss out on anything! If you love air fryer recipes too, here are some resources to start with: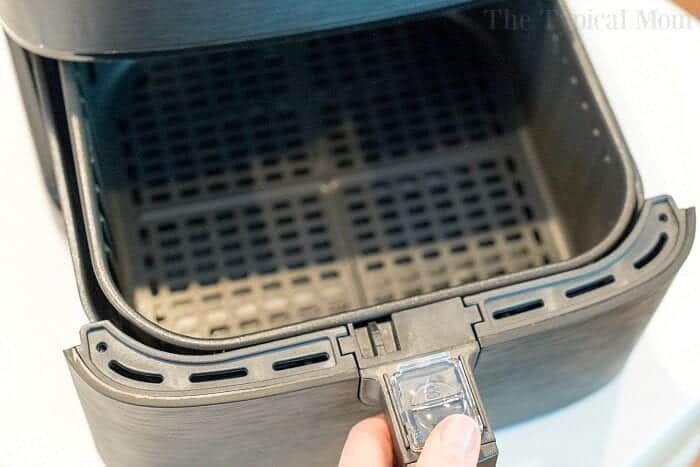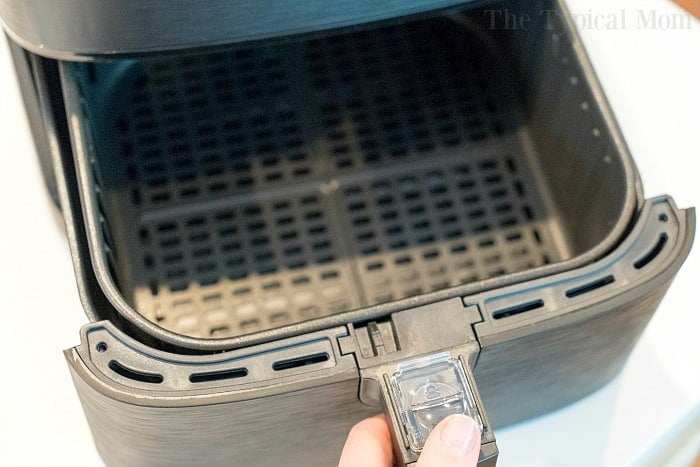 Steak bites in air fryer
Ok so you could really use any type of beef you had in the fridge for this. I like t bones or air fryer flank steak. Whatever on hand is what is used.
Since you're trimming the fat and cubing it up into bite size pieces, it really doesn't matter what you use.
What are the types of steak?
We used T-bone, filet mignon is the most expensive and leanest, ribeye, chuck eye, flank, skirt, and sirloin steak. If you're like us and buy meat in bulk you should have several to choose from.
Can you air fry frozen steak?
I wouldn't. For steak bites this really wouldn't work because you need it cubed too. I would defrost and cook air fryer frozen steak that way ideally.
We have made air fryer frozen fish though and that works quite well.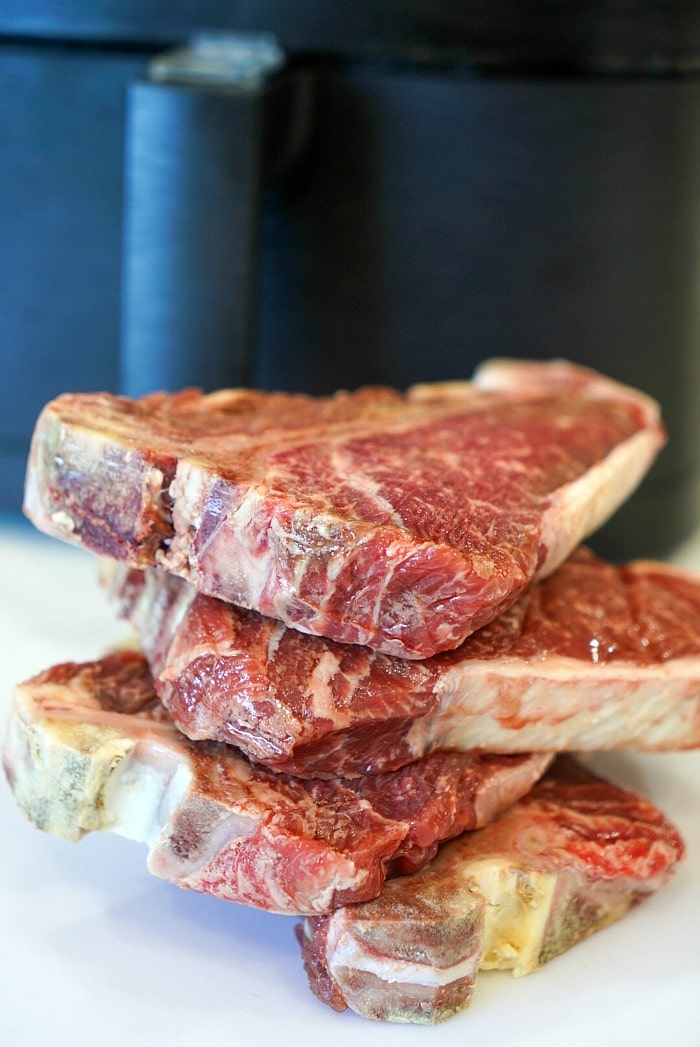 Steak bites marinade
First step is to thaw your meat, remove any bones, trim off the fat and cube into pieces about 1 – 1.5″ in size. You could really even use a chuck roast or beef tips for this I think.
If you wanted teriyaki steak bites, you could use the sauce from our air fryer roast recipe. Instead, I opted to use our steak dry rub. IT IS INCREDIBLE!! You could use the latter if you preferred though, you'd just want to add a bit of olive oil before cooking.
Ingredients you'll need are:
Cubed steak
Brown sugar
Paprika
Chili powder
Garlic powder
Electric air fryer is needed of course, any brand works y'all.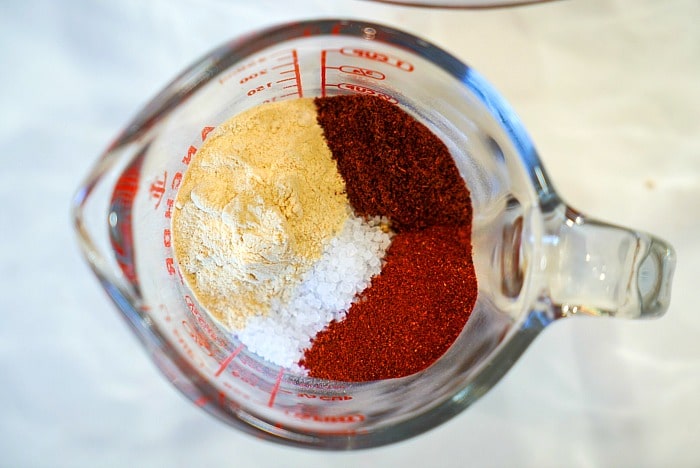 Ninja Foodi Steak Bites
Here's a quick step by step, but there is also a printable recipe card at the bottom as well. Preheat air fryer to 400 degrees F for 5 minutes. In a bowl mix together dry ingredients for your steak rub. Cut and discard bones and fat off steaks. Then cut into bite size cubes and put into a bowl.
Pour olive oil on beef and stir to coat. Then pour in steak rub ingredients and mix so every piece is nicely coated.
Pour into air fryer basket and spread out so they're not overlapping.
Set to cook at 400 for 5 minutes shaking basket after 3 minutes.
Check the steak and see if you want them more done.
The larger your pieces are the longer it will take. If you want them nice and tender with a light browning 5 minutes = perfectly cooked steak bites.
Add 1 more minute at a time until they're perfectly cooked for you.

4 minutes would be more like medium rare where 5-6 is medium well.
This is how big/small I cube the pieces when I make this.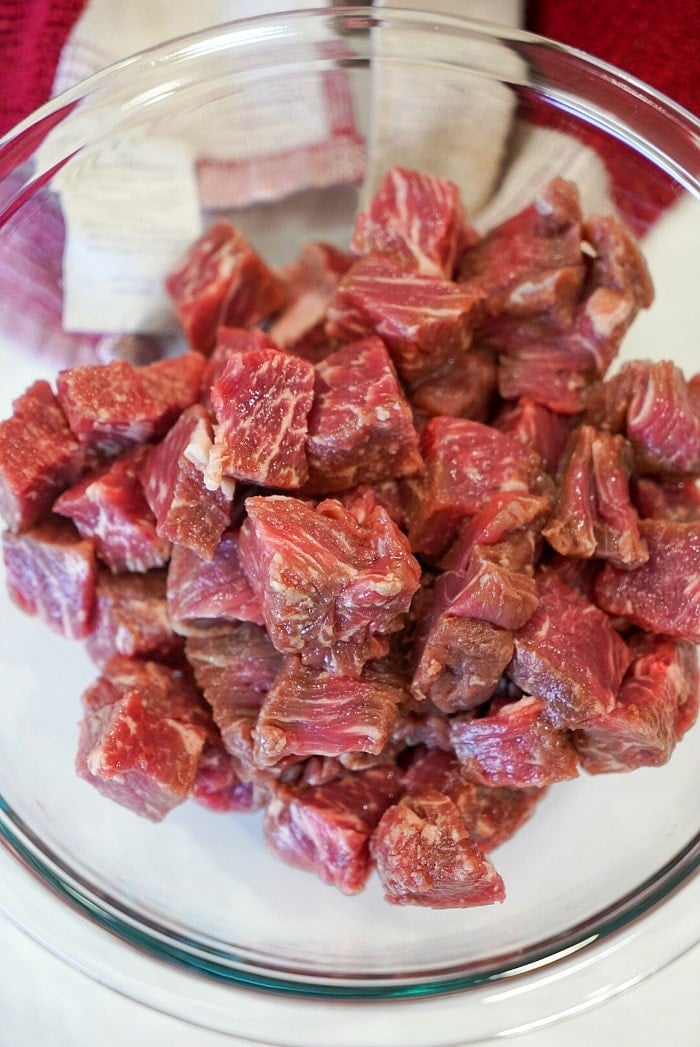 We need nothing else when serving because the rub has tons of flavor. Of course that is up to you. You could sprinkle with salt and pepper or add teriyaki sauce on top to have multiple layers of flavors.
Air fryer steak bites and mushrooms
You could EASILY add air fryer mushrooms to the basket as well. They both cook at the same temperature and general timing so you'd be good to go. I would use this recipe and mix mushrooms separate.
Add half of your meat + half the shrooms in your bowls.
Then cook second half and serve.
What to serve with steak bites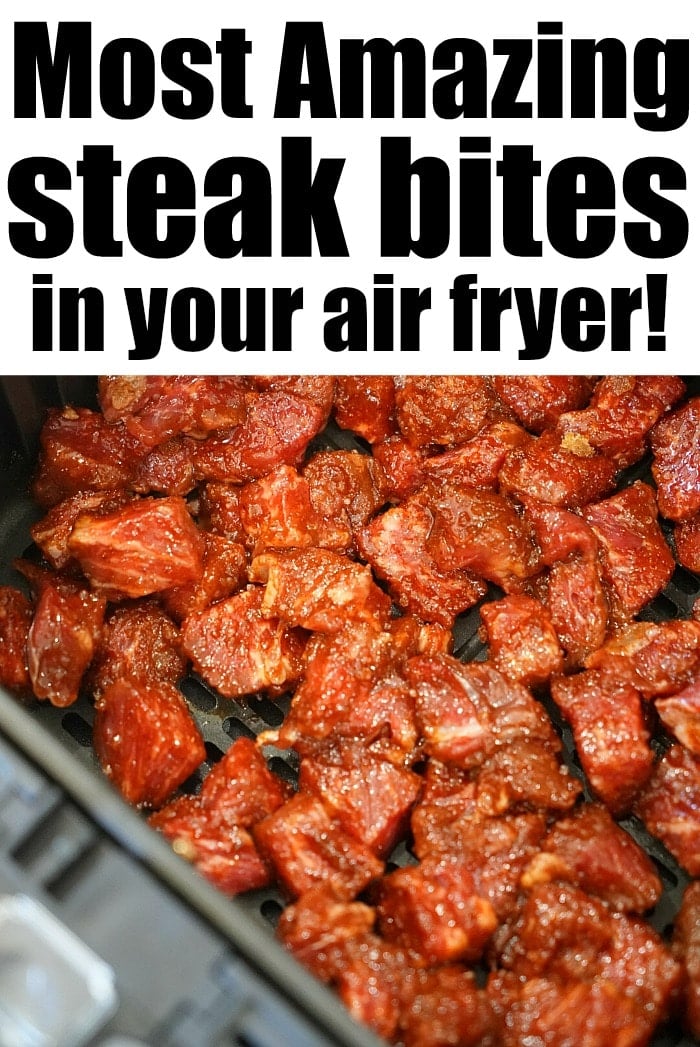 No matter what you make it's done in under 30 minutes and has TONS of bold flavors if you use our dry marinade below. We seriously couldn't keep our hands off of them and I had a little bit left over to eat for lunch the next day.
How do you eat leftover steak?
I would say our go to is to make air fryer tortillas and make some tacos. You can then throw in some sliced avocado, cheese, sour cream, lettuce and OH WOW are they great.
How do you reheat steak bites?
Spread them out on a baking sheet. Preheat your oven to 250 degrees F and check after about 10 minutes. Check every 5 minutes until they're as warm as you want. Remember that baking too long will dry them out though. You may want to toss with some thick Soy Vay marinade to keep them tender.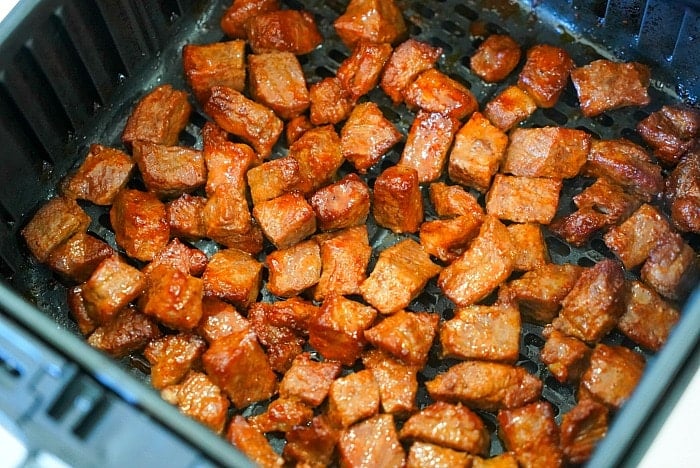 How to Make Air Fryer Steak Bites
We just added instructions on how to cook frozen steak here too, and air fryer cube steak too if you need that info! Below is a printable version of our recipe including nutritional facts like saturated fat, calories, carbs etc. Those are calculated by the recipe card itself, not me, and will vary depending on how much meat you use.
After removing the bones and fat there was enough for the 4 of us with a good portion of vegetables and rice.
You may need more than 1 medium steak per person if you aren't serving pull apart bread or something on the side. Jump to recipe and get started y'all.
If you have a Foodi, you can find more low carb protein packed ideas in our healthy Ninja Foodi recipes listed on our site.
Want to see a few of my favorite things that I am totally obsessed with?? Take a peek and see how many you might already have…twinsies!
Looking for more easy family recipes and tips? LIKE The Typical Mom Facebook page?
Then sign up for my free newsletter, and follow me on Pinterest! 😉
***** If you LOVED this recipe give it 5 Stars below and let everyone know what you thought about it. 😉
Air Fryer Steak Bites
The BEST air fryer steak bites with a killer dry rub that's salty and sweet with a bit of a kick! High protein dinner idea inside tacos or over rice.
Instructions
Trim steaks, remove bones, and cube into 1" pieces.

Preheat air fryer to 400 degrees F for 5 minutes.

Mix together dry rub ingredients in a bowl. Pour olive oil over meat in a bowl and toss to coat.

Pour dry rub over meat, toss to coat.

Pour meat into air fryer basket, spread out so pieces are overlapping the least amount possible.

Set to 400 degrees F for 5 minutes, toss after 3 minutes.

Test and see if you want them browner/more cooked (larger pieces will take longer, the more you cook them the less tender they will become).

Serve alone, served with vegetables, inside tortillas for tacos, or over rice.
Nutrition Facts
Air Fryer Steak Bites
Amount Per Serving (3 oz)
Calories 619
Calories from Fat 324
% Daily Value*
Fat 36g55%
Cholesterol 138mg46%
Sodium 1888mg82%
Potassium 710mg20%
Carbohydrates 30g10%
Protein 46g92%
Vitamin A 749IU15%
Calcium 42mg4%
Iron 5mg28%
* Percent Daily Values are based on a 2000 calorie diet.