Incredible air fryer roast with a homemade marinade that takes this protein over the top! Get ready for your new favorite Ninja Foodi air fryer recipe.
Have you tried cooking an air fryer roast yet? Does it seem impossible to do? I have a way to make this cut of beef tender and full of amazing flavors. It's one of our favorite air fryer recipes for dinner. (affiliate links present)
The key to cooking a roast in this hot air machine is keeping it moist with this homemade teriyaki marinade. It's super easy to throw together and have it ready the next day to cook perfectly.
If you make a pressure cooker roast this isn't really necessary since it doesn't dry out as quickly, but is still a great choice. Here's what you do to start this process, it's super easy.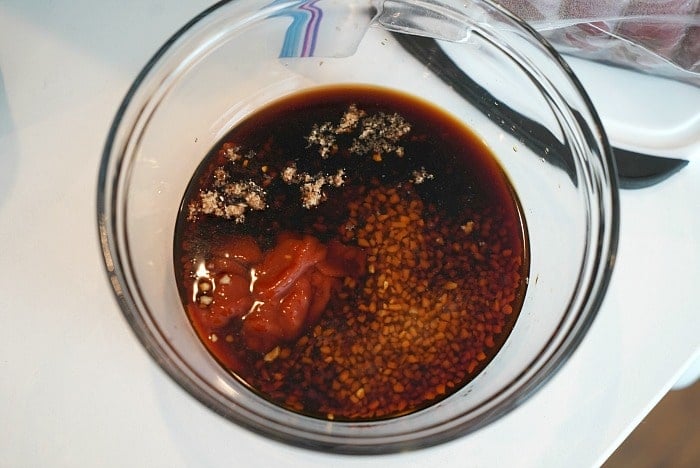 I came up with this homemade marinade when I made these Instant Pot spicy teriyaki chicken thighs. From there I've tweaked it just a bit for other dishes like this one!
Is teriyaki sauce the same as teriyaki marinade?
The biggest difference is the way in which each is used to flavor your meat. A marinade flavors chicken, beef and fish by slowly being absorbed into the meat.
This is usually done in an airtight container or baggie overnight in your refrigerator. Teriyaki sauce is more for instant flavor gratification once it is already cooked. 45 minutes would be an absolute minimum, I prefer overnight.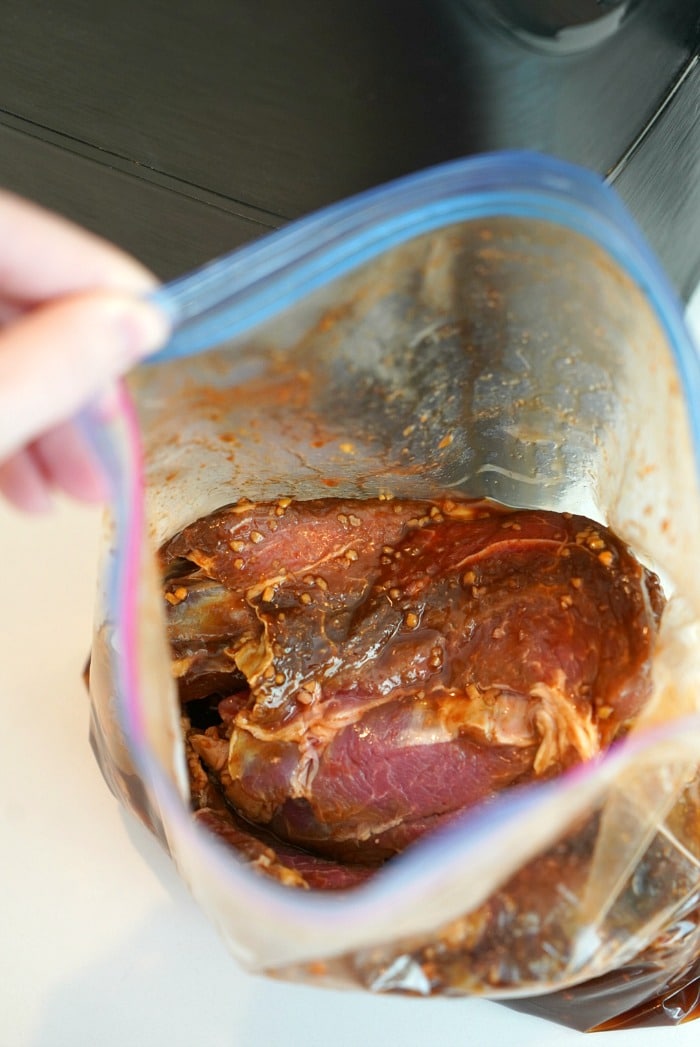 Air fryer roast
A 3-4 pound roast

Mine was 6.5 pounds so I cut it in half for this meal and used the other half to make beef tips.

Soy sauce
Minced garlic
Sriracha
Beef broth
Brown sugar
Olive oil cooking spray
Meat thermometer is always handy
You could use this lemon pepper marinade if you'd rather.
Once you're ready for air frying get your air fryer basket ready with some non stick spray. I like to preheat my machine at all times too. It only takes 5 minutes to do and cooks your meat or vegetables a lot more evenly.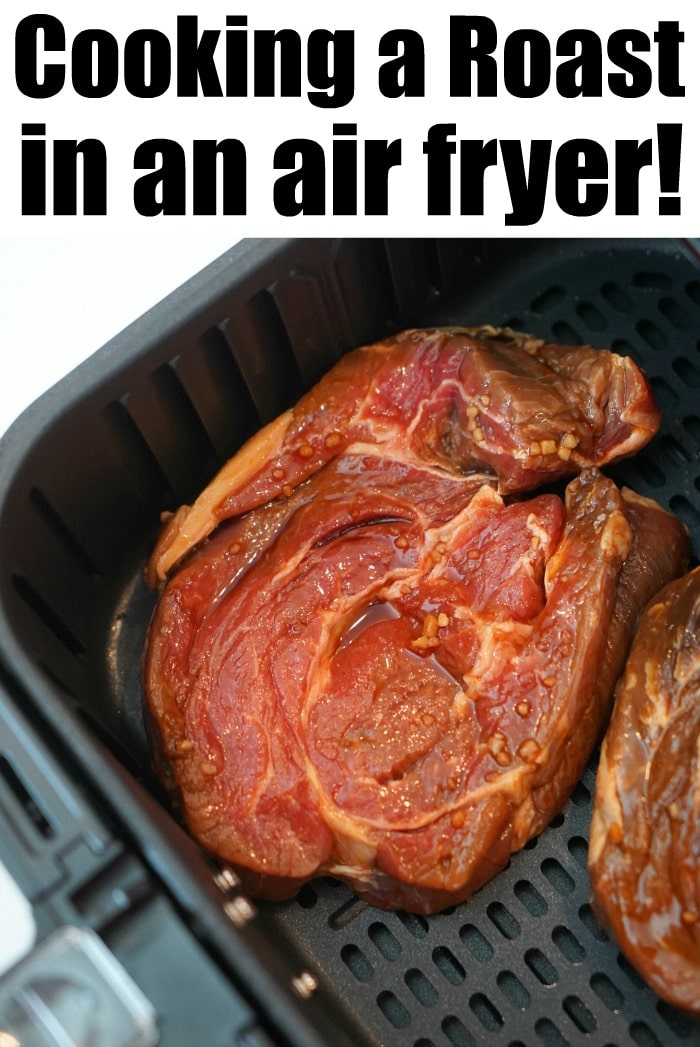 We're going to set the temperature to 400 and set 2 pieces in, or one if they're quite large. You really don't want these to overlap so the amount you can fit will vary a lot.
Keep an eye on it the first go around because everyone likes their beef a bit differently. My husband would prefer it to still be mooing as he's taking a bite while I want it DONE!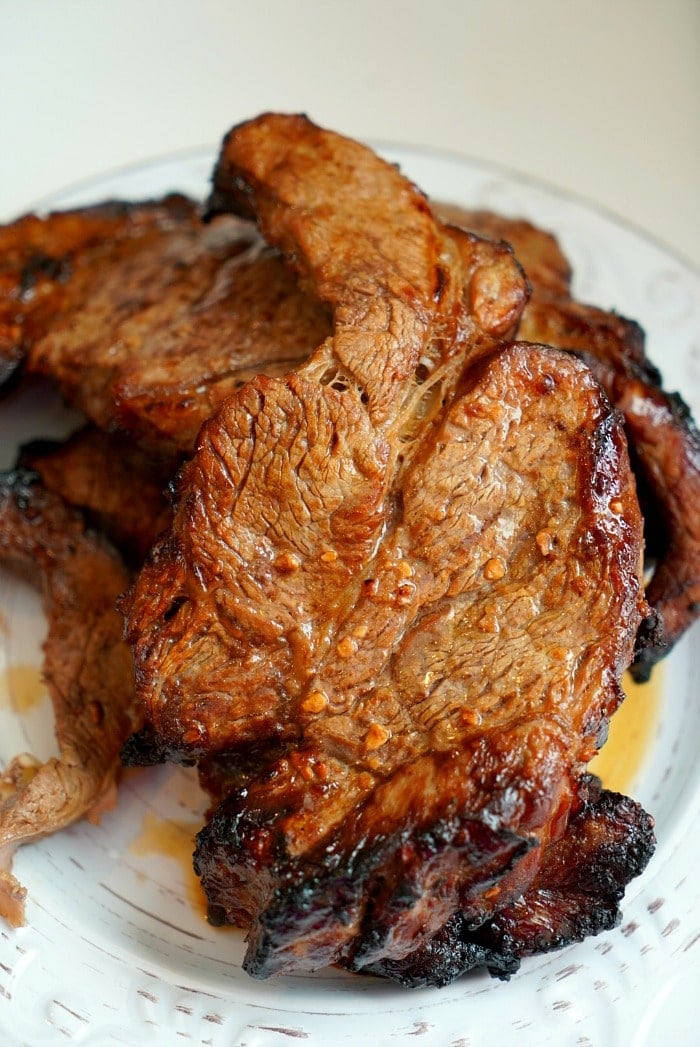 The roast marinade we share below has a sweetness to it and will caramelize a bit on the edges as you see here. That is not burnt rather it is the best bite to me! If you have another you prefer by all means use that.
This is how ours turned out with the timing below. Perfect to me! You can see just about how thin I sliced it initially too so it could really soak up those flavors and cook quickly.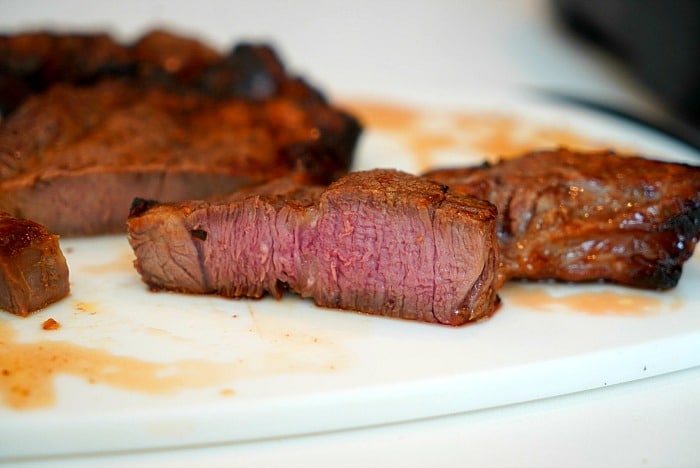 How long does it take to cook a roast at 400?
In this case, just 15 minutes flat! In the oven it is closer to 30-40 minutes because it's kept in one piece (and baking takes longer every time).
Ready to get going with your roast in air fryer here??
Put together an easy side dish like our air fryer sweet potatoes too and get going.
Want to see a few of my favorite things you might want to write on your Christmas list this year??!! 😉 Take a peek and see how many you might already have…twinsies!
Looking for more easy family recipes and tips? LIKE The Typical Mom Facebook page?
Then sign up for my free newsletter, and follow me on Pinterest! 😉
***** If you LOVED this recipe give it 5 Stars below and let everyone know what you thought about it. 😉
If you forgot to defrost it you can follow our frozen roast in Instant Pot directions too. Another favorite is our Instant Pot Mississippi roast recipe. If you want to cook a dutch oven roast we have instructions for that method here too.
Below is our printable recipe card with nutritional information such as calories and saturated fat too.
Air Fryer Roast
Incredible air fryer roast with a homemade marinade that takes this protein over the top! Get ready for your new favorite Ninja Foodi air fryer recipe.
Instructions
Whisk together items for marinade, pour into gallon storage bag.

Remove twine from around roast and slice into 3-4 pieces (the thicker they are the rarer they will become when cooked, your choice)

Put meat into baggie and lay flat in your fridge for 24 hours.

Preheat air fryer to 400 degrees, then lay 2 pieces of roast into your air fryer basket.

Cook for 10 minutes, then flip over and cook another 5 minutes. This should give you a medium well center depending on how thick your pieces are.

Allow to rest on cutting board for 10 minutes before slicing to maintain juiciness.
Nutrition Facts
Air Fryer Roast
Amount Per Serving (3 oz)
Calories 341
Calories from Fat 72
% Daily Value*
Fat 8g12%
Cholesterol 130mg43%
Sodium 4832mg210%
Potassium 707mg20%
Carbohydrates 15g5%
Protein 52g104%
Vitamin C 105mg127%
Calcium 649mg65%
Iron 5mg28%
* Percent Daily Values are based on a 2000 calorie diet.