Great Ninja Foodi roast recipe with mushroom gravy that's tender and juicy in just about an hour. If you're looking for Ninja Foodi recipes you'll love this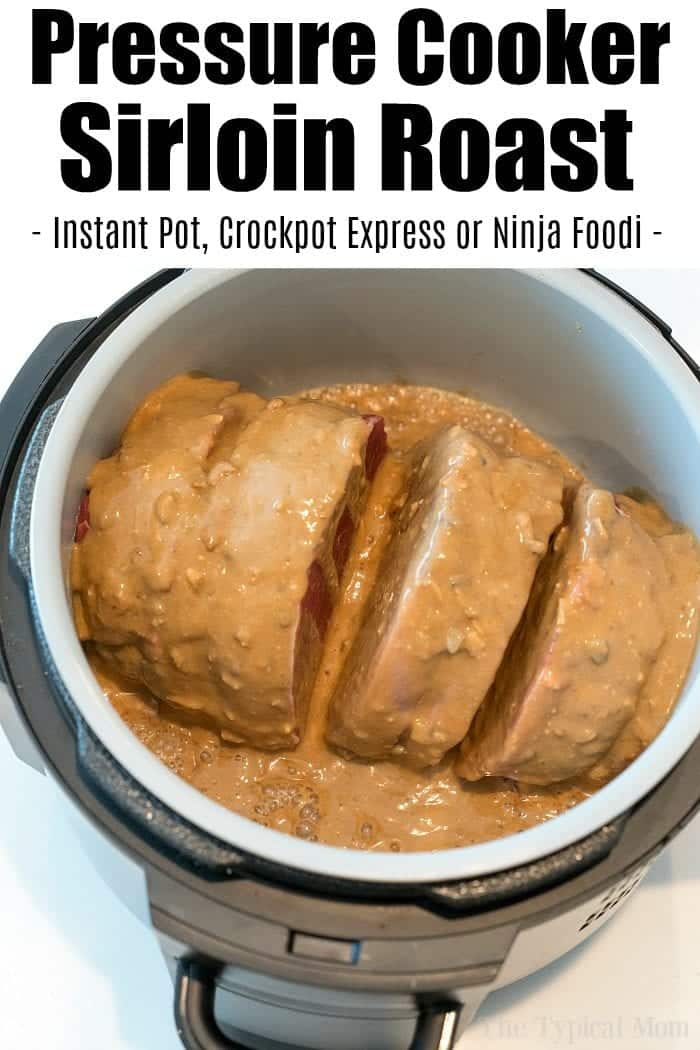 We're adding this Ninja Foodi roast recipe with mushroom gravy to our list of easy Ninja Foodi recipes today! Have you ever made a Coca Cola roast? Well we tried this in our new pressure cooker air fryer machine and it came out so very tender!
** Join my Easy Ninja Foodi Recipes Group if you love your Ninja! Let's share our recipes. **
The first night we served this fall apart beef along side vegetables and some easy pull apart bread recipe, and with the leftovers we put it inside soft tacos with cheese and avocado!
What is the Ninja Foodi?
It is an air fryer meets a pressure cooker and it is making its mark in the cooking world with a vengeance.
Let's get started on how to cook a Ninja Foodi roast, that is the cut we used this time.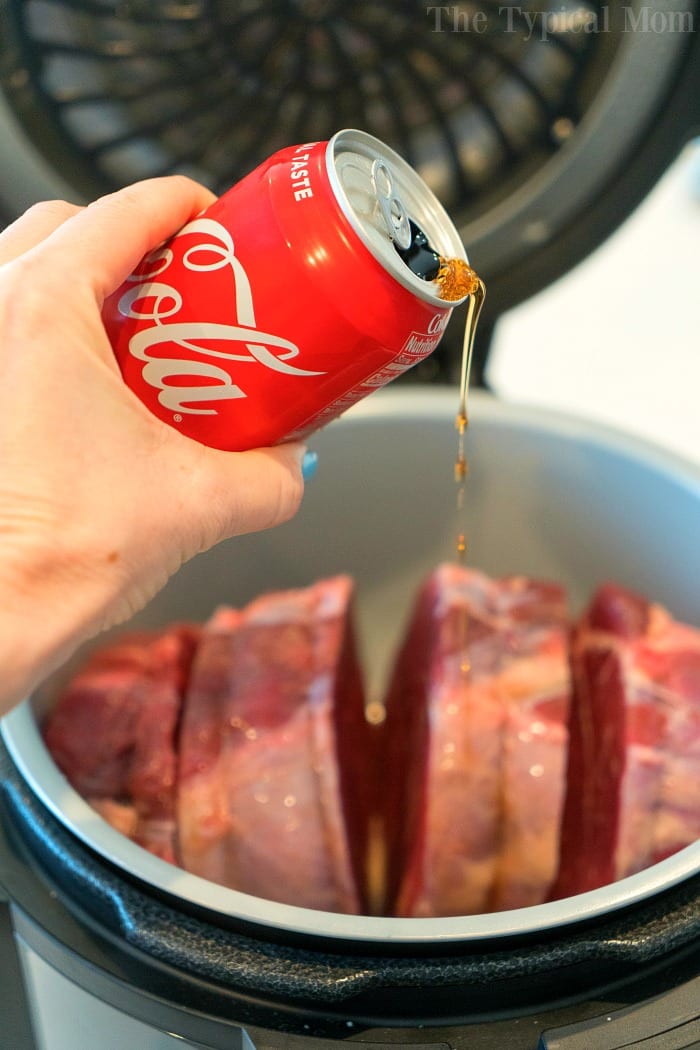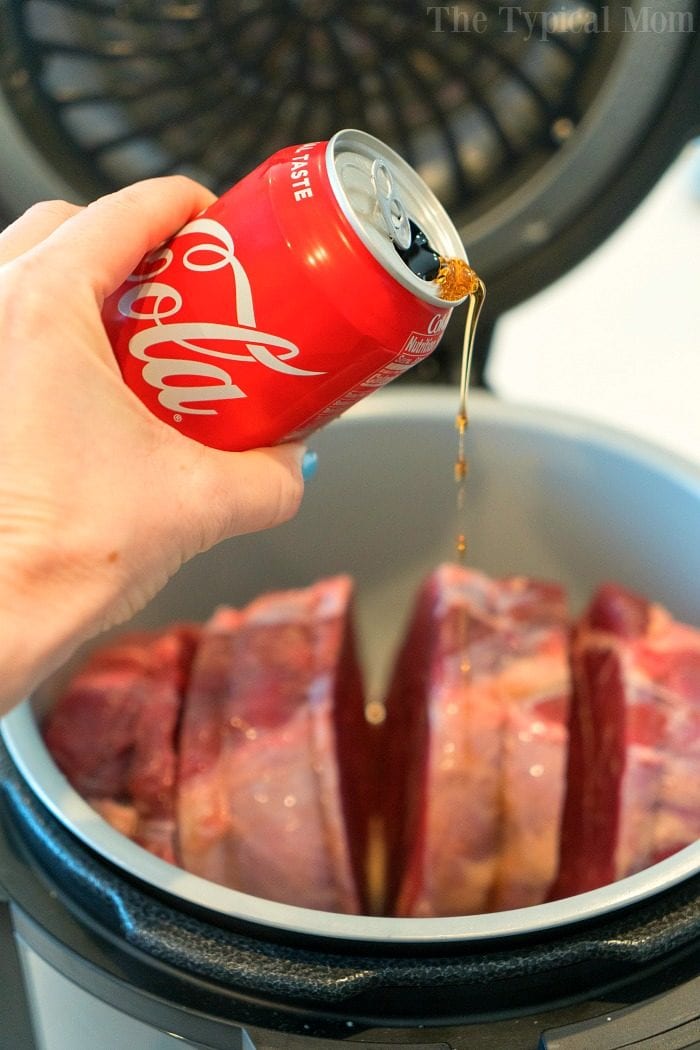 Is the Ninja Foodi an air fryer too?
Yes it is!
We will be using the pressure cooker function for this Ninja Foodi roast recipe though.
I didn't feel the need to use the air fryer to crisp the top since I wanted it as soft and tender as possible.
The best way to cook a roast in my opinion is in a pressure cooker because it makes it oh so tender in a short amount of time, like this one.
Like I said, we used a sirloin tip roast because that is what we had on hand. It is a great cut of meat if you can find it!
Our mushroom gravy is easy to take with a can of Coca Cola, cream of mushroom soup and a few packets of goodness. I will share where you can order those online below so you don't even need to go to the store.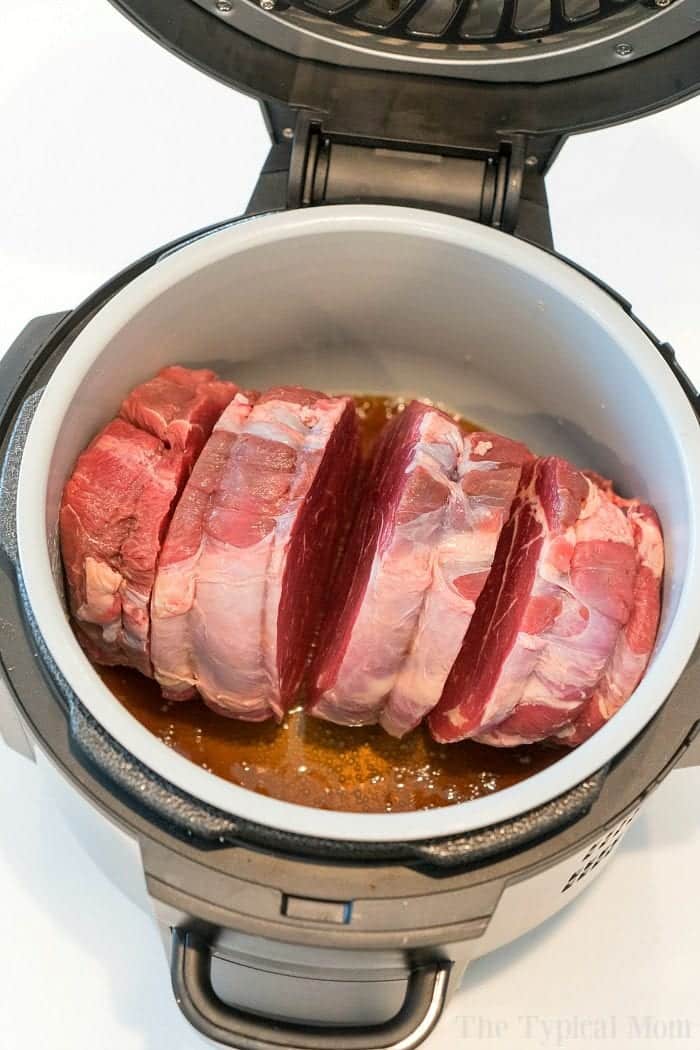 How to cook a roast in a pressure cooker
You will want to leave the fat on – it adds to the overall flavor, ours had minimal
Cutting the large piece of meat into several equal pieces will allow it to cook evenly, all the way through to the center and become tender as ever, we cut ours in 4 equal pieces
Liquid is necessary to cook anything in a pressure cooker – we used Coke as the base and added onion and mushroom ingredients to make our gravy so it could all cook together
Allow the pot to naturally release the pressure COMPLETELY for the tenderest meat and avoid squirting liquid everywhere when it's released
Don't expect your pressure cooker roast to come out as it would in the oven cooked in one solid piece and slicing it. Rather it will be so tender you won't need a knife at all, it will fall apart with your fork. That is the way we love it anyway so it's a win win, more like shredded beef texture if you will.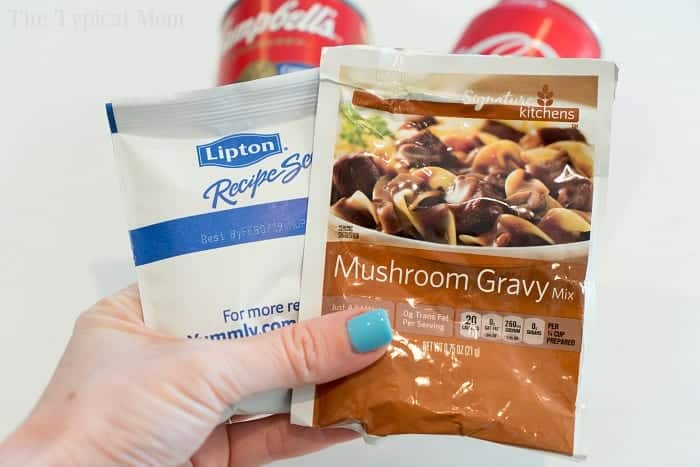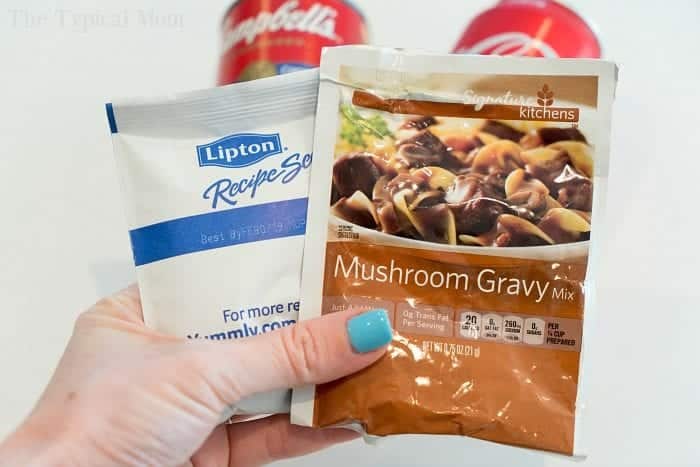 I will start by saying that when I make a gravy I do not over-season or salt it. I prefer to have the taste of the meat come through, and also my husband has high blood pressure so I tend to add just enough salt to enhance the flavor but not overwhelm it.
With that said feel free to increase the amount of garlic salt I suggest. If I can put my two cents in though I would suggest that you use the amount below initially. Then when you are thickening the gravy you can taste it and add more at that time.
It is easier to add seasonings/salt but impossible to remove it once it's in there….that's all I'm sayin'.
This is what ours looked like once I took out the pieces and finished thickening our mushroom gravy! It broke into smaller pieces but still stayed in tact..however it was so tender once I touched it with a fork it broke apart. It was perfect.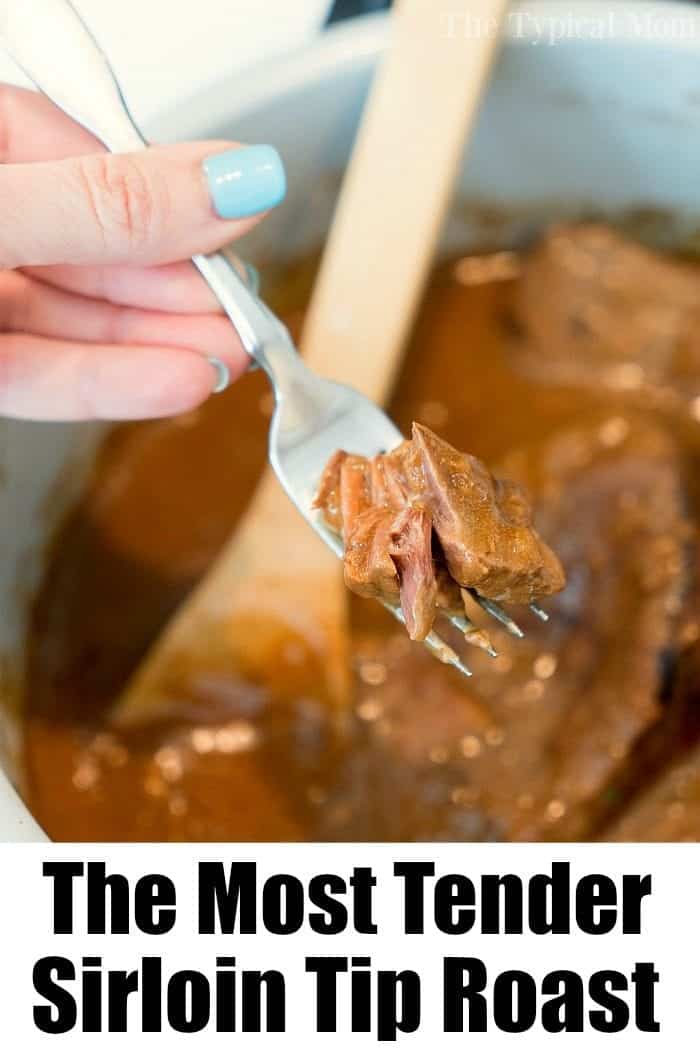 How long to cook a roast in a pressure cooker is of course going to depend on the size of it, ours was 5.8 lbs. (I wouldn't buy one bigger than that).
This is what you need to make this tender Ninja Foodi roast recipe
Roast – ours was a 5.8 lb. sirloin roast tip (great cut)
Can of cola
French onion soup mix packet
Dry gravy mix packet
Cream of mushroom soup
Garlic salt
Soy sauce
Cornstarch + cold water – to thicken gravy at the end
** If yours is smaller adjust accordingly and maybe cut into 3 pcs instead of 4. Cutting it into smaller pieces shortens the cook time overall in order to get it fall apart tender.
Ninja Foodi Roast Recipe
Great Ninja Foodi roast recipe with mushroom gravy that's tender and juicy in just about an hour. If you're looking for Ninja Foodi recipes you'll love this
Total Time
1
hour
10
minutes
Instructions
Whisk together your cola, onion soup mix, dry gravy mix packet, soy sauce and garlic salt so it is lumpy but mixed well.

Remove string ties from roast (if yours has them and you want it to fall apart while cooking, if you want to keep in tact more to slice leave them on). Slice your roast into 4 equal pieces (so it cooks evenly) and put inside your pressure cooker.

Pour soup mixture on top of roast so it is well coated.

Close your pressure cooker lid (lid for Ninja Foodi that isn't connected) and close your steam valve.

Turn machine on, push your pressure cook button, high temperature for 60 minutes. (time appropriate for a 5.5 approx size roast to cook, cut into 4 pcs.)

Allow to naturally release completely (or else stuff will spray everywhere), then open your lid. (this took about 30 min.)

To make a thicker gravy remove your meat and set your pot to saute.

In a small bowl whisk together 1/2 cup of the hot liquid in your pot + your can of condensed soup. Add this into your pot and allow to bubble. If you want it thicker whisk in a bowl 3 tbsp of cornstarch + 3 tbsp cold water until smooth and add into your pot once it begins to bubble.

Stir. If you want it thicker add another 3+3 tbsp cornstarch and water mixture until you get the thickness you want. Keep in mind it will thicken a lot once it cools and sits.

Taste gravy as it is thickening and add more salt if desired.

Return meat to pot so it stays moist, serve!
Nutrition Facts
Ninja Foodi Roast Recipe
Amount Per Serving (3 oz)
Calories 404
Calories from Fat 54
% Daily Value*
Fat 6g9%
Cholesterol 195mg65%
Sodium 1135mg49%
Potassium 1297mg37%
Carbohydrates 8g3%
Protein 73g146%
Calcium 17mg2%
Iron 2.9mg16%
* Percent Daily Values are based on a 2000 calorie diet.
For more easy recipes, tips and free printables please LIKE The Typical Mom on Facebook and follow me on Pinterest! You can also sign up for my free weekly newsletter which is packed with goodies I know you'll love. 😉