Great Ninja Foodi roast recipe with mushroom gravy that's tender and juicy in just about an hour. If you're looking for Ninja Foodi recipes you'll love this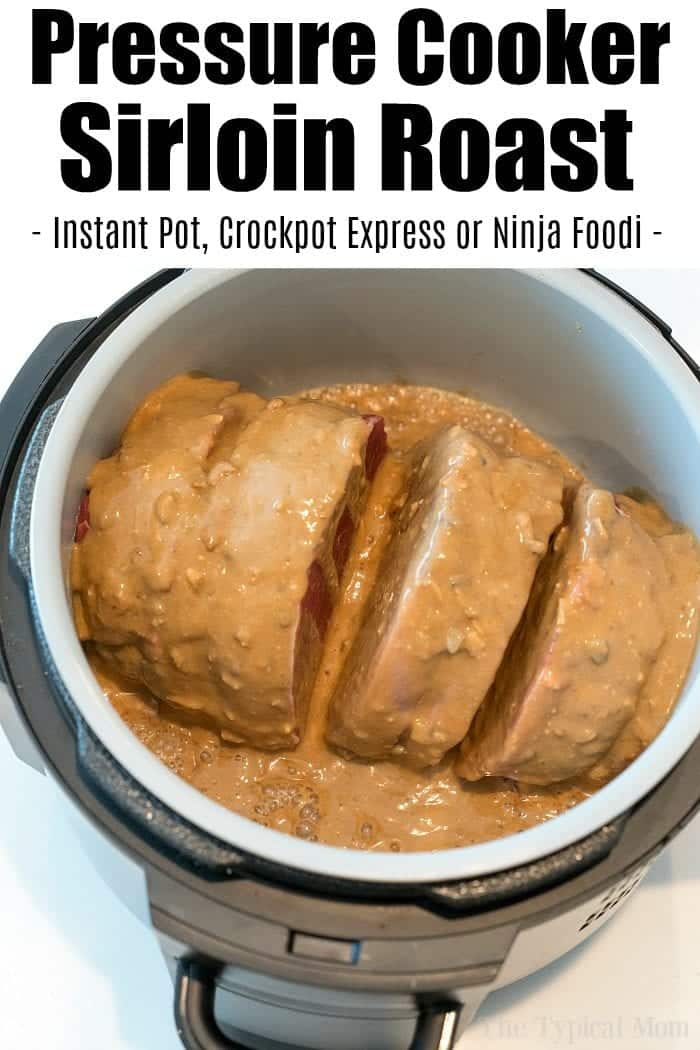 We're adding this Ninja Foodi roast recipe with mushroom gravy to our list of easy Ninja Foodi recipes today! (originally published 2/19, amazon services llc affiliate links present)
After making our Ninja Foodi roast beef we thought to try a Coca Cola roast! This new pressure cooker air fryer machine did a killer job on it.
The first night we served this fall apart beef along side vegetables and some easy pull apart bread recipe, and with the leftovers we put it inside soft tacos with cheese and avocado!
FIRST – You should sign up for my free newsletter so you get new posts emailed to you twice a week and never miss out on anything!
If you too are obsessed with your Ninja Foodi pressure cooker air fryer machine, here are a few resource to start with:
You can

bookmark

our Ninja air fryer recipes page, we add to that weekly.

Here's a printable air fryer cooking times chart here for your fridge.
Be sure to save this link to Instant Pot recipes for beginners too. You can use any of those in your pot too.
Grab a set of wooden utensils to work with. They are great so your pot doesn't get scratched!
Then join our

Ninja Foodi EASY Recipes

– Facebook group where you can share and find more ideas you'll love. Thousands of others share both pressure cooker and air fryer recipe ideas there daily and you can too!
If you need to know how to cook frozen meat in a pressure cooker, we have information on that. NO, you aren't the only forgetful one. 😉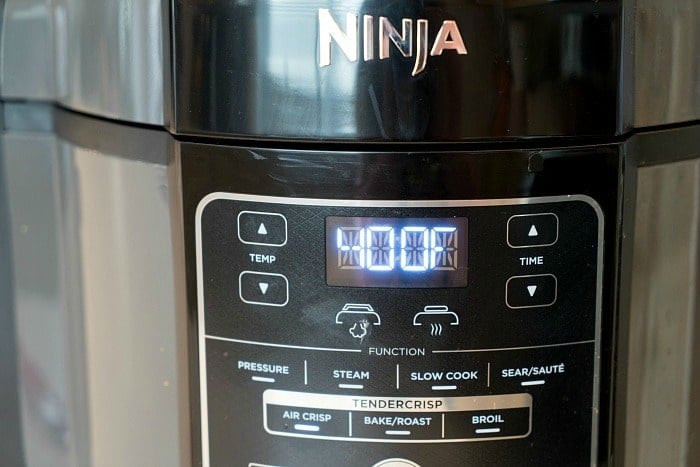 What is the Ninja Foodi?
It is an air fryer meets a pressure cooker and it is making its mark in the cooking world with a vengeance.
If you already have a pressure cooker you might wonder whether you really need both. Well I can say that air frying has been a game changer for us and cooking dinner.
I highly recommend you having both functions so you can not only make foods tender as ever, but get the outsides crunchy perfect as well.
You can grab a free recipe book we love. 😉
Roast in Ninja Foodi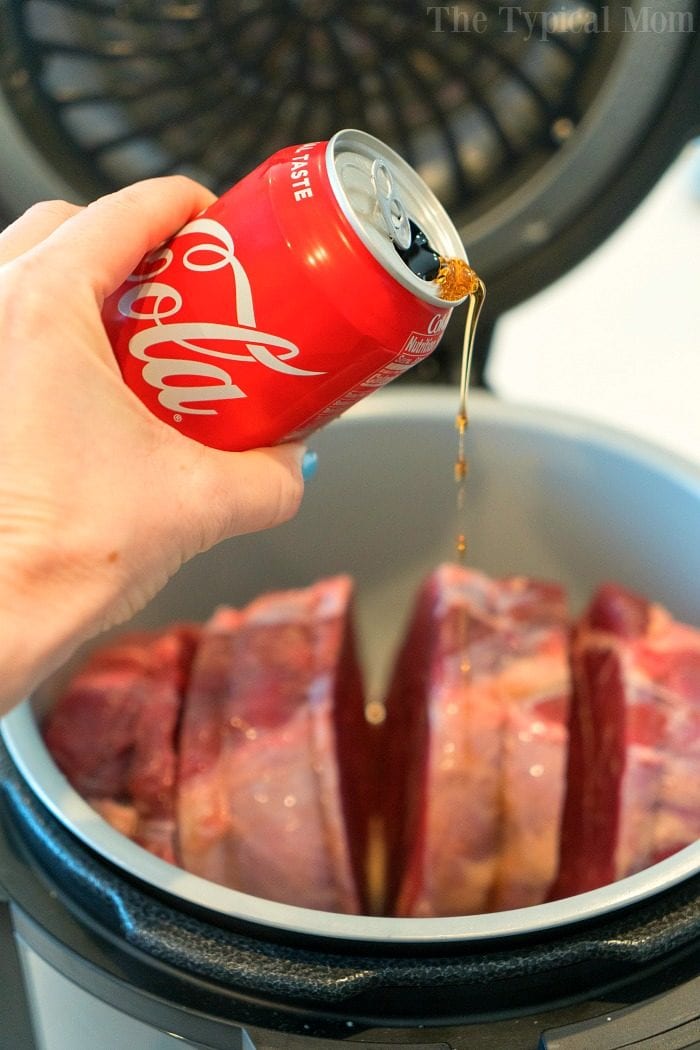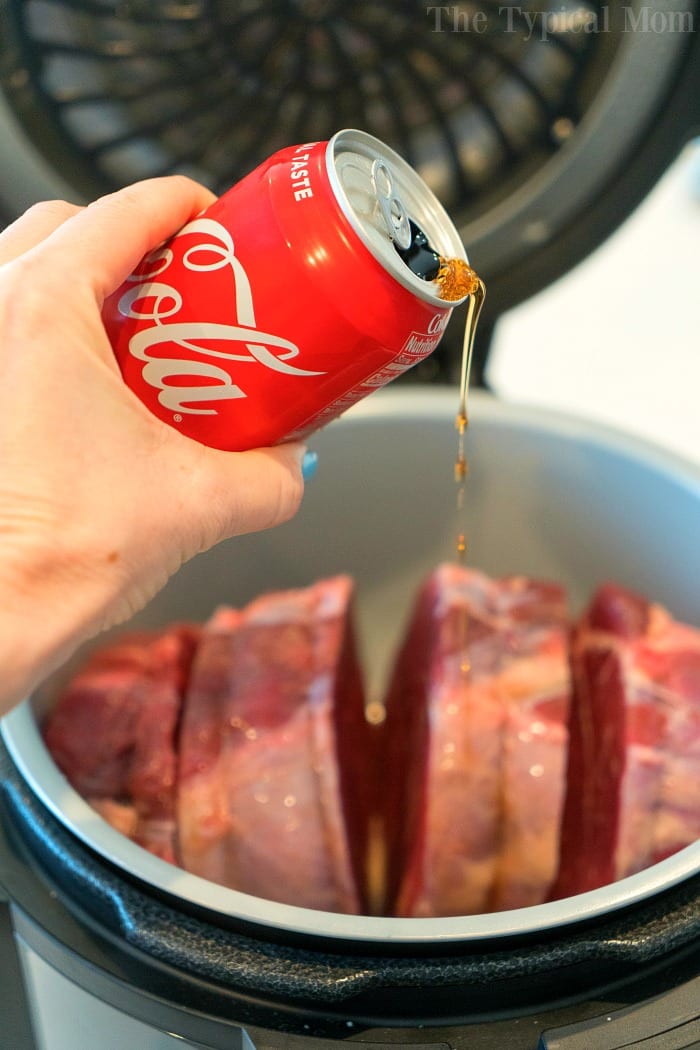 Is the Ninja Foodi an air fryer?
Yes it is!
We will be using the pressure cooker function for this Ninja Foodi roast recipe though.
I didn't feel the need to use the air fryer to crisp the top since I wanted it as soft and tender as possible.
The best way to cook a roast in my opinion is in a pressure cooker because it makes it oh so tender in a short amount of time, like this one.
Like I said, we used a sirloin tip roast because that is what we had on hand. It is a great cut of meat if you can find it!
Our mushroom gravy is easy to take with a can of Coca Cola, cream of mushroom soup and a few packets of goodness.
I will share where you can order those online below so you don't even need to go to the store.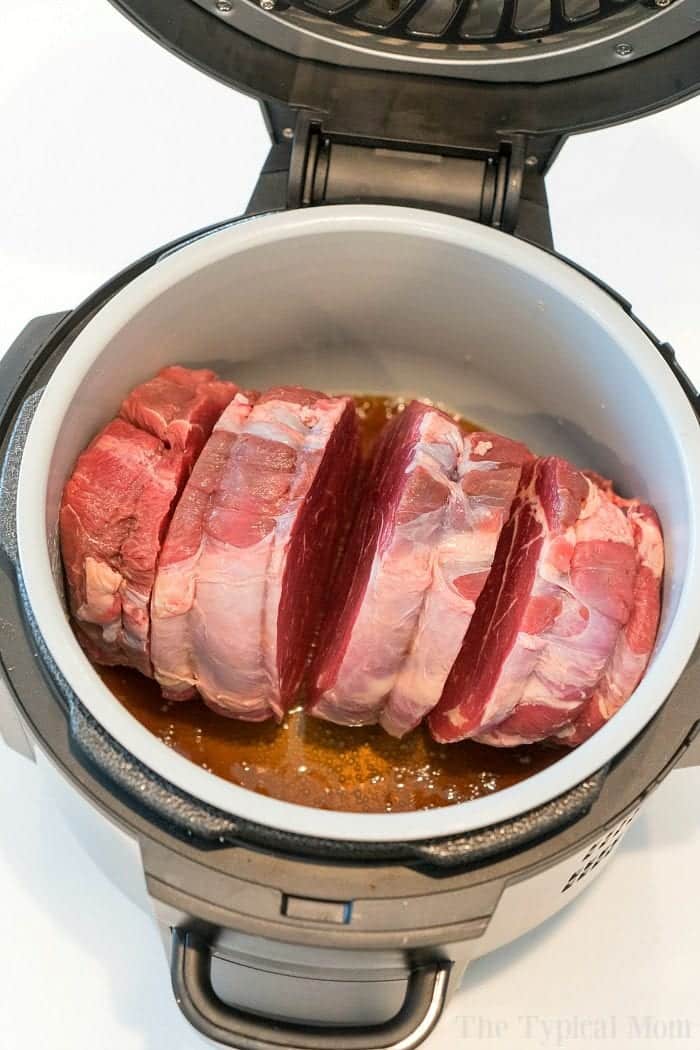 How to cook a roast in a pressure cooker
You will want to leave the fat on – it adds to the overall flavor, ours had minimal
Cutting the large piece of meat into several equal pieces will allow it to cook evenly, all the way through to the center and become tender as ever, we cut ours in 4 equal pieces
Liquid is necessary to cook anything in a pressure cooker – we used Coke as the base and added onion and mushroom ingredients to make our gravy so it could all cook together.
Allow the pot to naturally release the pressure COMPLETELY for the tenderest meat and avoid squirting liquid everywhere when it's released
Don't expect your pressure cooker roast to come out as it would in the oven cooked in one solid piece and slicing it. Rather it will be so tender you won't need a knife at all, it will fall apart with your fork.
That is the way we love it anyway so it's a win win, more like shredded beef texture if you will.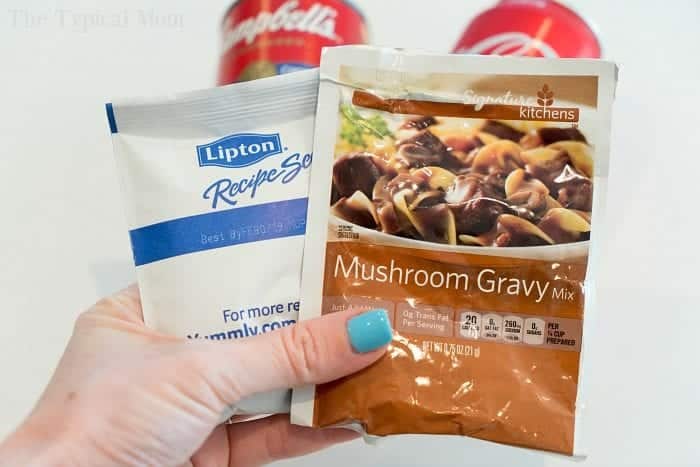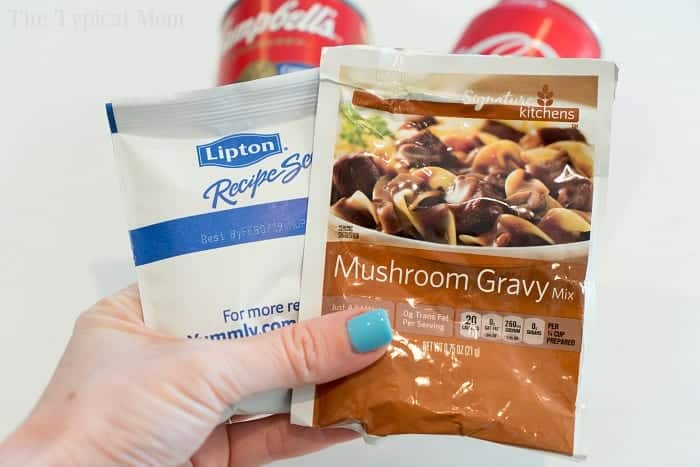 I will start by saying that when I make a gravy I do not over-season or salt it.
I prefer to have the taste of the meat come through, and also my husband has high blood pressure so I tend to add just enough salt to enhance the flavor but not overwhelm it.
With that said feel free to increase the amount of garlic salt I suggest. If I can put my two cents in though I would suggest that you use the amount below initially. Then when you are thickening the gravy you can taste it and add more at that time.
It is easier to add seasonings/salt but impossible to remove it once it's in there….that's all I'm sayin'.
This is what ours looked like once I took out the pieces and finished thickening our mushroom gravy!
It broke into smaller pieces but still stayed in tact..however it was so tender once I touched it with a fork it broke apart. It was perfect.
How long to cook a roast in a pressure cooker?
This is of course going to depend on the size of it, ours was 5.8 lbs. (I wouldn't buy one bigger than that).
Ninja Foodi roast recipe
Roast – ours was a 5.8 lb. sirloin roast tip (great cut)
Can of cola
French onion soup mix packet
Dry gravy mix packet
Cream of mushroom

or make homemade cream of mushroom soup

Garlic salt
Soy sauce
Cornstarch + cold water – to thicken gravy at the end
** If yours is smaller adjust accordingly and maybe cut into 3 pcs instead of 4. Cutting it into smaller pieces shortens the cook time overall in order to get it fall apart tender. No need to tenderize the meat beforehand.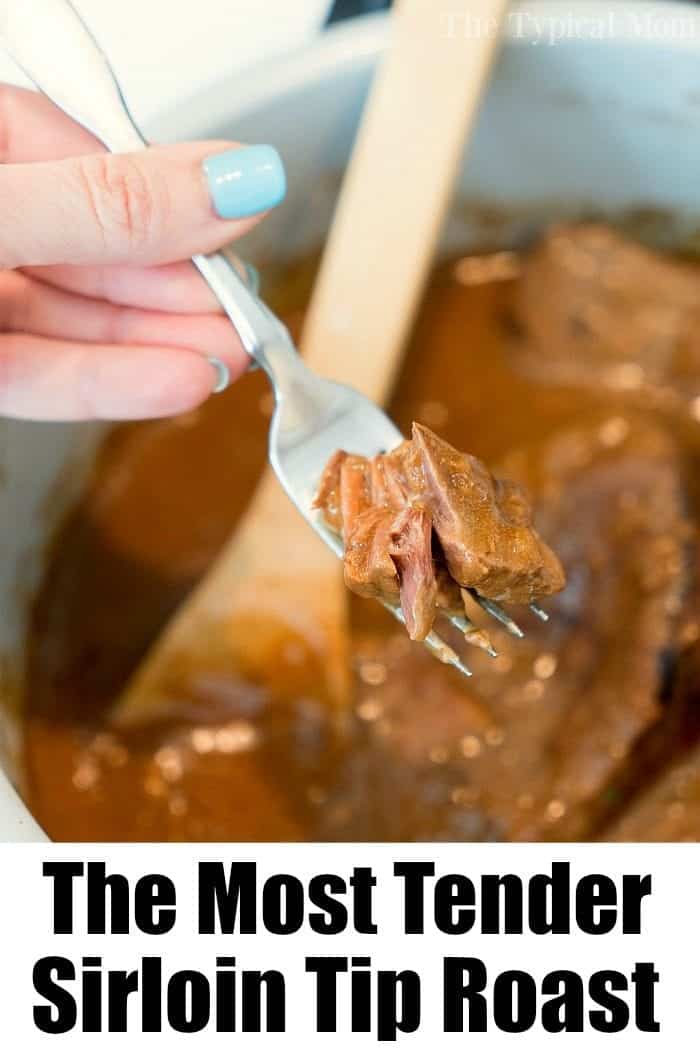 Ninja Foodi roast
Slice your meat into 4 equal pieces and remove string wrapped around it.
Place your meat into your pot.
In a large bowl whisk together your can of soda, onion soup mix packet, soy sauce, garlic salt and dry package of gravy mix. It won't be completely smooth because of the dehydrated onions but pretty much.
You could use beef broth instead of Coke if you really wanted but this adds a bit of sweetness.
Pour this over your meat and close your lid and steam valve.
Set to high pressure for 60 minutes. Timing may vary if you piece is a lot larger (which probably won't fit) or smaller.
Once this is done do not do a quick release. Rather, allow it to release steam naturally which will take 15 minutes – 20ish minutes total.
Remove your meat and allow it to rest
In a bowl put some of the hot liquid from your pot in it with your condensed soup and whisk that together.
Set your Foodi to saute and once it begins to bubble add this mixture in and stir so your gravy can really thicken. If you wanted to add sliced mushrooms at this time you could do so so they would soften.
But there's another way too! You can make an air fryer roast or Ninja Foodi rump roast as well!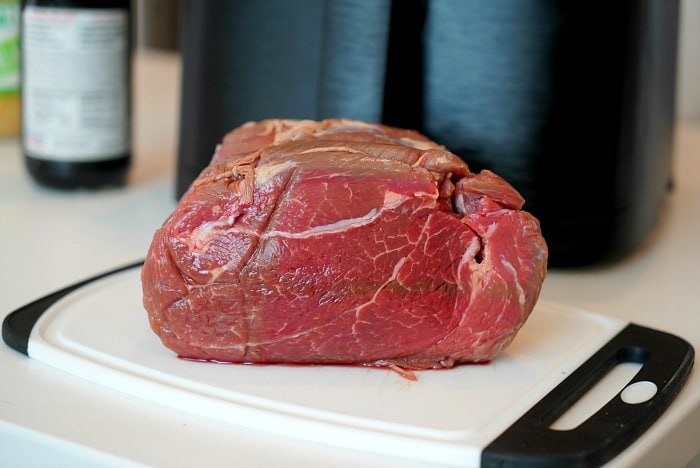 Both ways are fantastic but different in flavor. To use the air crisp method for the one you see above I sliced it in 3 equal pieces so it was thinner.
You couldn't very well cook it as is using this method because the outside would get charred while the middle remained raw.
I created a homemade teriyaki style marinade first, soaked it in the fridge overnight and then cooked it the next day.
My husband said it turned out amazing. Give them both a try and see which Ninja Foodi roast recipe you prefer.
Forgot to defrost it? Follow these pressure cooker frozen roast directions.
Serve with a side of steamed carrots and potatoes underneath are just the best duo ever.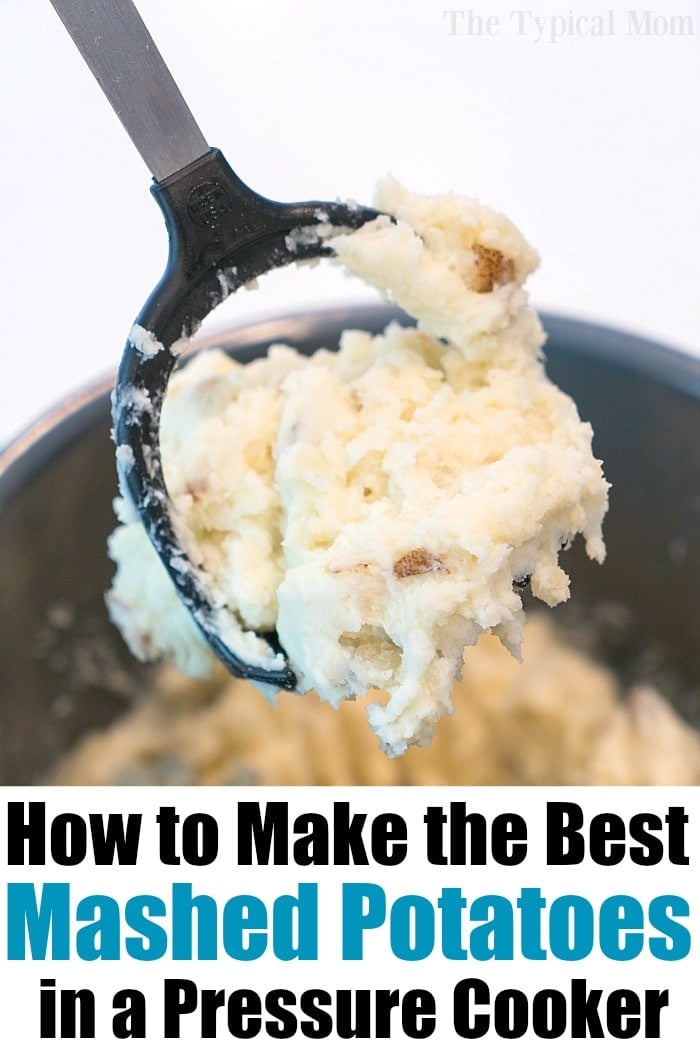 How long is leftover beef roast good for?
You should refrigerate it in a shallow airtight container or wrap tightly with aluminum foil or plastic wrap.
Leftover cooked beef will last for 3 to 4 days in the fridge and can be used in many recipes such as:
Instead of ham you can make our leftover turnovers with this beef. If you've never made these before they're the best, and your kids can help you make them too.
Want to see a few of my favorite things that I am totally obsessed with?? Take a peek and see how many you might already have…twinsies!
Looking for more easy family recipes and tips? LIKE The Typical Mom Facebook page?
Then sign up for my free newsletter, and follow me on Pinterest! 😉
***** If you LOVED this recipe give it 5 Stars below and let everyone know what you thought about it. 😉
We recently made a Ninja Foodi pot roast without the same heavy gravy as here, if you'd rather try that one.
Ninja Foodi Roast Recipe
Great Ninja Foodi roast recipe with mushroom gravy that's tender and juicy in just about an hour. If you're looking for Ninja Foodi recipes you'll love this
Instructions
Whisk together your cola, onion soup mix, dry gravy mix packet, soy sauce and garlic salt so it is lumpy but mixed well.

Remove string ties from roast (if yours has them and you want it to fall apart while cooking, if you want to keep in tact more to slice leave them on). Slice your roast into 4 equal pieces (so it cooks evenly) and put inside your pressure cooker.

Pour soup mixture on top of roast so it is well coated.

Close your pressure cooker lid (lid for Ninja Foodi that isn't connected) and close your steam valve.

Turn machine on, push your pressure cook button, high temperature for 60 minutes. (time appropriate for a 5.5 approx size roast to cook, cut into 4 pcs.)

Allow to naturally release completely (or else stuff will spray everywhere), then open your lid. (this took about 30 min.)

To make a thicker gravy remove your meat and set your pot to saute.

In a small bowl whisk together 1/2 cup of the hot liquid in your pot + your can of condensed soup. Add this into your pot and allow to bubble.

If you want it thicker whisk in a bowl 2 tbsp of cornstarch + 3 tbsp cold water until smooth and add into your pot once it begins to bubble. Keep in mind it will thicken a lot once it cools and sits.

Taste gravy as it is thickening and add more salt if desired.

Return meat to pot so it stays moist, shred in pot or slice and serve smothered in gravy!
Nutrition Facts
Ninja Foodi Roast Recipe
Amount Per Serving (3 oz)
Calories 404
Calories from Fat 54
% Daily Value*
Fat 6g9%
Cholesterol 195mg65%
Sodium 1135mg49%
Potassium 1297mg37%
Carbohydrates 8g3%
Protein 73g146%
Calcium 17mg2%
Iron 2.9mg16%
* Percent Daily Values are based on a 2000 calorie diet.