I always have a ton of leftover ham at Easter, and at Christmas, and usually half of it gets thrown out because we have had enough sandwiches and soup using it. A few years ago I came up with this yummy (and super easy) leftover ham recipe to make them into little "turnovers" that everyone enjoyed + I have another 20 leftover ham recipes at the bottom of this post as well! (post revised and reposted 12/16)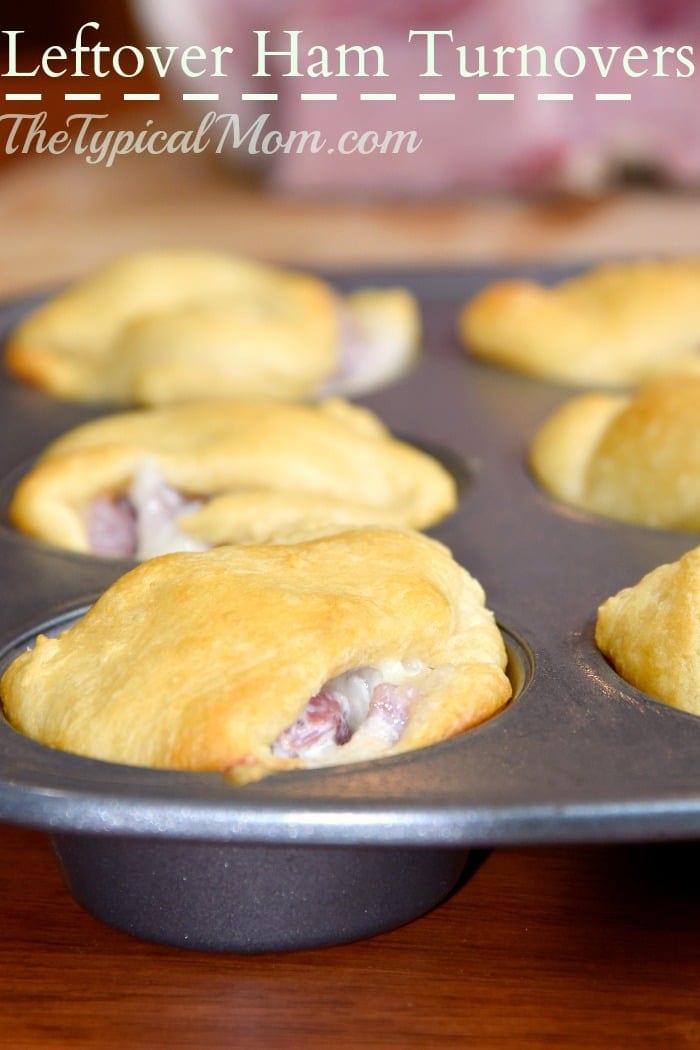 All you do is cube the ham/turkey grate the cheese, add the rest of the ingredients and stir in a bowl. Then lay each crescent roll with the larger part of the triangle inside the muffin tin and the smaller end hanging out. Scoop the mixture inside the muffin cup, and fold the smaller end over the top and tuck it underneath a bit. Bake until they're browned on top and waaallaahhhhh…..they are great!
Just bake at 350 degrees for about 8-10 minutes or until the tops are nice and brown. Make sure they are pretty golden or else the insides of the crescents will be a bit gooey and that isn't good. The kids find them really fun because they can pick it up and eat it without any utensils really, and it's a quick meal I can serve with a side of salad and we're done!
Leftover ham recipe
Ingredients
2 c. cubed ham
1 - 1.5 shredded swiss cheese
1/2 c. mayonnaise
pinch of dill
pinch of salt
1 container refrigerated crescent rolls (to make 8)
muffin pan
Instructions
Cube ham, shred cheese, and add to a bowl. Add mayonnaise. If you want more of a coating you can add a bit more mayo, up to you. I like to add a pinch of dill and salt, you could add a pinch of thyme too. Spray muffin pan with non stick spray and lay crescent rolls inside holes with the larger side of the triangle on the bottom of the muffin pan holes. Mix ham mixture and fill muffin holes, then fold small part of crescent triangle over the top of the mixture. Bake at 350 for 8-10 minutes or until tops are nice and brown.
https://temeculablogs.com/leftover-ham-recipe/
Here's a quick rundown showing you just how easy it is to make these turnovers.

There are really a lot of things you can make with leftover ham to make it last until the last little bit is gone. No need to waste this amazing meat. Here is one more we've made often and 20 more leftover ham recipes below that!
Here's another fun leftover ham recipe:
Here is are 20 other ways you can use leftover ham too!! Tomorrow night you should try this leftover baked ham recipe my kids love.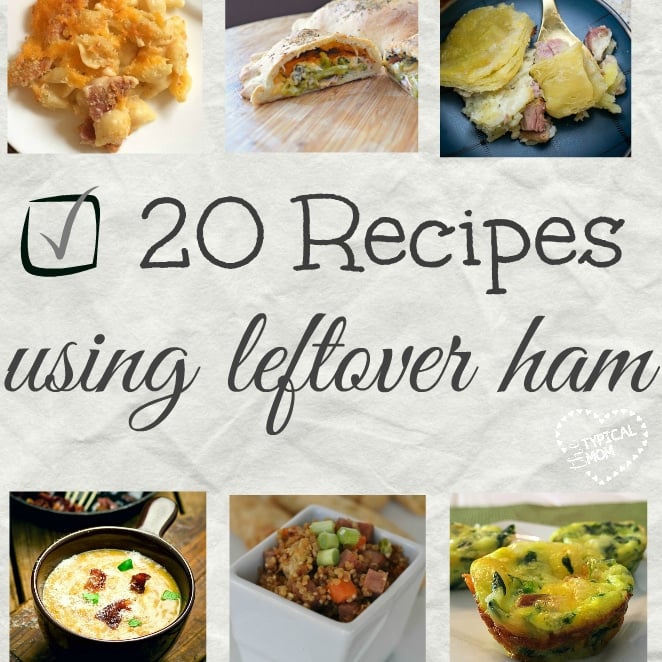 For more easy recipes and crafts please LIKE The Typical Mom on Facebook, sign up for my newsletter, and follow me on Pinterest!