This Instant Pot casserole with chicken, pork or beef and pasta is amazing! Cooked in one pot, follow this method to make a ton of new Instant Pot casseroles of all kinds throughout the month.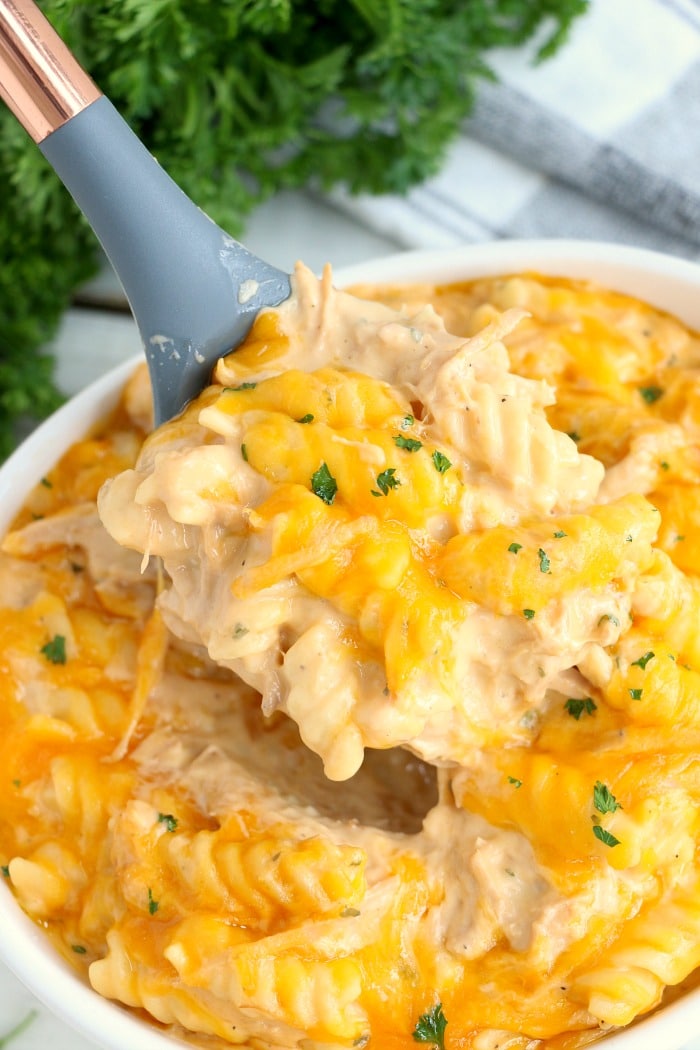 Ever wondered how to make an Instant Pot casserole where the noodles and meat come out tender? I have made SO many Instant Pot recipes over the years and I'm ready to share these tips with you! (affiliate links present, originally published 12/19)
Ninja Foodi Casserole
It doesn't matter what brand you have at home. As long as it is an electric pressure cooker the name like Crockpot Express, Mealthy or Ninja Foodi works the same. You will use the high pressure function or with the dual machine such as the latter one you use the lid that is not attached for this.
You can add chicken, shredded pork or ground beef to noodles or rice. The possibilities are endless. Use squiggly noodles, medium shells, macaroni or whatever you like best. Have leftover ham? Throw that in with your creamy pasta and meat!
FIRST – You should sign up for my free newsletter so you get new posts emailed to you twice a week and never miss out on anything! Now let's start with a few basic tips:
Make sure to Bookmark our InstaPot recipes page. We add new ones each week!
Then PRINT this —–> Instant Pot cooking times cheat sheet that will help you understand how long meat, vegetables and beans take to cook in your pressure cooker.
For reference, this is the pressure cooker I have (a 6 quart) and use for all recipe creations.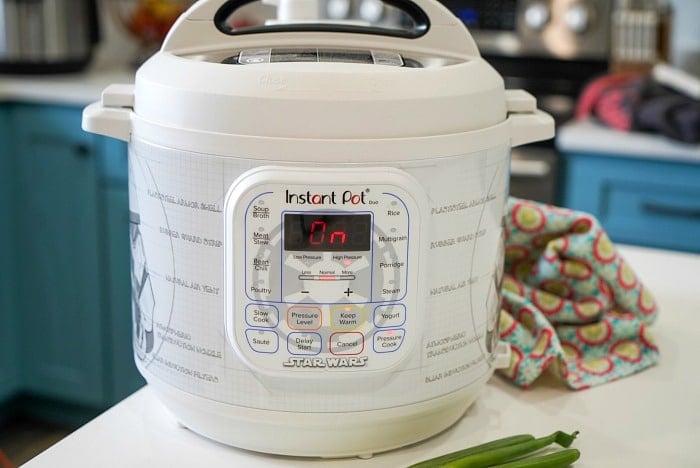 Casserole in Instant Pot
If you don't have enough liquid you'll trigger the burn notice. Add too much pasta and it won't come out tender like you want it. Stir the pasta or rice in and you're REALLY in trouble!
I will talk about it all below, and include a new recipe for what we call, Instant Pot pork pasta. You could easily use shredded rotisserie chicken or leftover turkey too, it's super versatile.
Vegetables can be added to this as well, I would suggest 3/4 of a cup or so of mixed frozen veggies for best results. They will get nice and tender with everything else. If you have a Foodi you can melt an additional layer of cheese on the very top too using the air crisp function.
Ninja Foodi Chicken Casserole
Like I said, use whatever type of protein that you like just make sure it has already been cooked. If it is still raw then use the saute function at the beginning with a bit of olive oil. Cook until no longer pink, turn off and then proceed with the instructions below. The main ingredients you'll need to make a pressure cooker casserole are:
Pasta – I like using small to medium sizes and NOT long noodles. I have only used those to make our Instant Pot spaghetti.
Broth – You can use chicken, beef or vegetable. Water can alternatively be used but doesn't lend nearly the flavor that this does.
Meat – If using leftover precooked meat you can skip the step where you saute it with olive oil first.
We do this often with leftover chicken or our Instant Pot turkey tenderloin recipe. If you have been following me for any length of time you know how I hate wasting food. I can always somehow make a second meal out of it. If you're the same way make sure you store it properly in a freezer bag once it has cooled.
Suck all of the air out of it so it doesn't dry out at all. Keep the larger pieces whole so it stays moist. When ready take it out 30 minutes before using. Chop it up into small bite size pieces or if it is already shredded that is fine too. You just want them all the same size.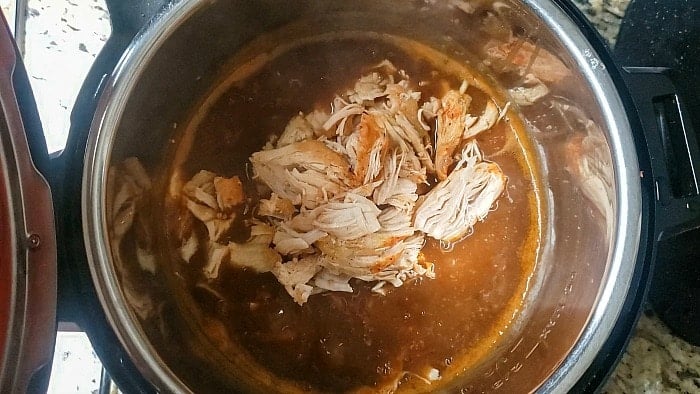 That will save you time since it has already been cooked and you're merely warming it up with all the other ingredients really. No matter what leftovers will dry out a bit. This way fixes all of that because it's cooked in a thick sauce so it will soak some of that up.
Cheese is of course optional but it's a must in our house.
Sour cream will make your dish creamy, but is also optional.
Cornstarch whisked together with a bit of cold water works well to thicken it up, set to saute first and add when it's bubbling.
I have occasionally added vegetables too but those are tricky if you're using fresh. Frozen mixed vegetables are pretty safe and won't get to mushy. We used those in our pressure cooker chicken noodle casserole recipe.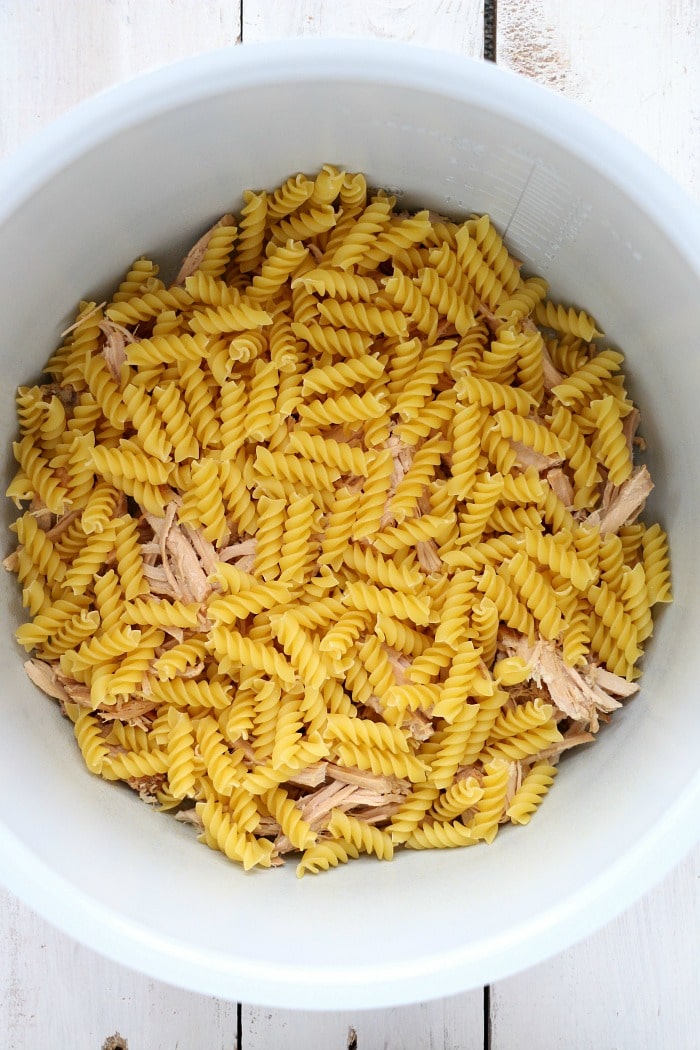 Quick Casserole Recipe
If you love one pot meals but hate turning your oven on during the hot summer months this will solve that problem for you. Now for the important tips so you'll be successful and you won't get the dreaded BURN on Instant Pot notice on the screen:
First: I HIGHLY suggest you get the non stick pot I suggest above right now!! It will make cleanup easier, but more than that it will almost eliminate the burn notice from appearing on your pot.
The pot has a ceramic non stick coating which is an added barrier between the heating element and your food.
Some pots are SUPER temperamental and say burn even when nothing is happening you should be aware of, this pot will prevent a lot of that from occuring.
Now: Whether you cook your meat with olive oil on saute, or use precooked meat, you MUST leave it on the bottom of your pot. Spread it out across evenly.
Then: You'll want to layer your other ingredients on top of that, followed by your cups of water or both. Broth is SO much better for flavor. The ratio of noodles to broth varies but should look similar to below.
Lastly: Sprinkle your uncooked noodles or rice on the very top and DO NOT SUBMERGE or STIR it in!! Just gently press them down into the liquid just so they're wet.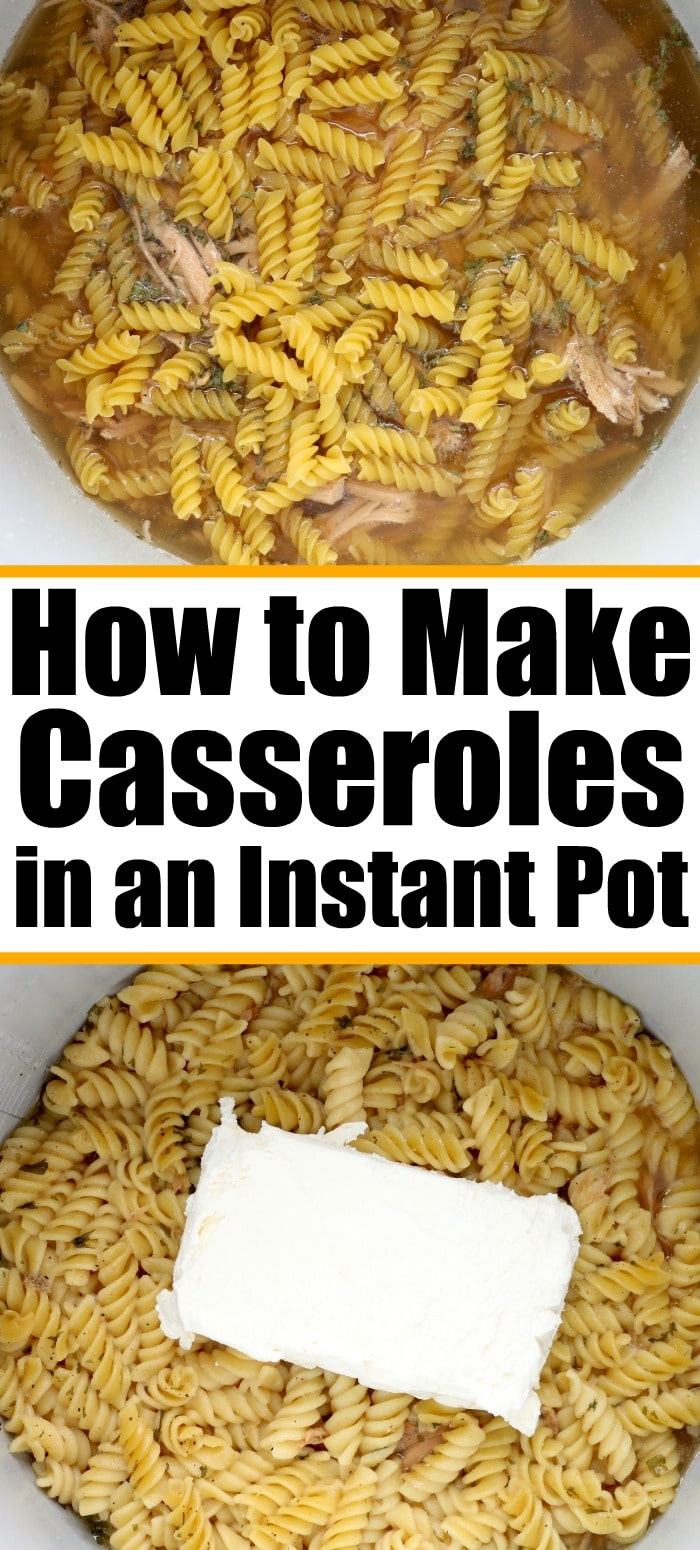 Pressure cooker casserole
THIS last step is key to making any Instant Pot casserole recipe a success! Most failures are because someone has not followed this direction.
If you don't you will most likely receive the burn notice and all your starches will be stuck to the bottom horribly!
Another tip is you'll want to quick release the steam after cooking on high pressure so the noodles don't get mushy. If you're using rice I usually natural release for 2 minutes to allow it to fluff up inside.
Electric pressure cooker

any brand, a Ninja Foodi works too

Precooked shredded pork – beef or boiled shredded chicken would work too
Noodles medium size are best for this cook time
Chicken broth or water but this will add a lot more flavor to your dish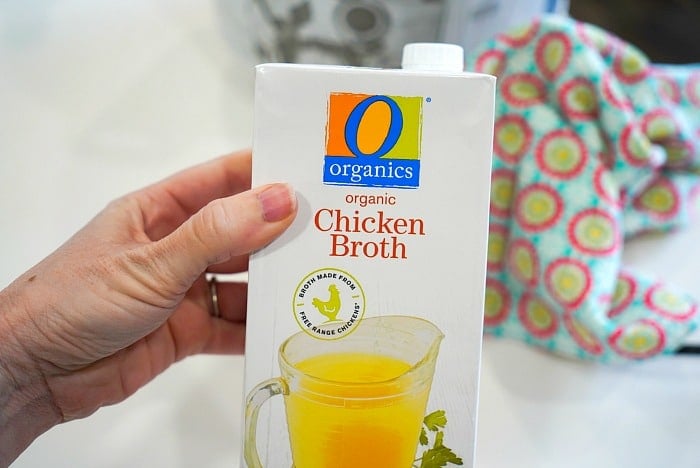 Garlic powder and other seasonings
Cream cheese should be softened, just leave on the counter for a bit
Cheese should be shredded, use your favorite type
Cornstarch is good to thicken it up a bit
InstaPot Casserole
We have used long grain white rice instead of pasta before, like in our Instant Pot hamburger casserole. I don't use brown rice as it alters the timing a lot and we prefer the other. If you'd rather use this grain you could swap out your leftovers for the ground beef we used in this one.
If you'd like to make a version of this with white rice, use our Instant Pot chicken rice casserole recipe so you can get a feel for how that style works. That one is like the old fashioned Campbells version I bet your mom made too back in the day, but on the stovetop.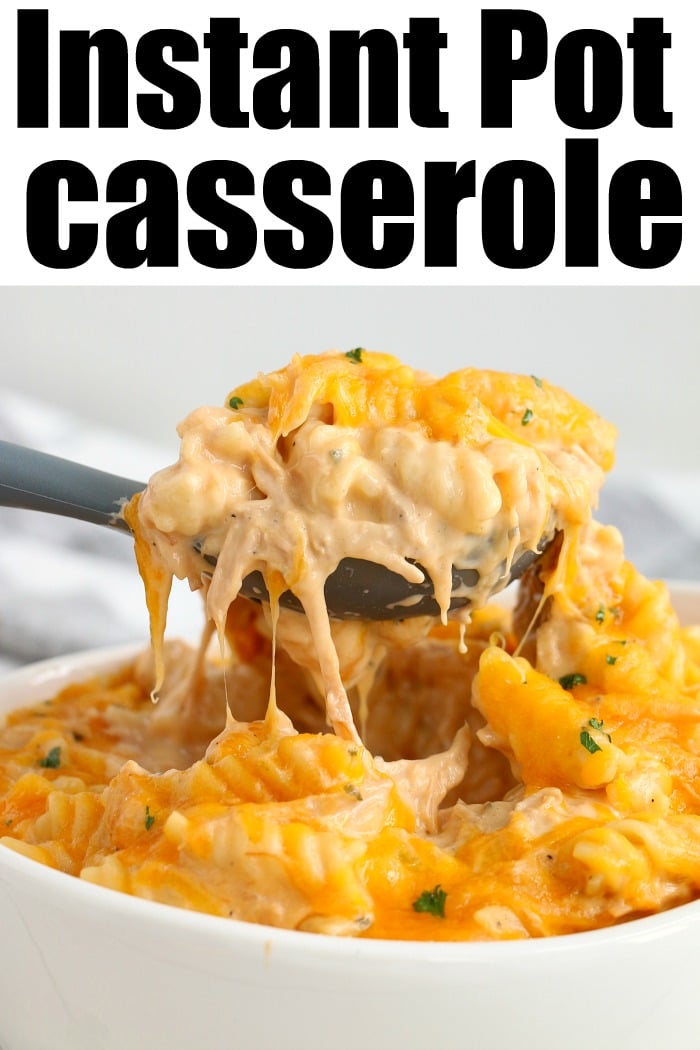 How to Cook a Casserole in Instant Pot
Pressure cooking is really the way to go if you want quick cooking times and the ability to eat together as a family more often. I used my slow cooker a lot in the past, but this magic pot has been a game changer for me to make more homemade meals.
I mean we didn't stop here since like I said there are so many ways to tweak this with whatever you have on hand or are craving at the moment. If you have kids make it even more fun with the multicolored noodles at the store. If I find those on sale I will really load up! Looking for other InstaPot casseroles you might love too?
The list just goes on and on really. Now that I have made so many I can really do this by eyeing it. The biggest thing as far as the liquid to pasta ratio is that everything is submerged, even barely but just underneath it will work great!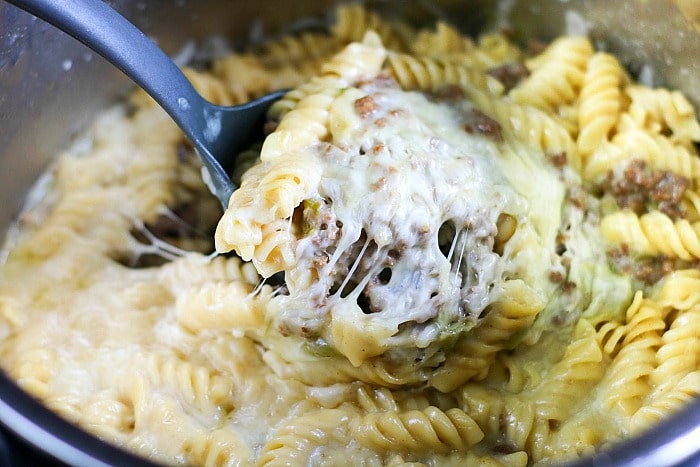 How to Save Leftover Casserole
And once again I hate wasting. Now if you did use meat that was previously cooked, then saved, and used again in this dish I don't really like to save that. Warming once is one thing but again and again changes the texture of the meat and isn't always the safest thing to do. In other cases I totally will.
First always wait until it has cooled, completely. Move what little you have into a container and cover with a lid if you have one or with foil or plastic wrap so you trap the least amount of air inside possible. You can keep that in the fridge for 3 days or so. When you are ready to enjoy it again transfer it into a microwave safe dish.
Heat for 45 seconds and then gently stir it so that the ingredients are rotated. You want the middle of it to get hot too so this is the best practice for that. Add another 45 seconds or so again and do this until it is warm again. For added yum sprinkle some more cheese on the top during the last heating rotations. This will add ooey gooeyness to the dish.
Want to see a few of my favorite things that I am totally obsessed with?? Take a peek and see how many you might already have…twinsies!
Looking for more easy family recipes and tips? LIKE The Typical Mom Facebook page?
Then sign up for my free newsletter, and follow me on Pinterest! 😉
***** If you LOVED this recipe give it 5 Stars below and let everyone know what you thought about it. 😉
You can print recipe below.
Instant Pot Casserole
This Instant Pot casserole with chicken, pork or beef and pasta is amazing! Cooked in one pot, follow this method to make a ton of new meals.
Instructions
Place shredded meat across bottom of pot, then sprinkle uncooked noodles on top with seasonings on top of that.

Pour in your broth. Close lid and steam valve and set to pressure high for 5 minutes. Allow pressure to naturally release for 2 minutes when done, then quick release.

Stir contents, sprinkle in cheese, stir so it melts.

Set pot to saute. Cut room temp. cream cheese into chunks and add into pot. Slowly stir so that melts too and makes casserole creamy.

When bubbling add cornstarch into small bowl and whisk in water until it is smooth. Add into pot and stir so it thickens, turn pot off now.

Allow to sit for at least 5 minutes to continue to thicken up before serving.
Nutrition Facts
Instant Pot Casserole
Amount Per Serving (2 oz)
Calories 593
Calories from Fat 342
% Daily Value*
Fat 38g58%
Cholesterol 135mg45%
Sodium 1905mg83%
Potassium 283mg8%
Carbohydrates 34g11%
Protein 30g60%
Vitamin A 1192IU24%
Vitamin C 12mg15%
Calcium 497mg50%
Iron 2mg11%
* Percent Daily Values are based on a 2000 calorie diet.