Cheesy Instant Pot goulash turned out amazing in my pressure cooker! Creamy goulash with two different cheeses, it's total comfort food in your pressure cooker or Ninja Foodi.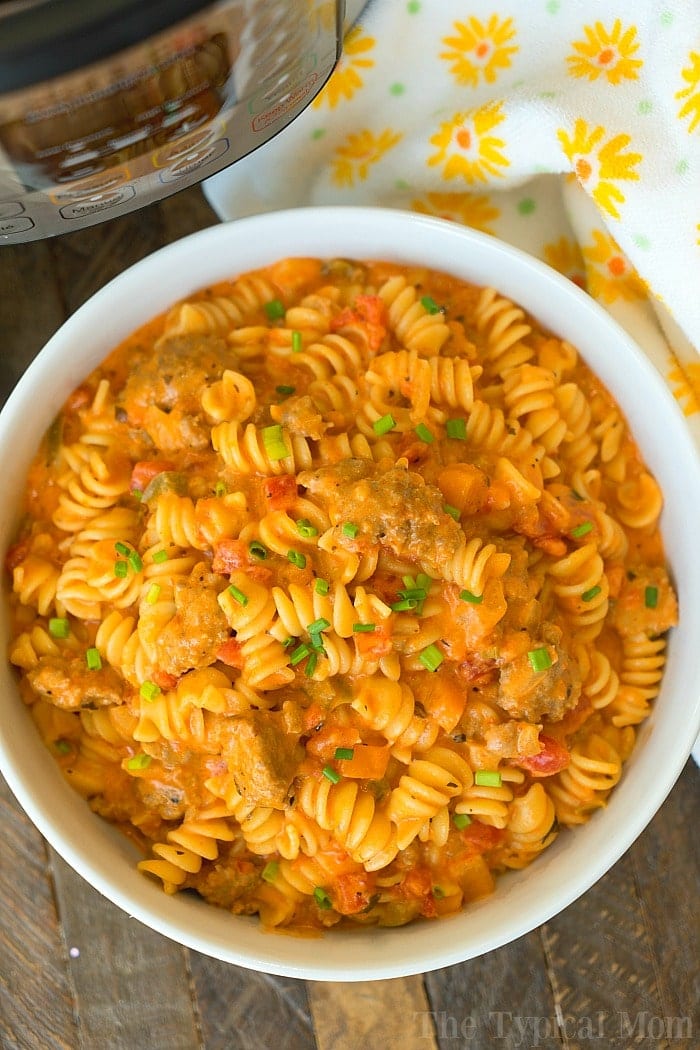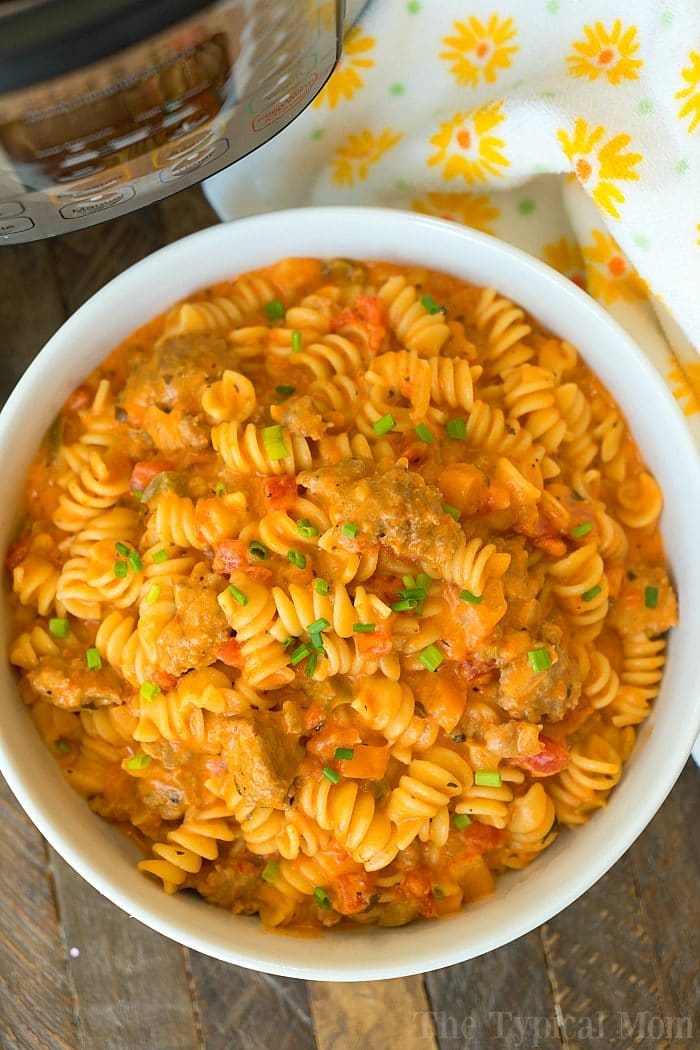 Who doesn't love goulash??!! I'm sure it was something you had as a child but maybe forgot about. But maybe this cheesy Instant Pot goulash is just the twist you need to try it again. If you're like me and enjoy easy Instant Pot recipes that take less than 20 minutes from start to finish, you will love this casserole of sorts. A quick and easy meal packed with flavor and drowned in cheesy sauce. (originally published 3/18, affiliate links present)
It is definitely a favorite Instant Pot dinner recipe your kids will love. It seriously tastes even more amazing the next day for leftovers (if there are any).
Look at this cheesy Instant Pot goulash!!
Maybe it's just me but I love casseroles. An easy one pot meal that has it all and really needs no side items to prepare is just my style. DONE!
I started my pressure cooker casserole journey with this Instant Pot chicken parmesan casserole. It's a winner when I don't need to heat up my kitchen during the summer months.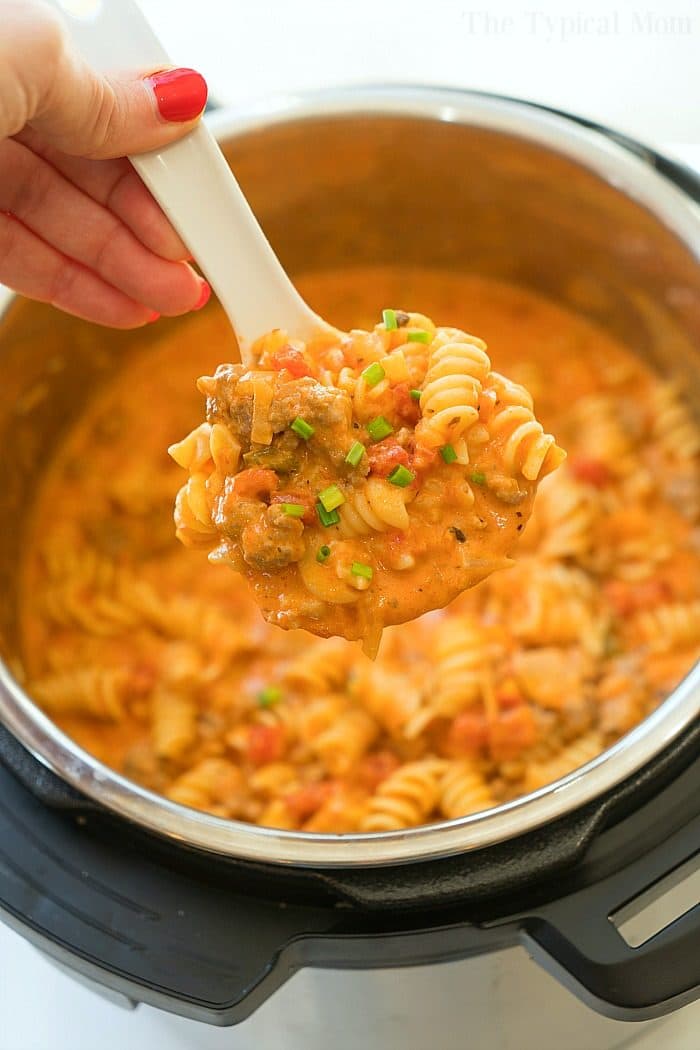 I work from home so I like making meals that every one of us enjoys, but there is a bit left over so I have lunch for myself the next day, this was a great one (I would dare say even better the next day!).
It is filling with sausage (you could use ground beef), pasta, spaghetti sauce, diced tomatoes. Lots of cheese is needed too I tell you. You don't need a heaping bowl to feel full and get that "oh my goodness is this good" feeling.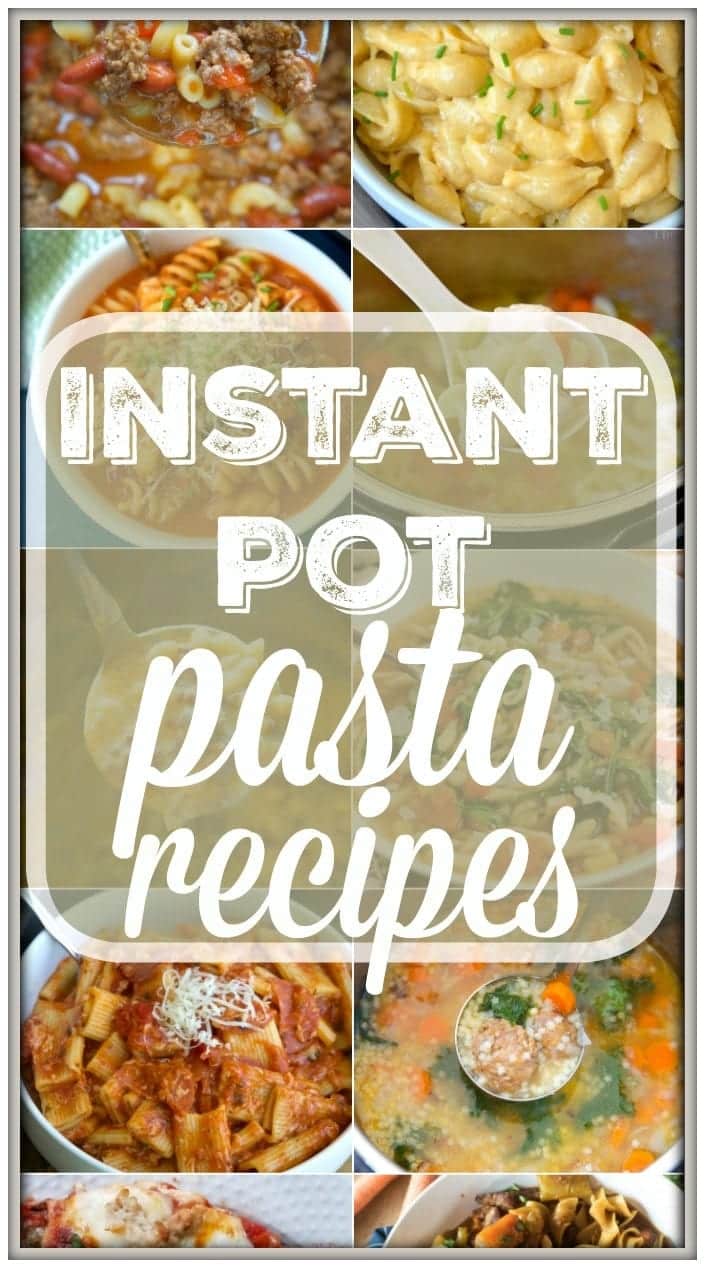 This is what you'll need to make our easy cheesy pressure cooker goulash recipe
Medium / Spicy sausage – I used Jimmy Dean in the sausage roll but you could add ground beef instead. Spicy sausage brings a tremendous amount of flavor without the need for seasoning and seasoning salt.

this is how to defrost Instant Pot frozen ground beef in case you forgot to thaw it out the night before. 😉

Pasta – We used this style but if you want a traditional looking goulash then elbow macaroni noodles could be used too, your choice
Spaghetti sauce – I buy whatever is on sale
Beef stock or broth
Diced tomatoes – I like the petite style
Cheddar and Parmesan cheese – you could use either or but I like a combo
Heavy cream
Onion & bell pepper – optional but brings a lot of flavor and a bit of texture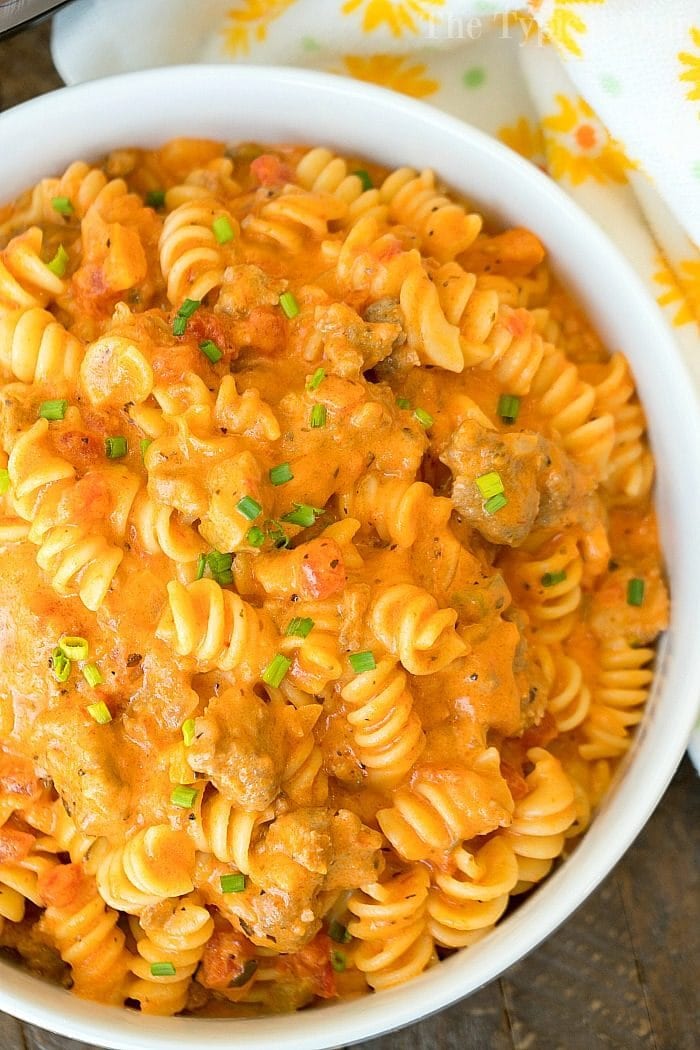 It is cheesy in the cheesy sauce kind of way, rather than the stringy you're going to have a hard time eating it and the cheese is going to get all stuck in your hair when you try to eat it kinda' cheesy. LOL.
I like it thick so I added just a cup of heavy cream but if you wanted it saucier you could add 1.5 cups of that to thin it out.
Once you are done cooking it, open the lid and stir in the heavy cream and cheeses, stir so they melt, then it is ready to eat. BUT if you want it thick like you see here let it sit in your Instant Pot or pressure cooker for 5-10 minutes.
I am sure this will become one of our favorite meals and a family favorite for sure.
If you need it to be dairy free (like my husband does), just ladle out your goulash when the cooking is done for that person. Then add the cream and cheese for everyone else who wants it cheesy. Easy fix for that. 😉
Ours turned out perfect after 5 minutes with a quick release. More time will make noodles too soft.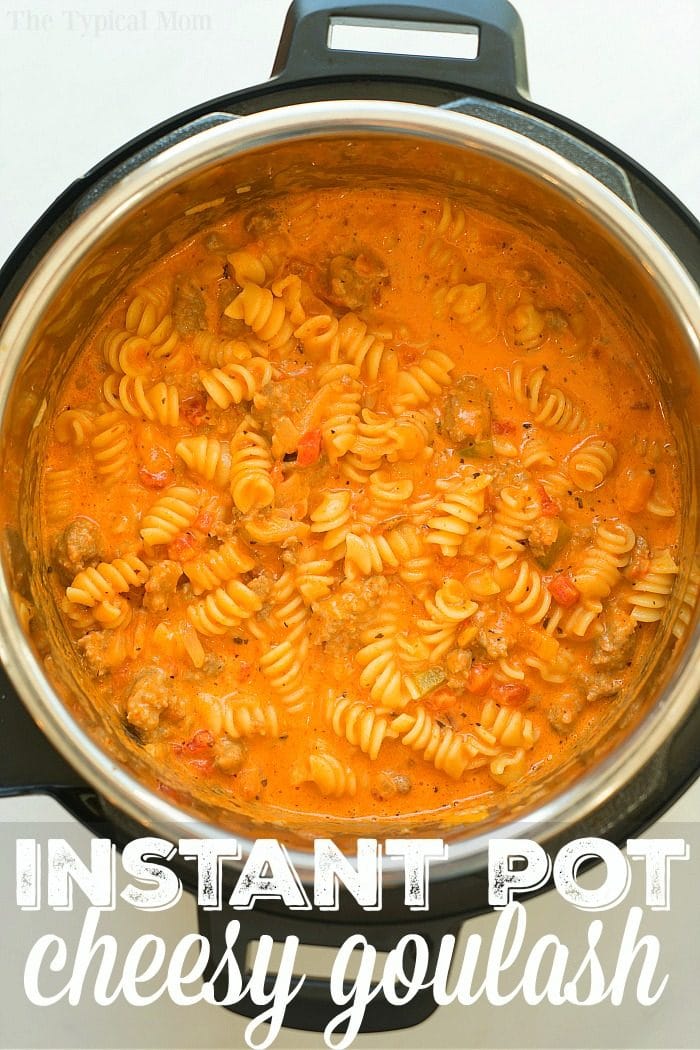 Looking for other comfort food recipes?
Here's the printable recipe for cheesy goulash.
Note: You could make this gluten free with alternative noodles but I haven't tested out the timing of this yet. If you do please share with us below so others can take advantage of the info.
We hope this ends up on our weekly meal planning schedule!
Cheesy Instant Pot Goulash
So I made this easy cheesy Instant Pot goulash the other day and it turned out amazing! Creamy goulash with the same flavors you love with two different cheeses within it too. Total comfort food in your pressure cooker that will be your kid's new favorite dinner for sure.

Instructions
Turn your pressure cooker to saute and add olive oil, sausage or ground beef, onions and diced bell peppers.

Cook until meat is no longer pink, turn Pot off/cancel button.

Pour in your beef broth, then spaghetti sauce, then diced tomatoes, then your uncooked noodles and DO NOT stir.

Push noodles down so they are submerged in liquid and close lid and steam valve. (if cooking on the stovetop do stir this and boil on low until noodles are soft enough for you and serve)

Set pressure cooker to high pressure for 5 minutes.

Stir in heavy cream and cheese, stir until cheese is melted.

Serve immediately or wait 5 minutes or so and allow goulash to thicken as it sits and then serve!
Video
Nutrition Facts
Cheesy Instant Pot Goulash
Amount Per Serving (4 oz)
Calories 603
Calories from Fat 315
% Daily Value*
Fat 35g54%
Cholesterol 92mg31%
Sodium 1407mg61%
Potassium 829mg24%
Carbohydrates 48g16%
Protein 23g46%
Vitamin A 1520IU30%
Vitamin C 30.9mg37%
Calcium 209mg21%
Iron 3.1mg17%
* Percent Daily Values are based on a 2000 calorie diet.

For more easy recipes, tips and free printables please LIKE The Typical Mom on Facebook and follow me on Pinterest! You can also sign up for my free weekly newsletter which is packed with goodies I know you'll love. 😉