Frozen taquitos in air fryer are the best! WAY crispier than in the oven and done in just minutes. Frozen food in an air fryer is the bomb!
Frozen taquitos in air fryer directions are here! Skip preheating the oven and baking. This takes half the time and they're super crunchy this way. Find this and more easy air fryer recipes here on The Typical Mom.
Air Fryer Frozen Taquitos El Monterey
There are a few brands out there, any of them will do and cook the same way. I mean who doesn't love these babies!! An easy throw together dinner you can make when days get hectic, and they do. You can make homemade air fryer flautas like this but with flour tortillas but this is faster.
You can find beef, chicken or cheese versions in the freezer section of your grocery store. I always have some on hand for "those days."
FIRST – You should sign up for my free newsletter so you get new posts emailed to you twice a week and never miss out on anything! If you love air fryer recipes too, here are some resources to start with: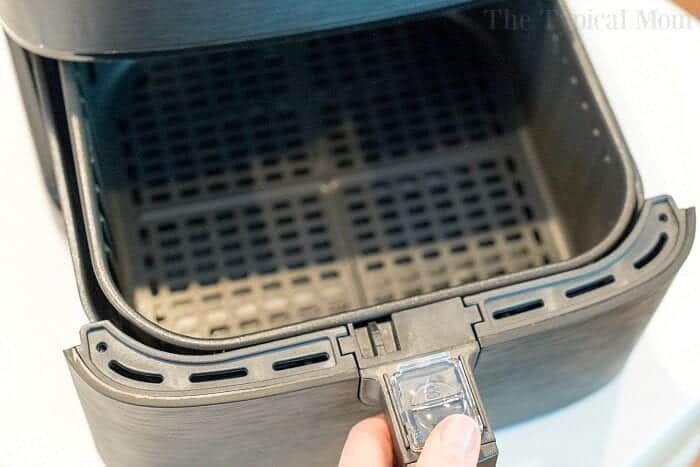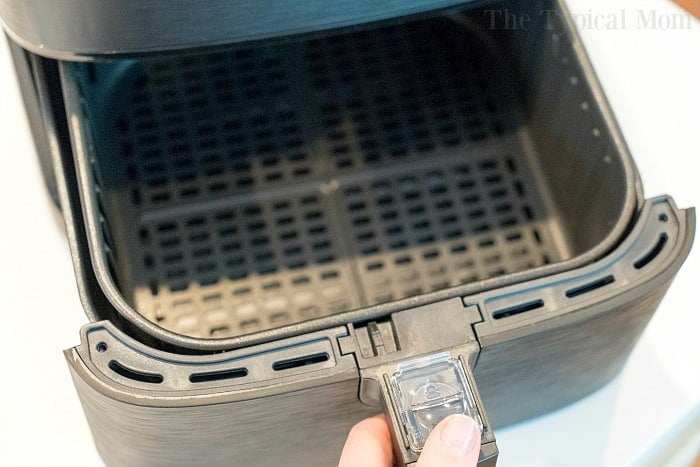 Taquitos in Air Fryer
It doesn't matter whether you choose cheese, beef or chicken taquitos. This timing will work for them all. In no time you'll air fry everything too!
How do you cook frozen taquitos?
Before you had to preheat your oven to 400 degrees for about 15 minutes, then cook for 12 minutes. NOW air fryer frozen taquitos need 5 minutes preheating and 6 minutes to get crispy.
Since they are already precooked it doesn't take long. Unlike our air fryer chimichangas which use fresh tortillas there's little to no prep for these.
Air fryer taquitos
If you were to go thru the effort to make your own but you made them in a large batch and froze them you'd use the same instructions. Of course for you the timing would vary depending on how thick yours are and how much you stuffed them full. You want the center to get warmed of course.
Are frozen taquitos precooked?
The inside meat is already cooked, so you're safe there, though the corn tortilla or flour tortilla is not. If you just allowed them to defrost on the counter you'd be safe to eat them but it would be soft and a bit rubbery.
Can you pan fry frozen taquitos?
I guess you could microwave them first to soften, and then crisp a bit in a pan on your stovetop. Air frying is SO much better though!
There's really no need for non stick cooking spray in your air fryer basket, or need to flip them over either. Directions for these are so simple even my tweens at home can do it as a snack.
Air Fryer Frozen Taquitos
How many you can cook at a time will depend on the size of your basket. I like the square type because as you can see you can fit more. Most foods aren't round anyway so almost all of my machines have the square shape to them.
What are the best frozen taquitos?
Box with your choice of cheese or meat filled taquitos In order of popularity, favorite brands:

Delimex
Jose Olé
El Monterey
Don Miguel
Trader Jose's
That is all you need! Of course we love a variety of dips once they're done.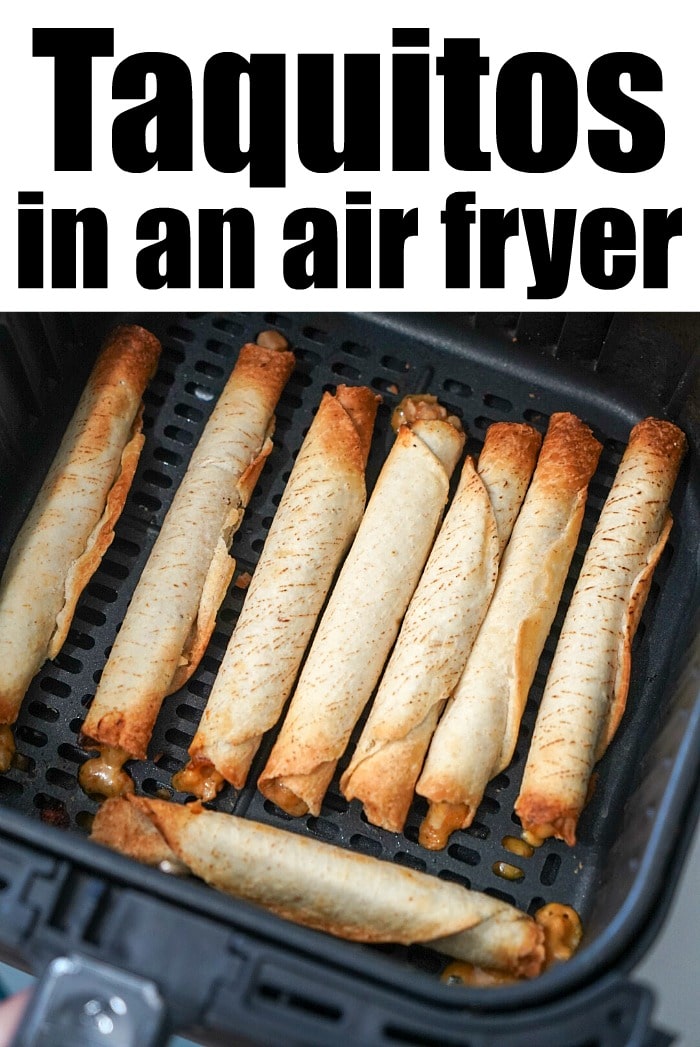 Frozen Chicken Taquitos Air Fryer
Here are quick directions but there is a printable recipe card at the bottom of this post as well:
The best method to cook frozen foods is in your hot air machine. Preheating will ensure they're as crispy as possible. These need to be set to 400 degrees F for 5 minutes before adding them.
Put as many frozen taquitos you'd like in your air fryer basket in one single layer. Do not overlap them or those areas won't get golden brown and crispy on the outside. 6 minutes is usually perfect.
Serve with dipping sauces like air fryer salsa on the side and enjoy as soon as possible for best results.
I kid you not this machine will give you the deep fried crunch and taste you crave without the added calories.
EVERYTHING I have tried in it tastes better, and more like I'd get at a restaurant than in the oven.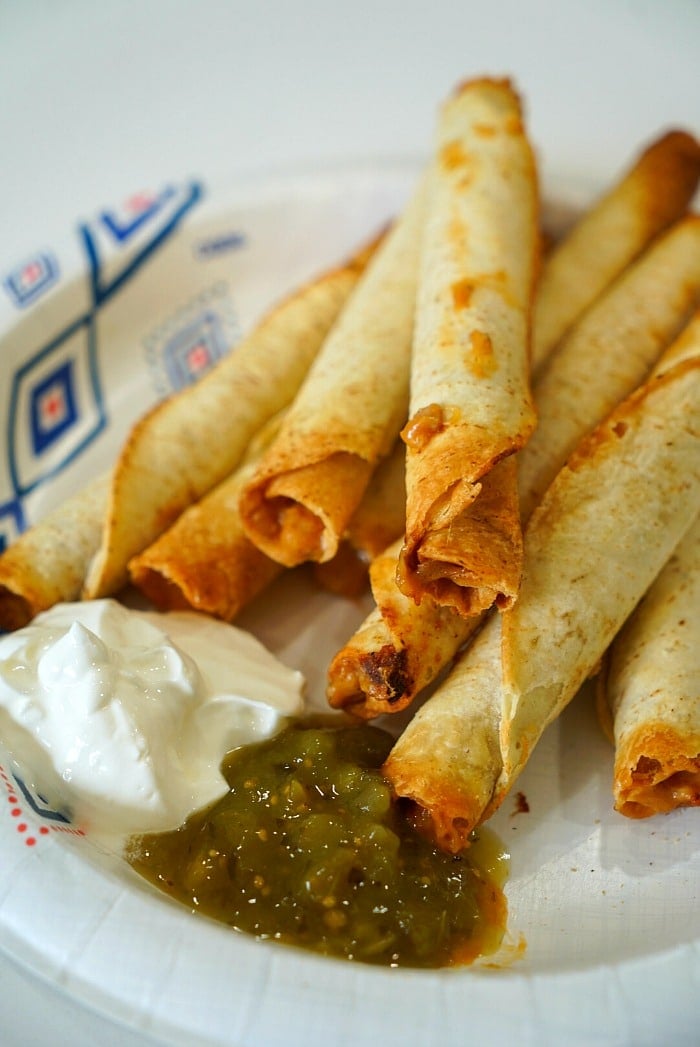 Air Fry Taquitos
What should you serve with taquitos? Well many times if we want a quick meal it is just this, and done. For a heartier dish I might cook a frozen chicken breast in air fryer until that is tender and add one to each plate with these on the side.
Great for an every day meal or snack, and perfect for a quick Cinco de Mayo appetizer too. Here are a few other dinner recipes you will love.
Air fryer empanadas are fabulous. You can really fill them with anything you love but I would say ground beef is an easy one to spice up.
How do you cook frozen taquitos in air fryer
Hope this helped answer this question today. Then you can go on to cook all the things like frozen burritos in an air fryer too. If you have any other hacks you've figured out, let us know!
Want to see a few of my favorite things that I am totally obsessed with?? Take a peek and see how many you might already have…twinsies!
Looking for more easy family recipes and tips? LIKE The Typical Mom Facebook page?
Then sign up for my free newsletter, and follow me on Pinterest! 😉
***** If you LOVED this recipe give it 5 Stars below and let everyone know what you thought about it. 😉
Frozen Taquitos in Air Fryer
Frozen taquitos in air fryer are the best! WAY crispier than in the oven and done in just minutes. Frozen food in an air fryer is the bomb!
Instructions
Preheat your air fryer to 400 degrees for 5 minutes.

Put as many frozen taquitos in your air fryer basket as you'd like to eat.

Set to 6 minutes, then check. If you'd like them crispier add 1 minute at a time. Leave them in the basket for 3-5 minutes closed once time is done in order to continue to warm the insides.
Nutrition Facts
Frozen Taquitos in Air Fryer
Amount Per Serving (2 oz)
Calories 22
Calories from Fat 18
% Daily Value*
Fat 2g3%
Cholesterol 6mg2%
Sodium 74mg3%
Potassium 40mg1%
Carbohydrates 1g0%
Protein 0.4g1%
Vitamin A 112IU2%
Vitamin C 0.3mg0%
Calcium 13mg1%
Iron 0.1mg1%
* Percent Daily Values are based on a 2000 calorie diet.