Frozen burrito in air fryer is a great way to cook these for lunch! Just a few minutes goes from rock hard to soft on the inside but crispy outsides.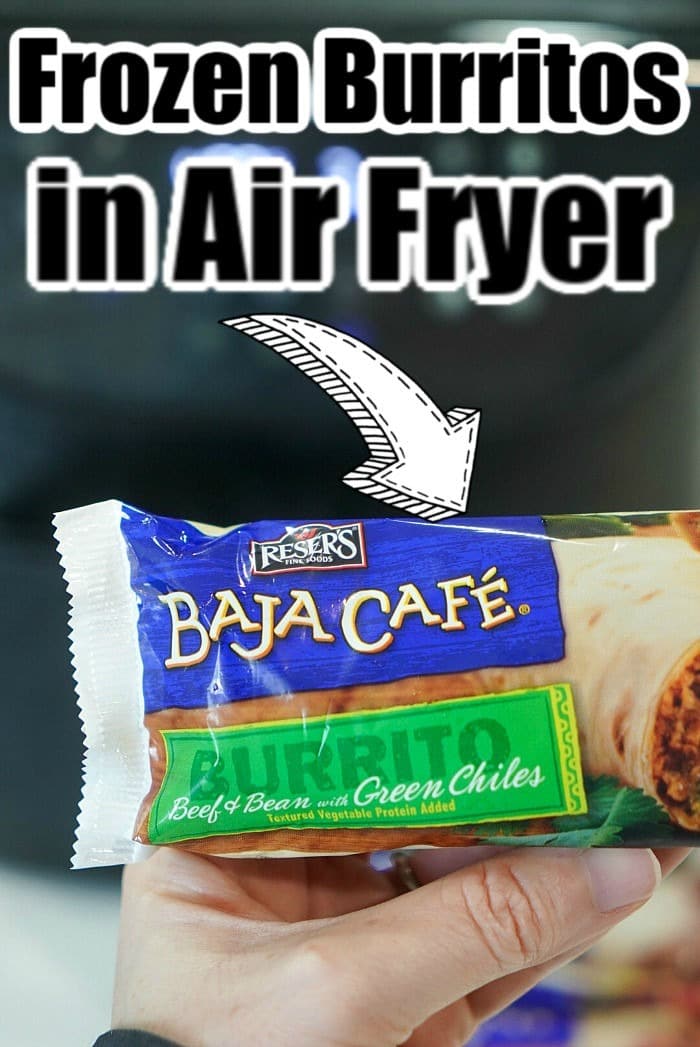 Wondered how to cook an air fryer frozen burrito? We tested it out and came up with the perfect timing! Now you get get the middle tender but the outside tortilla to be crispy just as you wanted it to be. Here's how to make this and tons of other easy air fryer recipes too. (originally published 6/20, affiliate linking to amazon.com present)
Air Fryer Frozen Burrito
We made homemade air fryer flautas the other night and those were incredibly good. With either chicken, beef or bean and cheese they are inexpensive dinner ideas that everyone loves. Goodness wrapped in a tortilla, it is so much better with a crispy outside and an easy way to do this is in an air fryer basket.
They do take some time to prep though and sometimes you need a quick dinner so I thought we'd follow that one up with a frozen burrito in air fryer post too. There are so many types to choose from but we went with the most common which we feel is beef and bean.
FIRST – You should sign up for my free newsletter so you get new posts emailed to you twice a week and never miss out on anything! If you love air fryer recipes too, here are some resources to start with: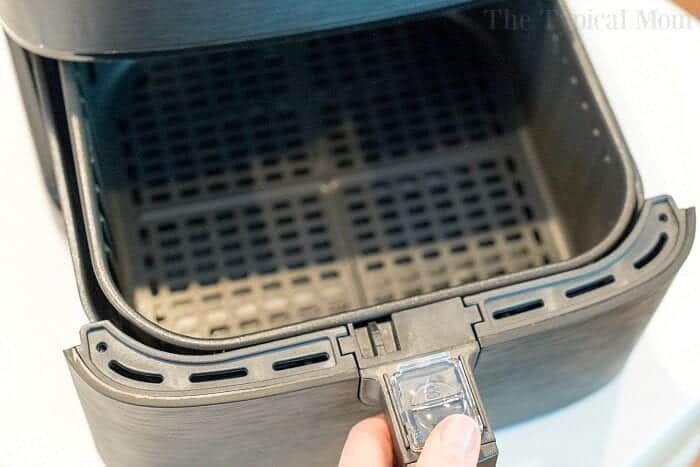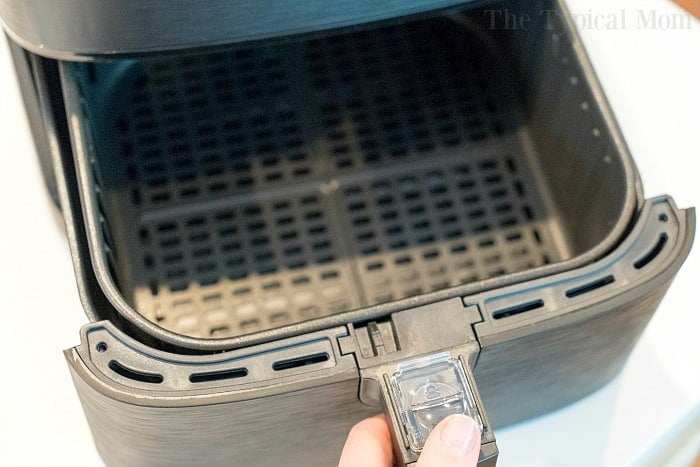 Frozen Burrito in Ninja Foodi Air Fryer
It doesn't matter what brand you might have at home. We have 3 different ones and they all work about the same, the biggest difference is the size of the basket itself. If you have a lot of hungry boys or many in your family you might want a larger model so your foods don't overlap.
I know you either have a few of these in your freezer now, or have in the past. They're cheap dinners that my kids love too. When I was young we had these for dinner like a lot. Without a lot of money, and me being a picky eater, it meant that this was just a win.
Nowadays there are tons of different brands and fillings available. Before you really only had bean and cheese and that was about it. Nowadays we have bought beef, chicken, mild and spicy varieties. The timing below is for the "regular" type, not the jumbo varieties.
Air Fryer Frozen Burritos
Whether you cook one or a few at a time you would use the same times. Biggest tip is to make sure there is a little bit of room in between them. The hot air needs to circulate around each one to get just the right texture you will want.
How do I cook a frozen burrito?
Typically people use a microwave and that's that, maybe a convection oven. We personally like these in the air fryer so there's a nice crunch on the outside of the tortilla.
How do you make frozen burritos better?
The dips after they're cooked of course!! You've gotta' have salsa for sure, and guacamole + sour cream are winners in our book.
How do you cook a frozen burrito in an air fryer?
We will explain that in detail below in our recipe card! Just takes 15 minutes and is so much better than nuked in the microwave.
What are the best frozen burritos?
We chose Reser's as you can see here, their bean and cheese is pretty good. Las Campanas and Red's are pretty popular, followed by Don Miguel and Jose Ole burritos.
You can choose which type you like. There are spicy and mild varieties typically. Some have just beans and cheese where others include ground beef and chiles.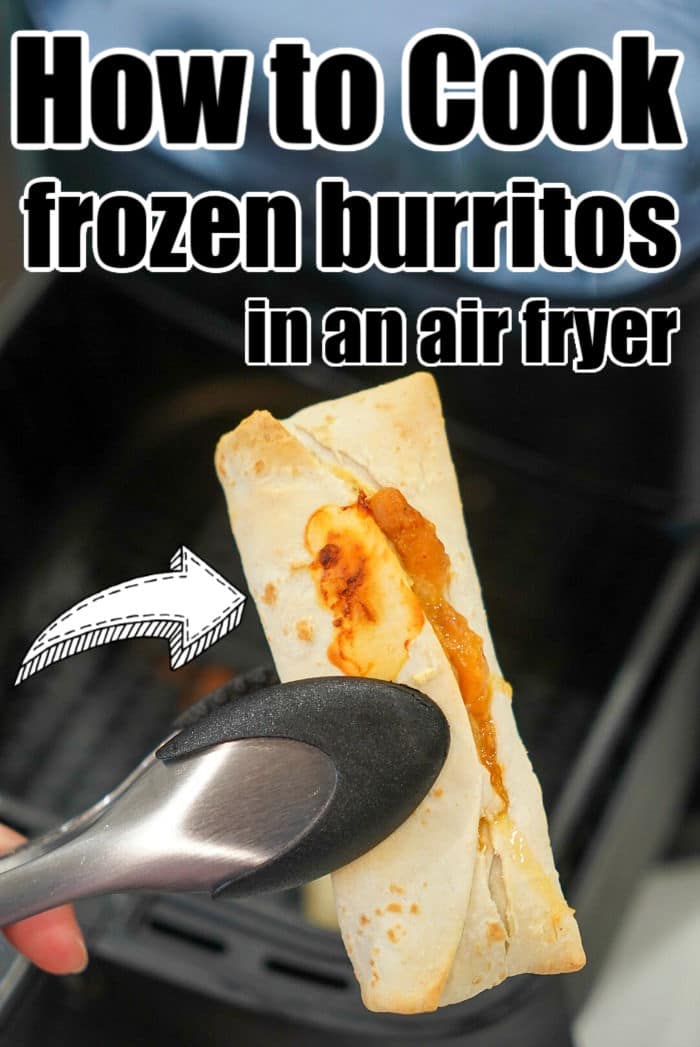 Air Fryer Frozen Burrito Time
You can see how the outside gets lightly browned but the insides are still soft and gooey flowing out when cut. If you wanted them done faster you could microwave for 2-3 minutes (or what is listed to cook on the back of the bag) first. This will defrost the middle and then you just work on the tortilla crisping.
Preheat machine for 5 minutes at 400 degrees F.
Put the # of frozen burritos you want to cook inside the air fryer basket with the sealed side facing up.
Cook for 15 minutes total, flipping every 5 minutes.
Serve with different dips on the side if you want.
Ninja Foodi Frozen Burritos
Want to make things fun? Make an air fryer burrito bar with lots of options like we share here below. If you haven't done this yet with your family it's kinda' like taco Tuesday but with the other favorite Mexican food item. 😉
If you have heat lovers like I do at my house you could drizzle some Sriracha sauce over the top. Another one is warm up some enchilada sauce and use that for wet burritos.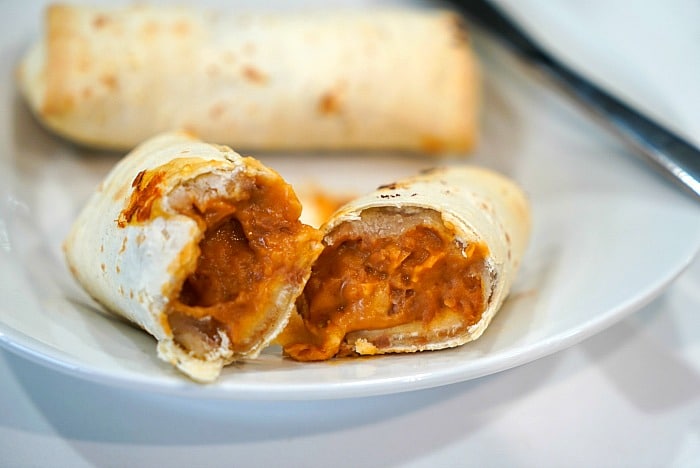 Air Fryer Frozen Burritos El Monterey
Cooking instructions are below for air fried burritos. Way faster than using a conventional oven and crispier than just using a microwave for sure. Of course air fryers cook at slightly different temps but they're pretty close. Cooking times will not vary too much if you use a Ninja Foodi for this.
What will make a difference is if you left them out to reach room temperature beforehand. Then it would only take maybe 7 minutes or so to warm up I'd imagine.
I recommend always preheat your air fryer so everything cooks at the same temp. throughout the time.
If you're only cooking one I might check after 12 minutes or so and see if it's browned enough for you. Frozen foods are great to make in this hot air machine! A few of our other favorites are:
Nutritional information is not entirely accurate as it is calculated by the recipe card. You should definitely refer to the bag of the types you chose for that information.
Since ingredients inside are precooked before freezing them there really isn't much need for checking the internal temperature when done. Instead just cut in half right in the middle and it should be soft and oozing out.
Want to see a few of my favorite things that I am totally obsessed with?? Take a peek and see how many you might already have…twinsies!
Looking for more easy family recipes and tips? LIKE The Typical Mom Facebook page?
Then sign up for my free newsletter, and follow me on Pinterest! 😉
***** If you LOVED this recipe give it 5 Stars below and let everyone know what you thought about it. 😉
Frozen Burritos in Air Fryer
Frozen burrito in air fryer is a great way to cook these for lunch! Just a few minutes goes from rock hard to soft on the inside but crispy outsides.
Ingredients
2-4

frozen burritos

5 oz each
Instructions
Preheat air fryer to 400 for 5 minutes.

Put frozen burritos into basket with bottom (sealed side) facing up.

Set to 350 degrees for 15 minutes total. Flip burritos every 5 minutes so they end up with sealed side facing up again. (this way if there's a bit of leakage it won't stick to the basket, or leak out as much)
Nutrition Facts
Frozen Burritos in Air Fryer
Amount Per Serving (2 oz)
Calories 90
Calories from Fat 18
% Daily Value*
Fat 2g3%
Sodium 206mg9%
Potassium 46mg1%
Carbohydrates 15g5%
Protein 2g4%
Calcium 32mg3%
Iron 1mg6%
* Percent Daily Values are based on a 2000 calorie diet.