Pico de gallo salsa is easy to throw together, fresh, and the perfect addition to any Mexican dish. With chips or inside tacos we love to make it from scratch with fresh produce. You can make spicy with diced roasted jalapeno or keep mild with a punch of cilantro.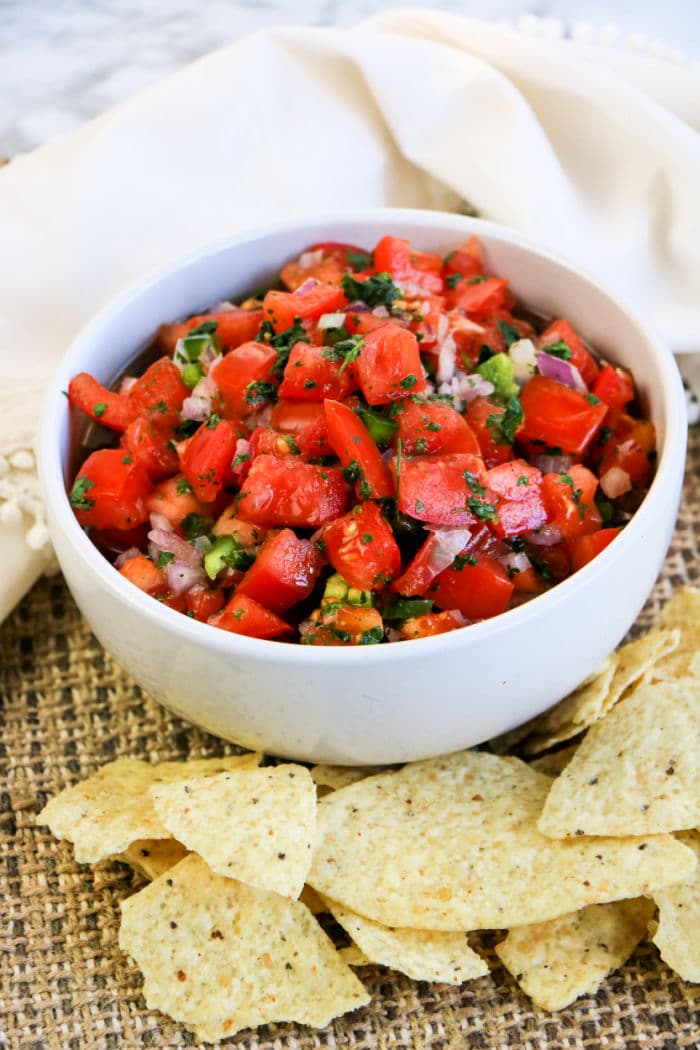 Homemade pico de gallo salsa is really easy to throw together and always a hit at parties. Yes you can buy bottled but once you try a scoop of this you'll taste the difference! (affiliate links present, originally published 4/21)
Pico de Gallo Salsa Recipe
We make this all the time! Whether it be to make our easy Instant Pot salsa chicken recipe or for a quick snack in between meals it's great. You can even add diced fruit for a tropical sweet and savory treat.
I mean homemade guacamole is great too but I cannot always find avocados at a decent price, or ripe year round. Tomatoes are kinda' a given no matter where we live. And there are so many varieties to choose from. Some are firmer than others like Roma but if you like a prettier mix go for a few heirloom tomatoes.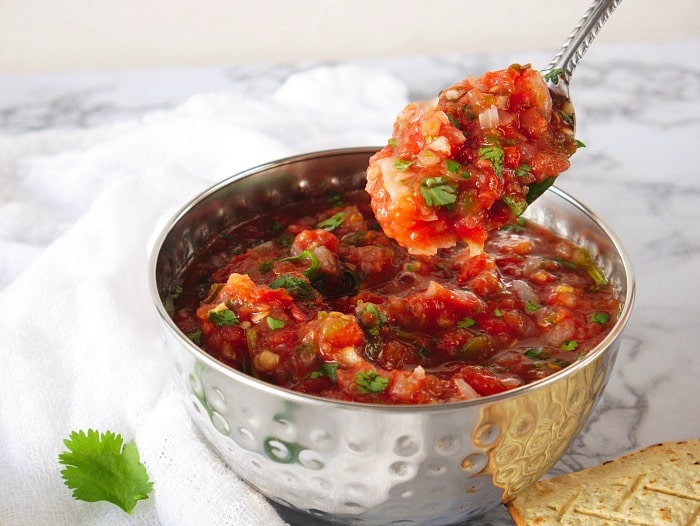 Pico de Gallo vs Salsa
This way you can make it as thin or thick as you want. Everyone will then get exactly what they want and it will be a healthy snack for adults and kids.
There are two big differences between these two, I like a mesh between the two that is why we are here. Salsa Fresca as they call it sometimes is not cooked, using fresh ingredients and has less liquid.
Homemade Salsa with Cilantro
The latter as you might now assume is the opposite. Cooked gives it a darker richer color (like you see in jarred varieties) and it's quite a bit thinner with juices from lemon and/or limes.
How do you dice a tomato without squishing it?
You'll want to use a serrated sharp knife for this. Since it is soft on the inside with a tougher exterior you don't want to press down. Try to choose medium firmness to begin with too. Slice top off, then dice into smaller pieces. If you still have issues poke with the sharp end and then it will allow you to slice thru a bit easier.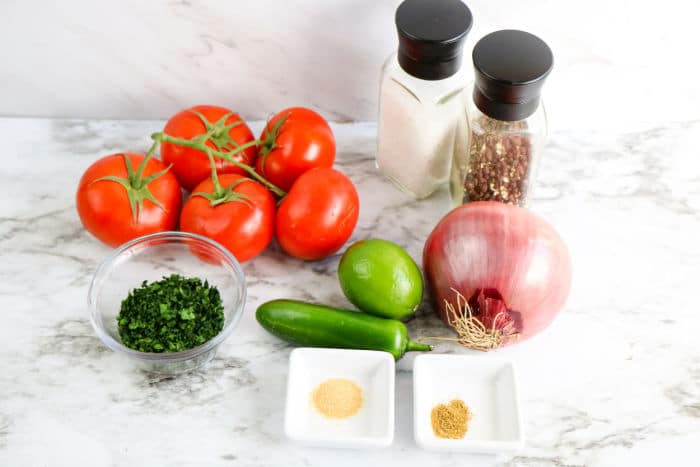 The best reason to make this yourself at home vs. buying it bottled to me is you can adjust the heat. And the amount of liquid for that matter. I like large chunks for sure but I also want juice that amps up the flavors too.
How do you make pico de gallo from scratch?
It's really quite simple because there is NO cooking required. You just really need a cutting board, sharp knife, bowl and all of your fresh ingredients from the produce section. If you have a vegetable garden that is even better! If you do like that deeper richer flavor, roast tomatoes in air fryer this way first.
We grew tomatoes, bell peppers, cilantro and onions in Boise and they grew like crazy. It was fabulous to be able to walk into my backyard and pick what I wanted, mix together and have it ready without leaving my house.
Depending on where you live it is likely you'll be able to find all of the needed things year round. We live in a really rural place now and I don't even have trouble with the following necessities: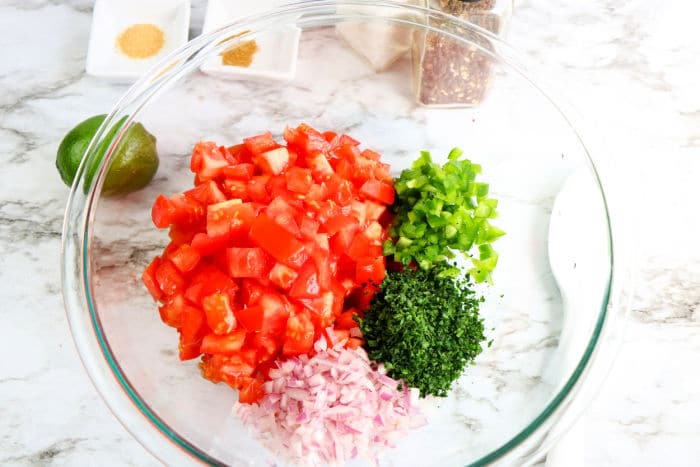 Pico de Gallo Ingredients
As far as heat is concerned, jalapenos are typically used. Since ingredients are all found in the produce aisle these will provide a spicy flavor without a bottled hot sauce taste. Diced finely or larger chunks will adjust spice accordingly.
Fresh tomatoes that are diced as finely as you'd like your fresh salsa to be, Roma tomatoes are great
Red onions to me are better than yellow or white
Jalapeno peppers are best for heat but could be omitted if you want it to be very mild
Lime juiced, use more or less depending on how much juice you want. Lemon could be used half and half for different flavor combination.
Cumin is a spice I use quite often
Garlic powder
This is how to cook tomatillos if you want to dice some and throw some in
Cilantro is always best freshly minced, if I can't find it other than jarred I may skip it entirely
I suggest getting a few 16 oz. mason jars for storage and gifting some of this to your neighbors too.
Tortilla chips to eat this immediately ifdesired
Add salt and pepper to taste. Adjust as you add, mix together, taste again until it is just right. Once you have it perfect mark it down on the printable recipe below so you can remember it for next time. 😉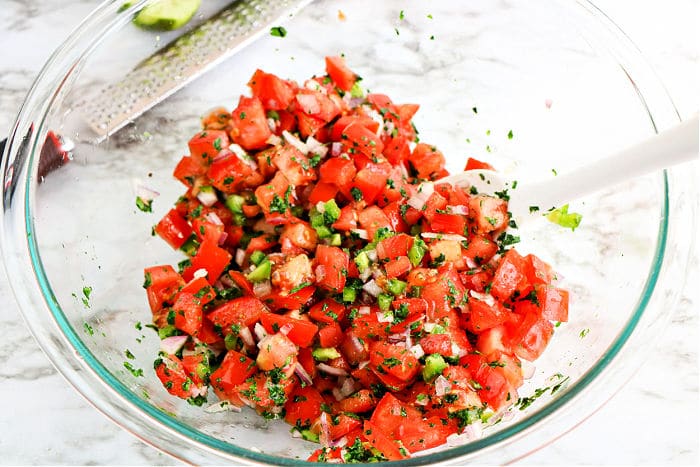 Salsa Pico de Gallo
If you want to add a variety to this it is quite easy. Just dice some fruit to make an additional batch of mango salsa or pineapple salsa is great too. This will bring you back to the last time you visited Hawaii for sure. 😉
Dice tomato, onion and cilantro on a cutting board. In a large bowl gently mix together all ingredients.
Enjoy immediately or for bolder flavors cover bowl with plastic wrap and put into fridge for at least 1 hour. A bit of time will give it a deeper more authentic Mexican flavor.
It will also allow more heat to develop and deepen. Best if eaten within 24 hours of creating.
Plan on about 15 minutes to make this pico de gallo recipe. Figure 1/2 cup serving per person. It is a great side to any sort of Mexican food like our Instant Pot Mexican chicken and rice dish or enchiladas too. Or throw it into our shrimp rotel dip instead of the canned variety and enjoy with chips.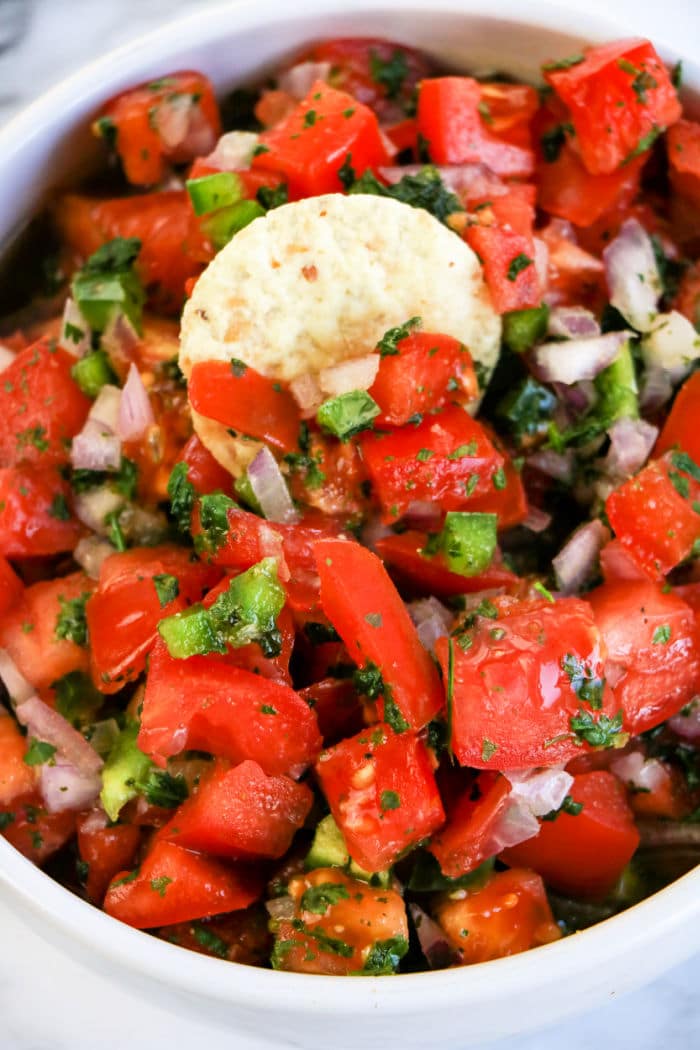 It's a perfect Cinco de Mayo recipe especially if you create a buffet full of different choices. Lay your meat at one end with rice or tortillas with all the toppings further down. Avocado slices, guac, sour cream and this goodie!
How long does pico de gallo last in the refrigerator?
It is best as fresh as you can get it, day one is always the best of the best. If you do make a larger batch you can can it to save for months and months. If you don't want to go through all of that just jar it and put it into the fridge and make Crockpot salsa chicken with it the next day ideally.
It will last up to 4 days before it starts to turn.
If you make a batch of air fryer ground beef you can throw this on top and make tacos which is a cheap meal everyone loves. We love this recipe and hope you do too.
Pico de Gallo Recipes
I mean it is great on so many things and you should really try it on your favorite foods. It is a fat free addition that adds a ton of flavor. Many who are watching calories will put it on top of baked potatoes instead of things like sour cream to make it healthier.
Want to make a batch of salsa and compare the two? Start with air fryer roasted tomatoes and blend from there like you see here. They are both great but with a bit more liquid and a touch of olive oil they do have a bit different flavors. This method makes it quick and perfectly done.
Is it cheaper to make your own salsa?
If you harvest your own vegetables and herbs then for sure!! That way is great if you love batch cooking too and you can them to use for the rest of the year. My friend does that and saves a ton of money that way.
Is homemade salsa better the next day?
You don't necessarily wait that long, but at least 30 minutes is recommended. I opt for an hour after putting it into the fridge so the flavors can really meld together and get a bit bolder.
It will continue to deepen so yes after 24 hours is fabulous as well. Beyond that though the ingredients will begin to seep and there will be more liquid in the mix. That is great but flavors will begin to alter in a not so great way.
Want to see a few of my favorite things that I am totally obsessed with?? Take a peek and see how many you might already have…twinsies!
Looking for more easy family recipes and tips? LIKE The Typical Mom Facebook page?
Then sign up for my free newsletter, and follow me on Pinterest! 😉
***** If you LOVED this recipe give it 5 Stars below and let everyone know what you thought about it. 😉
Pico de Gallo Salsa
Pico de gallo salsa is easy to throw together, fresh, and the perfect addition to any Mexican dish. With chips or inside tacos we love it.
Instructions
In a large bowl gently mix together all ingredients.

Enjoy immediately or for bolder flavors cover bowl with plastic wrap and put into fridge for at least 1 hour before serving. This will bring out more heat and allow flavors to meld together.

Best if eaten within 24 hours of creating.
Nutrition Facts
Pico de Gallo Salsa
Amount Per Serving (2 oz)
Calories 11
Calories from Fat 9
% Daily Value*
Fat 1g2%
Sodium 2mg0%
Potassium 108mg3%
Carbohydrates 3g1%
Protein 1g2%
Vitamin A 350IU7%
Vitamin C 10mg12%
Calcium 7mg1%
Iron 1mg6%
* Percent Daily Values are based on a 2000 calorie diet.