Easy homemade Instant Pot Swedish meatballs recipe! Total comfort food at it's finest and takes less than 20 minutes to make. You've got to try it with frozen meatballs or make them yourself! Keto friendly and delicious.
I have made Swedish meatballs on the stovetop before and love them. I may have an affinity to the dish because my Grandmother used to make them. Now I make this easy homemade Instant Pot Swedish meatballs recipe because it's so much easier! One of our very favorite Instant Pot recipes. Sponsored by Chardonnay Box. (originally published 6/17, affiliate links present)
I don't know about you but year round I am all about comfort food! I used to throw it in the oven but especially when it is 100 degrees outside I have no interest in that. Thank goodness for my fancy pressure cooker! 😉
I know…it looks delicious right??!!
Of course you could use frozen Instant Pot meatballs for this dish, but my easy meatball recipe is so simple and is packed with flavor so I prefer to make them myself.
If you have a favorite meatloaf recipe you can use that as well and just form them into balls. Meat with a bit more fat content work a bit better just so the meatballs don't fall apart in the pressure cooking process but that is totally up to you.
From start to finish our easy homemade Instant Pot Swedish meatballs take less than 30 minutes including prep time which is much quicker than my traditional method.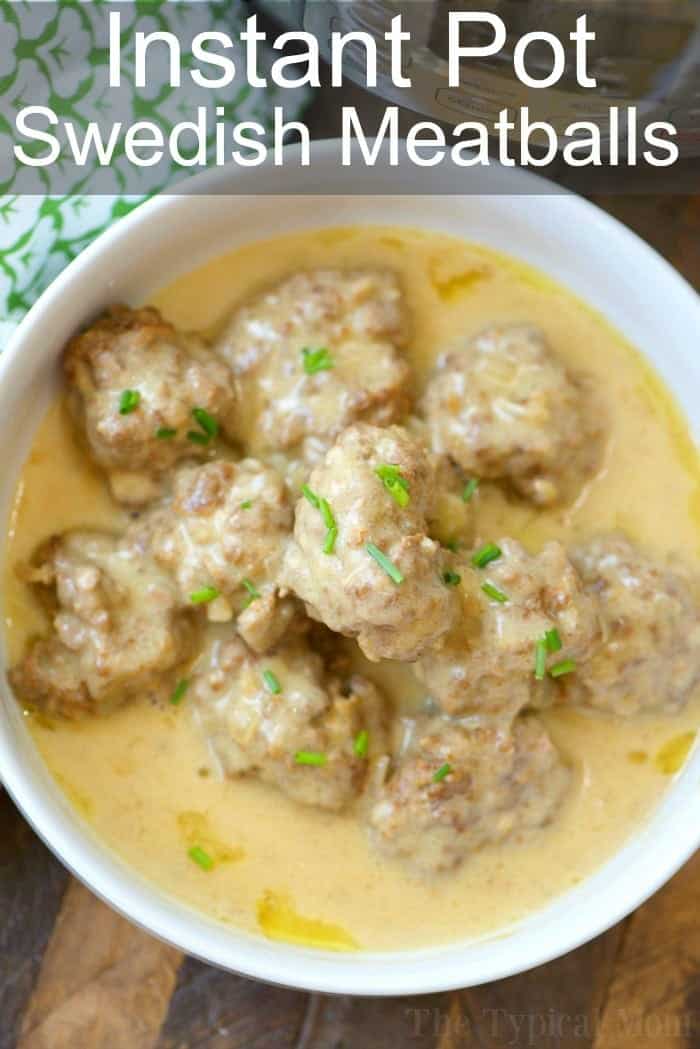 What is a Swedish meatball?
They are traditionally made with onion, ground beef, ground pork, breadcrumbs, egg yolks, allspice, nutmeg, salt, and pepper. The sauce ingredients typically include butter, flour, beef broth, sour cream, salt and pepper.
When your easy homemade Instant Pot Swedish meatballs are done and your sauce is nice and thick just serve as is.
Or if you prefer a side I would suggest a bit of egg noodles or Instant Pot white rice. We love them just as they are. 😉
For dinner when we have a quiet house (very rare, but it does happen), or just as a special treat I love pairing this with a glass of Chardonnay too!
If you're like me and doesn't have a lot of time to make it to the store and buys almost everything on line you can order a few from Chardonnay Box!!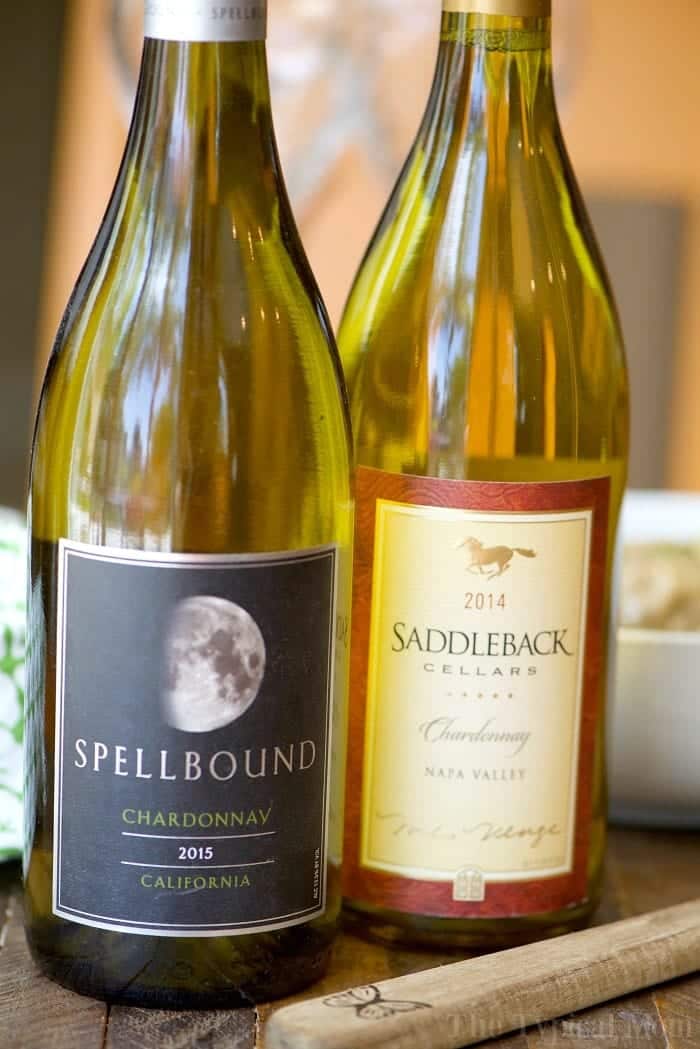 This is what you'll need to make our easy homemade Instant Pot Swedish meatballs
Homemade meatballs – or use these pressure cooker frozen meatballs or basic meatball recipe here

Ground beef

or half sausage and half ground beef or turkey

Bread crumbs

If making Keto Swedish meatballs substitute for fried onions

French onion soup mix – yes really
Egg

Butter
Heavy cream
Beef broth
Onion
Sour cream
Worcestershire sauce
Cornstarch – to thicken the sauce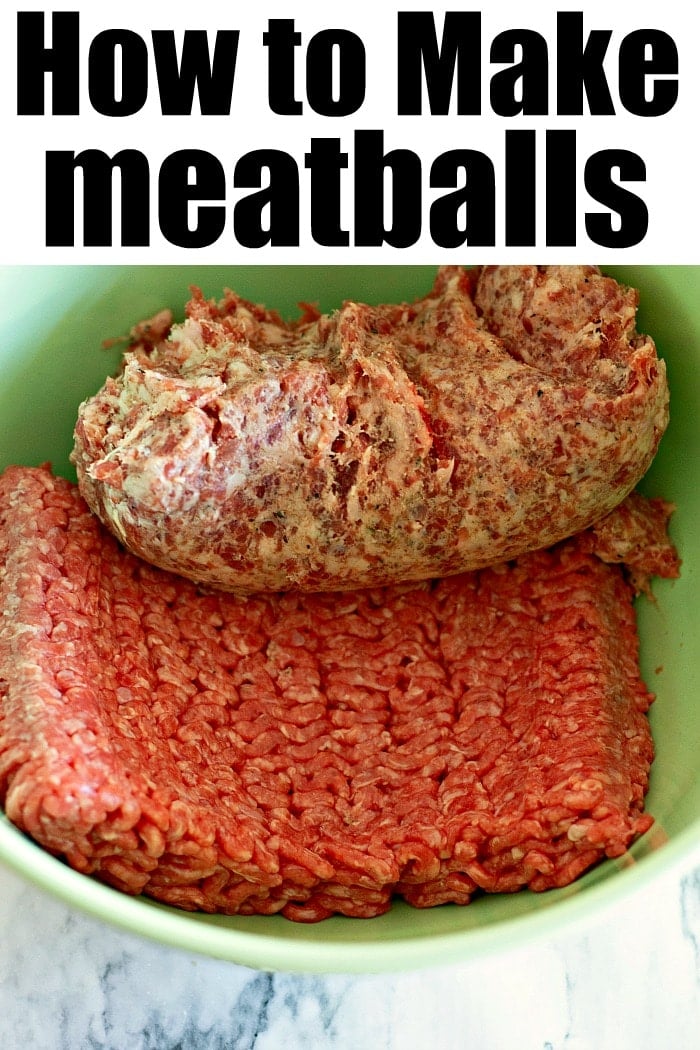 Here are the basic steps to follow when making Instant Pot Swedish Meatballs
Mix together your ingredients to make homemade meatballs.

You can either bake these in the oven on a cookie sheet or in your pressure cooker

If you're cooking them right in your pot, set to saute and add some olive oil.
Add the meatballs with your onions and brown the outsides.
After browning the meatballs, turn pot off, remove the meatballs from the pot so you can deglaze it with a bit of your broth.
In a bowl whisk together your sauce ingredients and pour that in.
Pour that in and place your cooked meatballs back in.
Set pot to high pressure for 3 minutes followed by a quick release of pressure.
Remove and serve over egg noodles or slow cooker mashed potatoes cooked separately.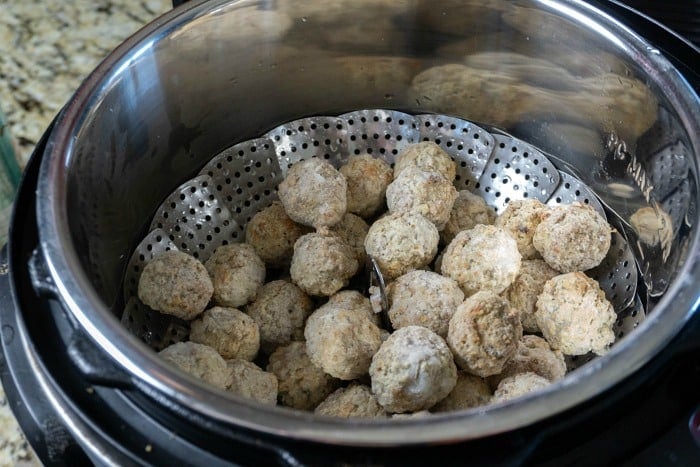 What if you want to use frozen meatballs instead?
That is a good question and a great alternative to save time and prep time.
I have done this. With that said I will say I prefer my homemade meatballs better but here's what you do if you want this easier version:

Pour 1.5 c. water inside your inner liner with a vegetable steamer inside.
Empty bag of frozen meatballs into basket.
Close lid and steam valve and set to pressure high for 3 minutes followed by a quick release.

timing will vary but this is pretty good for all brands, differences will come if yours are quite large but even if they're not cooked all the way through they will be with the second heating time with the sauce

You can skip step one since these are precooked and now defrosted.
Take out, set aside, drain water out of pot and start with whisking your sauce ingredients together.
Put diced onions in as is without sauteeing first with the meat, that is fine because they'll soften in the cooking process.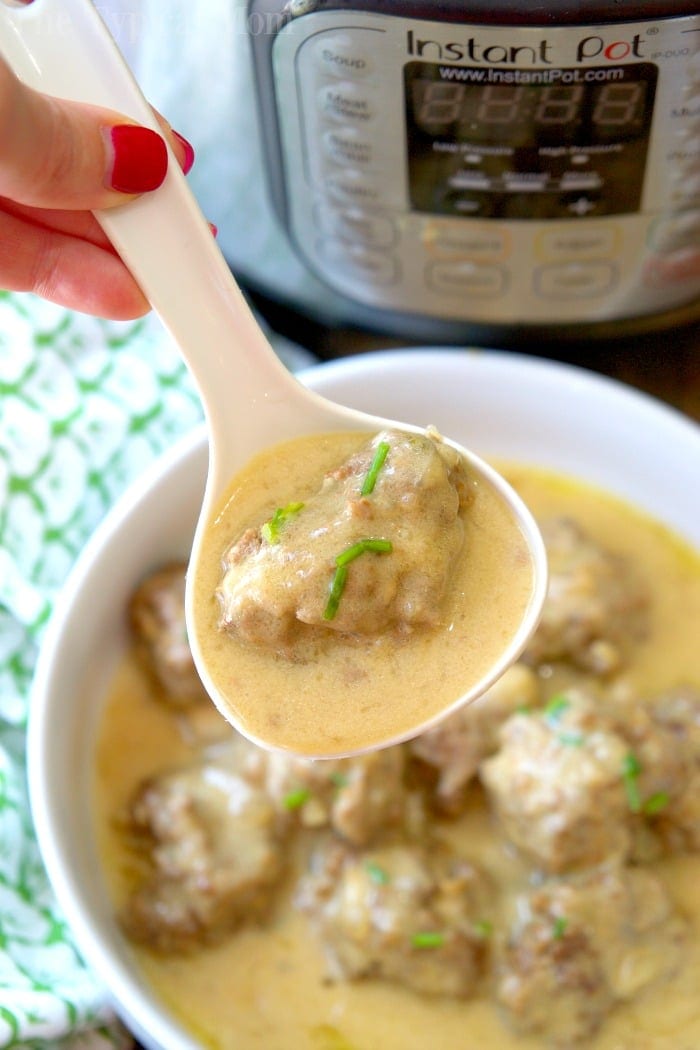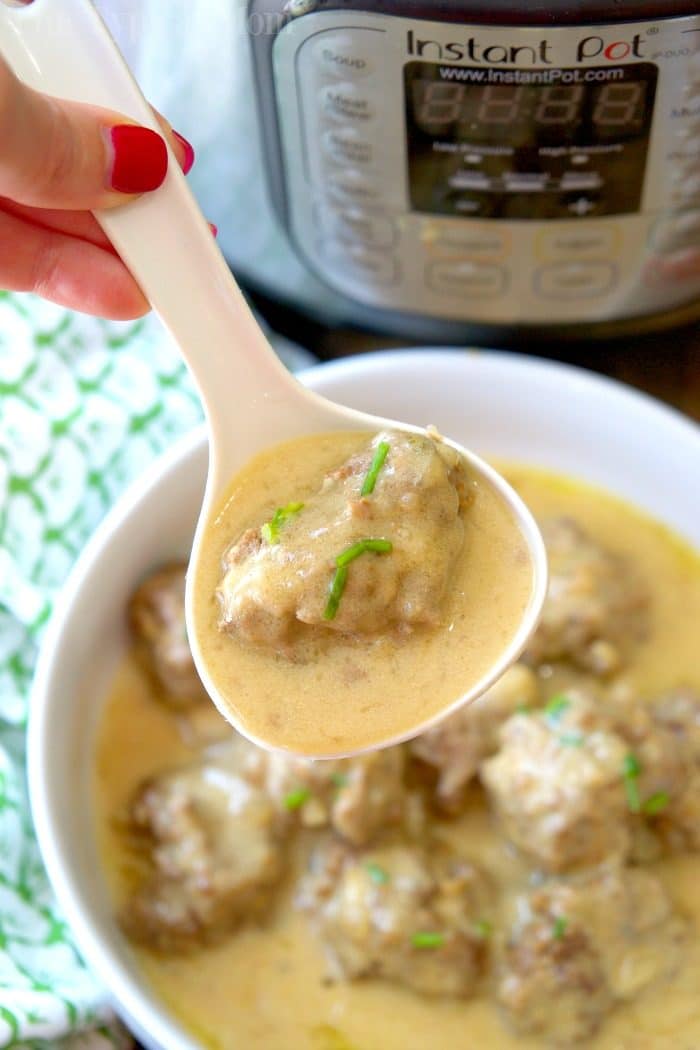 What is the IKEA meatball sauce?
They keep these details under tight wraps, but I must say this could be a copycat IKEA meatball recipe because it tastes so similar.
The key to success is the sauce really, made right in the skillet where you brown the meatballs.
As stated earlier, it is a mixture of butter, flour, beef broth, heavy cream, Dijon mustard, and Worcestershire sauce.
This creamy sauce picks up all the flavorful fond on the bottom of the pan.
Try it for yourself and let us know if it's as close and good as you remember having it there.
What do you serve with Swedish meatballs?
Traditionally these are served with potatoes and lingonberry jam, which I love! We have also served them alongside white or brown rice or noodles. If you like spiced meatballs, add a dash of allspice to the meat mixture.
Other suggestions are:
This is the best mashed cauliflower for a low carb alternative side dish
What vegetables go with Swedish meatballs? Well you'd probably get a different answer depending on whom you asked. For us if you want a really healthy option you can just make these mixed steamed vegetables
Instant Pot mashed potatoes using red potatoes is probably our favorite.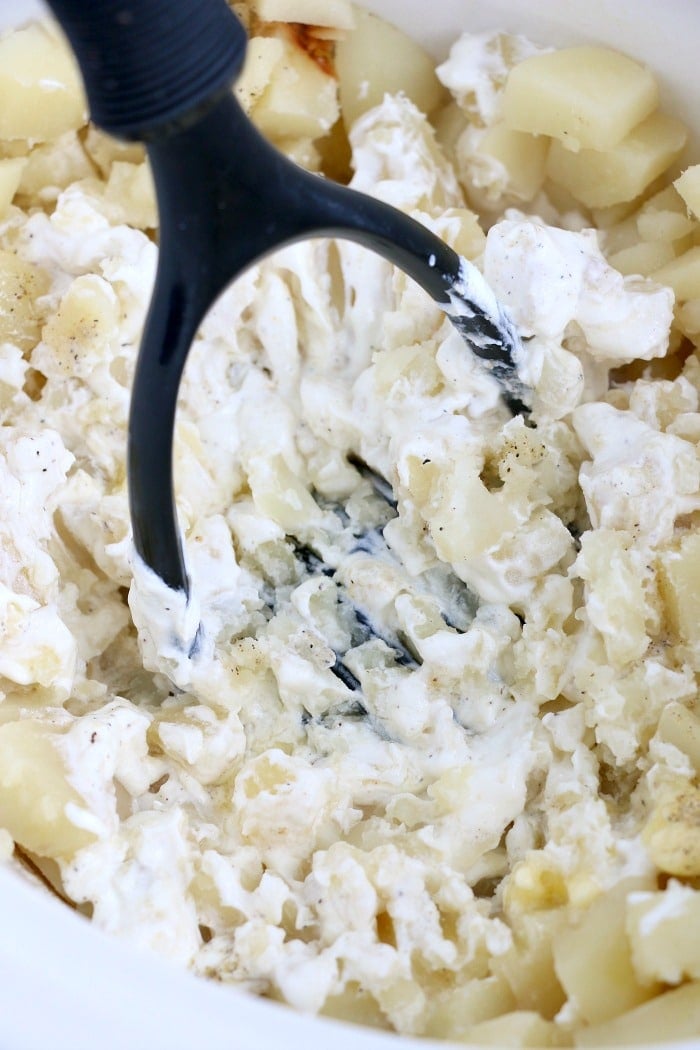 What is so special about Swedish meatballs? Well maybe nothing for you unless you're like me and had a Swedish relative who made these! THEN they come with a boat load of memories I tell you.
If you are looking for a recipe specific to your heritage this may be something you could make and pass down to younger generations. Recipes with meaning are so much better no matter what they really taste like.
Looking for other meatball recipes, here are a few others to try:
Here's a video showing how I make these Instant Pot Swedish meatballs
(I did not show deglazing the Instant Pot)
Easy Homemade Instant Pot Swedish Meatballs
These easy homemade Instant Pot Swedish meatballs are heavenly! Total comfort food at it's finest and takes less than 20 minutes to make. You've got to try!
Instructions
Mix together your ground beef, packet of french onion soup mix, 1 tbsp worchestershire sauce, bread crumbs, and 1 egg. (skip if using frozen meatballs). Make into medium size meatballs.

Spray the inside of your Instant Pot with non stick spray and add a bit of olive oil inside. Set to saute, low.

Add your meatballs and diced onions to your pot and cook until the outsides are browned (if using frozen meatballs skip this step). Turn pot OFF. Take meatballs out and add 1/2 your can of beef broth to deglaze your pot.

Mix together all your other ingredients in another bowl and use a whisk to make sure all lumps are gone.

Pour your cream mixture into the pot and put meatballs back in. Put your lid on, close your steam valve.

Push the pressure high button on your Instant Pot for 3 minutes for homemade meatballs. If using defrosted previously frozen meatballs cook for only 3 minutes as well. If using frozen meatballs need 5 minutes (for small frozen, larger may take longer).

Once it's done and beeps do a quick release.

Check meatballs to ensure they're cooked thru. Remove the meatballs from the pot.

Set Instant Pot to saute low again.

Add remaining 2-3 tbsp. of cornstarch and whisk into liquid in pot.

Allow to bubble and thicken, add more cornstarch if desired.

Add meatballs back into sauce mixture and serve!
Nutrition Facts
Easy Homemade Instant Pot Swedish Meatballs
Amount Per Serving (2 oz)
Calories 597
Calories from Fat 468
% Daily Value*
Fat 52g80%
Cholesterol 185mg62%
Sodium 646mg28%
Potassium 387mg11%
Carbohydrates 14g5%
Protein 18g36%
Vitamin A 1209IU24%
Vitamin C 2mg2%
Calcium 98mg10%
Iron 3mg17%
* Percent Daily Values are based on a 2000 calorie diet.