This easy Swedish meatball casserole recipe will bring you back to your childhood. Much easier and quicker to make than you may imagine, this creamy comfort food is topped with the crispy onions you love. If you love Swedish meatballs you'll love it with pasta.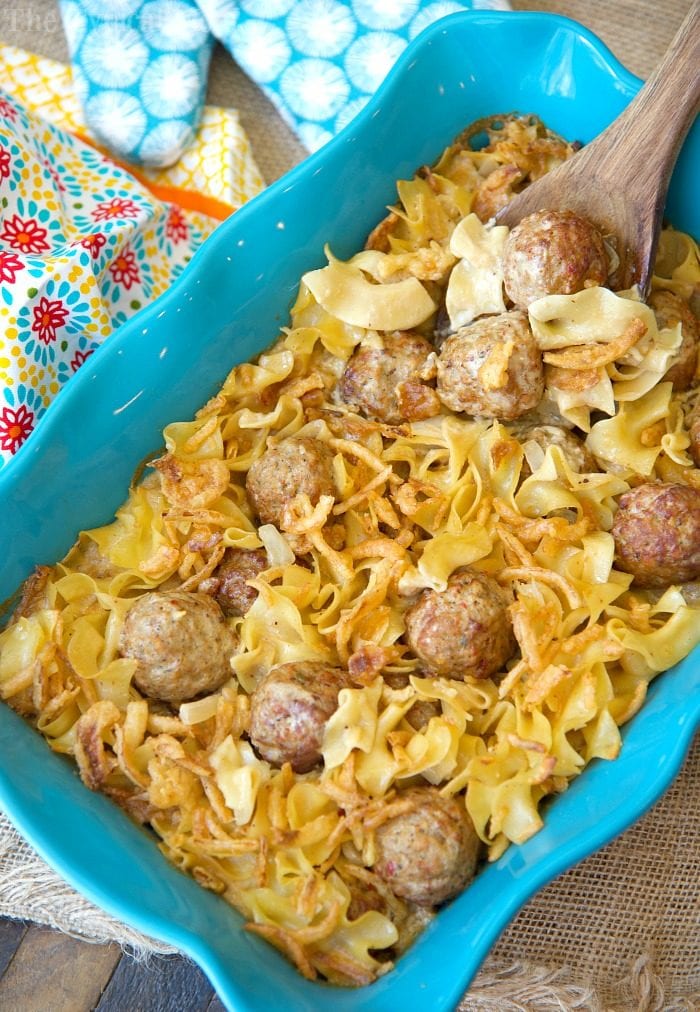 I decided to combine my two favorites things for dinner last night, we called it easy Swedish meatball casserole. It took no time at all to make and reminded me of my Grandmother with every bite. Just one of our quick and easy casseroles here on The Typical Mom you now can enjoy. Thanks goes out to Cooked Perfect Meatballs for sponsoring this post. All opinions are 100% mine. (originally published 6/17, affiliate links present)
Traditionally my grandma made her own meatballs from scratch, and although those were delicious I just don't have time for that step.
Using frozen meatballs, I can whip up this easy comfort food casserole up in just fifteen minutes and throw it in the oven to bubble up while I was busy doing laundry or playing a game with my kids! 😉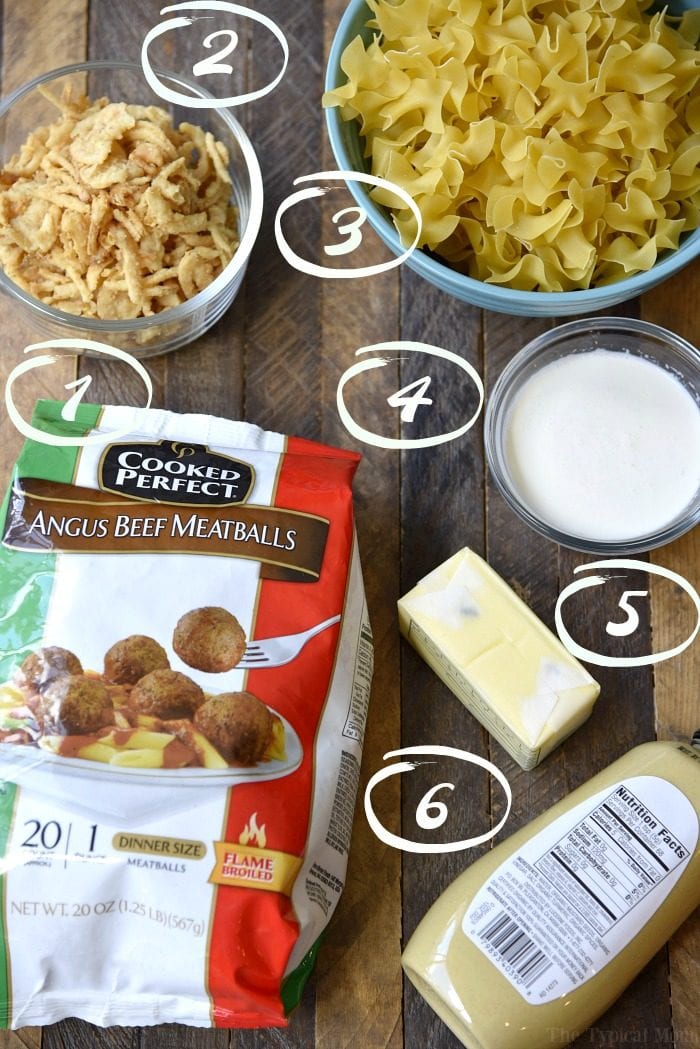 Here are the main ingredients I used to make this easy Swedish meatball casserole
Cooked Perfect Meatballs – frozen, bagged
Crispy fried onions

or make your own homemade fried onions

Egg noodles
Cream
Butter
Dijon mustard
Worcestershire sauce
Beef broth
Salt and pepper
Non stick cooking spray
Or use ground beef to make meatballs and precook before adding into your baking dish.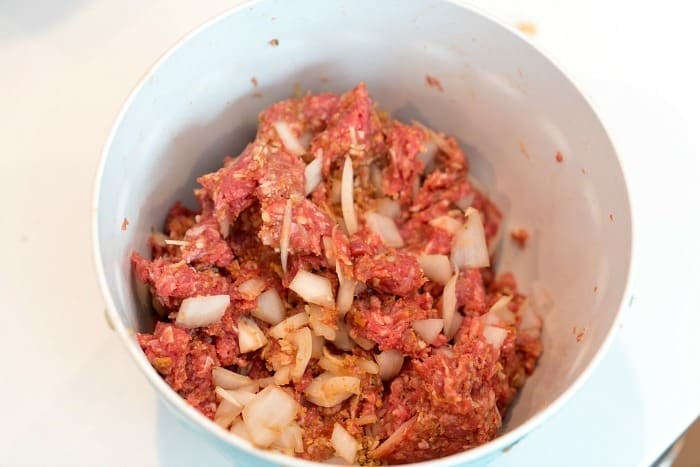 You can typically find these frozen meatballs in your local grocery store though. They're in the freezer section. Buy a few bags while you're at it and try our pressure cooker frozen meatballs recipe later.
Just three minutes in the microwave warms the entire bag up. Add them to your creamy sauce, then into a casserole dish and top with crispy fried onions. You're ready to pop it in the oven now for just twenty minutes.
Basic steps to follow:
Boil egg noodles on the stovetop until al dente, and defrost your meatballs.
Preheat oven to 375 degrees.
In a large pot over medium high heat, add butter, broth, cream, Wor. sauce, cream and dijon mustard. Stirring constantly add 1 tbsp of flour at a time and whisk in so it is smooth.
Whisk in sour cream until smooth, then add mushrooms if you want to add them.
Add defrosted or precooked meatballs, then your al dente noodles. Gently stir to combine and cook for 3-5 minutes.
Remove from heat and stir.
Pour into casserole dish and put fried onions on top.
Bake for about 20 minutes until top is golden brown.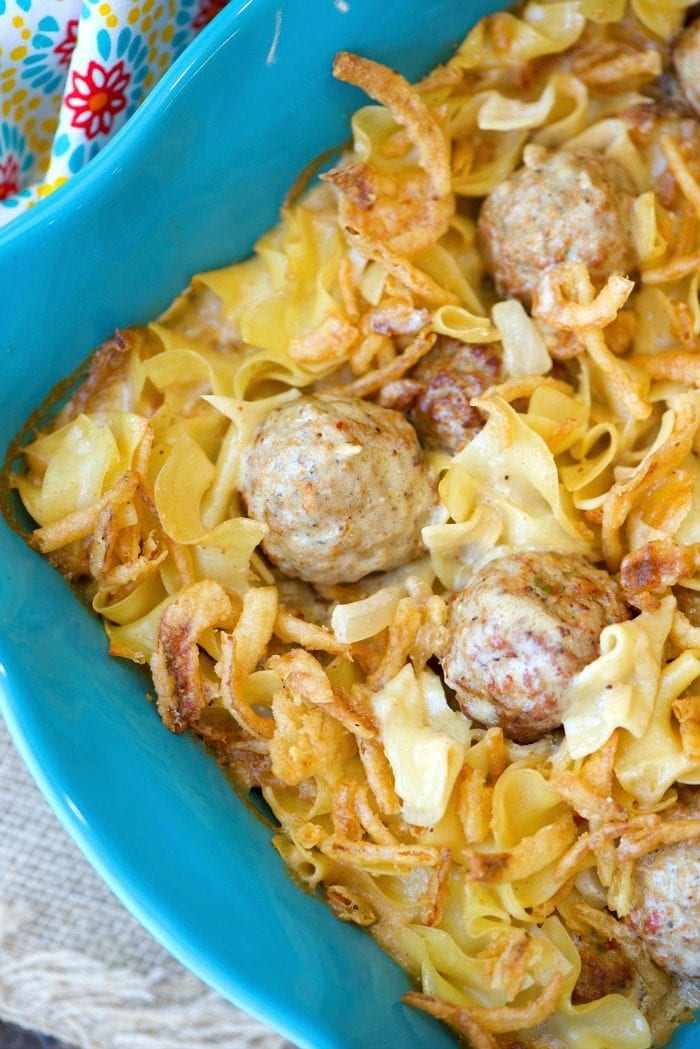 If you're a busy mom like me who loves hearty, feel-good meals you've got to try this easy Swedish Meatball Casserole recipe. You won't be disappointed.
What is a Swedish meatball really?
Of course sauce is the biggest part of the flavoring component that sets these two apart. Italian meatballs are typically served in a tangy tomato sauce (marinara). Swedish meatballs are cooked in a rich, creamy gravy made with beef or bone broth and sour cream.
Using these make busy mom's lives easier one bag at a time. Try our easy beef stew casserole next and let me know which one is your favorite!! 😉
Looking for more meatball recipes?
Want to make this without the noodles, quick??!! Try our Instant Pot Swedish meatballs next!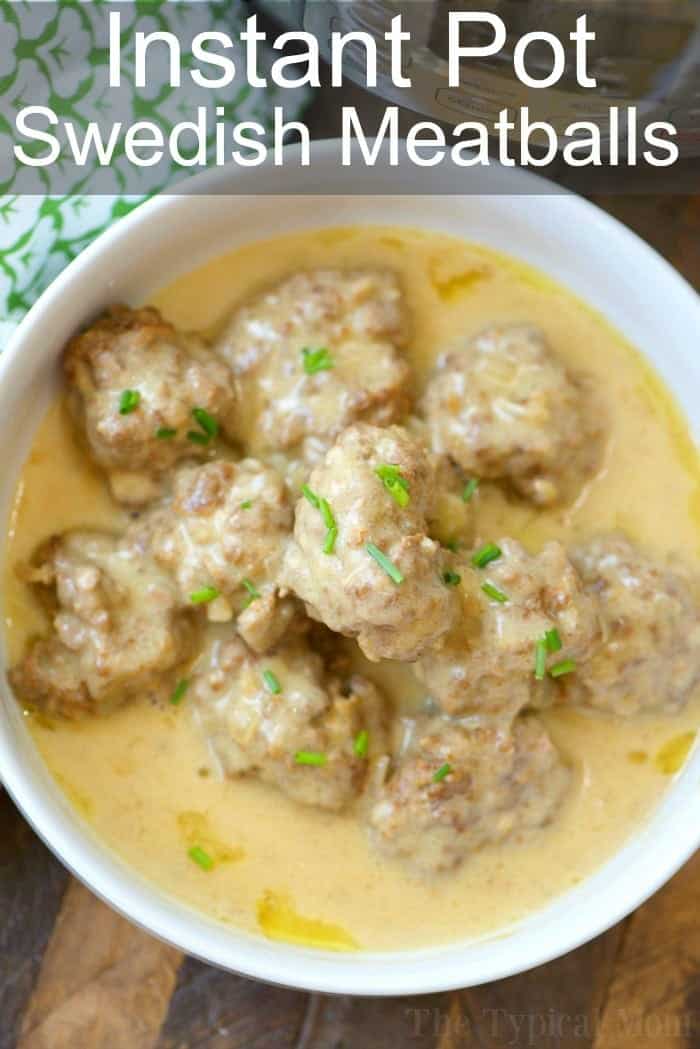 What else can you eat meatballs with?
Meatballs with sweet and sour sauce is simple
By themselves with a side of pasta like butter noodles
Alone topped with cheese
Pull apart bread is a great side dish
White rice or quinoa
Vegetables
Nutritional daily values are based on the recipe cards calculations. I cannot guarantee how accurate they are.
For more easy recipes, tips and free printables please LIKE The Typical Mom on Facebook and follow me on Pinterest! You can also sign up for my free weekly newsletter which is packed with goodies I know you'll love. 😉
Easy Swedish Meatball Casserole
This easy Swedish meatball casserole recipe will bring you back to your childhood! Creamy comfort food with crispy onions on top will make you want seconds.
Instructions
Boil egg noodles until a bit al dente, drain and set aside.

While you are boiling your noodles; in another pot warm butter until melted, then add broth, olive oil, cream, worcestershire sauce, diced onion, dijon, and salt together.

Whisk in flour 1 tbsp at a time.

Whisk in sour cream, allow to start boiling. Add mushrooms if desired.

Empty bag of Cooked Perfect Frozen Meatballs on to a large plate or bowl so they aren't overlapping.

Put meatballs in microwave for 1 minute, turn them over, put in for 1 more minute, turn them over, then microwave for 1 more minute.

Add meatballs to your sauce mixture and bring to a low boil again.

Add your slightly al dente egg noodles in with your sauce and meatballs and stir gently. Bring to a low boil again and keep on stovetop for 3-5 minutes.

Dump contents in pan into a casserole dish and sprinkle with crispy fried onions.

Preheat oven to 375 degrees and bake for 20-25 minutes or until top is golden brown. Serve!
Nutrition Facts
Easy Swedish Meatball Casserole
Amount Per Serving (4 oz)
Calories 202
Calories from Fat 180
% Daily Value*
Fat 20g31%
Cholesterol 54mg18%
Sodium 417mg18%
Potassium 143mg4%
Carbohydrates 4g1%
Protein 2g4%
Vitamin A 605IU12%
Vitamin C 1.3mg2%
Calcium 36mg4%
Iron 0.5mg3%
* Percent Daily Values are based on a 2000 calorie diet.