Fresh or frozen meatballs in Crockpot come out tender and delicious with your choice of sauce on top. Use as an appetizer or dinner idea with pasta.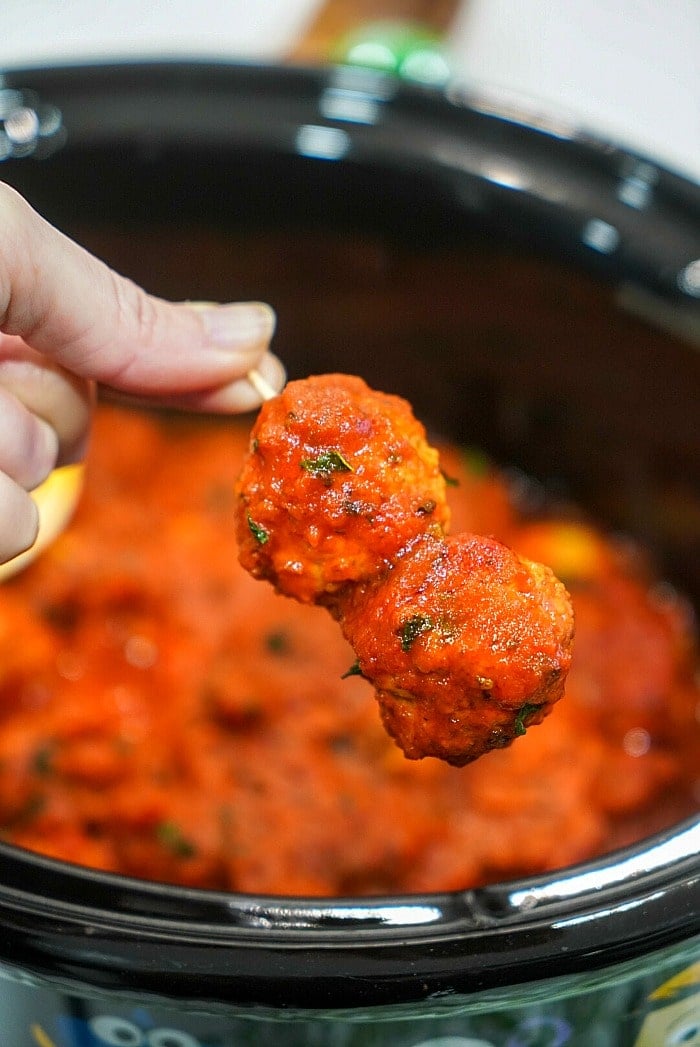 I am all about easy meals so these frozen meatballs in Crockpot are great for busy days we have often. Throwing a party? These are my go to appetizers too! Easy Crockpot recipes rock. (affiliate links present)
You can use your favorite sauce, but spaghetti sauce, teriyaki, or BBQ are the easiest. Cooking frozen meat isn't as hard as you might think, this is a game changer y'all.
You literally throw it all in there, using frozen, plop the top on and walk away. In 6 hours they're done to perfection and ready to enjoy.
Frozen Meatball Recipe
FIRST – You should sign up for my free newsletter so you get new posts emailed to you twice a week and never miss out on anything! Let's talk a little bit about slow cooking shall we?? First off I have a few different varieties and I love them all. Each one has an occasion to be used like….
This is my favorite 6 quart programmable one with a locking lid so it's great for bringing to a potluck too.
If you just want to serve a few appetizers you should get this one that sit side by side one another.
I prefer not to use liners, but rather just spray olive oil inside before adding my food for easier cleanups.
Let me give you a peek of my pretty thang I bought recently. It goes with my kitchen so I can just leave it out on the countertop all the time. 😉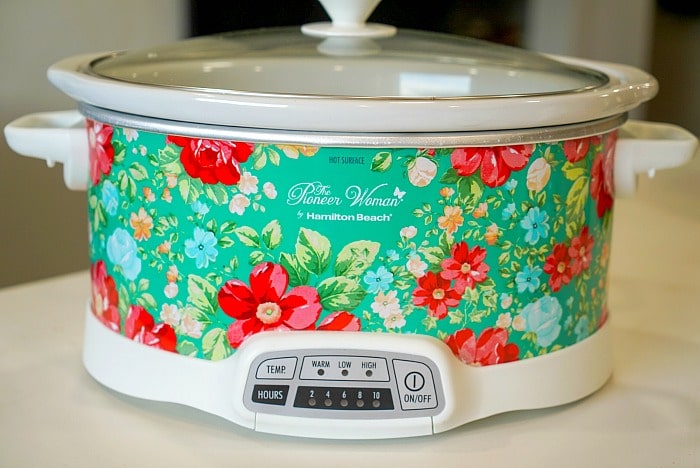 I always have a few bags of these in my freezer. They are inexpensive and SO versatile. Whether you're making Crockpot spaghetti and meatballs, or just want to cook butter noodles on the side, it's our go to meal.
Should I thaw meatballs before putting in Crockpot?
Nope, no reason for that. The ones you see here in the bag are cooked and them frozen.

It's not like you have the risk of raw pork or beef in your slow cooker this way. Just throw them in rock hard (precooked) and cook.
How long do you cook already cooked meatballs in the Crockpot?
6 hours is the magic number. You can leave in for 8 as well and they'll be just fine, less than that though and they won't be as tender as you want.
Can you cook frozen meatballs from frozen?
Yep, we're here to show you how in your Crockpot. If you want to cook Instant Pot frozen meatballs you can do that too.
Choose any brand you want, I just grab what is on sale. Then you can make all sorts of Crockpot appetizer meatballs with your favorite sauce(s).
What are the best frozen meatballs?
Nature's Promise is quite popular, I buy Johnsonville quite often, and Amy's meatless version is a good vegetarian option. If you prefer chicken or turkey I have seen those as well, depends on your preference.
Crockpot Frozen Meatballs
Why do I love this? Because it's a cheap easy Crockpot meal for sure. The first time I made this, seen here, it was an experiment. I dumped in one bag with a jar of spaghetti sauce and turned it on low.
At hour 4 I checked, but it wasn't quite there. Left alone for a few more hours and at hour 6 it was perfect. I left them on warm for another hour until dinnertime and paired them with butter egg noodles, our fave.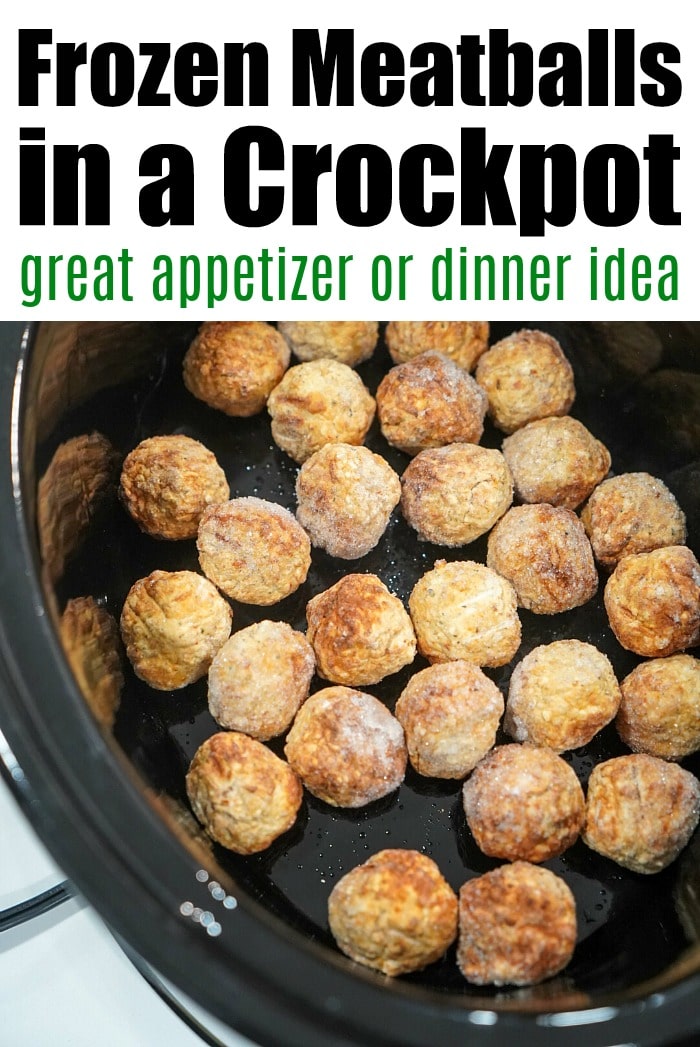 You could use a variety of sauce options for this though. I will share a few different ones we've tried thus far.
You can use the sauce from our Instant Pot Swedish Meatballs recipe if you like those flavors.
Use 16 oz. of teriyaki sauce with a sprinkle of sesame seeds on top when done. Perfect appetizer.
Sweet Baby Ray barbecue sauce is an easy recipe
Whisk together a jar of grape jelly + chili sauce and pour that on top for Crockpot grape jelly meatballs.
This is what I used this time:
Bag of frozen meatballs (could use 2)
At least 16 oz. jar of pasta sauce
That is it!
This is a quick step by step but there's also a printable version in the recipe card below.
Time needed: 6 hours
Crockpot Frozen Meatballs
Add ingredients

Pour frozen meatballs in slow cooker. Add your jar of spaghetti sauce, bbq sauce, or other sauce over the top so they're all coated.

Cook

Put lid on and set to slow cook on low for at least 6 hours to get really tender. Could push it to 8 hours. If serving to a crowd, turn to warm after 8 hours.

I wouldn't recommend to cook on high but if you're in a hurry you could. 4 hours on high should be sufficient.
Then have long toothpicks available next to your meatballs and sauce if people are snacking all day long.
Frozen Meatball Crock Pot Recipe
If you have a signature sauce you love, use that of course. It is a great recipe that's really versatile depending on your tastebuds.
What pairs well with meatballs?
We like them served on a bed of white rice, or brown rice. That makes for a really inexpensive meal packed with protein.
Crockpot Meatballs
If you want to make a batch of homemade basic meatballs you can do that too. You'll need to bake them beforehand, then add them with sauce and keep on low for just a few hours to warm.
Since you aren't cooking them in this case, there's less slow cooker cook time but a lot more prep. For a super FAST way to go, follow our frozen meatballs in air fryer directions.
Looking for other party pleasing dishes? I'd try our Crockpot baked beans! Made with bacon and brown sugar, it is savory and sweet all at the same time.
Throwing a Christmas brunch? Make a pot of our slow cooker cheesy potatoes with pull apart smoked bread too.
Want to see a few of my favorite things that I am totally obsessed with?? Take a peek and see how many you might already have…twinsies!
Looking for more easy family recipes and tips? LIKE The Typical Mom Facebook page?
Then sign up for my free newsletter, and follow me on Pinterest! 😉
***** If you LOVED this recipe give it 5 Stars below and let everyone know what you thought about it. 😉
How long to cook frozen meatballs in Crockpot
We can help you right here below. Print it out and keep handy or just come back and visit us every time you want to make a batch.
Frozen Meatballs in Crockopot
Fresh or frozen meatballs in Crockpot come out tender and delicious with your choice of sauce on top. Use as an appetizer or dinner idea with pasta.
Ingredients
1-2

bag

meatballs

frozen (I used 1 bag of 28 but could use 2 bags of small meatballs)

1

jar

spaghetti sauce

15.5 oz at least
Instructions
Pour frozen meatballs in slow cooker.

Pour jar of spaghetti sauce over the top so they're all coated. You could alternatively use 16 oz. of bbq sauce if you prefer.

Put lid on and set to low for at least 6 hours to get really tender, could push it to 8. If serving to a crowd, turn to warm after 8 max hours on low.
Nutrition Facts
Frozen Meatballs in Crockopot
Amount Per Serving (2 oz)
Calories 163
Calories from Fat 108
% Daily Value*
Fat 12g18%
Cholesterol 41mg14%
Sodium 329mg14%
Potassium 350mg10%
Carbohydrates 3g1%
Protein 10g20%
Vitamin A 245IU5%
Vitamin C 4mg5%
Calcium 15mg2%
Iron 1mg6%
* Percent Daily Values are based on a 2000 calorie diet.