Slow cooker mashed potatoes are the perfect side dish served year round and during the holidays. Fluffy and buttery made in your Crockpot all in one pot it can be made and kept warm for hours this way. If you loved air fryer mashed potatoes but wanted them to be tender all the way around here is the answer.
Add your milk, sour cream, bacon bits and salt and pepper for a creamy side everyone will love. You can even make a dairy free version if you need that, still delicious.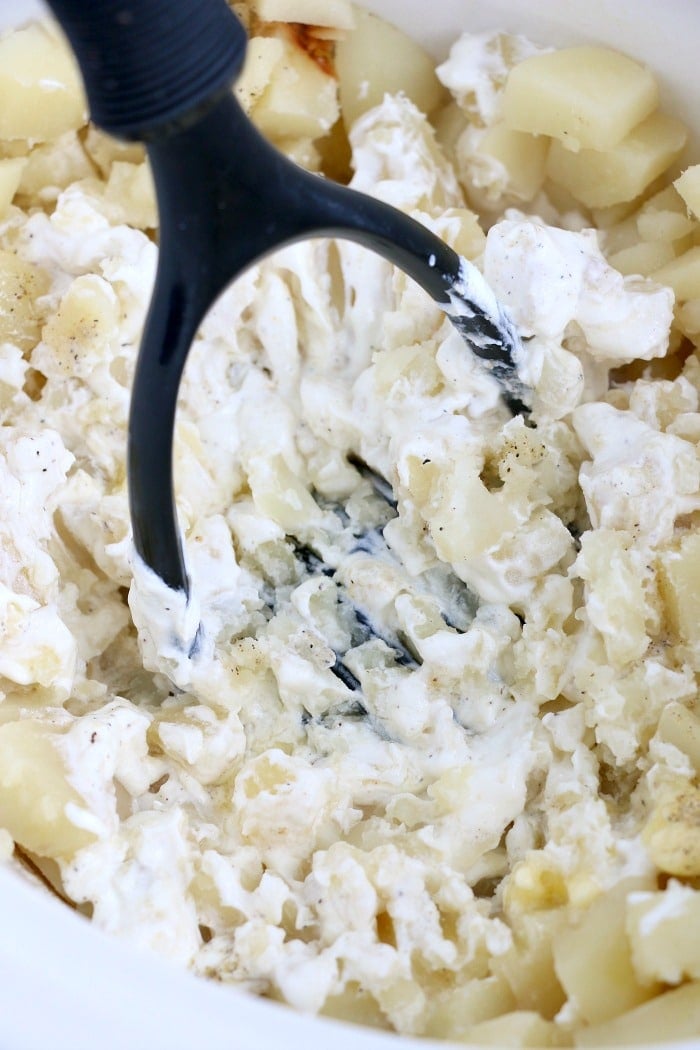 I love making slow cooker mashed potatoes as a side dish because everyone loves them AND they're a snap to make! You just need 3 simple ingredients to start with, and then load them up with bacon and goodness!! Just one Crockpot recipe here on The Typical Mom blog. (originally published 9/16, affiliate links present)
Slow Cooker Mashed Potatoes without Sour Cream
Next to our pressure cooker mashed potatoes this is probably one of my go to recipes. It goes with everything! When I say these mashed russets are a snap to make, it couldn't be more true. And the ingredients you add once they are soft is totally up to you. Some insist on sour cream to make it creamy while my husband needs lactose free items.
I have used it all over the years and continue to swap them out depending on what I'm serving this with. Simple butter, salt and pepper works great. BUT if you want to really amp it up to new levels go with bacon and chives. You can even use this to make mashed sweet potatoes too for a real tweak!
FIRST – You should sign up for my free newsletter so you get new posts emailed to you twice a week and never miss out on anything! Let's talk a little bit about slow cooking shall we?? First off I have a few different varieties and I love them all. Each one has an occasion to be used like….
This is my favorite 6 quart programmable one with a locking lid so it's great for bringing to a potluck too.
If you just want to serve a few appetizers you should get this one that sit side by side one another.
I prefer not to use liners, but rather just spray olive oil inside before adding my food for easier cleanups.
Let me give you a peek of my pretty thang I bought recently. It goes with my kitchen so I can just leave it out on the countertop all the time. 😉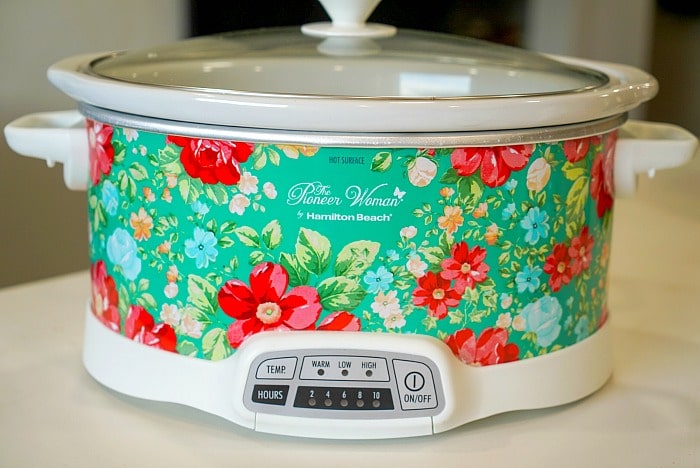 Mashed Potatoes in a Slow Cooker
Whether you're making them for a Thanksgiving side dish or for dinner, it's great to have something that everyone loves. When you make them in your Crockpot they can be kept warm for quite some time too! You know how it is. Not everything is going to be done at the same time, and you know that. The best way to bridge the gap is to use something other than the oven.
You can easily prep these and have them ready an hour before the turkey breast comes out. Switch to keep warm and fold once more before people start serving. To make things even more fun you could make it simple with just the basics. Have all the other toppings on the side like a bar!
Now of course you could make these crockpot mashed potatoes on the stove top and then transfer them to a bowl to serve. This entails a lot more time standing and monitoring the pot vs. letting it cook by itself all day.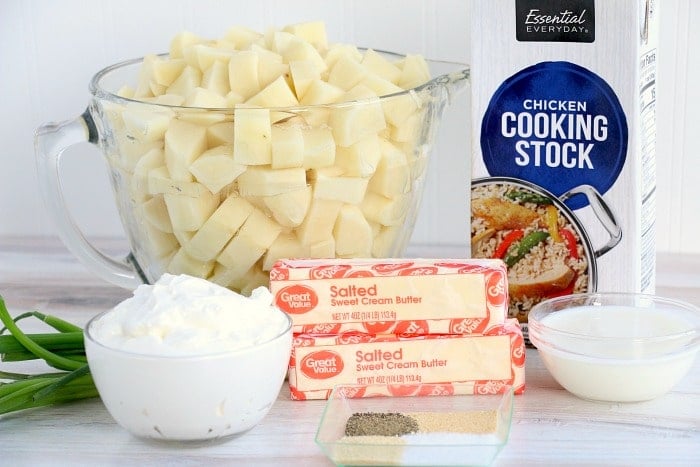 Crockpot Mashed Potatoes
Potatoes

Russets or Yukon gold potatoes are best, you could use red potatoes but they will have a firmer texture

Butter
Chicken stock or broth
Milk or heavy cream
Salt and pepper to taste
Add ins

sour cream
bacon bits
chives
cream cheese
shredded cheese
Just like when you make a batch of twice baked potatoes you can really load these up before you serve them up!
Do you boil potatoes before putting in slow cooker?
NO Way!! We're trying to make things easier here so one step is key to everything I make around here y'all. The only time I would do this is if I was in a hurry and made Instant Pot boiled potatoes.
What are the best potatoes for mashed potatoes?
Russets really are the favorite as far as their price and firmness. You don't want them in the softer family or the texture is kinda' weird. You could do half red or Yukon though if you wanted to mix it up a bit.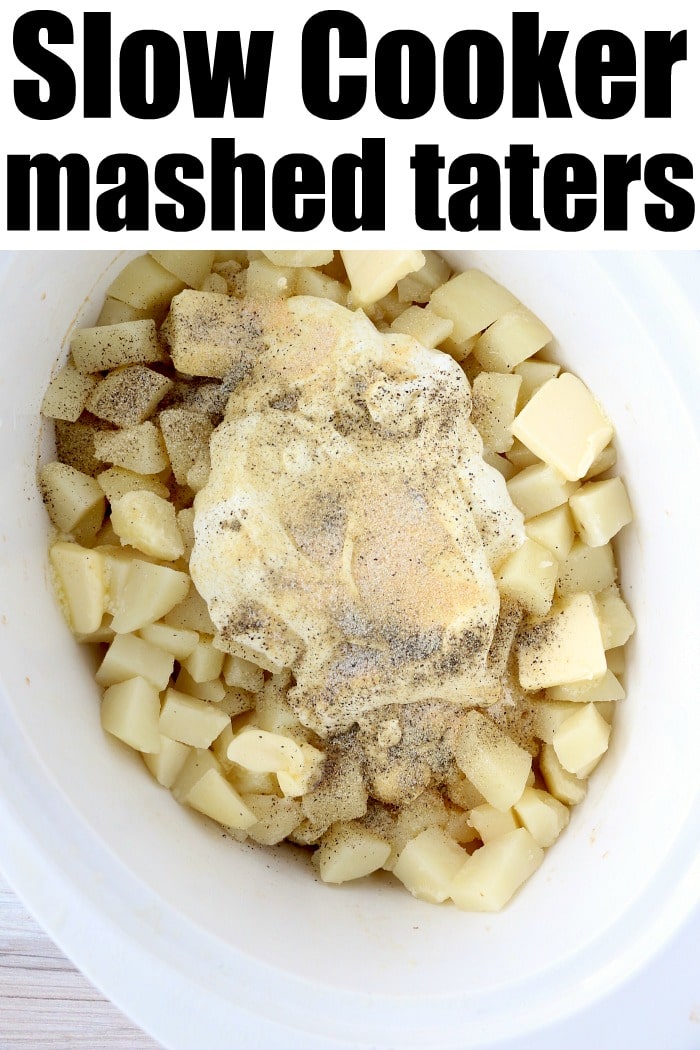 How long do potatoes take in a slow cooker?
Of course it depends on how large a load you're making, but if you use a 5 lb. bag like you see here it will take approximately 4 hours to get tender. Then it's time to mash!
I would suggest getting a plastic potato masher vs. a metal one so you can mash, add yummy ingredients, and leave right in the pot to serve up. There's NO sense in transferring to another dish and have more bowls to clean.
The cook time is actually kinda' perfect especially if you're making these for an early Christmas dinner. Just peel and throw in the taters in the morning and they'll be done mid day.
If you're having an early afternoon meal just finish preparing them and leave them right in the pot on the warm setting, stirring every hour.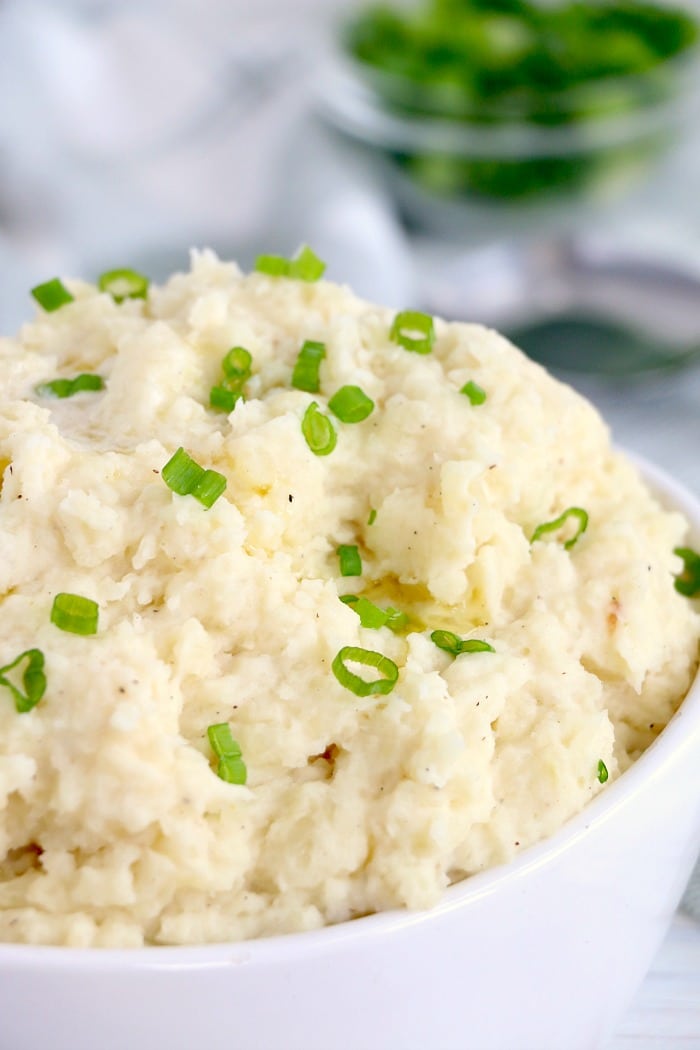 Crock pot Mashed Potatoes
Wash and peel Russet potatoes (what we used)
Spray inside of pot with non stick cooking spray to ease cleanup when you're done
Put potatoes and butter pats on top into your pot
Pour chicken broth or stock in, then cover and cook on high for 3-4 hours

for larger batches like this one using 5 lbs. 4 hours works best so they're very tender

Lift lid and drain broth

keep on the side if you want to use some to thin potatoes out at the end

Add in all your goodies and mash together until smooth
Pour in a bit of liquid (milk or broth) to think out until it is the desired consistency you want
Can keep in pot on warm, or serve immediately
Want to make a batch in your Ninja Foodi?? We do this all the time when we're in a rush! In fact our Instant Pot garlic mashed potatoes are always on the table at Christmas.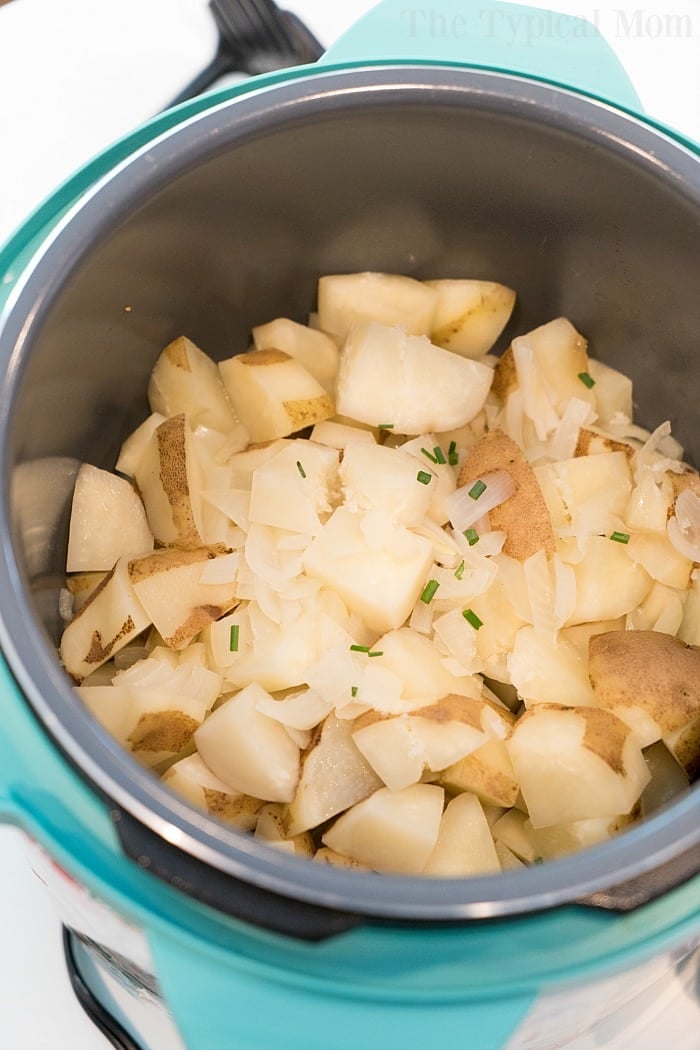 Can I make mashed potatoes ahead of time and keep in Crockpot?
YES!! You can make them on the stove, in a pressure cooker, or in your slow cooker and transfer them in order to keep them warm. Once they're done, just transfer them into your pot and set to low.
This will keep your batch warm for up to 4 hours, stirring once an hour. Then stir before serving and they will stay warm and creamy like you love them.
If you want a quick step by step for slow cooker mashed potatoes that are done start to finish in just 5 minutes, use instant potatoes:
Put water and butter (amounts indicated on pouch) in microwave for 4 minutes
Add into crockpot and add cold milk necessary
Empty packet of instant potatoes into your slow cooker
Stir
Cover for 1 minute
Fluff up and serve

you can leave inside and keep on warm for a while too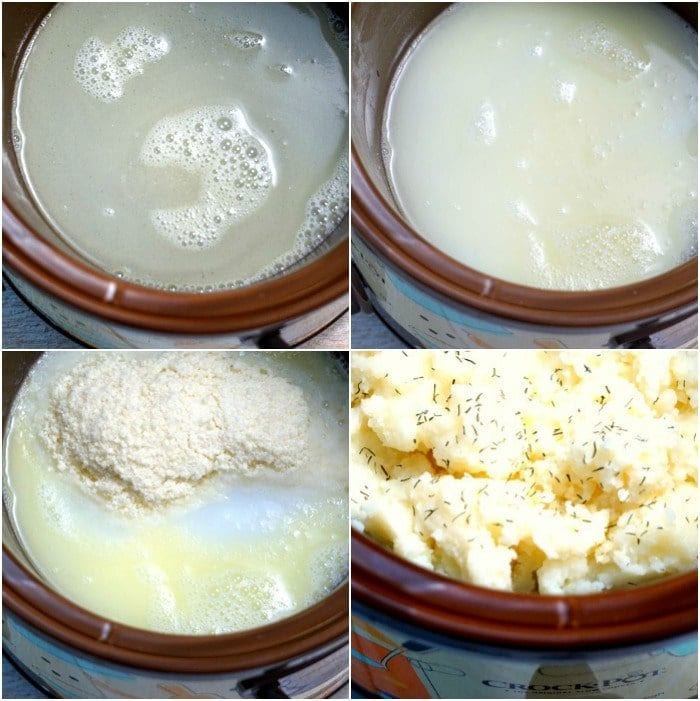 What goes good with mashed potatoes?
Add

Kale and boursin cheese
Shredded cheddar cheese and bacon bits
Maple syrup is great inside sweet potatoes
Simple herbs like rosemary, garlic salt with thyme is great
Garlic mashed potatoes paired with pull apart bread
If this is for the holiday season you could combine these two favorites to make green bean mashed potato casserole too.
What should I serve with potatoes?
You really can have these with any main dish if you ask me but there are a few dinners that WE must pair these with. Here are a few of them so you can tell us what you think: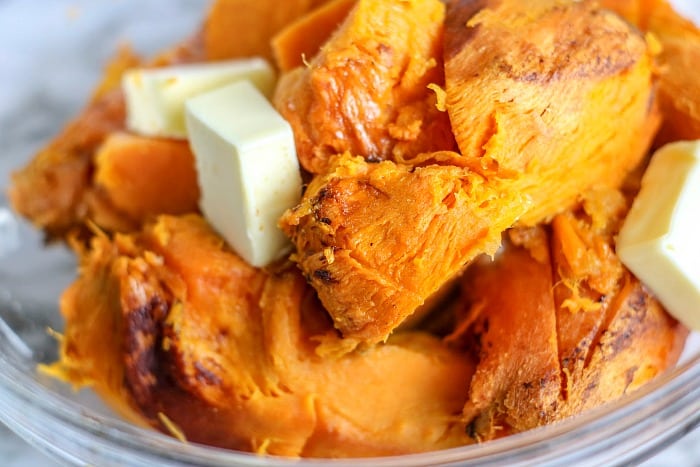 Do you love mashed potatoes too?? I am sure you think of them often at Thanksgiving but do you make them regularly as a side dish for dinner? They're not just great fresh though, use what you have left to make air fryer leftover mashed potato balls the next day.
They're a great (and easy) dish that everyone loves and goes perfectly along side meatloaf, rotisserie chicken, and chicken. Try it this week and let me know what your family thinks! Looking for a few other potato recipe ideas you can make for a big get together, potluck, or with dinner this week?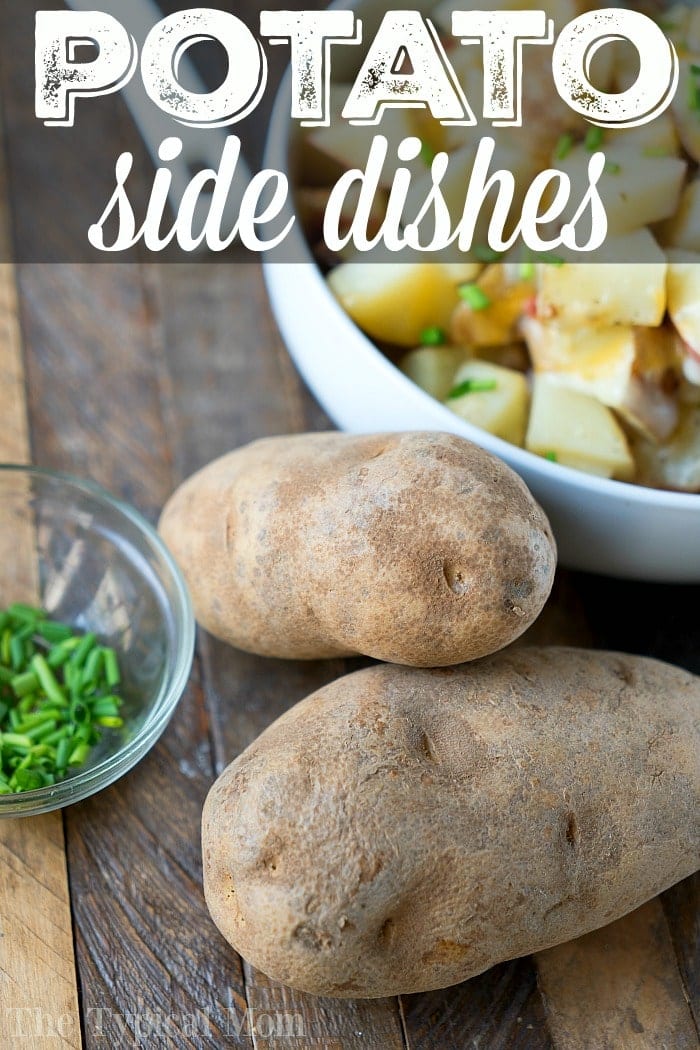 You should also try a few of these with dinner tonight!
Printable version of this recipe is below so you can keep it handy. Of course you can come back to this post as often as you'd like and I encourage you to do so but some of you have created recipe books of your own. We hope this is a new favorite.
Want to see a few of my favorite things that I am totally obsessed with?? Take a peek and see how many you might already have…twinsies!
Looking for more easy family recipes and tips? LIKE The Typical Mom Facebook page?
Then sign up for my free newsletter, and follow me on Pinterest! 😉
***** If you LOVED this recipe give it 5 Stars below and let everyone know what you thought about it. 😉
Slow Cooker Mashed Poatoes
Slow cooker mashed potatoes are the perfect side dish served year round and during the holidays. Fluffy and buttery made in your Crockpot and kept warm.
Instructions
Wash, peel and dice your potatoes. Put them into your Crockpot with 1/2 c of butter cubes on top. Pour chicken stock over the top.

Cook on high for 4 hours or until potatoes are tender.

Drain off chicken stock (can save for later to thin them out). Leave potatoes in pot.

Add remaining butter, sour cream, salt, garlic powder, onion powder, pepper and milk.

Use a plastic potato masher to combine all ingredients. If you want them thinner use more milk or some of drained stock. Add bacon bits and/or chives too if desired before serving.
Nutrition Facts
Slow Cooker Mashed Poatoes
Amount Per Serving (2 oz)
Calories 339
Calories from Fat 198
% Daily Value*
Fat 22g34%
Cholesterol 58mg19%
Sodium 556mg24%
Potassium 931mg27%
Carbohydrates 28g9%
Protein 9g18%
Vitamin A 607IU12%
Vitamin C 22mg27%
Calcium 96mg10%
Iron 6mg33%
* Percent Daily Values are based on a 2000 calorie diet.