The best make ahead twice baked potatoes are here! Tender stuffed potatoes with bacon, cheese and sour cream are the perfect appetizer made in your oven or air fryer.
If you've ever had the best twice baked potatoes at a restaurant, I bet you wish you could make them yourself. Now you can!! Have an air fryer? They'll come out really crispy that way. If not, we have oven directions for you too so everyone can enjoy this favorite football appetizer. (originally published 9/20, affiliate links present)
Make Ahead Twice Baked Potatoes
Let's start with good old fashioned stuffed potatoes in the oven shall we? If you want to make air fryer potato skins we have instructions for that too. Both are great and the prep work is about the same. Biggest difference would be that if you use your countertop appliance you will get more of a crisp.
Twice Baked Potatoes for Two
This is great to cook in a large batch as a fun appetizer with lots of guests or just for dinner. You would use the same instructions as directed below either way. The biggest cook time difference would be the thickness and size of your russets.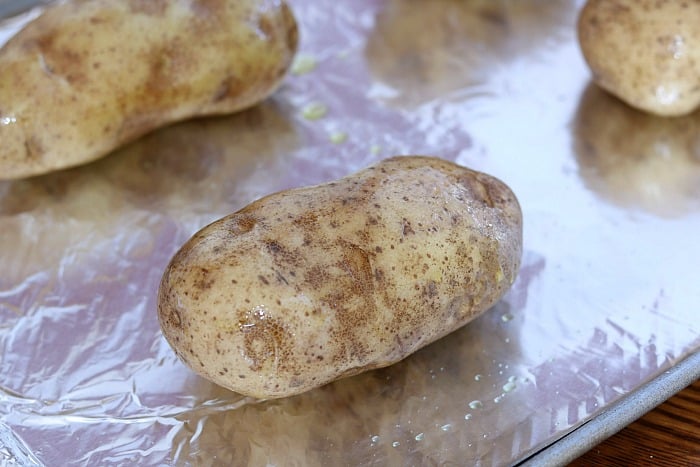 Twice Baked Potatoes in Oven
You can make these in batches if you have a party going on. Prep a few baking sheets and swap out one when done and slide in the second to get tender inside.
Once you've done this and dried them well, poke each one with a fork all over.
Preheat oven, then rub olive oil all over them liberally.
Put each one on a lined baking sheet sheet, covering with aluminum foil first makes clean up a lot easier.
Make potatoes in the oven as usual.

heat oven to 400 degrees for 50 minutes

Allow to cool enough for you to handle them.
Slice potato in half lengthwise, scoop out insides leaving 1/2″ thick potato flesh
Mix inners and toppings in a bowl like mashed potatoes and refill skins with potato mixture
Bake again at 350 degrees for 15 – 20 minutes or until top cheese is melted
Enjoy your side dish or party food!
What are the best potatoes for baking?
Russet potatoes are the best for baking. They are a high starch potato that when baked, lend a light and mealy texture. The skins are a bit thicker than the Gold version which is necessary when making stuffed potatoes. After all, this baked potato recipe requires crispy skins!
Should potatoes be washed before cooking?
Yes!! Wait to wash the potatoes until the last moment before using them though. This should include some scrubbing to get any dirt and debris off. Some may be lodged in the eyes of the potatoes. Since most Idaho potatoes are grown in a sandy or volcanic soil, the scrubbing can be pretty minimal but necessary nonetheless.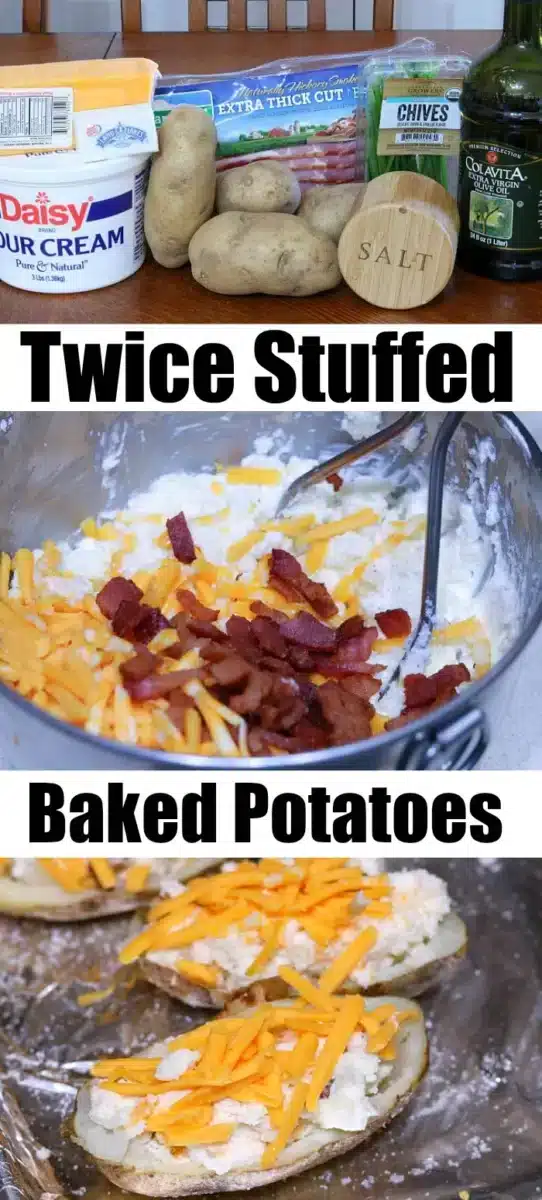 Should you wrap a baked potato in foil?
This was kinda' the old fashioned method my parents did. Do not do this for baking. Foil holds in moisture and steams the potatoes, resulting in a "boiled" taste and texture. Instead, turn the potatoes over halfway through the baking time to prevent browning of the undersides where they touch the baking tray or oven rack.
For stuffed potatoes you also want crispy skins, using foil will make them soft instead.
Make Ahead Stuffed Potatoes
Can you make baked potatoes the night before?
Yes, you can make baked potatoes the night before. Simply wash and scrub the potatoes, then prick them all over with a fork. Wrap the potatoes in foil and place them in a baking dish.
Bake the potatoes at 375 degrees Fahrenheit for 1 hour to 1 hour and 15 minutes, or until they are soft when pierced with a fork.
Let the potatoes cool completely before storing them in the refrigerator overnight. When you are ready to serve, unwrap the potatoes and reheat them in the oven at 350 degrees Fahrenheit for 15-20 minutes, or until they are heated through.
Can I make twice baked potatoes ahead of time?
Yes, you can make twice stuffed potatoes ahead of time. Simply prepare the potatoes as directed, scooping out the middles and storing separately in a bowl. Do not add the cheese, bacon, and chives.
Cover and refrigerate them for up to 24 hours. When you are ready to bake, preheat the oven to 350 degrees F. Warm the mashed middles, add the cheese, bacon, and chives. Spoon into the middle of the skins and bake for 20-25 minutes, or until heated through.
How do you cook potatoes in an air fryer?
SO to make these double stuffed potatoes this way you'd first make air fryer baked potatoes. You can even make sweet potato in the air fryer.

it's similar directions but the skins will come out WAY crispier
I recommend adding sea salt on the skins for over the top air fryer twice potatoes
Then allow them to cool, slice, scoop out middles, add goodies, sprinkle remaining cheese on top and follow the same directions from step 7 down.
What can you fill the best twice baked potatoes with?
The possibilities are really endless but to name a few:
Sour cream and butter
Garlic salt
Salt and pepper
Cream cheese
Bacon bits
Green onions
Diced onion
Lots of cheese inside and on top
Top with crispy fried onions too!
How do you reheat leftover twice baked potatoes
You may not finish them all and that is okay. Make sure you keep them wrapped up once cooled so they don't dry out. Using a freezer or vacuum sealed bag is best for that. Is always a favorite football party food but sometimes I make too many so I get it.
Remove stuffed potato skins from the refrigerator
Brush the skins and top with butter
Cover potato with a damp paper towel to keep in the moisture
Put on a microwave safe dish
Microwave for 2 to 3 minutes until warm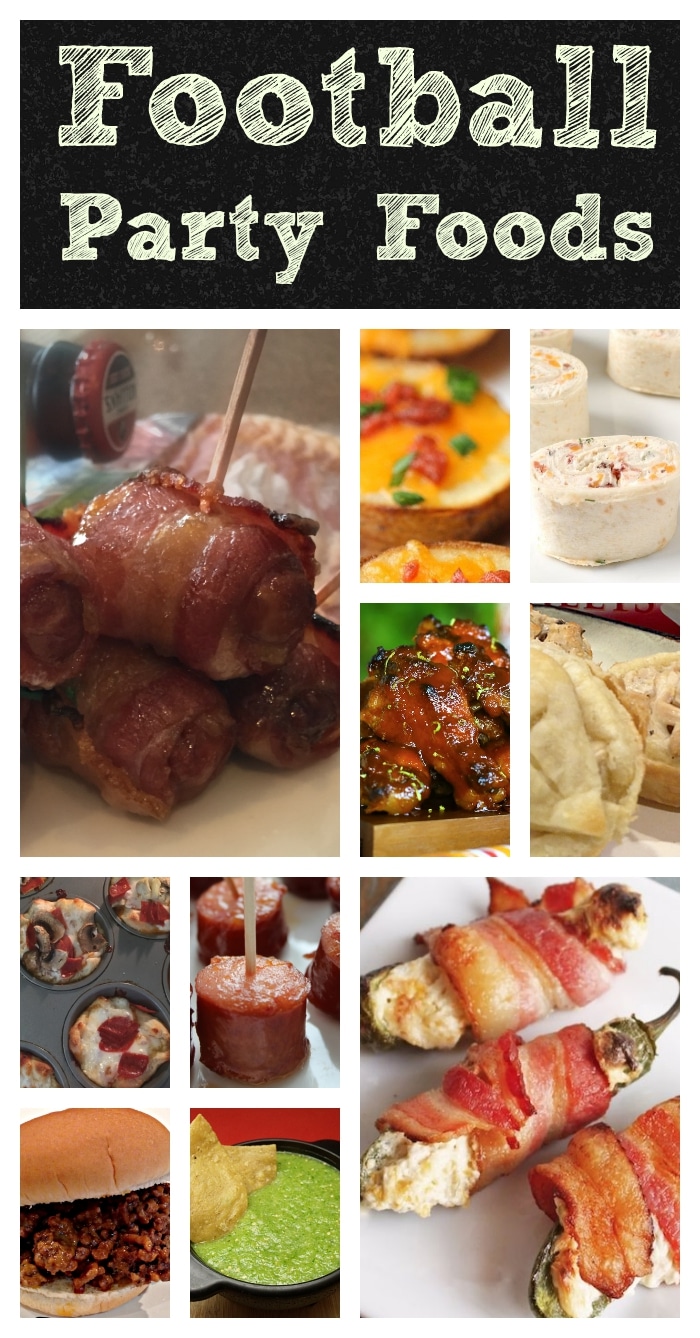 Want to see a few of my favorite things that I am totally obsessed with?? Take a peek and see how many you might already have…twinsies!
Looking for more easy family recipes and tips? LIKE The Typical Mom Facebook page?
Then sign up for my free newsletter, and follow me on Pinterest! 😉
***** If you LOVED this recipe give it 5 Stars below and let everyone know what you thought about it. 😉
Make Ahead Twice Baked Potatoes
The best make ahead twice baked potatoes are here! Tender stuffed potatoes with bacon, cheese and sour cream are the perfect appetizer made in your oven or air fryer.
Ingredients
Instructions
Put foil on a baking sheet and preheat oven to 400 degrees F.

Wash and dry potatoes, poke several holes all around each one with a fork.

Generously coat potatoes with olive oil, sprinkle with salt, and place on baking sheet.

Bake for 50-60 minutes or until tender in the very center of each one.

Allow them to cool enough so you can handle them. Then cut each one in half lengthwise.

** If you want to make ahead and prepare later scoop out insides leaving 1/2" in tact along the outsides so they don't fall apart. Slide these cooled skins in a bag, suck air out and store in fridge. Put potato insides in another freezer bag, suck air out and store separately in fridge. When ready to prep take both bags out and sit for 30 minutes on counter. Then proceed to next steps as you would if they were fresh.

Scoop out the center leaving 1/2" thick walls and the skins in tact. Put halves on baking sheet.

Turn down oven to 350 degrees.

In a mixing bowl add the scooped out potato insides, softened butter, salt, pepper, 1/2 c. sour cream or softened cream cheese. Mix until well combined.

Add half the cheese and bacon and mix gently in. Now fill the skins with this mixture until there is no more left. Top with remaining cheese and bacon.

Bake for approx. 15-18 minutes or until cheese has melted.

Can put some sour cream in a pastry bag or freezer bag. Cut off tip and squeeze on top in the shape of football lacing for fun. Top with chives.
Nutrition Facts
Make Ahead Twice Baked Potatoes
Amount Per Serving
Calories 816
Calories from Fat 594
% Daily Value*
Fat 66g102%
Cholesterol 142mg47%
Sodium 1153mg50%
Potassium 1065mg30%
Carbohydrates 41g14%
Protein 18g36%
Vitamin A 1345IU27%
Vitamin C 13.4mg16%
Calcium 286mg29%
Iron 2.3mg13%
* Percent Daily Values are based on a 2000 calorie diet.