Made Kraft mac and cheese in a pressure cooker yet? It's easy! With no draining required we've figured out how to make boxed macaroni in our Instant Pot and Ninja Foodi!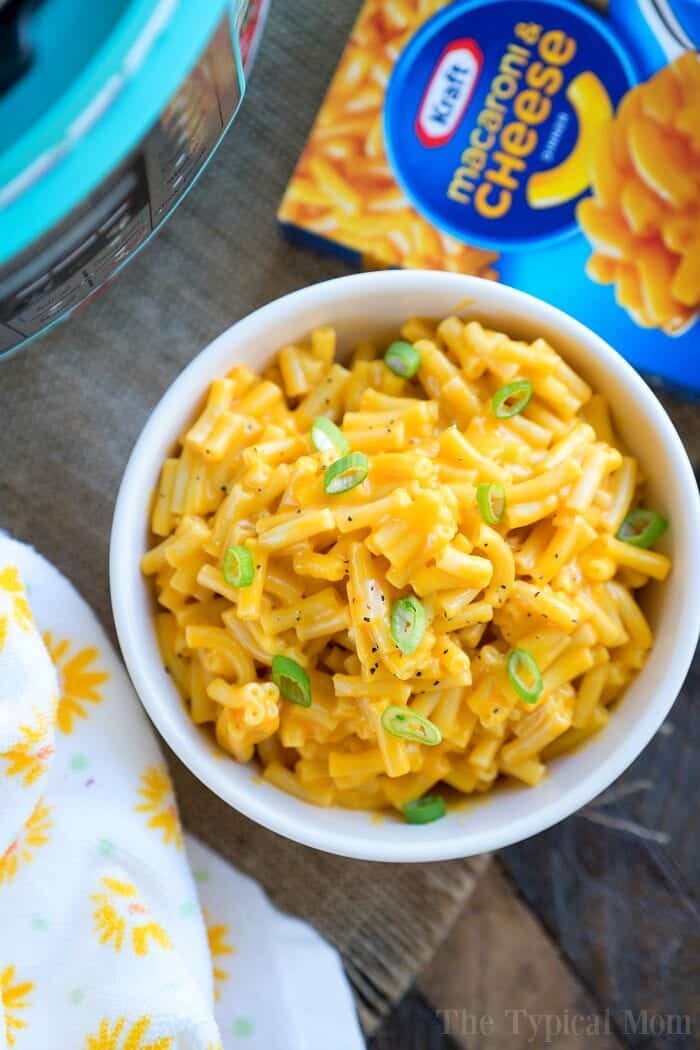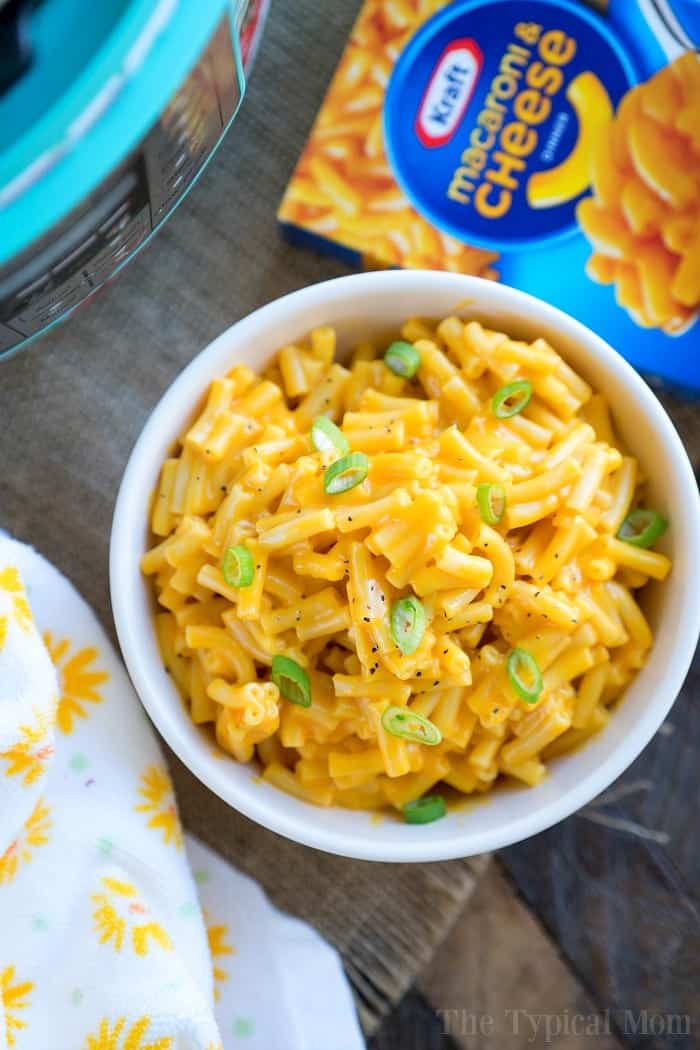 Do you love boxed Kraft macaroni and cheese? Of course, we all do. But, making Kraft mac and cheese in a pressure cooker is a serious game changer we needed to share with you! One of my kids' favorite Instant Pot recipes for sure. (originally published 3/19, affiliate links present)
Instant Pot Boxed Macaroni and Cheese
I grew up on these little blue boxes. Bet you did too and are wondering if you could make it in your new favorite machine without draining?? So……
Can you cook macaroni in an Instant Pot?
We're here to show you that it's a resounding YES! You can also use a Crockpot Express or even a Ninja Foodi to make this. Of course you can go all out and make homemade Ninja Foodi macaroni and cheese too but we don't always have time for that kinda' thang. 😉
FIRST – You should sign up for my free newsletter so you get new posts emailed to you twice a week and never miss out on anything! Now let's start with a few basic tips:
Make sure to Bookmark our InstaPot recipes page. We add new ones each week!
Then PRINT this —–> Instant Pot cooking times cheat sheet that will help you understand how long meat, vegetables and beans take to cook in your pressure cooker.
For reference, this is the pressure cooker I have (a 6 quart) and use for all recipe creations.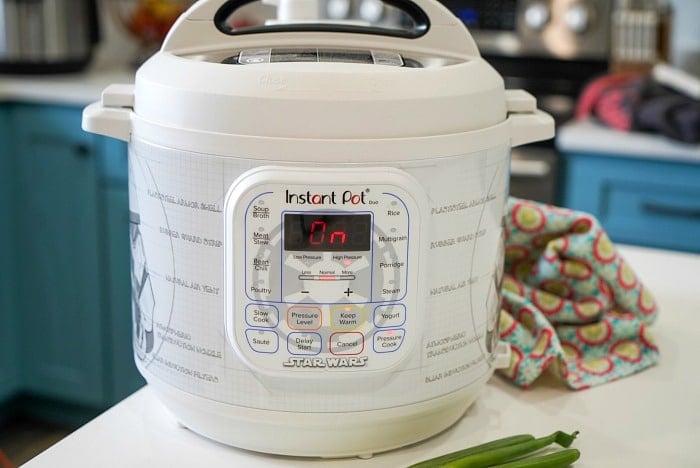 Instant Mac and Cheese
You will need the same ingredients as you've made it for years. It's just the water that was tricky to figure out.
It's one of our favorite 5 ingredient Instant Pot recipes.
Of course you can just add a bunch of water, cook the noodles, drain the water, and add the rest of your ingredients. BUT then it isn't quite right.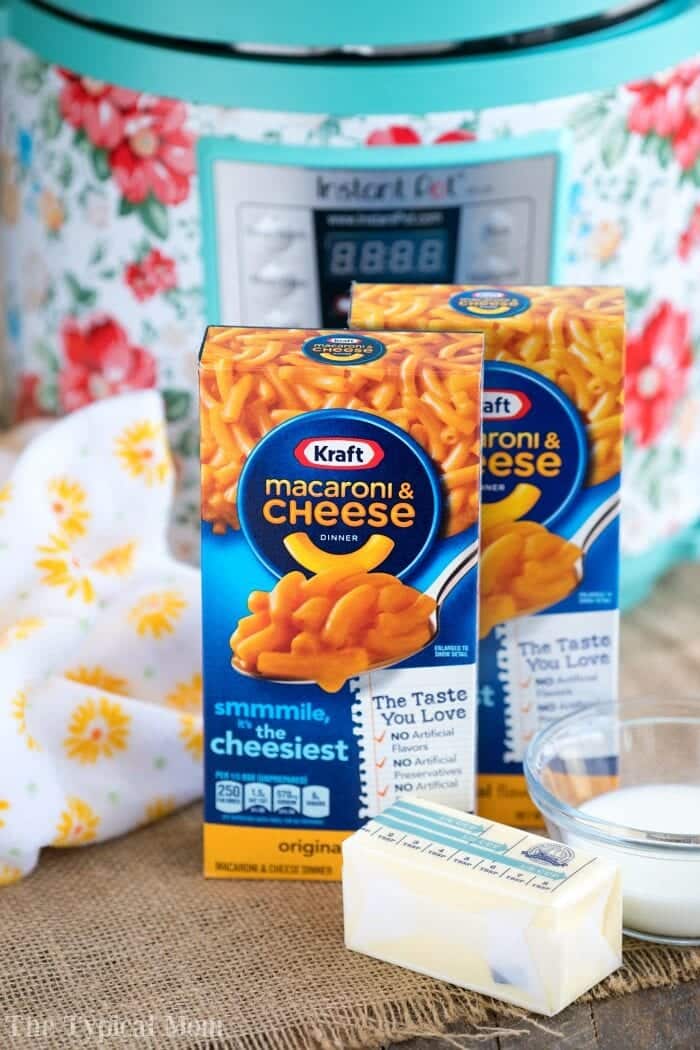 How to Make Instant Pot Boxed Mac and Cheese
I found that this method was messy since it required a strainer, and I didn't trust my younger daughter to do that step.
Kraft mac and cheese in a pressure cooker
Like I said, this can be made as boxed mac and cheese in Ninja Foodi too. All of my girls enjoy cooking "all by myself". If I could perfect the amount of water needed, so nothing needed to be drained, then they could make it without my assistance.
It just make me feel safer eliminating that step for them.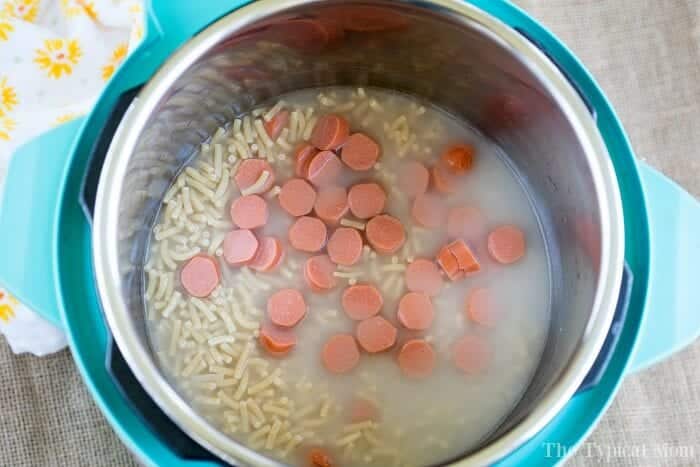 Of course my girls are older, 18-11 years old, so if yours are younger parental supervision would still be required. You'll get there someday though. 😉
Instant Pot Kraft Macaroni and Cheese
I will explain how to cook each one. There is a difference of 1/4 c. of water between the two, that is all.
Here is a peek of the basic steps.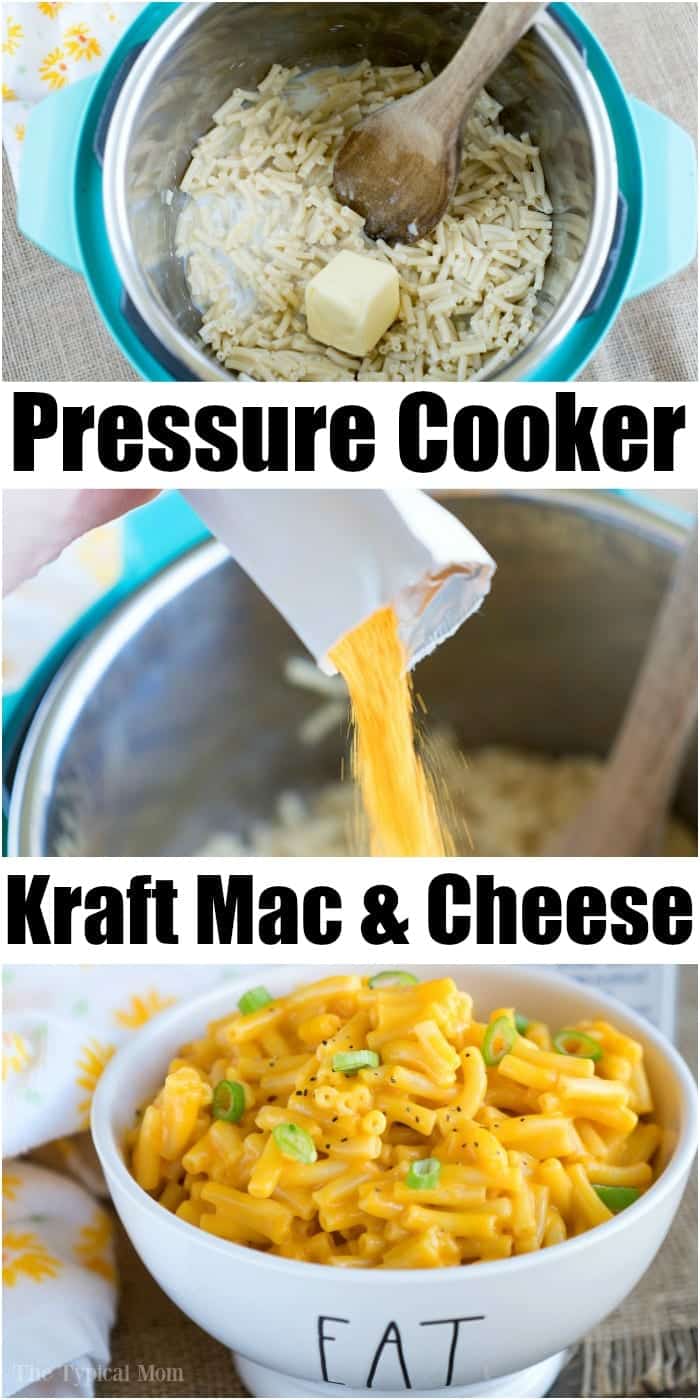 Instant Pot mac and cheese Kraft
This is faster than making it on the stovetop since it takes a while for the water to start boiling.
Add your water and noodles – add sliced hot dogs now if you want to add them
Cook on high pressure for 3 minutes

allow to naturally release for 1-2 min., quick release will cause a bit of water splatter
DO NOT drain the water. Leave that in, there won't be a lot, and just add that butter once you stir it a bit. Take note that the noodles will stick a bit but they're easy to break up, just use a wood spoon for that.
Break up the noodles gently
Add your butter, allow that to melt
Sprinkle in your cheese packet – included in box
Add as much milk as you'd like (if you want it thick don't add any at all)
Stir until smooth
Enjoy!!
Kraft Mac and Cheese without Milk
Most times I just add like half a stick of butter and the cheese, this is how to make mac and cheese without milk. This will make it really cheesy and thick!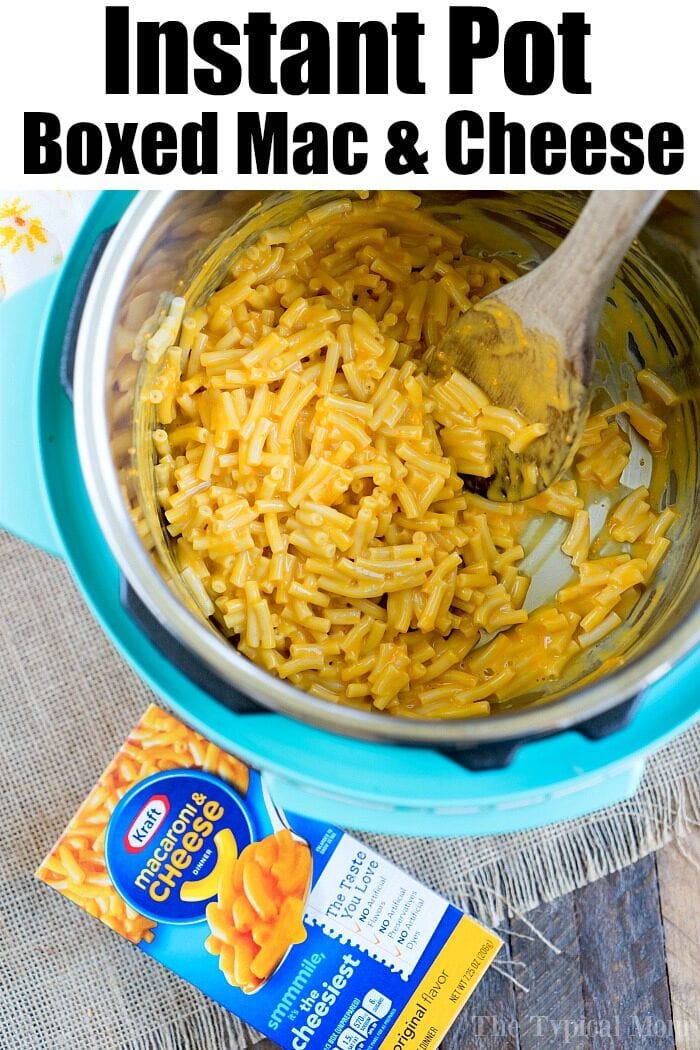 This is what you're going to need to make this. I promise you will never make it in a pot again after this.
Instant Pot Kraft mac and cheese
Instant Pot or it can be an easy Ninja Foodi recipe too

I highly recommend this non stick pot if you don't already have one

Boxed macaroni and cheese – we buy this one in bulk
Butter
Hot dogs – optional but yummy, these are our favorites
Salt and pepper – also optional but a sprinkle helps
If you don't want to use as much butter you can use milk instead. I prefer just butter because we love it nice and thick.
If you like a thinner soupier version then milk is great to thin it out.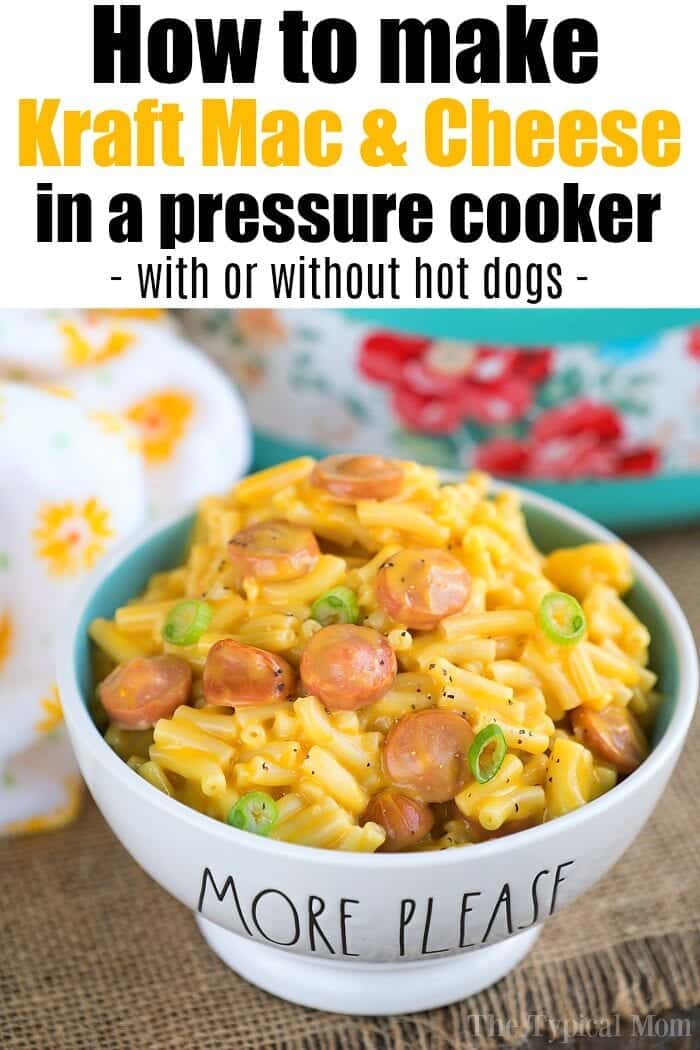 How do you make 2 boxes of Kraft Mac and Cheese?
NO Problem!! We do this all the time. You will want to double the amount of water added into the pot. Add your two boxes of noodles, close the lid and set to the SAME pressure cook time as 1 box. DO NOT double the cook time.
When it is done don't drain the water as stated in the recipe card below. Add twice the amount of butter, stir.
Dump in both of your dry cheese packets from the 2 boxes. Stir and add milk to thin it out to the consistency and thickness you want.
Serve with salt and pepper to taste!
Looking for more easy Instant Pot pasta recipes and other goodies?
Boxed Mac and Cheese in the Instant Pot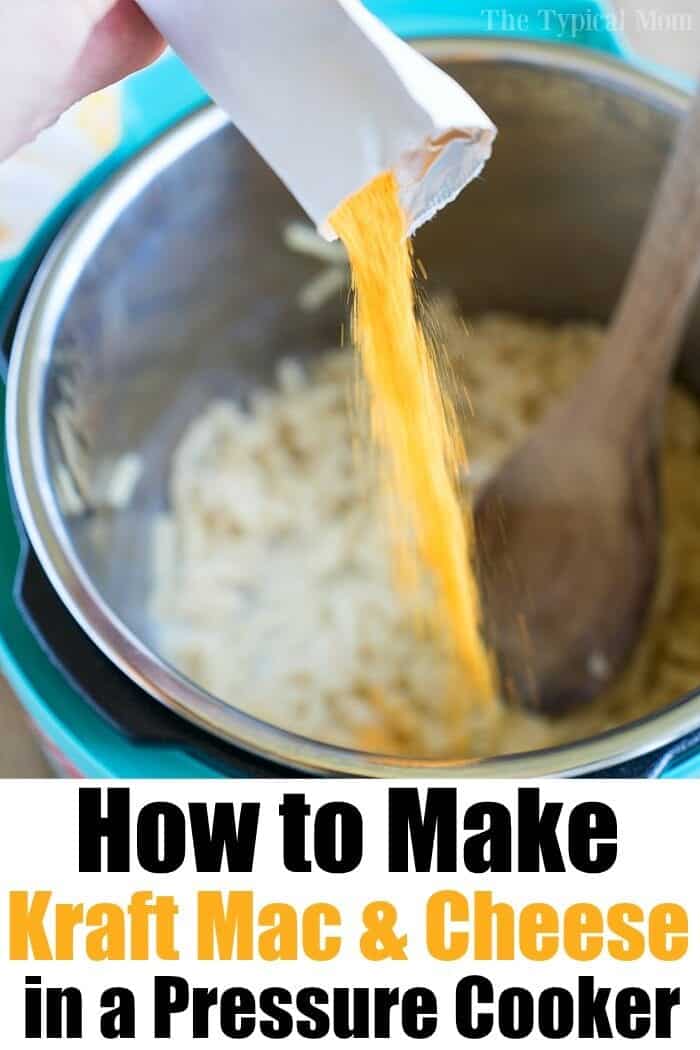 What can I add to Kraft mac and cheese to make it better?
Bacon bits are pretty amazing
Parmesan cheese sprinkled on the top is yummy
Shredded cheese like cheddar amplifies the cheesiness
By all means add some hot sauce if you want some HEAT!
Ketchup is a favorite amongst some kids
Sliced hot dogs as we stated below

you could add diced up leftover ham to it too

Salt and pepper to taste is a given
Boxed macaroni and cheese in a pressure cooker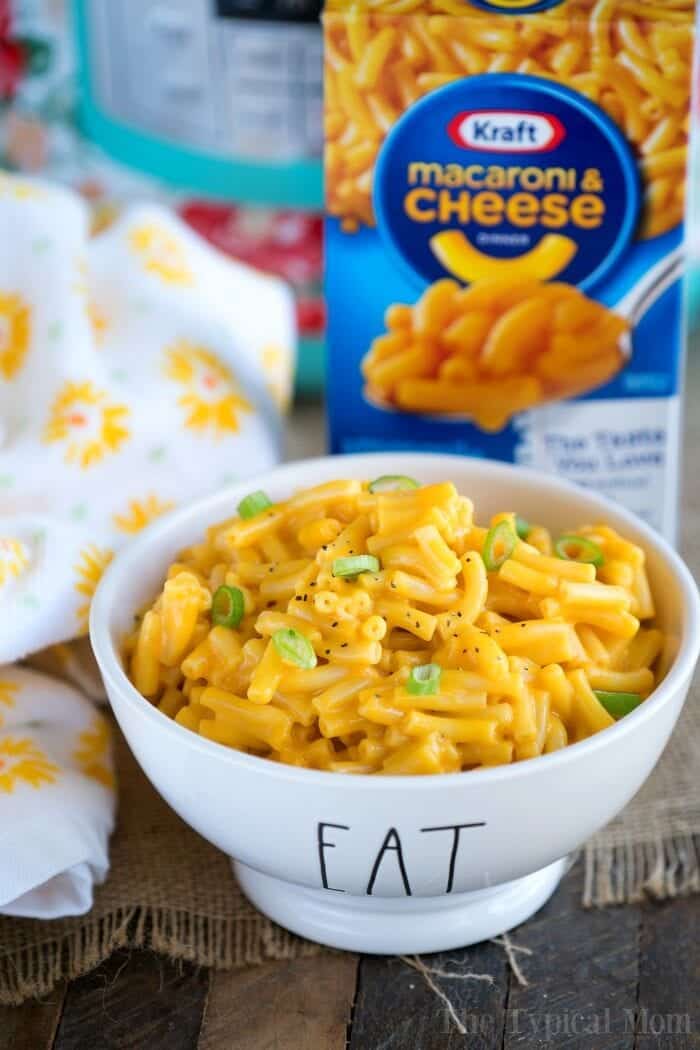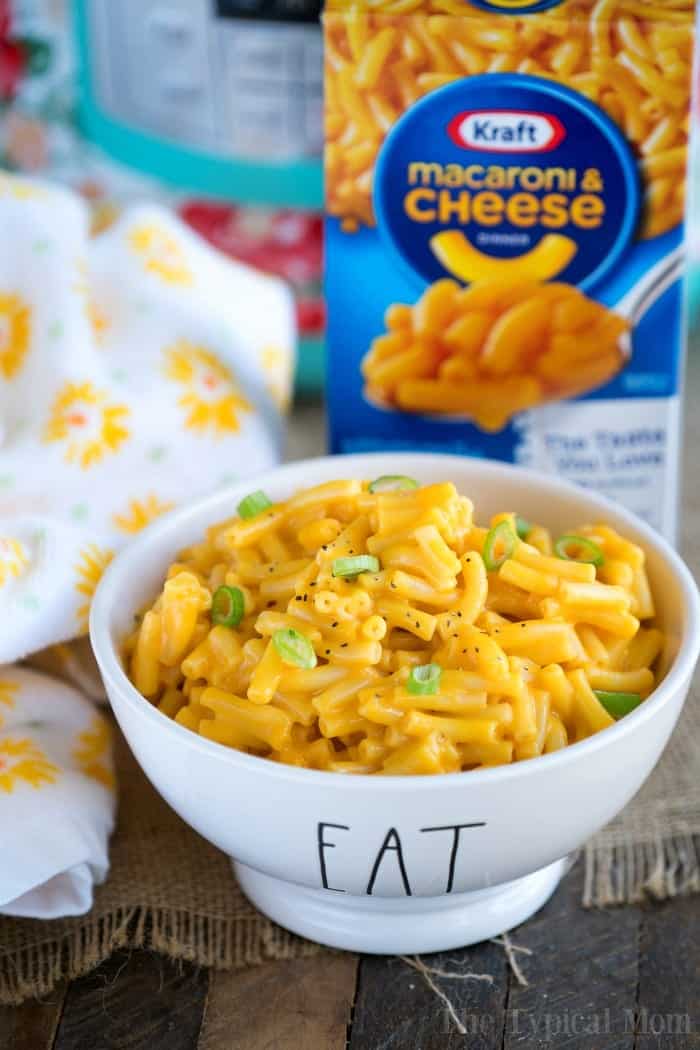 How many does a box of Kraft mac and cheese serve?
Well, that depends on how hungry y'all are really. 😉 Typically the popular blue box is supposed to provide 2.5 servings. Many people eat the entire box as a meal.
If you consume an entire box of Kraft Macaroni and Cheese (prepared with margarine & milk) you'll eat 875 calories, 32.5 grams of fat, and 25 grams of protein.
In my mom opinion (pretty accurate for most) I would say it feeds an average of 3 people. That is if you're eating it as an entire meal.

Adding hot dogs or some protein will make it heartier.
Serving it as a side dish with chicken let's say would feed closer to 5
How do you make boxed mac and cheese in the microwave?
You might want to try this too as a quick snack idea!
Pour noodles into a 1.5 or 2 quart microwave safe bowl. Add 1 3/4 cups hot water.
Microwave uncovered on high for 8 to 10 minutes

or until water is absorbed

Stir every 3 minutes.
Drain water, add butter and cheese packet
Want another dinner idea? Try our Instant Pot taco casserole for the win!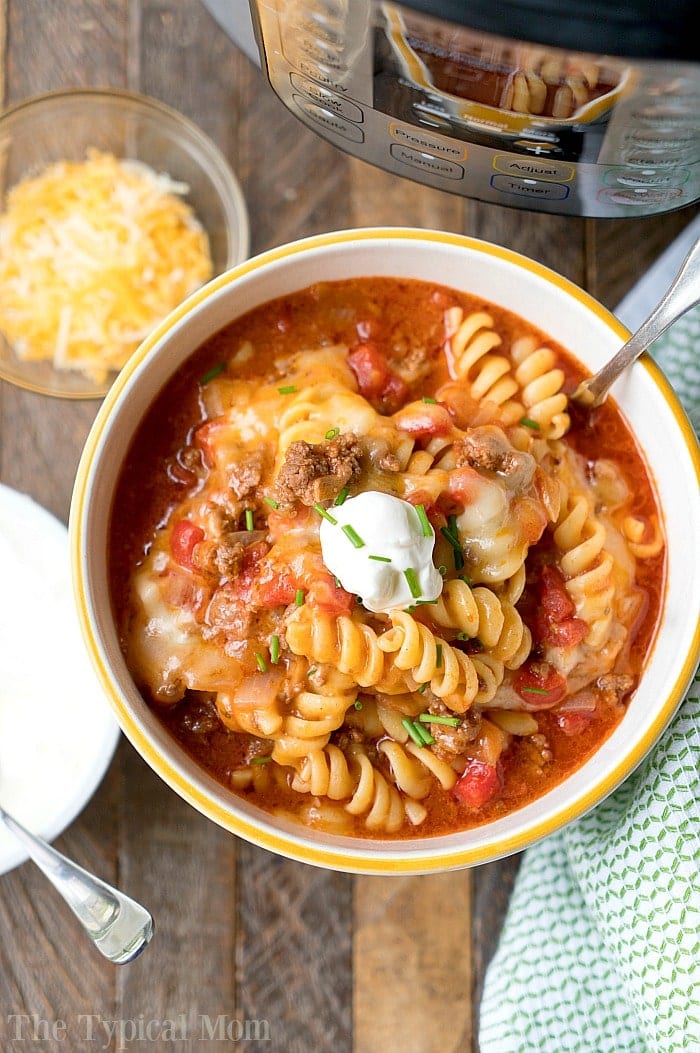 This too is creamy and delicious, and sure to please adult and kids pallets. It is
Want to see a few of my favorite things that I am totally obsessed with?? Take a peek and see how many you might already have…twinsies!
Looking for more easy family recipes and tips? LIKE The Typical Mom Facebook page?
Then sign up for my free newsletter, and follow me on Pinterest! 😉
***** If you LOVED this recipe give it 5 Stars below and let everyone know what you thought about it. 😉
Kraft Mac and Cheese in a Pressure Cooker
Made Kraft mac and cheese in a pressure cooker yet? It's easy! With no draining required we've figured out how to make boxed macaroni in our Instant Pot!
Ingredients
1

box

macaroni and cheese

1/4

c

milk

amount varies depending on how thick you want it

1 1/2 – 1 3/4

c

water

increased amount if you are adding hot dogs

4

tbsp

butter

2

hot dogs

optional, sliced
Instructions
Add 1 1/2 c water into your pressure cooker, 1 3/4 c if you are adding hot dogs.

Add the noodles from your box of boxed macaroni and cheese, stir well so the water becomes a bit murky meaning the slight powder on the noodles is washed off. Add sliced hot dogs now if you want to add them. Stir again.

Close lid and steam valve and set to pressure high for 3 minutes.

Allow to naturally release for about 2 min. just so water doesn't spray out a bit when you release the pressure. Release rest of steam and open lid.

Turn pot off.

Stir and break up noodles with a spoon, do not drain. Add butter and allow it to melt.

Pour in your packet of dry cheese and stir until dissolved. If you want it thinner add some of your milk slowly until it's the consistency you want. Serve!!
Nutrition Facts
Kraft Mac and Cheese in a Pressure Cooker
Amount Per Serving (3 oz)
Calories 337
Calories from Fat 180
% Daily Value*
Fat 20g31%
Cholesterol 42mg14%
Sodium 654mg28%
Potassium 153mg4%
Carbohydrates 28g9%
Protein 9g18%
Vitamin A 380IU8%
Calcium 100mg10%
Iron 1.6mg9%
* Percent Daily Values are based on a 2000 calorie diet.
How do you make Kraft Easy Mac?
Pour 2 Macaroni pouches into 1 quart microwave safe bowl. Add 1 cup water. Microwave on HIGH 4.5 minutes or until noodles are tender. Add your 2 cheese pouches and butter. Thin out with milk and serve.
We haven't done this method yet, but others have with success. I think we've done just about everything with this popular boxed food. I grew up with it and it was definitely a big part of my childhood growing up.
It was most likely the first thing I ever cooked "all by myself". 😉