Rice a Roni Instant Pot pressure cooker directions. Use beef or chicken flavor for a quick side dish, way faster than on your stovetop.
Have you tried to make Rice a Roni Instant Pot style? It's a game changer. WAY faster than if you boiled the ingredients in a pot on your stovetop. If you love making rice in a pressure cooker but want to try something new, this easy Instant Pot recipe will be your new fave.
Instant Pot Rice a Roni
I don't know about y'all but my mom made this little red box several times a month growing up. If we were having chicken, then we had the chicken flavor. Meatloaf night? She would make beef like you see here. It was one thing I absolutely loved since I wasn't a veggie lover back then.
I'm not saying that this is difficult at all to make in a pot. I will say that you do need to keep an eye on it a bit though so it doesn't dry out and stir in the middle of that time. You can eliminate all of that by making it as an Instant Pot side dish. By far, this is the best way to cook Rice a Roni I tell you.
FIRST – You should sign up for my free newsletter so you get new posts emailed to you twice a week and never miss out on anything! Now let's start with a few basic tips:
Make sure to Bookmark our InstaPot recipes page. We add new ones each week!
Then PRINT this —–> Instant Pot cooking times cheat sheet that will help you understand how long meat, vegetables and beans take to cook in your pressure cooker.
For reference, this is the pressure cooker I have (a 6 quart) and use for all recipe creations.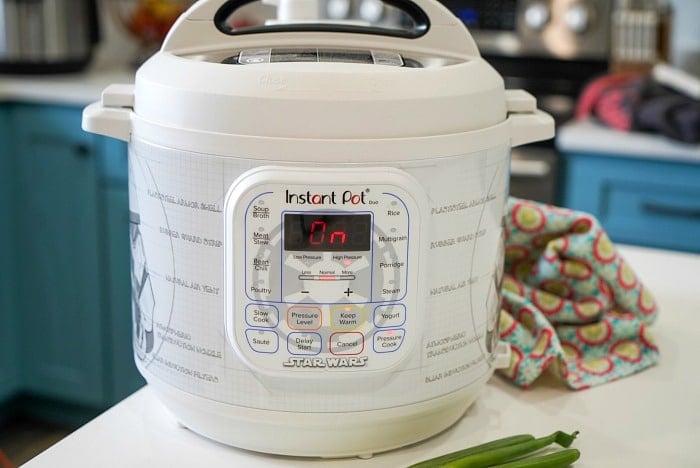 Ninja Foodi Rice a Roni
If you don't have this brand of pot that is okay. We are just using the high pressure function to make this and they all have this. Mealthy, Crockpot Express and Ninja Foodi will use the same directions and timing below. At first I wasn't going to bother posting this but when I first made it I had to look at someone else's post for how long to cook it.
Assuming they were correct, since yet another had the same cook time I just went with that. It was not right. SO I messed around with it (because I hate when recipes go awry and I am sure you're the same way) and thought I needed to share the correct minutes necessary here.
The one biggest tip when making Ninja Foodi rice or Jasmine rice in Instant Pot + this one is that it needs a natural release for a bit.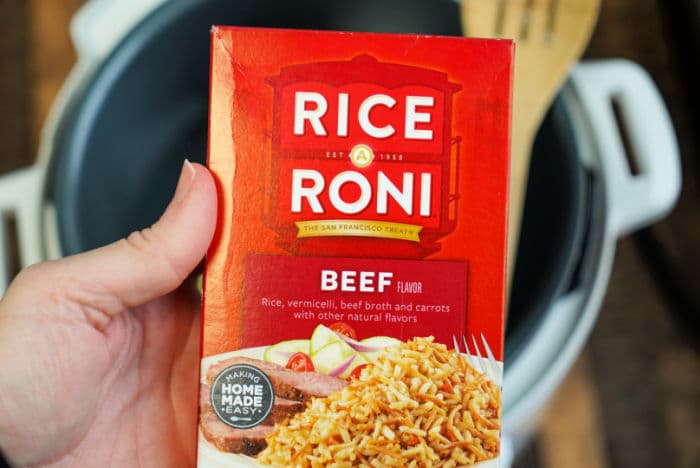 That is kinda' how it gets fluffy. Ok so this variety I wouldn't use the word fluffy to describe but you know what I mean in general. When you quick release the steam it does suck out some of the moisture out of whatever is in your pot.
When you are making a pot of soup that wouldn't matter but if you have meat and grains like Instant Pot cheesy chicken and rice or something you want it to be as tender and moist as possible. Remember that tip in general when you're cooking in this kitchen appliance.
Instant Pot Beef Rice a Roni
Why did I choose this one to feature? Because it was the only one in my pantry, so there's that. It would make NO difference if you chose to use chicken. Literally the only change is the flavor packet inside that box. The rest of it is exactly the same and wouldn't change in any way. Well, you'd want to use chicken broth instead of bone broth too.
Instant Pot Chicken Rice a Roni Recipe
How do you make perfect Rice-a-Roni?
Ideally you still want to brown the grains just like the box suggests. If you have only made it in a pot you can do the same thing in your pressure cooker. Use the saute function to do this, it is exactly as if your pot was over medium high heat. It will melt your butter, then brown as usual and turn the pot off when done.
This last step is very important or else it may trigger the burn on Instant Pot message and turn off if it overheats. Make note: You will NOT use the same liquid to rice ratio listed on the back of the box. There is only 1 cup of rice in the box. When you make Instant Pot white rice the ratio is almost 1:1 + just a bit more.
I went off of this information and my years of experience with this machine to estimate what would work best. What others had listed in their posts wasn't enough and it turned out dry, their timing wasn't long enough either so it was a bit crunchy too. NO good.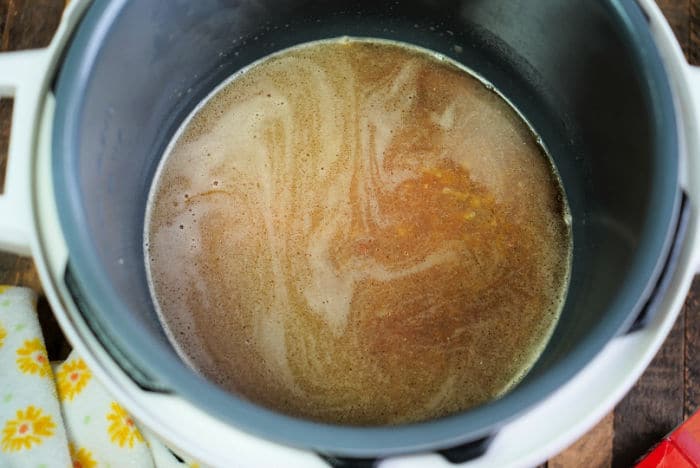 I grew up in HI and let's just say we ate a lot of this, like at least once a week in one shape or another. Texture is everything when it comes to this easy side dish. A bit sticky is fine if you ask me but any stiffness or crunchy bits are just wrong, like 100% not okay. When I find that beginner Instant Pot recipes are not right I have to rectify it like ASAP.
THIS is how to make it at home correctly y'all:
First you're going to add your butter into the pot and set it to saute. When it is melted pour in the long grain rice pcs. out of your box.

Use a wooden spatula to mix butter, rice and pasta pieces together and slightly brown rice a little bit. Then turn the machine off.

Pour in your 1 and half cups water and/or broth as well as the dry seasoning packet in. Stir everything together.
Close the lid and steam valve. Cook on high pressure for 6 minutes with a 7 minute natural release.
Then flip the release so the rest of the steam can be released. Carefully lift the lid and fluff the contents. Serve with your main dish like Instant Pot frozen chicken or frozen roast with vegetables. A complete meal is done y'all. I kid you not this will change the way you make this boxed rice from now on, period.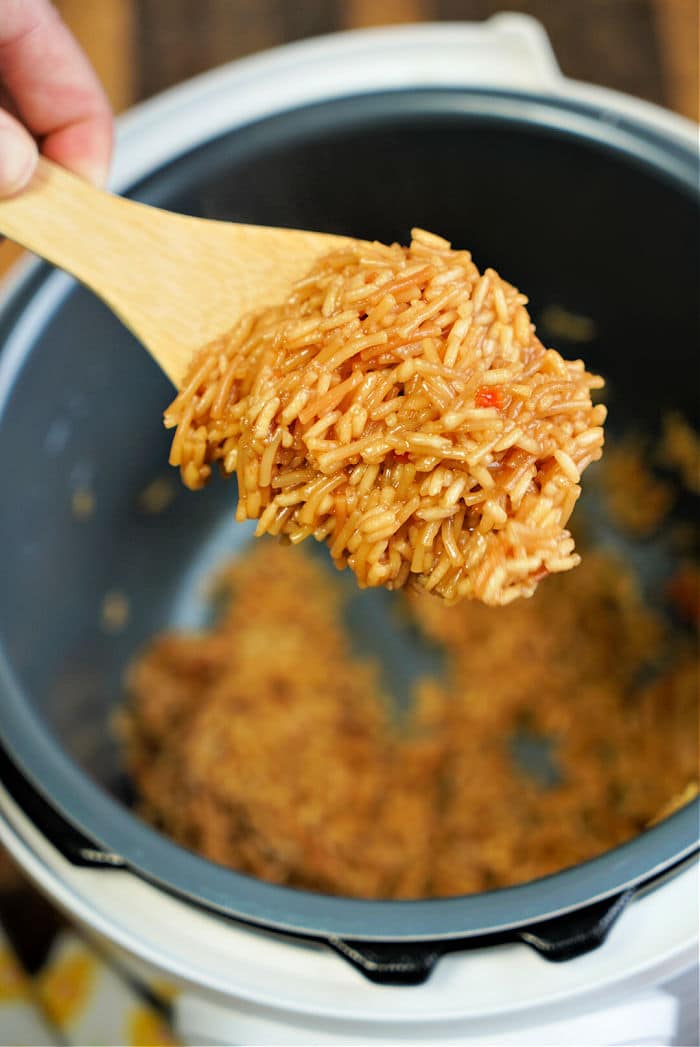 How can you make your boxed rice a roni a heartier meal? Add diced chicken breasts right into the mix! That is right, if you have made air fryer chicken breasts the night before and have leftovers, cut into small pieces and add 1/2 cup. You could add 1/4 c frozen peas in there too if you wanted. They will defrost at the same time and add veggies.
You don't want to add much more than 1/2 cup of additional ingredients or else there won't be enough liquid for the grains to get done correctly. I don't feel like you'd need more seasonings but a shake of garlic powder might be kinda' nice. Now jump to recipe and get started!
Want to see a few of my favorite things that I am totally obsessed with?? Take a peek and see how many you might already have…twinsies!
Looking for more easy family recipes and tips? LIKE The Typical Mom Facebook page?
Then sign up for my free newsletter, and follow me on Pinterest! 😉
***** If you LOVED this recipe give it 5 Stars below and let everyone know what you thought about it. 😉
Rice a Roni Instant Pot
Rice a Roni Instant Pot pressure cooker directions. Use beef or chicken flavor for a quick side dish, way faster than on your stovetop.
Instructions
Add butter and set pot to saute. When it is melted pour in the rice out of your box. Use a wood spatula to mix together and slightly brown some of the pieces. Then turn pot off.

Pour in your water and broth as well as the dry seasoning packet out of your box. Stir together.

Close lid and steam valve. Cook on high pressure for 6 minutes with a 7 minute natural release. Then let out rest of steam. Open, fluff rice and serve.
Nutrition Facts
Rice a Roni Instant Pot
Amount Per Serving (1 oz)
Calories 52
Calories from Fat 54
% Daily Value*
Fat 6g9%
Cholesterol 15mg5%
Sodium 164mg7%
Potassium 18mg1%
Carbohydrates 1g0%
Protein 1g2%
Vitamin A 175IU4%
Calcium 5mg1%
Iron 1mg6%
* Percent Daily Values are based on a 2000 calorie diet.