Frozen onion rings in air fryer turn out so crispy and delicious! Making Ninja Foodi onion rings as a side dish is our jam, I bet you'll love them too. With a light breading right out of the freezer you can turn regular onions into bites with a crunch and tons of flavor.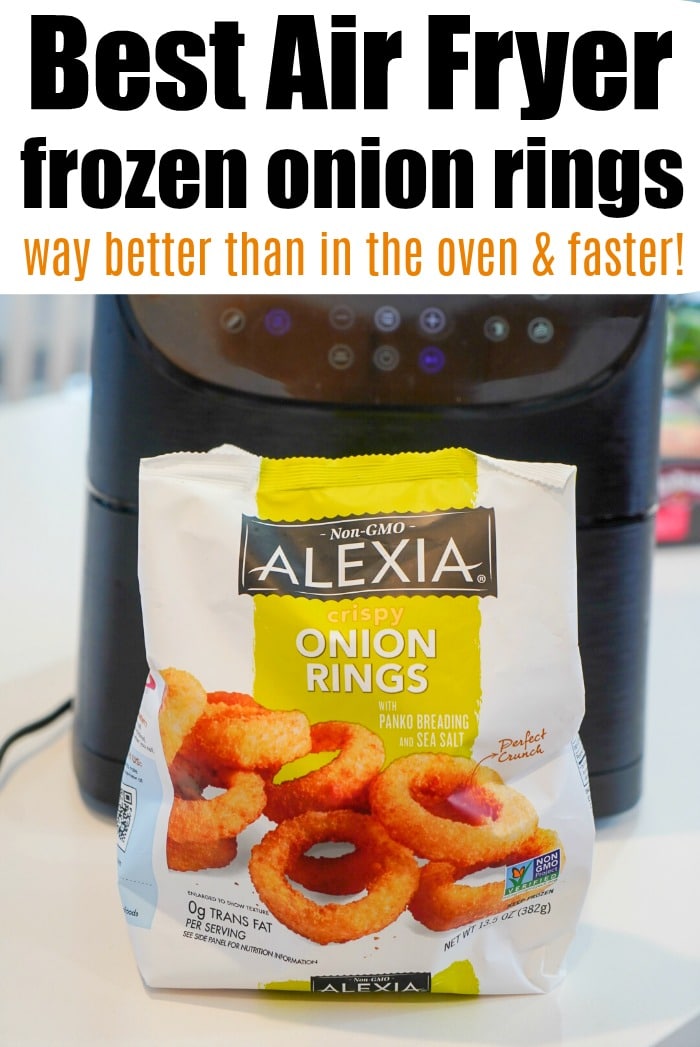 Frozen onion rings in air fryer is another game changer for us! They're pretty good baked in the oven BUT they taste like they're from a restaurant this way. You've got to try this easy air fryer recipe tonight. (originally published 6/20, affiliate links present)
Ninja Foodi Frozen Onion Rings
The question is: can you cook frozen onion rings in an air fryer? Yes! We'll show you how. They turn out as crispy as you remember them coming out at your favorite restaurant, right at home!! A great side dish that goes well with your main dish and kids love them!
I mean grilled or caramelized onions are the bomb too right? BUT those take quite a bit of time and we don't always have that, for sure. If you buy these babies already breaded though most of the work has been done for you and all you need is to get the middle tender and outsides to crunch.
FIRST – You should sign up for my free newsletter so you get new posts emailed to you twice a week and never miss out on anything! If you love air fryer recipes too, here are some resources to start with: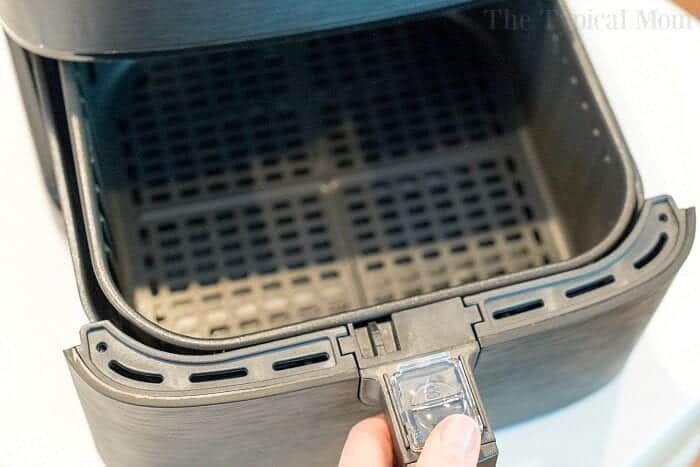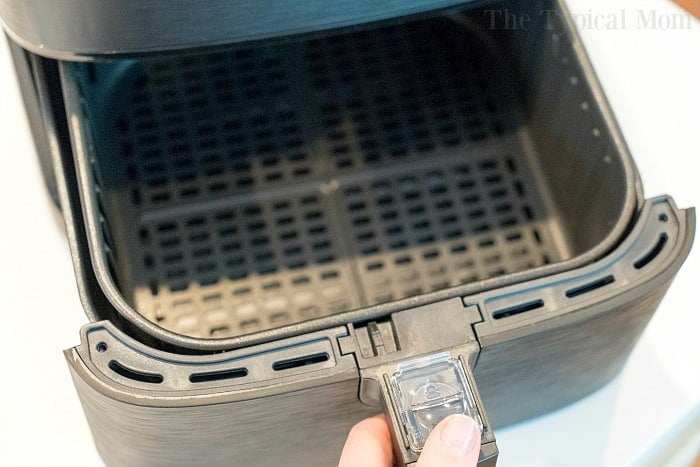 Alexia Frozen Onion Rings in Air Fryer
We used the best frozen onion rings brand this time, of course there are many on the market. Who makes the best onion rings? You will probably have a choice in the frozen food section of your local grocery store. Here is a list of the best brands out there according to a recent poll:
Best Frozen Onion Rings for Air Fryer
You may only have one or two choices at your store but if you have them all these seem to fair best in the order listed above.
Alexia Foods onion rings are the best….what we used here
Heinz Ore Ida has some too that are deemed to be second best
McCain golden crisp rings are great
Fishery natural battered onion rings
Simplot ale rings round out the list
Of course you will likely have the choice of your local store brand there too. I wouldn't say that for this food it would be a huge difference between the two, except for the price.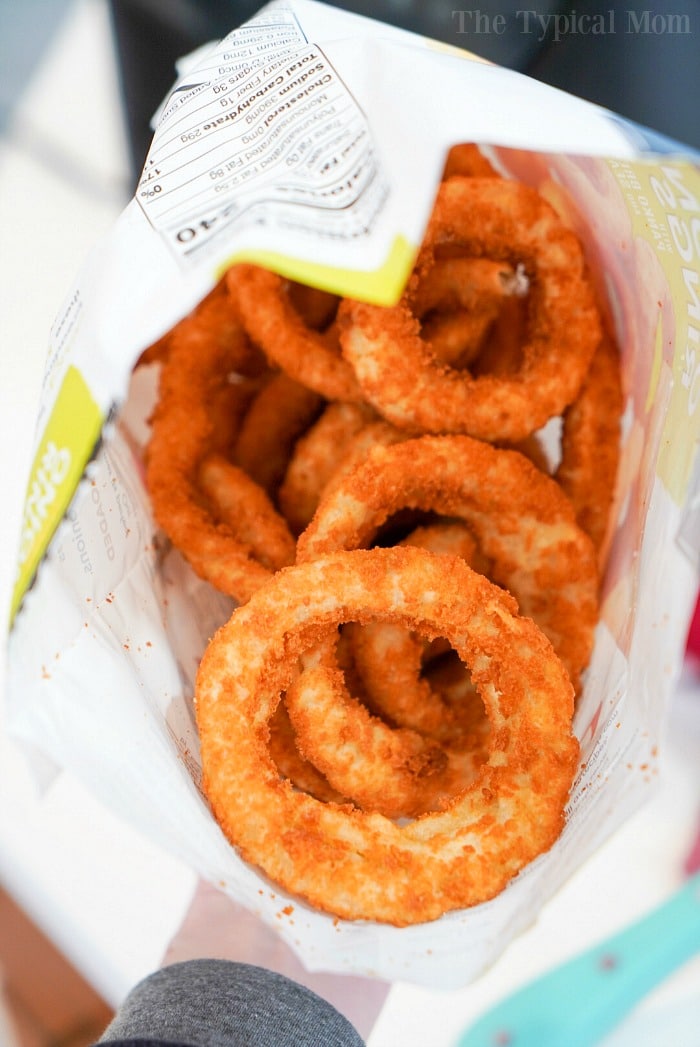 Air Fry Frozen Onion Rings Ninja
Now the machine isn't going to matter as far as the temperature and cook time. What will make a difference is the size of the basket. If you have a really large version you can cook more at a time since there is more area to spread them out. You do not want them to overlap, that defeats the purpose.
What you need to make air fryer frozen onion rings
Bag of frozen rings
Air fryer basket
Ok and if you want dipping sauce of any kind you can grab that
Yes you can go through the process of making homemade crispy fried onions. Sometimes you just want a quick and crispy side dish to serve with frozen salmon though. The timing here is really handy to have.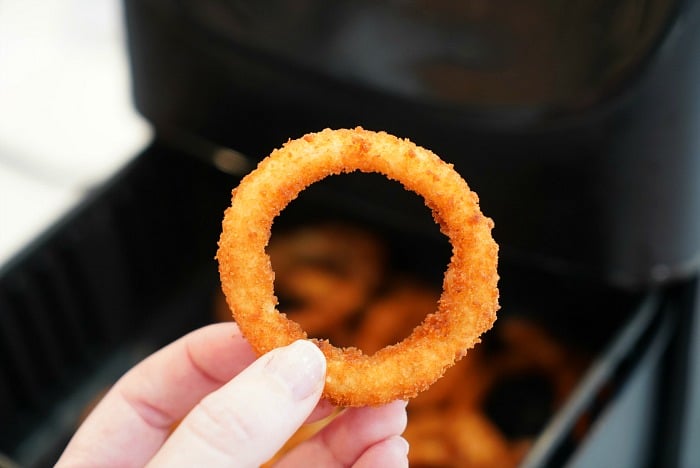 How Long to Cook Onion Rings in Air Fryer
As we always do when cooking frozen food in an air fryer, this one is no different. Go ahead and preheat your air fryer to 400 degrees F. for 5 minutes. This is important so it's the same temp. the entire time they're crisping, and they'll finish in less than 5 minutes!
I will start by saying, timing will vary slightly.

For this brand 4-5 minutes was perfect.
If yours are thicker and larger in size it may be closer to 6-8 minutes total.
I didn't find a need to shake the basket halfway thru, just ensure there is only one layer and they are NOT overlapping.
If you cook frozen onion rings in an oven you will need about 18 minutes to get them crisp. They get MUCH crispier in an electric air fryer though! We will never ever bake them again after making them this way. Same goes for air fryer chicken nuggets, they're so much better! Air fryer benefits are endless. Less fat with no oil needed but the same crunch as deep fried.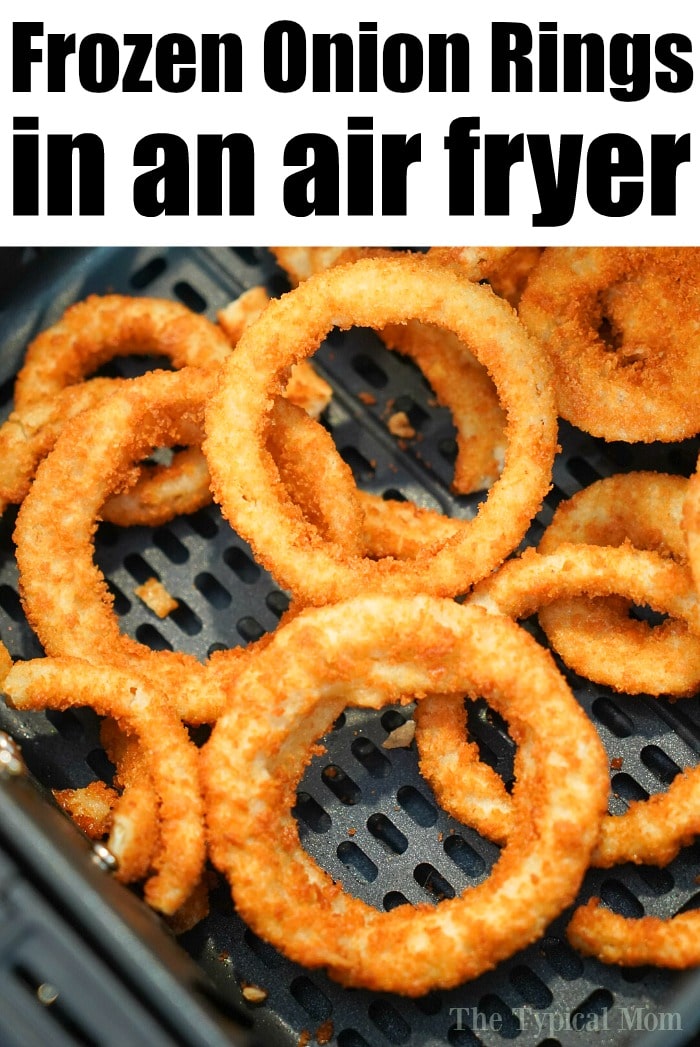 Air Fry Frozen Onion Rings Ninja
After you make these you'll want to make ALL THE THINGS from your freezer in it!!
You can make plain ol' onions with no breading too, they're great on cooked frozen hamburgers.
What should you serve with air fryer onion rings?
Air fryer ribs and frozen egg rolls in air fryer is something you should try.
If you love seafood, everyone loves our air fryer shrimp recipe here.
Frozen Onion Rings in Air Fryer
Frozen onion rings in air fryer turn out so crispy and delicious! Making Ninja Foodi onion rings as a side dish is our jam, I bet you'll love them too.
Ingredients
1

bag

onion rings

frozen

1/4

c

ketchup
Instructions
Preheat air fryer to 400 degrees.

Add 1 layer of frozen onion rings into your air fryer basket (do not overlap) and cook for 4 minutes.

Check at this time, if they're thick you may need more time. Add 2 minutes at a time until they're crispy on the outside and warm in the middle of each one. Enjoy immediately.
Nutrition Facts
Frozen Onion Rings in Air Fryer
Amount Per Serving (2 oz)
Calories 11
Calories from Fat 1
% Daily Value*
Fat 0.1g0%
Polyunsaturated Fat 0.003g
Monounsaturated Fat 0.002g
Sodium 92mg4%
Potassium 28mg1%
Carbohydrates 3g1%
Protein 0.1g0%
Vitamin A 51IU1%
Vitamin C 0.4mg0%
Calcium 2mg0%
Iron 0.03mg0%
* Percent Daily Values are based on a 2000 calorie diet.