How long to cook frozen hamburger in an air fryer so it's juicy! If you forgot to defrost ground beef for dinner, don't fret we've got you covered here.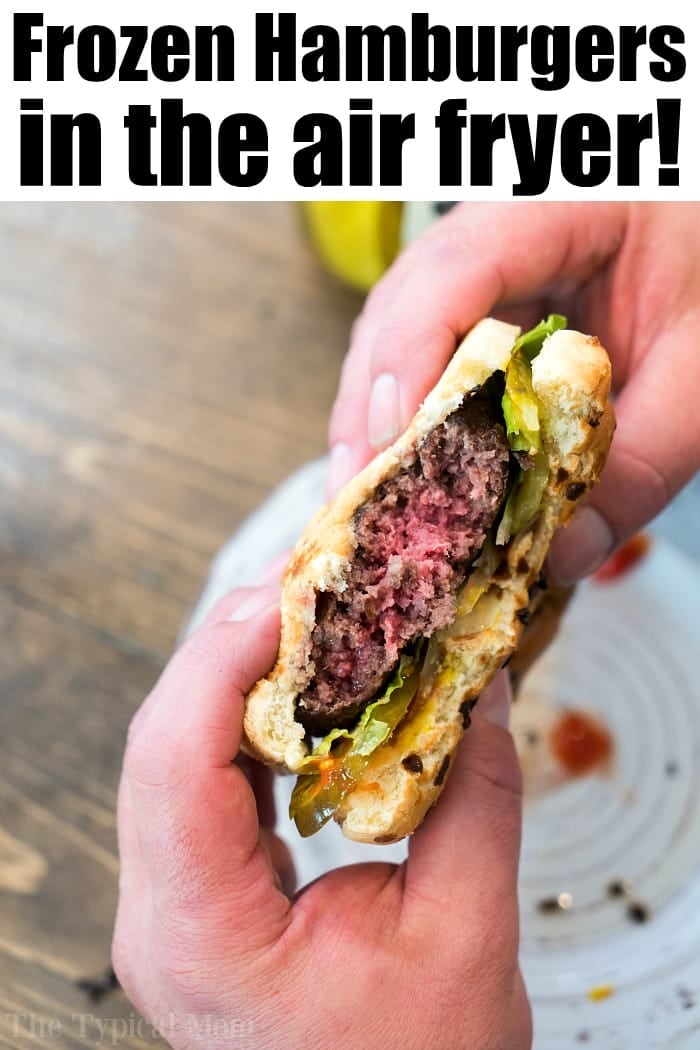 Knowing how long to cook frozen hamburger in an air fryer comes in handy when you're in a pinch. I am sure I'm not the only one who forgets to defrost dinner from time to time. Find this and many more air fryer recipes here! (affiliate links present)
Yes I'm forgetful BUT I like for all 5 of us to eat together each night. Okay, that doesn't always happen but it's the goal right??!!
Having cooking hacks in my back pocket like this one helps a lot!
Now I am throw some frozen hamburger patties in my Ninja Foodi or electric air fryer and have a meal ready in under 15 minutes.
Then LIKE our easy air fryer recipes page to get new ideas for meals and snack ideas daily!
This is really all you need. As far as toppings are concerned the sky is the limit with burgers.
Let's start with a few basics shall we?
How long does frozen hamburger last? The USDA recommends throwing away uncooked roasts, steaks, and chops after a year in the freezer. Uncooked frozen ground beef should be discarded after just 4 months.
Frozen cooked meat should be thrown out after 3 months.
How can you tell if frozen ground beef is bad?
If you're not sure whether your hamburger is still good, smell it. If the meat smells unpleasant, it's probably bad and you should throw it out. It's better to be safe than sorry. Nobody wants the stomach yucks.
If it seems okay use your fingers to test the texture. Meat that has turned bad will feel sticky, tacky, or slimy and should be thrown out too.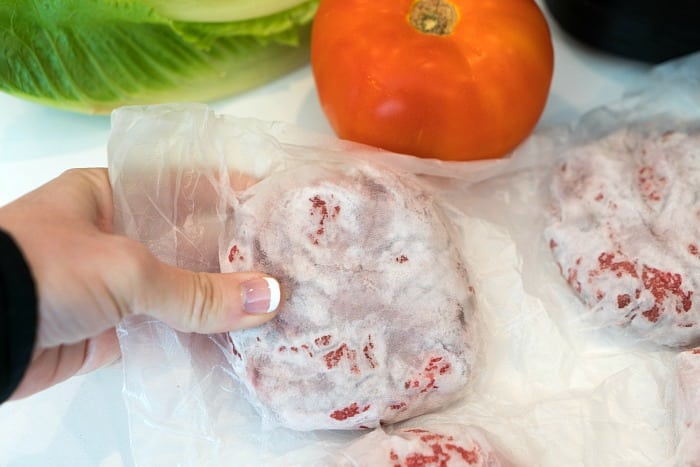 Now…. how do you freeze raw hamburger patties? I like this method where I form them into patties from a large chunk (it's cheaper bought that way) and put them in between two pieces of press n seal.
I usually put 4 in one "batch" because that is how many we'd eat in one meal. Lay them flat inside your freezer drawer and then take one out when you're ready cook frozen hamburger in the air fryer.
This is what you'll need to cook a frozen burger in the air fryer:
Hamburger patties – ours are usually 1/4 lb. each

or frozen turkey burger in air fryer would work the same way

Air fryer basket
Buns
Toppings
If you wanted to brush a bit of bbq sauce on top of each patty when you flip them over after 10 minutes.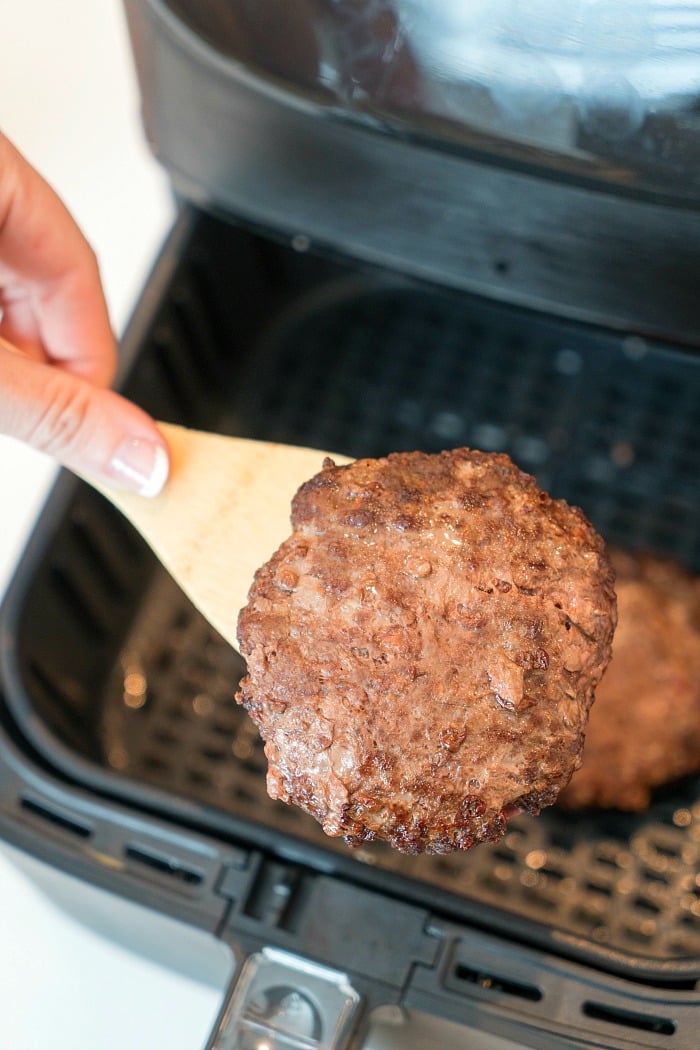 These are the steps you'll take to make air fryer frozen burger patties, so they cook properly.
Place patties inside basket
Close drawer and set to 360 degrees for 10 minutes
Flip each one over at this time and continue with another 4-6 minute cooking time

timing will vary from 15 to 20 minutes total depending on whether you want medium rare (closer to 14 minutes) or well done
check internal temp. inside middle of cooked hamburger to determine whether they're done to your liking or not

At what temperature are hamburgers done?

It is recommended to cook burgers to an internal temperature of 160F
At this temp. it will probably not have any pink in the center
If air fried until cooked to 140 degrees in the middle, it will be closer to medium rare
Finish cooking frozen hamburger patties until they are the right "doneness" for you.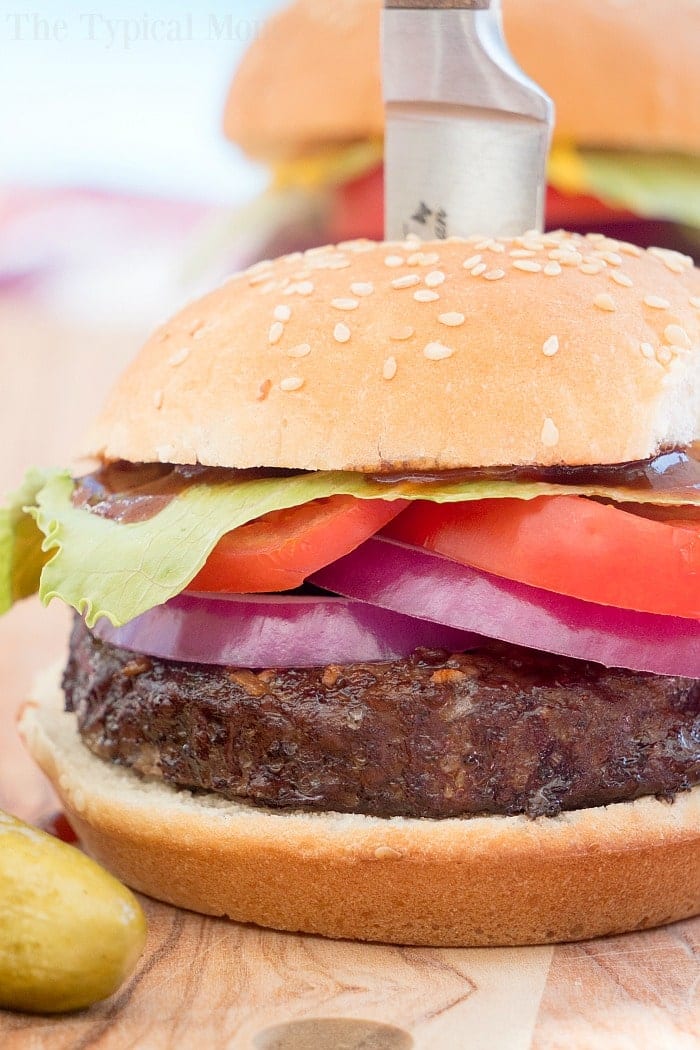 Looking for other easy hamburger recipes?
If you have fresh ground beef, you can make Instant Pot hamburgers too! They come out juicy and perfect every time quickly.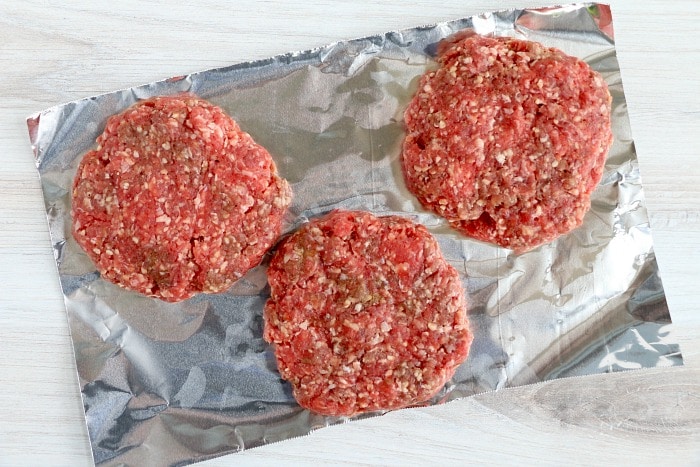 Printable recipe with nutritional information including total fat and calories is below. Let us know what you think in the comments below!
How Long to Cook Frozen Hamburger in an Air Fryer
How long to cook frozen hamburger in an air fryer so it's juicy! If you forgot to defrost ground beef for dinner, don't fret we've got you covered here.
Ingredients
1

lb

hamburger

4 patties, frozen, 1/4 lb. each
Instructions
Preheat air fryer to 360 degrees.

Put frozen hamburger patties inside basket and close.

Cook for 10 minutes, then flip over and cook for an additional 4-6 minutes depending on how well done you like the insides. You can check the temp. or slice in the middle to check. Cook longer if you want it more well done.

You can also brush on some bbq sauce on the top once you flip it over to give it extra flavor.

Remove and load up the toppings on your bun.
Nutrition Facts
How Long to Cook Frozen Hamburger in an Air Fryer
Amount Per Serving (2 oz)
Calories 111.25
Calories from Fat 38
% Daily Value*
Fat 4.26g7%
Sodium 566.99mg25%
Potassium 144.01mg4%
Carbohydrates 56.87g19%
Protein 11.19g22%
Vitamin C 1.48mg2%
Calcium 196.18mg20%
Iron 3.89mg22%
* Percent Daily Values are based on a 2000 calorie diet.