Air fryer onions are the bomb! To top on hamburgers, serve as a side dish or add meat and make fajitas for dinner. Perfectly tender with a wallop of flavor.
Ready for some of the most amazing air fryer onions around? Here they are!! The great burger topping with a wallop of flavor. One of our favorite easy air fryer recipes here on The Typical Mom blog.
Air Fry Onion
I mean this is probably the cheapest recipe ever, and adds the most flavor at the same time. Use any type you want from yellow to white or even red. They are the best burger topping ever you can actually make sweeter similar to our caramelized onions.
Give them a whirl and let us know what you think.
If you love air fryer recipes too, here are some resources to start with: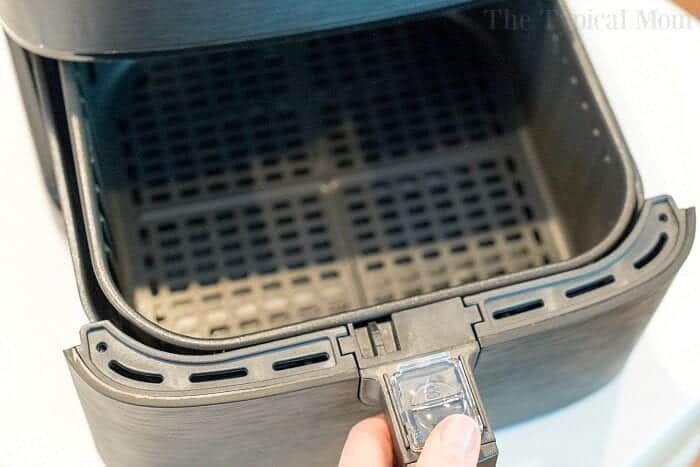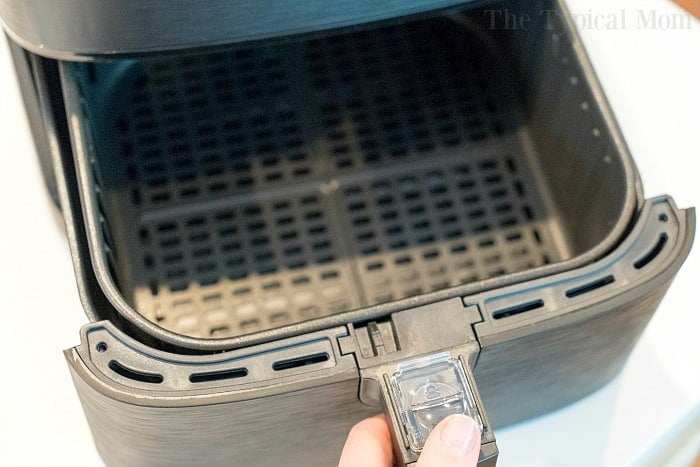 I thought the idea was so simple and didn't even share the instructions the first few times I made them. Then I thought others might appreciate the temp and time it took so they could try these themselves. So, here ya' go!
Similar to sautéed onions but a lot less work, they soften up just as nicely. I fiddled around with the seasonings a bit until I got it just right. They were so good my husband and I ate them right out of the bowl!
I will say straight up that I am not really an onion lover but oh my goodness I couldn't keep my hands off these.
You could use whichever type you like, I prefer yellow or white personally.
What types of onions to use?
Yellow are the most common, they're often referred to as all-purpose onions. You can bake, smoke, saute, or dice them up and add them to things like meatloaf. I choose these most often too myself.
How many varieties of onions are there in the world?
There are known to be 600-920 species which is a lot!! The most commonly found at the store would be yellow, white onions, and red. The last being the sweetest and great in chicken salad.
How do you saute onions?
Of course you can do so on the stovetop in a pan but now you can air fry onions! We will show you how to do that here in no time at all.
How do you slice an onion?
If you cut the ends off the outside part you want to discard will come off easily. Once removed, slice the onion in half. Then put the flat end down on the cutting board and slice vertically into strips.
Note that the thicker the strips or onion slices are the less they will soften. The thinner they are the softer and browner they will get in a shorter amount of time. Thicker seems better in our opinion as they do shrink a bit.
You can see here how large we made them. Then you'll want to pick each large piece up and separate them so each piece can get coated with olive oil and seasonings.
Throw these into a bowl and get the rest of your items out.
Preheating your air fryer is always a good idea too. 5 minutes will do the trick.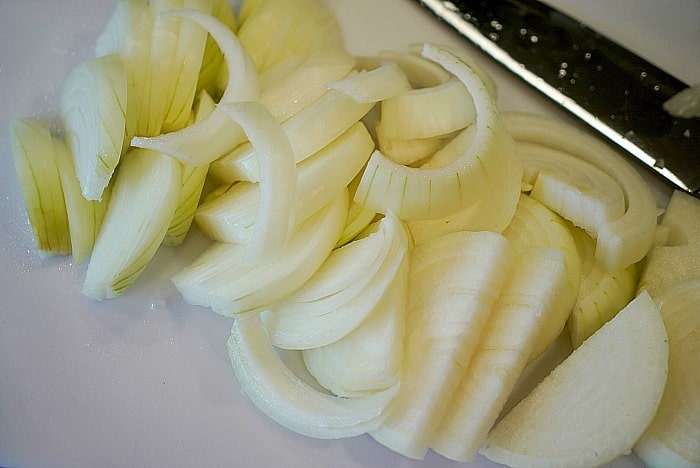 Onions in air fryer
Time needed: 15 minutes.
Air Fryer Onions
Preheat

Preheat air fryer to 400 F for 5 minutes.

Cut

Cut the onion into strips, the thinner the softer they'll become.

Add ingredients

Put onions in a bowl and pour olive oil on top. Sprinkle on all seasonings and stir together. Onions should be shiny with oil, if you add more you may need a bit more oil.

Cook

Pour them into your air fryer basket and shut. Cook at 400 degrees F for 15 min. total, flipping them every 5 minutes.
We used 2 medium to large onions. Of course there is a wide variety of sizes when it comes to these so the amount of olive oil will vary. Just make sure they all glisten meaning they're coated and you've added enough.
If you have 2 rather large ones you may need to add more than advised below in my recipe card.
You can see here below what I mean by glistening in the bowl. It also helps the seasonings to stick well, and the oil allows them to soften nicely. They'll brown a bit on the ends and the longer you cook them the browner they'll get.
Flip every 5 minutes for about 15 minutes cooking time total and beyond that it is up to you. This timing was perfection when we were making sauteed onions for our hamburgers though.
These are not coated with anything like a blooming onion or onion rings are.
They are naked essentially and meant to be a side dish or topping.
If you want to make the crispy crunchy kind, follow our crispy French fried onions recipe.
Once you have your onion with oil on top add whatever seasons you like. Garlic powder is a great add in too. I've used Old Bay at times because it's my go to choice and that's yummy.
This is what we used this time when it was a real hit:
Onions
Garlic salt
Onion powder
Pepper
For a quick hamburger topping this is great to throw together. You can make a huge batch if you have a lot of people over in no time. Keep drawer closed so they stay warm until ready to serve.
Ready for more onion recipes? If you haven't made air fryer frozen onion rings yet they come out amazing! Way crispier than in the oven you don't even need to spritz them to get that deep fried crunch.
Pair with ranch and fry sauce for dipping sauces, they're a fun snack.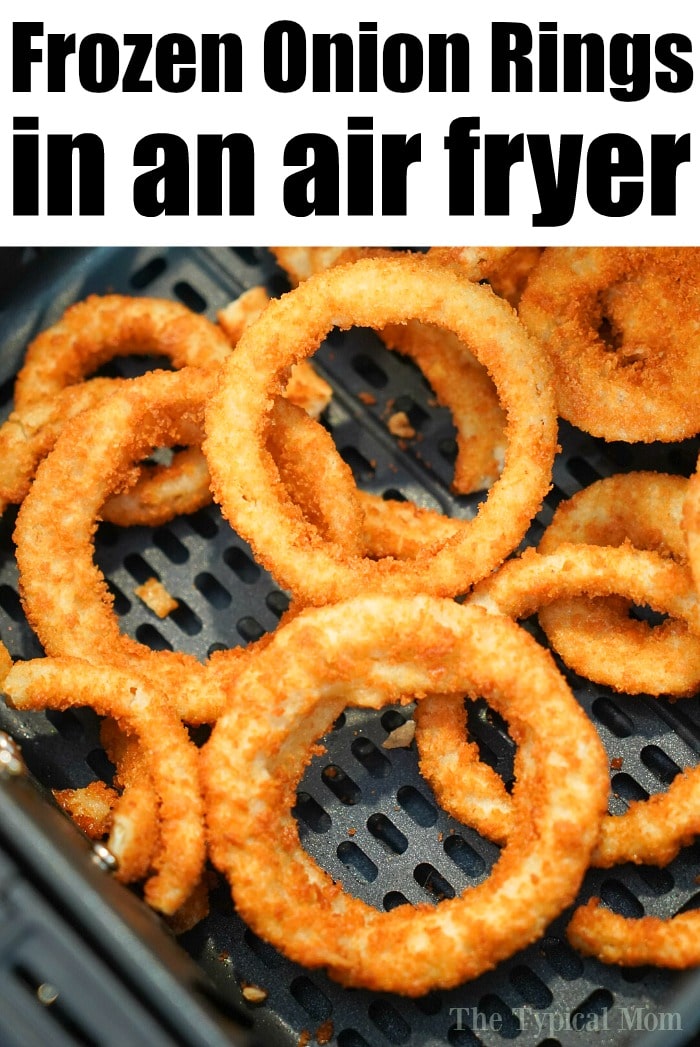 What would you use air fryer onion for or with? Our favorite is atop burgers but or when making air fryer fajitas. There are so many other ideas out there though.
Want to see a few of my favorite things that I am totally obsessed with or visit my Etsy shop?? Take a peek and see how many you might already have…twinsies!
Looking for more easy family recipes and tips? LIKE The Typical Mom Facebook page?
Then sign up for my free newsletter, and follow me on Pinterest! 😉
***** If you LOVED this recipe give it 5 Stars below and let everyone know what you thought about it. 😉
Air Fryer Onions
Instructions
Slice onions. The thinner they are the more tender they will become.

Preheat air fryer to 400 degrees for 5 minutes.

Put onions in a bowl and pour olive oil on top. Sprinkle on all seasonings and stir together. Onions should be shiny with oil, if you add more you may need a bit more oil.

Pour them into your air fryer basket and shut. Cook at 400 degrees F for 15 min. total, flipping them every 5 minutes.
Nutrition Facts
Air Fryer Onions
Amount Per Serving (2 oz)
Calories 35
Calories from Fat 27
% Daily Value*
Fat 3g5%
Sodium 437mg19%
Potassium 40mg1%
Carbohydrates 3g1%
Protein 1g2%
Vitamin C 2mg2%
Calcium 6mg1%
Iron 1mg6%
* Percent Daily Values are based on a 2000 calorie diet.