How to make juicy Instant Pot hamburgers that come out flavorful every time! Grab some ground beef and your pressure cooker for this inexpensive dinner.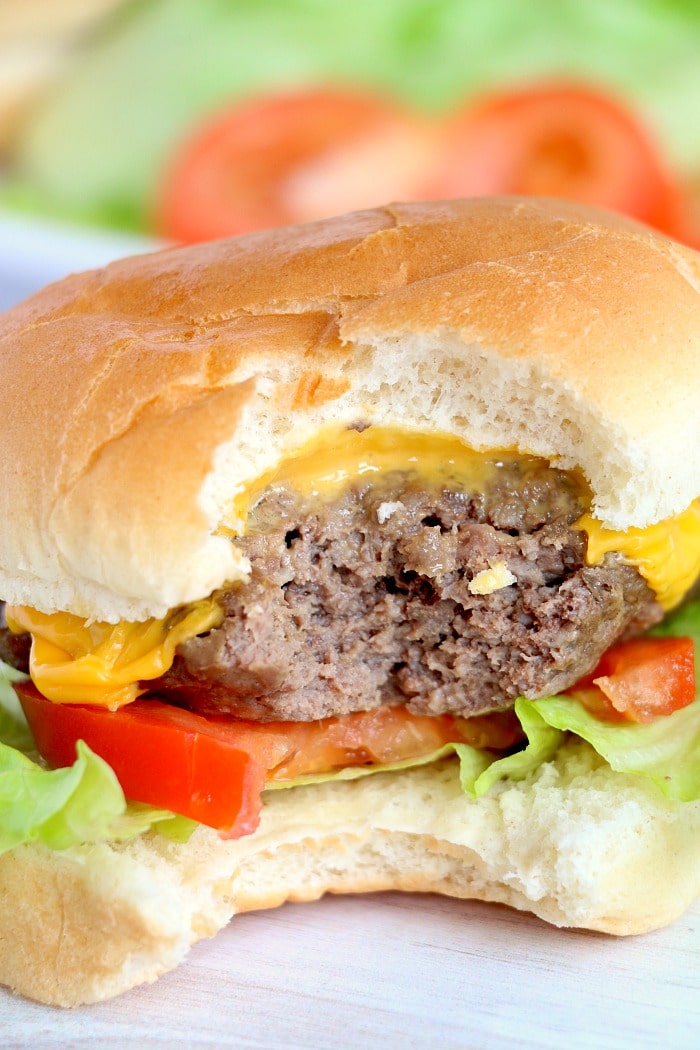 Have you made Instant Pot hamburgers yet?? It's a great option if it's rainy outside and you don't want to barbecue! You may scratch your head but I guarantee you'll love this easy Instant Pot recipe. Sponsored by Albertsons. (post may contain affiliate links, originally published 6/21)
Instant Pot Burgers
You can use your Ninja Foodi hamburger recipe too if that is the brand you have at home. You could air crisp at the end with that pot too. Crockpot Express burgers work the same way as well, both work just as great. You can not only make this dinner really fast but it is a great way to ensure they come out moist and tender too.
This isn't just for ground beef versions either. If you want to use ground turkey, chicken or add a bit of sausage into the mix too that will work just as well. When wrapped in foil you keep all the juices in there and steam to perfection.
FIRST – You should sign up for my free newsletter so you get new posts emailed to you twice a week and never miss out on anything! Now let's start with a few basic tips:
Make sure to Bookmark our InstaPot recipes page. We add new ones each week!
Then PRINT this —–> Instant Pot cooking times cheat sheet that will help you understand how long meat, vegetables and beans take to cook in your pressure cooker.
For reference, this is the pressure cooker I have (a 6 quart) and use for all recipe creations.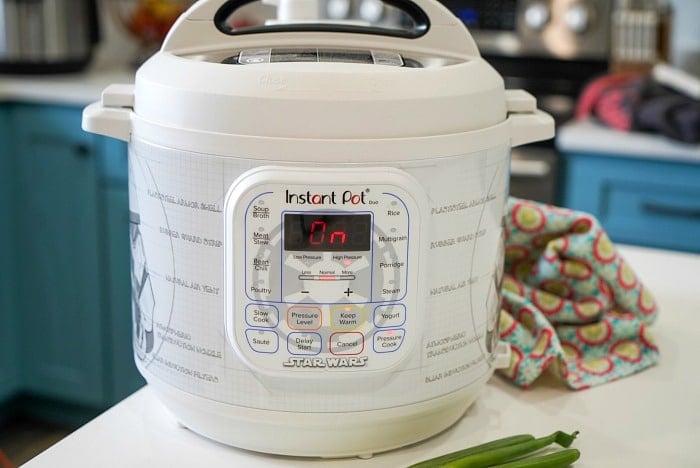 Ninja Foodi Hamburgers
These steamed burgers topped with some lettuce, mustard sauce and tomatoes (you may have some of that already in your fridge), are an inexpensive one pot meal under $15 that we all love! Load up your favorite toppings and add this to your monthly rotation. 😉
I mean, who doesn't love burgers anyway?? I think my kids would eat these a few times a week if I let them. BUT if it's snowing outside and I don't want to use my Blackstone grill, I love using this method instead. Keeps me warm inside and cooks them to perfection.
Frozen Hamburgers Instant Pot
We will show you how to do this with defrosted or frozen ground beef too! Of course you'll need to pick up a few Signature Farms® patties, buns and all the fixin's you like too! There are 4 of us in the house now so 1 package is perfect for us.
How do you cook hamburgers in an Instant Pot?
This is what we will show you below. I shopped at Safeway, but you can also find these Signature Farms is available exclusively at Albertsons Companies family of stores! You can use fresh or if you bought earlier and froze them I will share the cook time for those too.
If you aren't familiar with them, they are; Albertsons, ACME Markets, Jewel-Osco, Vons, Randalls, Shaw's Supermarket, Star Market, Tom Thumb and Vons.
You can even find them if you like to grocery shop online! Why do I gravitate toward this brand? You get a lot for your money! Yes, if you know me you know I am cheap I mean frugal, and proud of it.
With the same quality, but a lower overall cost, I can score more ingredients for Instant Pot dinner recipes throughout the week. That helps especially during more trying times like these.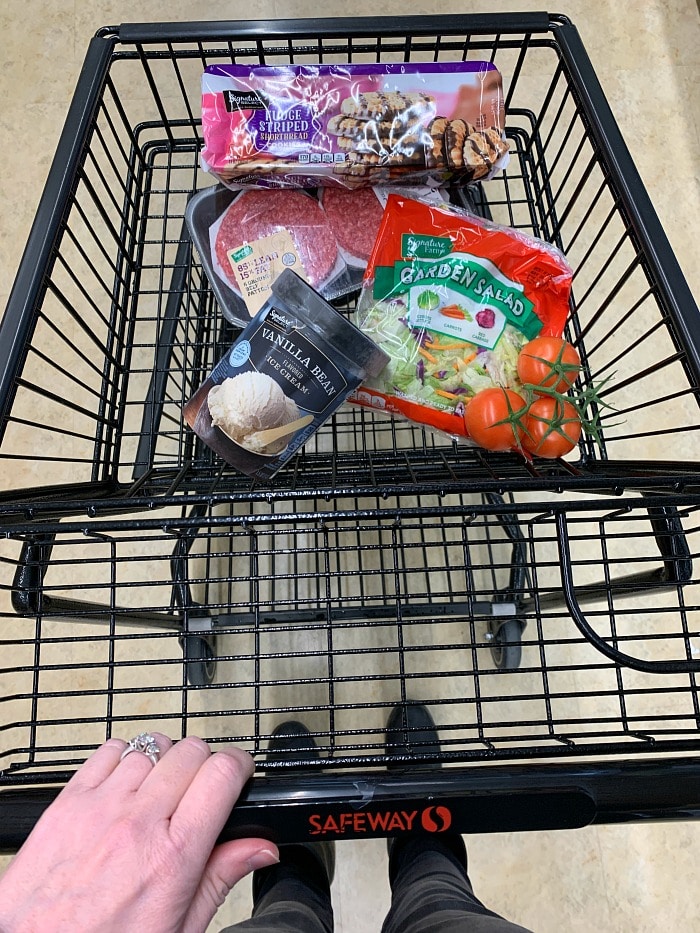 InstaPot hamburgers
These were pre-made and the Signature Farms brand burger patties (just makes it easier)

this is using fresh or defrosted meat, otherwise read how to cook frozen burgers in the oven

Buns (or skip if you're going for a low carb meal)
Garden salad (doubles as a side salad, and lettuce on your burger)
Tomatoes (found in the produce section, optional)
Aluminum foil and pressure cooker trivet
Dessert is a must in our house too. Vanilla bean ice cream with crushed fudge striped shortbread cookies on top is our pick
How do you make homemade hamburger?
Everyone may have a different answer to this question, but we're going to keep it simple this time. Of course as I always say "use what you have on hand!" Salt, pepper, garlic and onion powder is just a suggestion from us. 😉
Just pat or sprinkle your seasonings on to the top of your ground beef patties and you're set!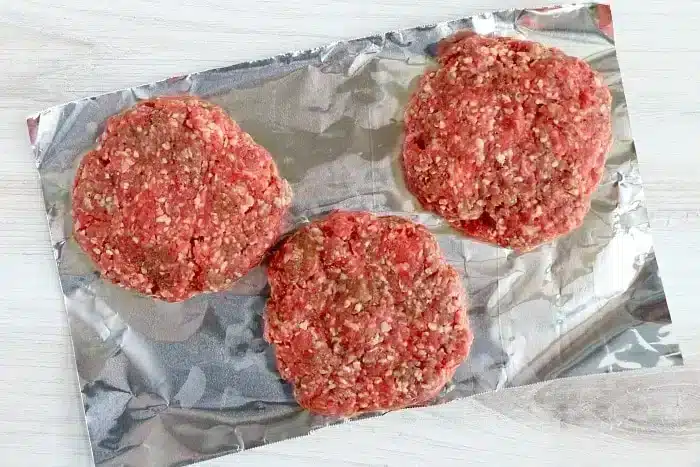 Instant Pot Hamburger in Foil
Like I said, we make 4 Instant Pot burgers at a time.
If you have a larger group I think up to 8 hamburger patties would be fine to cook at once. (15 minutes might be better if you double this) Ideally you don't want them to overlap too much, if so they may be a bit more undercooked.
How to make an Instant Pot hamburger
First step is to pour a cup of water into the inner pot. This will essentially steam the meat above it, that's how they get so tender! If you only had a few patties and didn't want to use foil you could set them on top directly.
I choose to wrap patties in foil to keep the moisture inside, I think this is the best method.
Lower each foil packet on to the pressure cooker trivet that came with your pot.
Close your lid and steam valve and set to high pressure cook for a 10 minute cook time followed by a quick release.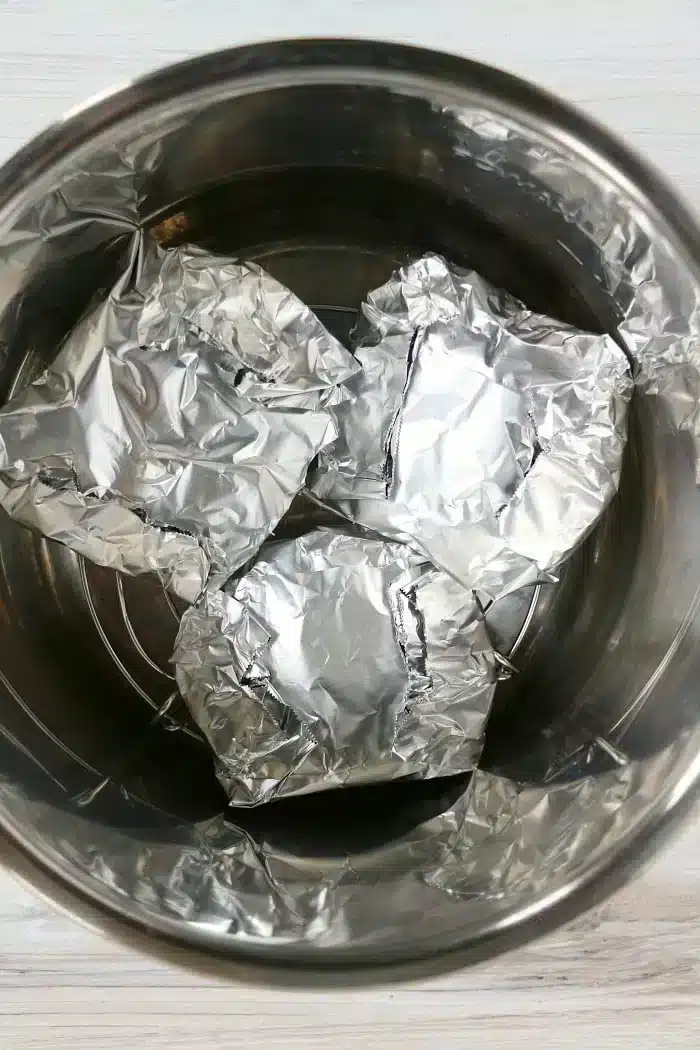 Instant Pot Frozen Hamburgers
Yes everyone prefers their burger a bit differently as far as how "well done" it is. I get it. You can see the photo at the top and bottom for reference.
With 1 pound of hamburger divided into 4 pieces and cooked this way for 10 minutes they will come out medium well done.
If you like more of a medium hamburger I might set it to 8 minutes. The first time will be a test but honestly 10 is ideal for all of us.
For frozen hamburgers in Instant Pot I would add 2 more minutes for your cook time.
Carefully remove each one using tongs and set on a cutting board.
Unwrap each one when you're ready to eat and enjoy with ALL THE THINGS you love….or super plain if you're my youngest daughter. 😉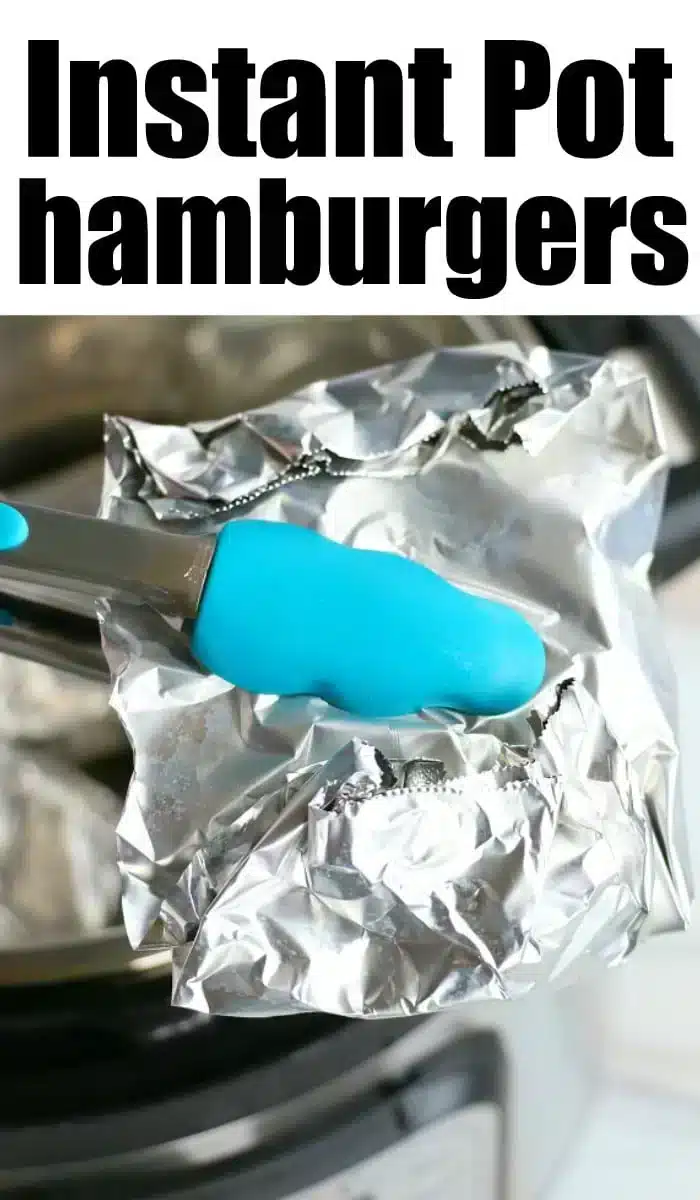 How Long to Cook Hamburger in Pressure Cooker
I would suggest leaving your pressure cooker hamburgers wrapped in foil until everyone is ready to dig in. This way they will stay warm and tender.
The drawbacks to not using foil is that the meat tends to want to fall apart a bit when they're directly on the trivet.
Also, since the juices drip through the bottom and away from the meat, they get a bit drier. Now you're ready to "dress them up" to your liking! To make things fun, create a hamburger bar with all the fixings you have at home and/or you picked up at the store!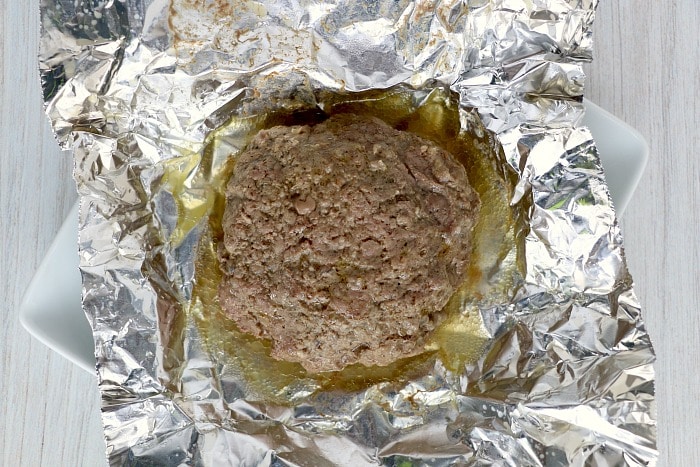 Instant Pot Hamburgers and Gravy
If you want to skip the bun a great new way to try this is after your meat is done, make some onion gravy and serve it on top of a bed of mashed potatoes!
Burger Toppings Bar – You never know what you might like, so set out ALL THE THINGS! I'm talking, have a bag of potato chips available if you want a bit of crunch on top (kids will love that option).
Or, here are a few more hamburger toppings:
Sliced tomatoes
Lettuce or even cabbage
Cheese
Pickles (my favorite)
Ketchup and mustard (good ol' standards)
Air fryer onions or crispy fried onions are fun
Hatch chiles are great if they're in season
Slices of olives may be something new to try
These are the best caramelized onions we make beforehand and are just killer.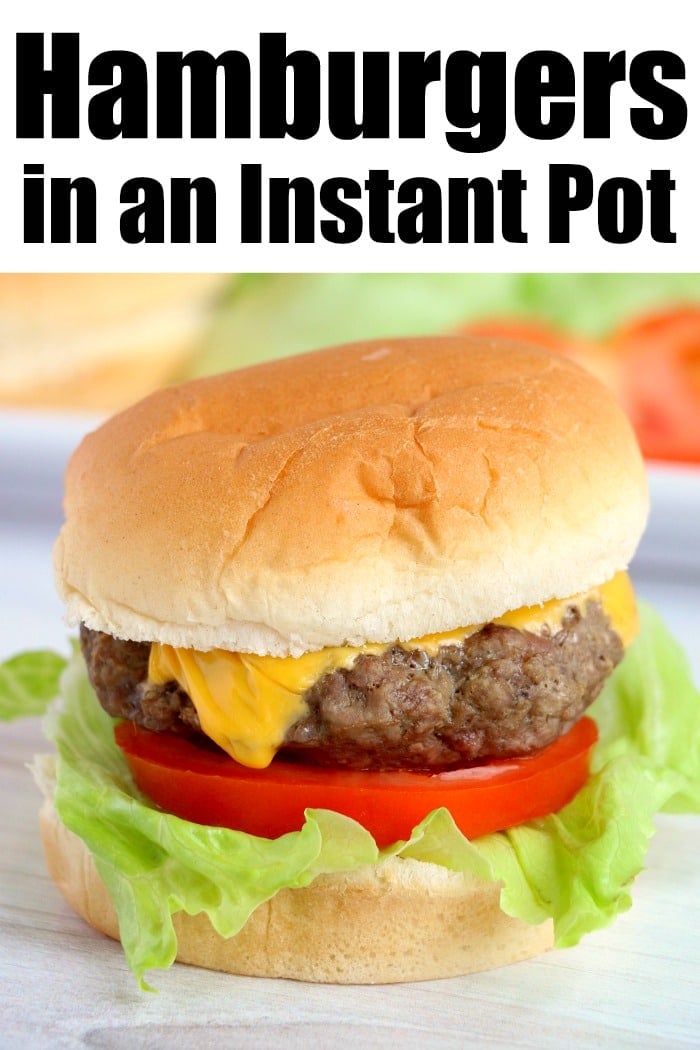 What can you do with leftover hamburger?
I HATE wasting food, so I love having a bunch of easy ground beef recipes on hand to share too. My #1 go to use for leftover ground beef is to just dice it up and throw it into a pot of spaghetti! BAM, second meal done in just minutes since the meat is already cooked. Here are a few others too:
But wait….you have to leave a little room for dessert!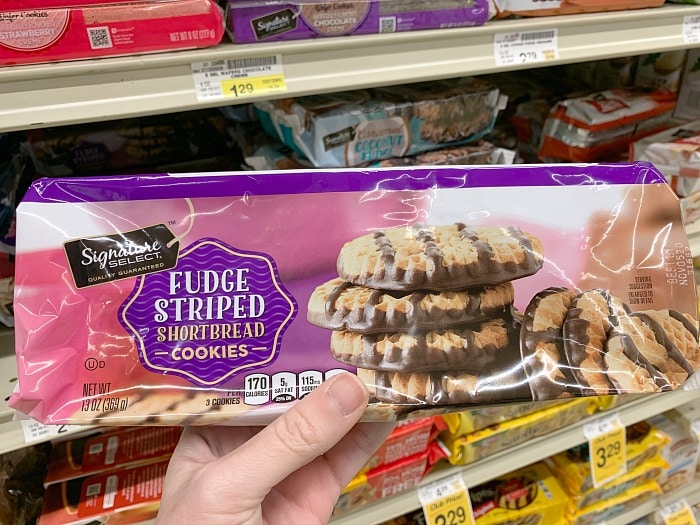 Burger in the Instant Pot
Speaking of fun….after you devour your dressed up burger you should swap out the ingredients and make a sundae bar! You can find everything you could ever want at your Albertsons chain of stores too, like these cookies!
I like to crush them and have them in a bowl with a spoon as a topping. Signature Farms® also has everything else you can imagine including maraschino cherries and more. Their vanilla bean ice cream is the best base as far as I'm concerned so everyone can load on their treats of choice.
Now let's jump to recipe and let us know what you think. 😉
Want to see a few of my favorite things that I am totally obsessed with?? Take a peek and see how many you might already have…twinsies!
Looking for more easy family recipes and tips? LIKE The Typical Mom Facebook page?
Then sign up for my free newsletter, and follow me on Pinterest! 😉
***** If you LOVED this recipe give it 5 Stars below and let everyone know what you thought about it. 😉
Instant Pot Hamburgers
How to make juicy Instant Pot hamburgers that come out flavorful every time! Grab some ground beef and your pressure cooker for this inexpensive dinner.
Instructions
Prepare Instant Pot by pouring the water into the pot.

Sprinkle seasonings on top of your 4 patties. Wrap each patty in aluminum foil and place them on a trivet.

Close lid and steam valve and set to HIGH pressure for 10 minutes. When done, do a quick release.

Carefully unwrap hamburger patties and serve them with your choice of fixings.
Nutrition Facts
Instant Pot Hamburgers
Amount Per Serving (3 oz)
Calories 293
Calories from Fat 207
% Daily Value*
Fat 23g35%
Cholesterol 81mg27%
Sodium 663mg29%
Potassium 315mg9%
Carbohydrates 1g0%
Protein 20g40%
Calcium 23mg2%
Iron 2mg11%
* Percent Daily Values are based on a 2000 calorie diet.