Crockpot hamburger casserole is amazing! A dump and go slow cooker dinner packed with ground beef and cheeseburger macaroni noodles. Comfort food at it's finest!
We love crockpot recipes! I whipped up what I call crockpot hamburger casserole that was cheesy like cheeseburger macaroni and it was a hit!! With diced potatoes and onions it was a hearty meal that was almost better the next day! (originally published 9/19, affiliate links present)
Slow Cooker Hamburger Casserole
If you're looking for a pot full of pure comfort food, you've come to the right spot! My kids go crazy over this cheeseburger macaroni style dish every time I make it. I love the fact that it is a feel good meal that is pretty darn cheap to make and feeds a crowd.
Pair it with a side salad for a bit of freshness on the side and dinner is served. You could even use leftover taco meat inside if you had some in the fridge, or spicy ground sausage is wonderful too for the protein. I've used small shells instead of macaroni noodles just for fun too. There are tons of tweaks you can make.
FIRST – You should sign up for my free newsletter so you get new posts emailed to you twice a week and never miss out on anything! Let's talk a little bit about slow cooking shall we?? First off I have a few different varieties and I love them all. Each one has an occasion to be used like….
This is my favorite 6 quart programmable one with a locking lid so it's great for bringing to a potluck too.
If you just want to serve a few appetizers you should get this one that sit side by side one another.
I prefer not to use liners, but rather just spray olive oil inside before adding my food for easier cleanups.
Let me give you a peek of my pretty thang I bought recently. It goes with my kitchen so I can just leave it out on the countertop all the time. 😉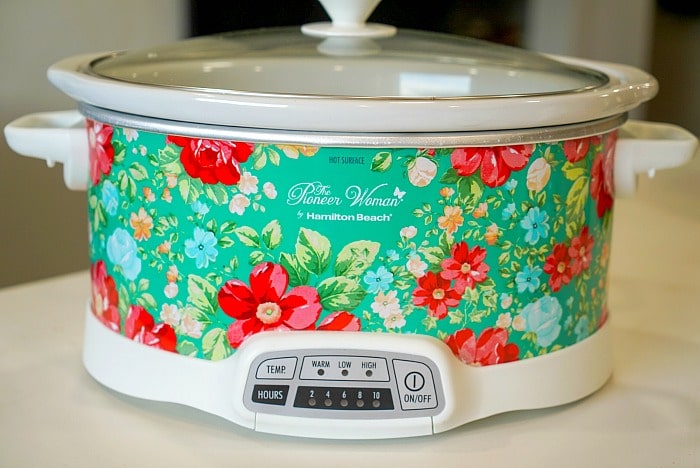 This came about like a lot of others on The Typical Mom really. I had a pound of ground beef and a few potatoes that needed to be used so I went on a pantry hunt!
You know, find a few other items that I thought would go well together and BAM, cheeseburger casserole was created. 😉
You could leave out the potatoes but diced they bulked up the dish and gave it a bit of texture since I left the skins on.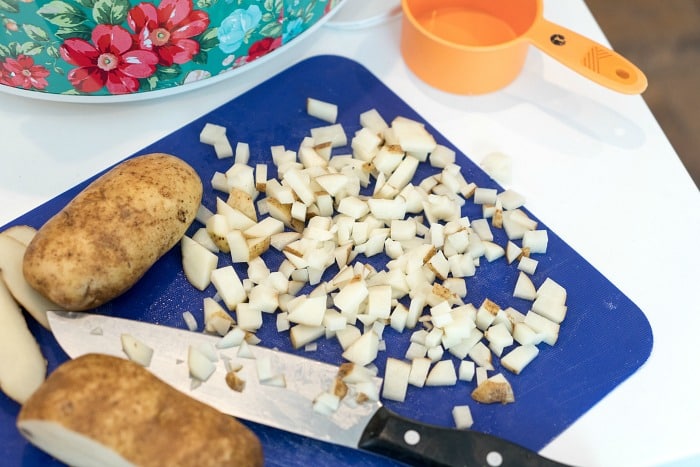 Crockpot hamburger casserole recipe
Ok so let me tell you what we put into our version. Like I said, you could incorporate any sort of ground meat you preferred. With all the different variations we've made I would say half a roll of spicy sausage + 1/2 pound of hamburger is probably the best. Gives it a bit of heat but not too much.
Use what you like or what you have in your fridge that needs to be used up is what I say.
Ground beef
Onion
Potatoes – I slice potatoes then dice them small
Cream of mushroom soup – don't use low fat version
Cheese – I like sharp shredded cheese personally
A mixture like Mexican blend is great too if you can find that variety at your local grocery store. I have even made this with a dairy free cheese so my husband could enjoy it and the kids didn't even know the difference. 😉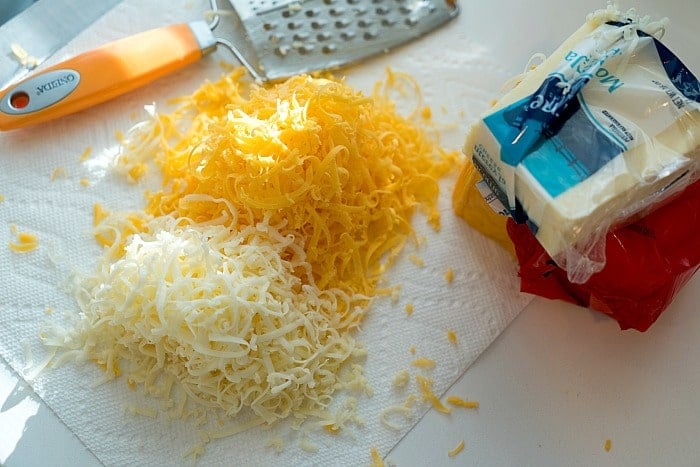 A mixture of cheddar and pepper jack is pretty darn good too, I usually just use what I have on hand at the time. Do you see my trend? Using what you have at home, I hate wasting food and casseroles are great ways of using up all the things right? 😉
Sour cream
Elbow macaroni noodles
Garlic salt
Salt and pepper to taste
Beef broth
Similar to my slow cooker cheesy potatoes recipe, this one is great for dinner or even a potluck in the afternoon.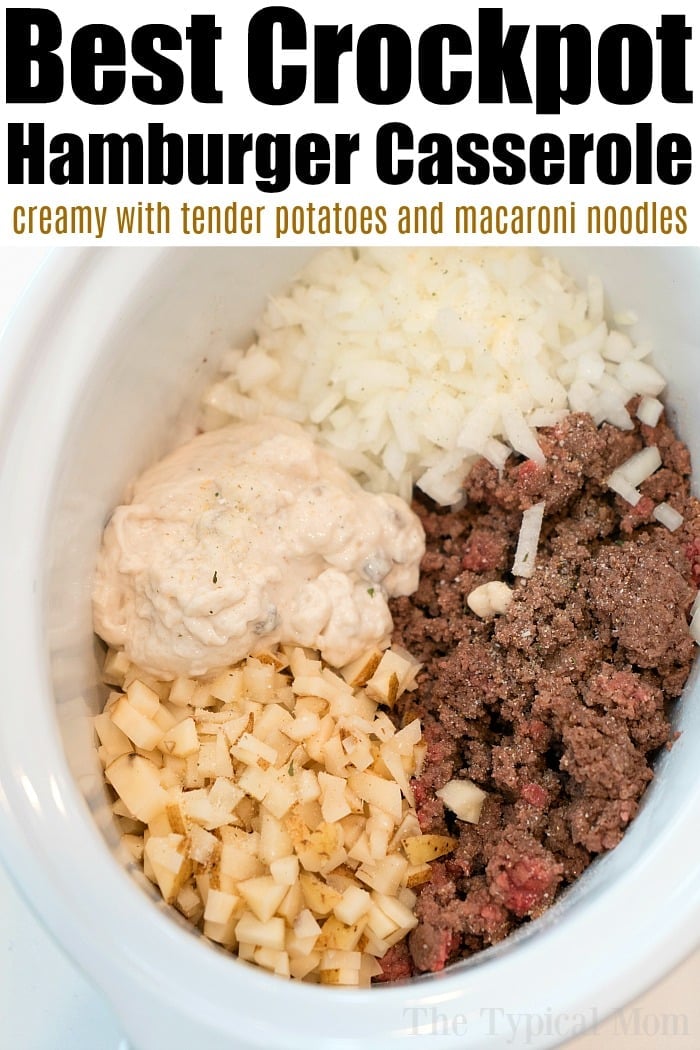 Can you put raw ground beef in a slow cooker?
We have! Try our Crockpot ground beef instructions if you'd like. I will also throw raw chicken or stew meat in there. With our 5 ingredient crockpot chili I usually make air fryer ground beef real quick and then throw that in.
What happens if you don't brown meat before slow cooking?
Theoretically you could cook meat in your crockpot along with everyone else, as long as it is reaches to a safe temperature before serving.
Honestly though the texture is kinda' weird. Just take the extra 5 minutes to cook or brown it beforehand.
Does meat need to be submerged in a slow cooker?
It isn't a must but I usually do to give it more flavor and so it turns out more tender too. I like it nice and coated so all the flavors can seep into the proteins so my answer is, ideally yes you should.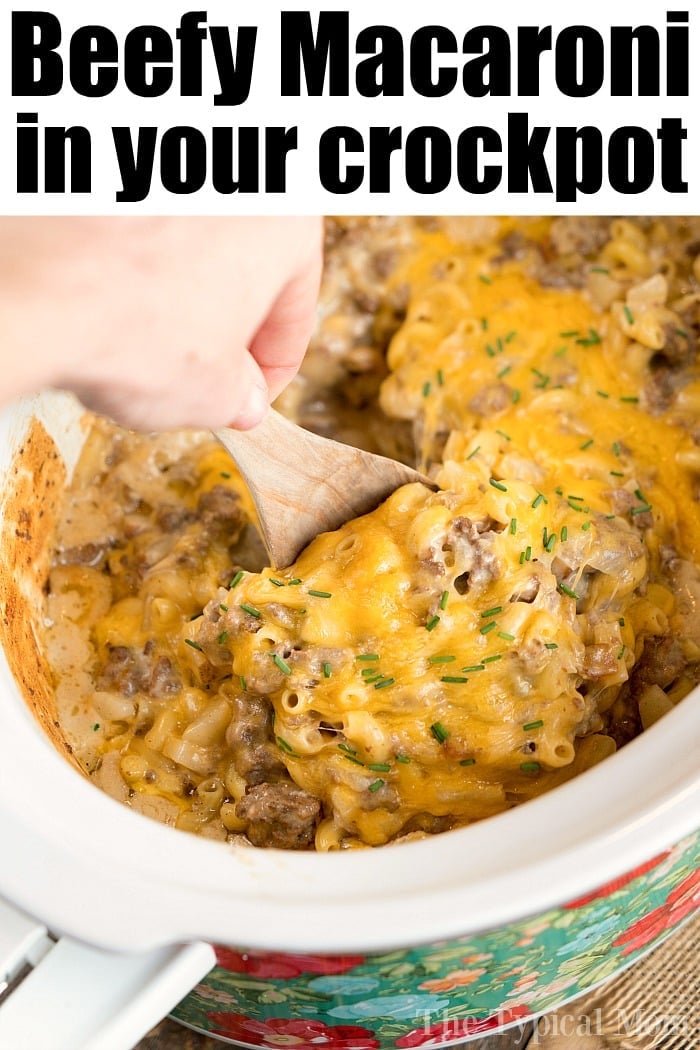 Biggest tip to remember when making this slow cooker beef casserole: The noodles DO need to be submerged into the liquid. If not they won't become tender like you want them to be in a casserole.
Do not add the macaroni noodles until step 3 though. They only need about 30 minutes to cook in the liquid or else they will become mush. No good.
Creamy ingredients like cheese, milk (in other recipes) and sour cream should be added at the end too to maintain it's flavor.
You also don't want the dairy items to curdle in the long cooking crock pot recipe process.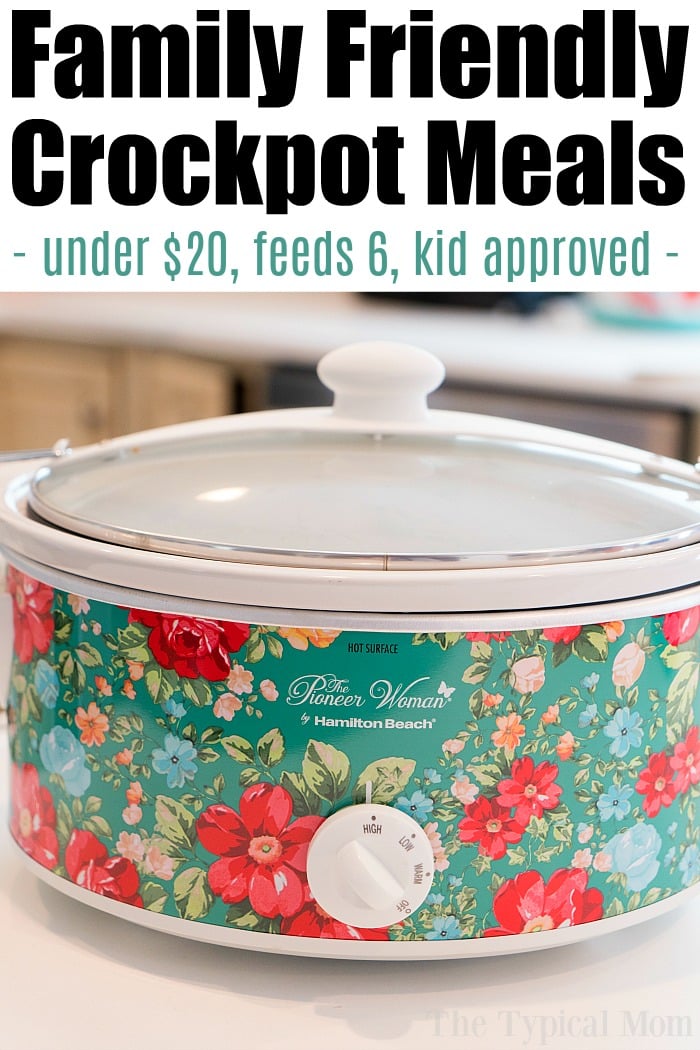 Crockpot ground beef casserole
First I suggest spraying non stick spray inside your pot. Some opt to use crockpot liners, but personally the thought of cooking inside plastic is a no go for me. Totally up to you.
Brown the ground beef on the stovetop (or however you prefer).
Dice potatoes. The smaller they are the more tender they will be. I chose to leave the skins on and it was great, you could remove a portion but I wouldn't skin entirely.
Put these items + your cream of mushroom soup, onion and seasonings. Stir together.
Cook on high for 3 hours. If you needed to cook on low I would imagine 5-6 hours would be sufficient.
When done add your broth and stir, then pour in noodles and gently submerge into the liquid. This will take another 30 minutes to become tender.
The last step is to add your cheese and sour cream, stir, and cook for 20 more minutes so everything melts together. Then serve!!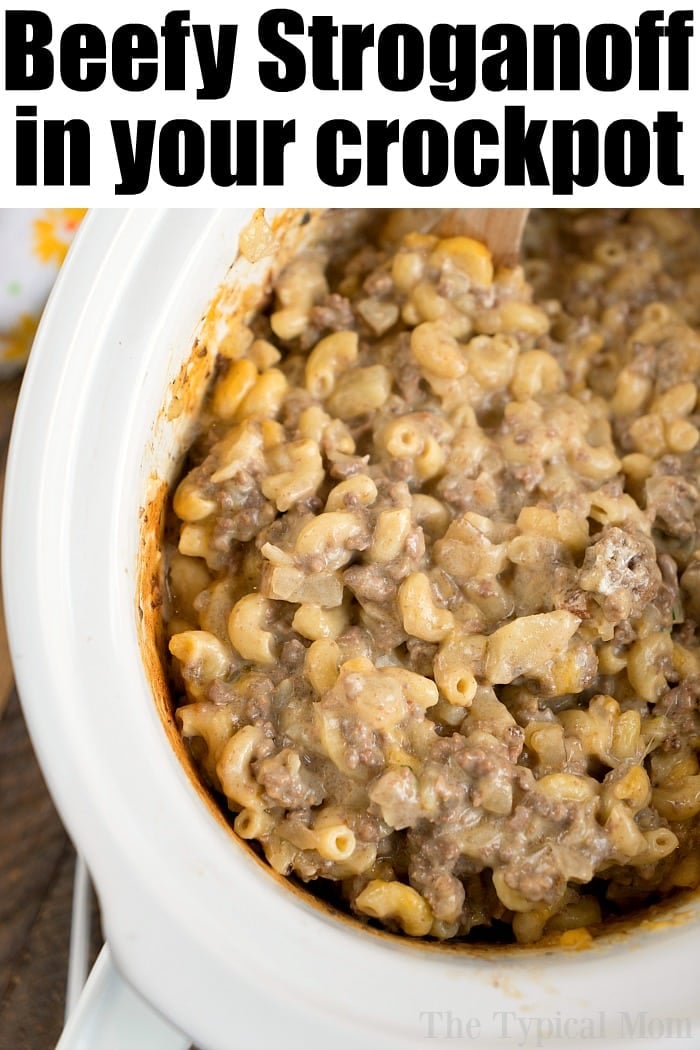 Keep in mind there are 3 cook times. The initial time, 30 minutes for the noodles, and an additional 20 to melt the cheese and everything together.
Just for reference it would be a total of about 4 hours on high. Normally I always recommend low setting for all recipes but this one doesn't seem to matter.
Hamburger Crock Pot Recipes
Looking for more busy mom easy cheap crockpot recipes for you family?
You can see a few of our favorites right here. The simpler the better I say, and comfort food is where it's at, especially during the Fall and Wintertime.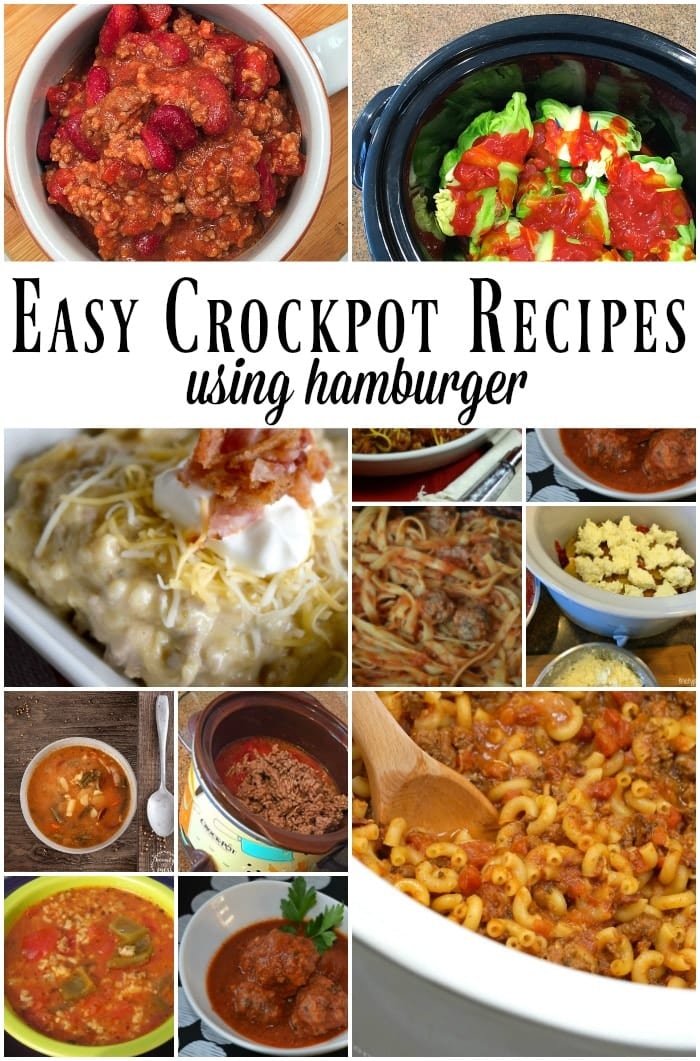 What is the best slow cooker?
I say that really depends on the size of your family and how much your want to spend on a crockpot.
There are 5 of us and I like my Pioneer Woman 6 quart slow cooker the best. You can see it above, it's super pretty and the lid locks too which are pluses.
Yes I also have a few pressure cookers and they have a slow cooker function but amongst all of my 101+ Instant Pot recipes I NEVER use that function.
It does NOT work well. Stick to your "old fashioned" crock for these.
Is it safe to leave a slow cooker on all day?
Well let's forget about the This is Us episode for a minute when we answer this shall we. 😉
Yes! It is technically safe to leave your slow-cooker on and go about your day as long as you are using the appliance correctly.
You can try Instant Pot hamburger casserole too if you are short on time but want the same feel good meal. This one uses rice instead of noodles in case that would be your preference between the two.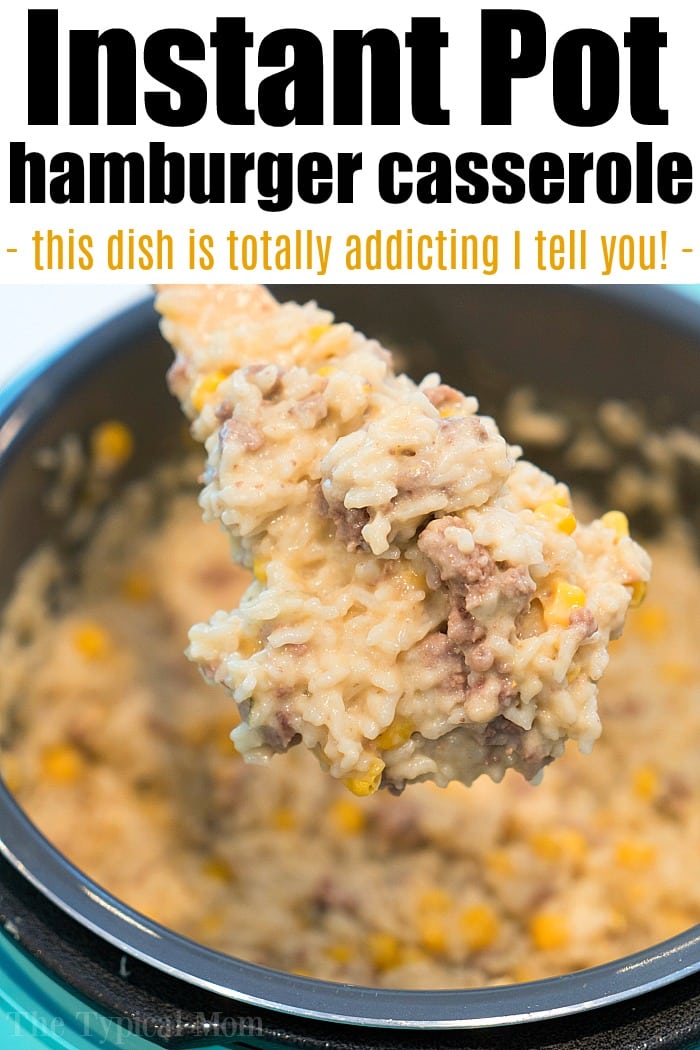 Crockpot hamburger potato casserole
Nutritional information including saturated fat and calories are calculated by the recipe card itself and not tested for exact accuracy.
Print recipe and just make it my friends and enjoy!
Want to see a few of my favorite things that I am totally obsessed with?? Take a peek and see how many you might already have…twinsies!
Looking for more easy family recipes and tips? LIKE The Typical Mom Facebook page?
Then sign up for my free newsletter, and follow me on Pinterest! 😉
***** If you LOVED this recipe give it 5 Stars below and let everyone know what you thought about it. 😉
Crockpot Hamburger Casserole
Crockpot hamburger casserole is amazing! A dump and go dinner packed with ground beef and cheeseburger macaroni noodles. Comfort food at it's finest!
Instructions
Cook ground beef on stovetop until no longer pink, then drain and put into slow cooker with diced onion, condensed soup, salts and diced potatoes. Stir together.

Set to high for 3 hours. Stir and pour in broth now, stir again.

Pour in uncooked elbow macaroni noodles and submerge into liquid on top. Cover crockpot again and cook an additional 30 minutes on high.

Lift lid, stir. Add 2 c cheese and sour cream. Mix together well, then sprinkle remaining 1/2 c cheese on very top. Cover and cook for the last 20 minutes.
Nutrition Facts
Crockpot Hamburger Casserole
Amount Per Serving (3 oz)
Calories 601
Calories from Fat 324
% Daily Value*
Fat 36g55%
Cholesterol 116mg39%
Sodium 1607mg70%
Potassium 759mg22%
Carbohydrates 34g11%
Protein 34g68%
Vitamin A 591IU12%
Vitamin C 10mg12%
Calcium 412mg41%
Iron 5mg28%
* Percent Daily Values are based on a 2000 calorie diet.