40 easy slow cooker recipes including crockpot soup, pasta, casseroles and more. Great dinner recipes for your crockpot to try out this month. 40 in all!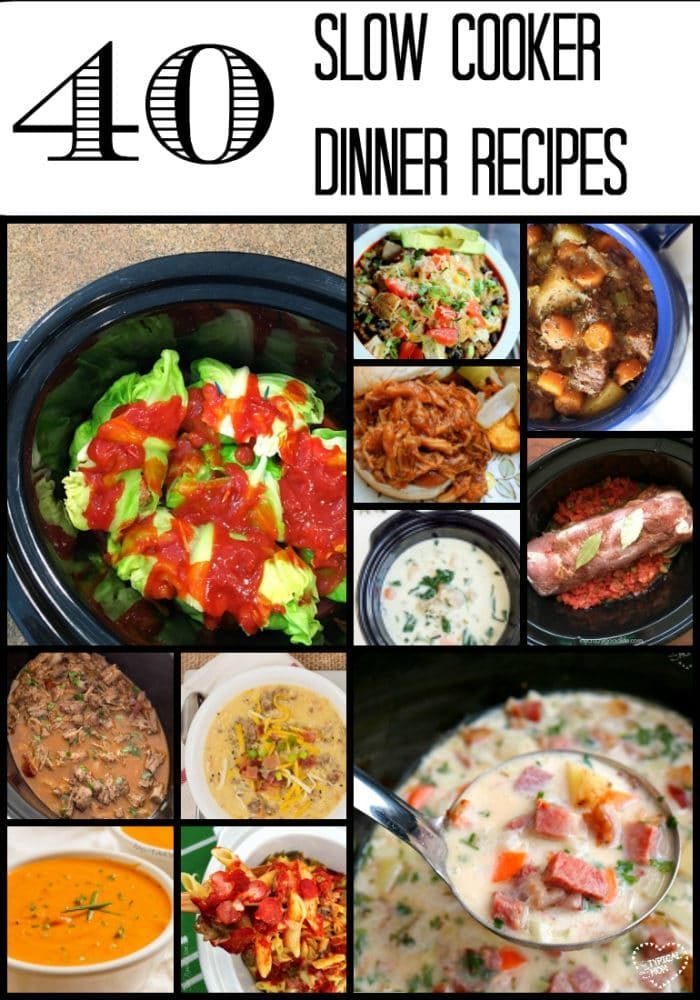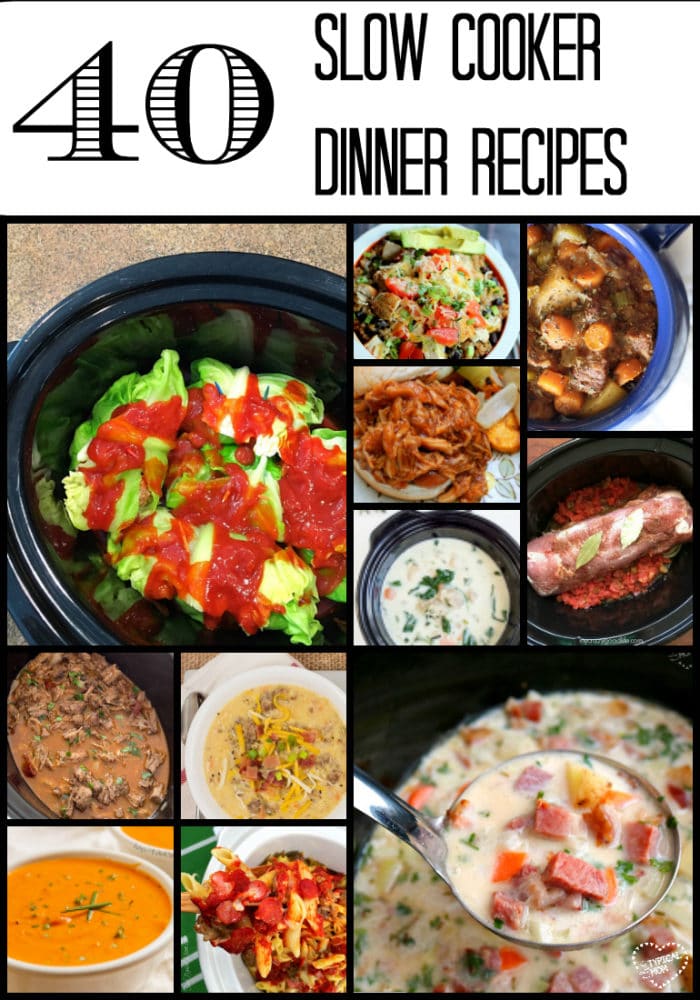 Can I tell you just how much I love my crockpot?!! I have 5 of them….I take that back, daughter broke one, 4 of them and I use them on a weekly basis! Even during the Summer it is great to throw in one of my easy slow cooker recipes and have it ready at dinner time with really NO effort on my part….that's my kinda' meal. 😉 Let me share many of our favorite crockpot recipes, and a few from my blogger friends too.
If you don't have a good crockpot that will last you years and years and travels well like this one that comes with a lid that clips on so you can put it in the car and take it to a potluck you can grab the one I love here (affiliate link, originally published 4/16).
Easy slow cooker recipes
Our crockpot lasagna casserole is super popular!
This crockpot pesto chicken alfredo casserole is so yummy!
This crockpot hamburger helper recipe of ours is to die for!
Our corn chowder in the crockpot is incredible.
We love our loaded baked potato soup here and make it every month, even during the Summer time!
Here's a great crockpot corned beef and cabbage recipe that we make even when it isn't St.Patricks Day….so good!
Here's vegetable beef stew from Sprinkle Some Fun!!
Another great rustic beef stew is here from Happiness is Homemade!
Check out this beef fajitas crockpot recipe from A Thrifty Mom.
If you've never had crockpot pizza casserole and you have kids, you've gotta' make it!!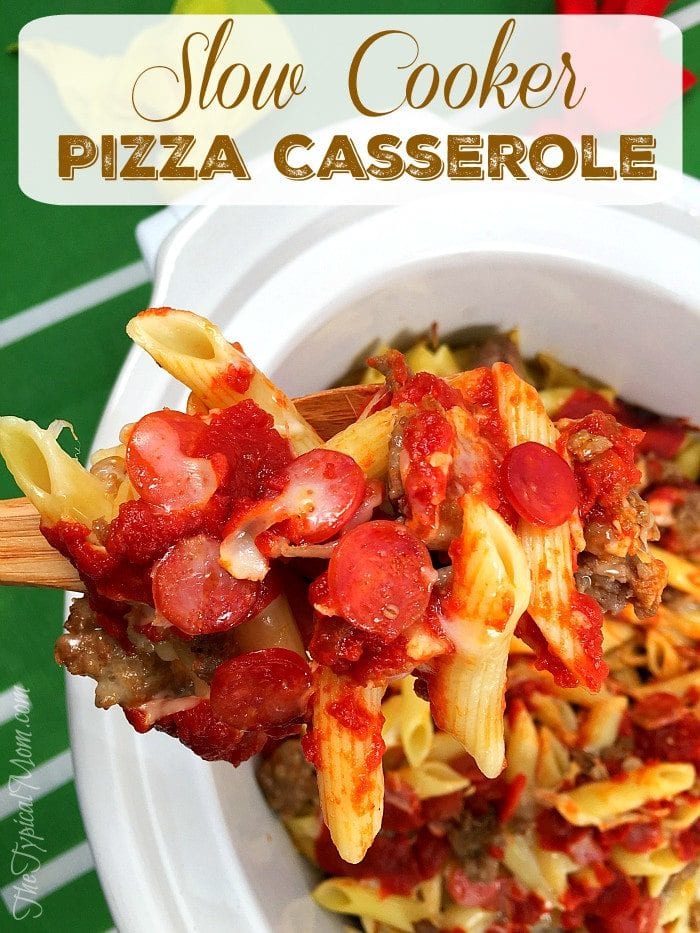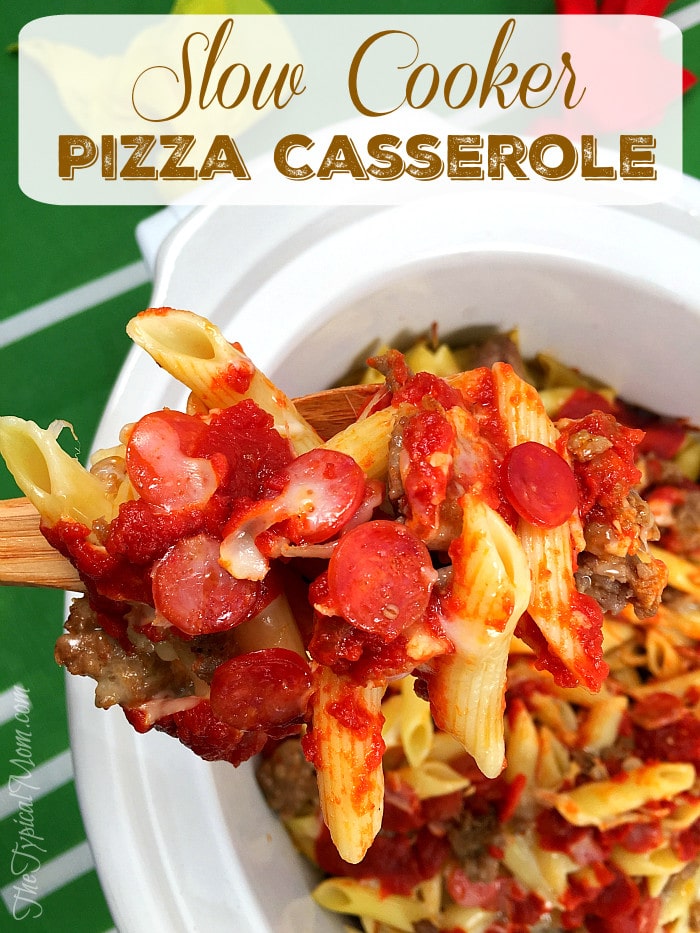 I have two favorite crockpot chili recipes, this one has 4 ingredients and is great.
My 5 ingredient crockpot chili recipe is my highest performing recipe and pin ever….gotta' try that easy peasy meal.
Here's a tomato parmesan crockpot soup recipe from Life Currents to try.
Try this smoky black bean chili soup in the crockpot from Life Currents too.
Check out this buffalo ranch chicken recipe for the crockpot from The Frugal Girls.
They also have a chicken and dumplings slow cooker recipe that I've got to try!!
Here's a vegetable soup to make in the crockpot that's a throw it in and go kinda' meal.
Crockpot chicken burrito bowls from Passion for Savings looks amazing!
She also has a great recipe for crockpot shredded buffalo chicken sandwiches we are going to try soon.
Another one you may not have tried but is fabulous is stuffed cabbage in the crockpot….seriously!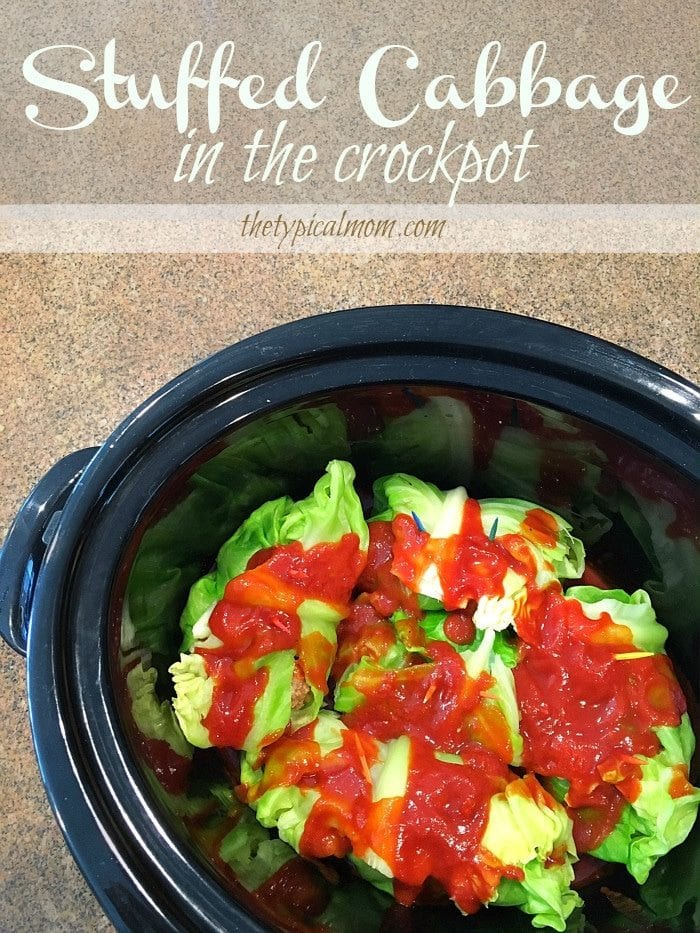 Want super easy, try my 3 ingredient chicken taco recipe.
Crockpot beef stroganoff is fabulous and super easy over butter noodles.
Ohhhh check out the crock pot pork carnitas recipe from My Crazy Life.
Have you ever tried crockpot macaroni and cheese…..kids love this version.
You can even make baked potatoes in the crockpot and throw some steamed broccoli and cheese or chili on top.
Scattered Thoughts of a Crafty Mom made a slow cooker corn and sausage chowder that's on my menu soon.
Check out this Barbacoa taco lettuce wrap slow cooker recipe from Gal on a Mission!
She also has a great crockpot chicken stew that's low carb!
This one is fun…..make crockpot pizza some time, it's great.
More easy slow cooker recipes below! If you've never made ribs in your crockpot I highly encourage that you try it! You finish them in the oven so they get a nice crisp on the outside but the time in the slow cooker really makes them amazingly tender and gives them a great flavor. I've also made Instant Pot teriyaki ribs if you have one of those!
We make easy crockpot ribs often and they're the tenderest you will ever try!
Our easy crockpot lasagna recipe is REALLY popular there's no noodle cooking involved which I love.
You can make chicken enchilada soup in the crockpot and it's a great meal with a side of bread.
Have you ever cooked a whole chicken in the crockpot, it turns out so juicy!
Who Needs a Cape has an amazing brown sugar and balsamic glazed pork loin you can make in your slow cooker!
Tastes of Lizzy T's has a great slow cooker swiss steak recipe!
You can even cook chicken alfredo in the crockpot with Persnickety Plate's recipe.
She has another one for honey bourbon chicken that looks amazing too.
Just 2 ingredients makes this pulled pork crockpot recipe.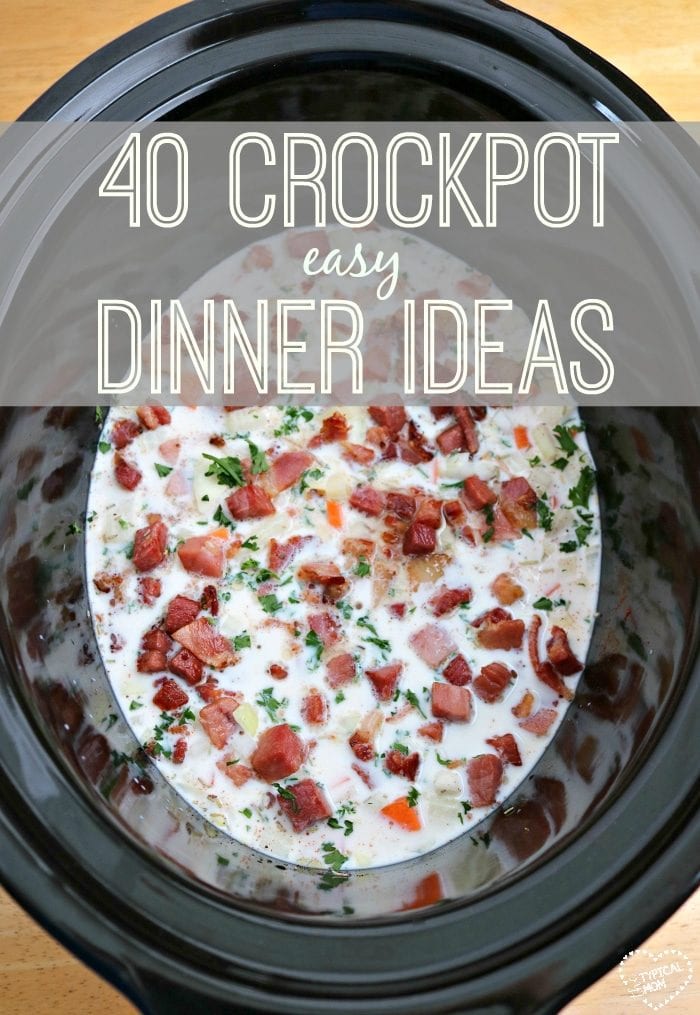 Num's the Word has a great slow cooker barbeque chicken sandwich recipe here.
Nobody said you couldn't have breakfast for dinner, try this egg casserole some time.
Kenarry Ideas for the Home has another potato ham soup you can make in your crock!
There's just 3 ingredients in this homemade orange chicken in the crockpot recipe.
Now that you have dinner covered try dessert in the crockpot!!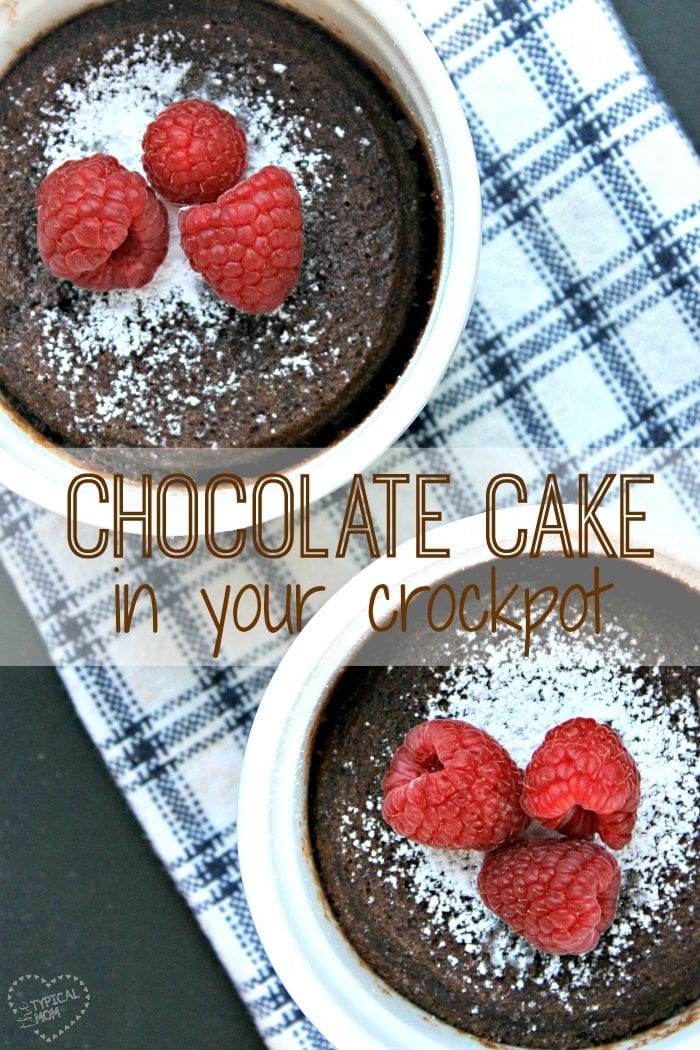 For more easy recipes and crafts please LIKE The Typical Mom on Facebook, sign up for my newsletter, and follow me on Pinterest!