40+ easy slow cooker recipes including crockpot soup, pasta, casseroles and more. Great weeknight dinners for your crockpot to try out this month.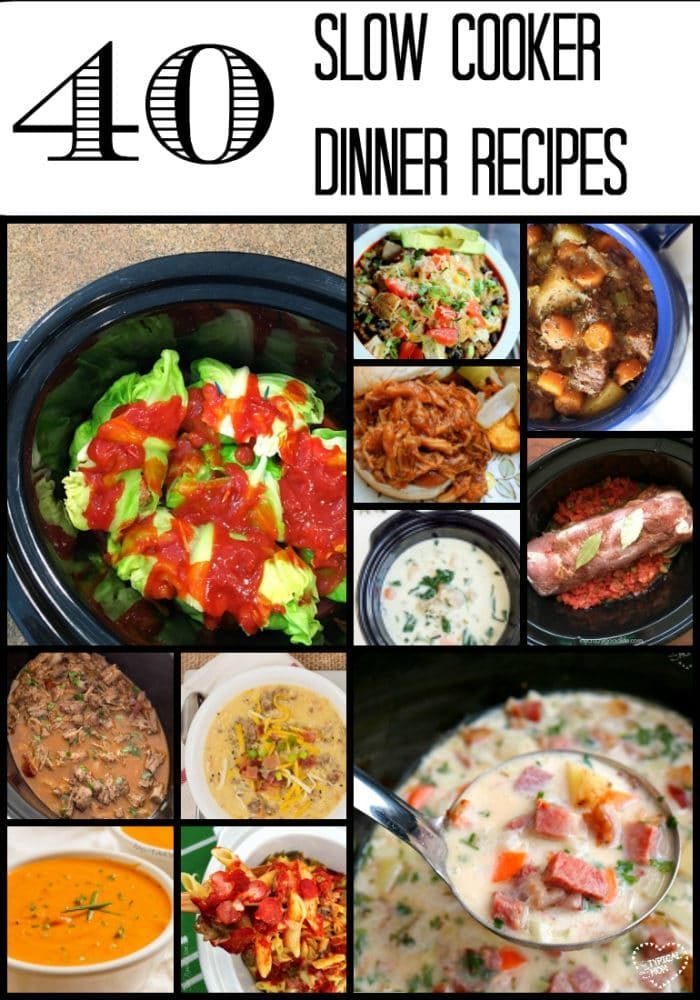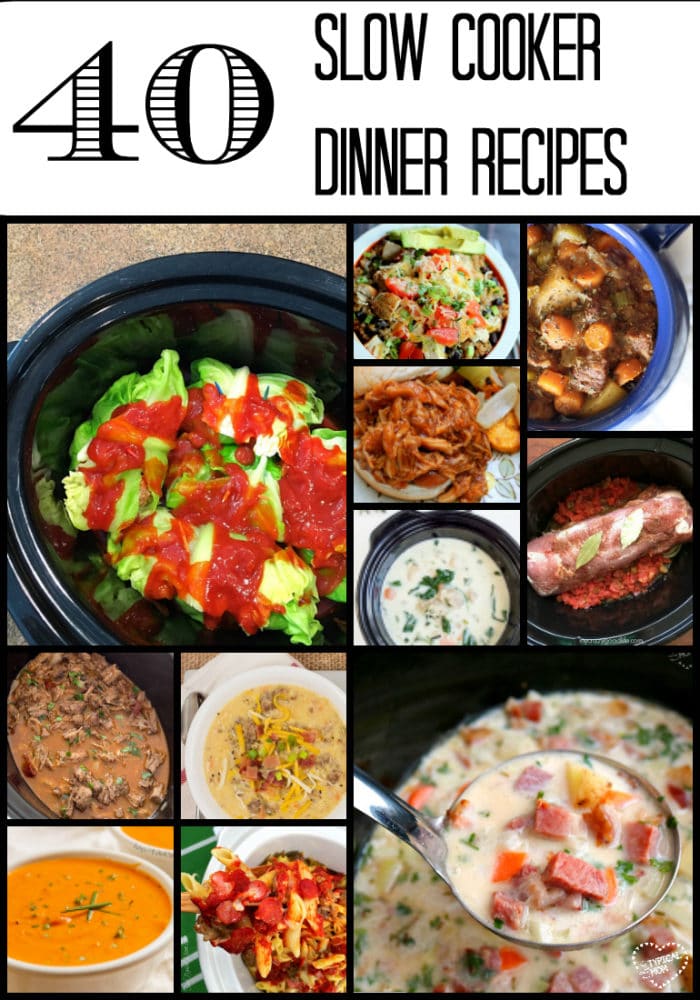 Ready for some set it and forget it cheap comfort food?!! I have 5 crockpots and even during the summertime it is great to throw in one of my easy slow cooker recipes and have it ready at dinner time with really NO effort on my part. Let me share many of our favorite crockpot recipes. (originally published 4/16, affiliate links present)
I have a bunch of these to share with y'all.
Let me know which ones turn out to be your favorites and you make over and over again.
Let's talk a little bit about slow cooking shall we?? First off I have a few different varieties and I love them all. Each one has an occasion to be used like….
This is my favorite 6 quart programmable one with a locking lid so it's great for bringing to a potluck too.
If you just want to serve a few appetizers you should get this one that sit side by side one another.
I prefer not to use liners, but rather just spray olive oil inside before adding my food for easier cleanups.
Let me give you a peek of my pretty thang I bought recently. It goes with my kitchen so I can just leave it out on the countertop all the time. 😉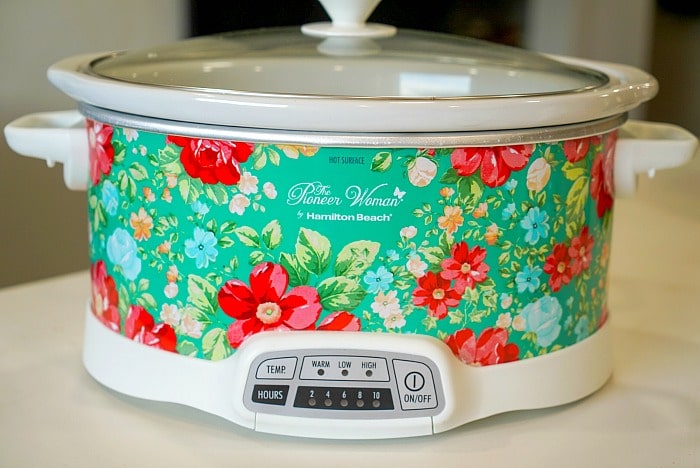 Let's start with some easy cheap crockpot meals first shall we?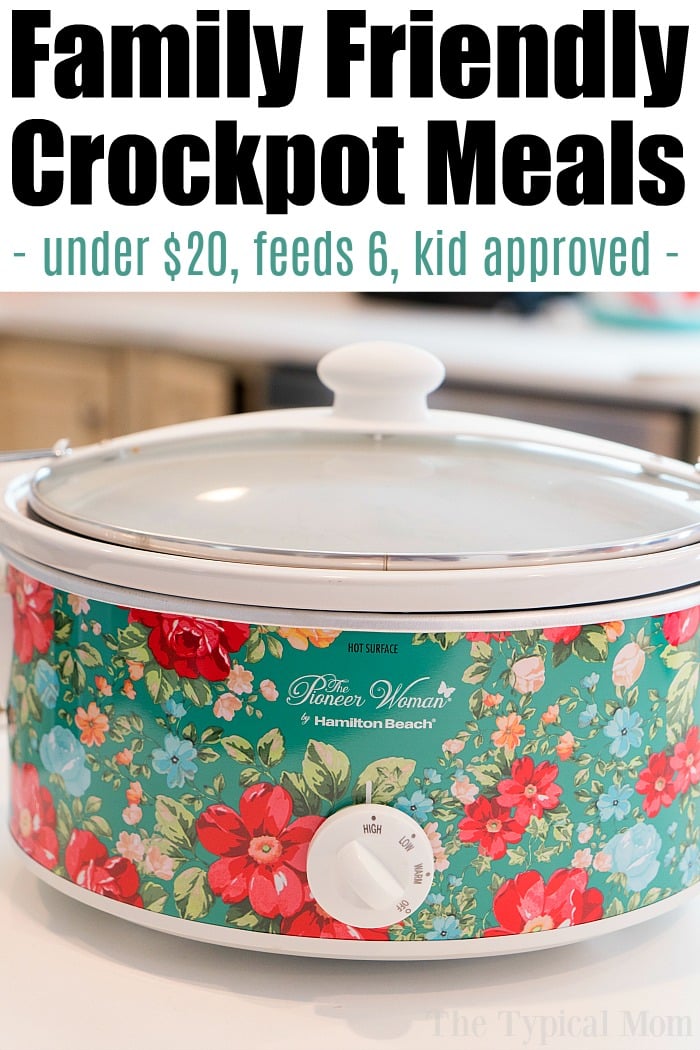 Easy slow cooker recipes
Throw in a Crockpot roast with onion soup mix for a hearty meal.
Crockpot frozen meatballs turn out incredibly well. Use as an appetizer or with butter noodles served for dinner. We cook from frozen a lot because I don't always remember to defrost dinner in time. If you're the same, try our frozen chicken thighs Crock Pot recipe too.
You can start with a classic. This easy Crockpot chicken casserole with rice and vegetables is a good beginning.
And if it is the holidays you must try one of these slow cooker turkey recipes. You can serve them with Crockpot carrots and enjoy.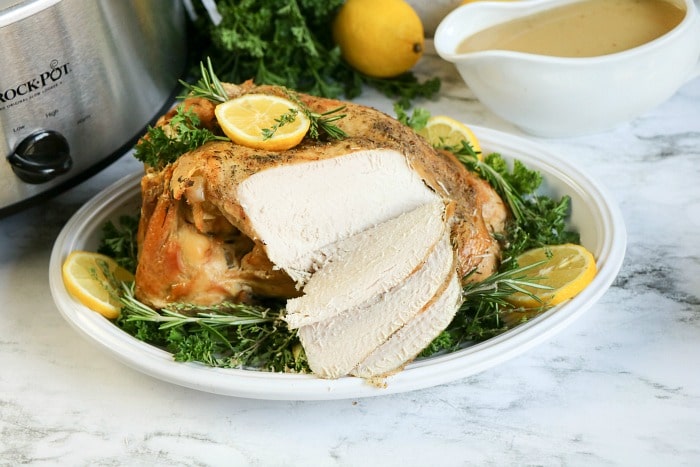 Try slow cooker chicken legs year round. Then throw them into the air fryer to crisp the skin!
A few of our most popular crockpot breakfast recipes are this crockpot breakfast casserole recipe, slow cooker cheesy potatoes, or slow cooker steel cut oats.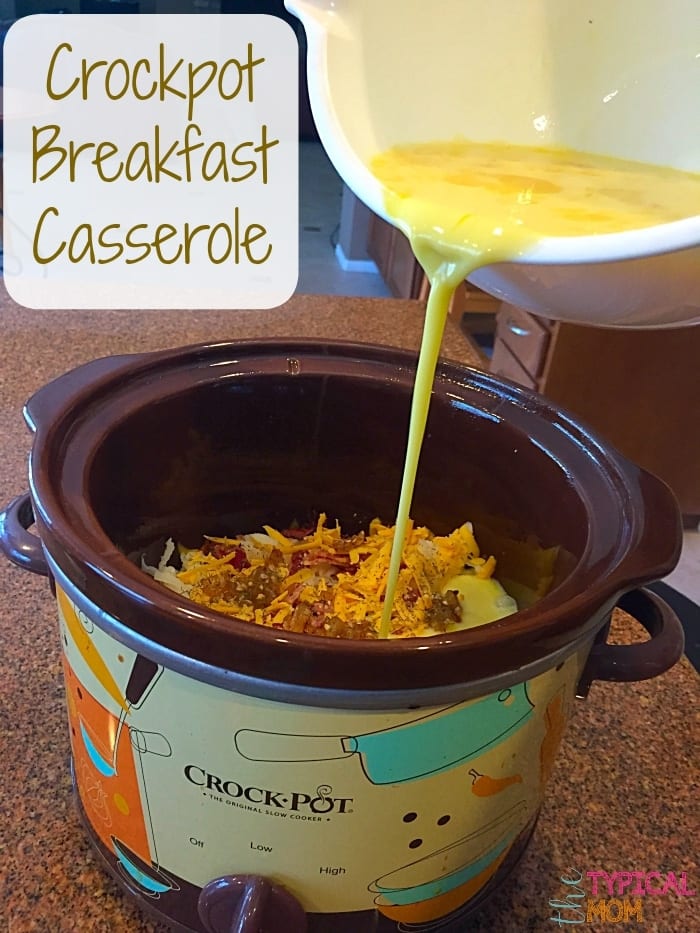 Want to use leftover chicken in a hearty and cheap way? Try our easy white chicken chili Crockpot recipe here.
And yes we have a lot more crockpot recipes coming up…..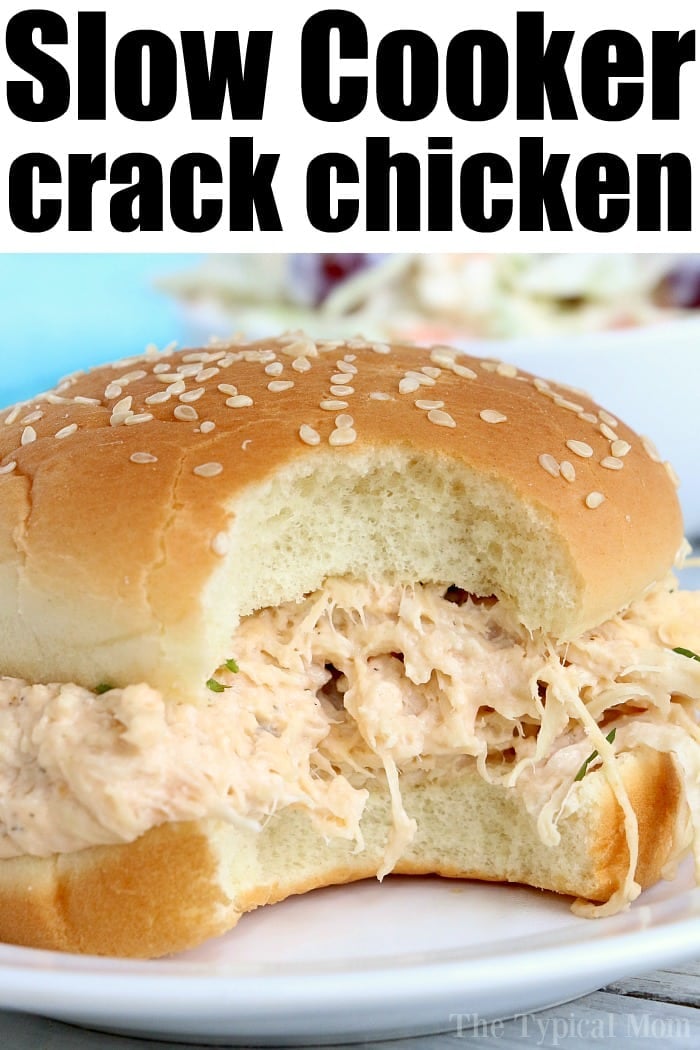 Let's continue shall we?? We are a family of 5 so I am all about EASY, like as little prep and precooking possible. I hardly ever do that unless it's beef and I want a sear on the outsides first.
Tell me I'm not alone on this!
It's our easiest easy slow cooker recipes for sure, who doesn't like pizza??!!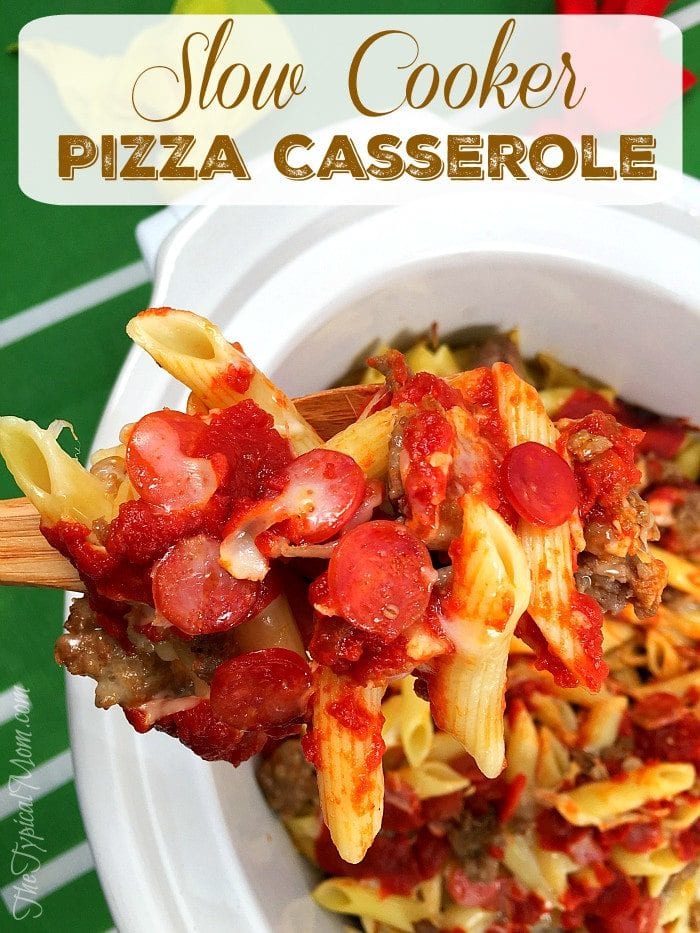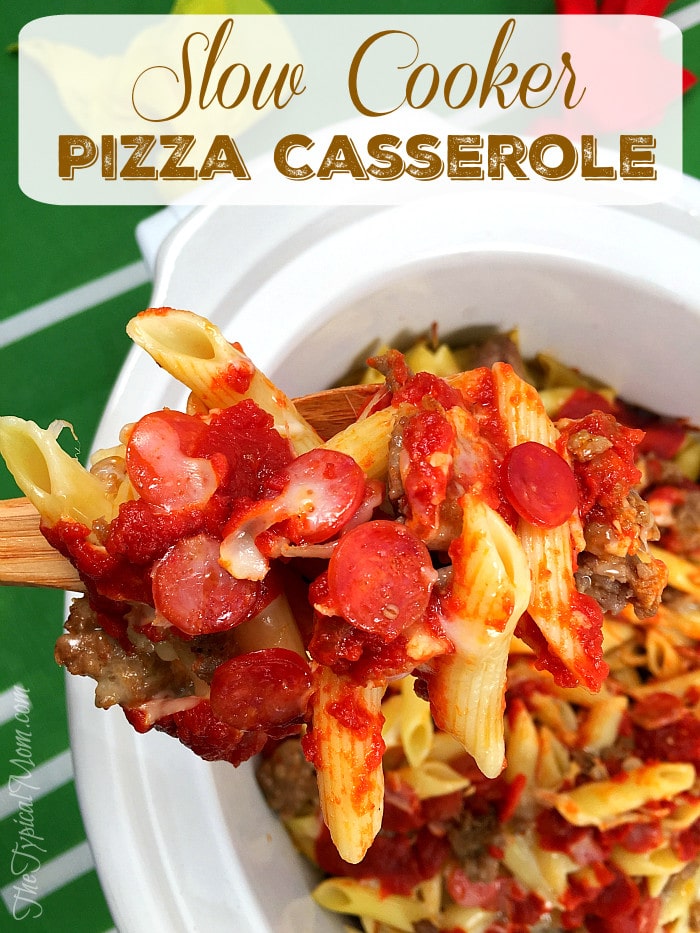 We make Crockpot frozen chicken all the time to use in a variety of other dishes.
Having a crowd over, or want some pure comfort food on a bun? Try our Crockpot pulled pork recipe with just 3 simple ingredients some night.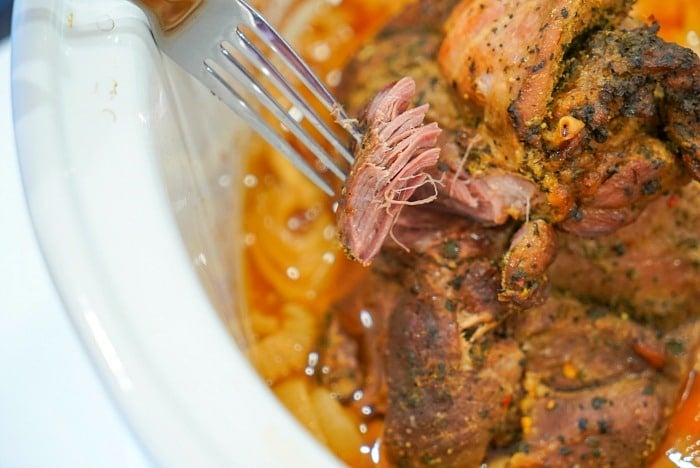 If you need a really dump and go kinda' meal, try making Crockpot potato soup with frozen hashbrowns.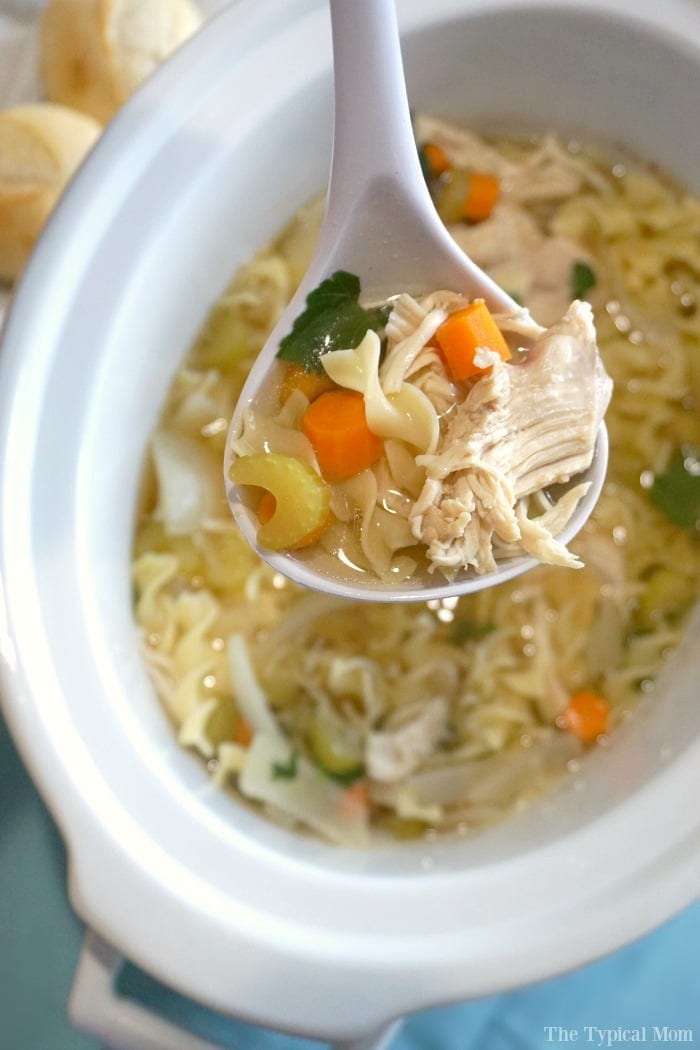 They also have a chicken and dumplings slow cooker recipe that I've got to try!!
Here's a vegetable soup to make in the crockpot that's a throw it in and go kinda' meal.
Slow cooker Hoppin John is supposed to bring you luck and prosperity in the New Year. It's worth a shot!
And if you're a real cabbage lover we have a big roundup of simple cabbage recipes here too. I don't know what it was about turning 40, but now I love this green vegetable!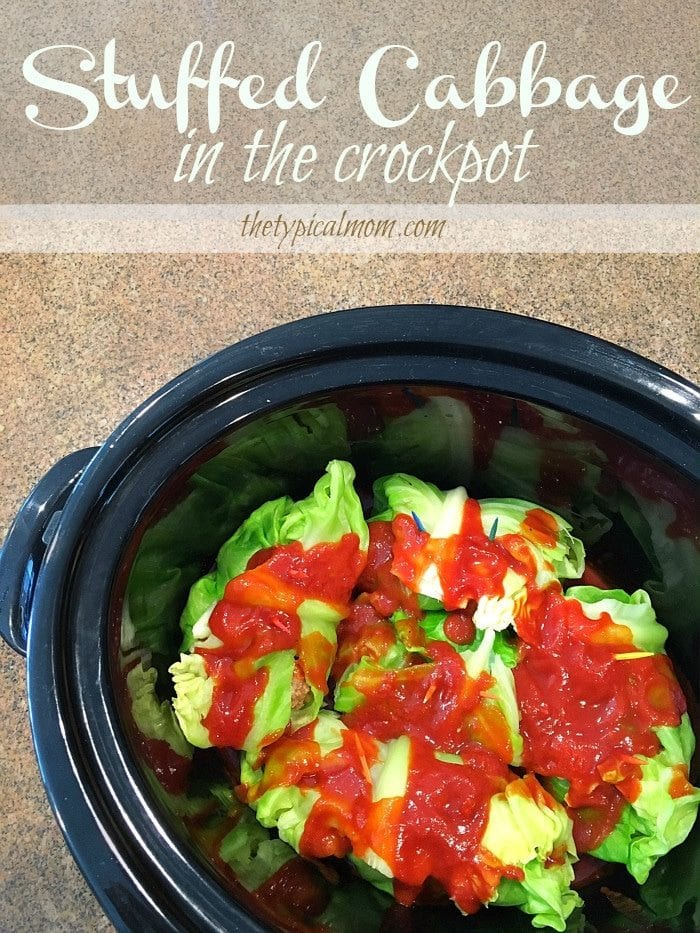 Then give this creamy Crockpot tortellini soup recipe a whirl.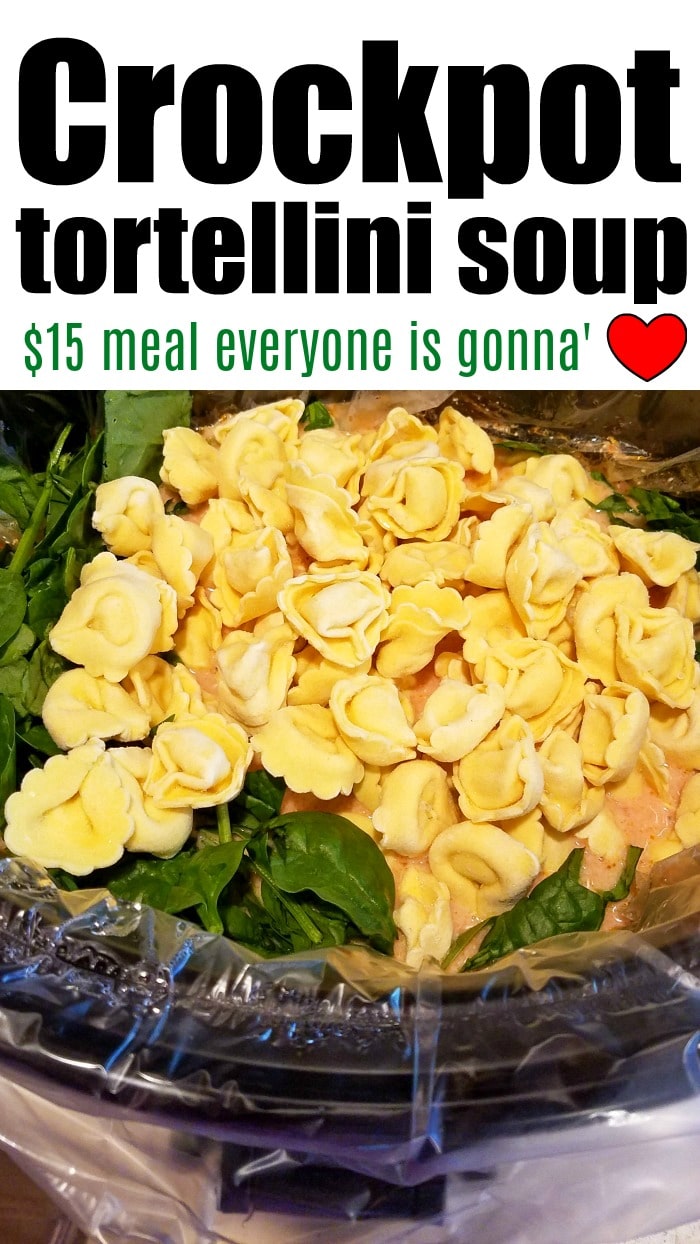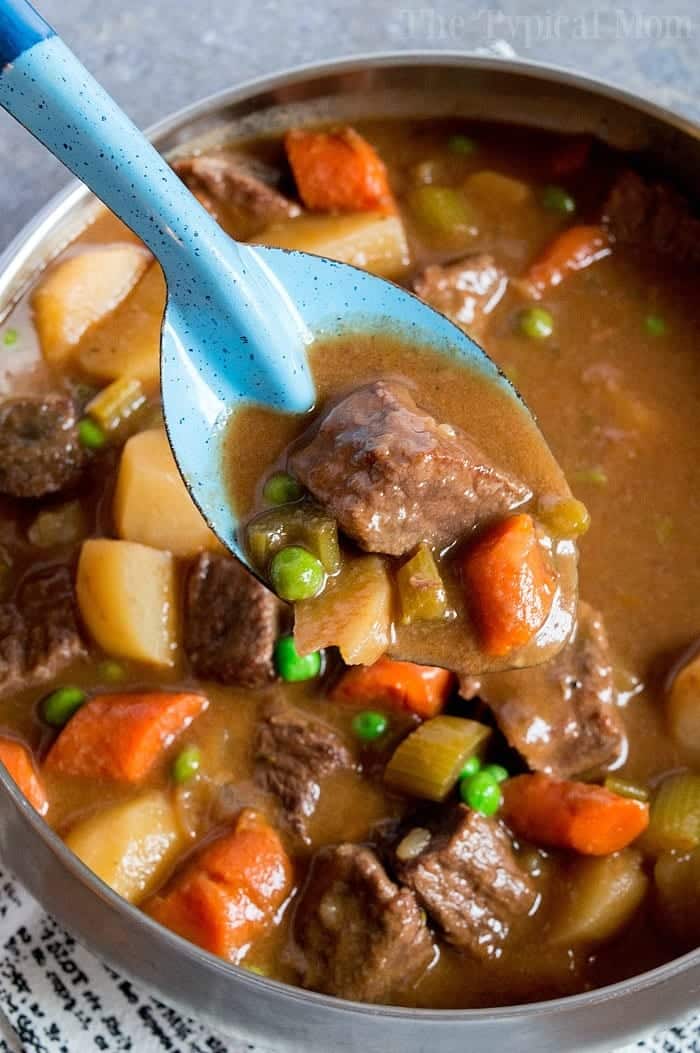 Did you know you could cook Crockpot ground beef too?? Great for busy days when you're home but don't want to stand at the stovetop.
Then use it for tacos or to make Crockpot enchilada casserole later.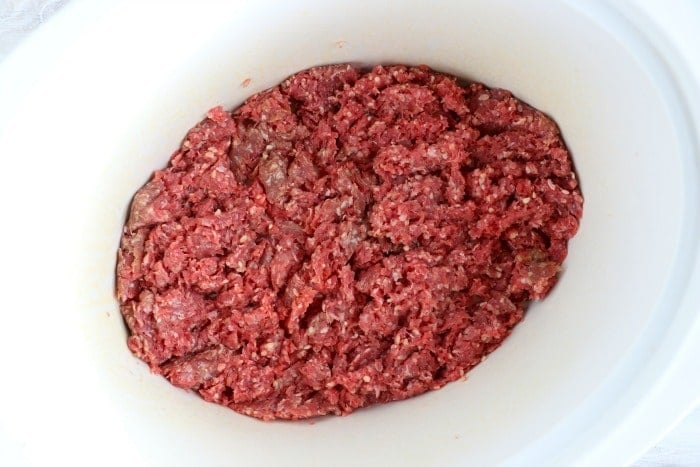 More easy slow cooker recipes below! If you've never made ribs in your crockpot I highly encourage that you try it! You finish them in the oven so they get a nice crisp on the outside but the time in the slow cooker really makes them amazingly tender and gives them a great flavor.
I've also made Instant Pot teriyaki ribs if you have one of those!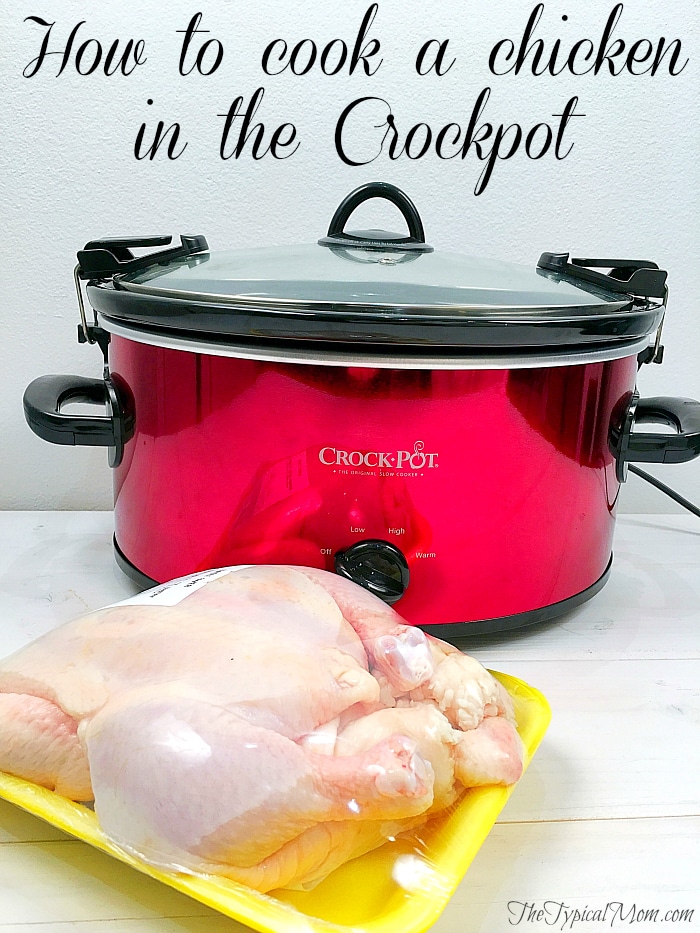 Just 2 ingredients makes this pulled pork crockpot recipe. Or make Crockpot chicken taco meat.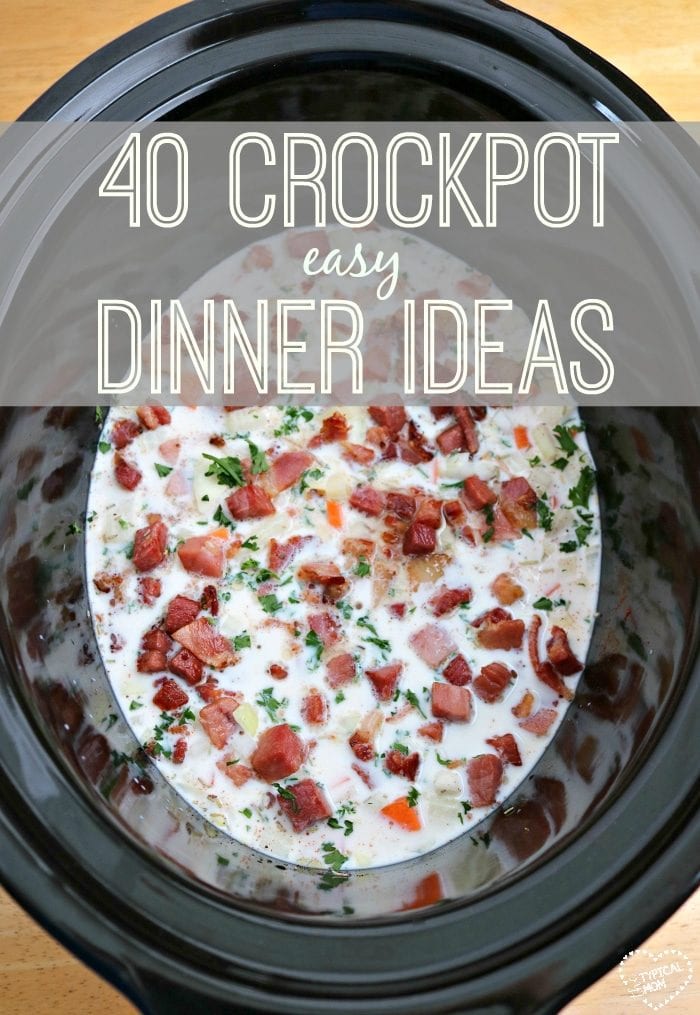 So, those are our 40 easy slow cooker recipes but we are adding new ones each month so keep this post handy. I also have over 100+ Instant Pot recipes for even more dinner ideas.
Now that you have dinner covered try dessert in the crockpot!! One is below and our Crockpot peanut clusters rock too.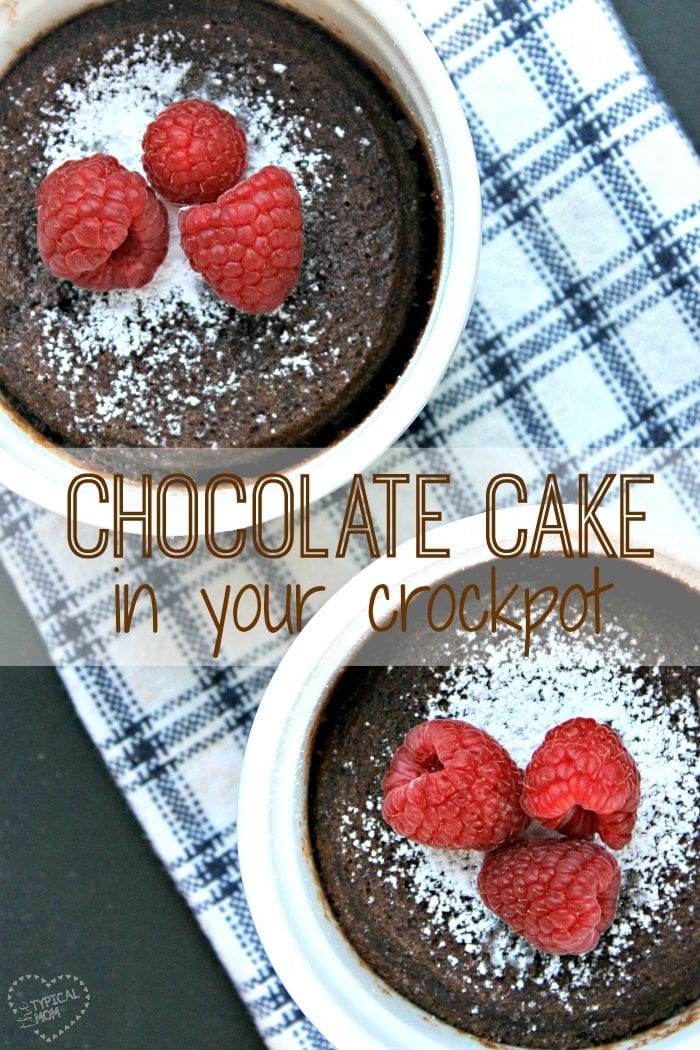 We hope this list of easy slow cooker recipes helps schedule your meals for the whole month so you can relax a bit and eat together more often!
What is your favorite thing to cook in your crockpot?? I'd love to hear it so we can add it to our list and maybe add it to our rotation if we love it enough. 😉
Want to see a few of my favorite things that I am totally obsessed with or visit my Etsy shop?? Take a peek and see how many you might already have…twinsies!
Looking for more easy family recipes and tips? LIKE The Typical Mom Facebook page?
Then sign up for my free newsletter, and follow me on Pinterest! 😉
***** If you LOVED this recipe give it 5 Stars below and let everyone know what you thought about it. 😉