Shepherds Pie Crockpot style is here! Great meal made with meat, carrots, peas and mashed potatoes layered in a slow cooker cooked all day. Similar to our Shepherd's Pie with ground beef in the oven, but with less prep.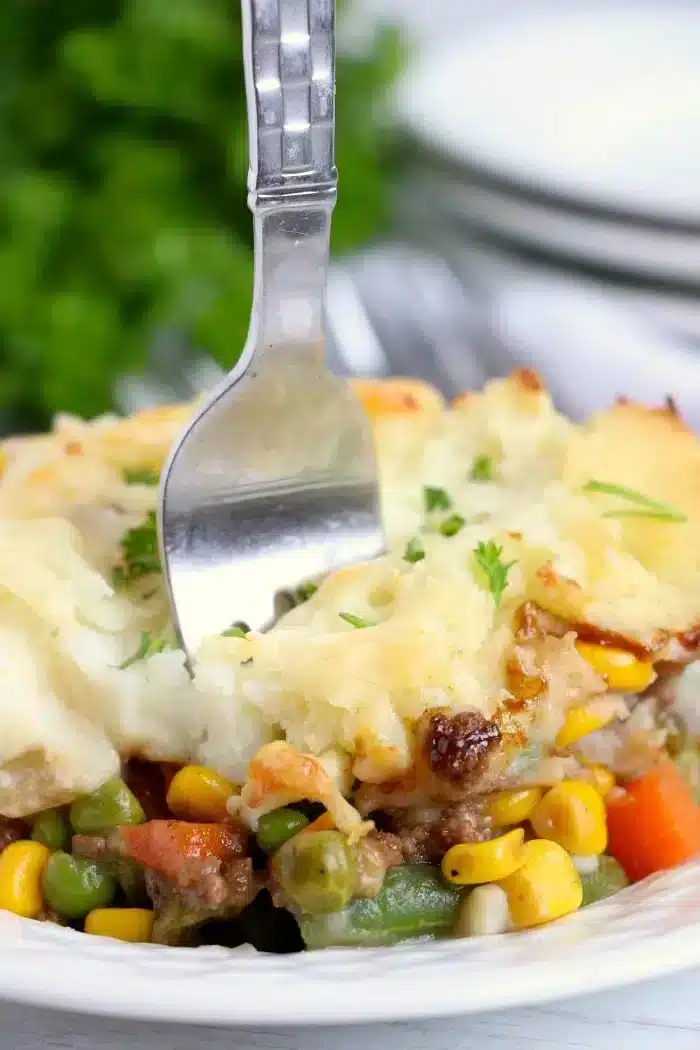 Want the ultimate comfort food?? If it is cold outside our Crockpot shepherds pie or cottage pie will satisfy you for dinner. Full of carrots, green beans, corn with mashed potatoes on top, this easy Crockpot recipe will remind you of a meal at your Grandmother's house. (affiliate links present)
Slow Cooker Shepherd's Pie
We just shared our easy Shepherd's pie with instant mashed potatoes recipe recently. If you don't want to keep an eye on your skillet, easy Crockpot meals are the way to go. You can make packaged, you just add water to the taters, or homemade. Either way this is great.
For this we used lean ground beef but Ground Venison or ground turkey would work just as great. If you wanted to make this vegetarian there is a meatless variety you could brown instead too. You can just throw this all in in the morning and have dinner ready when you return from the day!
FIRST – You should sign up for my free newsletter so you get new posts emailed to you twice a week and never miss out on anything! Let's talk a little bit about slow cooking shall we?? First off I have a few different varieties and I love them all. Each one has an occasion to be used like….
This is my favorite 6 quart programmable one with a locking lid so it's great for bringing to a potluck too.
If you just want to serve a few appetizers you should get this one that sit side by side one another.
I prefer not to use liners, but rather just spray olive oil inside before adding my food for easier cleanups.
Let me give you a peek of my pretty thang I bought recently. It goes with my kitchen so I can just leave it out on the countertop all the time. 😉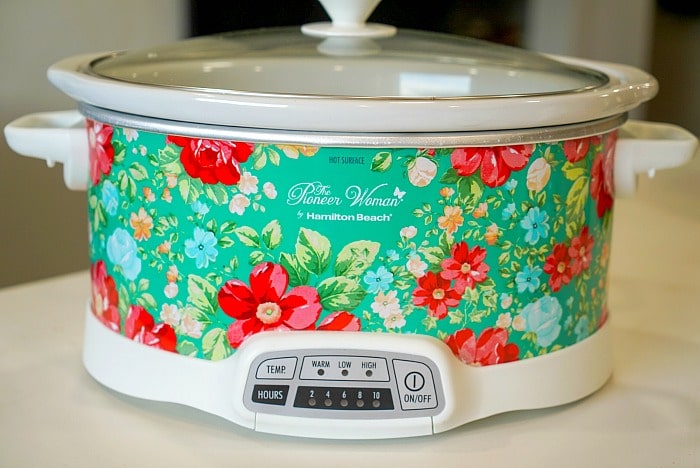 Slow Cooker Shepherds Pie with Ground Beef
If you have been a fan of my blog for any length of time you know we buy meat in bulk each year. A lot of it comes ground so I do create a lot of super easy ground beef recipes to share. I'm all about a good casserole. On busy days I can throw in a bag of this, a can of that, and let 'er go for the day. Know what I mean??
If you would rather go all out by first making homemade cream of mushroom soup, go for it. Most of the time I just use canned but I get it. Vegetables get poured right out of the bag out of the freezer. Personally I don't and wouldn't use canned veggies because they will break down too much.
2 pounds of ground beef, or a mixture of beef and spicy ground sausage is great
An onion diced
Minced garlic
Carrots are sliced and frozen
Frozen peas
Canned cream of mushroom soup
3 tsp ground beef seasoning
Then you will want some mashed potatoes in slow cooker, instant potatoes, boiled on stovetop, or prepared as desired with about 6 russet potatoes.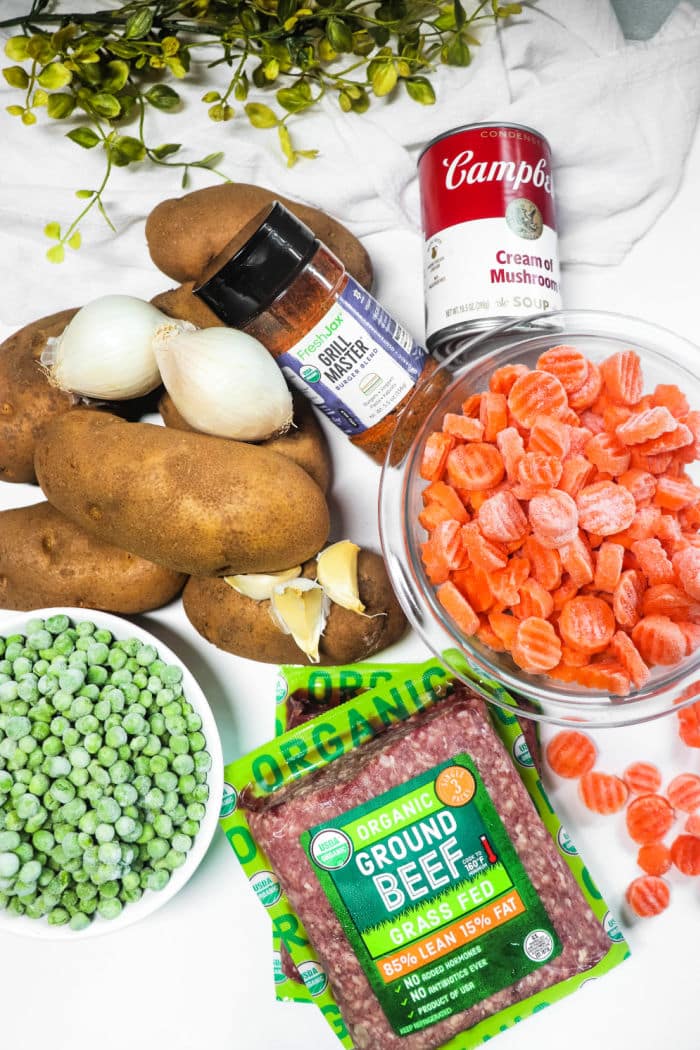 Crock pot Shepherds Pie
Now let's talk about the meat you're using. You do in fact want some fat in it. Fat = flavor y'all. I wouldn't buy anything lower than 80/20. You're going to want to heat in a skillet to soften the onions and brown the meat just on the outside. You don't need to completely cook it but the outside shouldn't be pink.
Do you need to cook beef before putting in slow cooker?
For the most part, yes. Unless you are just cooking the ground beef in by itself to cook all day you will want to brown your meat before adding it in with other ingredients in your Crockpot.
You can add lots of seasonings to the protein to add flavor. That is up to you but there are suggestions below. To go the super easy route you can use a ready made beef seasoning out of a bottle, or your own. Just onion powder, garlic powder, salt and pepper works, but note that the condensed soup will add a bit of sodium already.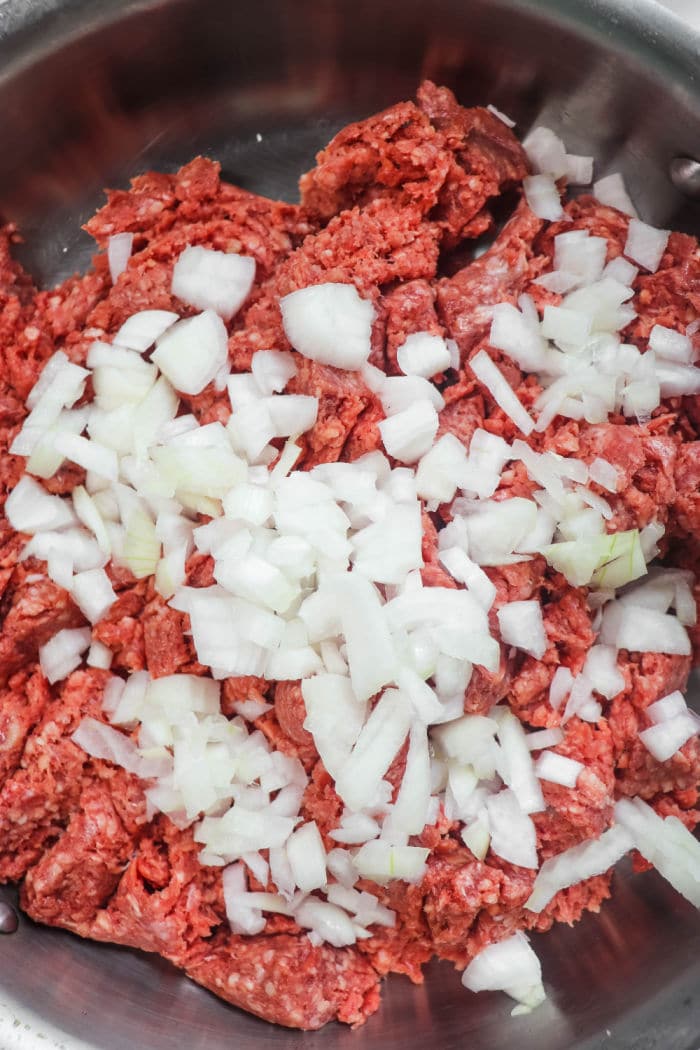 Shepherd's Pie in a Crockpot
To start with this is just kinda' like a Crockpot casserole basically. It's just meat, vegetables with a creamy sauce of sorts warmed together. There are two ways to serve this once that is done and ready to serve. You can make pretty by piping the taters on to the top like you see here.
Not necessary at all but kinda' a fun way to serve it to your guests or kids. Another easier way is to put a dollop of potatoes on the plate and put a spoonful of the mixture in the pot over the top. This version is nice to pour a bit of Instant Pot gravy poured over the top.
Cook your meat and onions in a skillet over medium high heat. Drain fat if needed and add seasoning.

spray inside of pot with non stick cooking spray

Scoop cooked beef mixture into crockpot and mix in the can of cream of mushroom soup.
Stir in your frozen carrots and frozen peas (or mixed vegetables with green beans works too).
Cover with a lid and slow cook on low 8 hours cooking time. I don't recommend but you could cook on high for 4 hours.
Peel and chop potatoes. Boil until tender or use pressure cooker. Mash potatoes, add milk, butter, salt, and pepper to taste.
Spoon potatoes into a frosting decorating tool if you like with a large decorative tip and cover. Or spread the mashed potatoes on top with a spoon.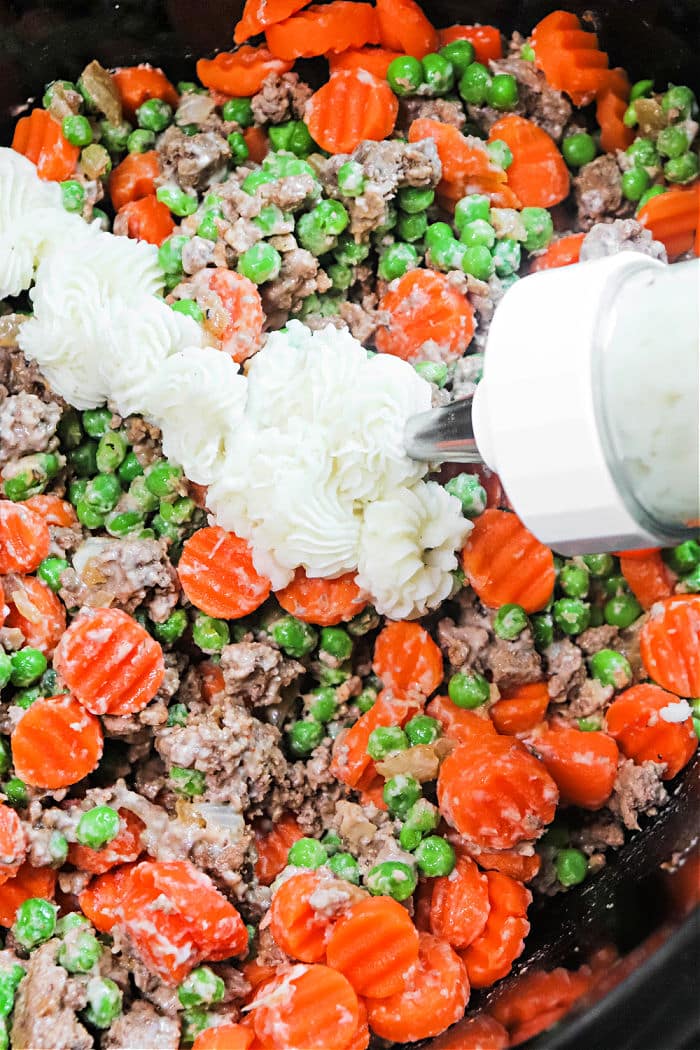 You can print recipe below. There is nutritional information listed with calories and saturated fat too, that will vary depending on the fat content of your meat and what you add to the potatoes. Turn the pot off when it is done so it can start to cool off if you have any leftovers at the end.
Can you eat leftover shepherds pie
Of course, like any other casserole it saves and reheats quite well. Just store in a container with a lid that will close tightly. In the next day or two transfer into a microwave safe dish. Pour some gravy on top if you have it and heat for 1-2 minutes until warmed.
If you wanted a bit of crisp on top you could add into an oven safe dish and into your air fryer. A few minutes at 400 degrees F should do the trick and add a bit of texture to the very top for you. Some crispy fried onions on the top brings it back to life too.
Want to see a few of my favorite things that I am totally obsessed with?? Take a peek and see how many you might already have…twinsies!
Looking for more easy family recipes and tips? LIKE The Typical Mom Facebook page?
Then sign up for my free newsletter, and follow me on Pinterest! 😉
***** If you LOVED this recipe give it 5 Stars below and let everyone know what you thought about it. 😉
Shepherds Pie Crockpot
Shepherds Pie Crockpot style is here! Made with ground beef, carrots, peas and mashed potatoes layered in a slow cooker cooked all day.
Instructions
Cook ground beef and onion in a skillet. Drain fat if needed and add worcestershire and seasoning. Scoop cooked beef mixture into crockpot and mix in cream of mushroom soup.

Stir in frozen carrots and frozen peas. Cover crockpot and cook on high 4 hours or low 8 hours.

Peel and chop potatoes. Boil until tender or use pressure cooker. Mash potatoes, add milk, butter, salt, and pepper to taste. Spoon mashed potatoes into frosting decorating tool with a large decorative tip. *or spread mashed potatoes with a spatula.
Nutrition Facts
Shepherds Pie Crockpot
Amount Per Serving (1 oz)
Calories 410
Calories from Fat 252
% Daily Value*
Fat 28g43%
Cholesterol 98mg33%
Sodium 333mg14%
Potassium 614mg18%
Carbohydrates 11g4%
Protein 27g54%
Vitamin A 5944IU119%
Vitamin C 16mg19%
Calcium 48mg5%
Iron 3mg17%
* Percent Daily Values are based on a 2000 calorie diet.