Homemade cream of mushroom soup recipe you can use to make green bean casserole or add to anything else. Made from scratch in your Instant Pot, Ninja Foodi or on the stovetop. If you loved our air fryer mushrooms you can add some of those too for a heartier version.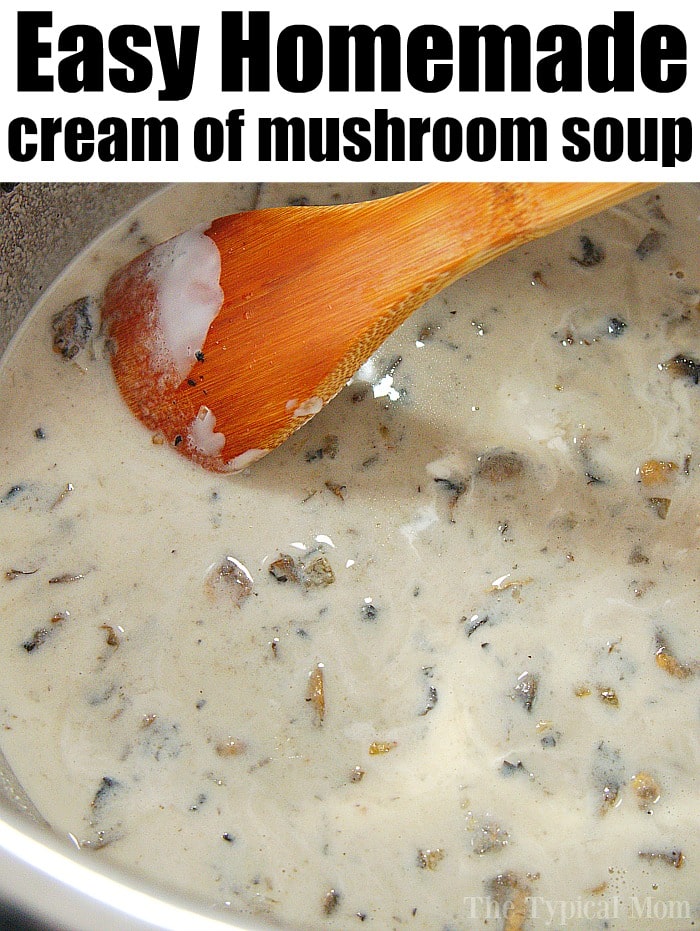 Not feeling canned condensed soups? You can make homemade cream of mushroom pretty easily with just a few ingredients in your Instant Pot. You can use your pressure cooker on saute, or make it in a pot on the stove. Either way will turn out great. Then you're ready to use it in some of your favorite dishes! (originally published 11/19, affiliate links present)
Simple Mushroom Soup Recipe
There are many people who veer away from canned soups because of the high sodium content. I get it. My husband has high blood pressure too and it's always best to know exactly what's in your food. If you make it from scratch you can adjust spices to your liking.
With that said, when I am in a hurry I will use the Campbell's variety. I have a stack of cream of mushroom as well as cream of chicken ready when I don't have milk or heavy cream on hand.
Instant Pot Cream of Mushroom Soup
You're going to melt butter to begin with. For either method you need to set to saute on your pressure cooker, Ninja Foodi or low medium heat on your stove. This is the only function you'll need to prepare this, no actual pressure cooking will be needed.
Of course you'll need a nice looking container of fresh mushrooms too.
The variety is up to you but personally I get store bought baby bellas for every recipe I create. They have a bit of a firmer texture to them and a bit more flavor. The choice is yours though really.
Ninja Foodi Cream of Mushroom Soup
You're going to render your mushrooms and onion down like you see here. Adding diced onions is of course optional but I add them to just about everything I make so they're a given at this house.
Season to taste as you wish with garlic powder, salt and pepper etc.
Add flour to create a thickening agent, then add your chicken broth or chicken stock and bring to a boil. Add heavy cream or milk, reduce heat and simmer uncovered for a few minutes.
If you want your homemade condensed soup to be thicker add 1/4 cup more heavy cream.
Alternatively you could skip the calories and fat in the heavier cream and instead use 2 tbsp of cornstarch. Whisk that with some of your liquid and then add, bubble, and thicken that way.
How do you thicken cream of mushroom soup?
That is where the flour and roux mixture comes into play. If you needed a gluten free option you could use arrowroot flour.
You're going to mix in a flour paste of sorts. Flour is used in many commercially packed soups to thicken creamy or thin broth soups. You add a bit to the butter, mushroom mix to create a sort of roux.
Then when you add the heavy cream or other dairy product it will become creamy and thicker. Cream in of itself is a thickening agent. If your soup becomes a bit too thick, add a bit of milk instead to thin it out.
Cornstarch mixed with a bit of cold water can be a thickening agent as well but won't add flavor.
Some may sprinkle in breadcrumbs but I don't like the texture that creates for this recipe in particular.
What can I add to mushroom soup?
I mean think of the flavors you appreciate and go from there.
Garlic — fresh garlic is best but you can use minced if that's all you have on hand.
Onions — don't be shy about loading it up!
Wine — dry red or white wines are perfect to add into this, especially if you need something to thin it out
Bay leaf – some add this while simmering for added flavor
Sprinkle 1/2 cup crispy onions to the top when done and served!
Want to add larger chunks and more of them into your mix? Make Instant Pot mushrooms beforehand and fold together at the end.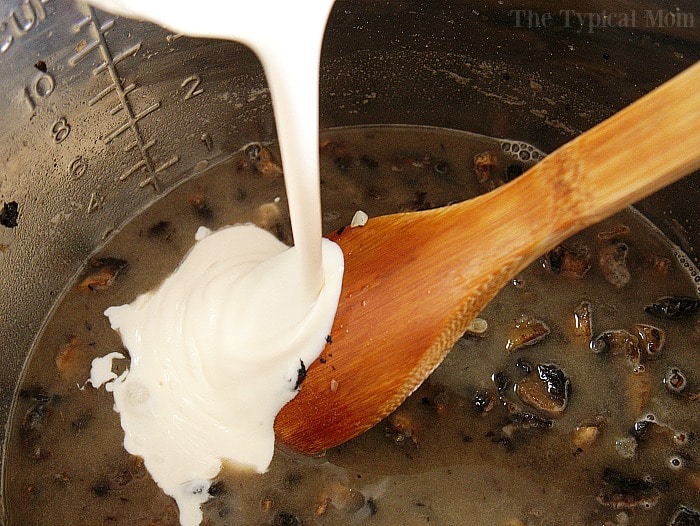 Make your own cream of mushroom
As I said, you can use a saucepan or make Instant Pot cream of mushroom soup.
Butter
Mushrooms
Onion
Flour
Heavy cream or milk
Salt and pepper
Minced garlic
Broth
Either chicken or vegetable broth could be used depending on your preference really.
What can you eat with cream of mushroom soup?
I typically don't make this as a main entree, but rather an ingredient to make another recipe. If you were though, this pull apart bread would make it a complete meal in my house. If you're serving this for a crowd you could make a large batch and transfer to your slow cooker. Keep on warm so people can enjoy throughout the day.
Recipes using cream of mushroom soup
This just brings a soft and creaminess to really any dish.
How long can I keep homemade cream of mushroom soup in the fridge?
To keep canned, packaged , or homemade cream of mushroom soup the freshest after opening refrigerate in covered glass or plastic container. If it has been continuously refrigerated will keep for about 3 to 4 days.
I normally make as much as I need for a particular recipe, like loaded baked potato soup, and have really never had leftovers. If you do though, here is the info.
Can I freeze homemade cream of mushroom soup?
Yes you can! This is great if you want to make a LARGE batch and divide it up to use later. Just freeze in covered airtight containers or heavy duty freezer bags. To prevent cream-based soups from curdling stir well when reheating frozen soup. Foods kept constantly frozen at 0° F will keep safe indefinitely.
Want to see a few of my favorite things that I am totally obsessed with?? Take a peek and see how many you might already have…twinsies!
Looking for more easy family recipes and tips? LIKE The Typical Mom Facebook page?
Then sign up for my free newsletter, and follow me on Pinterest! 😉
***** If you LOVED this recipe give it 5 Stars below and let everyone know what you thought about it. 😉
Homemade Cream of Mushroom
Homemade cream of mushroom soup recipe you can use to make green bean casserole or add to anything else. Made from scratch is always best and tastes amazing.
Instructions
On a stovetop: Put butter into a pan over medium heat. In a pressure cooker: Set to saute and add butter.

Add diced onions and mushrooms. Saute until mushrooms have started to brown and release a bit of liquid. Add garlic now and cook for additional minute.

Stir in the flour so it absorbs the liquid and melted butter in the pot. This will create a sort of roux to thicken the soup.

Once absorbed and lightly browned in color, add your broth. Whisk this together so there are no lumps (other than the mushroom pieces). Add your milk and seasonings now.

Allow this mixture to simmer continuously on low/medium heat or saute function until it thickens to the consistency you want. Usually 3-5 minutes does it.
Nutrition Facts
Homemade Cream of Mushroom
Amount Per Serving (3 oz)
Calories 64
Calories from Fat 36
% Daily Value*
Fat 4g6%
Cholesterol 11mg4%
Sodium 401mg17%
Potassium 187mg5%
Carbohydrates 5g2%
Protein 2g4%
Vitamin A 140IU3%
Vitamin C 5.5mg7%
Calcium 41mg4%
Iron 0.3mg2%
* Percent Daily Values are based on a 2000 calorie diet.