Instant Pot sausage and rice is so good! A cheesy casserole packed with smoked sausage, tender rice and vegetables cooked all in one pot in no time at all.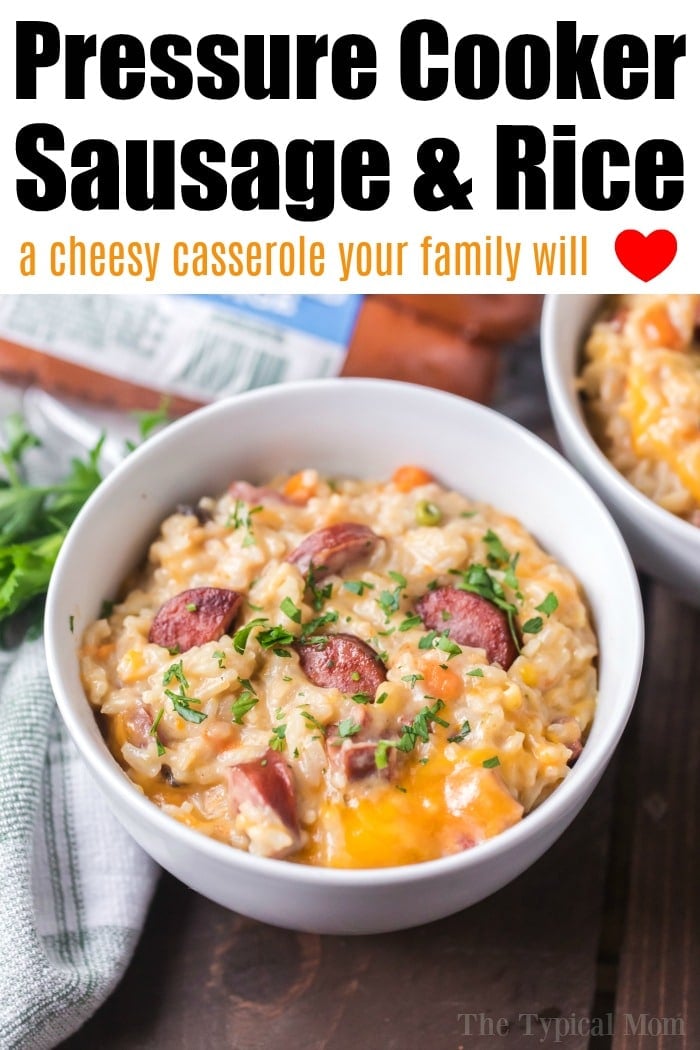 Let me tell you, this Instant Pot sausage and rice casserole is amazing!! If you and your family love cheesy comfort food this is going to go on your meal rotation! Packed full of smoked sausage and creamy rice, it's an easy dinner both adults and kids ask for again. Added to our list of 101+ Instant Pot recipes, this post was sponsored by Kroger. All opinions are my own and not those of The Kroger Co.
Can we talk about flavor for a minute here??!!
This pressure cooker sausage and rice dinner is PACKED full of it. How?? Well, you can see where it came from below. Yep, smoked sausage. All you have to do is slice it into half moons and throw them right in.
We're all about easy meals here on The Typical Mom blog. 😉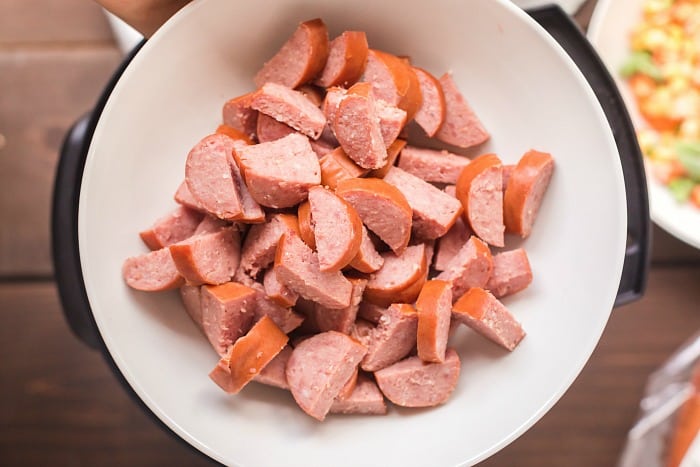 How is it SO easy? Well, this Hillshire Farm Smoked Sausage (I bought at Kroger) is already fully cooked!
That means you just need to warm it up a bit really. I like to saute it just a bit with a little olive oil and diced onions before throwing in all the other ingredients so it gets golden brown.
It's also packed full of traditional spices we all love in order to deliver exceptional flavor in anything it's added to.
Have you tried it?? I first used it to make my slow cooker cheesy potatoes for brunch and I just couldn't stop there.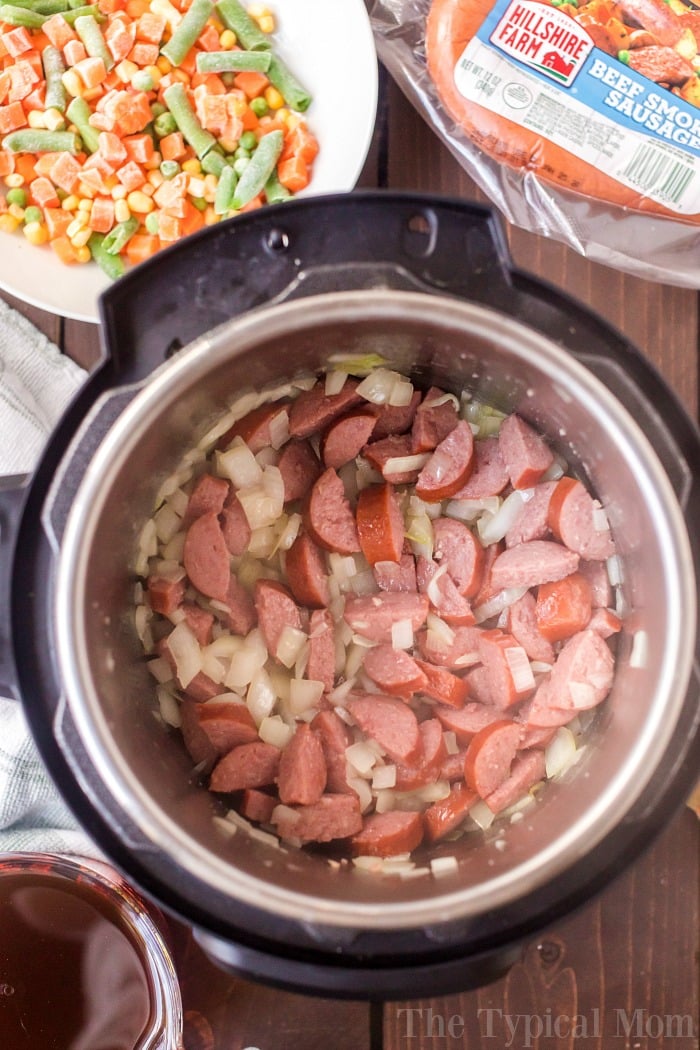 This is what you'll need to make this cheesy Instant Pot sausage and rice casserole:
Hillshire Farm Smoked Sausage – cut into half moons
Olive oil
Onion
White rice – uncooked, long grain
Beef broth
Frozen mixed vegetables
Cream of mushroom soup
Cheese – shredded sharp cheddar is best
Garlic salt and pepper
Cajun seasoning could be added for a bit of heat
You'll start by sauteeing the first 3 items together to brown the outsides of your sausage pieces just a bit. Not a necessary step but I recommend it.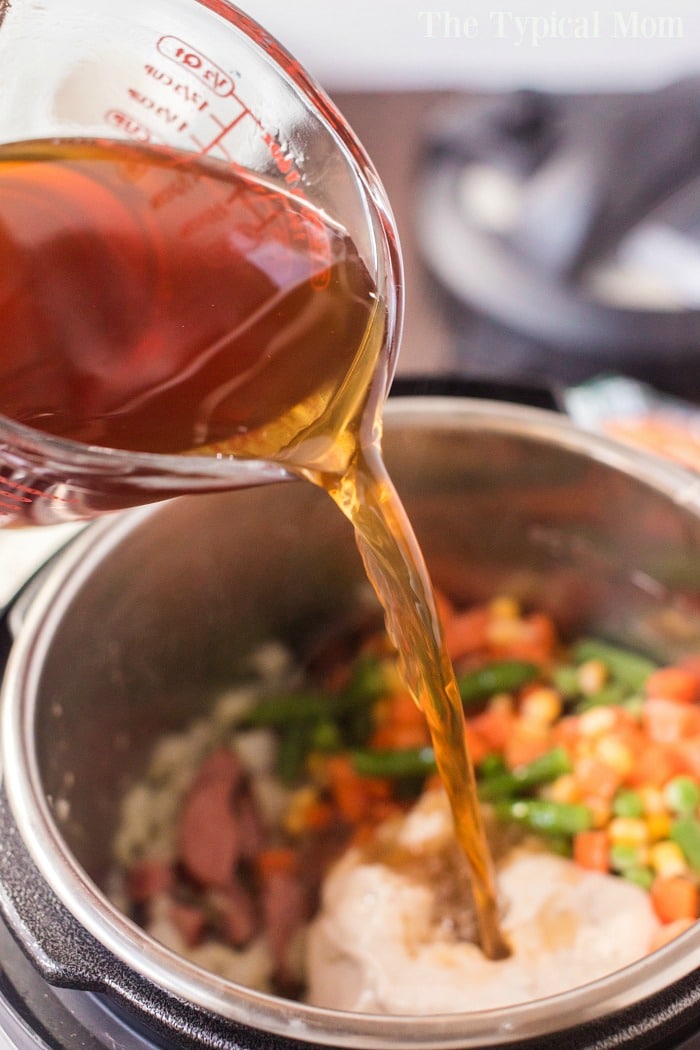 Then you're going to add in your vegetables, condensed soup and beef broth. You can do this two ways:
I like to whisk the broth and cream of mushroom soup together in a separate bowl, and then pour that into my pot.
You could just dump it all in and stir together to remove the lumps too. I just think it is easier to use a whisk and smooth it out separately beforehand.
Don't get me wrong, I have done it both ways especially when I'm in a hurry. It works no matter what. I just like to share my experiences with you and give you several options. 😉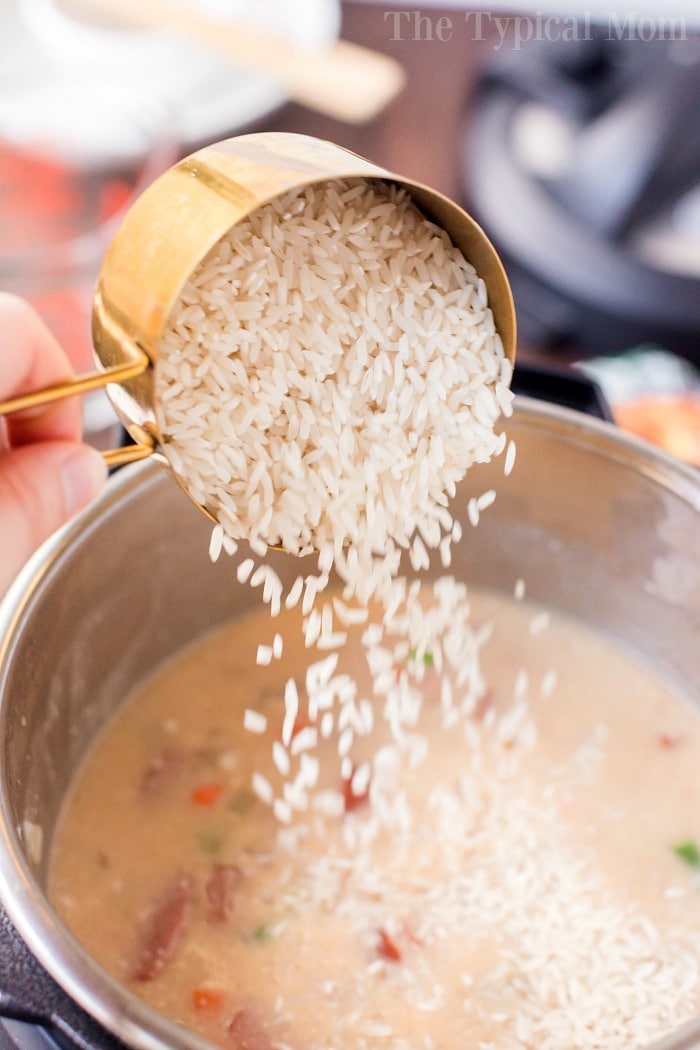 What is important to know when making anything with Instant Pot white rice:
You are going to use uncooked white rice. Long grain or Jasmine is my preference.
Rice casseroles cooked in a pressure cooker need to be layered with the rice sprinkled on top!
It is important that you DO NOT stir all the contents after you add your uncooked rice.

If you do it will likely trigger the burn message, and will stick to the bottom which will be difficult to get off.

Sprinkle it in when you add the rice on top of all your other ingredients.
Then just use a spoon to gently submerge it into the top of your liquid.

Following this last direction will ensure that your Instant Pot casserole will come out perfectly every time!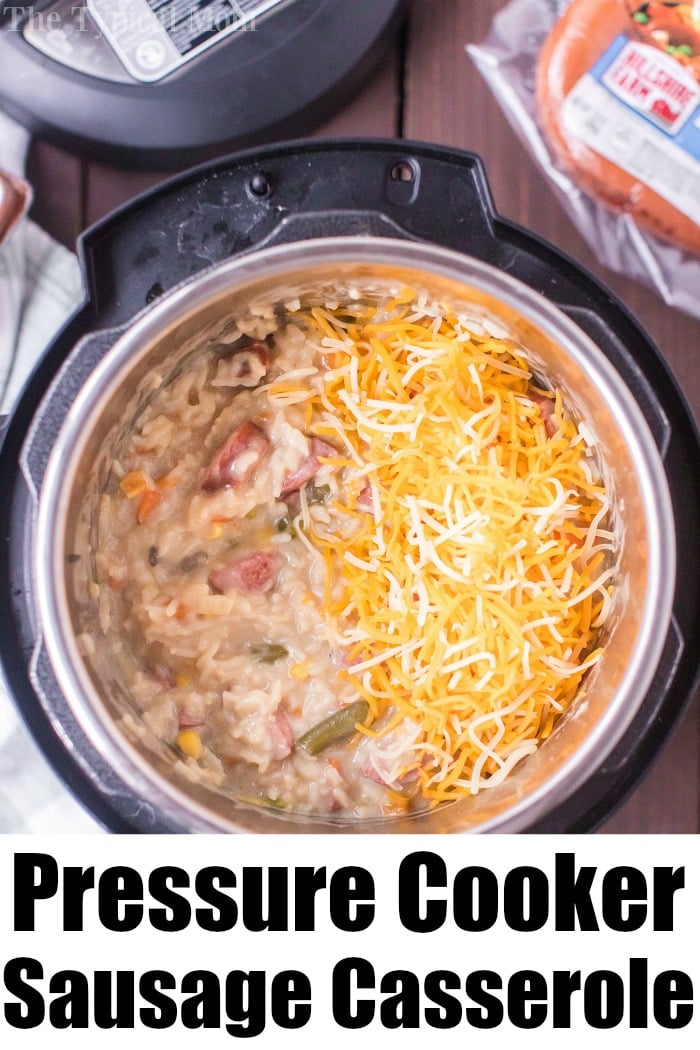 Now let me share the basic steps to follow:
First you're going to add the oil and diced onions into your pot. Set to saute.

A 6 or 8 quart Instant Pot or any brand of pressure cooker will work.

Then you add the sausages cooking until browned on the outsides.
Turn your pot off and add your frozen vegetables, condensed soup and broth. Stir together.
Sprinkle in your rice as directed above and gently submerge into the liquid.
Close lid and pressure cook on high pressure for 9 minutes.
Then allow for a 3 minute natural release.

Followed by a quick release.
Yes!! The cooking time is just that fast!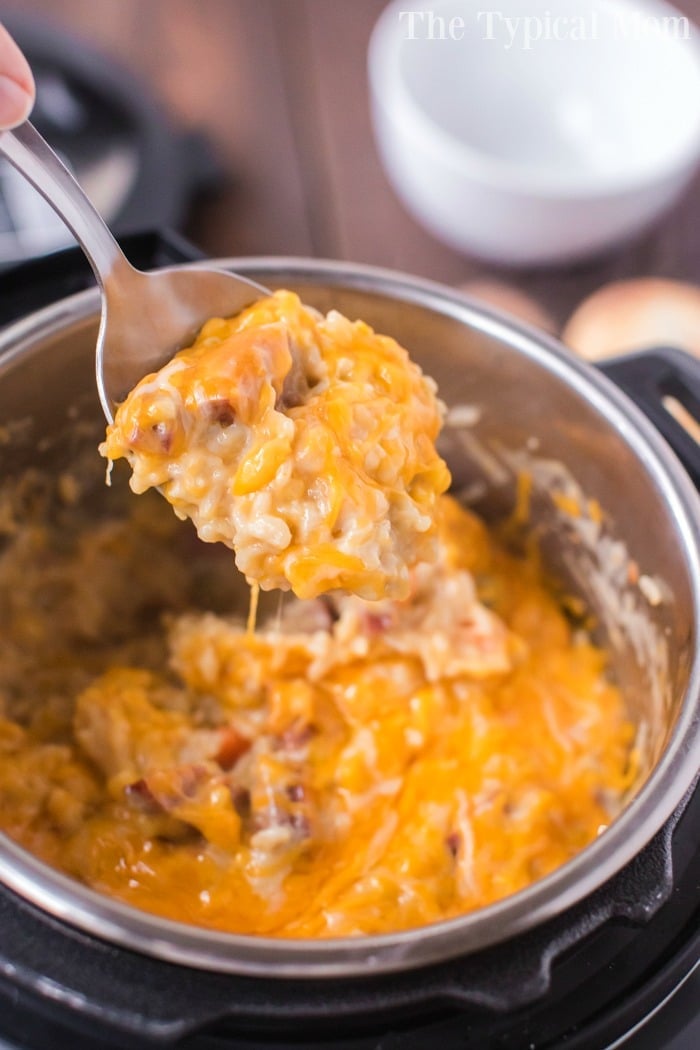 Once it is done it's time for LOTS of cheese!!
Can you leave out the cheese? Yes, but ummmm it's pretty amazing with it. Totally your choice really. Look at this spoonful!
What can you serve with this Instant Pot sausage recipe?
I don't really serve anything with it but you could add:
More steamed vegetables
Sliced baguette
Rolls
Side salad
So what are you waiting for??
They will have all the other ingredients there too, all you have to do is print the recipe below. Take it with you so you don't forget a thing and let us know what you think!
Instant Pot Sausage and Rice
Instant Pot sausage and rice is so good! A cheesy casserole packed with smoked sausage, tender rice and vegetables cooked all in one pot in no time at all.
Instructions
Put pressure cooker on saute and add olive oil. Then slice sausage into half moon pieces. Put these and your diced onion into your pressure cooker.

Cook just until sausage is lightly browned on the outsides. Then turn pot off. Add 1/4 cup of your broth into your pot and scrape with a wooden spoon to get any stuck on pieces off = deglazing your pot.

Sprinkle in all of your seasonings and your frozen vegetables.

In a bowl whisk together the remaining broth with your can of cream of mushroom soup until smooth, pour this into your pot.

Stir all contents together.

Sprinkle uncooked rice on to the top but DO NOT STIR. Just gently push down so it is submerged into the liquid.

Put lid on, close steam valve and set to high pressure for 9 minutes. Then allow to naturally release steam for 3 minutes before letting out remaining steam with a quick release.

Add in 1/2 of your cheese and stir gently into rice casserole. Top with remaining cheese and place lid back on for at least 5 minutes so cheese melts and everything thickens. (even if you don't add extra cheese on top, let it sit for at least 5 minutes with lid on or off to thicken up)
Nutrition Facts
Instant Pot Sausage and Rice
Amount Per Serving (3 oz)
Calories 289
Calories from Fat 117
% Daily Value*
Fat 13g20%
Cholesterol 22mg7%
Sodium 1179mg51%
Potassium 239mg7%
Carbohydrates 33g11%
Protein 11g22%
Vitamin A 1729IU35%
Vitamin C 4mg5%
Calcium 161mg16%
Iron 1mg6%
* Percent Daily Values are based on a 2000 calorie diet.