Crockpot bbq beef using chuck roast or another cut creates tender shredded beef in your slow cooker. Pile it on buns for sliders, or pulled beef sandwiches.
Ready for some Crockpot bbq beef sliders for a party or fun dinner idea? This. Is. Great! When I find a cut of beef on sale and want to make the tenderest meat possible, I always reach for my slow cooker. It's just the way to go. Find this and more Crockpot recipes here on The Typical Mom blog, more added each week! (affiliate links present)
Occasionally I find a cut of beef on sale and just can't pass it up. Recently we bought half a cow so we have a lot of beef to use too! Certain cuts aren't as easy to use and really need to be slow cooked for the best results.
Beef chuck or round roast is typically what we use. I feel is best thrown in my Crock pots and cooked all day long!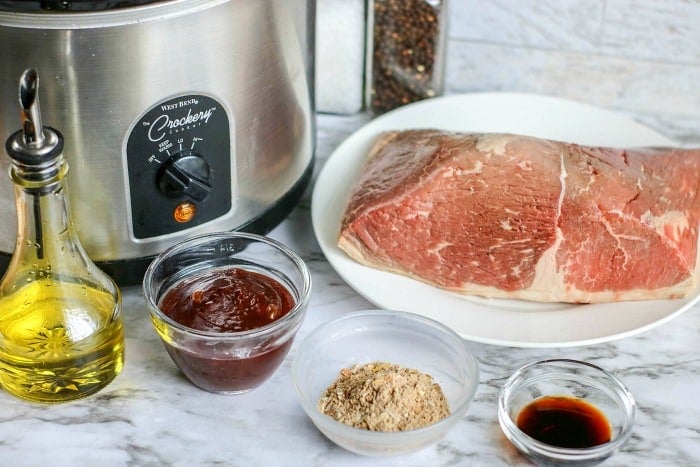 What kind of meat is chuck roast?
What we call a chuck roast is cut from the shoulder and neck region of the animal. It may be labeled chuck roast, shoulder steak, boneless chuck roast, or chuck shoulder pot roast at the store. It is slightly fattier than a brisket or round.
Chuck has a richer taste but is higher in saturated fats which makes it great for slow cooking really. It's a great bbq recipe served as sliders.
This is what you'll need to make this easy Crockpot bbq beef recipe
3-4 lb. roast
BBQ sauce of your choice – this is our favorite that is sweet and spicy

you could use homemade barbecue sauce too

Dry onion soup mix
Liquid smoke
Beef broth
Non stick cooking spray for an easier cleanup later
What is chuck steak good for?
This cut can be tough and hard to chew if not cooked properly. It is one of the least expensive cuts of beef. Many people will avoid buying it because of the amount of fat and gristle in it. BUT all of this gives this cut of beef so flavorful if cooked correctly.
THIS is the way to do it so it comes out nice and tender. An added step I do is before I shred it I try to remove the large chunks of fat. Then after I shred it I remove the rest I see.
If it's been cooked long enough you should only need 2 forks to pull it apart. If it is tough to do then it hasn't been in long enough. You will know by the very first pull whether it's melt in your mouth tender.
Do not attempt to cook this on high. Low and slow is the answer when it comes to thick tough pieces like this. Cover and cook it early in the morning if you have an even larger cut. If it is rather large you can cut it in half before putting it inside your pot.
How do you shred beef?
You can do this once your roast is cooked.
Hold the roast steady with one hand. Place the beef on your cutting surface and hold it steady with your non-dominant hand. I sometimes just leave it inside my slow cooker and do this.
Shred off the beef with one fork going with the grain, not against it.
Continue to do this until there are no large chunks left.
Remove fat if desired. Smother with sauce for added flavor.
There are a TON of ways to serve this once it is done!
Serve on small buns as sliders
Larger buns can be used as a full sandwich meal
Top white rice with Crockpot shredded beef
Put it on top of chips for nachos!
Use these Instant Pot tacos or our Instant Pot bbq beef directions for pulled beef and pulled pork of a similar type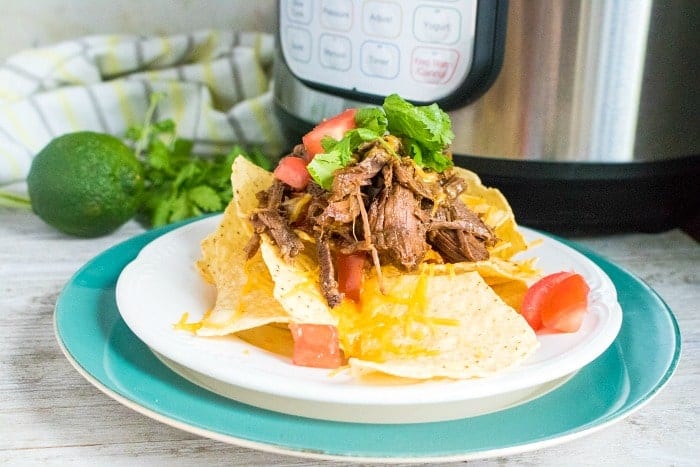 How do you freeze shredded beef once it's cooked?
Once it's finished cooking allow it to cool. Put leftovers into quart-sized freezer bags. Remove air inside and lay them flat as they freeze to make nice "bricks" of frozen beef.
To reheat it's best to allow meat to defrost in the fridge, or countertop, before heating.
Looking for other easy slow cooker recipes?
For a quick meal try Instant Pot French dip sandwiches too!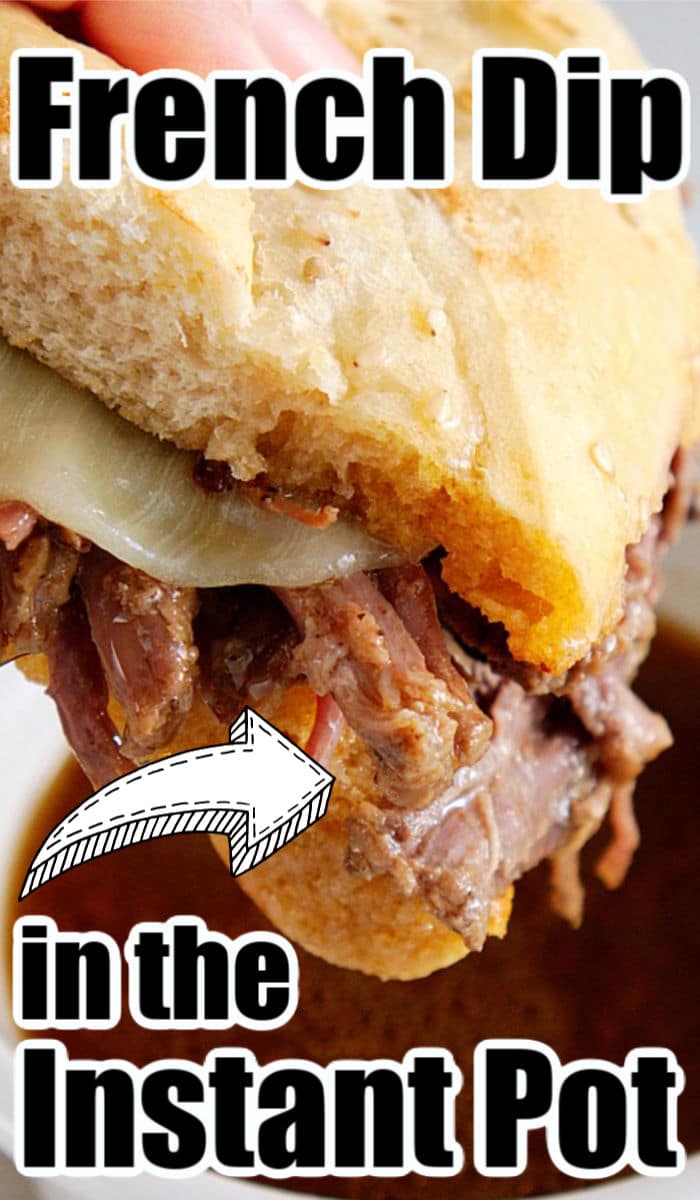 Slow cooker bbq beef printable recipe below.
Crockpot BBQ Beef
Crockpot bbq beef using chuck roast or another cut creates tender shredded beef in your slow cooker. Pile it on buns for sliders, or pulled beef sandwiches.
Instructions
Spray inside of pot with non stick spray. Place piece of beef with fat side up into your pot.

Rub onion soup mix all over the meat, then pour red wine vinegar and liquid smoke on the sides of your meat (so you don't wash off the rub), followed by broth around the meat.

Close the lid and set on low for 6-8 hours or until it is fork tender and ready to shred right inside the pot.

Shred and remove any fat pieces. Pour bbq sauce over meat and stir so it is nice and coated. Can serve immediately or let it sit on low for 20 more minutes to soak in sauce. Serve on buns.
Nutrition Facts
Crockpot BBQ Beef
Amount Per Serving (3 oz)
Calories 292
Calories from Fat 36
% Daily Value*
Fat 4g6%
Sodium 827mg36%
Potassium 790mg23%
Carbohydrates 29g10%
Protein 34g68%
Vitamin A 160IU3%
Vitamin C 1mg1%
Calcium 30mg3%
Iron 4mg22%
* Percent Daily Values are based on a 2000 calorie diet.