Slow cooker oxtail turns out tender and delicious with a killer sauce that can be spicy or mild. Best way to cook oxtails ever.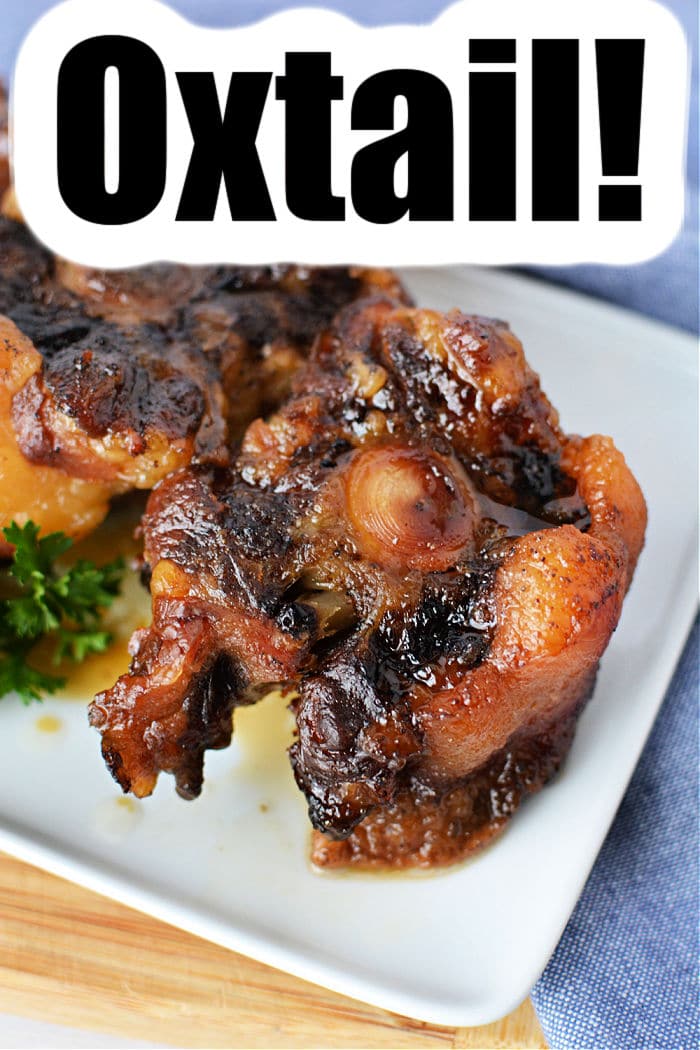 Here's something new! Slow cooker oxtail is a tasty chunk of beef that has bold flavor cooked in a thick yummy gravy. If you thought this cut of meat would be difficult to make tender, it's actually super easy this way. Just one of many easy Crockpot recipes we have on The Typical Mom blog. (affiliate links present)
What animal does oxtail come from?
It actually is the tail of a cow, not an ox. Back in the day it was in fact from that animal but nowadays there are a lot more cows when processing beef so this is a cut they offer. Typically you'll find it cut into smaller pieces, without the skin of course, and ready to tenderize.
Crockpot Oxtail Recipe
There are several ways you can make it tender, I prefer this the best when I am just out of energy. If you would prefer to cook oxtails on the stove that turns out quite good too.
FIRST – You should sign up for my free newsletter so you get new posts emailed to you twice a week and never miss out on anything! Let's talk a little bit about slow cooking shall we?? First off I have a few different varieties and I love them all. Each one has an occasion to be used like….
This is my favorite 6 quart programmable one with a locking lid so it's great for bringing to a potluck too.
If you just want to serve a few appetizers you should get this one that sit side by side one another.
I prefer not to use liners, but rather just spray olive oil inside before adding my food for easier cleanups.
Let me give you a peek of my pretty thang I bought recently. It goes with my kitchen so I can just leave it out on the countertop all the time. 😉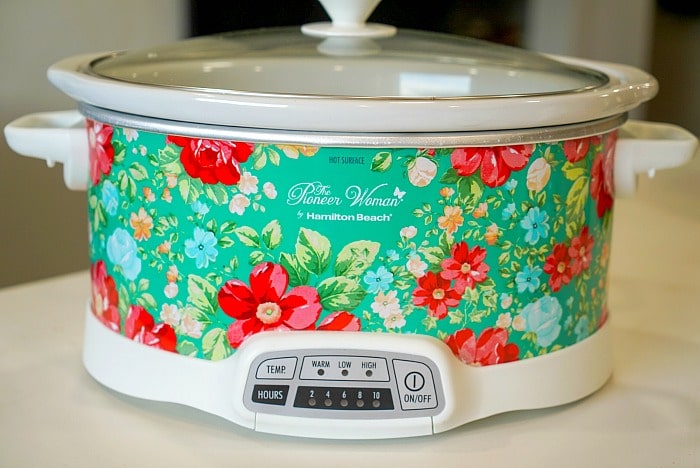 Where to buy oxtail
I mean if you don't see them in the meat section of your local grocery store, check oxtail at Walmart. They sometimes have more of a variety of meats than our little butcher around here. Prices vary from month to month. Sometimes you can find them on sale (since they aren't super popular), other times it's expensive.
If you do find a deal on them and it is a favorite piece of yours I would grab as many as possible to freeze! Yes, just wrap each piece in foil, then slide into a gallon freezer bag and they will keep well for a good 3 months. Then you can make oxtail in a slow cooker as often as you like.
This easy oxtail recipe starts off like this. You can see what they look like right here without any other ingredients added. When it comes to creating a sauce of sorts that is really up to you. You could make our onion gravy first and pour that right in, then follow our cook time below.
Easy Oxtail Recipe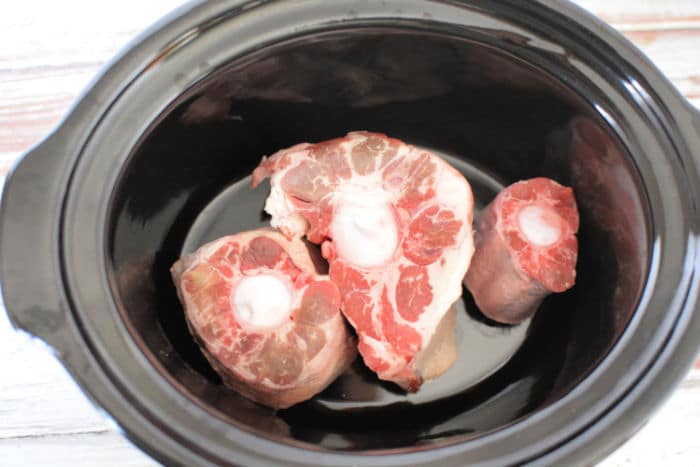 If you have your own favorite Chinese or Jamaican mixture you like to include in this and just need the temp. and timing then go with that my friend. There is a simple mixture below in the recipe card you can follow too. If you like it spicy then add more buffalo sauce than listed below, this would be more mild/medium level as written.
What does oxtail taste like?
It does have a stronger flavor than a filet or ground beef for example. I would compare it more to an arm roast that has a beefy flavor in of itself. Adding a really flavorful sauce is key to balancing this out. If you like bone marrow you will get some of that too here which means a two in one meal. 😉
Oxtail Sauce
Beef broth or beef stock, way better than using water
Soy sauce or Worcestershire sauce could be used instead
Oil of your choice, I almost always opt for olive oil
Brown sugar
Vinegar
Salt and black pepper
Garlic powder
Crock pot of course if your vessel
Just whisk this together, pour it on, close and let it go!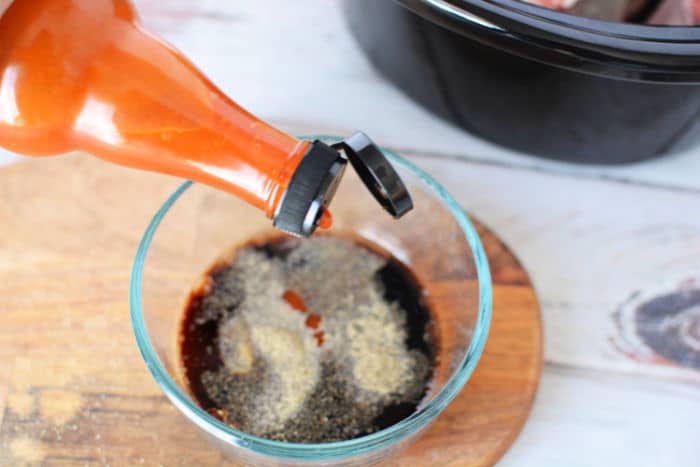 Oxtail Gravy
You'll want to lick your plate after this sauce is cooked and thickened for 8-10 hours. It has a sweet and savory flavor to it and heat is up to you. The meat when slow cooked this way falls off the bone and is complete comfort food on a plate.
Place oxtails inside of your slow cooker. In a small dish combine broth, salt and pepper and all other ingredients together. Whisk together until combined well. Pour on top of contents.

could add a bay leaf if you want to add that flavor as well

Cover and cook on low heat for 8-10 hours or until meat is as tender as you'd like them to be.
I do not recommend to cook on high ever. The only time I do this is if I have a very large hunk of meat and it is rock hard frozen like our beef chuck roast slow cooker recipe. Other than that low and slow is the way to go, always. You will get a much more tender piece of protein this way so the steam has a longer time to really break down fibers.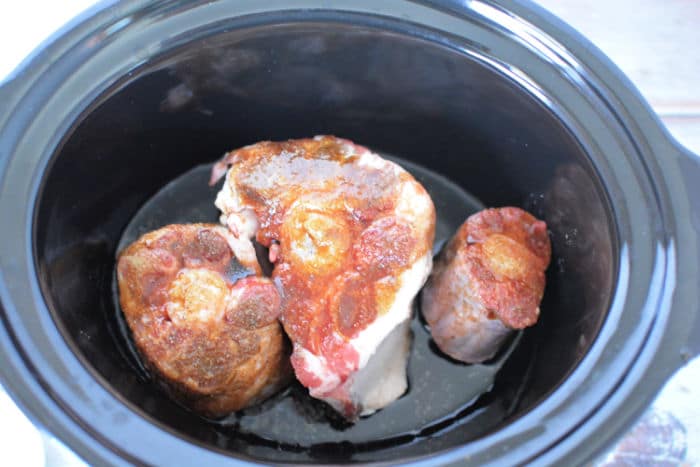 How do you clean oxtails before cooking?
There isn't too much to it. You can just rinse like we did here. If you want to tame the flavor a bit before starting you can rinse and then sit in a bowl full of cool water with a few slices of lemon. Some prefer this to add a bit of citrus flavor and tone down the beefiness of the meat. Your choice, either way works friends.
You can see from raw to cooked and ready to eat here. If you need a gluten free version you can certainly do that. Make sure to check the back of all ingredients to ensure it is okay to use. What if you have leftovers? They save quite well actually.
If you wrap each one in plastic wrap once it cools completely and then into a thick storage baggie they will save well in the fridge for a few days. Then rewarm on a small trivet with water at the bottom of a pot to steam, microwave, or you could remove all the meat and make oxtail soup!
I do this often when I have meat that needs to be used up. I hate wasting!! Just like after Easter and Christmas I will always make some Crockpot potato soup with frozen hashbrowns with the ham I have left.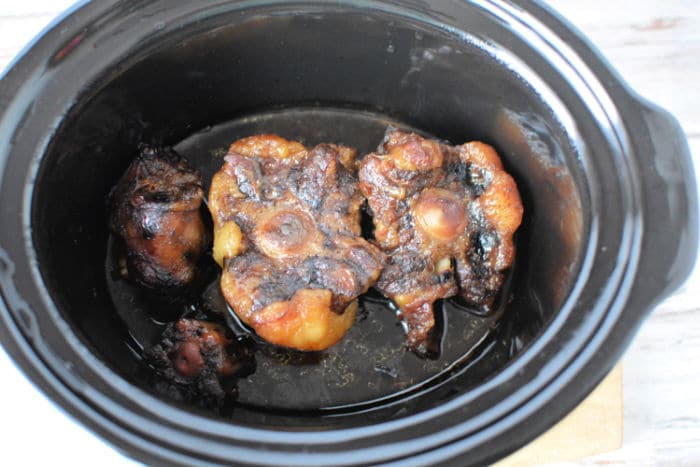 Crockpot Oxtails and Gravy
Jump to recipe below to see how much of each ingredient you need to get started. Very similar to what we used in our how to cook oxtails in the oven post too. I suggest that you mix all of the sauce things together and then taste it.
If you think it needs more spice then add some Franks Red Hot sauce or Sriracha. You can completely leave that out too so it is mild. Want it a bit sweeter, add more brown sugar.
My daughter has made this substituting Splenda instead and said she couldn't taste the difference at all. That would be a great idea if you have a diabetic in the home who wants to still enjoy this.
If you have a special family handed down mixture you use to cook these that is out of this world, let me know. I love trying other sauces because it's an easy way to change this recipe up.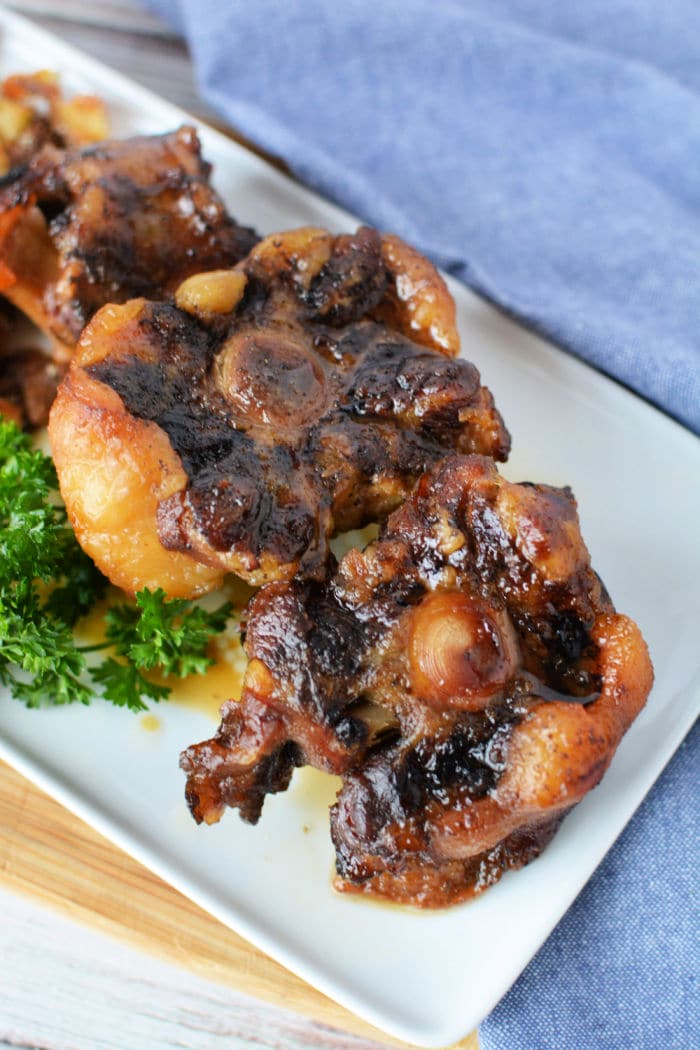 Beef Side Dishes
I mean there are so many choices to choose from, like Crockpot baked beans to roasted potatoes or salad. Anything goes. If you want something lighter I might go with air fryer beets with this.
Want to see a few of my favorite things that I am totally obsessed with?? Take a peek and see how many you might already have…twinsies!
Looking for more easy family recipes and tips? LIKE The Typical Mom Facebook page?
Then sign up for my free newsletter, and follow me on Pinterest! 😉
***** If you LOVED this recipe give it 5 Stars below and let everyone know what you thought about it. 😉
Slow Cooker Oxtail
Slow cooker oxtail turns out tender and delicious with a killer sauce that can be spicy or mild. Best way to cook oxtails ever.
Instructions
Place oxtails inside slow cooker. Add broth and all other ingredients into a small dish and whisk together. Pour on top of contents.

Cover and cook on low heat for 8-10 hours or until meat is as tender as you'd like them to be.
Nutrition Facts
Slow Cooker Oxtail
Amount Per Serving (1 oz)
Calories 882
Calories from Fat 423
% Daily Value*
Fat 47g72%
Cholesterol 374mg125%
Sodium 2360mg103%
Potassium 69mg2%
Carbohydrates 4g1%
Protein 107g214%
Vitamin A 1IU0%
Vitamin C 1mg1%
Calcium 77mg8%
Iron 14mg78%
* Percent Daily Values are based on a 2000 calorie diet.