This oxtail seasoning is the best dry rub you will ever make. Sweet and savory with the option to make it spicy, it's great on our slow cooker oxtails or in the oven.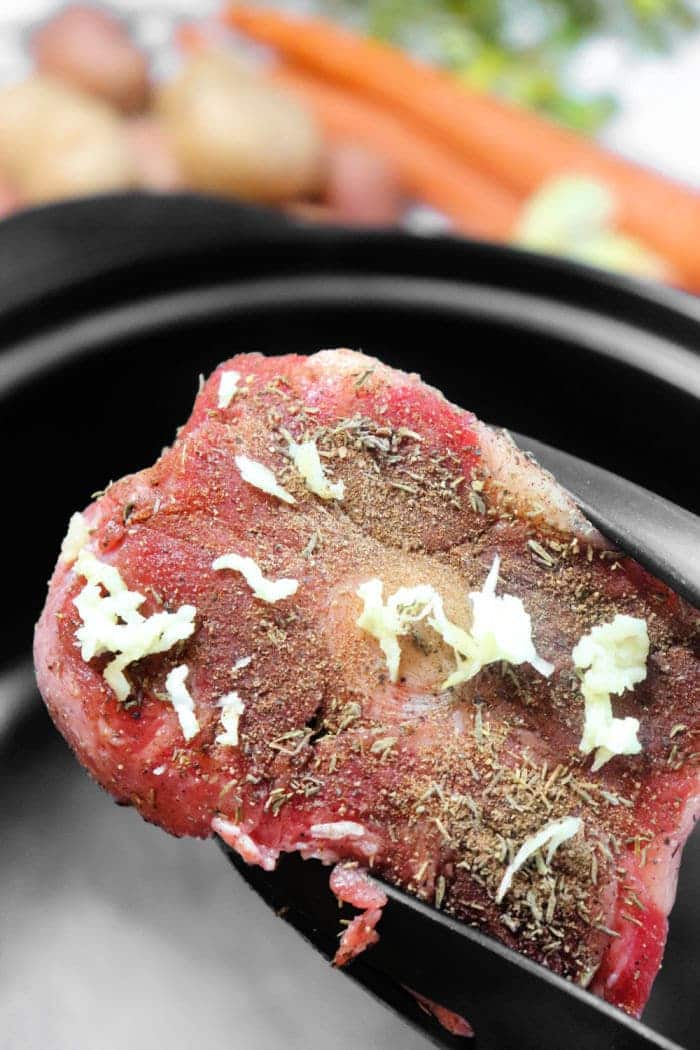 We have all sorts of different oxtail seasoning ideas here. Then you can use our guide on how to cook oxtails to make them tender however you'd like. Once the flavors are on point you can make them fork tender on the stove, oven or pressure cooker too.
Oxtail Dry Rub
You don't really need to coat the outsides when you are boiling these to make Korean oxtail soup, but if you just want to give the protein tons of flavor as is this is amazing. I will share below all the ways you can tenderize it after your seasonings are spread all over below too.
We have a lot of dry rub recipes for all different kinds of meat. From chicken to fish, beef and everything in between. It just makes every bite out of this world.
What does oxtail seasoning have in it?
There is a variety depending on who makes it. You can buy it bottled and already made. Those typically have salt, red pepper, paprika, turmeric, garlic, onion powder and celery seeds.

You can generously coat and wrap to make the flavors more intense or add into a soup for traditional flavors.
Not like the meat has an off flavor as is but when you make something like Instant Pot oxtail for soup, you want all the seasonings you can get.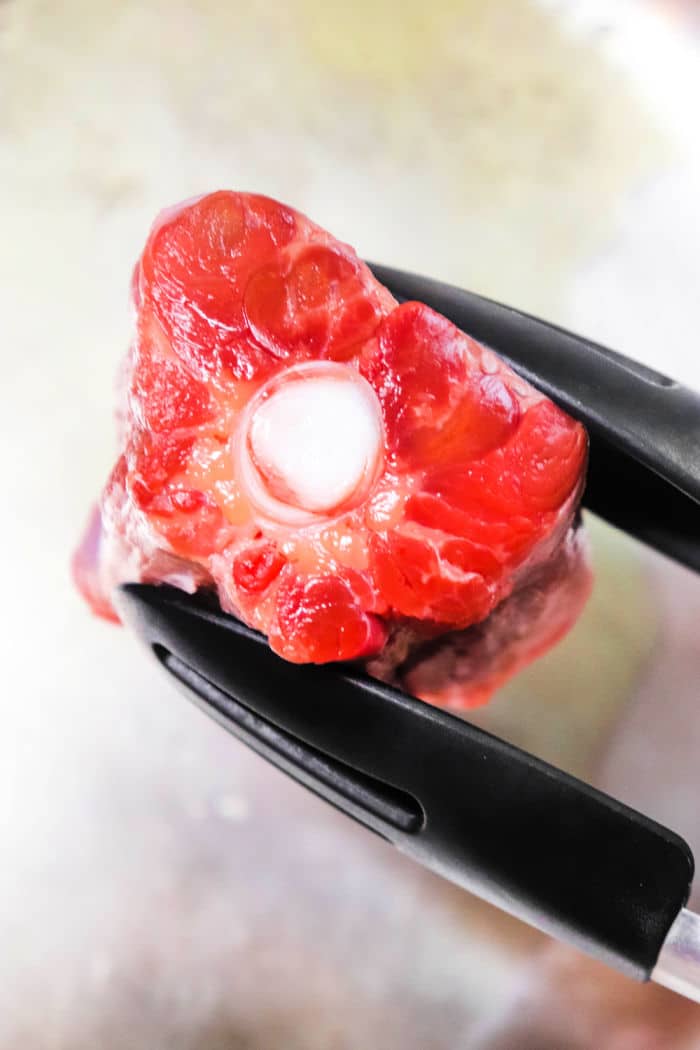 How do you clean and season oxtails
When you get your buddies out of the package you're going to want to do a few things to get them prepped. First off it is best to use either fresh or defrosted pieces. If they are frozen you can still boil and cook frozen meat to tender but the rub won't stick, and that would be tragic.
First off you want to rinse them off under cool water
Place them on a few paper towels to absorb most of the moisture left on the outsides
Use a sharp knife to cut off the excess fat on the outer edges, you won't want that
Mix your ingredients together and coat the outside well, then you're ready to cook them
Oxtail Seasoning Substitute
Instead of buying multiple spices and combining them yourself you can certainly buy seasoning for oxtail bottled so there is no work on your part. You ARE going to want something because without it this protein isn't fabulous all on it's own.
The very simplest of seasonings we used here on our oxtails in the oven instructions.
3 tbsp minced garlic
1 tsp thyme
1/2 tsp salt, pepper, and allspice
Great when making Instant Pot oxtail soup too. We like the flavor of the meat to shine in these.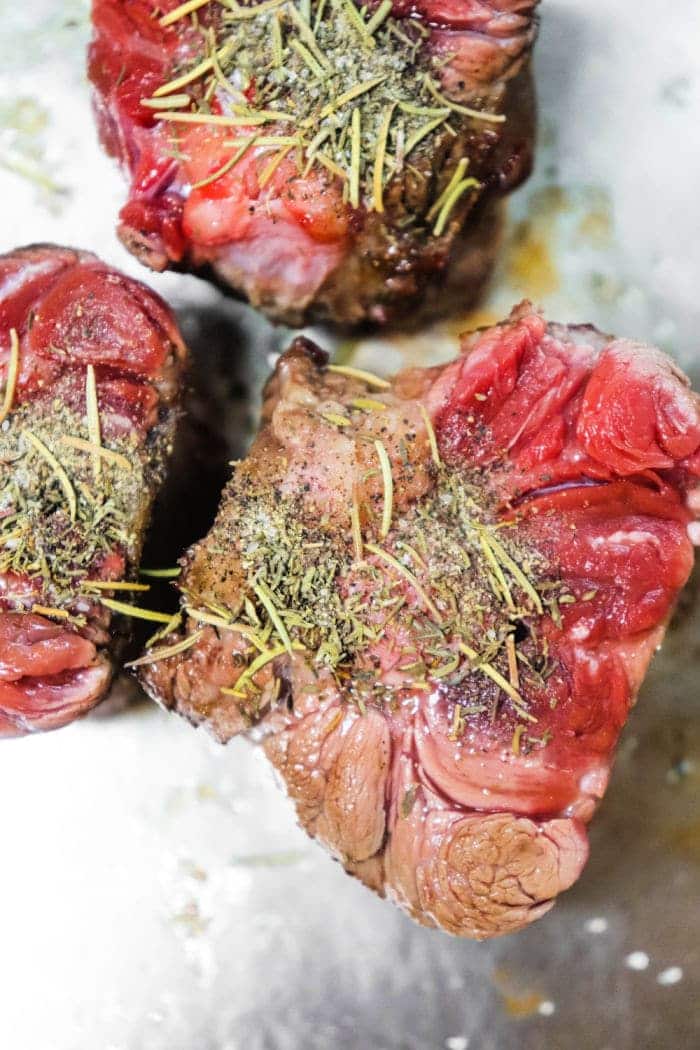 Seasoning for Oxtails
If you want to have bolder deeper flavors with a little kick of heat as an option, try this! We have used this when cooking oxtails on the stove and the Crockpot. With low and slow cooked for a really really long time you'd just need to add 1/4 cup of beef broth into the pot first. Add meat, whisk this together and pour on top.
2 tbsp soy sauce
1 tsp oil, brown sugar, and white vinegar
1/2 tsp salt and garlic powder
1/4 tsp pepper
1 tbsp hot sauce totally opt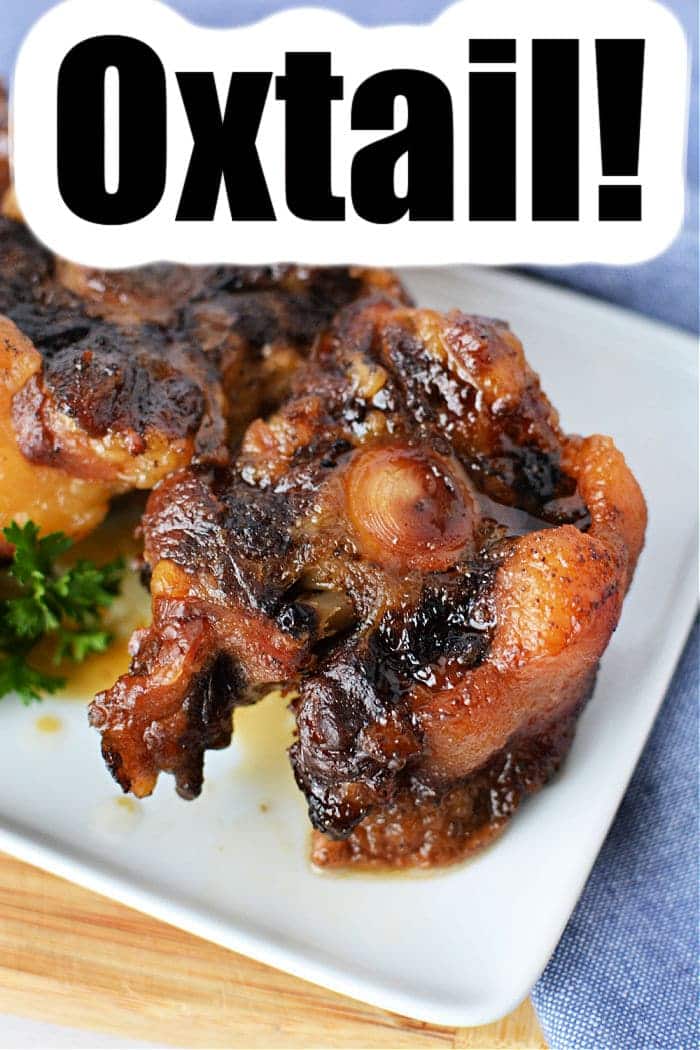 Oxtail Marinade
This is kinda' a cross between a marinade and a dry rub. Because there is just a bit of liquid you can combine it well so it is a bit wet, enough to stick to the outside, but not like a sauce. Whatever you want to call it, it's fabulous.
To do more of a "marinade" just leave on for up to one hour, no more in a sealed bag or covered with plastic wrap. If you want to add heat there are a few options you can choose. You may have your own favorite pick but you can dice scotch bonnet peppers or jalapenos, use buffalo sauce, red pepper flakes or Sriracha.
It will take you less than 15 minutes to whip this whole thing together so you're ready to coat, you'll need;
Salt and pepper are a given to any blend really
Soy sauce makes this a deeper flavor and provides some moisture to stick it all together
Same goes for some Worcestershire sauce in there
Garlic salt and garlic powder (I mean I can't add enough of this stuff to all the things
3/4 tsp allspice sounds weird but a great add in
Minced garlic, yep more is better
Brown sugar brings some sweetness
And then your heat choice if you want to add that, or leave totally mild and not spicy at all. Brown and create your grandma's classic Jamaican oxtail recipe from there.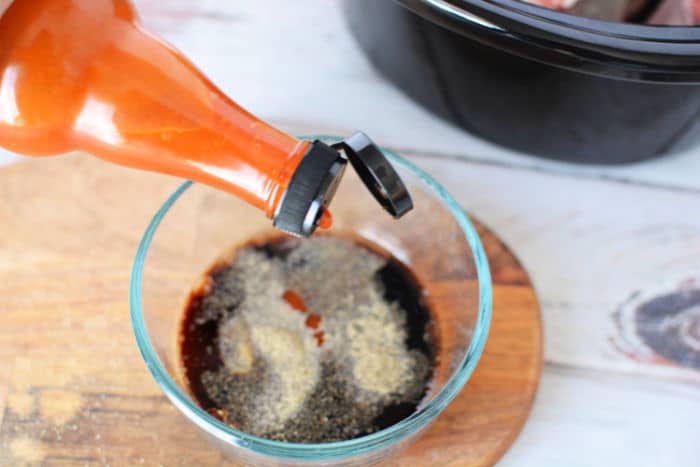 Why do you brown oxtails before cooking
Well you don't HAVE to but especially if you are coating with seasonings it will deepen the flavors if you do. Another important reason why it is a plus is that it will lock in the moisture so they will become as tender as all get out. 😉
Combine all ingredients listed below using a bowl and a wooden spoon. Rinse, dry and coat each piece with herb mixture.

Heat skillet with a lid or dutch oven to medium high.
Add some oil and sear / brown oxtails on all sides to really lock in those flavors.

Remove, set aside. Reduce heat to medium low, add some diced onions (and garlic if you want to add even more) cook until translucent.
Add about 2 cups of water or beef broth is better, to stay moist. Add your oxtails back in there. Bring to a simmer. Reduce heat to low, place a lid on your skillet.
Cook for 3 hours cook time or until meat is fork tender and remove off the bone to enjoy or add into a soup or with mayocoba beans, white rice and peas or butter beans.
At the end you can remove meat, whisk a few tbsp cornstarch and broth in a bowl. Bring liquids in pan to a low boil and whisk rue in to thicken and make a sort of oxtail gravy.
Want to see a few of my favorite things that I am totally obsessed with?? Take a peek and see how many you might already have…twinsies!
Looking for more easy family recipes and tips? LIKE The Typical Mom Facebook page?
Then sign up for my free newsletter, and follow me on Pinterest! 😉
***** If you LOVED this recipe give it 5 Stars below and let everyone know what you thought about it. 😉
Oxtail Seasoning
This oxtail seasoning is the best dry rub you will ever make. Sweet and savory with the option to make it spicy, they'll make your meal great
Instructions
Combine all ingredients into a bowl until combined well. Rinse oxtails and then place on paper towels to remove moisture from the outside. Rub this dry rub on all sides of your pieces.

If you want a more intense flavor you can put on a plate, cover with plastic wrap and put into the fridge for 30 minutes.

Add 2 tbsp. of vegetable oil into a pan on your stovetop to brown both sides and then bake to tender in the oven, pressure cooker, or on the stovetop as you wish.

** this is enough to coat 2-2.5 lbs.
Nutrition Facts
Oxtail Seasoning
Amount Per Serving (0.5 oz)
Calories 38
Calories from Fat 1
% Daily Value*
Fat 0.1g0%
Polyunsaturated Fat 0.02g
Monounsaturated Fat 0.01g
Sodium 1371mg60%
Potassium 55mg2%
Carbohydrates 9g3%
Protein 0.5g1%
Vitamin A 30IU1%
Vitamin C 0.5mg1%
Calcium 15mg2%
Iron 0.4mg2%
* Percent Daily Values are based on a 2000 calorie diet.