Multi colored roasted potatoes in air fryer recipe that will become your new favorite side dish. Tender and delicious baby potatoes with garlic and air fryer onions made in your Cosori or Ninja Foodi are cheap and full of flavor.
Roasted potatoes in air fryer are great as a cheap side dish with dinner. Add some onions and garlic to bring out your favorite flavors. Crispy skins but tender on the outside, it's a favorite air fryer recipe of ours. (affiliate links present, originally published 1/21)
Ninja Foodi Roasted Potatoes
Are you ready for the perfect bite size side dish? These are fun and I love using petite multi colored taters to make it. Who doesn't like purple potatoes anyway right? Your kids will definitely love them I guarantee. Choose this mix you see here or just one of your favorite type diced into bite size pieces.
You can use the bags with different colors like you see here or sometimes they are just all red and small. The biggest difference is the cook time for lighter colors is less and the darker they get, like purple, take longer to get fork tender.
FIRST – You should sign up for my free newsletter so you get new posts emailed to you twice a week and never miss out on anything! If you love air fryer recipes too, here are some resources to start with: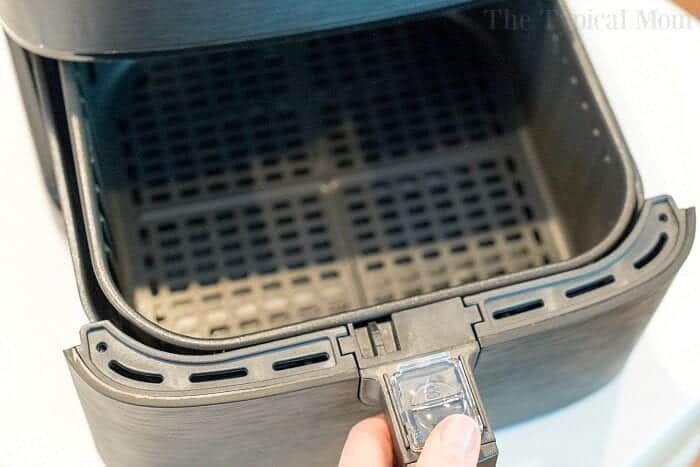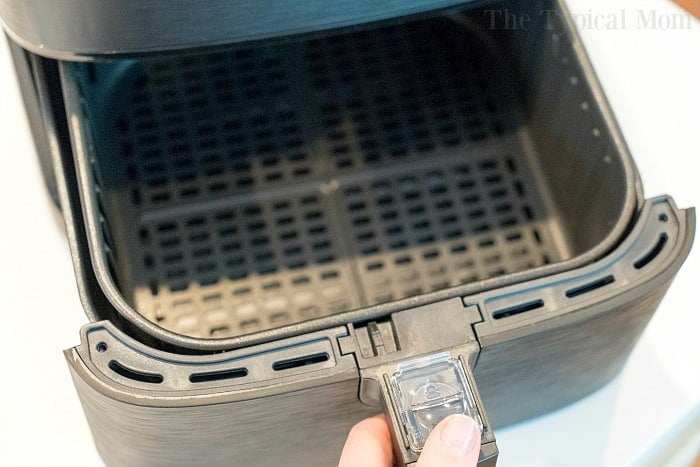 Ninja Foodi Roasted Baby Potatoes
As always olive oil is the key to crisping these little bites of goodness up perfectly. Beyond that you can throw in your favorite seasonings and toss them all together.
If you're new to air frying everything you'll need to learn the number one tip. This is to keep all your food in one layer, overlapping is a no no. Hot air needs to circulate around each piece to get it crispy.
Another important step is to shake the basket when it comes to air fryer diced potatoes like these so they rotate a bit.
Just like in an oven, you'd normally use a spatula to flip each piece over. This is no different except tossing them is a bit easier.
Air Fryer Multi Colored Potatoes
Here are a few questions you might have in mind right about now and a few answers to clarify things.
Can you put foil in an air fryer?
There is no need, actually it will inhibit the air flow and won't work as well. You want the hot air to circulate on the outside of the food and if it is covered with aluminum then it won't get crispy as you'd like.

Air fryer red potatoes just need a bit of olive oil and seasonings to come out perfectly.
Should potatoes be soaked before roasting?
I typically don't. Many who have made my air fryer french fries have chosen to do so.

This takes some of the starch out and makes them crunchier. 30 minutes submerged does the trick.
We did spam and potatoes once and that was great too! Crispy "fried" breakfast or brunch idea for sure. Use what you like but these multi colored ones sure are fun. You can grab a whole bag with them mixed at the store. For under $5 you can try this flavorful side dish that goes with hamburgers, meatloaf and all sorts of things.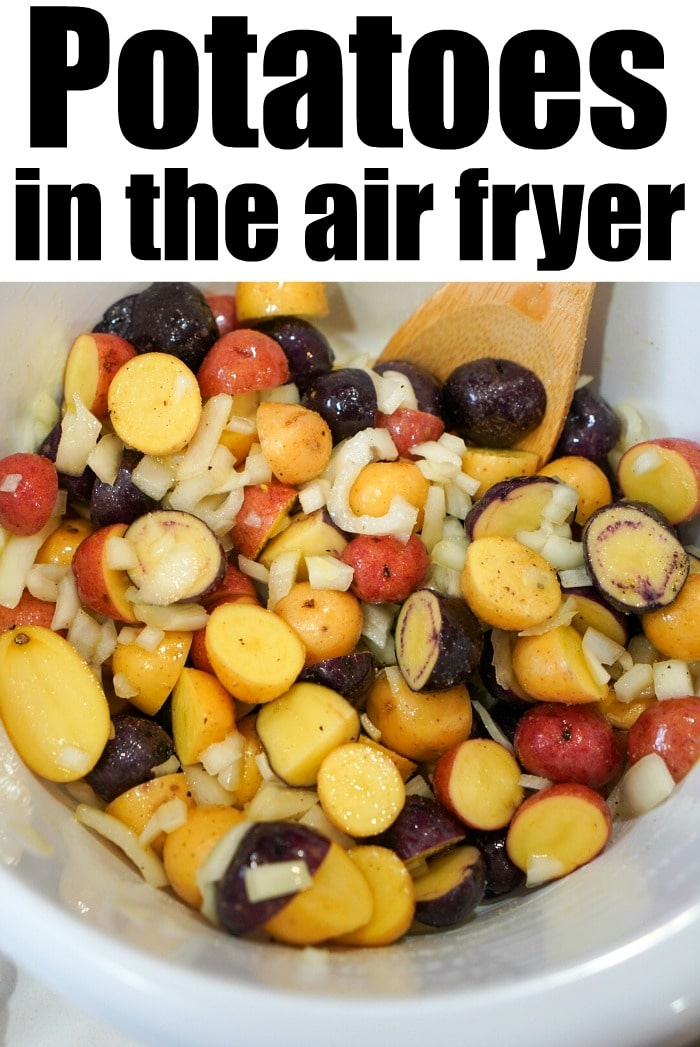 What are the tastiest potatoes?
I chose a bag of petite baby potatoes of different colors because I just thought they'd be more fun. You don't have to choose these. Yellow, russets or red could be substituted or mixed together. Just dice them into bite size pcs.
This is really a subjective question but according to a survey French fingerlings are said to be the most popular and versatile. Used as french fries or made into air fryer hashbrowns are great too.
Air fryer roasted potatoes
These are really quick and easy to prepare. You'll need to cut them into small pieces that are all the same size, that is key. About 1×1″ is the perfect size for the cook time here. Halved if they're small like this.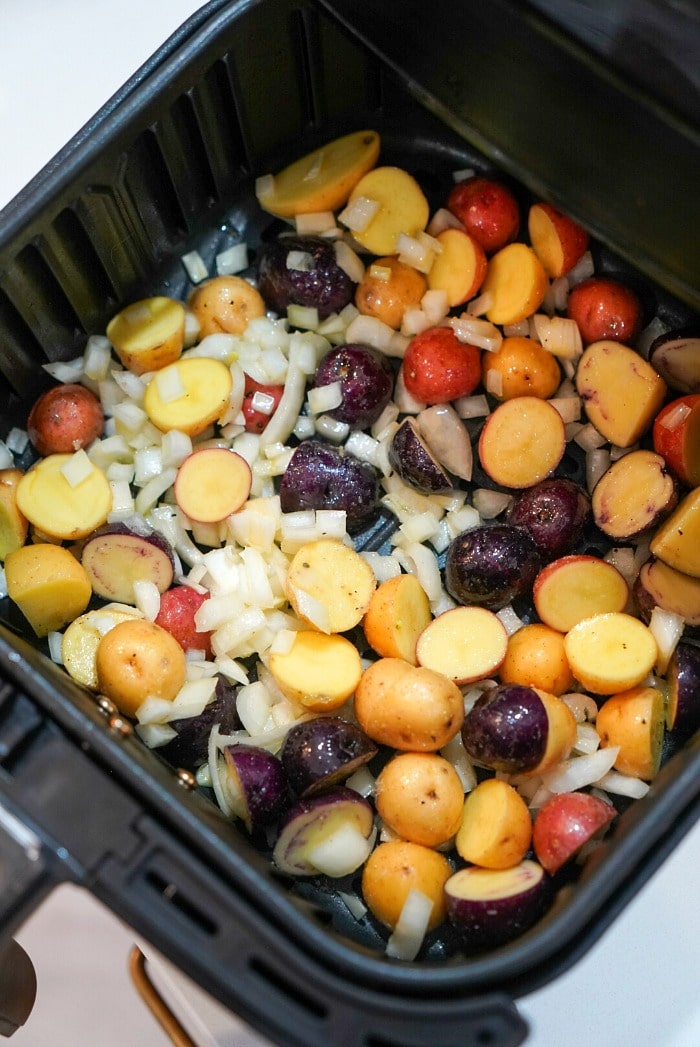 Air fryer potatoes
Here are brief instructions, there's a printable recipe card at the bottom of the post as well.
Time needed: 12 minutes
Air fryer diced potatoes
Preheat

Preheat air fryer to 400 degrees.

Mix ingredients

In a large bowl add rinsed and cubed into the bowl and drizzle with olive oil. Sprinkle on seasonings such as salt and pepper, garlic powder, even cajun seasoning is good for a bit of heat. Toss to coat.

Cook

Pour in half your mixture or enough to fill air fryer basket without overlapping much. Set to 12 minutes and toss after minute 5 and 10. When you toss the potatoes it allows them to crisp perfectly.

Serve

Check after 12 minutes. If they're cut larger they may need longer to soften but under 20 minutes for sure. Serve when they're as tender as you'd like.
They're the perfect side dish with any meal really. This method creates potatoes perfectly crispy on the skins but fork tender inside.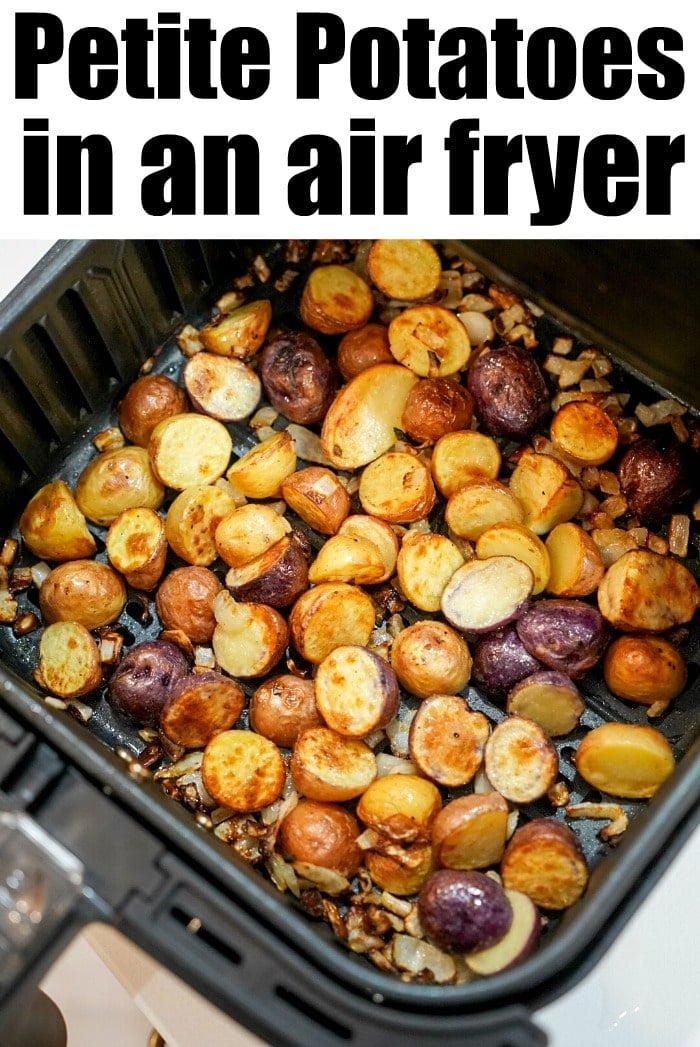 Ninja Foodi Potatoes
I like to add some diced onions and/or shallots into the mixture but that is up to you really. You can re season once they're done but I haven't found the need for more. Serve with Ninja Foodi roast beef or air fryer rump roast for a great dinner idea.
These are a great addition to any meal. Serve them with diced potatoes and carrots together or alone. Potatoes are just so versatile. Okay so I guess I am bias since we are in Idaho but they're pretty amazing.
Looking for more easy potato ideas after you make these? We have a bunch of them.
We used fresh deer jalapeno sausage in this air fryer sausage and potatoes recipe you see here above.
How to cook diced potatoes in air fryer
You could use any precooked links like kielbasa or andouille too. It's a great quick meal with TONS of flavor. Here are a few other faves:
Our easy Shepherd's pie is full of mixed vegetables underneath that layer of homemade mashed potatoes which the kids love.
For the holidays, this cheesy potato casserole with ground beef is just amazing.
Add a bit of chili powder for some heat and Old Bay is always a great choice for seasoning everything.
How long to roast potatoes in Ninja air fryer
Want to see a few of my favorite things that I am totally obsessed with?? Take a peek and see how many you might already have…twinsies!
Looking for more easy family recipes and tips? LIKE The Typical Mom Facebook page?
Then sign up for my free newsletter, and follow me on Pinterest! 😉
***** If you LOVED this recipe give it 5 Stars below and let everyone know what you thought about it. 😉
For a similar dish in your slow cooker, try our Crockpot funeral potatoes with a kick of chips on the top.
Roasted Potatoes in Air Fryer
Roasted potatoes in air fryer recipe that will become your new favorite side dish. Tender and delicious with garlic and onions.
Instructions
Wash and pat dry your potatoes. Slice petite potatoes in half, make sure they're all the same size.

Put sliced potatoes in a bowl with oil and seasonings.

Preheat air fryer to 400 degrees for 5 minutes.

Put half of your mix inside, or the amount that will fit into your basket without overlapping pieces.

Cook for 12 minutes total, shake after 5 minutes.
Nutrition Facts
Roasted Potatoes in Air Fryer
Amount Per Serving (3 oz)
Calories 81
Calories from Fat 45
% Daily Value*
Fat 5g8%
Sodium 782mg34%
Potassium 247mg7%
Carbohydrates 9g3%
Protein 2g4%
Vitamin C 7mg8%
Calcium 20mg2%
Iron 2mg11%
* Percent Daily Values are based on a 2000 calorie diet.