How to make homemade air fryer hash browns for breakfast! Add cheese and ham for a hearty meal that's crispy on the outside with tender shredded potatoes.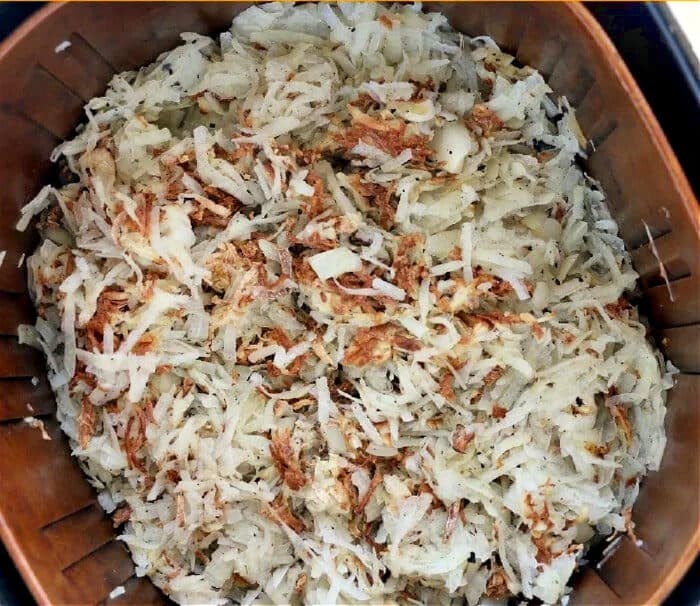 Air fryer hash browns from scratch are perfect for breakfast or brunch, but great for dinner too. With some russet potatoes and some seasonings you too can make this easy air fryer recipe too. (affiliate links present)
Air Fryer Hash Browns from Potatoes
We live in Idaho, so needless to say we make all things potatoes around here. For breakfast or dinner you really can't go wrong with them in any form. Lots of cheese is added to the top of these because sharp cheddar goes with everything in our house. 😉 Serve with air fryer sausage links for the ultimate breakfast feast.
This is just one of the things we have made with taters though. You can cube them into bite size pieces to make dill red potatoes this way which are great as well. In the morning you tend to picture them shredded though like this so we wanted to show you how that was done specifically.
FIRST – You should sign up for my free newsletter so you get new posts emailed to you twice a week and never miss out on anything! If you love air fryer recipes too, here are some resources to start with: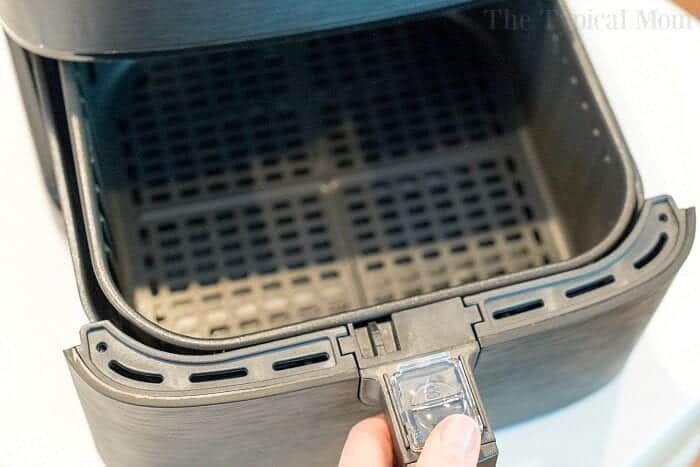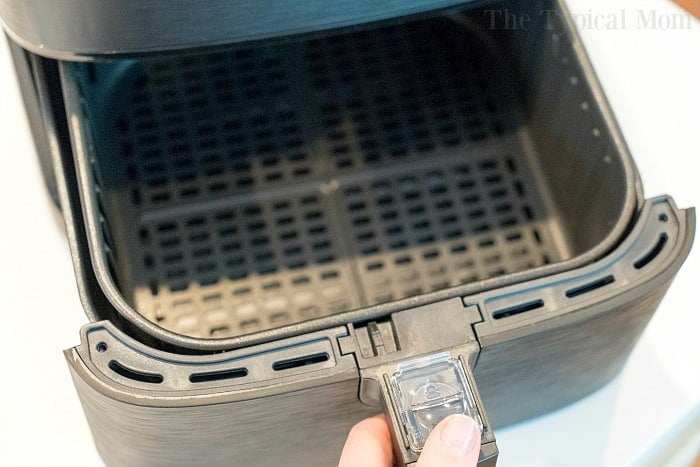 Air Fryer Hashbrowns from Scratch
Yes you can cook a bag of frozen hashbrowns air fryer from the freezer section of your local grocery store, but homemade is better. If however that is all the time you have then simply defrost them on the countertop and just follow our seasonings, timing and temperature. I won't tell you "cheated" a bit this morning. 😉
With either choice though you may want some protein in the mix. You could crack eggs right on to the top a few minutes before they are done. Really. Then close the drawer and let them cook. Soft boiled eggs in air fryer are easier than you'd think. We have done the same thing with diced versions.
Now you could use Yukon Gold or red but russets are the most common for this. Leave the skins off or shred them right off, your choice.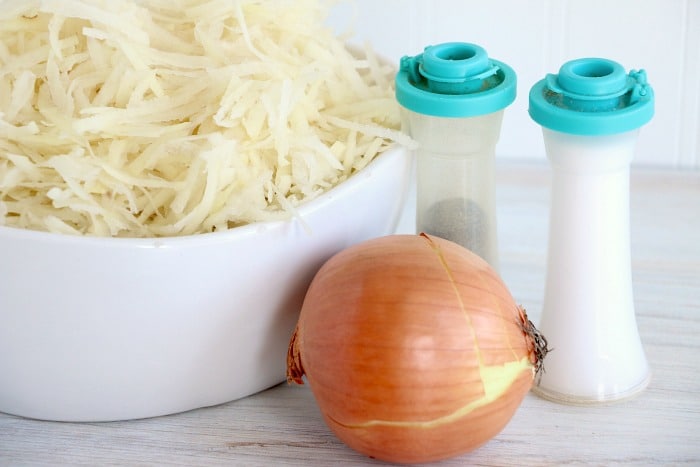 Fresh Hash Browns
Here are a few questions you might have before you get started. If you have anything else in mind you're curious about let us know below, I will try to answer those as well as I can as well.
How do you shred potatoes?
Use a cheese or box grater. Shred just like you would a block of cheese. Fold a few paper towels and put grater on top to catch and absorb moisture.

Make sure you squeeze grated potatoes with a few paper towels when done to eliminate moisture or they won't get crispy.
How do you make crispy hash browns from scratch?
We will explain it to you here. Be sure to remove the moisture after shredding to get them as crispy as possible.
How do you get hashbrowns to stick together?
Mix one egg OR two tbsp. of flour into the mix if you wish. This will allow them to stay together and not fall apart when served. It is not necessary if you want an egg free recipe like we share here.

Cheese melted on the top will do the trick too, that is what we prefer.
How long do you soak potatoes before frying?
In this case we aren't frying them, rather we're using a hot air fryer. Either way after you shred them, soaking in cold water for 20 minutes is helpful to reduce the amount of starch.
Here's what your potatoes in a bowl will look like after soaking and removing moisture with paper towels. Add just salt and pepper or include any other seasonings you love like chili powder and/or Old Bay seasoning.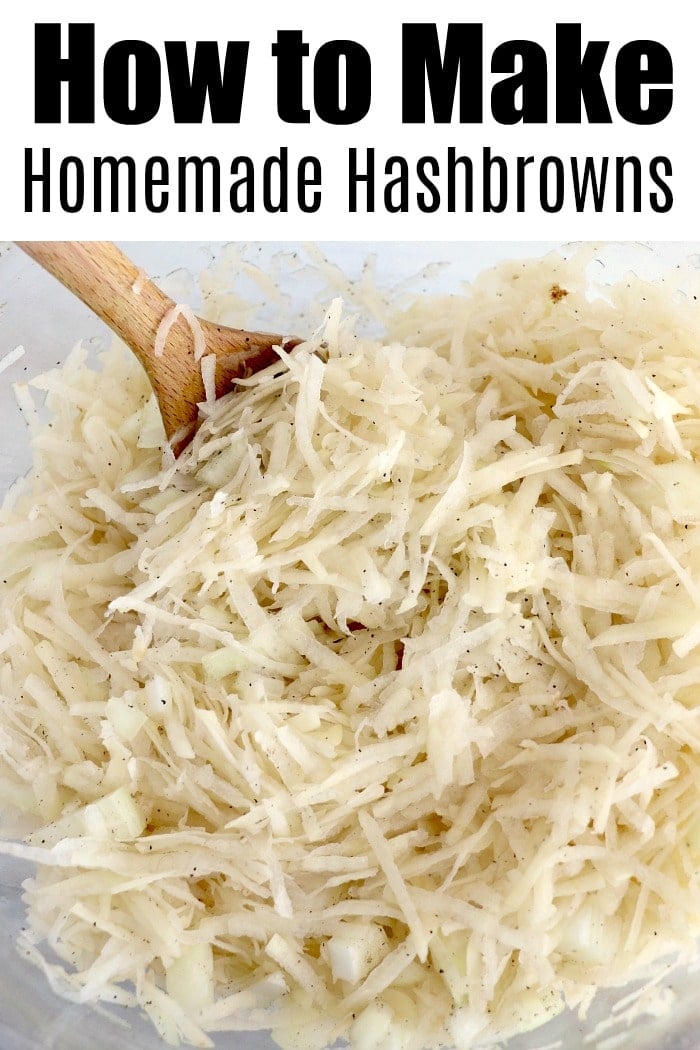 This is literally all you need. If you have some diced leftover ham though, I'd add that to the mix too! Bacon bits work too and any seasonings you would normally add if making this on your stovetop.
Potatoes – shredded, russet was used
Salt and pepper
Onion
Sharp cheddar cheese is optional
How do you cook frozen hash browns?
I personally suggest that you allow them to defrost on the counter before cooking. This will a yield crispier outcome. If you don't have time just make sure they're added into your air fryer basket in one thin layer.
Follow instructions below beyond that. Check once time is up and if you want them more brown spray with some olive oil cooking spray on top and add a few more minutes.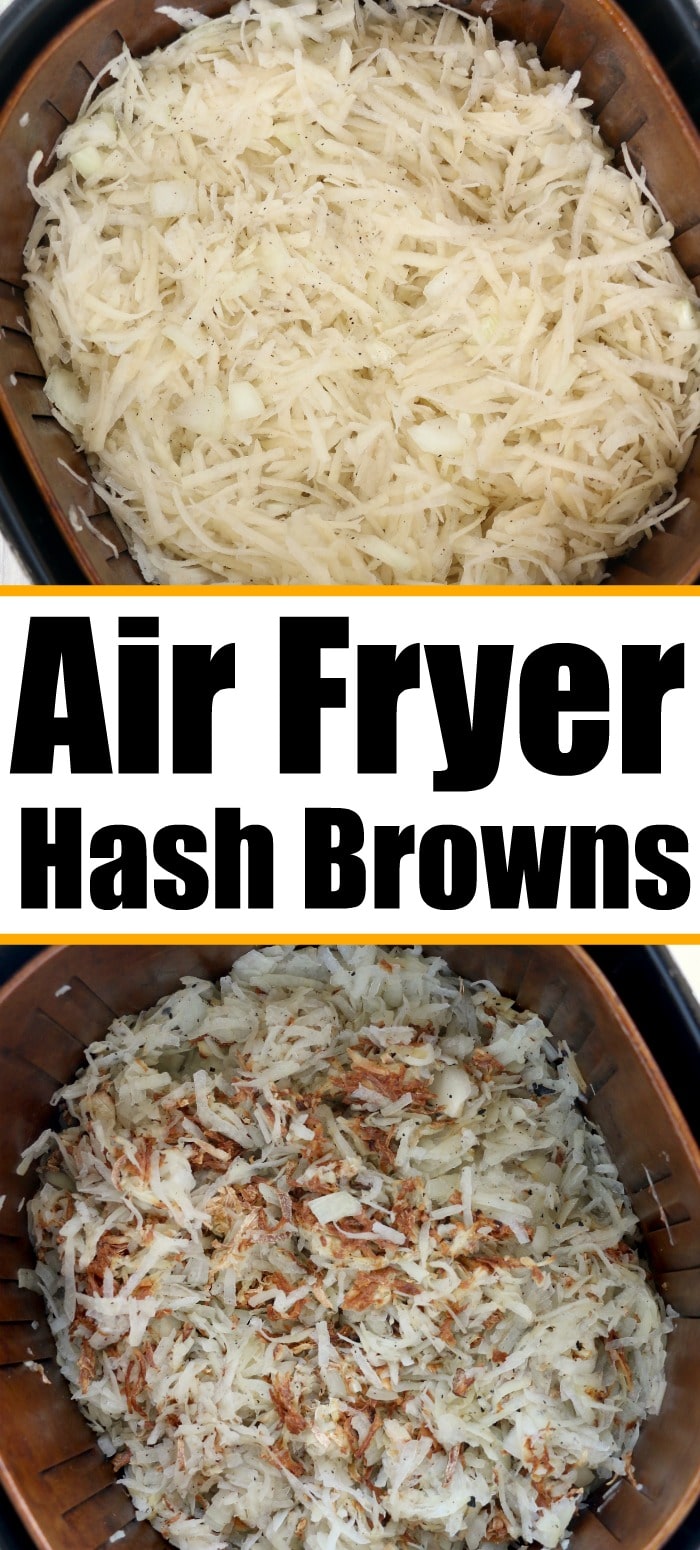 Cook times will vary depending on how thick your potatoes are. The thicker they are the longer they will take to air fry to crispiness. Another tip to follow with this or any other Ninja air fryer recipe is to always preheat the air fryer for 5 minutes. This will help make everything crunchy on the outside.
Ninja Foodi Air Fryer Hash Browns
If you want to make these more like a potato cake recipe I would add an egg into the mix. This will allow ingredients to stick together well like a hamburger patty. Then add cheese, melt, and use spatula to lift each out.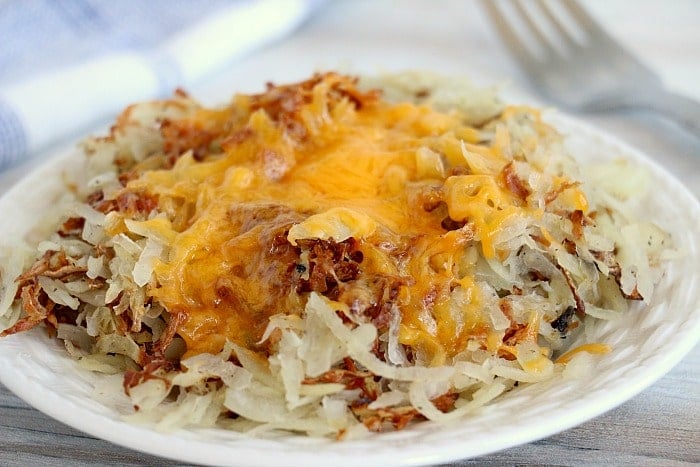 I don't know about you but we make breakfast for dinner quite often. If I have some brats left over from the night before I will dice those up and add them in too. The possibilities are really endless as to what you could add.
What goes good with hashbrowns?
If you ask most kids they would just say "ketchup"!
You could opt to make caramelized onions and add those instead of raw
Cheeses of any kind melted on the top like we did
Browned ground beef is a great add in to amp up the protein for sure.
If you'd rather make air fryer breakfast potatoes we have a great recipe for those too.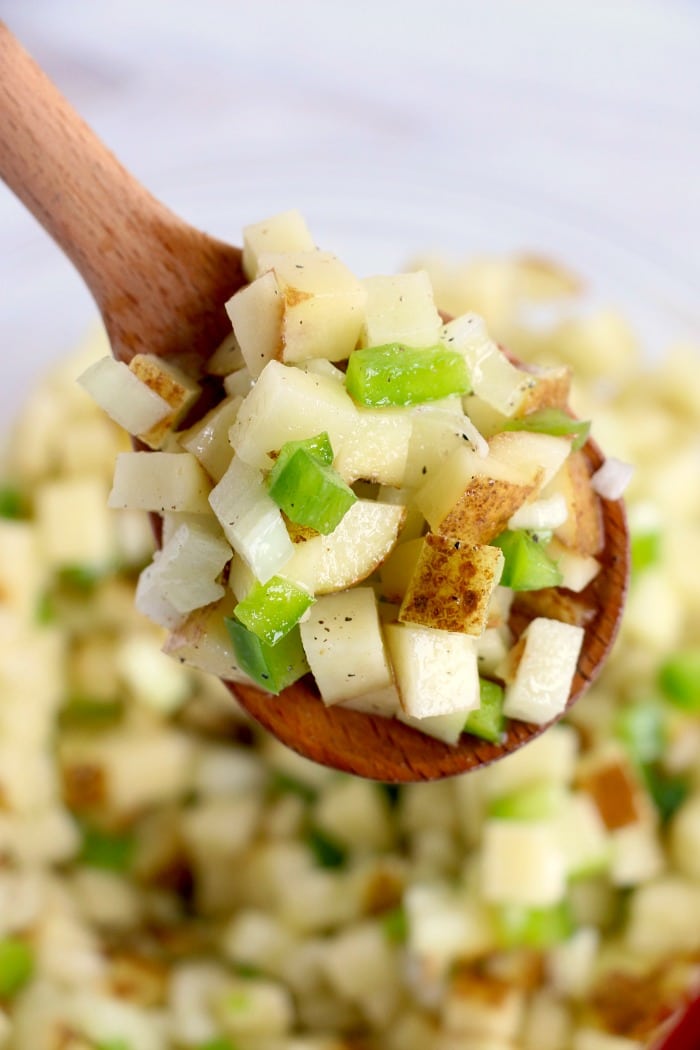 Homemade Air Fryer Hashbrowns
Here are quick step by step directions, but there is a printable recipe card at the bottom as well. First you peel and shred russet potatoes. Soak in cold water for 20 minutes, then drain and lay on pile of paper towels. Wrap it up and squeeze over the sink to remove excess liquid.
Then preheat your air fryer to 400 degrees F for 5 minutes.
Put shredded and dried potatoes in a bowl with onions any seasonings you'd like and mix.
Put a thin layer of shredded potatoes in air fryer basket for 20 minutes total, shaking every 5 minutes. If you choose to add cheese, add it before the last 3 minutes so it can melt.
If you are looking for other easy potato recipes we have more here too.
Want to see a few of my favorite things that I am totally obsessed with?? Take a peek and see how many you might already have…twinsies!
Looking for more easy family recipes and tips? LIKE The Typical Mom Facebook page?
Then sign up for my free newsletter, and follow me on Pinterest! 😉
***** If you LOVED this recipe give it 5 Stars below and let everyone know what you thought about it. 😉
Air Fryer Hash Browns
How to make homemade air fryer hash browns for breakfast! Add cheese and ham for a hearty meal that's crispy on the outside with tender shredded potatoes.
Ingredients
Instructions
After peeling and shredding the potatoes, let them soak in cold water for 20 minutes. (This will help removed the starch from the potatoes which will make them get crispy when cooking and not mushy.)

Drain potatoes and remove as much water as possible. Lay on a stack of paper towels and squeeze to remove moisture. Combine potatoes, onions, salt, and pepper in a large bowl.

Mix well. Add mixture to your greased air fryer basket. Air fry at 400ºF for 20 minutes, stirring every 5 minutes.

Top with shredded cheese if you choose and air fry for 2-3 minutes until it melts. Alternatively you can transfer to a plate and melt cheese in the microwave.
Nutrition Facts
Air Fryer Hash Browns
Amount Per Serving (3 oz)
Calories 84
Calories from Fat 54
% Daily Value*
Fat 6g9%
Cholesterol 20mg7%
Sodium 505mg22%
Potassium 45mg1%
Carbohydrates 2g1%
Protein 5g10%
Vitamin A 189IU4%
Vitamin C 1mg1%
Calcium 140mg14%
Iron 1mg6%
* Percent Daily Values are based on a 2000 calorie diet.