Sausage links in air fryer are easier than using your stove and turn out way better too! Crispy on the outside and tender pork on the inside. If you are looking for how to cook sausage patties in air fryer we have that method too so you can make both!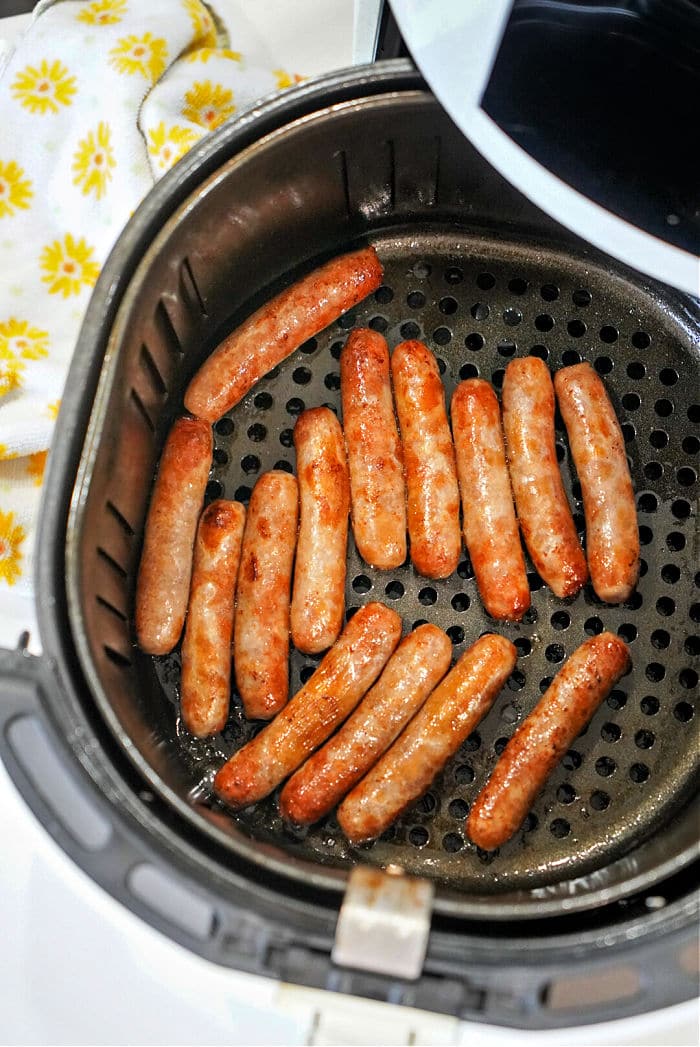 I bet you're ready to make sausage links in air fryer right about now right?? OH yes, they turn out better than any other method we've ever tried and so fast too! Just one easy air fryer recipe hack on The Typical Mom blog. (affiliate links present, originally published 6/21)
Air Fry Sausage Links
For the last few months we've made bacon and these on our Blackstone 22 griddle. That takes a fair amount of prep, warming up, cleanup, and this is just SO much easier my friends. Only a few minutes to heat this baby up and it won't make your kitchen hotter either.
This is hardly the only thing you should make for breakfast though. You can make air fryer egg bites or bacon in air fryer at the same time if you want. That is right, if it is just the two of you most of these have similar cook times so go for a few of each!
FIRST – You should sign up for my free newsletter so you get new posts emailed to you twice a week and never miss out on anything! If you love air fryer recipes too, here are some resources to start with: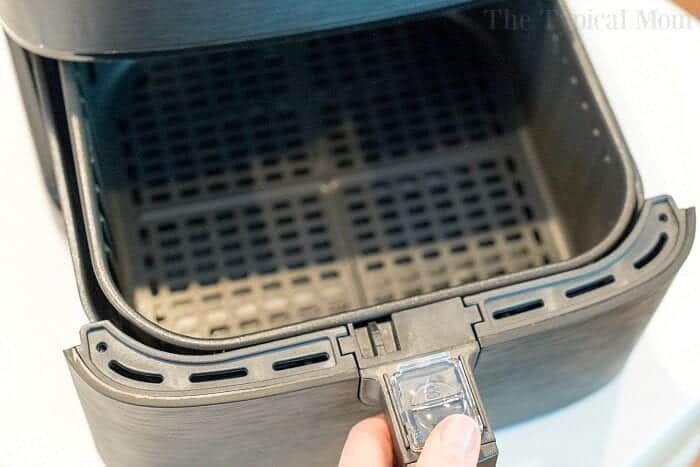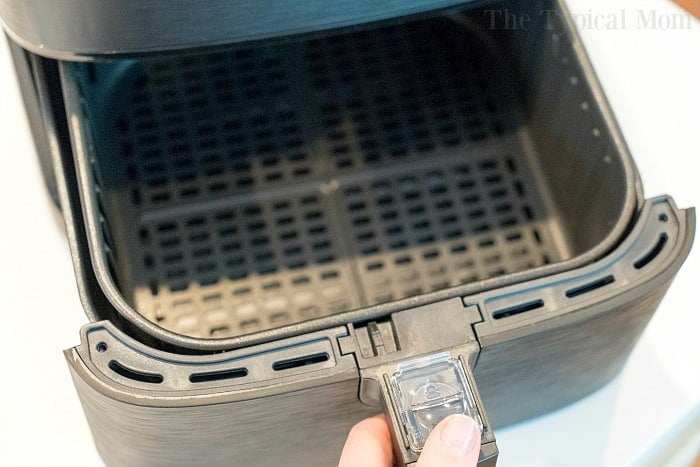 Air Fryer Sausage Links
What are the best sausage links?
That depends on your preference, we love the maple versions no matter what brand they are. Johnsonville is the most popular and come in raw (like this) or already fully cooked.
Sausage Links in Air Fryer Frozen
Often times all I have on hand are frozen sausage links, large or small. They come out great too and surprisingly doesn't take much more time than if you took the time to defrost them first.
What are sausage links made of?
I mean do you really want to know or do you just want to allow yourself to enjoy them?? They are a mixture of ground meat (typically pork), fat and a variety of seasonings. Some are spicy, others come mild. I have a few different brands of machines I use. My Cosori was the first, Foodi and this AirWave. They all use the same timing and temp listed here.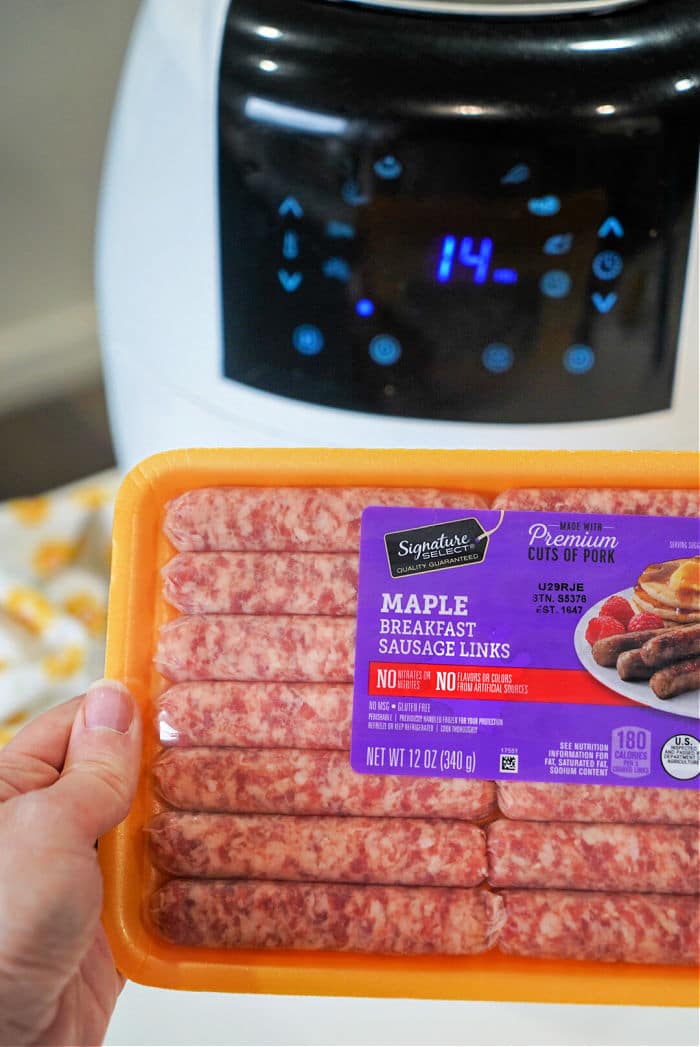 Ninja Foodi Sausage Links
You can use any brand of machine, our Ninja Foodi works great for these too. If yours are precooked it would only take 2-3 minutes since you're just rewarming them up essentially. Working with raw pork will take longer. That is what we chose this go around, and almost always.
Checking the internal meat temperature is important but really if you cut one in half you can tell if it is done. It will no longer be pink or translucent in appearance rather it will be more of a grey color.
Of course if yours are much wider or thicker than you see here, cook times will need to increase. Most come in the same size you see here, there is typically very little variation no matter what brand you choose. I just grabbed the store brand this time.
Cooking Sausage Links
You literally need nothing more than just some non stick spray to prepare these. Honestly if you ran out of that you'd probably be fine anyway too as they'll emit a bit of grease as they cook too and most likely won't stick. I just do it because it's easier to clean at the end no matter what I throw in this thing….
Preheat air fryer to 400 degrees for 5 minutes.
Spray inside of air fryer basket with non stick spray. Place raw links inside in a single layer.
Cook the sausage links for 7-8 minutes, shaking basket halfway through until outsides are browned and inside is no longer pink.

8-10 minutes for thicker versions

When you air fry sausage patties they will take about 8 minutes (depending on thickness) and will need to be flipped halfway through.
Using the Instant Pot air fryer lid would be similar timing as well. Total time including preheating you're down for 15 minutes and the huge plus is that it is a hands free air fryer breakfast.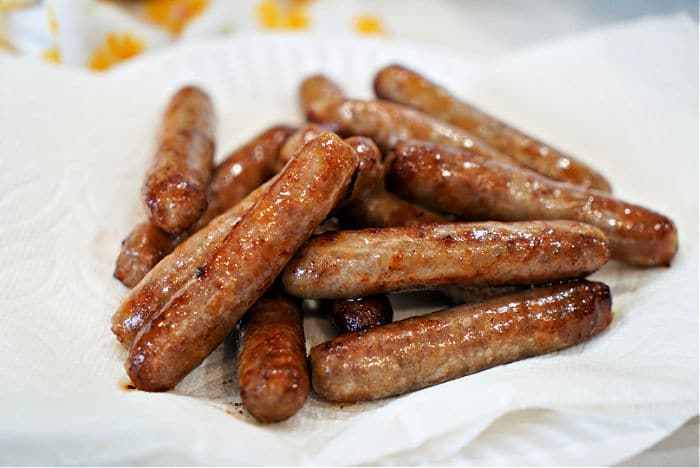 What should I serve with sausages?
Well typically these are served for breakfast, or when treating the kids and having breakfast for dinner! This is what we usually add on as other items to eat with them;
Air fryer breakfast potatoes can be made cheesy or regular with diced onions
Hashbrowns in the air fryer can be homemade or thawed out and pre-made bought frozen and bagged.
You can make donut holes in air fryer as a real treat, or use tubes of refrigerated Pillsbury goodies and cook air fryer cinnamon rolls for sweetness instead.
If you are looking to cook full size Italian sausage or frozen sausage like you see here, follow our Ninja Foodi sausage in the air fryer timing. They still cook much faster than smoked brats or on the stovetop so this is how we prepare these as well.
Can you reheat cooked sausages?
Totally. To save leftovers make sure they are room temperature and save inside freezer bags in your fridge. Then throw them back into your machine for 2 minutes to reheat, or use your microwave for 45 seconds or so. I prefer the first option because they will get nice and crispy on the outside again which is a no brainer.
Jimmy Dean Sausage Links in Air Fryer
There are many brands out there so choose whichever you like. These were raw and not precooked when you buy them, those wouldn't take as long. You can even add a few eggs into the basket and cook everything together in one short air fry session.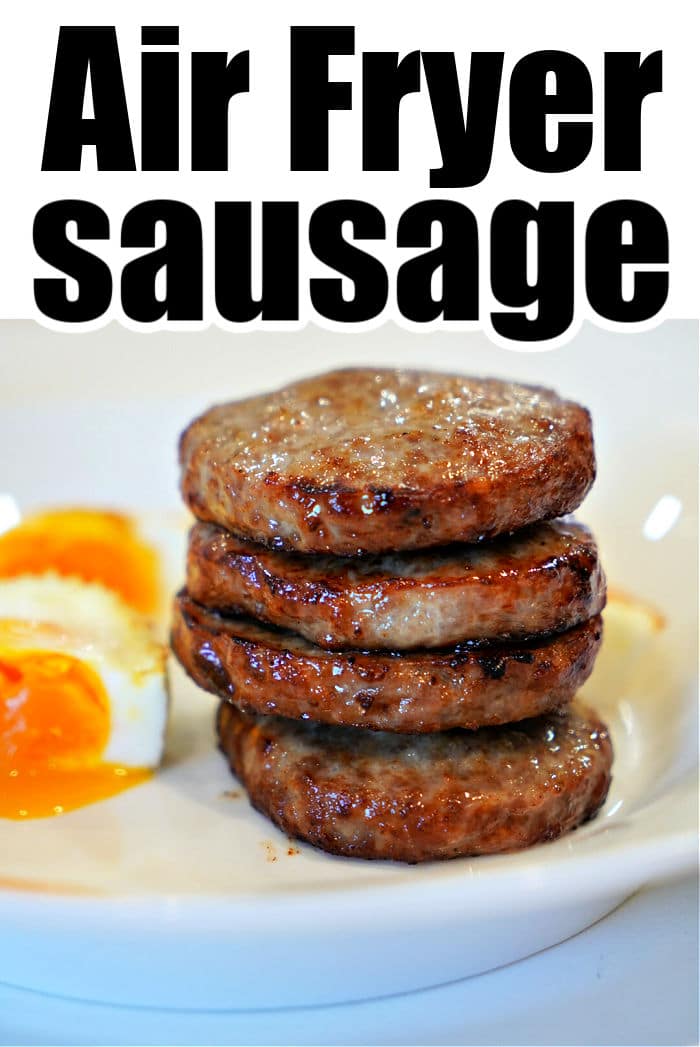 Want to see a few of my favorite things that I am totally obsessed with?? Take a peek and see how many you might already have…twinsies!
Looking for more easy family recipes and tips? LIKE The Typical Mom Facebook page?
Then sign up for my free newsletter, and follow me on Pinterest! 😉
***** If you LOVED this recipe give it 5 Stars below and let everyone know what you thought about it. 😉
Sausage Links in Air Fryer
Sausage links in air fryer are easier than using your stove and turn out way better too! Crispy on the outside and tender pork on the inside.
Instructions
Preheat air fryer to 400 degrees for 5 minutes.

Spray inside of basket with non stick spray. Place links inside and make sure they don't overlap.

Air fry for 7-8 minutes, shaking basket halfway through until outsides are browned and inside is no longer pink.
Nutrition Facts
Sausage Links in Air Fryer
Amount Per Serving (2 oz)
Calories 122
Calories from Fat 99
% Daily Value*
Fat 11g17%
Cholesterol 29mg10%
Sodium 254mg11%
Potassium 99mg3%
Protein 6g12%
Vitamin A 30IU1%
Vitamin C 1mg1%
Calcium 4mg0%
Iron 1mg6%
* Percent Daily Values are based on a 2000 calorie diet.