Smoked brats are a delicious lunch or dinner idea you can make in your pellet or electric smoker this week! If you haven't smoked sausage yet, try this!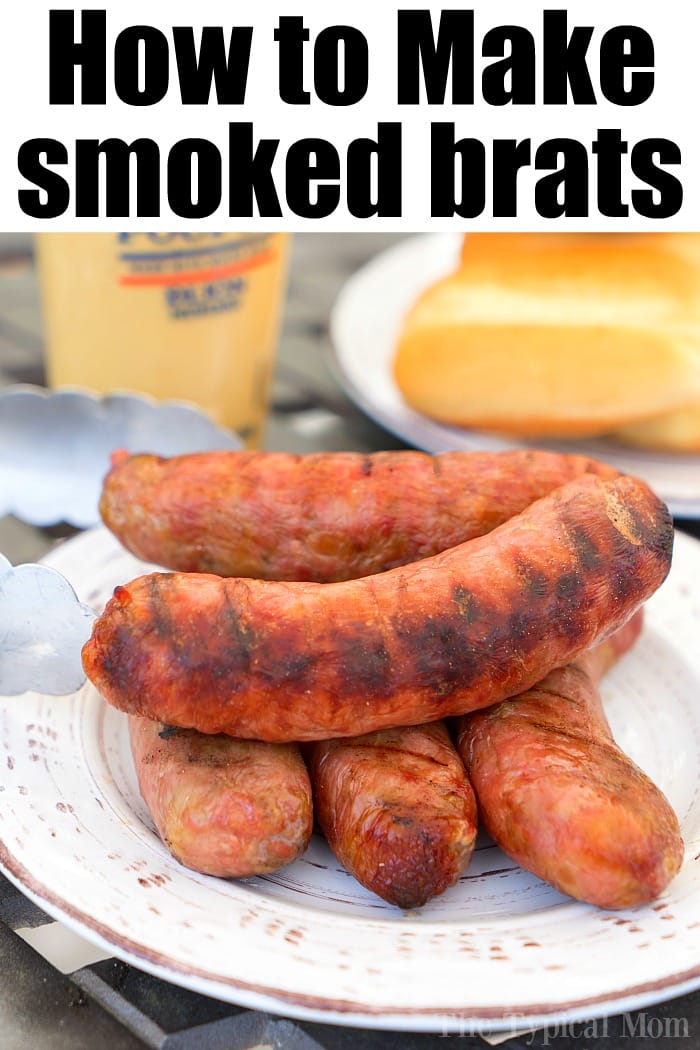 These smoked brats came out so good for lunch so we thought we'd share them with you today! We are all about creating new smoker recipes here at The Typical Mom now that the sun is shining again. (originally published 5/19, affiliate links present)
Traeger Brats
It actually doesn't matter what brand you have, we actually started with an electric smoker and now use a Green Mountain grill/smoker ourselves.
Here they are done at the top, and where they started that afternoon below. Yes they start out raw.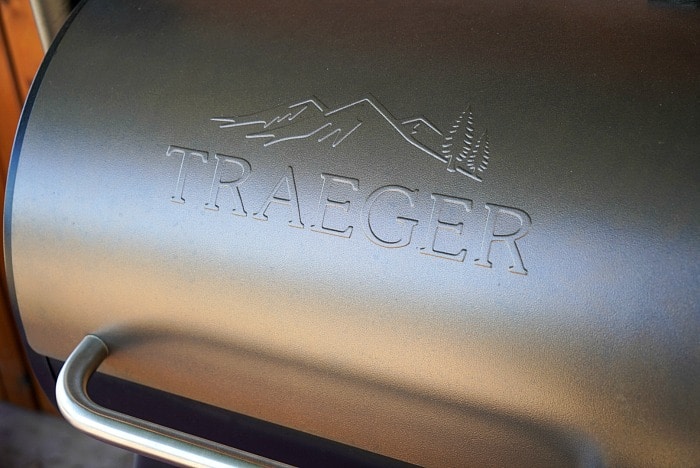 Johnsonville Smoked Brats
We're not reheating them, they're being cooked. Ready to soak up that smoky flavor.
We've cooked bratwurst many ways but this is probably my favorite. They get tender on the inside, with a great applewood flavor but still maintain that snap of the outer skins I love. There are many brands out there to choose from.
How long does it take to smoke sausage at 225?
You have two options. If you choose to cook your sausages at a lower 225 temperature then it will take approximately 2 hours, flipping halfway through.
We have also smoked them at 350 degrees for just 30 minutes, turning them after 15 minutes, and they've turned out great.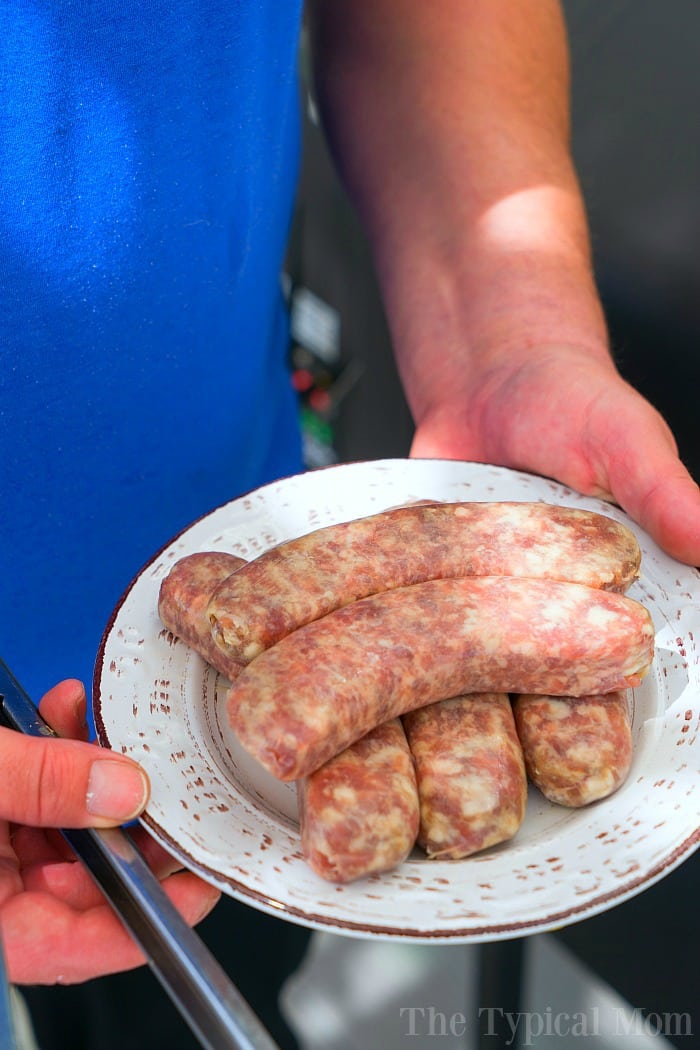 Bratwurst on Traeger
This is personal preference, and how much time you have as well. The general rule of smoking meats is the lower the temp. and the longer your meat is in there, the smokier the flavor will be.
I would say this is very true, but when you're smoking bratwurst I feel an hour still gives it a great flavor.
Now for something like our smoked pork recipe, it does matter because the meat is so much thicker.
With thinner items like these and our smoked bacon I feel like you can go for the shorter time and higher temp.
Speaking of bacon, next time we are going to make bacon wrapped brats and we will share the photos once we do that!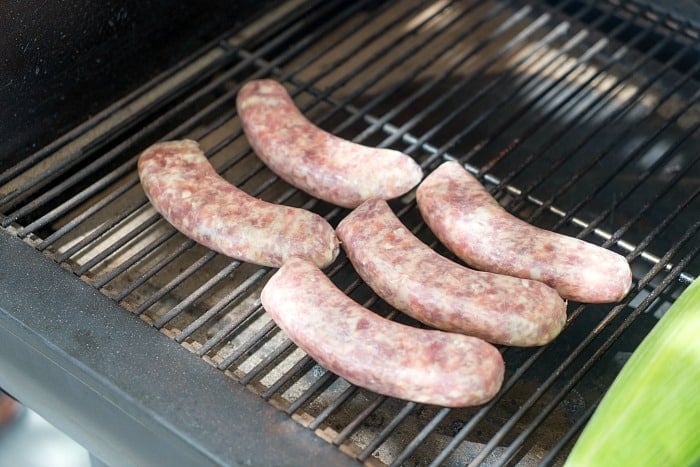 How do you smoke Johnsonville brats?
Step 1 – Of course you can use any brand you'd like, this is just what we chose. We like the sweet style, but their beer brats are great too!
Now you're going to want to preheat your smoker / grill to 350 degrees if you want a shorter cook time, or 220 for a longer smokier flavor. We use hickory or apple pellets or wood chips to achieve a great smoke flavor.
Step 2 – Open your package of sausages and place them on to your grate once you have a hot grill. Do not overlap them.
Step 3 – Close your lid and set a timer for yourself. If you set to 350 you will flip after 15 minutes. If your smoker is at 225 degrees you will flip after 60 minutes.
Step 4 – Continue cooking for the remainder of time and then remove. Check internal temperature to ensure they are fully cooked inside. This meat smoking chart shows pork needs to be at 180 degrees to be safe.
Then enjoy your smoked brats!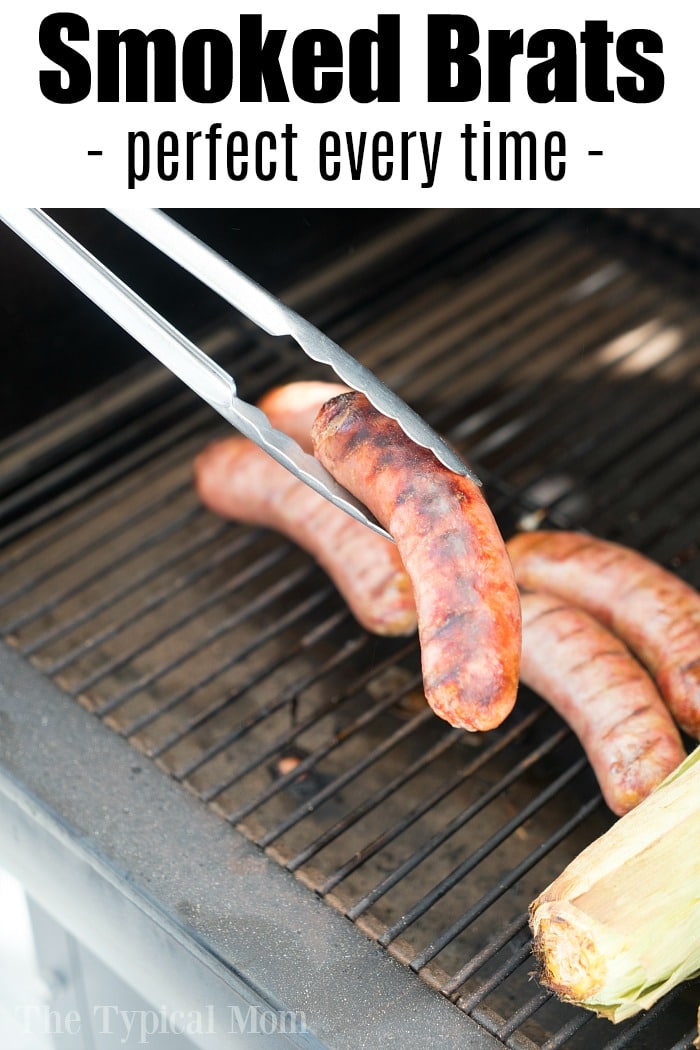 This whole process will probably take you 45 minutes from start to finish including the time it will take you to get your smoker up to the right temperature.
Now that you're done you need to add "all the things" right??
What condiments do you put on a bratwurst?
Serve them inside hoagie rolls
Good toppings for brats:
Some insist on Swiss cheese on top and let it melt, then eat.
Other easy smoker recipes you will love:
Smoked sausage and cabbage is amazing.
Our smoked beer can chicken gets thumbs up every time we make it.
Smoked burgers are cheap and easy to do.

and smoked steak
If you're smoking ribs make sure to remove the membrane for the tenderest meat ever!
You can try our air fryer sausage and potatoes recipe too this week!
Want to see a few of my favorite things that I am totally obsessed with or visit my Etsy shop?? Take a peek and see how many you might already have…twinsies!
Looking for more easy family recipes and tips? LIKE The Typical Mom Facebook page?
Then sign up for my free newsletter, and follow me on Pinterest! 😉
***** If you LOVED this recipe give it 5 Stars below and let everyone know what you thought about it. 😉
Smoked Brats
Smoked brats are a delicious lunch or dinner idea you can make in your pellet or electric smoker this week! If you haven't smoked sausage yet, try this!
Ingredients
6

brats

or more, this is how many we cooked
Instructions
Preheat your smoker to 350 degrees. We used hickory pellets to make these, apple works well too. If you want a longer smoke set to 225.

Place your raw brats on your grill grate and close lid. After 15 minutes lift lid and flip each one over on to the other side. If you set to the lower temp then flip after 1 hour.

Smoke for an additional 15 minutes. Remove and serve! Lower temp takes a total of 2 hours.
Nutrition Facts
Smoked Brats
Amount Per Serving (3 oz)
Calories 219
Calories from Fat 171
% Daily Value*
Fat 19g29%
Cholesterol 48mg16%
Sodium 558mg24%
Potassium 229mg7%
Carbohydrates 1g0%
Protein 9g18%
Calcium 18mg2%
Iron 0.3mg2%
* Percent Daily Values are based on a 2000 calorie diet.