Smoked beer can chicken is so amazing! Whether you have a pellet or electric smoker you'll love how easy a whole chicken is to cook. Get ready!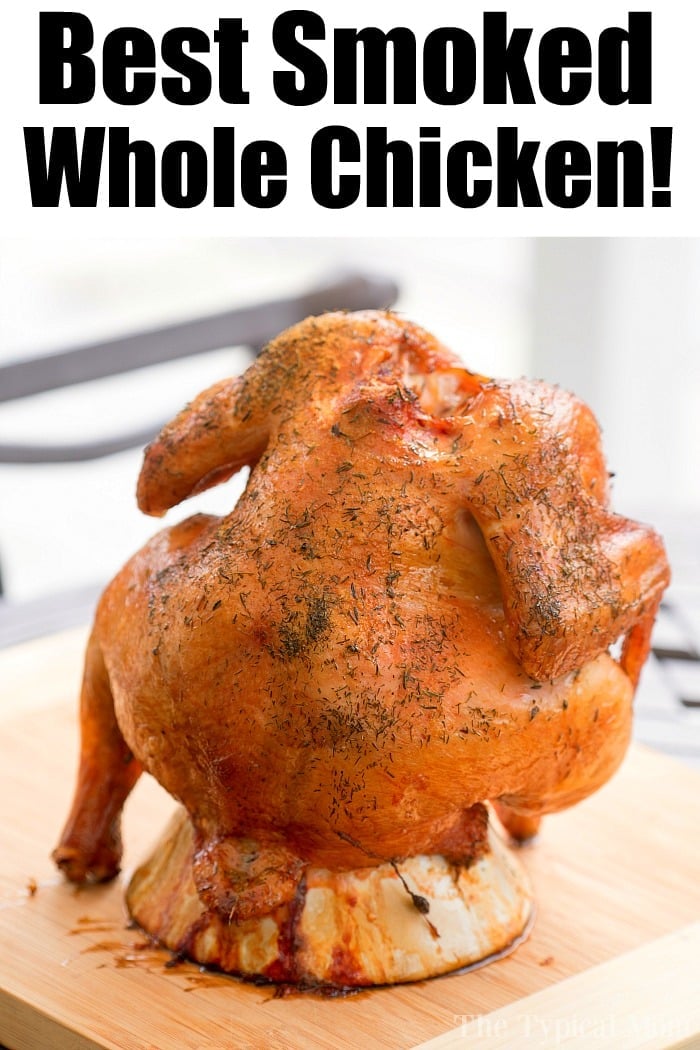 Have you made smoked beer can chicken yet??!! We are obsessed! With tender flavorful meat inside and crispy smoky flavored skin on the outside, it will become one of your favorite easy smoker recipes too. (originally published 4/19, affiliate links present)
Beer Can Smoked Chicken
OH MY I wish this screen had smell o vision or something. There is nothing like a smoked whole chicken y'all. By far one of the best meats to smoke you will ever try. Easy prep and no work on your part other than throwing it on the grates.
This is a stick it in and forget it kinda' meal y'all. If you have only done this "hack" on your bbq this is the next step to bring this meal to the next level. Try it!
We started this journey creating a lot of electric smoker recipes. Those will work too if you're looking for more ideas.
FIRST – You should sign up for my free newsletter so you get new posts emailed to you twice a week and never miss out on anything!
To get your meats absolutely perfect we have this printable meat smoking chart to refer to so each and every time it will be fork tender.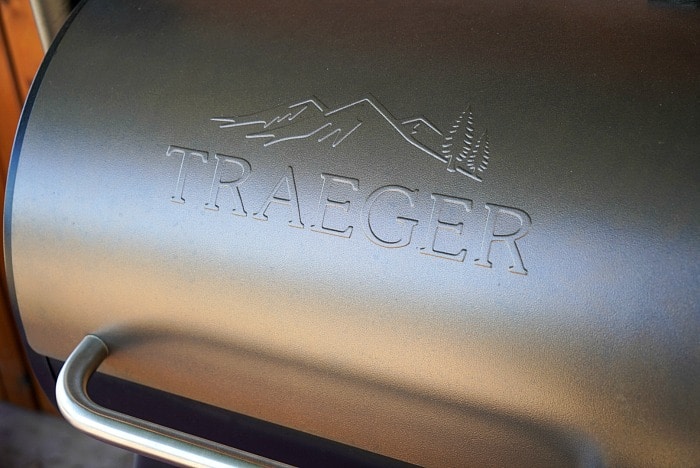 Traeger Whole Chicken
This will work with any brand you have. An electric Charbroil, pellet Green Mountain, I mean there are a lot of choices out there. Some have a higher price point but don't necessarily work better. Don't go super cheap though or they have a problem really locking in that heat.
Ok so we didn't technically put our whole chicken on top of an actual beer can.
BUT let us explain to you why.
It's not steady enough, you need to use this chicken stand.
Don't worry because you still use beer and the flavor is there, you just pour it inside. Use as is right out of the package for a quick method or take it a step further with our simple brine. You would make that the day before and soak overnight for flavor, flavor, flavor y'all.
Smoked Whole Chicken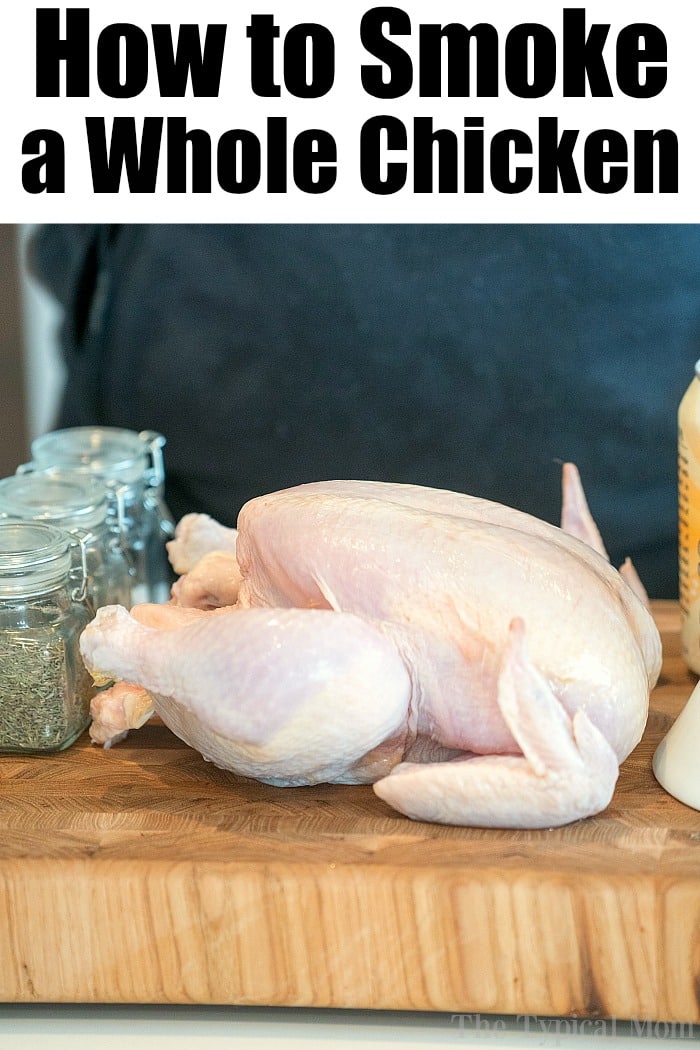 Beer Can Chicken Smoker
So…let's get started. First you'll want to get your smoker preheated to 350 degrees so it's ready when you are. Then you'll want to get some beer can chicken rub mixed together:
1 tbsp Kosher salt, pepper, and rosemary
2 tsp thyme, and dill (jarred or fresh, we used dry)
You'll also need olive oil and we like 1 tbsp of minced garlic to rub on too.
Of course if you have your own favorite rub you put on every whole chicken you bake then by all means use that.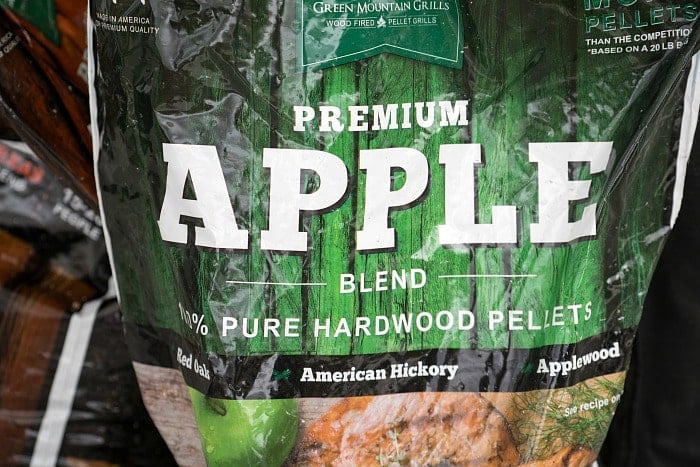 Traeger smoked beer can chicken
Ok so I did not exactly use an actual beer can. Reason I didn't is that is narrower and more likely to fall over. For this reason I think the throne is so worth it. Then you can add any sort of liquid you prefer inside.
This chicken throne
Beer – or broth if you'd rather, but seriously go with the beer

I don't drink beer but I still use it because it lends a lot of flavor to the meat

A whole chicken
Seasonings of your choice or use the dry rub recipe we used to make chicken wings if you like
A meat thermometer

So you can ensure it reaches the correct internal temperature
You'll need smoker pellets or wood chips if you have an electric smoker. Either type will work. Either way we prefer apple flavor and have both types of smokers. This time we made it in our Green Mountain pellet grill and smoker. We have a Traeger and Charbroil electric version as well.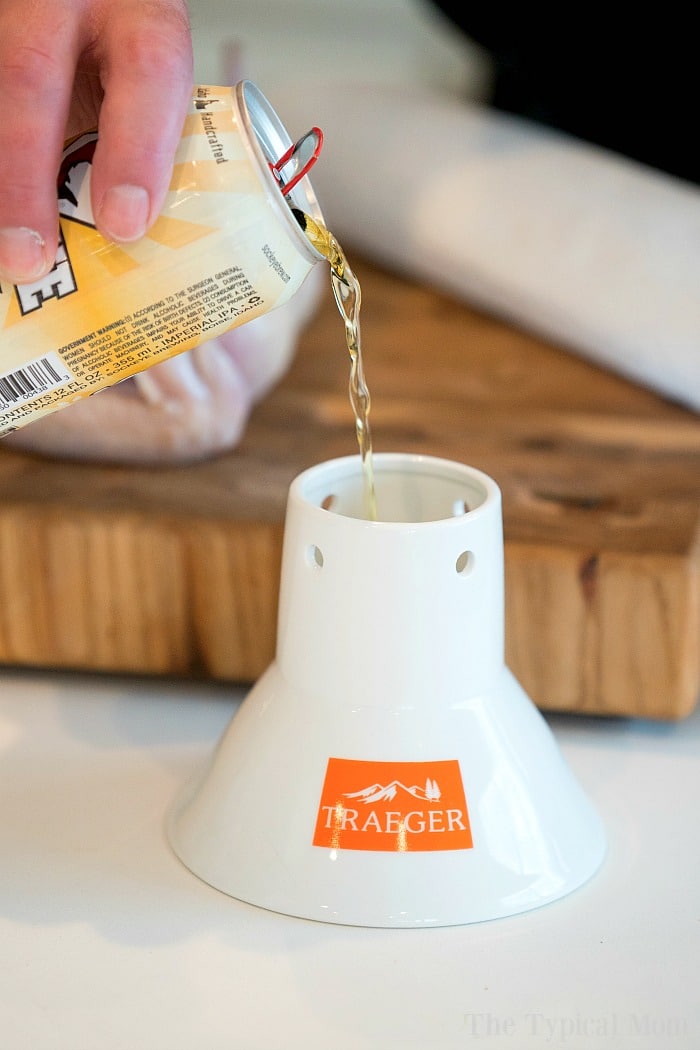 Whole Chicken on Smoker
Then you'll need to get your chicken ready to be rubbed down. 😉 I have a printable recipe card at the bottom of this post but here is a quick step by step to peek at:
First you'll want to preheat your pellet or electric smoker to 350 degrees F. so it's ready once your whole chicken is prepped.
Pour beer into your chicken stand. Rinse the chicken and pat dry with paper towels. Take everything out of the cavity of the chicken (if there is anything in there).
Now pour your beer into your chicken stand. Rinse the chicken and pat dry with paper towels. Take everything out of the cavity of the chicken (if there is anything in there).
Rub or spray olive oil on the outside of the skin. Then mix together the ingredients for your dry rub and cover the outside well. Sit your chicken on top of it's throne.
Open preheated smoker and place throne with chicken on top in the center of the grates. Cook for 2 hours or until the internal temp in the middle of the thigh is at least 165 degrees F. Allow bird to rest off of heat for at least 10 minutes before slicing and serving.
We show a few quick photos here as we prepare ours to be cooked. I will tell you that the meat comes out pink but cooked inside. It is the most AMAZING flavor with the smoky flavors and salty sweet rub on the skin.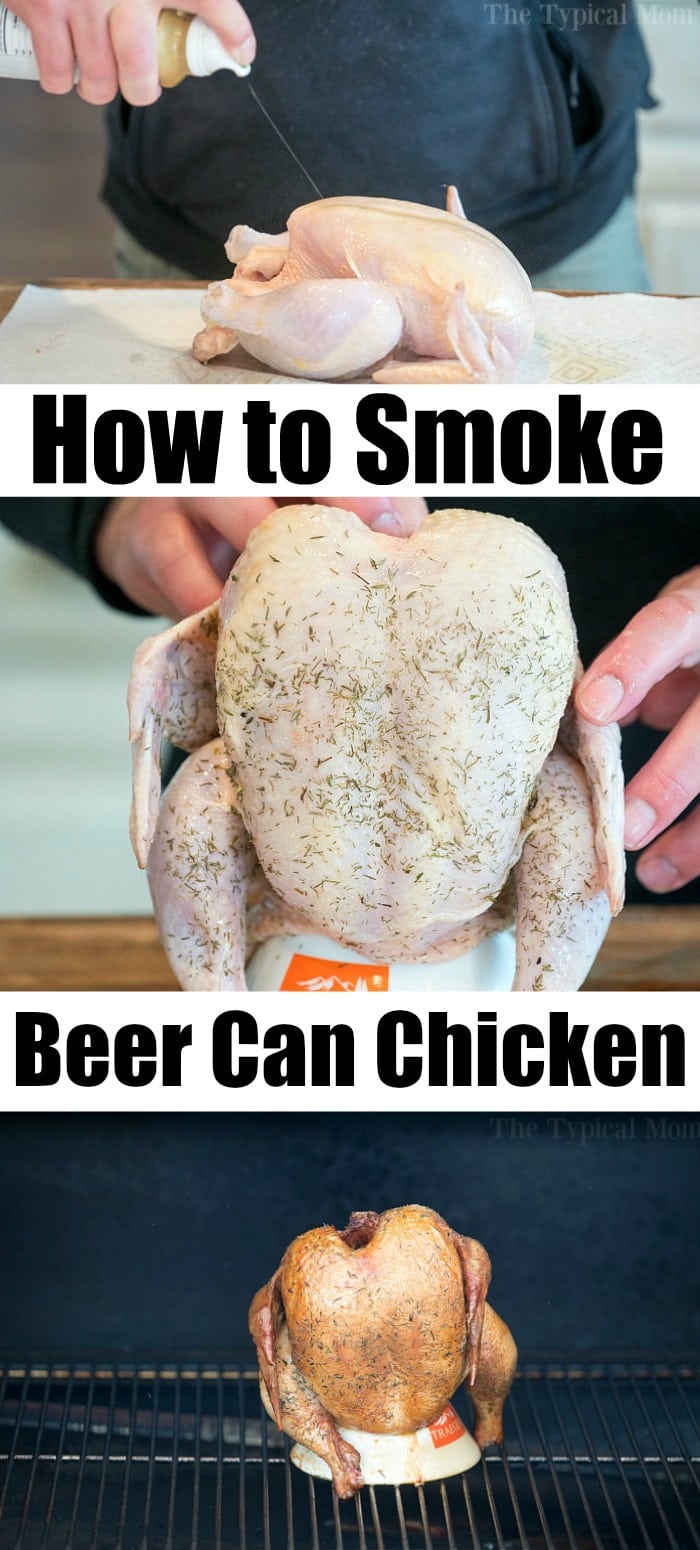 Smoked whole chicken recipe
Now your smoker or grill should be at the right temperature. Keep in mind that preheating does take a bit of time so you need to account for that when you're planning dinner.
Make sure the outside skin is coated with olive oil so it crisps up well
Place your chicken in the center of your smoker

Ensure it is flat and bird is on straight so it doesn't tip over

Do not open the smoker before 2 hours is up

Every time you open it a lot of heat escapes and it will take a while to get back to reach the proper internal meat temperature

Allow chicken to rest for at least 5 minutes once you remove it from the smoker and stand

This will keep the juices in and keep it moist
Applewood smoked beer can chicken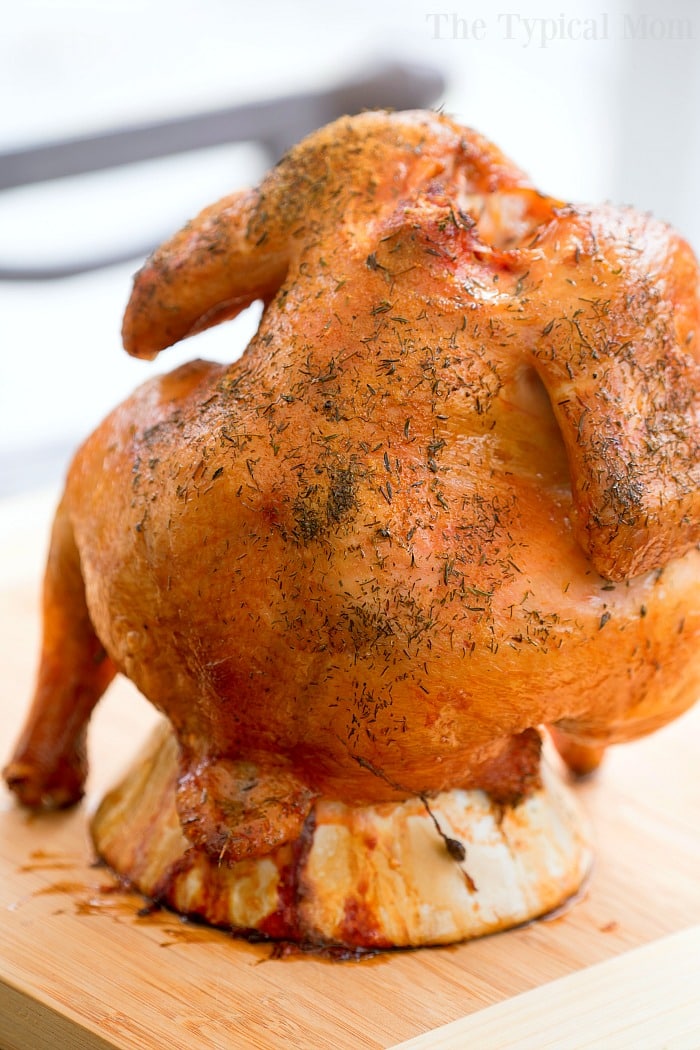 Ways to cook a whole chicken
This is how you cook a frozen pressure cooker chicken. You can use your beer can chicken recipe for a gas grill for indirect heat as well. We do it all but the flavors from your Traeger are out of this world. Don't forget to use up your leftovers in a casserole or tacos the next day.
Other smoker recipes you would enjoy are: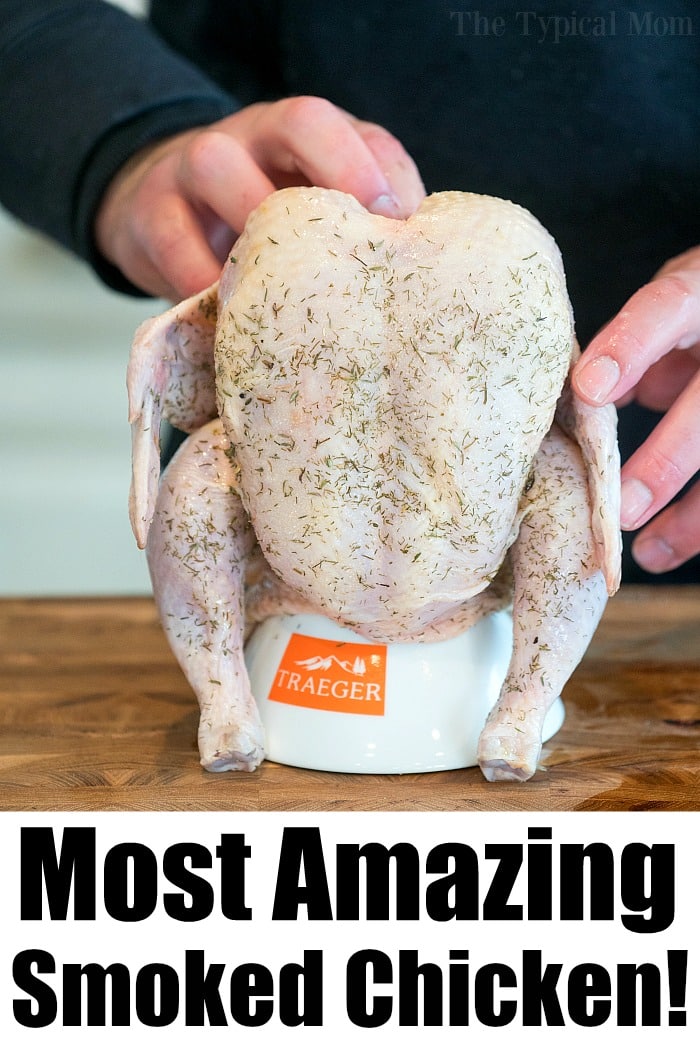 Here are a few questions you might have before you get going:
How long does it take to smoke a whole chicken?
If you set the temp to 300 F it takes approximately 2 hours. Timing will vary widely depending on how large your bird is so always check the internal temperature before consuming.
Do you need to brine chicken before smoking?
We do not. Instead we use a dry rub on the outside of the skin and it comes out amazingly flavorful.
How do you get smoked chicken skin crispy?
You shouldn't have an issue with this if you follow our directions. Smoking a chicken at a lower temperature may result in rubbery chicken skin that is unappealing. Higher temp. will avoid this.
Served with a bowl of beer cheese soup, you'll love this duo!
Want to see a few of my favorite things that I am totally obsessed with?? Take a peek and see how many you might already have…twinsies!
Looking for more easy family recipes and tips? LIKE The Typical Mom Facebook page?
Then sign up for my free newsletter, and follow me on Pinterest! 😉
***** If you LOVED this recipe give it 5 Stars below and let everyone know what you thought about it. 😉
Smoked Beer Can Chicken
Traeger smoked beer can chicken is amazing! Use a pellet or electric smoker you'll love how easy a whole chicken is to cook. Get ready!
Ingredients
Instructions
Add pellets or wood chips into your smoker. Preheat your smoker to 350 degrees. Wash and remove anything inside chicken cavity. Blot dry with a paper towel.

Spray or rub olive oil on the outside of your chicken skin. Mix all other ingredients together in a bowl (except beer).

Rub this mixture on the outside of your chicken.

Fill chicken stand with beer, it will take about 3/4 of your can of beer.

Place chicken on top of the chicken stand/throne. Once your smoker reaches 350 degrees, place it in the center making sure it is flat and won't tip over.

Allow to cook for 2 hours or until internal temp. of chicken is at least 165 degrees.

Take chicken out and remove from stand. Allow to sit for at least 5 minutes before slicing.
Nutrition Facts
Smoked Beer Can Chicken
Amount Per Serving (4 oz)
Calories 62
Calories from Fat 36
% Daily Value*
Fat 4g6%
Sodium 1165mg51%
Potassium 24mg1%
Carbohydrates 1g0%
Vitamin A 15IU0%
Vitamin C 0.4mg0%
Calcium 2mg0%
Iron 0.1mg1%
* Percent Daily Values are based on a 2000 calorie diet.