3 ingredient simple turkey brine for smoking, baking or just making a smaller pressure cooker turkey breast. Great for a whole turkey, deconstructed, legs, wings or even chicken! Leave overnight for a ton of flavor and make it as moist as possible.
Looking for an easy turkey brine recipe for the holidays? We have one right here. Just three ingredients needed to make this sweet and savory soak. Just throw in your raw turkey, whole or in pieces overnight and get ready for the deliciousness once it's cooked. (affiliate links present)
You may have tried our turkey dry brine here which is out of this world. More like a dry rub it sits on the outside of the skin and adds flavor that way. This one however soaks into the middle and all the way around giving the skin and protein a wonderful flavor.
Turkey Breast Brine
Brining a turkey breast, or the whole thing, enhances it's moisture too. We all want to slice into that piece and have it so tender and juicy that it melts in your mouth. Whether you want to bake butterball turkey breast, air fry it or otherwise THIS is how you get to that level.
How long can you leave turkey breast in brine?
This goes for any part of the bird, or whole. Best bet is to leave it to soak overnight in the fridge or somewhere 40 degrees F or less. If you need to leave it a bit longer that is okay but no longer than 2 days in there.
If you are only brining a turkey breast then you could definitely cut this in 1/4 to just cover that piece. Whether we leave the bird whole or cut it into all separated pieces this works quite well as stated below. Of course if it's cut up you'll get more of the flavor to soak in, obviously.
That is why it is our go to when baking sheet pan turkey. Seriously if you have never done this it is a must do one of these years. Cooks in just an hour flat and still comes out juicy as all get out.
Turkey Brine Recipe for Smoking
Ok so what if you want to smoke a turkey on your Traeger or Green Mountain? Works great for that too. We switch between the two, our dry rub and this. I wouldn't use both because there would be too much sodium between both. This is what you'll need and optional add ins;
Water
Sea salt
White sugar, or use half white and half brown sugar for a different flavor combination
A large stock pot or pot large enough to hold your bird

or use a turkey brining bag for just a few pieces
Bay leaves if you like that flavor, black peppercorns, thyme, basil, rosemary, I mean all the seasonings you would normally add to your bird at Thanksgiving or Christmas. If you want one that is sweeter with a bit of brown sugar, try our smoked chicken brine variety.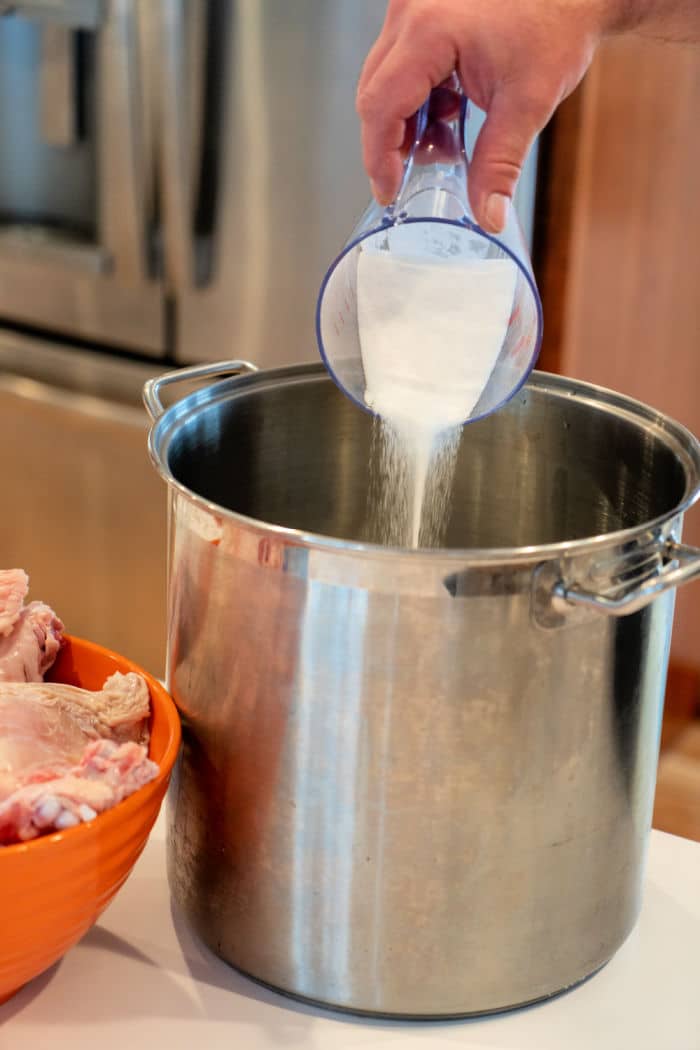 Easy Turkey Brine
You can see my husband making this as I photographed here. He made this same mixture to brine a turkey or a whole chicken brine before he even met me over 20 years ago. It's that good and easy. I mean he can't remember our neighbor's name half the time but this he was able to blurt out when I asked what his favorite mixture was over the years. 😉
When it comes to garlic I mean you can amp it up or down. I am ALL about roasting garlic in air fryer but if I don't have any on hand, or time to make more I just use this large jar. Like I buy this stuff in bulk because I add it to all the things.
Gives a great flavor to moist turkey recipes of all kinds and honestly I think it is hard to go overboard. I mean I guess you could if you dumped the whole container in but you know what I mean.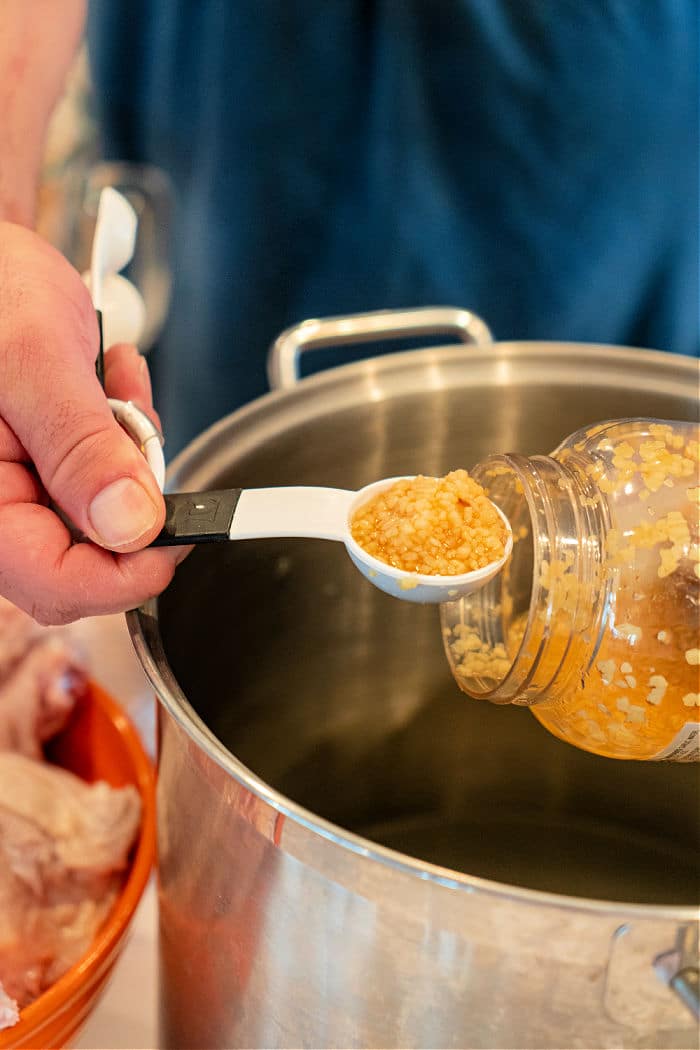 Bags to Brine Turkey
If you only wanted to use a few pieces I guess you could just use turkey brine bags like these. They would fit into your fridge easier and soak in better if you removed all the air out. Vacuum sealing or in a sous vide method would work the very best.
3 Ingredient Turkey Brine
Pour cold water, garlic, kosher salt and sugar into your stock pot and stir for a few minutes to incorporate.

if you want to ensure everything dissolves first you can bring to a boil your large pot
stir for 5 minutes bubbling
then cool completely and continue on
you do NOT want to add meat to hot liquid or it will begin to cook and potentially grow bacteria

Add the turkey pieces, or whole bird, into pot and cover with plastic wrap.
Store in fridge or in a location that is lower than 40 degrees F for 24 hours best results.
Do not leave meat in overnight brine for more than 2 days. Then you can continue on. When ready remove the turkey from wet brine to roast the turkey until moist and flavorful. Pour the brine out that is left in your pot.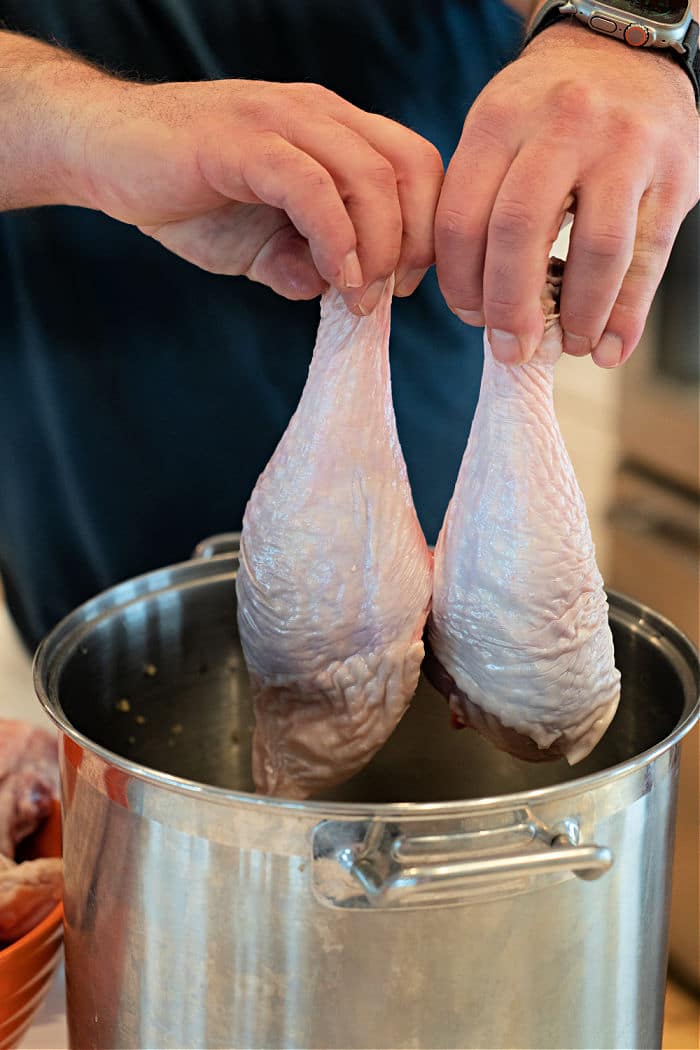 Do I rinse the turkey after brining
This is a personal choice. Some have very strong opinions about this, I leave it up to you. Yes leaving it as is will leave the skin and meat saltier, something we enjoy. Since we love a salty rub we expect this flavor overall and makes it possible to not add anything when baking.
What we do is just lift out each piece, or the whole thing, and transfer let's say your turkey thighs or turkey wings for instance. Then all you need is a drizzle of oil on top when crisping the skin but the seasonings and flavors are already locked in.
If you do want to rinse away some of the sodium for flavor or health concerns, just run cool water from the tap over it for a minute, dab with paper towels and cook or smoke as you wish. If you have it in pieces I would do half and half, keep track of which is which and test it out the first year you do this. Then you'll know your preference.
Want to see a few of my favorite things that I am totally obsessed with?? Take a peek and see how many you might already have…twinsies!
Looking for more easy family recipes and tips? LIKE The Typical Mom Facebook page?
Then sign up for my free newsletter, and follow me on Pinterest! 😉
***** If you LOVED this recipe give it 5 Stars below and let everyone know what you thought about it. 😉
Overnight Turkey Brine
Simple Turkey Brine
3 ingredient simple turkey brine recipe for smoking, baking or pressure cooking. Overnight bring for whole turkey, deconstructed or breasts.
Instructions
Pour cold water, garlic, sugar and salt into your stock pot and stir for a few minutes to incorporate.

** If you want to dissolve everything, boil over medium high heat boiling for 5 minutes stirring, then remove from heat. You will have to allow this to completely cool before adding meat as the liquid must to be at room temperature before adding. Or just continue……

Put whole or pieces of turkey into pot and cover with plastic wrap. Store in fridge or in a location that is lower than 40 degrees F overnight for best results. Do not leave in for more than 2 days.

Remove (rinse if you want it less salty, or leave as is) bake as you wish, air fry or smoke as you wish.
Nutrition Facts
Simple Turkey Brine
Amount Per Serving (1 oz)
Calories 64
Calories from Fat 1
% Daily Value*
Fat 0.1g0%
Polyunsaturated Fat 0.001g
Sodium 9447mg411%
Potassium 3mg0%
Carbohydrates 17g6%
Protein 0.01g0%
Vitamin A 4IU0%
Vitamin C 0.1mg0%
Calcium 16mg2%
Iron 0.1mg1%
* Percent Daily Values are based on a 2000 calorie diet.