This is how to cook turkey thighs in air fryer as well as crispy baked in the oven, smoked, or in your slow cooker. The best way to cook them to fork tender with a dry rub.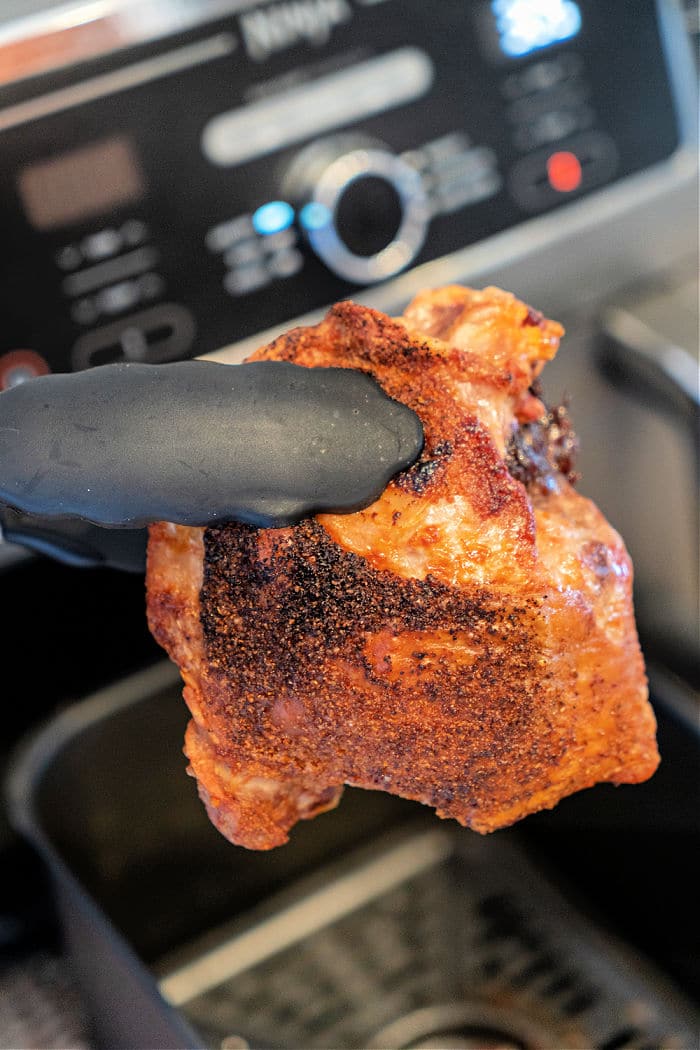 Turkey thighs are incredible. If you've always been all about white meat, or cooking a whole turkey you really are missing out. I deconstructed raw turkey the other day so I could share how to cook each one perfectly. If you already loved our air fryer turkey legs, this one should be next! (affiliate links present)
Air Fryer Turkey Thighs
Ok so amongst them all this is our favorite method. I will go over the others below though too. Think of them like you were cooking chicken thighs in air fryer except they are just larger.
That means the cook time has to increase a bit and bone-in with skin is by far the best. That is how you'd typically find them anyway.
I will say that you can't always find it deconstructed at the store. If you are like us though and cut a raw turkey ourselves each year, you might want to know how to cook each piece perfectly. These and air fryer turkey wings are probably the easiest. NO flipping over required and because it's dark meat it stays moist.
How to Cook Turkey Thighs
The key to this part is to keep the meat nice and juicy. Our Cosori and Ninja Foodi does a great job of doing just that. You not only get tender insides but you'll achieve that really crispy turkey skin on the outside in less than half an hour too. Total game changer.
Now let's talk about seasonings and/or soaking in a simple turkey brine. No matter which method you choose you want a great flavor on the outside.
I mean without anything yes the meat is flavorful but not nearly as good. You can go for super simple like we did here or use our smoked turkey rub mixture here. For this we used;
Defrosted thighs
Olive oil
Old Bay, or seasoned salt of your choice
Garlic powder
Onion powder
That is literally all I used and my husband raved about them (and he's picky so that says a lot). Honestly I don't measure when it comes to this. Olive oil will keep the outside moist and keep the seasoning from falling off. Beyond that I sprinkle enough salt and black pepper (or seasoning blend) on so it's nicely coated like you see here.
How to Cook Frozen Turkey Thighs
What if you had a forgetful moment or thought it was ready to cook but you feel them and they're still rock hard. NO worries. I cook frozen meat to tender all the time y'all.
If you have never done this before there isn't a huge difference. You'll just need to add about 5 minutes on to the cook time. Another difference is you'll want to add oil at the beginning, then open half way thru, add some more and sprinkle your seasoning on at that time. That will get it to stick nicely because it will have defrosted enough at that point.
Crispy Turkey Thighs Recipe
This is when the drumstick and thigh are separated. If you have them together follow the timing on how to cook turkey legs and thighs together.
Preheat air fryer to 375 F (or 380 for only even numbers) for 5 minutes.
Dry skin off with paper towels. Then drizzle on olive oil and coat the outside.
Sprinkle turkey thigh with salt or with seasonings of your choice, doing well to coat skin (I don't really measure I just sprinkle until it's covered).
Lay inside basket with skin side facing up and roast turkey for 25 – 28 min. until the top is crispy golden brown and internal temperature reaches a safe 170 degrees F.
My basket only fits 1 at a time but you could do 2 if you had a larger version.
Allow to rest for 10 minutes before slicing to keep all the juices in there. You can enjoy as is or with some herb butter melted over the top of the skin of the turkey.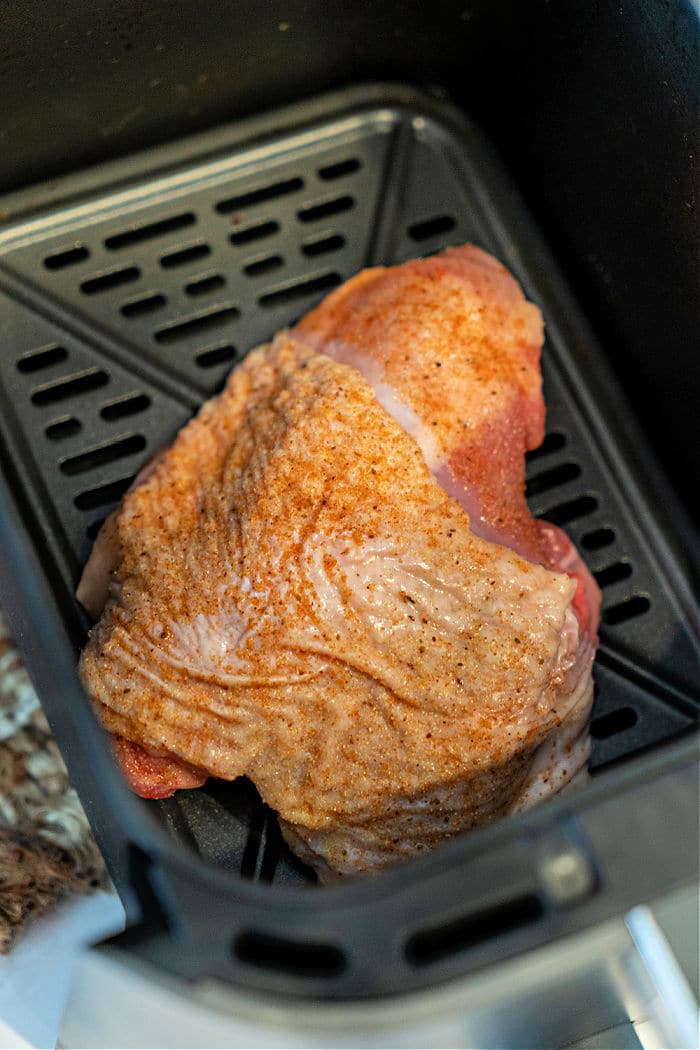 Baked Turkey Thighs
If you wanted to use your oven with a baking pan you could. It will take longer to get the same effect you see here but if you don't have or love countertop appliances then I get it. It wouldn't be much different than bone-in chicken except for increasing the timing because of their larger sizes. You can follow this recipe for a roasted turkey thighs recipe.
Another negative to me is although the outside can get crisp, it doesn't compare to the below method. If you wanted to add sauce on the top though like our baked teriyaki chicken thighs, a baking sheet would work better. I used boneless for those and yes they turn out great smothered in that tangy creation.
Are turkey thighs healthy?
For sure! In dark meat in general you will find higher amounts of iron, zinc, and more than four times the B-12 than in white meat.
I mean everything is relative right. If you are referring to just the meat with seasonings then these are also low carb and low in calories as well. It is the sauce and sides that will get to you in regards to whether this would be considered healthy or not.
Smoked Turkey Thighs
If you wanted to use your Traeger or Green Mountain outside for these I would just use our smoked chicken thighs recipe for that. Increase the timing by 10 minutes or until the internal meat temp reaches a safe 170 F. Timing always varies slightly depending on how large your pieces are always so keep an eye on them the last 30 minutes.
Crockpot Turkey Thighs
And last but not least you can cook slow cooker thighs with your favorite sauce in the pot in 6 hours. That is a fast nutritious meal that everyone will love. Nobody will even think about the fact that they came off a turkey vs. a chicken, the taste is so similar especially smothered in sauce.
If you want to cook a turkey breast alongside this to serve with mashed potatoes, go for it! Use however many pieces you need to feed everyone on your Thanksgiving dinner this year. Just know you don't have to cook the whole thing if you are only feeding a few of you. Use our leftover turkey recipes if you have meat not eaten.
Want to see a few of my favorite things that I am totally obsessed with?? Take a peek and see how many you might already have…twinsies!
Looking for more easy family recipes and tips? LIKE The Typical Mom Facebook page?
Then sign up for my free newsletter, and follow me on Pinterest! 😉
***** If you LOVED this recipe give it 5 Stars below and let everyone know what you thought about it. 😉
Turkey Thighs
This is how to cook turkey thighs in air fryer as well as crispy baked in the oven or in your slow cooker. Best way to cook them fork tender.
Instructions
Preheat air fryer to 375 F (or 380 if you only have even numbers) for 5 minutes.

Dry skin off with paper towels, then drizzle on olive oil and coat outside. Sprinkle on seasonings doing well to coat skin (I don't really measure I just sprinkle until it's well covered).

Lay inside basket with skin side facing up and air fry for 25-28 minutes until top is crispy golden brown and inside temp reaches a safe 170 degrees F.

Allow to rest 5-10 minutes before slicing so it stays juicy.
Nutrition Facts
Turkey Thighs
Amount Per Serving (1 oz)
Calories 67
Calories from Fat 63
% Daily Value*
Fat 7g11%
Cholesterol 1mg0%
Sodium 5mg0%
Potassium 13mg0%
Carbohydrates 1g0%
Protein 0.3g1%
Vitamin A 13IU0%
Vitamin C 0.1mg0%
Calcium 6mg1%
Iron 0.3mg2%
* Percent Daily Values are based on a 2000 calorie diet.