Cooking frozen chicken thighs in the oven, air fryer, boiled, in slow cooker or Instant Pot frozen chicken thighs is solved! These are easier than you'd think to make tender and juicy. How to get chicken fork tender from frozen is answered!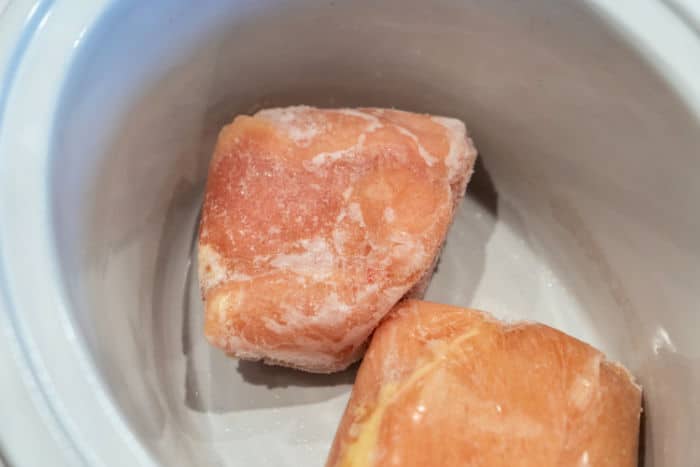 Let's talk about how to cook frozen chicken thighs all different ways shall we? We've done it all and then some. With barbecue sauce, teriyaki, or baked to a golden brown seasoned lightly, you'll want to try every one. Then you can go on to cook other types of frozen meat to tender from there. (affiliate links present)
Frozen Chicken Thighs
Ok so if you want to use a pressure cooker (an under 30 minute meal) the link for that method is at the top of this post. I really like that method if I have boneless on hand and use my favorite sauce. Then you can shred the meat and make tacos or serve it over rice. You would not want to do this with skin on though, it's no good.
I mean it will cook just fine but the outside will become rubbery and you won't want to eat it. If you do like crispy chicken skin and have bone-in chicken thighs I would highly recommend our air fryer frozen chicken thighs instructions. They are the bomb for tender inside and crisp outsides.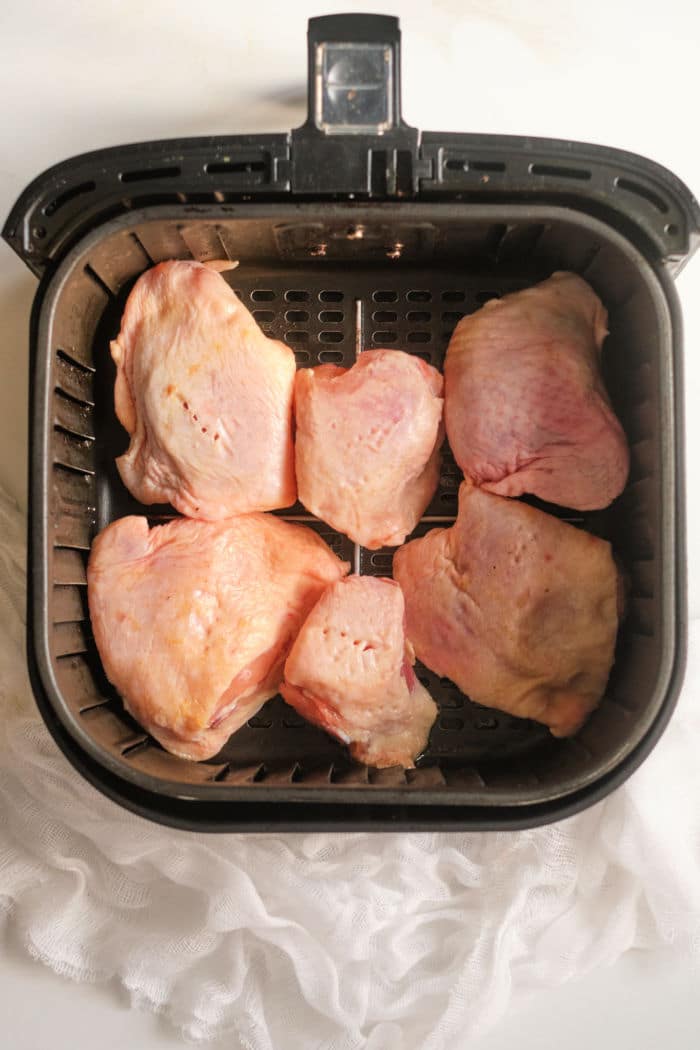 How Long to Cook Frozen Chicken Thighs
Faster than you might think! Frozen chicken thighs in oven is another great option for bone-in skin on as well. Reason being is you'll be able to get the skin just right. All you need for this is basically a sheet pan and I like to line it with foil for an easier cleanup.
We share how to season frozen chicken before cooking if you choose to do that.
You will want to add it on to the middle rack of your oven that is preheated to 375 F.
Bake until internal temperature reaches a safe 160 F in the thickest part. (temp will rise another 5 degrees as they rest)

Remove from the oven and use a meat thermometer to get the most accurate read

Timing will be from 50-60 minutes depending on how large and thick your pieces are.

I'd recommend brushing your favorite teriyaki or bbq sauce over the top at the halfway mark to add moisture to your tender chicken.

To get crispy skin at the end you can switch to broil or crisp in air fryer at 400 F for 3-4 minutes.
For all methods including baking frozen chicken thighs, always allow your meat to rest for 10 – 15 minutes or so after your cooking time is complete. Cover baking sheet with foil to stay warm. This goes for all cuts, chicken legs, frozen baked wings etc…
How to Cook Frozen Chicken Thighs on the Stove
Now let's move on to the 3rd method that will get the outside mouth watering crunchy. You can use a cast iron skillet like you see here. Seriously the best way to go about it for the most flavor and sear. Use our garlic butter chicken thighs instructions for this method.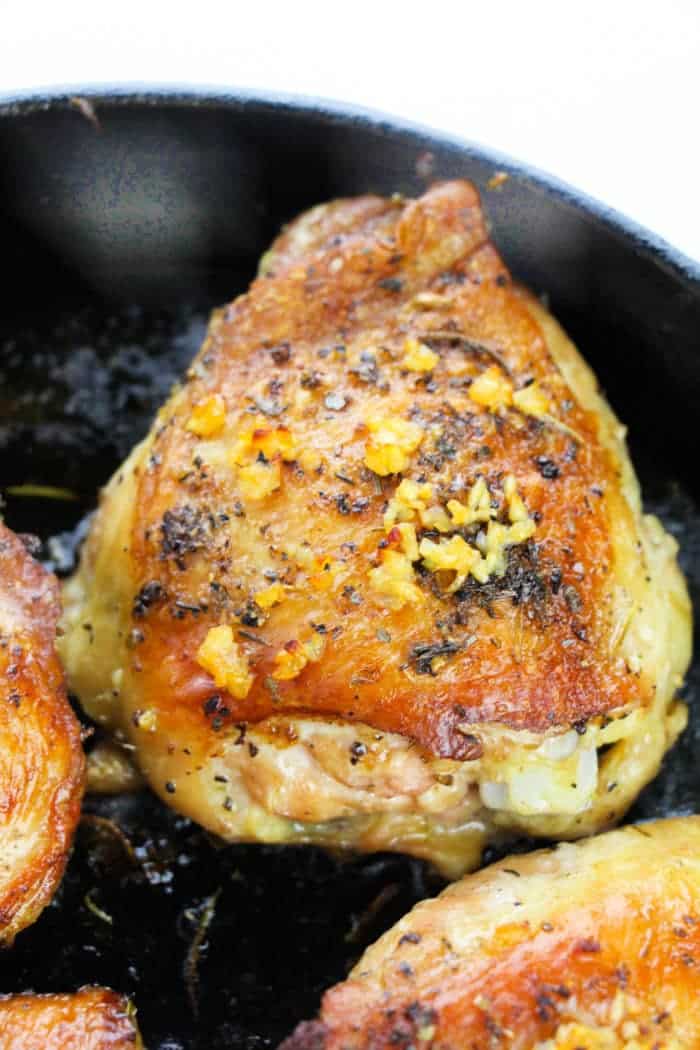 How to Cook Frozen Chicken Thighs
Now let's forget all about the skin and move on to one of my favorites, frozen chicken thighs Crock pot style!! I mean this has been a huge hit with everyone. You literally only need a jar of your favorite sauce and the protein itself. Throw it in and a few hour later it basically steams to perfection.
I do prefer boneless skinless chicken thighs for this one because it makes things a lot easier at the end to make shredded chicken. SO tender that two forks is all you need to do just that. If you are feeding a crowd and want something cheap but filling, this is the ticket y'all.
How Long to Boil Frozen Chicken Thighs
If you know me you know that boiling is not my thing. Unless you just want the inner meat you won't get the overall texture you want, and you lose nutrition too. Reason for that is that submerging any food in scalding water will leach a lot of the vitamins out, no good.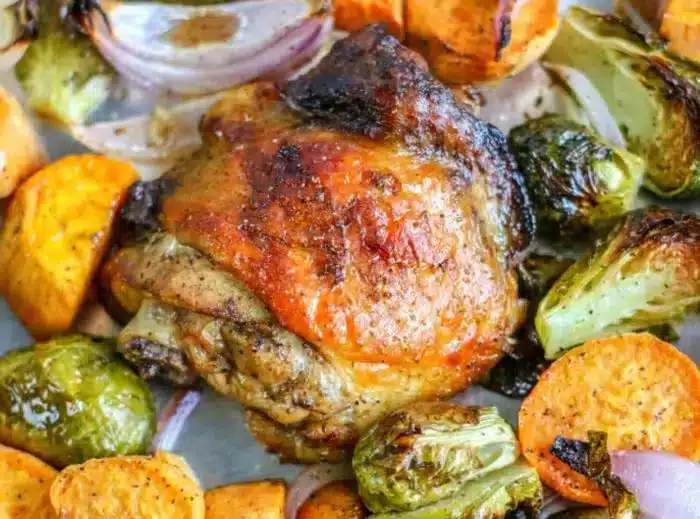 Frozen Chicken Thigh Recipes
Ok so we have pretty much covered all the ways you can cook frozen boneless skinless chicken thighs, bone in and everything in between. Now what can you make with thigh meat?? I mean anything you have previously made with oven baked frozen chicken breasts can be made with dark meat too. No difference.
If you have only really worked with white meat and not ventured over to "the other side" much you're in for a treat. There is SO much more flavor in this cut, and they are always cheaper too. Added bonus you'll enjoy for sure. Here are a few favorites you might enjoy;
I found that we like leftover chicken thigh meat in our Instant Pot chicken and rice recipe.
You can use any and all of our leftover chicken recipes for meat that is freshly cooked, or a day after meal.
I've used these to make slow cooker dog food too for our pup. Yes, she is the youngest in the family and the only pet so let's just say she is beyond spoiled.
Think ahead to what you have on hand or what is on sale at the time. That makes a difference to me as to which method of cooking I am going to use. Our family isn't a huge fan of skin all together no matter what the texture is so I generally don't buy that type. If it's a huge sale though I'll opt for that if you know what I mean.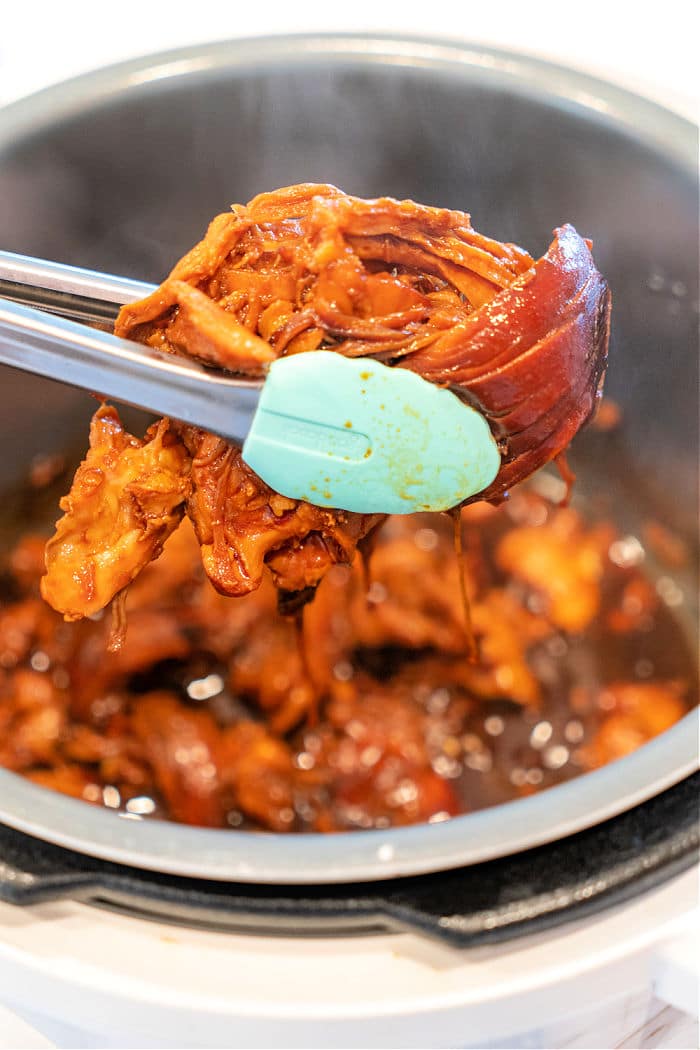 How do I cook frozen chicken without thawing it
I hope we have answered that question for you here. Comes in handy often. When I have had one of those days, realize I didn't take anything out the night before, and dinnertime is in a few hours I use one of these. Now that I have done many over the years this way I kinda' don't even bother defrosting beforehand.
I would try a few and see which you like best. If you still aren't a huge fan I do have tips on how to defrost chicken in microwave here. A surprisingly easy way if it's halfway there but not quite. Then of course you can make however you'd like and the baking time will be cut in half almost.
How to pick chicken thighs
Last but not least I wanted to talk about differences you might find, and wonder which you should choose. Of course this is my personal opinion and everyone has one of those but always want to share my findings since I cook all day long and experiment a lot. This goes for every piece on the bird, or whole.
Frozen Chicken Brands
If you are buying fresh and freezing after you will likely just find your store brand, 1-2 name brands like Tyson and/or Foster Farms. From there those may have an organic line or there may be a local cage free organic type available.
For bagged, found in the freezer section you'll find pieces separated into parts. Like wings would be together, thighs in another, frozen chicken legs and breasts. The latter is usually offered in boneless or bone-in (which would be cheaper). In a bag like this is harder to find organic in my opinion.
Best frozen chicken – Hear me out. Back in the day I bought whatever was cheapest, period. After cooking for a living I will tell you that spending the extra $ on cage free, organic is a HUGE difference for the better.
The texture is not as grainy and gritty and obviously the health benefits outweigh the other. Just my two cents but your outcome will be worlds better for a few dollars more.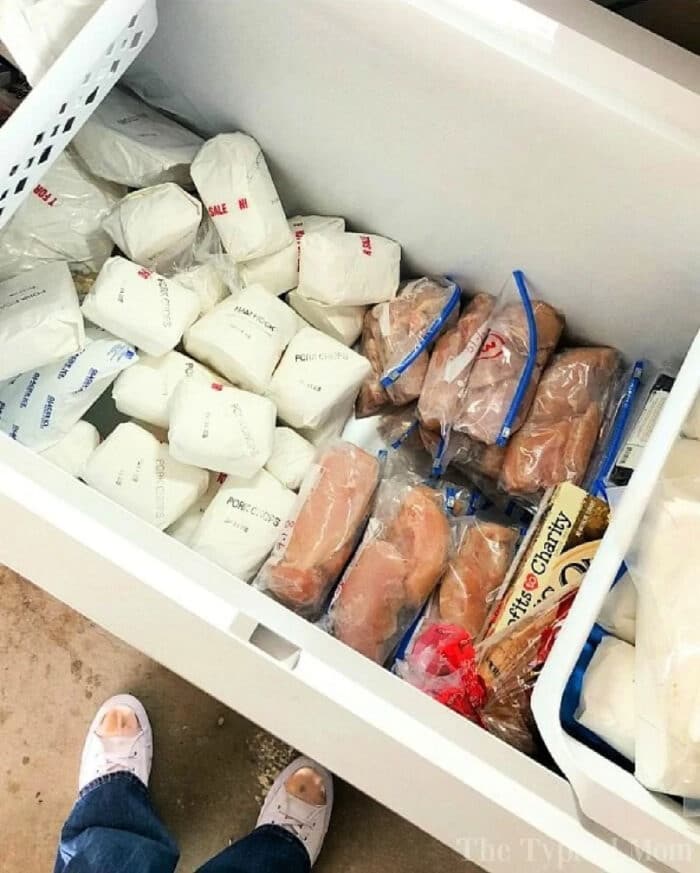 Straight From Freezer Frozen Chicken Thighs Recipe
Below you will find instructions for the Instant Pot method which works quite well. Make sure your pieces are separated for best results, no bones or skin either.
What are some tips for cooking frozen chicken thighs?
1. You can rub on some olive oil and then season the chicken thighs with salt, pepper, and any other desired seasonings.
2. Do not overcrowd the pan or air fryer basket.
3. Cook at a lower temp until the thickest part is cooked through, but not overcooked.
4. Let the chicken thighs rest for a few minutes before serving.
Do I need to thaw frozen chicken thighs before cooking them?
In fact here we will show you how to cook chicken thighs frozen a number of different ways until tender. NO need to thaw or defrost them ahead of time. If done right you'd never know the difference that they were once straight out of the freezer.
Want to see a few of my favorite things that I am totally obsessed with?? Take a peek and see how many you might already have…twinsies!
Looking for more easy family recipes and tips? LIKE The Typical Mom Facebook page?
Then sign up for my free newsletter, and follow me on Pinterest! 😉
***** If you LOVED this recipe give it 5 Stars below and let everyone know what you thought about it. 😉
Cooking Frozen Chicken Thighs
Cooking frozen chicken thighs in Instant Pot, oven, air fryer or boiled is easier than you think. How to get chicken fork tender from frozen.
Instructions
Lay frozen thighs into the bottom of you pot (separated from one another, not in a huge clump turns out a lot better). Pour your sauce over the top. Close lid and steam valve shut.

Cook on high pressure for 20 minutes, then allow to naturally release the steam for 10 minutes.

Open and remove lid. Use a fork to separate pcs. and shred meat. If they were separated at the beginning they will likely be tender enough to serve over rice.

If they were in a big chunk at the beginning they won't be quite tender enough yet. In this case after shredding as much as you can, or chopping into smaller pcs. on a cutting board and putting back into the pot, set to saute.

Allow the contents to bubble and let the meat get more tender for about 3-4 minutes. Turn off when it is fork tender and serve over rice.
Nutrition Facts
Cooking Frozen Chicken Thighs
Amount Per Serving (1 oz)
Calories 419
Calories from Fat 252
% Daily Value*
Fat 28g43%
Cholesterol 166mg55%
Sodium 2199mg96%
Potassium 469mg13%
Carbohydrates 9g3%
Protein 31g62%
Vitamin A 132IU3%
Calcium 27mg3%
Iron 2mg11%
* Percent Daily Values are based on a 2000 calorie diet.