This is a sponsored post written by me on behalf of Harvestland by Perdue for IZEA. All opinions are 100% mine.
I have several easy leftover chicken breast recipes but this one is our favorite! We eat chicken pretty often because we like to eat as healthy as possible, as well as buying organic products. 😉 This quick recipe uses Harvestland® organic chicken breasts found at Walmart, and just 2 other ingredients to make this easy leftover chicken breast recipe your whole family will love…take a look.
This time I actually bought boneless chicken breasts to make this easy meal, but most of the time it is reserved for the night after we make a whole chicken, have extra meat from a rotisserie chicken, or there is a breast or two leftover from the night before….you make it the same way except you could skip the cooking the chicken part because that part would already be done! 😉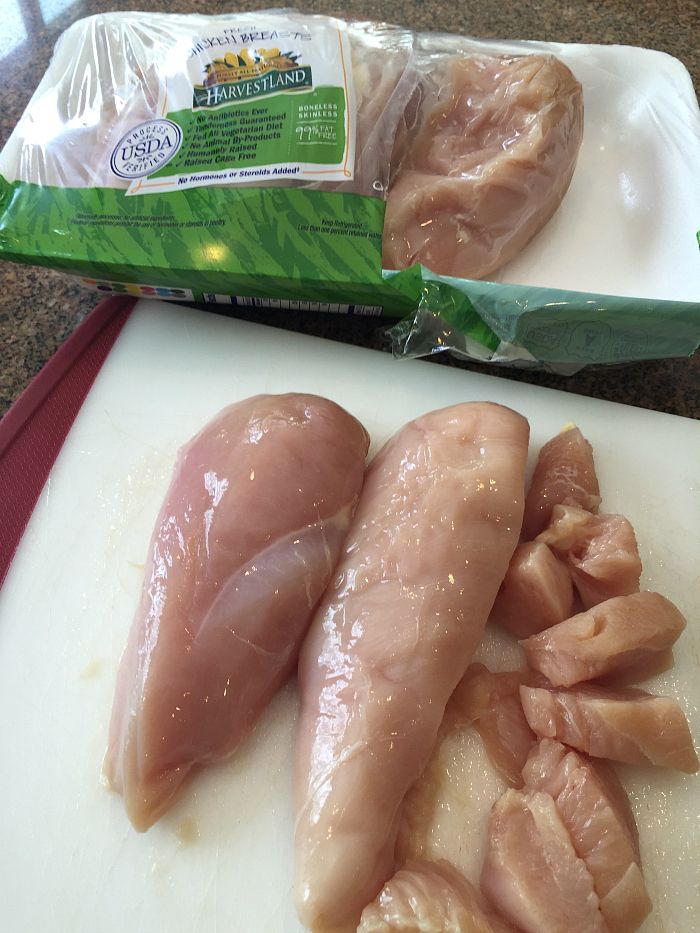 The first thing you do is cut up your raw or leftover chicken into bite size pieces. If you are using leftover chicken take and discard the skin, you won't need that. Then use a bit of olive oil to cook the chicken pieces until they are done (if you are using leftovers you can skip this step).
While you're cooking the chicken add 1 can of cream of chicken and 1 can of cream of mushroom soup to a pot, as well as about a 1/2 can of water. You can use more or less water according to how thick or runny you like your "chicken soup mix" to be (we like it thick). I add my fully cooked bite size pieces of Harvestland® by Perdue® chicken to my soup mixture, and I am almost done!
All you need now is some rice. I would probably start the rice cooker before you begin cooking anything else so it is all done at the same time, or you can cook quick rice or make it on the stovetop. I have one with a steamer basket on top so while I'm at the store buying my chicken I buy a head or two of organic broccoli, cut that up, and put it in the steamer basket so when the rice and chicken soup mixture is done the entire dinner will be ready with veggies and all!
I hope you love our easy leftover chicken recipe as much as my family does! If you're looking for a great organic brand for chicken and other meat products we love Harvestland® by Perdue® (found it at Walmart). 😉