Here are lots of leftover chicken breast recipe ideas. Don't throw away any food, make a delicious meal the next day for your family. These are our faves.
I don't know about you but I am always in need of great leftover chicken breast recipes! There's a NO throwing away good food rule in my house so I have come up with a bunch to share with y'all today. 😉 (originally published 4/20, affiliate links present)
How do you make leftover chicken taste good?
If you want to keep it simple you can brush on some sauce and reheat chicken in air fryer. That keeps it really moist with a bit of crunch on the outside. Or mix it with other ingredients in your pressure cooker and make one of our Instant Pot leftover chicken recipes here.
We have ALL the yummy answers here!! From adding cheese and salsa to it and throwing it into some air fryer flautas and lots more, you'll never run out of ideas here.
Leftover chicken recipes
I used to make Campbell's chicken and rice recipe all the time on the stovetop. Now that I have a pressure cooker I make this Instant Pot chicken and rice or Instant Pot Mexican chicken and rice dishes once a week. When I only have noodles on hand, I go for Instant Pot chicken pasta instead.
NO more cooking the rice separately, just throw it all in at once!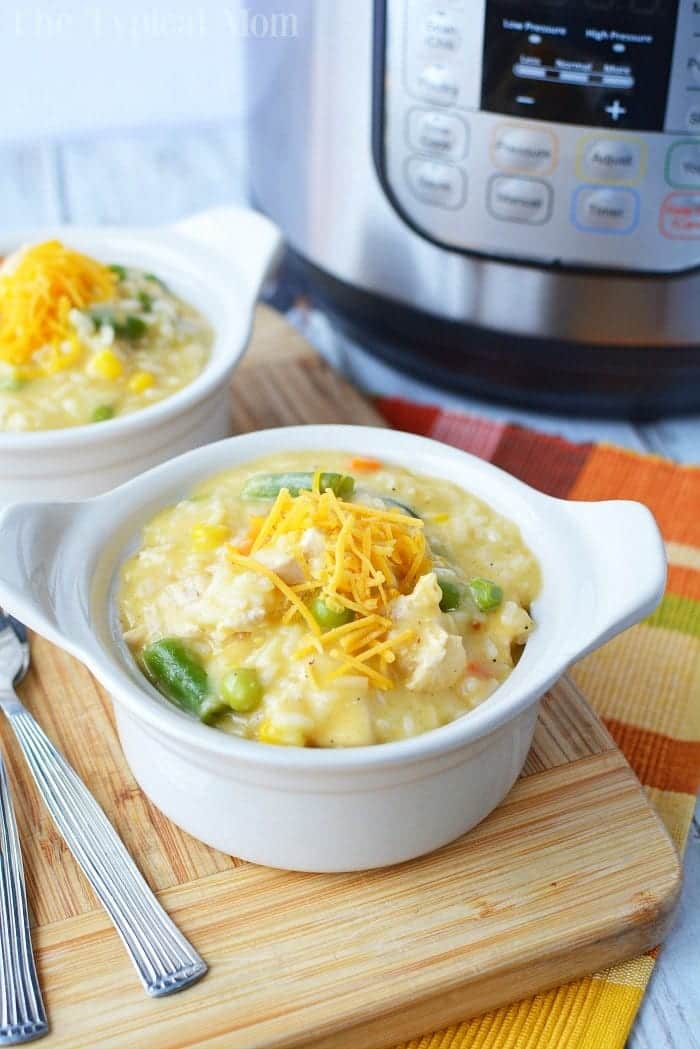 Leftover Chicken Breast Recipes
If you have kids I bet they'll love these fun chicken pot pie muffins for sure. Using leftover rotisserie chicken, or meat you cooked the night before, they're great.
How long you can eat leftover chicken?
The general and best rule of thumb is to consume shredded chicken within 1-2 days after it's been cooked. Discard any that has been in the fridge longer than 7 days. Reheating chicken in air fryer is the best method.
You can just throw it in your slow cooker and make our white chicken chili Crockpot recipe. OR as an appetizer you can make Instant Pot buffalo chicken dip.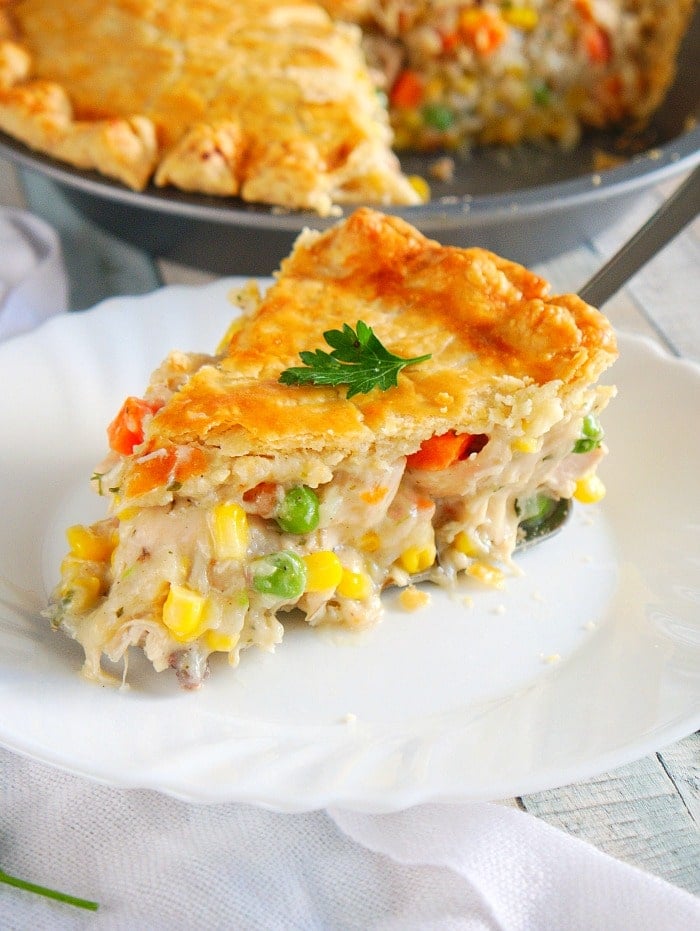 What to make out of leftover chicken
We have a TON of easy Instant Pot chicken recipes you can refer to, and use those. Many use fresh diced or cubed breasts but you can just skip the saute step and add precooked just as easily. You can use our roundup of Ninja Foodi chicken recipes here too.
If you prefer using some of the best Crockpot chicken recipes instead, by all means use that slow cooker! You can make simple things like spicy chicken noodle soup or a casserole with meat, rice and veggies all mixed in.
Doesn't matter whether you initially used your IP or made oven baked chicken breasts at 350, these all work just the same the next day or two. Have I made it clear, all the things are possible!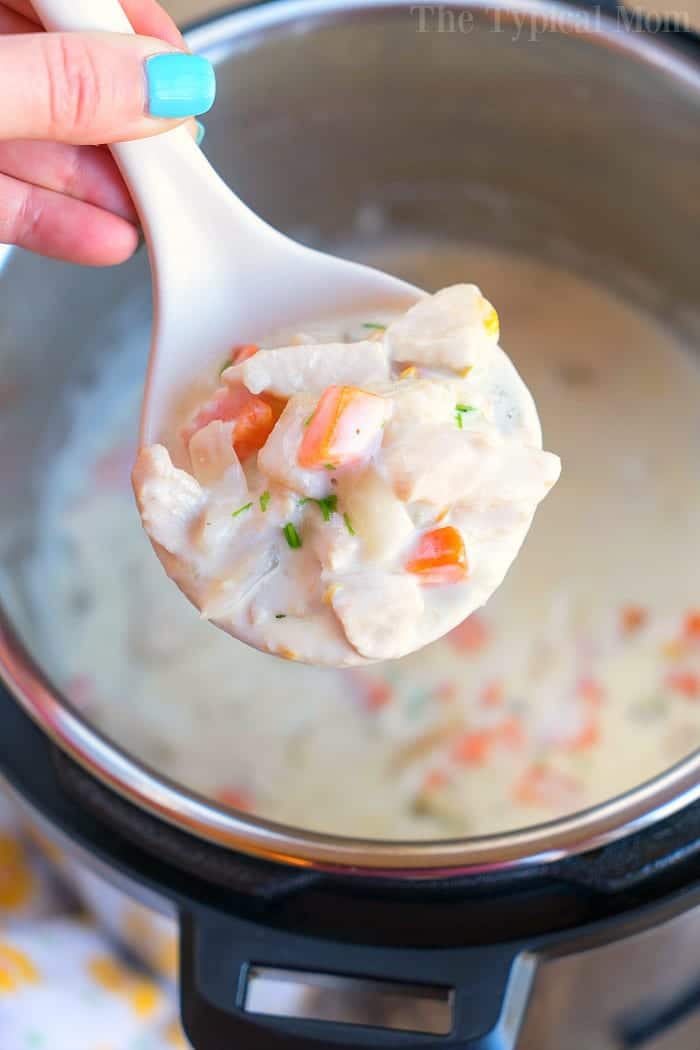 Should you refrigerate cooked chicken?
But of course. It should be totally cooled and refrigerated as soon as possible. Never leave at room temperature for more than a few hours. Ideally package it up right when it hits room temp. Safely kept in the fridge for 2 to 4 days you can then use one or more of these easy chicken recipes!
I cook frozen chicken in the Instant Pot a lot. Sometimes I will throw in a few extra breasts so I can use it the next day for another meal. It saves me time on busy nights to have that portion already done. In case of emergencies here is a leftover frozen chicken soup recipe.
Once shredded you can immediately, or make this Instant Pot chicken fajita soup the next day with about 2 cups of meat. I have thrown what I have into a pot with a can of cream of chicken soup and frozen peas inside too.
Just warm and throw it over a bowl full of white rice for a really cheap meal!! Here's the exact recipe for that.
Want to see a few of my favorite things that I am totally obsessed with?? Take a peek and see how many you might already have…twinsies!
Looking for more easy family recipes and tips? LIKE The Typical Mom Facebook page?
Then sign up for my free newsletter, and follow me on Pinterest! 😉
***** If you LOVED this recipe give it 5 Stars below and let everyone know what you thought about it. 😉
52 Leftover Chicken Breast Recipes
Best leftover chicken breast recipe with vegetables and condensed soup over rice. Cheap and delicious.
Instructions
In a pot on the stovetop over medium heat, add 1/2 c of water. When hot add your cans of condensed soup and stir until smooth.

Add diced precooked, leftover chicken with frozen veggies and stir. Allow to bubble and heat until veggies are cooked thru and tender.

Cook rice separately and serve this on top.
Nutrition Facts
52 Leftover Chicken Breast Recipes
Amount Per Serving (2 oz)
Calories 117
Calories from Fat 63
% Daily Value*
Fat 7g11%
Cholesterol 21mg7%
Sodium 731mg32%
Potassium 125mg4%
Carbohydrates 6g2%
Protein 7g14%
Vitamin A 119IU2%
Vitamin C 1mg1%
Calcium 11mg1%
Iron 1mg6%
* Percent Daily Values are based on a 2000 calorie diet.
Easy Rotisserie Chicken Recipes
If you want a dairy free recipe with leftover chicken I have one that is great for snacking. We have made it with cream cheese but this dairy free buffalo chicken dip uses mayo instead.
We've also made a pot of Publix buffalo chicken dip with it. Transforms it into a hot dip recipe for a party!
We love diced up pieces inside air fryer chicken cordon bleu hot pockets. Making a batch of chicken stew is a great option too!
Easy leftover chicken recipes
Ranch chicken is so good too! Okay so some call it crack chicken and it can be made in a number of ways. This one above is made in our Crockpot but we've made Instant Pot crack chicken pasta too which is over the top yum!
So if you are using this as a leftover chicken recipe all you will do is warm the ranch, cream cheese and chicken with a bit of broth together.
Serve once everything is nicely melted together inside your slow cooker on buns.
If you use your pressure cooker to make our casserole dish you'll just skip #1 step where you saute the meat. That part is already done so you can move on to the next instructions.
The same thing goes with our white chili recipe. There won't be a need to cook the meat since that is already done. Our Instant Pot white bean chicken chili is great too.
Of course you can always make chicken salad with grilled chicken that's been pre cooked and diced up. This makes for a quick and easy lunch or dinner and WAY better than store bought if you ask us.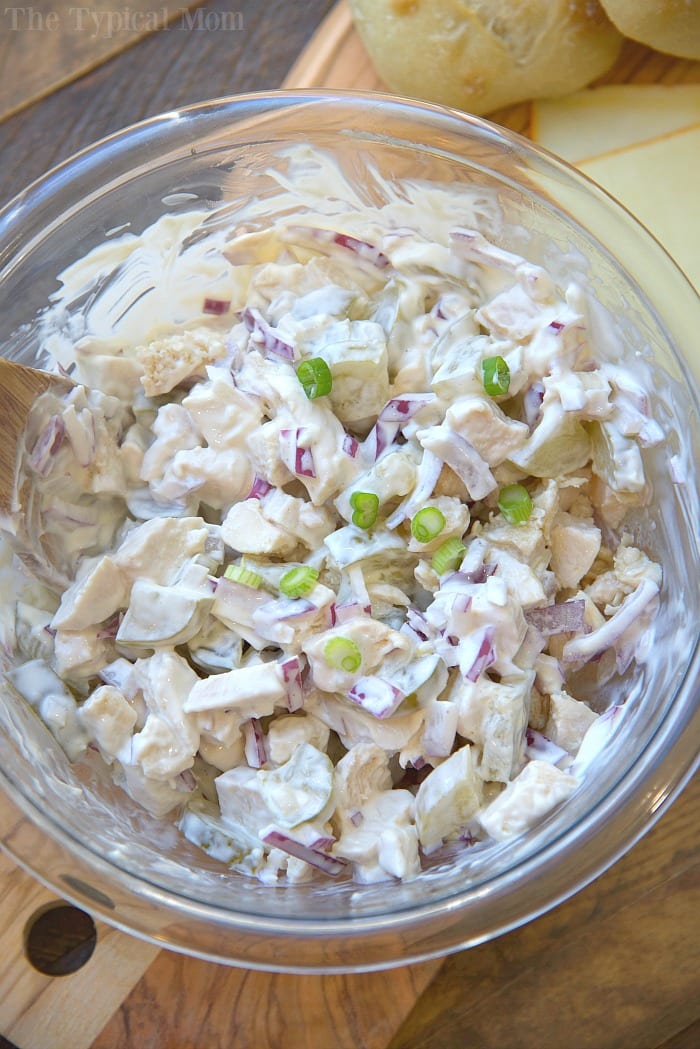 The key to this chicken sandwich mix is lots of dill pickles!! I like dicing them up fresh instead of using relish because it has a better texture and I like the larger chunks. You could use a dash of white wine vinegar instead if you didn't have any dills but really it makes this over the top.
Have you tried chicken cacciatore before?? Yes you can make it from scratch with fresh chicken breasts but our throw together version just uses spaghetti sauce and peppers!
What can I make with rotisserie chicken?
ALL of these!! I treat those just like meat I cooked myself but have left over.
Some of our muffin tin recipes can use leftover meat too.
Want to start to buy meat in bulk to save money? We do! It's been a money and time saver for sure and now we can do batch cooking. We've found great deals online and in store from time to time and now our freezer is stocked!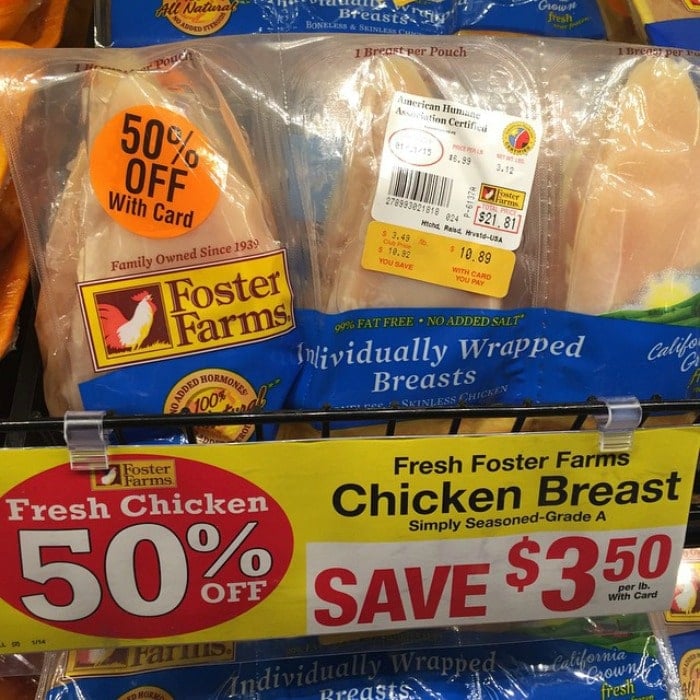 How do you reheat chicken without it getting dry?
I would suggest not warming it if you are going to add it into another dish. Like if you're making chicken stuffed bell peppers it will warm once you add it to the hot rice and sauce. If you heat beforehand you'll dry it out more than necessary.
Throw it in broth like our Instant Pot chicken rice soup.
Use a lower level of heat if you're cooking it by itself, like 250 degrees F.

Add a dash of oil or butter to keep it moist.
10-15 minutes will usually do it
Always make sure the internal meat temperature is 165 degrees
To have even better success, you really should allow let the meat to reach room temperature before putting it in the oven.
The easiest thing to do when I am just done at the end of the day is to throw together a chicken soup recipe of some kind. Our favorite is our Instant Pot chicken noodles soup with some veggies and bread and you're set.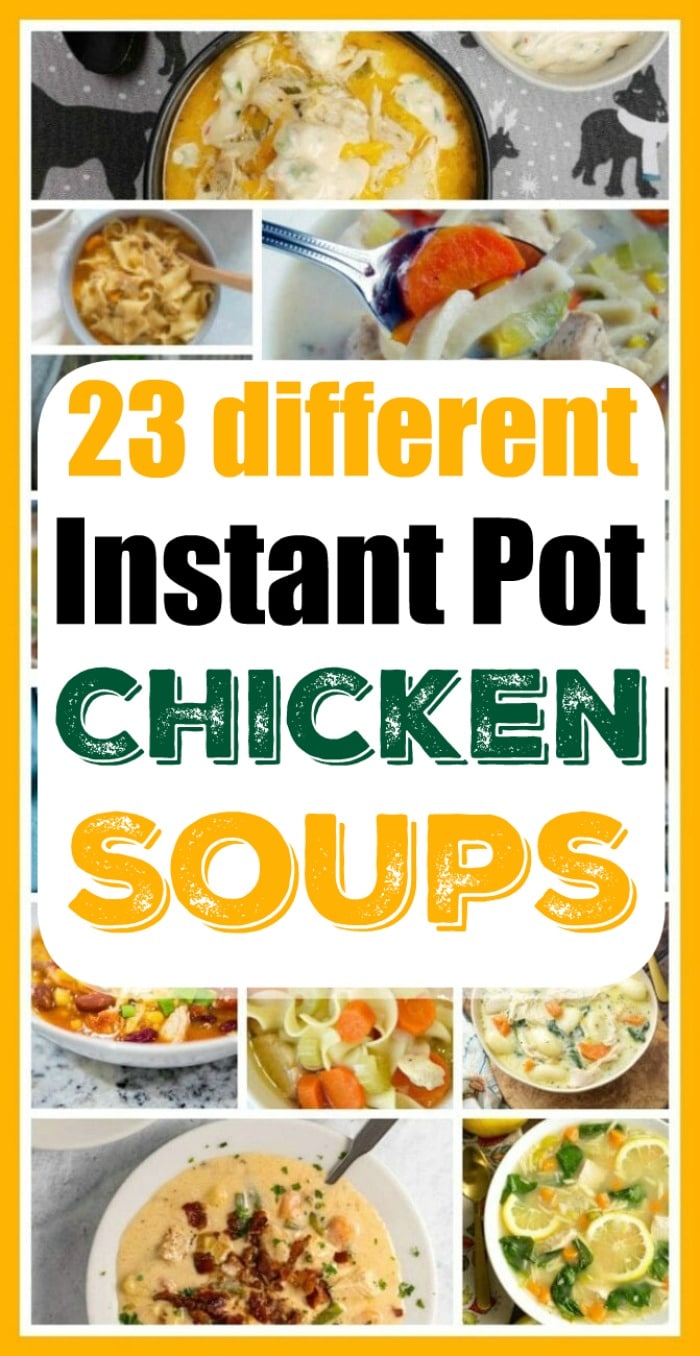 Can chicken be reheated twice?
It's really no different from other meat you might want to warm up the next day. Yes, you can reheat it safely two times, just make sure it's reheated the whole way through. Poultry should never be eaten when it's pink or red in color.
Leftover chicken recipes
You can make a great pot of homemade chicken noodle soup with whole chicken leftovers. A super healthy meal that is great when you're feeling icky.
Do you have a leftover recipe chicken you make all of the time that you love?
I have heard of things in other parts of the country like chicken rice salad in the South that sound great.
That one is next on our list.
Want to see a few of my favorite things that I am totally obsessed with?? Take a peek and see how many you might already have…twinsies!
Looking for more easy family recipes and tips? LIKE The Typical Mom Facebook page?
Then sign up for my free newsletter, and follow me on Pinterest! 😉
***** If you LOVED this recipe give it 5 Stars below and let everyone know what you thought about it. 😉