This rice green chile chicken casserole is so good! With hatch chiles and cream cheese inside topped with cheddar cheese it's sure to be a great dinner.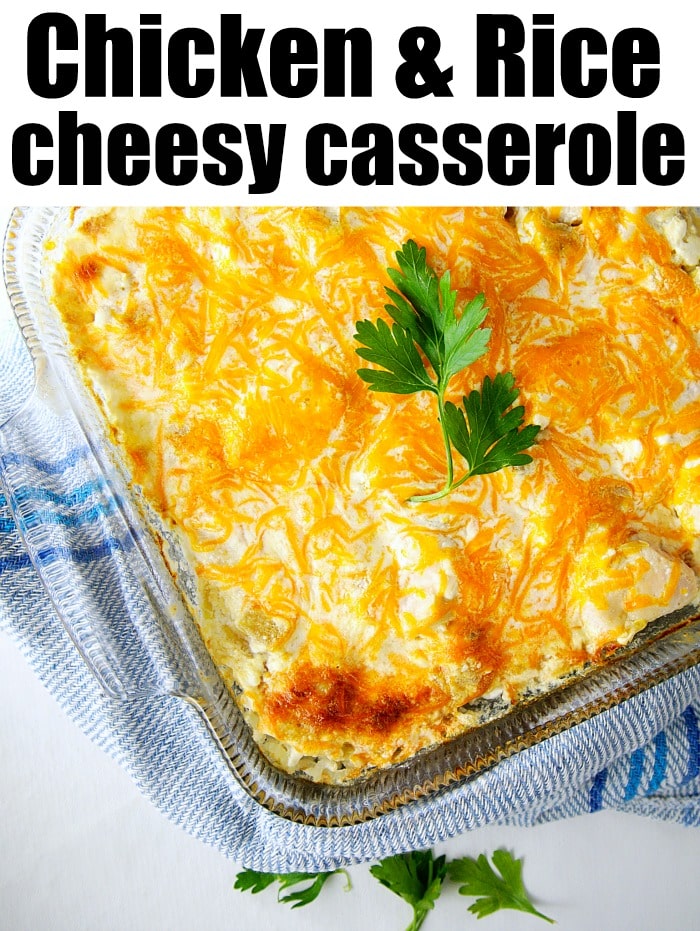 It's hatch chile season again and our green chile chicken casserole is what you need to make tonight! Our family loved it! Whether you use fresh or canned chiles this cheesy comfort food is always a winner with adults and kids. Just one of our favorite quick and easy casseroles. (affiliate links present)
With the creaminess of cream cheese and lots of cheddar cheese it's kinda' addicting I tell you. Now you have the choice to use mild hatch chiles or if you're daring use the spicy ones! Totally up to you but we opt for mild in this house.
Green chile chicken casserole with rice
I used uncooked long grain white rice for this one, but we've used noodles too. If you want to try that one, follow our Instant Pot crack chicken casserole recipe which is just as delicious. It's one of our most popular recipes here on The Typical Mom.
This one is good if you want to make a green chile chicken rice casserole in the oven.
You probably have most of the chicken casserole ingredients in your fridge and/or pantry already:
Chicken – diced into bite size pieces

chicken breasts or thighs
could use leftover shredded chicken too

Cream cheese
White rice
Shredded cheese

we like sharp or a mix with monterey jack cheese

Green chiles – canned

or smoked chiles diced
you can roast your own green chilies
poblanos can be used like in this chile relleno casserole recipe

Chicken broth
Salt and pepper to taste
A dollop of sour cream on top when it's done is great.
The key to making this creamy cream cheese chicken mixture is to warm your broth. Using a whisk is helpful to make it smooth.
Whisk together warmed broth and cream cheese. Add seasoning and cornstarch until smooth.
If you're roasting your own hatch chiles remove the skins once blackened, and take out seeds + strands to make it milder. Dice into small pieces.
Using canned is fine, you can skip this step if you are. Add your green chilies in and stir.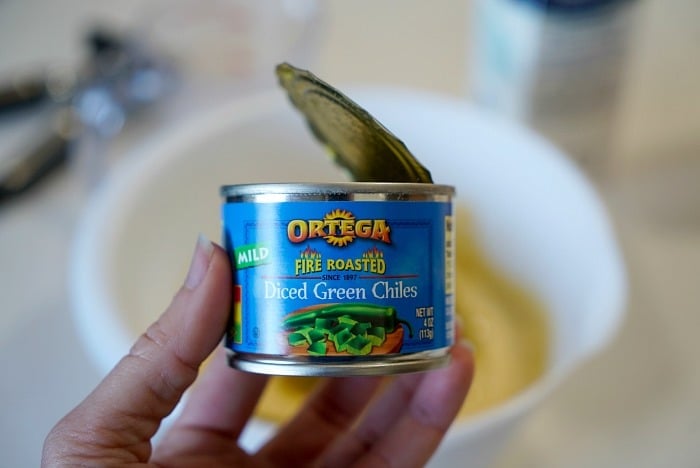 Add your diced chicken pieces and seasonings, then mix together well.
Your uncooked rice will go on the bottom of your baking dish.
Followed by your cream cheese and chicken mixture.
Then top everything with shredded cheddar cheese.
Put into a preheated oven at 375 degrees for 45 minutes or until chicken and rice are tender.
How do you thicken a casserole?
Just leave it in the oven a bit longer so more of the liquid can be cooked off/evaporate.
Remember that it will thicken a bit when you take it out and it's cooling too.
There are several versions of green chile chicken casserole. Some use quite a bit of enchilada sauce, but I prefer this one because it's creamier. Others are made with flour tortillas which we have done with this chicken tortilla bake. It is another great hatch chile recipe to try.
This enchilada casserole made with ground beef is yummy too.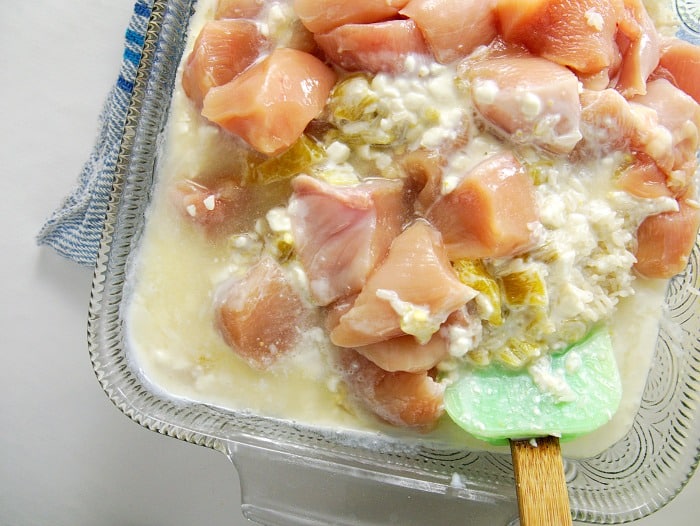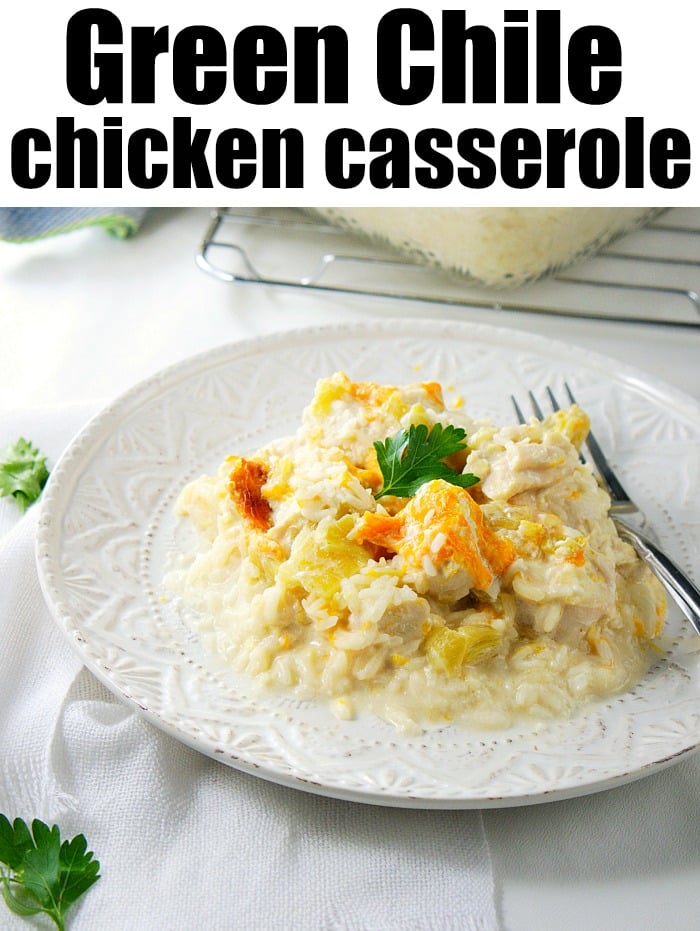 Served in bowls or on a plate with a side of air fryer cauliflower or pressure cooker broccoli, green chili chicken casserole is really yummy.
If you have 1/2 cup of remaining cheese from when you grated yours you can sprinkle it on top of each serving too. A pinch of chives is great as well.
I haven't made this yet with leftover rotisserie cooked chicken but that is on my list.
Shouldn't be a problem at all using about 3 cups of chicken diced, following the same instructions below.
If you try it before I do let me know what you think. 😉
Next chicken recipes you should try: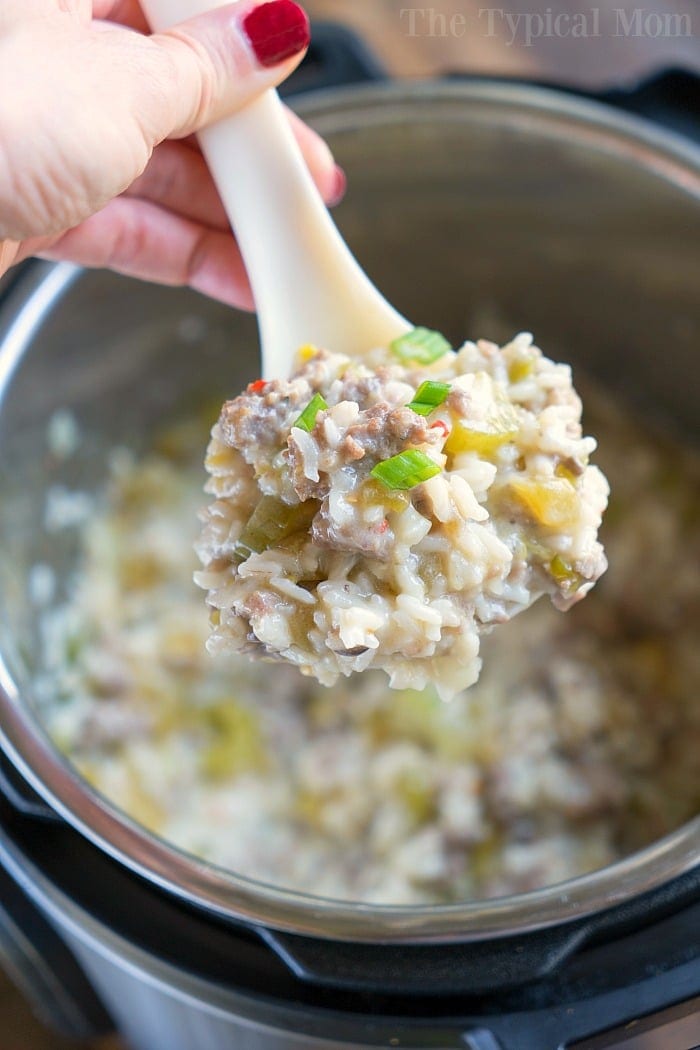 Do you have to cook rice before putting it in a casserole?
NO, I don't with any of mine!
That's what's so great about these quick one pot meals we make.
There is very little prep.
No cooking is necessary beforehand.
Throw everything in, mix together, and pop it right into your oven (or pressure cooker).
Can you cook raw chicken and rice together?
YES, we do it all the time. The recipe we probably make most often is this Crockpot chicken casserole with rice and vegetables in it.
This Instant Pot chicken parmesan casserole is a great example of this too. If you don't want to, then try our cheesy chicken broccoli casserole that uses stuffing.
What goes well with chicken and rice?
Try any of our easy side dishes here.
If you want to make this in a pressure cooker follow our pressure cooker chicken and rice recipe and add chiles into that.
Want to see a few of my favorite things that I am totally obsessed with?? Take a peek and see how many you might already have…twinsies!
Looking for more easy family recipes and tips? LIKE The Typical Mom Facebook page?
Then sign up for my free newsletter, and follow me on Pinterest! 😉
***** If you LOVED this recipe give it 5 Stars below and let everyone know what you thought about it. 😉
Green Chile Chicken Casserole
This rice green chile chicken casserole is so good! With hatch chiles and cream cheese inside topped with cheddar cheese it's sure to be a great dinner.
Instructions
Preheat oven to 375℉ and spray a baking dish with cooking oil spray, set aside. (I
used a square 8×8 baking dish)





In a medium bowl, place the cream cheese, salt and garlic powder. Then warm the broth in the microwave for 30 seconds so it is easier to whisk everything together. Pour 3/4s of
the warm chicken broth and whisk until you have a smooth cream cheese sauce. Then whisk in cornstarch until smooth.





Add the green chilies and stir. Taste the sauce and if
necessary adjust the salt if desired, set aside. Add chicken pieces and rest of broth, stir together.

Pour the rice into the baking dish, then add the cream cheese sauce with chicken. Make sure you create an even smooth layer, so that everything bakes the evenly.

Now sprinkle the cheese over the dish and place in center of oven and bake for 45 to 50 minutes. Check the casserole after 45 minutes at which time the chicken will be cooked through and the rice should be tender.

If the mixture is still a little wet continue to bake until excess liquid has absorbed. It will thicken a bit as it stands though so keep that in mind.

Allow to cool for 10 minutes for everything to solidify and sauce to thicken more, scoop out and enjoy. Great with a small dollop of sour cream on top too.