Lots of hatch green chile recipes your family will love! Using fresh or canned we will share casseroles, dinners and side dishes here. Start with our creamy side dish called green chile rice that gets RAVING reviews and then move on to the others.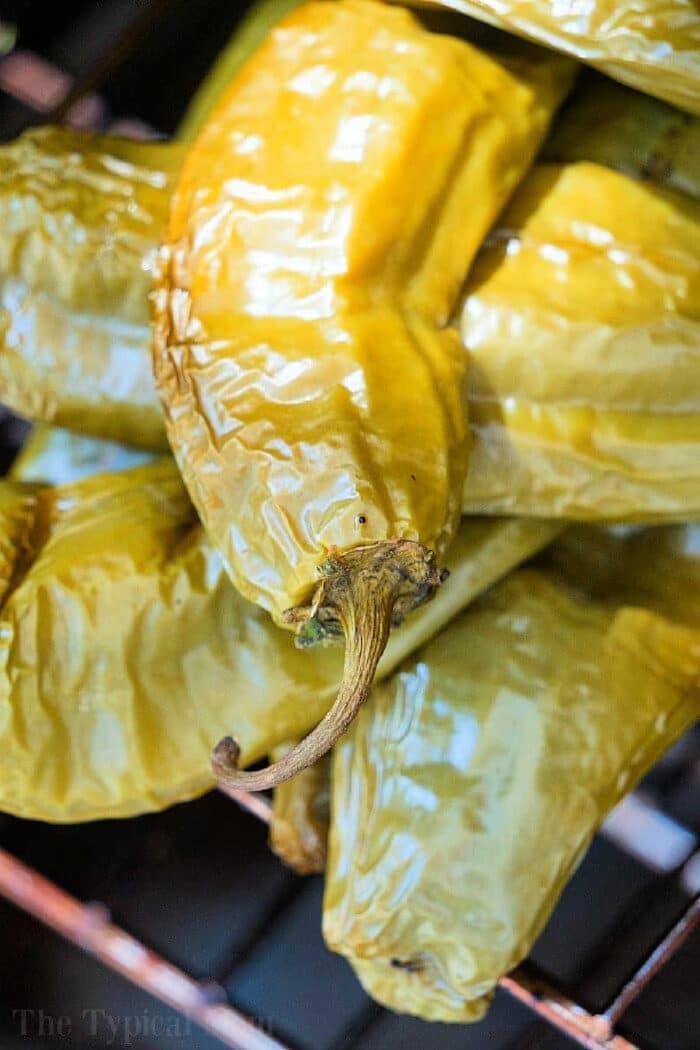 Tell me you've tried hatch green chile recipes of some kind right? If not you're in for a treat! They are in season and in the stores at the end of July to the beginning of August typically. The flavor is amazing whether you choose mild or very hot! (affiliate links present)
Green Chile Recipes
Whether you use fresh or jarred roasted hatch chiles I guarantee you'll come back for more. You can add these babies once diced or sliced open in all sorts of things. Let's start with a side dish that goes with everything, our Mexican hatch chile cornbread. You can add mild or make it spicy with chile stew!
When they're in the stores we grab a bunch. They freeze quite well too. If it's not the time of year where they're really fresh you can get canned chiles here year round. We always have a bunch of these in the pantry.
Best Hatch Green Chile Recipe
One easy one that really has a strong flavor of chiles is our Instant Pot carnitas. Using these diced and a jar of salsa verde it turns out really tender. Served on rice or inside mini tortillas as tacos with fresh corn kernels, they are fabulous.
We throw them into easy casseroles for a bit of a kick a lot of times, an easy way to add flavor and make it a bit spicy as well.
What can I do with hatch chiles?
There are SO many possibilities. We throw them into easy casseroles for a bit of a kick. Stir them into cream cheese and top bagels with it, or put on top of hamburgers. The possibilities are endless!
What is the season for hatch chiles?
You can enjoy hatch chiles and find them fresh at your local grocery store like Albertsons in the beginning of August through the end of September. Hatch chile season is short so grab a bunch and freeze some!
Are hatch chile peppers hot?
They vary in heat. The hottest part of each one is the inner membrane and seeds. If you find mild ones and remove the insides they won't have a lot of heat at all but great flavor still. Grown in the hatch valley typically each farm will grow a variety of spicy levels.
Hatch Green Chile Recipes Vegetarian
We have it all. Even with the ones that include meat you could most of the time leave that out entirely or use a meat substitute that is plant based.
Do you have to peel hatch peppers?
The outer skins are quite thick and firm, nothing you'd want to chew on. If you smoke or blacken the skins and submerge in ice water they should fall right off. Putting them into a paper bag when done like we do with roasted jalapeno works well too.
In the end though, whether or not you need to peel hatch peppers depends on your personal preference and how you plan to use them in your recipe. All varieties of these green peppers have an edible that contain much of the flavor so you can consume it but typically the texture is better if you stick with using the inner flesh instead.
If you prefer a smoother texture or are using the peppers in a recipe where the skin may be undesirable. Like if you wanted to throw some into our copycat Qdoba salsa verde or sauce, I would suggest that the outside would be removed. This can be done by roasting peppers until the skin blackens, or boiling.
Always wear gloves if your variety is spicy, or you will regret it
Remove skins by rubbing the peppers with a paper towel or scraping it off with a knife.
Alternatively, you can also blanch peppers in boiling water for a few minutes and then peel the skin off.
However, if you enjoy the texture and flavor of the pepper skin, you can leave it on and enjoy as is or use it in your recipe without peeling it. Ultimately, whether or not you peel depends on your personal preference and the requirements of your recipe.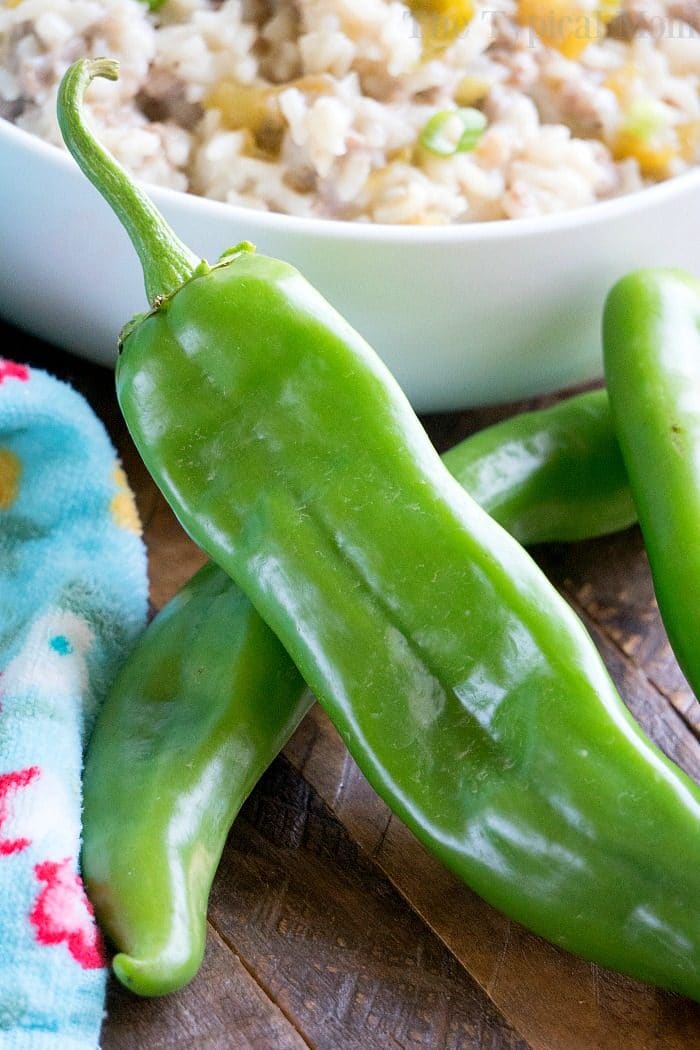 What to Make with Hatch Chiles
You can certainly think outside of the box beyond our list here. Basically anything savory could potentially have some of these added on. Grilling burgers and want some wow? Peel the skins and lay half of it on the top of your beef patty. It will add tons of flavor, heat, and give it that wow you want for your guests.
Your condiments can be kicked up a notch with some of these finely diced too. Think folded into your mayo on a sandwich, or ketchup to dip your french fries in, I mean the list goes on and on.
Then if you want a heartier meal add chicken broth and make this green chile chicken casserole.
Diced you can throw it in to make some hatch chile salsa with chips.
And then talk about soups. Works great inside of that diced up for heat, texture and flavor. Our Chicken Poblano Soup is a great one to try with these.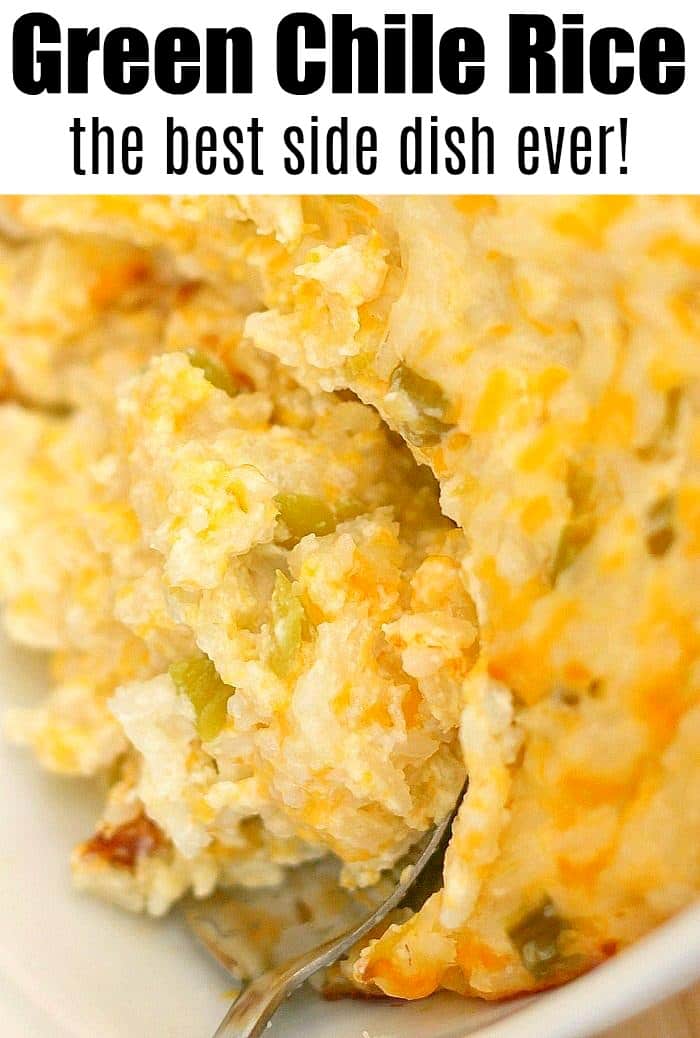 We added a few of these in our June Instant Pot recipes roundup, but will add more here.
No matter what brand you have whether it be a Ninja Foodi, Crockpot Express, or Mealthy or any other type, these will work great and I include instructions for as many models as I can.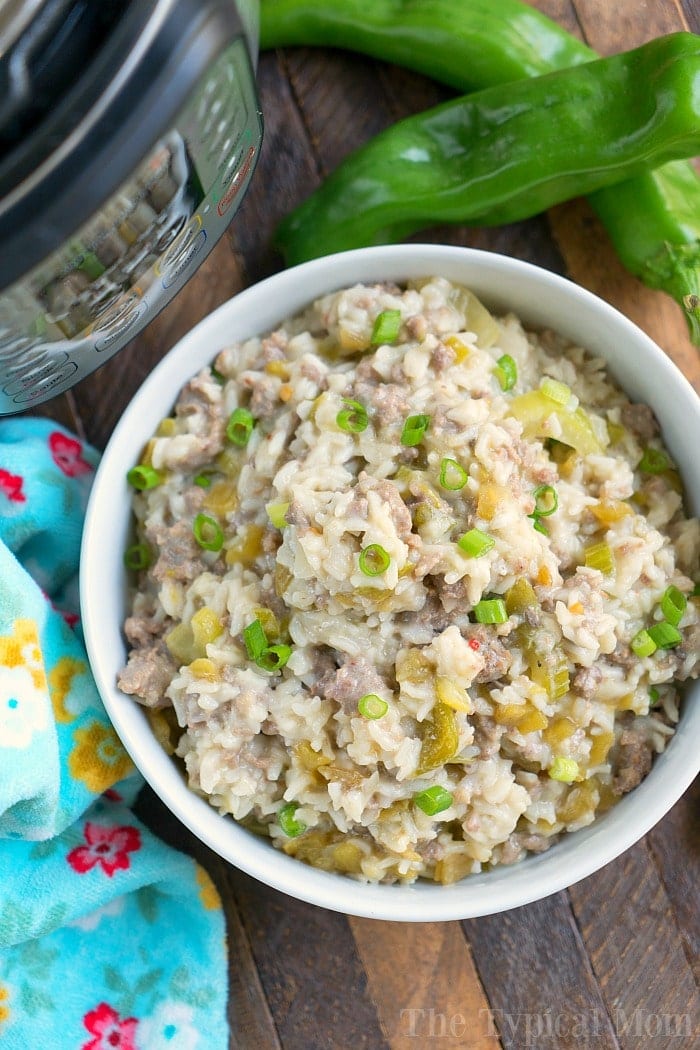 Recipes with Hatch Chiles
I continue to add more to all my hatch green chili recipe ideas, you can use the search bar on my site to find them all. You can add them to other dishes too that don't specifically call for them like on top of our Instant Pot frozen roast when cooking to give it some heat or;
Want to see a few of my favorite things that I am totally obsessed with?? Take a peek and see how many you might already have…twinsies!
Looking for more easy family recipes and tips? LIKE The Typical Mom Facebook page?
Then sign up for my free newsletter, and follow me on Pinterest! 😉
***** If you LOVED this recipe give it 5 Stars below and let everyone know what you thought about it. 😉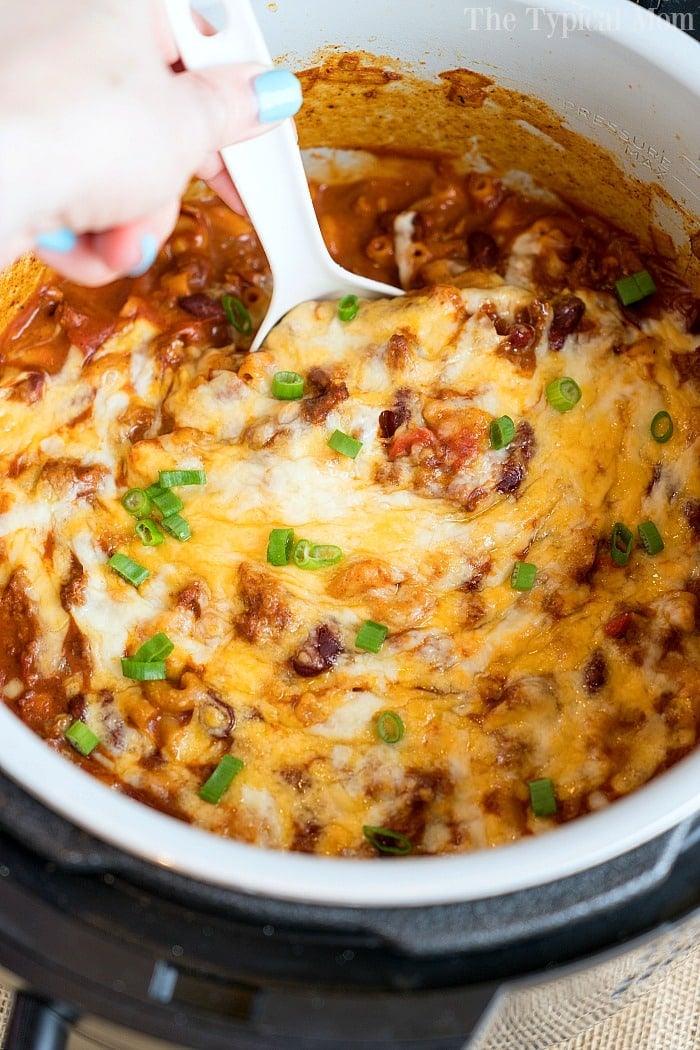 Hatch Chile Recipes
Lots of hatch chile recipes are here to make for lunch or dinner. How to smoke green chiles to use the insides. Choose mild or spicy in recipes.
Instructions
Turn pressure cooker to saute and add olive oil, ground sausage or beef, and diced onions. Cook until meat is no longer pink, adding packet of chili seasoning half way through cooking process.

Turn pot off.Dump in tomato sauce, diced tomatoes, kidney beans, beef broth, chili powder if desired and stir.Pour 1 cup uncooked noodles on top and gently push down so they are just submerged but do NOT stir.

Set to pressure high for 5 minutes. Do a quick release and lift lid. Turn pot off. It is great with 3/4 c of shredded cheese is stirred in at this time, or if you have a Ninja foodi you can sprinkle it on top and close the top air crisp lid at 400 F for 2 minutes until browned. Serve
Nutrition Facts
Hatch Chile Recipes
Amount Per Serving (2 oz)
Calories 176
Calories from Fat 27
% Daily Value*
Fat 3g5%
Sodium 360mg16%
Potassium 580mg17%
Carbohydrates 30g10%
Protein 9g18%
Vitamin A 425IU9%
Vitamin C 11mg13%
Calcium 52mg5%
Iron 3mg17%
* Percent Daily Values are based on a 2000 calorie diet.