This pressure cooker cornbread is the perfect side dish for any holiday and perfect served with chili! An easy homemade cornbread recipe cooked right in your Instant Pot and comes out so moist and pretty using this bundt pan. Add some chiles and even jalapenos and enjoy your favorite bread in no time at all.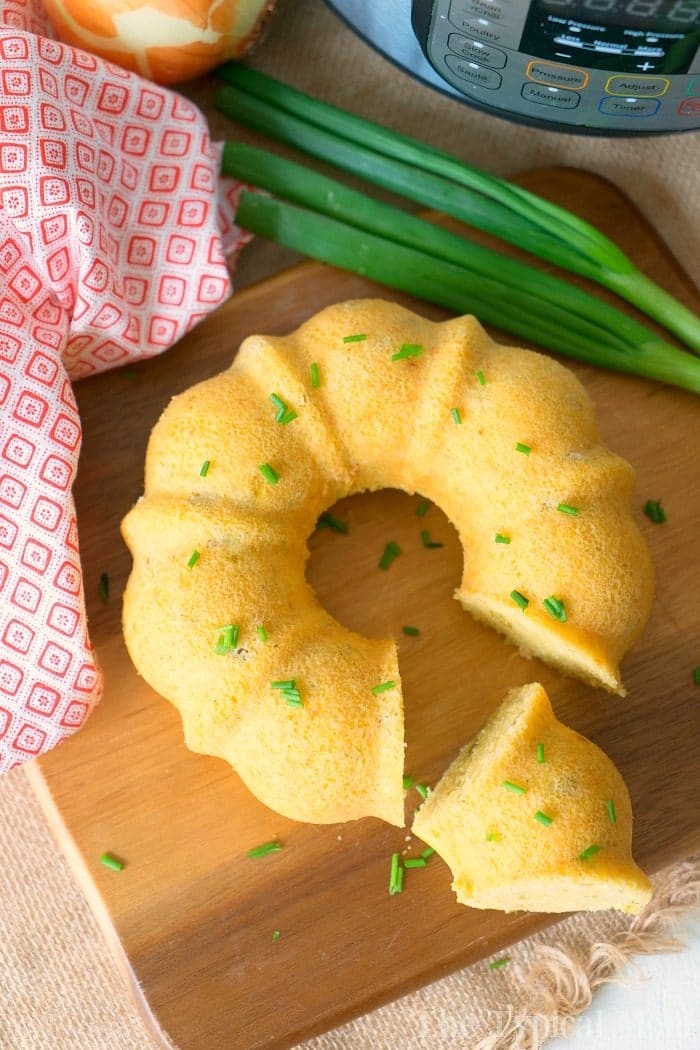 Now you can make Instant Pot pressure cooker cornbread for the holidays or any time of year! It's definitely a favorite side dish Instant Pot recipes. (originally published 3/18, affiliate links present)
Instant Pot Cornbread
I've used my mini bundt pan to cook some wonderful desserts in my Instant Pot. You could use your Ninja Foodi as well, any brand including a Crockpot Express will do. I hadn't attempted any sort of Instant Pot bread though until the other night, it worked really well.
Why would you do it this way? Well if you have ever lived in a state where during the summertime it nears 100 degrees you know why. Another great reason is that during the holidays when your oven is full of other dishes this is another way to bake!
FIRST – You should sign up for my free newsletter so you get new posts emailed to you twice a week and never miss out on anything! Now let's start with a few basic tips:
Make sure to Bookmark our InstaPot recipes page. We add new ones each week!
Then PRINT this —–> Instant Pot cooking times cheat sheet that will help you understand how long meat, vegetables and beans take to cook in your pressure cooker.
For reference, this is the pressure cooker I have (a 6 quart) and use for all recipe creations.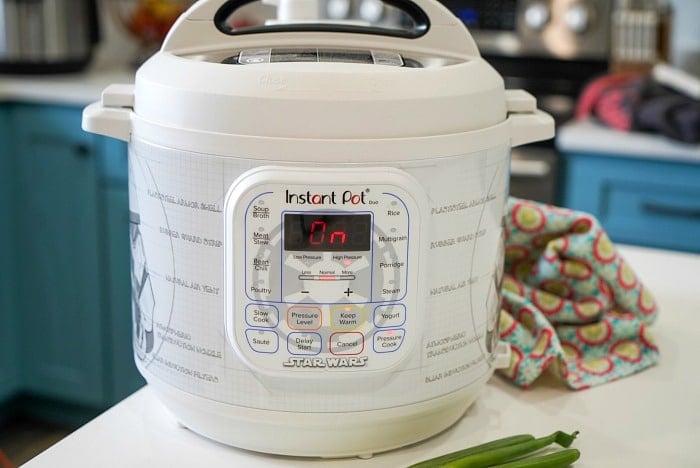 Cornbread Instant Pot
Once again, why would you bother cooking cornbread this way instead of putting it in your oven?? Well during the summertime there is NO way I am going to turn on my oven!
During the holidays I like to eliminate what needs to be baked too.
I used the recipe on the back of the Albers yellow corn meal box. Adding the can of chiles was new because I thought that would give it a wonderful flavor, which it did. You can find mild and spicy versions of those and of course that is optional.
Diced jalapenos work well too if you want to really add some heat inside of every bite. Now the biggest difference between baking it the traditional way and this is the denseness. It is under high pressure so not only does it become very moist but a bit heavy as well. With this type of bread that actually works quite well.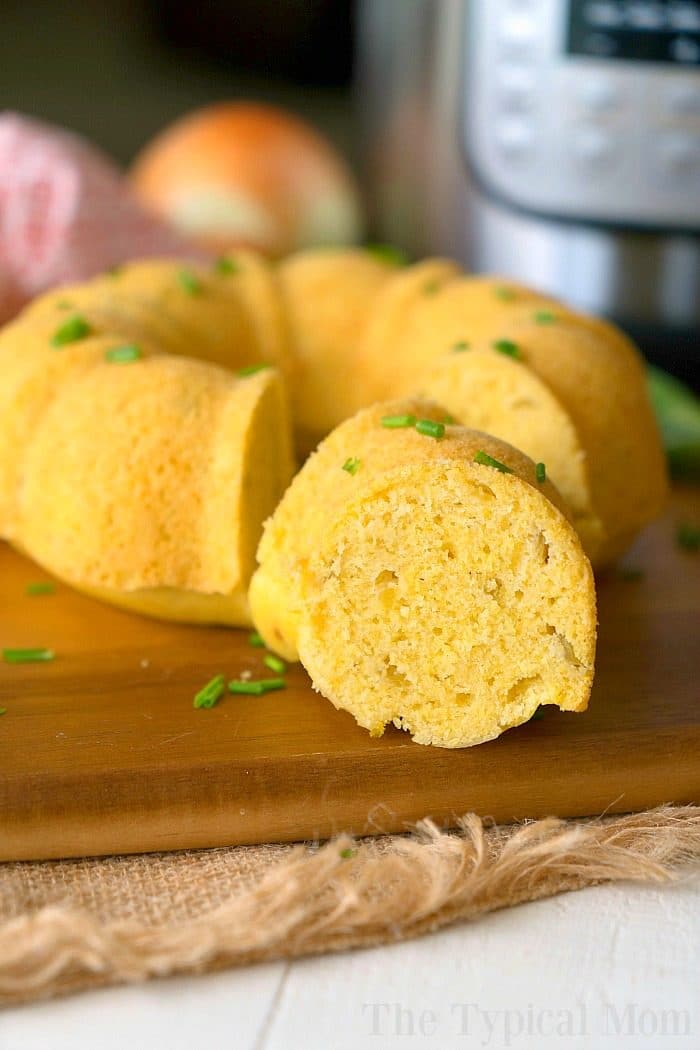 Ninja Foodi Cornbread
I will say everyone has a preference when it comes to cornbread. One difference would be the add ins.
Want to make spicy cornbread? Add some diced jalapenos if you do. I don't prefer that but still like added flavor so I like added a can of diced chiles to ours.
It came out really well the first time around even though I wasn't sure of the timing.
I put it in for 35 minutes and once it cooled was cooked perfectly thru as you can see here. Yes you can make a batch in your oven, but if you love pressure cooking ALL THE THINGS (as I like to say), try this!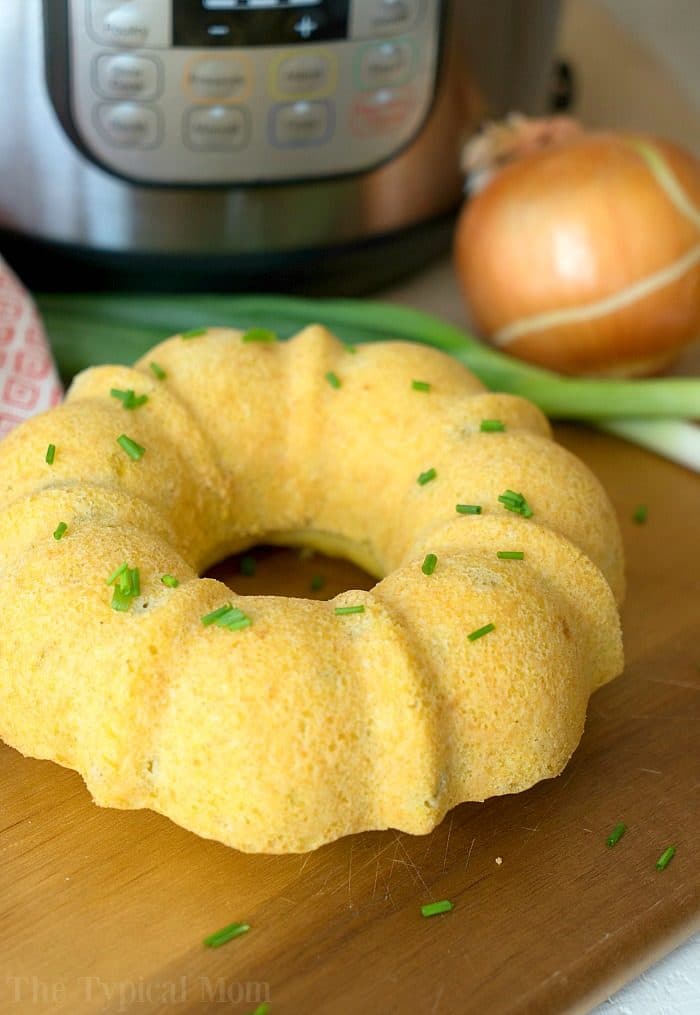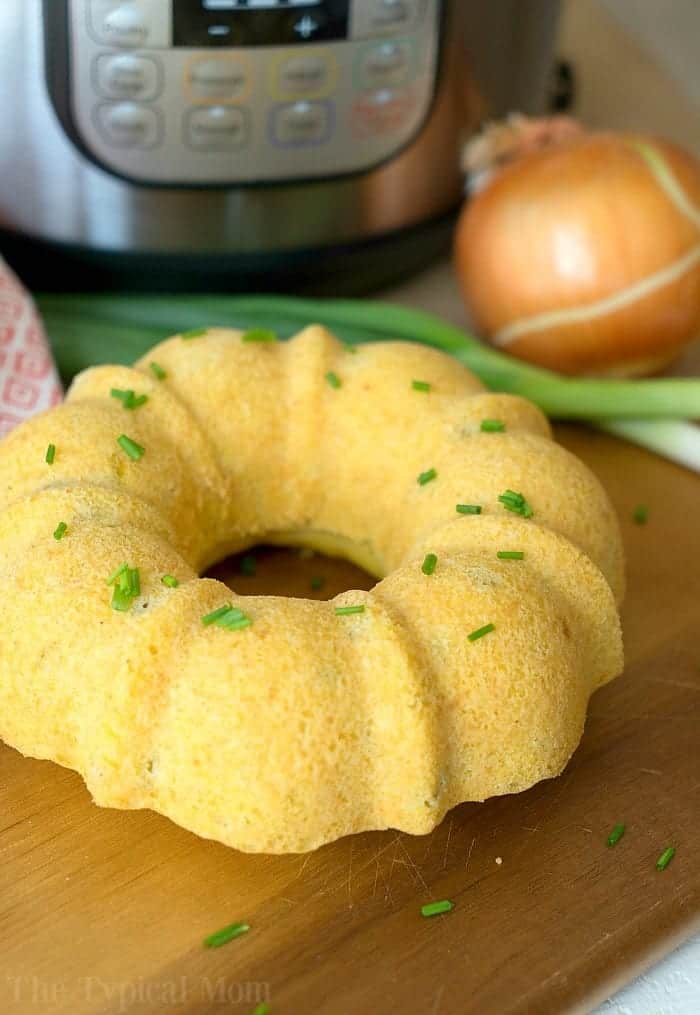 I used my mini bundt pan which is one of my Instant Pot accessory recommendations and it helps with cooking it evenly I think.
When you use a springform pan instead the inside is going to be moister than the outer rim. I just think using this not only cooks evenly but looks really pretty when you serve it!
I have a 6 qt. Instant Pot and this would serve probably 10-12 people as a side dish with 1 piece each, I wouldn't add any more to the pan or it will overflow.
How do you make homemade cornmeal?
I didn't do this but in case you can't find a ready made product, this is what you can try.
Start by placing 2 cups of dehydrated corn, such as popcorn kernels, into a grain mill or high powered blender. You must grind them on the coarsest setting.
Then, pour the coarsely ground corn into a fine mesh strainer. Shake it from side to side so the small pieces fall into a bowl below. What's in your bowl will be what's used. If you just want to make Jiffy cornbread that is the easiest way ever.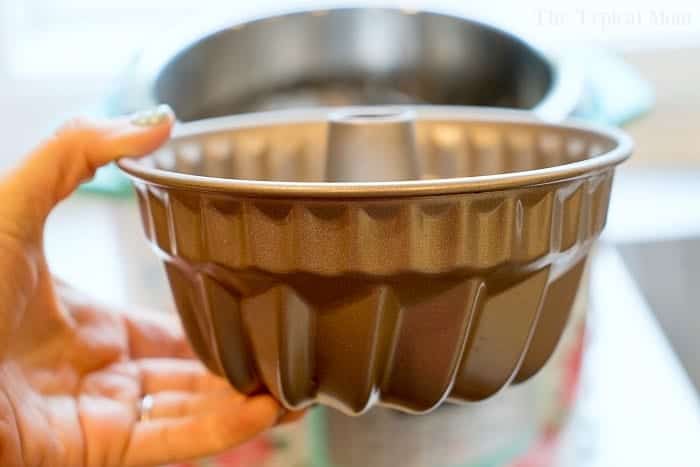 Pressure Cooker Cornbread
6 cup bundt cake pan

Use non stick cooking spray inside before adding mix
Or brush on melted butter

Corn meal – Albers is the one I used
Flour
Sugar
Baking powder
Salt
Buttermilk
Oil
Egg
What can I add to cornbread mix?
Diced chiles are great, we did this with our air fryer cornbread too

Jalapenos cut into very small pieces
Cheese
Bacon bits
We've added sugar on top to cornmeal muffins in the oven
What meal goes well with cornbread?
It pairs perfectly with our Instant Pot chili so try them both tonight! Both save well if you do have leftovers and warm up nicely for lunch the next day(s).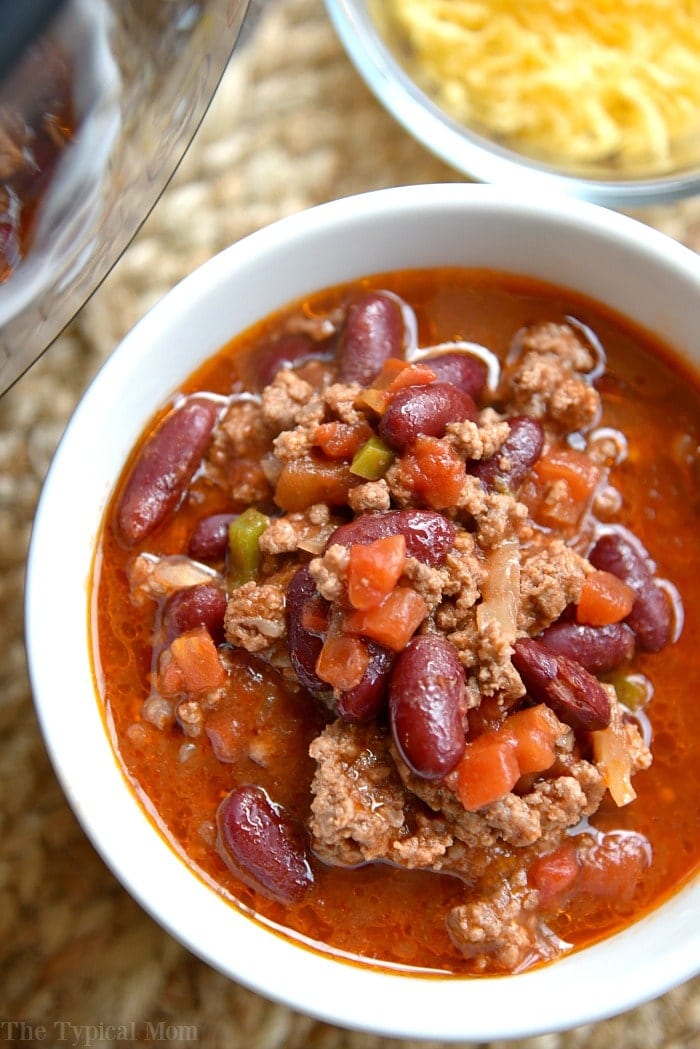 Instant Pot Cornbread Recipe
These are the basic steps to follow:
Mix dry ingredients together in a bowl, add wet ingredients until smooth.
Spray non stick spray into pan, pour batter in.
Pour cup of water into bottom of pot, lower trivet down inside.
Lay a paper towel and then a piece of aluminum foil on top of pan.
Close lid and steam valve, set to high pressure for 35 minutes cooking time.
Allow to naturally release steam, after about 15 minutes remaining pressure should be gone.
If you're making this for a get together here are other Instant Pot side dishes you can make.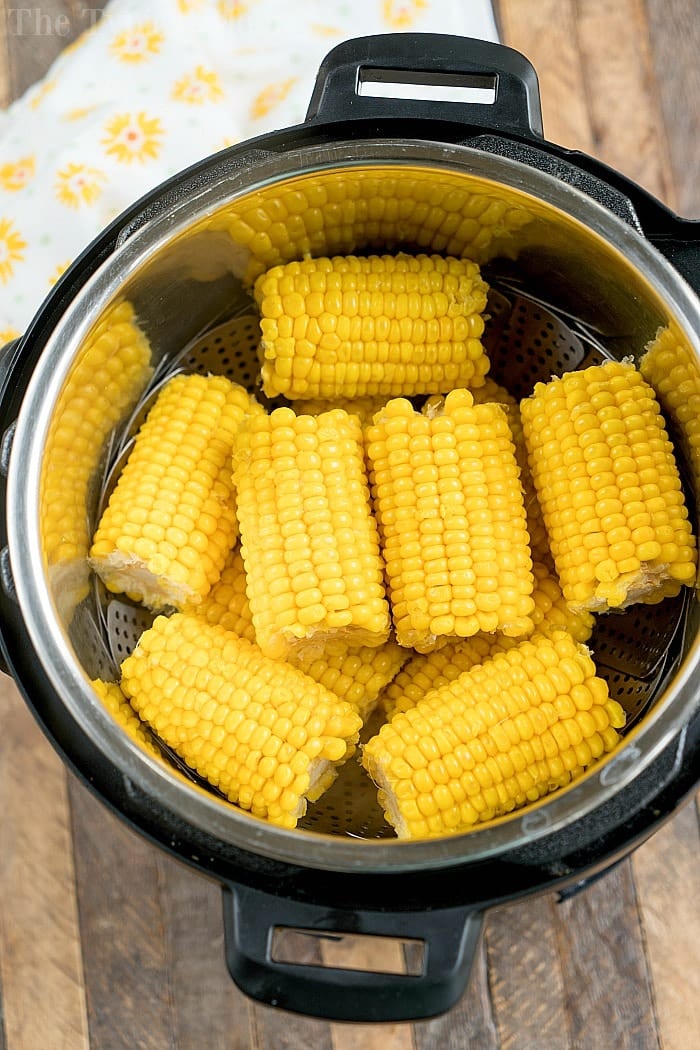 How long does cornbread last in the refrigerator?
To store cornbread, wrap it in plastic wrap or aluminum foil. Leave it out at room temperature for 1-2 days. If you want your cornbread to stay fresh for longer, wrap it in plastic wrap and store it in the fridge for 1 week.
How do you reheat day old cornbread?
Bake in your oven and preheat to 350 degrees
If you have cornbread leftovers, place it on a baking sheet
Cover with aluminum foil
Set your timer 10-15 minutes
You can add moisture by drizzling honey on each piece before serving
Want to see a few of my favorite things that I am totally obsessed with?? Take a peek and see how many you might already have…twinsies!
Looking for more easy family recipes and tips? LIKE The Typical Mom Facebook page?
Then sign up for my free newsletter, and follow me on Pinterest! 😉
***** If you LOVED this recipe give it 5 Stars below and let everyone know what you thought about it. 😉
Pressure Cooker Cornbread
This pressure cooker cornbread is the perfect side dish for any holiday and perfect served with chili! An easy homemade cornbread recipe cooked right in your Instant Pot and comes out so moist and pretty using this bundt pan. Add some chiles and even jalapenos and enjoy your favorite bread in no time at all.

Instructions
Add all dry ingredients into a bowl and mix well.

In another bowl gently whip your egg and add your buttermilk and oil, dump this into your dry mixture and fold together gently until combined.

Add can of diced chiles (makes it taste really good and not spicy if you use mild, medium is great too). Fold together.

Spray the inside of your 6 c bundt pan (this will fit inside a 6qt and 8qt Instant Pot or other pressure cooker). Pour batter inside.

Cover top of bundt pan with a paper towel and then with foil and seal around edges.

Put a trivet inside your Instant Pot with 2 cups water.

Lower your bundt pan on to your trivet (use a sling so you can lift it back out).

Close your lid and steam valve and set to pressure, high, for 35 minutes.

Allow to naturally release. Take bundt pan out, remove foil and paper towel and cool on a cooling rack.

Gently loosen edges from pan so it will slide out. Put cutting board or plate on top and carefully flip over. Remove bundt pan, cut and serve.
Nutrition Facts
Pressure Cooker Cornbread
Amount Per Serving (3 oz)
Calories 210
Calories from Fat 81
% Daily Value*
Fat 9g14%
Cholesterol 18mg6%
Sodium 251mg11%
Potassium 224mg6%
Carbohydrates 27g9%
Protein 4g8%
Vitamin A 65IU1%
Vitamin C 0.2mg0%
Calcium 84mg8%
Iron 1.2mg7%
* Percent Daily Values are based on a 2000 calorie diet.