This is an easy step by step how to blanch bell peppers tutorial and use them in lots of great recipes. A simple technique I use to make amazing stuffed bell peppers for dinner often.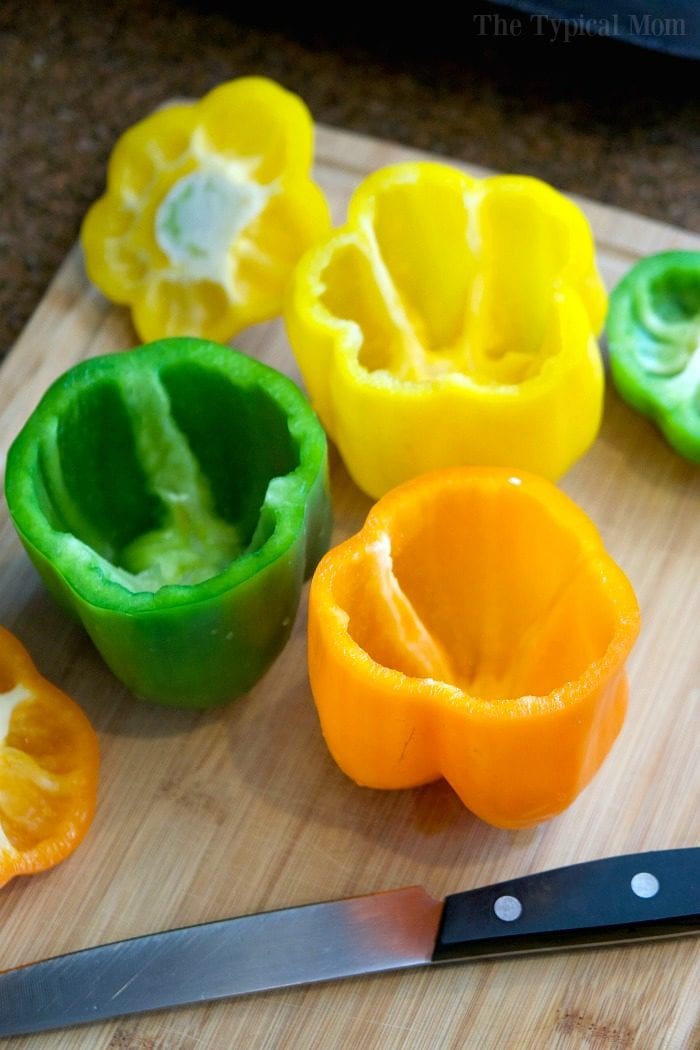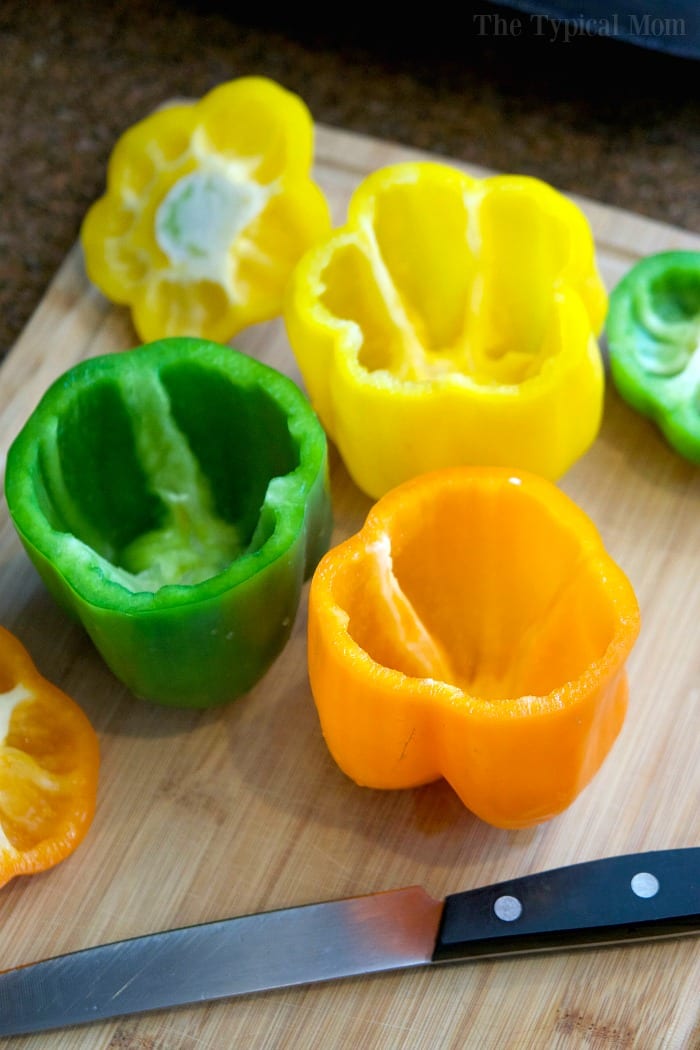 Ok so I didn't know how to blanch bell peppers either when my husband asked me to make his grandma's stuffed bell peppers recipe. It only took once for me to realize it really wasn't hard at all and boy what a difference it made when I was using them in a recipe. (originally published 8/17, affiliate links present)
If you have never done this you'll be surprised at just how easy this is. We will show you step by step how it is done so your next recipe has the perfect texture.
Let us share these cooking basics with y'all.
Do you have to boil peppers for stuffed peppers?
Well, I mean you don't HAVE to but they won't be tender if you don't. They need to be softened by submerging them into boiling water to get that first. Then when baked they can continue to become tender.
Once you cut the top off and removed the insides of your bell peppers you will want to put a pot of water on the stove. Choose a pot that will fit the number of peppers you are blanching and cover them with boiling water.
I can usually fit 4 comfortably in my large pot at the most. You don't want to smush them in there because when they soften they will crack if not left alone.
If you are filling them with contents like when you're making our stuffed bell peppers recipe you don't want a way for the filling to escape.
It's a kind of a test at first because everyone likes their blanched bell peppers a different consistency so stand by your pot the first time.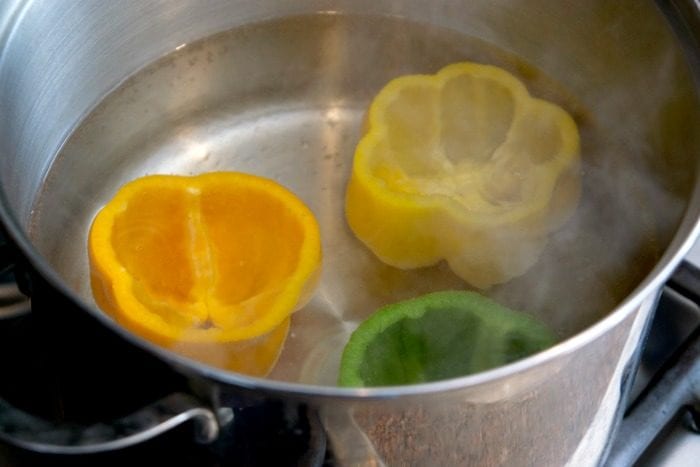 Take the pepper out with tongs every minute or so to feel it's consistency, then you will know for the future exactly how long you want to keep them in the boiling water, this is a general rule though and how we make them.
Timing is flexible. Everyone likes them a bit different. If you want them a bit firmer than 10 minutes should do it.
Softer might go 12-15 minutes. I would lift one out and with tongs you should be able to feel the texture.
All different colors will cook and soften at the same rate.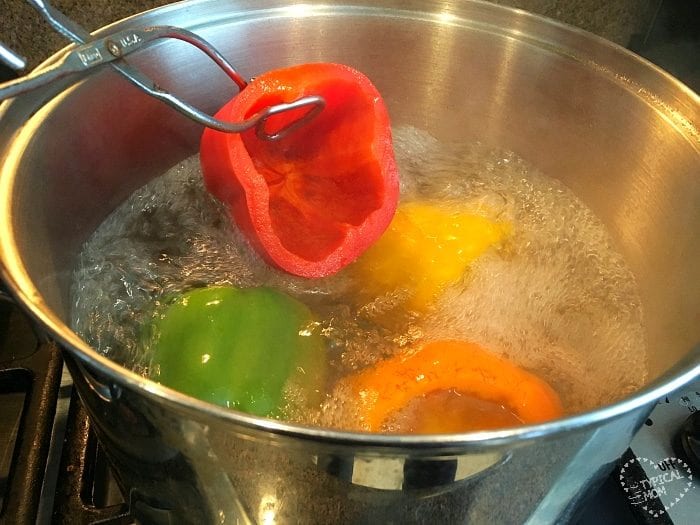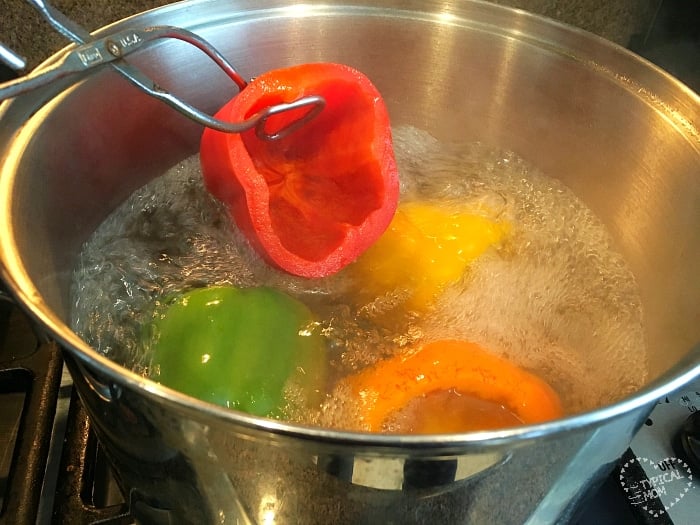 How to Blanch Bell Peppers
I do have a printable recipe card at the bottom of this post but here is a quick rundown so you can see how it is done basically. Not hard and worth the extra few minutes for sure.
Time needed: 15 minutes
Blanch Bell Peppers
Prepare

Cut tops and remove the seeds and membrane inside of your bell peppers

Boil

Put enough water in a large pot to submerge your peppers. Boil your water until it is a rolling boil. Submerge peppers in your pot.

Allow them to stay in the boiling water for approximately 10-15 minutes cooking time or until they reach the desired consistency.

Create

Eat or stuffing the pepper with white cooked rice and ground beef or taco meat with tomato sauce makes them really yummy. If stuffed set in a baking dish topped with cheese and bake 350 degrees until cheese melts.
Blanching the peppers softens them AND takes away the bitterness that some people don't enjoy. You can cool them off quickly by submerging into an ice water bath after boiling. Store leftovers in freezer bags.
How do you blanch bell peppers?
We will share with you below! It is really quite easy and once you have it down you'll remember for next time you want to make stuffed bell pepper casserole or another great one pot meal.
Boiling water
Green peppers with top and seeds removed
Slotted spoon or tongs
That is all you will need to get the job done.
There are a few recipes like our Crockpot stuffed bell peppers where this step isn't even necessary, which is nice. Give this a whirl too and see which you prefer, in the oven, slow cooker, pressure cooker, etc…
Want to see a few of my favorite things that I am totally obsessed with?? Take a peek and see how many you might already have…twinsies!
Looking for more easy family recipes and tips? LIKE The Typical Mom Facebook page?
Then sign up for my free newsletter, and follow me on Pinterest! 😉
***** If you LOVED this recipe give it 5 Stars below and let everyone know what you thought about it. 😉
In case you have questions in mind still I have a few answers for y'all as well;
Which bell pepper is healthiest?
Red peppers are said to be the most nutritious because they've been on the vine the longest. Green peppers are picked earlier, then they will turn yellow, orange, and then red.

The longer they mature the more nutrients they have to them which makes sense really.
What is the difference between bell peppers?
Green bell peppers are the most bitter since they've been on the vine the shortest amount of time. Yellow peppers and orange are sweeter with red bell peppers being the sweetest of them all.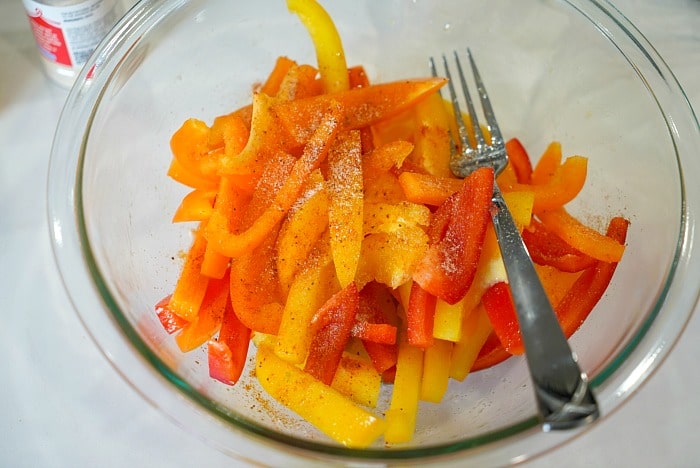 Can you tell if a pepper is male or female?
Ok I didn't learn this until I was in my 40's but pretty interesting indeed. If there are 3 nubs on the bottom they're male, females have 4 nubs or bumps on the bottom. Female are easier to sit flat really.
Which bell peppers are best for cooking?
Female bell peppers are sweeter and better for eating raw. Male bell peppers however are said to be better grilled or for cooking.

I disagree when it comes to Instant Pot stuffed bell peppers because you want 4 lobes to sit flat in the basket or a dish in the oven.
How do you make bell peppers taste better?
We love stuffing them with cooked ground spicy sausage and rice. Another way after you blanch bell peppers is to submerge in cold water and remove skins. Then blend into salsa or other sauces.

We like to add them into our Instant Pot stuffed pepper casserole too.
How to Blanch Bell Peppers
How to blanch bell peppers with just boiling water. Easy technique to get rid of bitterness and soften the skins.
Instructions
Cut end of pepper off and remove inside seeds.

Put a pot of water on to boil on your stovetop. Once it begins as a rolling boil submerge each one.

Boil 10-15 minutes or until they soften to your liking. Remove, drain water out of insides, cool until you can touch them and use as desired, stuff, etc….
Nutrition Facts
How to Blanch Bell Peppers
Amount Per Serving (2 oz)
Calories 18
Calories from Fat 9
% Daily Value*
Fat 1g2%
Sodium 2mg0%
Potassium 126mg4%
Carbohydrates 4g1%
Protein 1g2%
Vitamin A 1863IU37%
Vitamin C 76mg92%
Calcium 4mg0%
Iron 1mg6%
* Percent Daily Values are based on a 2000 calorie diet.