How to make air fryer stuffed peppers for dinner tonight with ground beef or sausage and lots of rice and cheese. Comfort food at it's best done in no time, the same great taste but way faster than baking stuffed green peppers in the oven.
Air fryer stuffed peppers with ground beef, rice and cheese are the bomb. Using hamburger meat or spicy ground sausage you'll love them too. One of our favorite easy air fryer recipes here on The Typical Mom blog. (affiliate links present)
Ninja Foodi Stuffed Peppers
I mean you have got to try these! It doesn't matter what brand machine you have, they all work pretty much the same and come out fantastic every time.
Much easier than in the oven because there is no blanching beforehand or preheating your house involved either. You just create your favorite filling, stuff, and air fry to as browned as you like. If you do have a Foodi you don't have to dirty more than one pot. Just saute to prep right in there.
FIRST – You should sign up for my free newsletter so you get new posts emailed to you twice a week and never miss out on anything! If you love air fryer recipes too, here are some resources to start with: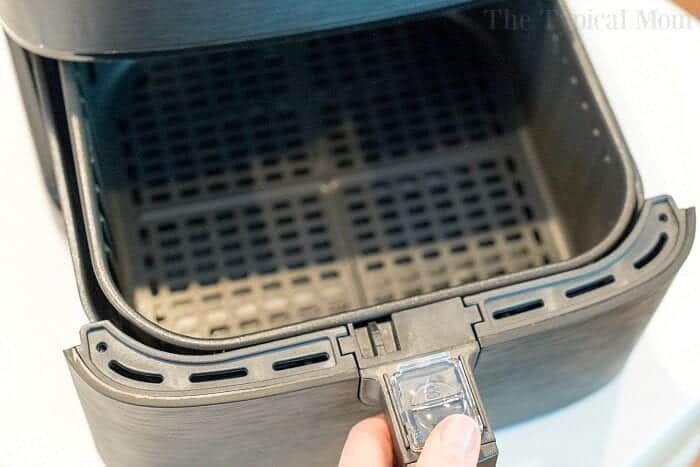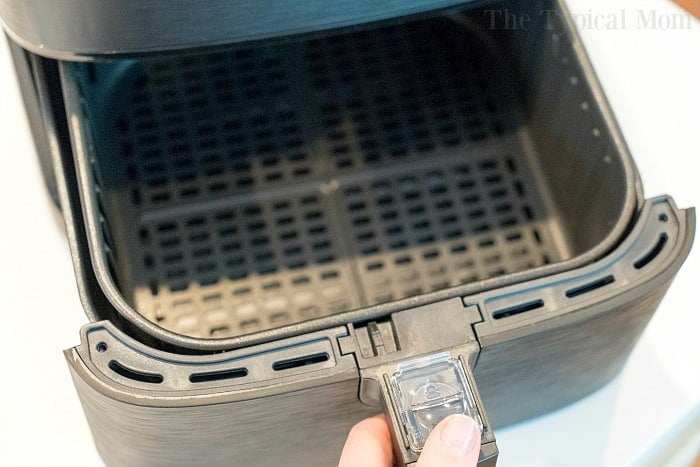 Stuffed Peppers in Air Fryer
I honestly choose whatever colors are on sale when choosing these. Yellow, red and orange are a bit sweeter than green but we don't really care.
Air Fryer Stuffed Peppers with Rice
You could just use the other ingredients and skip the carbs, for us this is a must though. White, brown or even quinoa works though if you wanted to swap it out and try different versions here and there to see which is your fave.
Do you have to cook meat before stuffing peppers?
Yes. Whether you use hamburger meat or ground sausage it will need to be browned in a pan on the stovetop first typically. Then add other ingredients before stuffing inside. We do share the alternative where you add it raw in our baked stuffed peppers at 400.
What country are stuffed peppers from?
They actually were originated in Spain to begin with. There, piquillo peppers are used. In the US people typically use bell peppers with the tops removed and cored out.
Should I blanch peppers before stuffing?
Here are a few questions you might have before getting started: It isn't necessary but you can blanch bell peppers first, cool, and then stuff them. This method takes some of the bitterness out and softens the outsides.
How do you soften peppers quickly?
Instead of boiling you can use your microwave! Cover with plastic wrap, cook on the high setting for 5 minutes to soften bell peppers. Remove dish and take off the plastic wrap, then stuff or eat as is.
We are going to use ground beef this time, but spicy ground sausage is pretty amazing too. If I find Jimmy Dean spicy in a roll on sale I will opt for that every single time.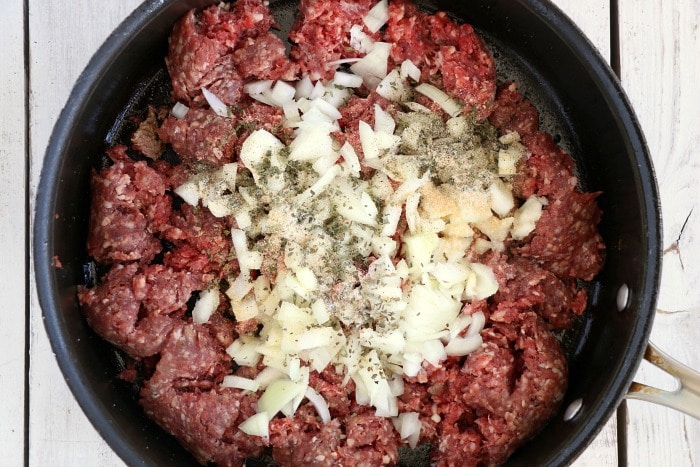 Air Fryer Stuffed Bell Peppers
Adding diced onions and/or diced tomatoes is optional but a great add in. If you want them quite plain you can just stick with the tomato sauce.
A great alternative to a can of plain tomato sauce is spaghetti sauce! This will lend more flavor to the dish, I use this if I have it on hand.
Ground beef or sausage
Onion
Diced tomatoes
Tomato sauce or use spaghetti sauce for more flavor
I typically have half of a jar that is left over from making something else in the fridge and use that in the mixture. Then there are already a bunch of seasonings inside and I don't have to add much from there.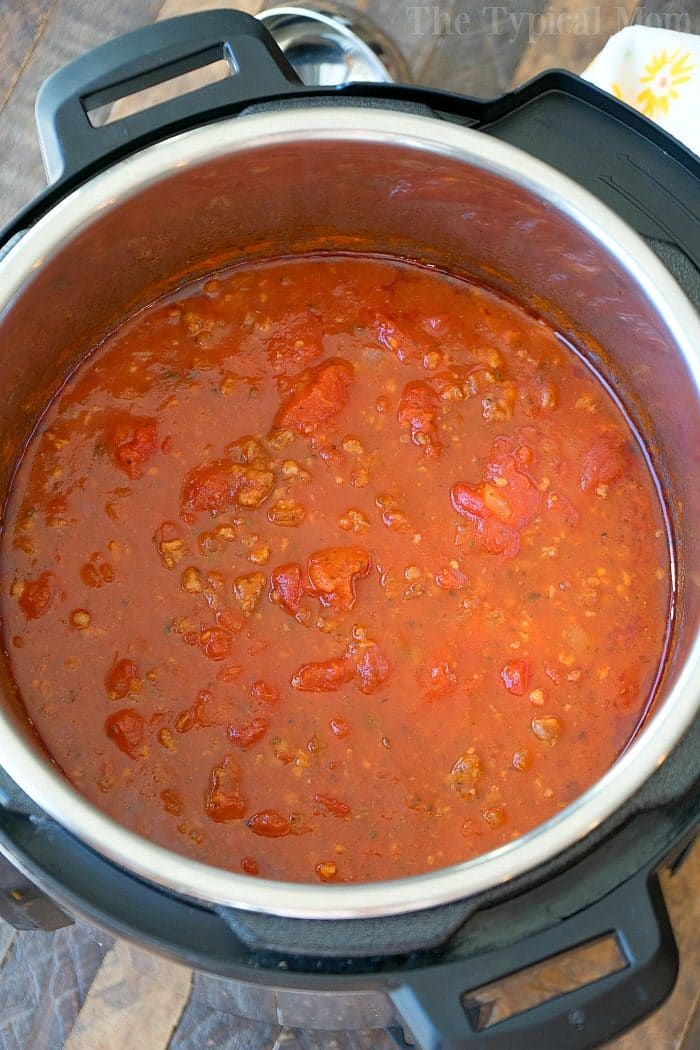 Air Fryer Stuffed Peppers with Cauliflower Rice
Then as I stated above use any color bell peppers you want. Try to choose ones that will sit flat. Look at the bottoms, 4 bumps on the bottom seem to balance a bit better standing up.
Cook your raw grains using our Instant Pot white rice instructions or however you'd like

make this at the same time you're browning your ground beef, or make chicken stuffed bell peppers
you could make cauliflower rice instead, from scratch or they sell it frozen and you just microwave it

Salt and pepper
Onion powder
Garlic powder
Basil
Parsley
Cheese on top is a must for us but could omit to be dairy free.
Air Fried Peppers
There is a wide range of different stuffed pepper recipes out there. You can really tweak things here and there to create your favorite filling. If you want brown cooked rice instead, by all means use that!
The great thing about using this method and cook time is you get a nice bit of crisp on the edges but the filling stays soft and moist.
I do love our Instant Pot stuffed peppers too but there's no crisp at all with those. Once the cheese is melted on top you're ready to serve!
I don't add a lot of seasonings because there is plenty with the spaghetti sauce. Just add a bit of salt and pepper in with the meat, or whatever I have on hand that sounds good. Ready made taco seasoning or fajita packets work really well too in order to add a bunch of flavor.
Air Fryer Stuffed Peppers with Quinoa
Here are quick step by step directions but I have a printable recipe card at the bottom of this post as well for your reference. Cook your Ninja Foodi rice and brown your ground beef with some olive oil and diced onions on the stovetop.
Once your meat is done, drain grease.
Add cooked rice, diced tomatoes, tomato sauce, 1/2 cup of cheese and any seasonings you like.
Slice tops off bell peppers and remove seeds inside.
Put in air fryer basket and make sure they will fit when drawer is closed.
Fill the hollow insides with your prepared ground beef mixture.
Slice tops off bell peppers and remove seeds inside. Put in air fryer basket and make sure they will fit when drawer is closed. Fill the hollow insides with your prepared ground beef mixture.
Preheat air fryer to 350 degrees F for 5 minutes.
Put filled and stuffed peppers in the air fryer basket that has been sprayed with non stick cooking spray. Cook for 10 minutes.
Then sprinkle on remaining cheese on top and cook another 5 min.
Then you're done in less than 20 minutes y'all!! If you want the top of the cheese more browned you could increase temp at end to 360 degrees to 400 for a few minutes.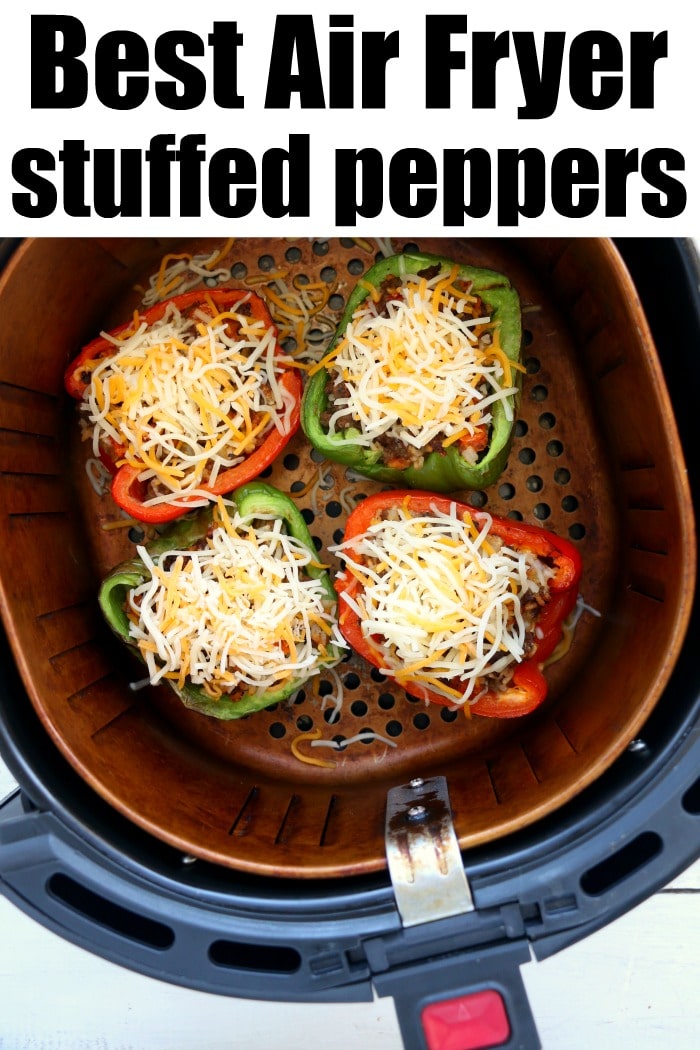 Ninja Air Fryer Stuffed Peppers
Ready for more air fryer ground beef recipes in under 30 minutes, we have them!
Our air fryer empanadas are great as an appetizer or main dish. Using pie crust they're super simple to throw together. Using spicy sausage instead of hamburger works great too.
We've made frozen taquitos in air fryer before. Those can have a beef or chicken filling. Either way it's the best way to get them crispy.
Another great dinner idea is to make a stuffed bell pepper casserole. All you do is precook the meat and then throw everything together, no stuffing necessary. Give these a whirl and let us know if you "tweak" them in a way we might want to try the next time we make these. There are SO many variations I tell you, and they're all so good.
Want to see a few of my favorite things that I am totally obsessed with?? Take a peek and see how many you might already have…twinsies!
Looking for more easy family recipes and tips? LIKE The Typical Mom Facebook page?
Then sign up for my free newsletter, and follow me on Pinterest! 😉
***** If you LOVED this recipe give it 5 Stars below and let everyone know what you thought about it. 😉
Air Fryer Stuffed Peppers
How to make air fryer stuffed peppers for dinner tonight with ground beef or sausage, rice and cheese. Comfort food at it's best done in no time.
Instructions
Cook one cup rice in rice cooker. In a medium pan (or use saute function on your Ninja Foodi to do this part) brown your ground beef with diced onions and seasonings.

Fold in diced tomatoes, tomato sauce, cooked rice and 1/2 c. cheese

Cut bell peppers in half lengthwise and clean out centers. Scoop this ground beef mixture inside each one and place inside air fryer basket.

Put as many in that fit without overlapping. Set to 350 degrees for 10 minutes.

Sprinkle remaining cheese on top and continue cooking for 5 minutes so it melts and peppers are tender.
Nutrition Facts
Air Fryer Stuffed Peppers
Amount Per Serving (3 oz)
Calories 428
Calories from Fat 198
% Daily Value*
Fat 22g34%
Cholesterol 73mg24%
Sodium 670mg29%
Potassium 623mg18%
Carbohydrates 35g12%
Protein 22g44%
Vitamin A 3103IU62%
Vitamin C 110mg133%
Calcium 175mg18%
Iron 3mg17%
* Percent Daily Values are based on a 2000 calorie diet.