These easy Instant Pot stuffed peppers will be your favorite pressure cooker meal! Classic and easy stuffed green peppers with cheesy ground beef and rice. You can make with no rice too for a low carb keto option. Either way they're packed with flavor and will bring you back to your childhood!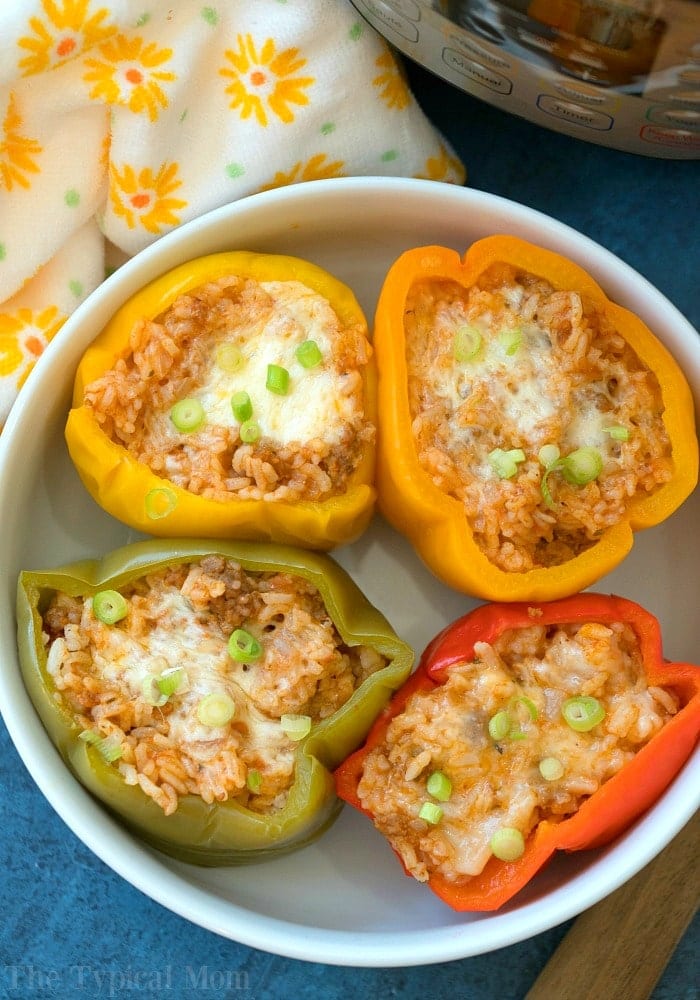 Have you steamed anything in your Instant Pot yet?? We hadn't yet until we made these easy Instant Pot stuffed peppers! They turned out to be so simple! Sponsored by Kitchen Deluxe. One easy Instant Pot recipe you'll love. 😉 (originally published 8/17, affiliate links present)
Ninja Foodi Stuffed Peppers
I have been making these for years in my oven but now you can make it as an easy Ninja Foodi recipe or in your Crockpot Express too. Any brand of pot will works, which we can verify because we've done it all the ways.
With my original stuffed green peppers you have to take an extra step to blanche them first in boiling water. NO need to do this in your pressure cooker though! What a time saver right? If you have your own favorite filling by all means use that but this technique to cut down the cooking time dramatically.
FIRST – You should sign up for my free newsletter so you get new posts emailed to you twice a week and never miss out on anything! Now let's start with a few basic tips:
Make sure to Bookmark our InstaPot recipes page. We add new ones each week!
Then PRINT this —–> Instant Pot cooking times cheat sheet that will help you understand how long meat, vegetables and beans take to cook in your pressure cooker.
For reference, this is the pressure cooker I have (a 6 quart) and use for all recipe creations.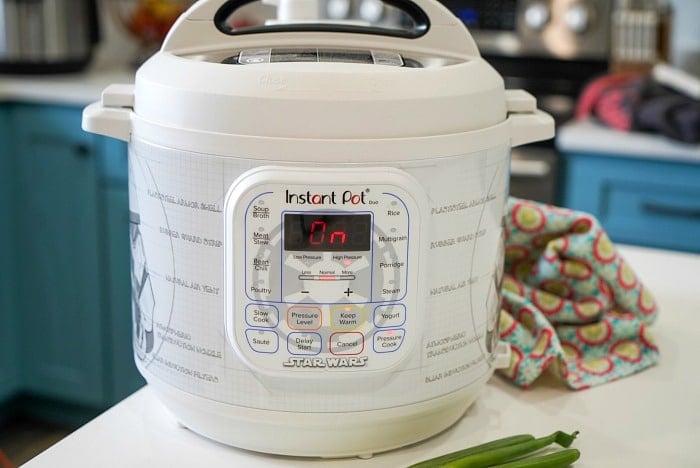 Instant Pot Stuffed Peppers
If you don't have a handy dandy vegetable steamer we will show you where to get this one. It makes it easy peasy to make this and other vegetables in your Instant Pot, and has a nifty and safe way to pull it out when it's done too! You will use it for all other types of veggies to steam in this thing too so not just for this one.
Normally you'd need to blanch bell peppers before continuing on but when you cook them in your pressure cooker you can skip this step! Not that it is hard to do but does take time and is hot on the fingertips too.
Now when it comes to choosing the color and/or shapes at the store there is a rhyme and reason to which I do. Now green will typically be the cheapest, the other colors are a bit sweeter. I don't care so much about that but I like females which have 4 bumps on the bottom. Allows them to sit flatter and not fall over.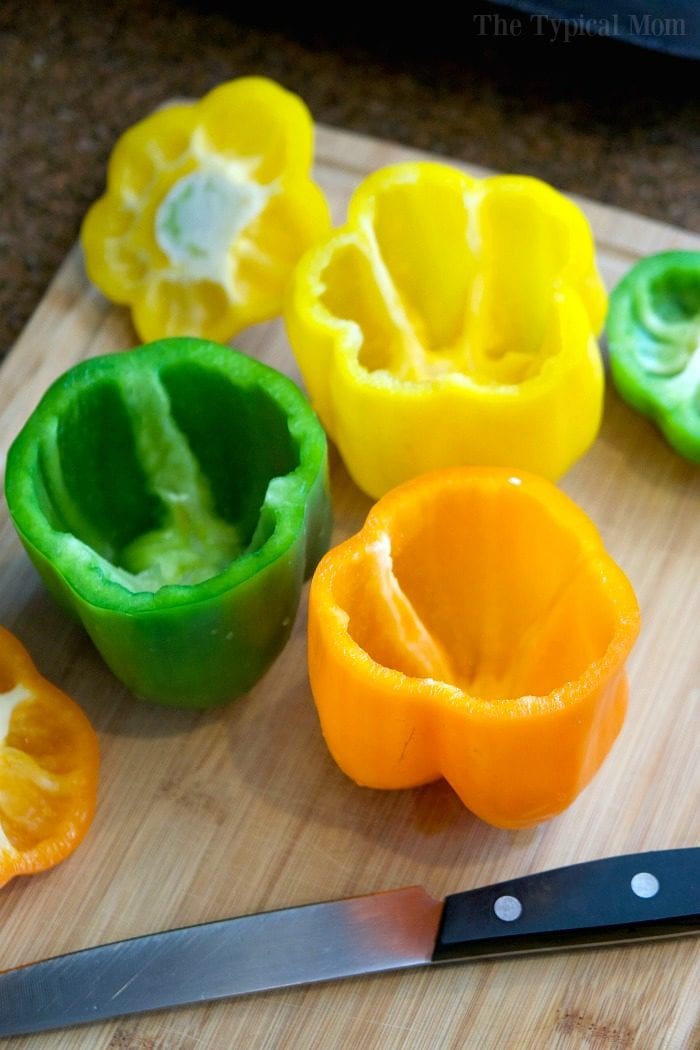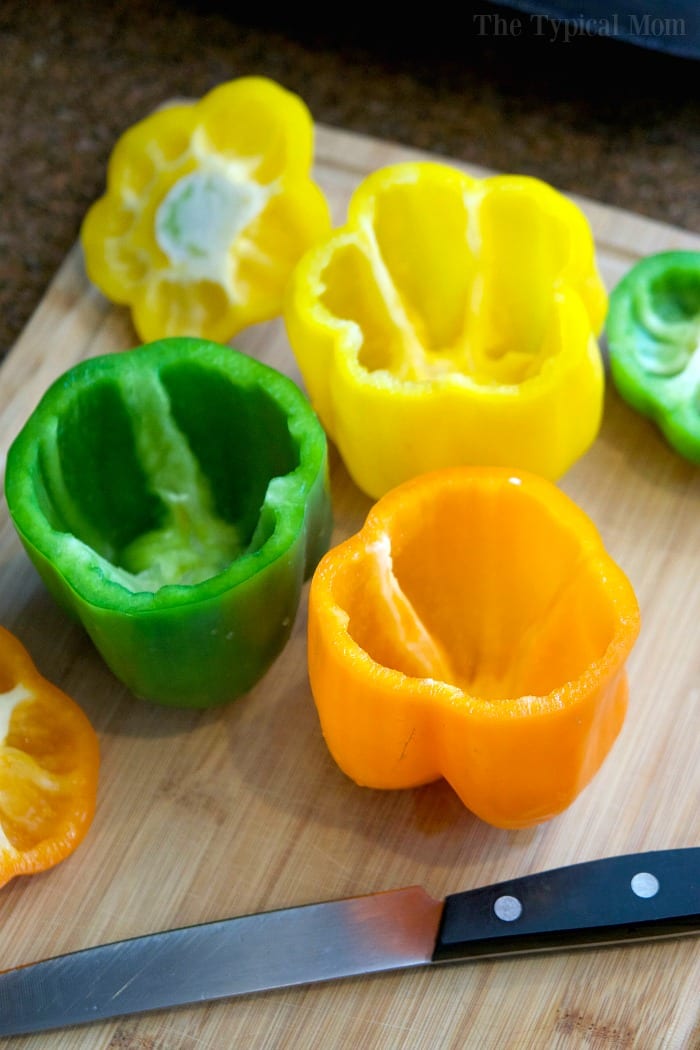 Instant Pot Stuffed Peppers No Rice
These will be your "bowls" if you will. The main three items are meat, rice and some kind of tomato based sauce. The easiest with the most flavor already in it is spaghetti sauce. That is what we use. This is the Instant Pot vegetable steamer I was talking about! All 4 will fit perfectly inside a 6 qt. which is enough to feed our family.
The recipe I will share with you is enough filling for 8, so two batches, of stuffed bell peppers. You can use any color you like, I just buy a variety to make it more "fun" for the kids, or whichever look best at the store.
You can skip the rice and carbs all together if you'd like, we don't. I think it is definitely best if you cook white rice first instead of adding it raw and hoping the liquid will fluff it.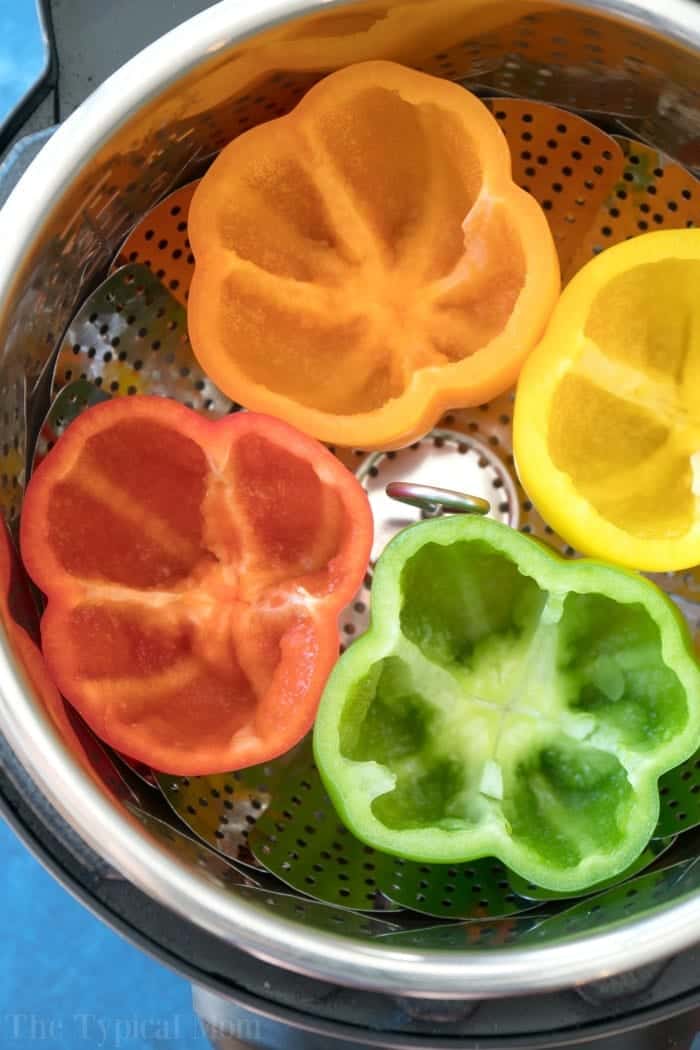 Instant Pot stuffed bell peppers
You want it to sit flat and some are long and skinny without any real "legs" on the bottom so it will topple over…..no good. Pick 4-8 of your favorite peppers at the store, cut off the tops, take out the seeds, and you're ready to make the mix you'll stuff them with.
Instant Pot or pressure cooker
Large bowl
Cup of water
Kitchen Deluxe Vegetable Steamer + use code TYPICALM for 15% off (safety handle included)
Bell peppers
Cooked rice – sometimes I use minute rice or make Instant Pot white rice first
Ground beef, ground turkey, or omit if you want vegetarian stuffed peppers
Spaghetti sauce – I like this type
Onions (optional but adds flavor)
Mozzarella cheese (optional but seriously it's an amazing addition)
Pinch of salt and pepper – to taste
1/2 cup of diced tomatoes is optional if you like it chunky, add into meat mixture
Here they are cut and cleaned out inside my Instant Pot vegetable steamer.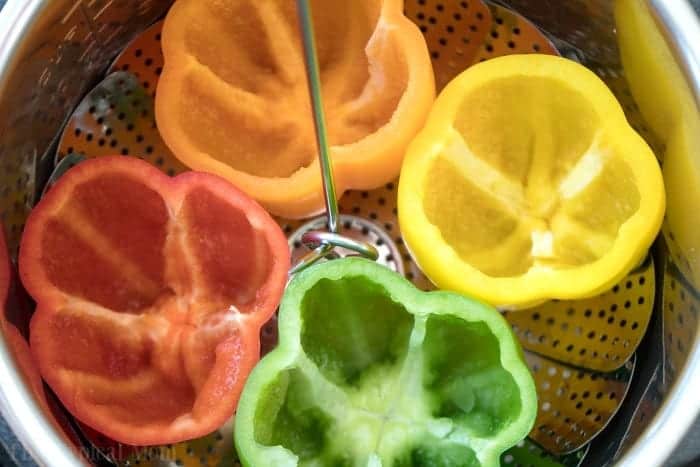 Pressure cooker stuffed peppers
This is what I meant by the trick to lifting your steamer basket out safely and easily….this hook! This hook/rod comes inside the box with your steamer basket, and makes it SO much easier to lift, place on a plate, and serve…without needing an oven mitt. I am ALL about easy!
What accessories do I need for my Instant Pot
?
I highly recommend a trivet and vegetable basket, you need the latter for this recipe in particular. If you like to bake you can get a mini bundt pan or springform pan for cakes.
Do you have to cook meat before stuffing peppers
?
Yes, I have never done it otherwise and I don't think it would work at all. SO there is a bit of precooking beforehand but it's not bad at all. Well worth it in the end I tell you.
Can you save stuffed peppers
?
The peppers can be stuffed and refrigerated up to 1 day ahead. Storage: Leftovers can be stored in an airtight container in the refrigerator for up to 4 days.
What sides go with stuffed pepper
s?
I usually serve these as is but I guess you could serve them with a side of dinner rolls or pull apart bread.

Instant Pot Stuffed Peppers with Cooked Meat
Even if you aren't a huge fan of peppers they serve as a great "bowl" for cooking your mixture. In an electric pressure cooker they soften perfectly in just 10 minutes cooked on high pressure with a quick pressure release.
Full of cheesy rice, meat, and tomato sauce with a tender bell pepper "bowl". You can eat them during or after you've finished the filling. It is an entire meal wrapped up into one, just like our grilled stuffed peppers cooked outside.
My kids love these because everyone gets their own! Since the peppers are steamed inside your pressure cooker they lose their bitterness and are so soft. You can literally cut them with the side of a fork.
This is a great recipe for families I tell you! If your kids aren't so sure about the peppers at first give it time. Allow them to just eat the insides first and eventually have them "try just one bite". It took a bit but now my girls love the whole thing!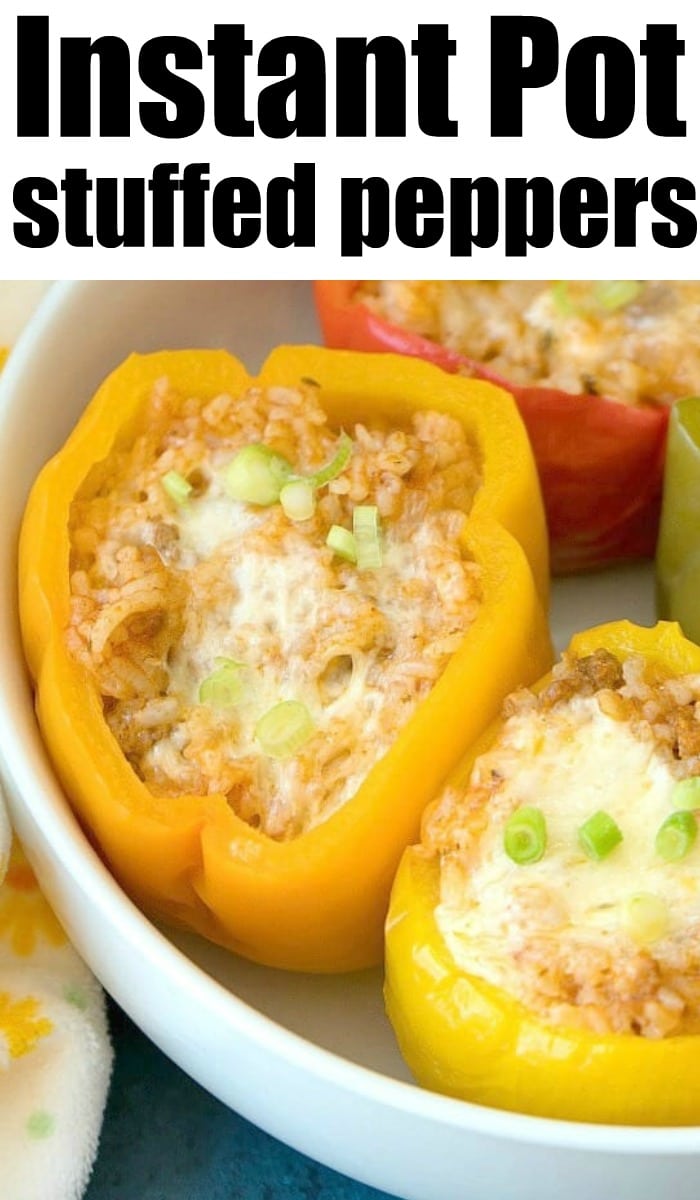 How long can stuffed peppers sit out?
Once cooked the general rule is 2 hours at room temperature. Beyond that you should store leftovers in air tight containers in the refrigerator.
Here's a quick step by step but there's a printable recipe card at the bottom of this post too. Make rice at the beginning as this will take a bit of time. Set aside when done. In a pressure cooker turn your pot to saute so you can precook your ground beef and onions until the meat is no longer pink.
Mix cooked meat, rice, seasonings and spaghetti sauce or diced tomatoes in a bowl.
Slice tops off peppers and remove seeds from the inside.
Add water into your Instant Pot and lower down vegetable steamer basket.
Place peppers that have been cleaned out into basket with opening facing up.
Add a bit of cheese into the bottoms, then fill with meat and rice mixture. Top with more cheese
Lock the lid and seal steam valve to closed. Set cooking time to 10 minutes on high pressure. Do a quick release when done.
Carefully lift each one out and enjoy.
Want to see a few of my favorite things that I am totally obsessed with?? Take a peek and see how many you might already have…twinsies!
Looking for more easy family recipes and tips? LIKE The Typical Mom Facebook page?
Then sign up for my free newsletter, and follow me on Pinterest! 😉
***** If you LOVED this recipe give it 5 Stars below and let everyone know what you thought about it. 😉
Easy Instant Pot Stuffed Peppers
These easy Instant Pot stuffed peppers will be your favorite pressure cooker meal! Green peppers stuffed with cheesy ground beef and rice they're packed with flavor and will bring you back to your childhood! The old fashioned recipe you remember is much quicker in your pressure cooker now!

Ingredients
8

bell peppers

(if making 4 just half the ingredients below for the filling)

1/2

lb

ground beef

or spicy ground sausage is even better

2

c

uncooked minute rice

2

c

water

to cook your minute rice

1 1/2

c

spaghetti sauce

1/3

c

onion

diced

1

c

mozzarella cheese

shredded

1/2

tsp

garlic salt
Instructions
Add a bit of olive oil. Turn your Instant Pot to saute, normal, and add your ground beef and onions.

Make your minute rice on the stove or in the microwave. Cook until meat is no longer pink and onions soften.

Pour into your pot the spaghetti sauce and cooked rice, stir.

Turn Instant Pot off and remove pot. Empty contents into separate bowl and wash your pot.

Return pot into your Instant Pot and pour in 1 1/2 c. water.

Open your vegetable steamer basket and lower it into your Instant Pot.

Cut tops off your bell peppers and remove seeds inside.

Place 4 bell peppers into your steamer basket so they fit snuggly.

Put a bit of mozzarella cheese into the inside, bottom, of each bell pepper.

Spoon rice and ground beef mixture into peppers until each one is filled almost to the top.

Put another bit of mozzarella cheese on the very top of each pepper on top of the rice mixture.

Close your lid and steam valve and set to manual, pressure, high, for 10 minutes.

When done do a quick release.

Use central ring hook to lift vegetable steamer out of your Instant Pot or pressure cooker.
Nutrition Facts
Easy Instant Pot Stuffed Peppers
Amount Per Serving (8 oz)
Calories 265
Calories from Fat 81
% Daily Value*
Fat 9g14%
Cholesterol 31mg10%
Sodium 930mg40%
Potassium 775mg22%
Carbohydrates 32g11%
Protein 12g24%
Vitamin A 4375IU88%
Vitamin C 161.4mg196%
Calcium 109mg11%
Iron 3.8mg21%
* Percent Daily Values are based on a 2000 calorie diet.