These easy Instant Pot stuffed peppers will be your favorite pressure cooker meal! Classic stuffed peppers with cheesy ground beef and rice, they're packed with flavor and will bring you back to your childhood!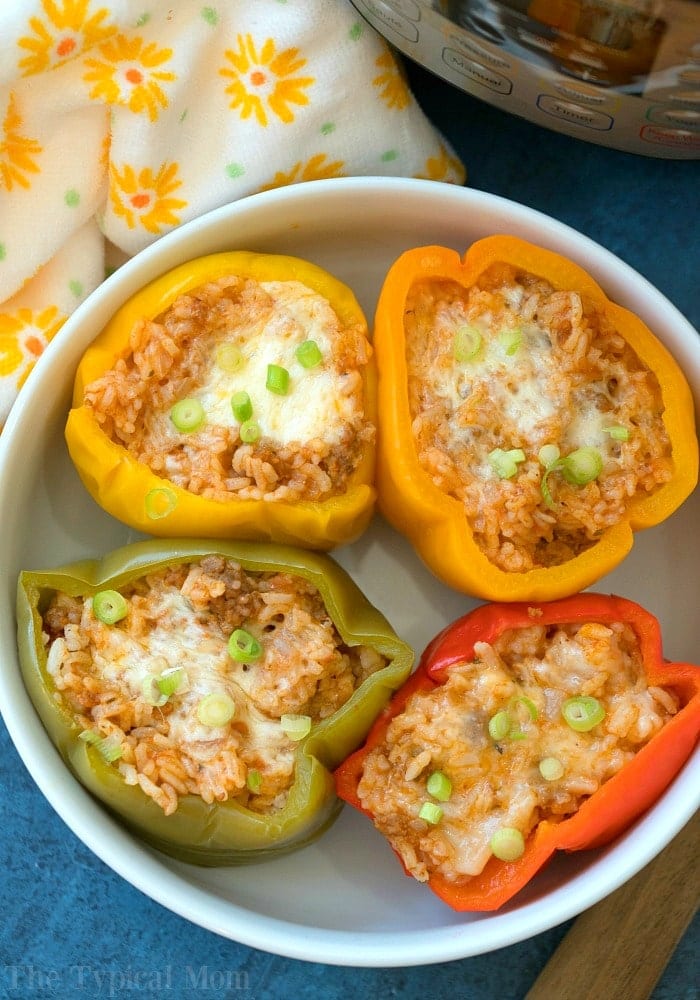 Have you steamed anything in your Instant Pot yet?? We hadn't yet until we made these easy Instant Pot stuffed peppers! We've made this recipe many times in the oven but I thought there had to be a way to make one of our favorite meals in our new pressure cooker and it turned out to be so simple! Special thanks goes out to Kitchen Deluxe for sponsoring this post so we could share one of our favorite Instant Pot recipes with you. 😉 (originally published 8/17)
If you don't have a handy dandy vegetable steamer we will show you where to get this one that makes it easy peasy to make this and other vegetables in your Instant Pot, and has a nifty and safe way to pull it out when it's done too!
To start making these easy Instant Pot stuffed peppers you'll need to cut the tops off and clean out the insides.
Normally you'd need to blanch bell peppers before continuing on but when you cook them in your pressure cooker you can skip this step!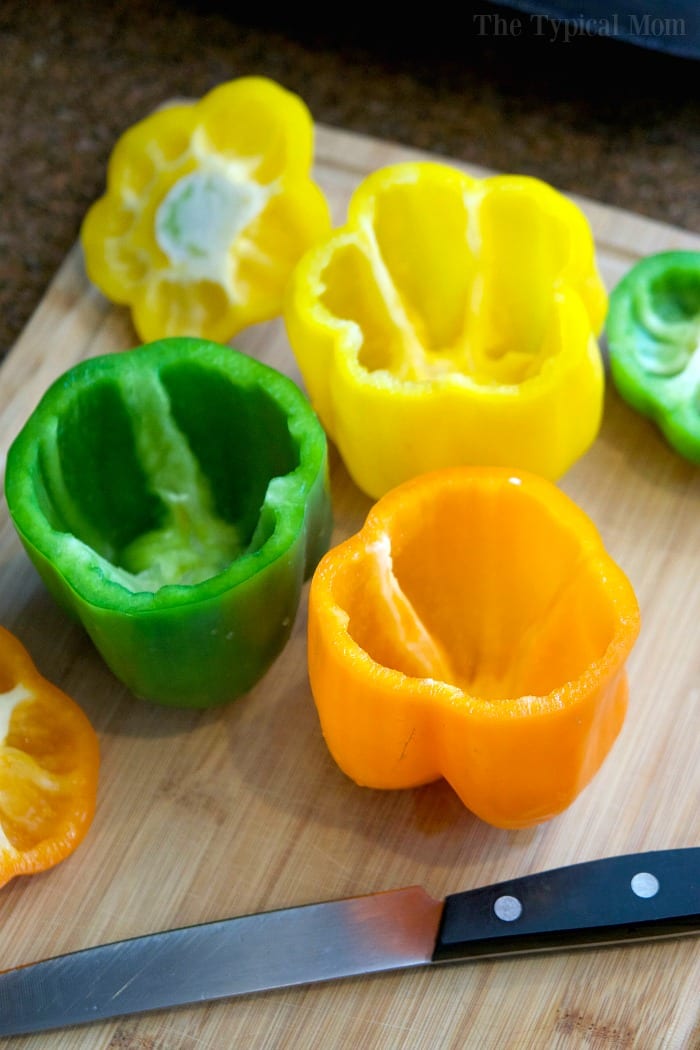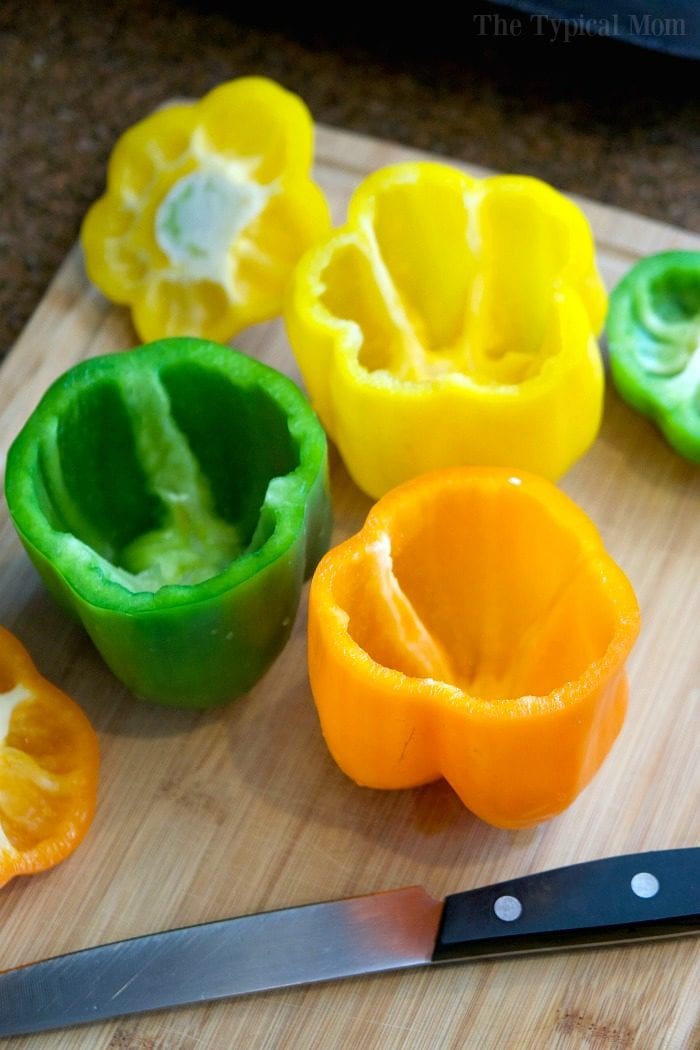 With my original stuffed green peppers recipe you have to take an extra step to blanche them but in your pressure cooker this step is eliminated!
They will be your "bowls" if you will.
This is the Instant Pot steamer basket or vegetable steamer I was talking about! All 4 will fit perfectly inside a 6 qt. which is enough to feed our family. The recipe I will share with you is enough filling for 8, so two batches, of stuffed bell peppers.
You can use any color you like, I just buy a variety to make it more "fun" for the kids, or whichever look best at the store.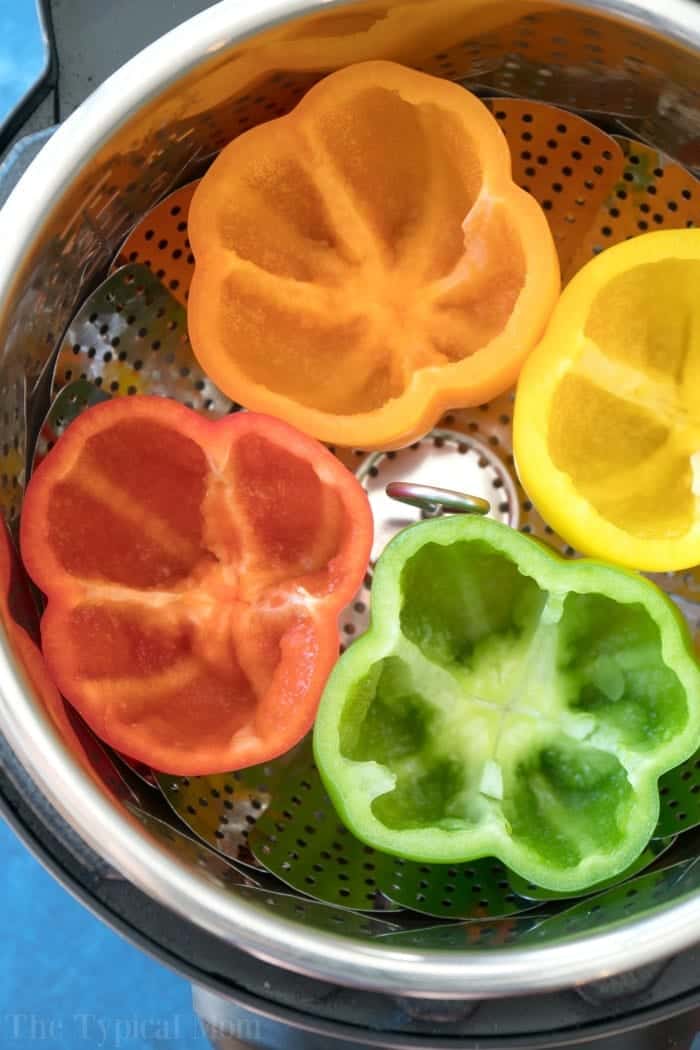 You want it to sit flat and some are long and skinny without any real "legs" on the bottom so it will topple over…..no good.
Pick 4-8 of your favorite peppers at the store, cut off the tops, take out the seeds, and you're ready to make the mix you'll stuff them with.
This is what you will need to make these easy Instant Pot stuffed peppers
Instant Pot or pressure cooker
Kitchen Deluxe Vegetable Steamer + use code TYPICALM for 15% off (safety handle included)
Bell peppers
Rice – sometimes I use minute rice or make Instant Pot white rice as the first step
Ground beef (or turkey, or omit if you want vegetarian stuffed peppers)
Spaghetti sauce – I like this type
Onions (optional but adds flavor)
Mozzarella cheese (optional but seriously it's an amazing addition)
Pinch of salt and pepper – to taste
Here they are cut and cleaned out inside my Instant Pot vegetable steamer.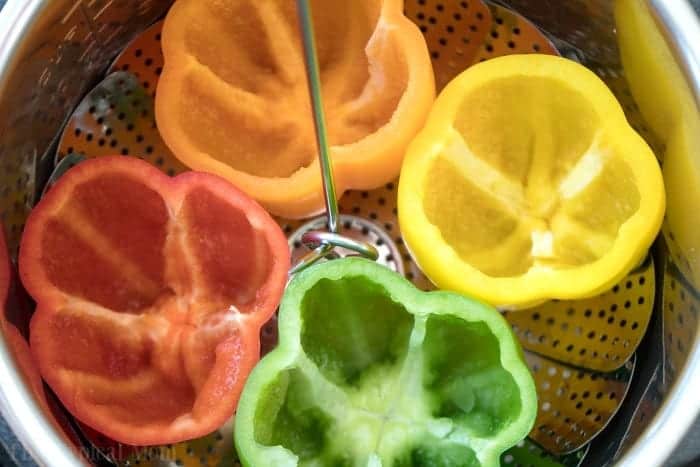 This is what I meant by the trick to lifting your steamer basket out safely and easily….this hook!
This hook/rod comes inside the box with your vegetable steamer, and makes it SO much easier to lift, place on a plate, and serve…without needing an oven mitt. I am ALL about easy!
Have you ever had stuffed peppers before??
Even if you aren't a huge fan of peppers they serve as a great "bowl" for cooking your mixture. In a pressure cooker they soften perfectly in just 10 minutes on high pressure.
Even my kids are fans of these easy Instant Pot stuffed peppers which is a huge win.

Full of cheesy rice, meat, and tomato sauce with a tender bell pepper "bowl". You can eat them during or after you've finished the filling. It is an entire meal wrapped up into one.
My kids love these because everyone gets their own! Since the peppers are steamed inside your pressure cooker they lose their bitterness and are so soft. You can literally cut them with the side of a fork.
Looking for other Instant Pot recipes you will love?
Instant Pot stuffed bell pepper casserole is a must make!
This Instant Pot stuffed cabbage casserole is amazing I tell you.
There are plenty more Instant Pot ground beef recipes here to try as well.
Here's a video showing you how we make Instant Pot stuffed peppers
Easy Instant Pot Stuffed Peppers
These easy Instant Pot stuffed peppers will be your favorite pressure cooker meal! Green peppers stuffed with cheesy ground beef and rice they're packed with flavor and will bring you back to your childhood! The old fashioned recipe you remember is much quicker in your pressure cooker now!

Ingredients
8

bell peppers

(if making 4 just half the ingredients below for the filling)

1/2

lb

ground beef

or spicy ground sausage is even better

2

c

uncooked minute rice

2

c

water

to cook your minute rice

1 1/2

c

spaghetti sauce

1/3

c

onion

diced

1

c

mozzarella cheese

shredded

1/2

tsp

garlic salt
Instructions
Add a bit of olive oil. Turn your Instant Pot to saute, normal, and add your ground beef and onions.

Make your minute rice on the stove or in the microwave. Cook until meat is no longer pink and onions soften.

Pour into your pot the spaghetti sauce and cooked rice, stir.

Turn Instant Pot off and remove pot. Empty contents into separate bowl and wash your pot.

Return pot into your Instant Pot and pour in 1 1/2 c. water.

Open your vegetable steamer basket and lower it into your Instant Pot.

Cut tops off your bell peppers and remove seeds inside.

Place 4 bell peppers into your steamer basket so they fit snuggly.

Put a bit of mozzarella cheese into the inside, bottom, of each bell pepper.

Spoon rice and ground beef mixture into peppers until each one is filled almost to the top.

Put another bit of mozzarella cheese on the very top of each pepper on top of the rice mixture.

Close your lid and steam valve and set to manual, pressure, high, for 10 minutes.

When done do a quick release.

Use central ring hook to lift vegetable steamer out of your Instant Pot or pressure cooker.
Nutrition Facts
Easy Instant Pot Stuffed Peppers
Amount Per Serving (8 oz)
Calories 265
Calories from Fat 81
% Daily Value*
Fat 9g14%
Cholesterol 31mg10%
Sodium 930mg40%
Potassium 775mg22%
Carbohydrates 32g11%
Protein 12g24%
Vitamin A 4375IU88%
Vitamin C 161.4mg196%
Calcium 109mg11%
Iron 3.8mg21%
* Percent Daily Values are based on a 2000 calorie diet.