This kale shredded brussel sprout salad recipe with a homemade dressing is the perfect healthy holiday or brunch side dish that everyone loves. With bacon or left vegetarian it is a great cold salad made with a different vegetable than normal. One of the many great ways to cook brussel sprouts that are now one of our favorites.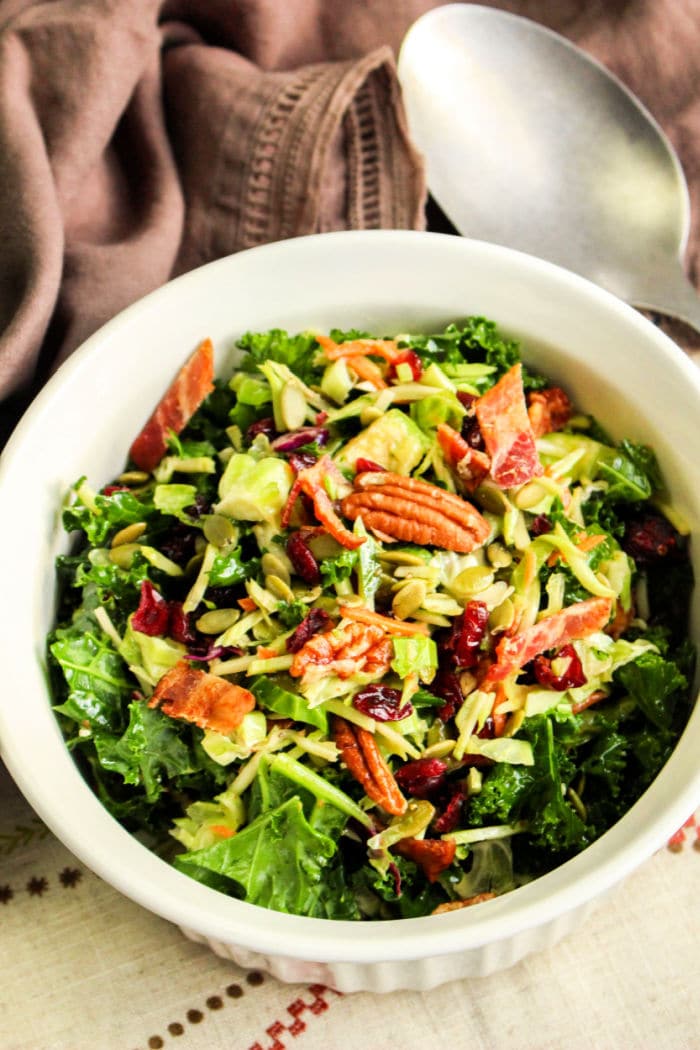 Looking for a new Thanksgiving side dish this year? Our shredded brussel sprout salad with a vinaigrette dressing is amazing. Mixed with kale, even if you aren't a big green vegetable lover this may change your mind. One of our favorite easy side dishes that is good for you. (affiliate links present)
Brussel Sprout Kale Salad
It took me until I was in my 40's to really enjoy this love/hate veggie. My dad steamed them when I was a kid and all I can remember is my mom's reaction when we entered the house "uggggg" she would say. I agree the smell wasn't great.
Add butter and bacon and everything becomes delicious right??!! Well, this is a healthier version than that. Served as a salad or main vegetarian salad for dinner, kale and brussel sprouts salad has great flavor and texture to it.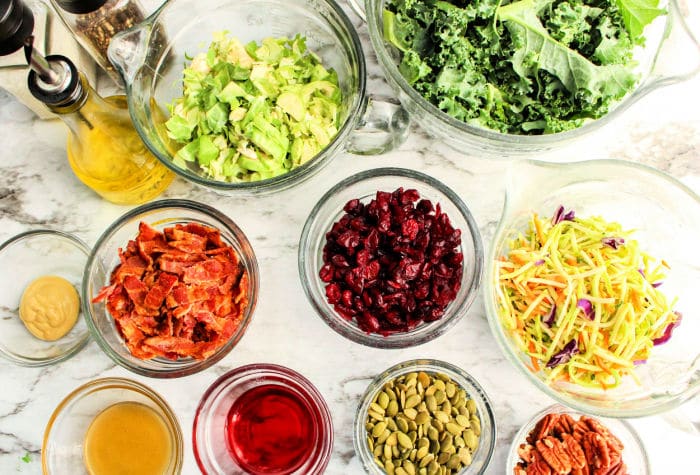 Shredded Brussel Sprout Recipe
If you love simple when it comes to this green side dish, this isn't for you. It's packed with all sorts of things to amp up the flavors to the max.
Can you eat brussel sprouts raw in a salad?
Of course you can. Just about any vegetable can be eaten as is after it's been rinsed off. I don't know if I'd chomp down on one whole because they're pretty hard BUT if you use shredded brussels they are great.
Best Shaved Brussel Sprout Salad
You could just use those, but adding some diced up kale is even better. If you wanted to use another type of lettuce that would be an option as well. Use all three if you like! The add ins and vinaigrette dressing is where it's really at though. Use bottled or make your own using the instructions below and see what you think!
Are brussel sprouts okay to eat every day?
Yep. You can eat raw brussel sprouts. They are full of antioxidants which helps to lower your risk of chronic diseases. As you would imagine they contain a great amount of fiber too so if you have high cholesterol this would be a great dish for you too. Cook them all sorts of ways like cast iron brussel sprouts, steamed, etc…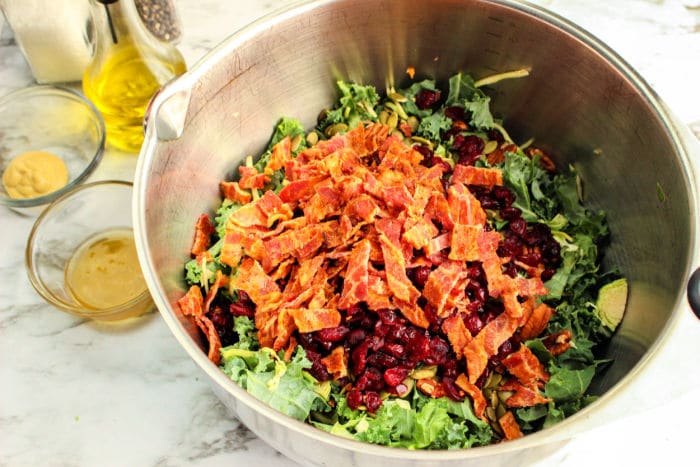 Shaved Brussel Sprout Salad Recipe
When it comes to chopping, shredding or shaving them you can do all or one of them. The idea is to remove the stem, slice in half and then cut them into smaller pieces. This will make it easier to eat as well as allowing each piece to soak up the great dressing.
Fresh brussel sprouts
Kale leaves
Some broccoli slaw was added but you could use anything like bagged cole slaw (without the dressing) as a 3rd greenery
Dried cranberries adds a bit of sweetness
Diced bacon is a must for me
Crushed or halved pecans are great
Pepitas or shelled pumpkin seeds are fabulous
Homemade Vinaigrette
Olive oil and red wine vinegar
Honey
Dijon mustard
Salt and pepper
Of course you can use bottled dressing or just olive oil and lemon juice if you'd rather, but this is pretty easy to throw together. I personally would make air fryer croutons too and serve them on top but that is up to you.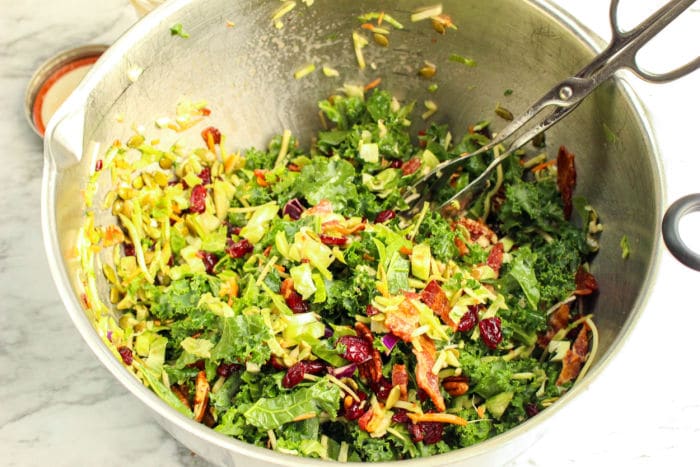 Cold Brussel Sprout Salad
You'll want a large bowl, a sharp knife or mandolin handy to get going. You could use a food processor to get them really fine or buy pre shredded brussel sprouts. Those aren't really common though, if so they'd be with the bagged salads.
In a bowl add all of your greenery. For the kale you'll want to cut out the thick stem and then dice it up into bite size pieces. Thinly slice the brussel sprouts small.
Add all your add ins and toss to combine. We love this salad with pomegranate arils too if I can find them.
Whisk together your dressing in a small bowl or mixing cup. Pour this on top your salad and toss gently so everything is coated nicely.
With this one and our cabbage salad it is really good to sprinkle some nuts on top when serving it too. Keep 1/2 cup of dressing to serve at the table for extra yum.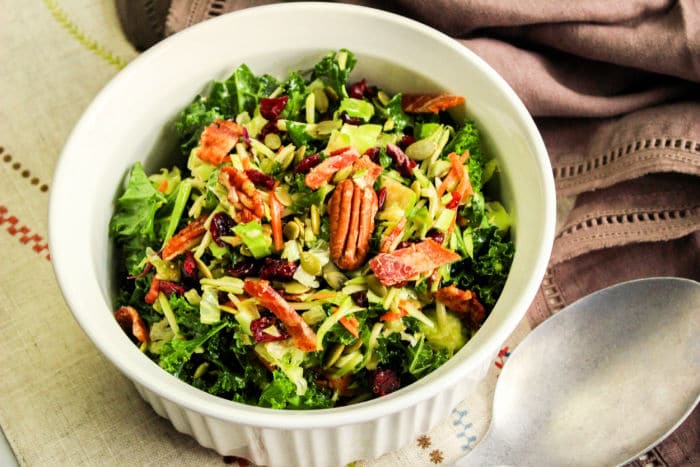 Kale and Brussel Sprout Salad
Generally I will say that salad leftovers don't save well, but this is an exception. That is, for a day it keeps well enough. In a sealed bag since the leaves are tougher than traditional lettuce they will hold up. I wouldn't push it beyond 24 hours though or it will be kinda' slimy and no bueno.
Looking for other easy brussel sprout recipes? We have a bunch since I became a lover later in age like;
There are lots of other kale recipes you will be surprised to try and love. That was another thing I thought there was no way I was going to like.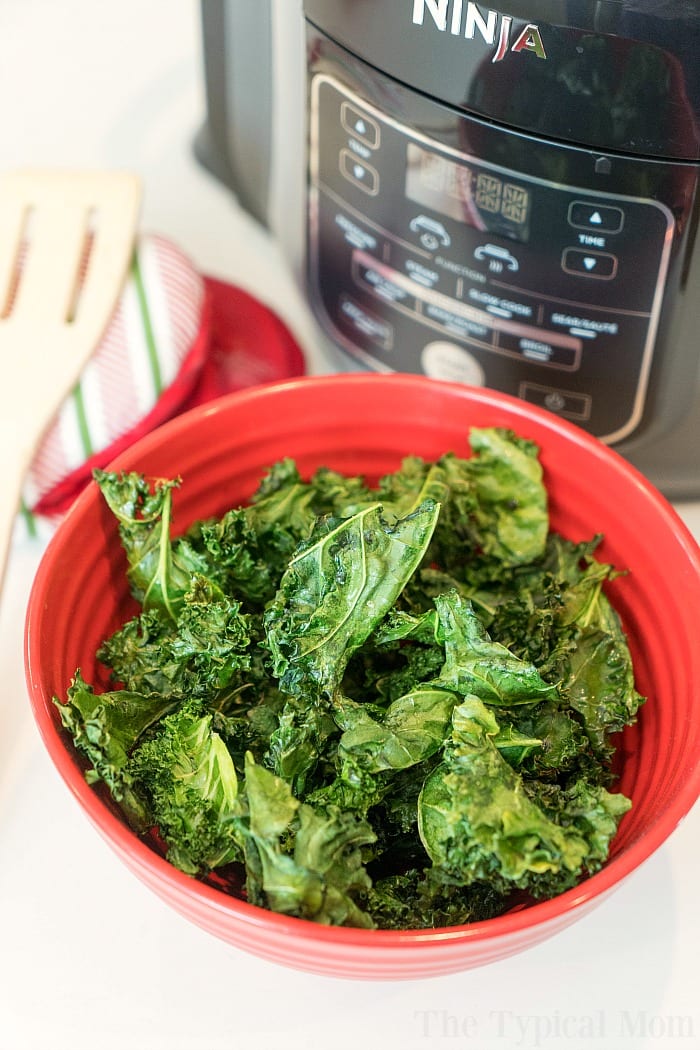 The first time someone said they cooked them into chips I thought they were nuts…and now I am saying the same thing to you! Believe me, I'm not kidding y'all. Rich in antioxidants this is another nutrient rich food that is a great snack. Start early with your kids when it comes to introducing veggies.
We did this as ours grew where they had to try one bite with every dinner served. Rotating throughout the week they eventually found ONE they liked and I'd serve that more often but with others in the mix. As time went on they learned to enjoy more than that one and you can see how that would go…….
Brussel sprouts were one of the last I have to say and cooked were preferred at first (with lots of parmesan cheese). Raw is a different texture for sure but now with this dressing it is a side dish I make rather often with burgers for sure.
Want to see a few of my favorite things that I am totally obsessed with?? Take a peek and see how many you might already have…twinsies!
Looking for more easy family recipes and tips? LIKE The Typical Mom Facebook page?
Then sign up for my free newsletter, and follow me on Pinterest! 😉
***** If you LOVED this recipe give it 5 Stars below and let everyone know what you thought about it. 😉
Shredded Brussel Sprout Salad
This shredded brussel sprout salad recipe with a homemade dressing is the perfect healthy holiday or brunch side dish that everyone loves.
Instructions
Toss all ingredients for salad together. In a small bowl whisk together dressing and pour on top. Toss together and serve.
Nutrition Facts
Shredded Brussel Sprout Salad
Amount Per Serving (1 oz)
Calories 595
Calories from Fat 396
% Daily Value*
Fat 44g68%
Cholesterol 26mg9%
Sodium 343mg15%
Potassium 853mg24%
Carbohydrates 46g15%
Protein 13g26%
Vitamin A 9318IU186%
Vitamin C 168mg204%
Calcium 180mg18%
Iron 3mg17%
* Percent Daily Values are based on a 2000 calorie diet.