These are the best dry rub grilled pork chops with a pork dry rub that will make you want seconds! Throw them on your smoker grill or charcoal barbecue and try them.
If that warmer weather is making you want to grill, it's time to learn all about how to make the best grilled pork chops with dry rub! Regardless of what you think you might know, all cuts of pork and pork chop recipes are not created equal. These simple tips will help you earn that title of grill master for sure! (affiliate links present, originally published 5/20)
Pork Chops on the Grill
Grilling pork is popular because it's not a hard meat to grill. As long as you're paying attention to how long you're grilling each minute per side and the overall pork internal temperature per piece.
Timing below is for "regular" 3/4″ sizes but if yours are huge this is how to cook 2 inch thick Pork Chops. Those are two of the biggest factors you need to be aware of!
Dry Rub Grilled Pork Chops
Once you get those two items down, you'll be well on your way to cooking up some mouthwatering bone-in or boneless pork chops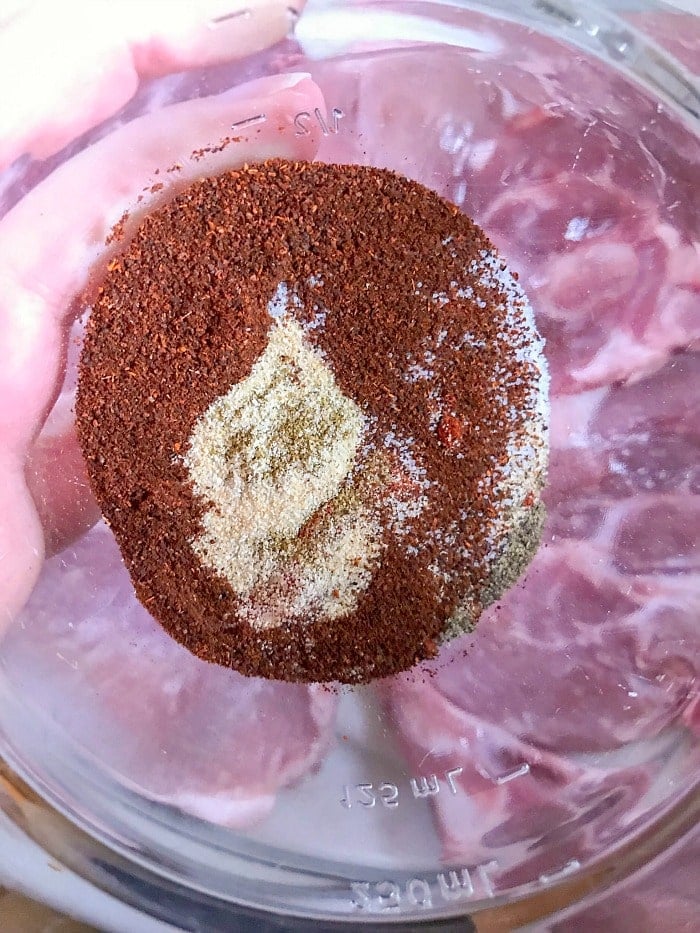 Grilled Pork Chops with Dry Rub
It's not always as simple as a set cooking time when you're grilling pork. Some loin chop pork cuts can be an inch thick while others aren't quite that much. They must be defrosted too. If not, follow how to cook frozen pork chops instructions.
How long do you cook pork chops on the grill?
The easiest way to figure out if your pork is done cooking is to cook it over medium-high heat and check the internal temperature before pulling it off the grill. The last thing you want to do is overcook this, it will dry out easily. Unlike a larger hunk of meat which you want pulled you don't want to cook this a really long time.
What temperature should pork be cooked at?
For your pork to be considered done and ready to pull off the grill, it needs to have an internal temperature of 145 degrees. You'll need to use a meat thermometer to make certain that it's the correct temperature and be certain to test it in the center of the pork, away from any bone.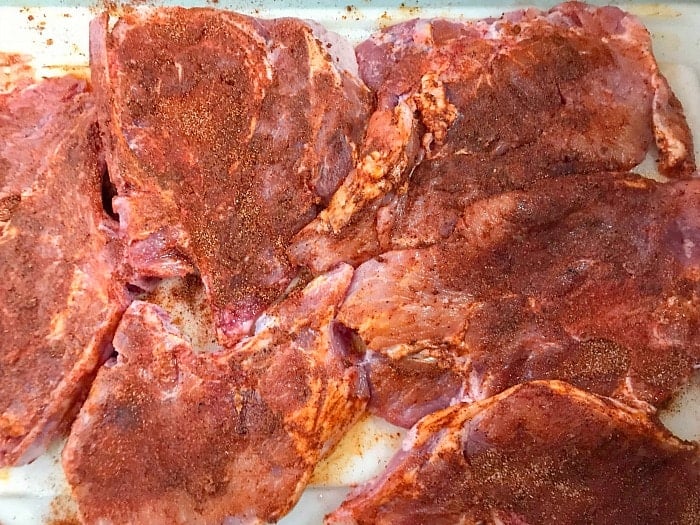 If it's at the right internal meat temperature, you can remove from the grill and allow it to rest for 3 minutes before serving.
Is it better to grill or fry pork chops?
This is what makes pork such a great meat to cook. You don't have to worry about your method of cooking really because it all comes out and tastes great. You can add pork chops to a grill pan or a grill and cook it over medium heat without worries.
Make certain that you're keeping your patience when grilling pork because there are some people that will crank it up on high heat and that isn't always the best solution.
This can cause it to cook unevenly or too quickly and really ruin the overall outcome of the pork. Keeping it on a medium heat setting and checking the internal temperature is a solid and steady plan.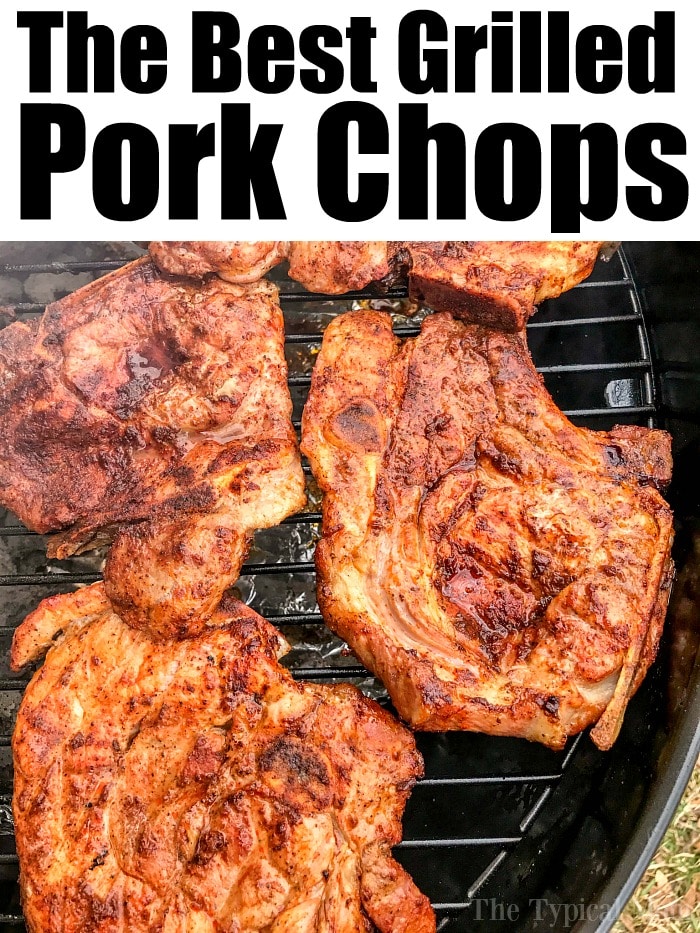 What are some ways that you can marinate pork?
This all just depends on what you like! Some people like their pork or even grilled chicken drumsticks to have a bit salty flavor so they use soy sauce as a marinade because it can help break it down a bit and possibly even make it more tender.
Using soy sauce as a marinade is also a good idea if you're thinking about slicing up the pork really thin and using it as a stir fry. Pairing that cooked meat up with some mixed veggies and steamed rice would make quite the amazing meal!
If you're looking for a little bit of subtle heat for your pork chops, you can easily grab a large bowl and toss in some olive oil and red pepper flakes and mix together.
Then, grab your cuts of pork and gently coat them in that to marinate for a while. Be prepared though – if you use enough red pepper flakes, you're really going to get quite the spicy flavor!
Our go to is this steak dry rub that's great on any meat really.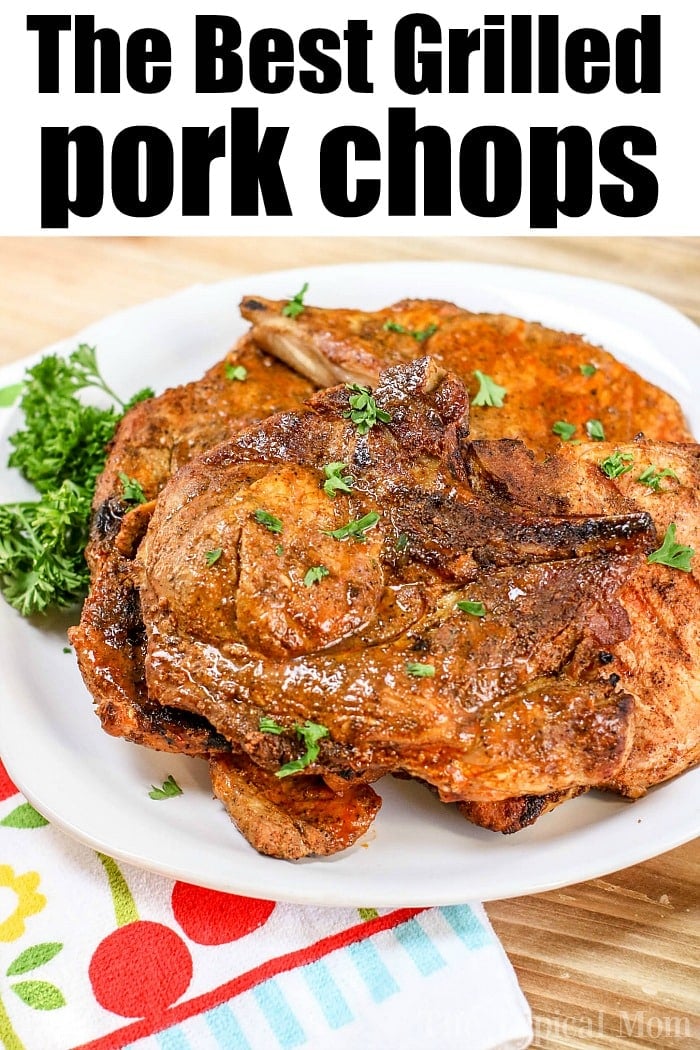 How to Grill Pork chops
Just don't just zap it quickly in the microwave, it's good for several days after you first grilled it. Another way that you can store and use later is to chop bone in pork chops up and make tacos. Add diced pieces to salads, or even add some to some homemade soups, too.
If you find that you can't eat it all in a few days after cooking it, simply add then into to a freezer-safe bag and into your freezer. You've just meal prepped an easy meal for some time in the future! Have a pressure cooker? Try our Instant Pot pork chop recipe.
How do you store leftover grilled pork chops?
After you've grilled up your pork, you can easily store it in the fridge to reuse for another meal. Simply reheating it as is and eating it later is one simple solution and as long as you reheat it nice and slow.
Want to use your smoker and grill? We have instructions for all things, even how to grill frozen burgers if you had a forgetful day.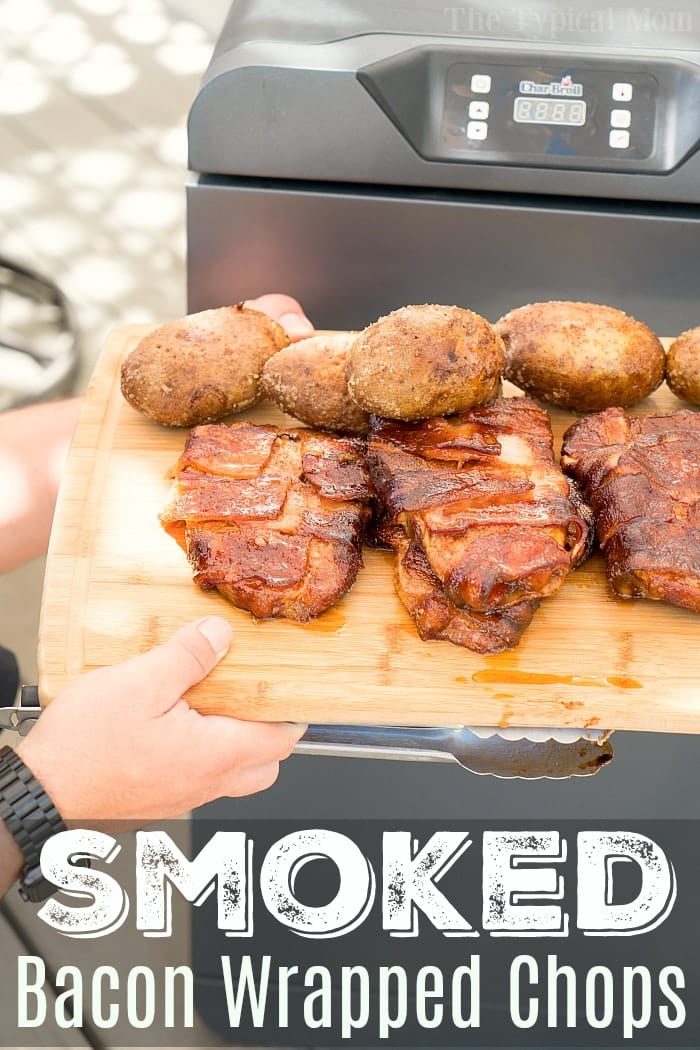 Want to see a few of my favorite things that I am totally obsessed with?? Take a peek and see how many you might already have…twinsies!
Looking for more easy family recipes and tips? LIKE The Typical Mom Facebook page?
Then sign up for my free newsletter, and follow me on Pinterest! 😉
***** If you LOVED this recipe give it 5 Stars below and let everyone know what you thought about it. 😉
Dry Rub Grilled Pork Chops
These are the best dry rub grilled pork chops that will make you want seconds! Throw them on your smoker grill or charcoal barbecue and try them.
Instructions
Mix together dry seasonings, then drizzle pork chops with olive oil and rub on both sides.

Rub dry seasoning on both sides and place pork chops in a gallon size plastic bag. Seal.

Allow to rest on the counter while you prep the grill or put in fridge for a few hours/overnight.

Heat grill to approximately 500 degrees, oil grates before putting meat on.

Remove pork chops from the bag and put on grill with direct heat for 2 minutes on each side. Then move pork chops to indirect heat on grill and continue cooking for 15-20 minutes or until internal temp. is 145 degrees.

Remove chops and wrap in foil, allow to rest for 10 minutes to keep juices inside.
Nutrition Facts
Dry Rub Grilled Pork Chops
Amount Per Serving (3 oz)
Calories 240
Calories from Fat 108
% Daily Value*
Fat 12g18%
Cholesterol 90mg30%
Sodium 462mg20%
Potassium 574mg16%
Carbohydrates 2g1%
Protein 29g58%
Vitamin A 1285IU26%
Calcium 18mg2%
Iron 1.5mg8%
* Percent Daily Values are based on a 2000 calorie diet.