We made this pressure cooker chili verde from scratch the other night and it was amazing! Tender pork roast with chile verde = a ton of flavor in no time at all. Use a fresh or frozen Instant Pot pork roast, cut up thick chops or shoulder for this
This hearty meal works in any brand you have, a Crockpot Express or Ninja Foodi works perfectly to get the meat fork tender for dinner tonight.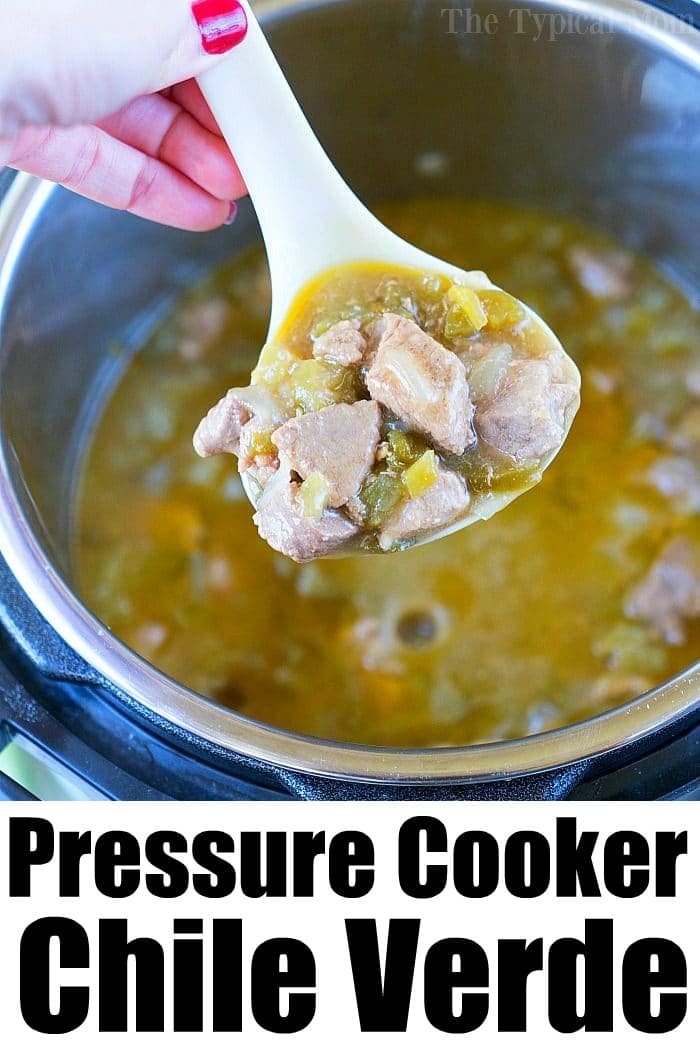 Every once and a while my husband comes up with a recipe he'd like to try in our Instant Pot, this week we was bound and determined to master pressure cooker chili verde and I must say it was delicious!! Definitely going on our list of favorite Instant Pot recipes here on The Typical Mom and we will definitely make this again! (originally published 6/18, affiliate links present)
Ninja Foodi Chili Verde
You can use any brand you have at home. Whether you use a Crockpot Express or Ninja Foodi it really doesn't matter. They all basically work the same for this.
Pork was used for this but some swear by beef, that is an option as well. I feel like white meat will get more tender though and is great thrown inside tortillas with some cheese as a quick taco meal on Tuesdays.
FIRST – You should sign up for my free newsletter so you get new posts emailed to you twice a week and never miss out on anything! Now let's start with a few basic tips:
Make sure to Bookmark our InstaPot recipes page. We add new ones each week!
Then PRINT this —–> Instant Pot cooking times cheat sheet that will help you understand how long meat, vegetables and beans take to cook in your pressure cooker.
For reference, this is the pressure cooker I have (a 6 quart) and use for all recipe creations.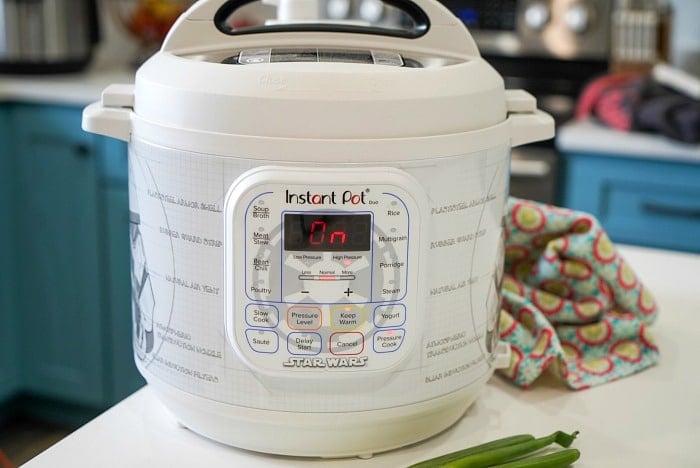 Pressure Cooker Chili Verde Chicken
This chili verde recipe is simple. Only a few ingredients bring a whollop of flavor to every single bite. I used canned chiles and jalapenos but of course you could use fresh if you'd rather. I am all about simple meals for busy families so the less time it would take me to prep a meal I will take it. You can even use cubed chicken breasts instead of pork
We have a ton of pork in our freezer. So we've been coming up with different easy meals that our family would enjoy so we could share them with you too. You see we tend to buy meat in bulk from local farmers around here. This does a few things; we know it's organic, buying in bulk saves a few dollars, and saves trips to the store.
During the winter time when the big snows hit this is big for me. I'd rather travel down to my deep freezer than the store any day. The first time we used one of our pork roasts I made this easy Instant Pot pulled pork with a sweet Asian inspired sauce. It was perfect for sliders!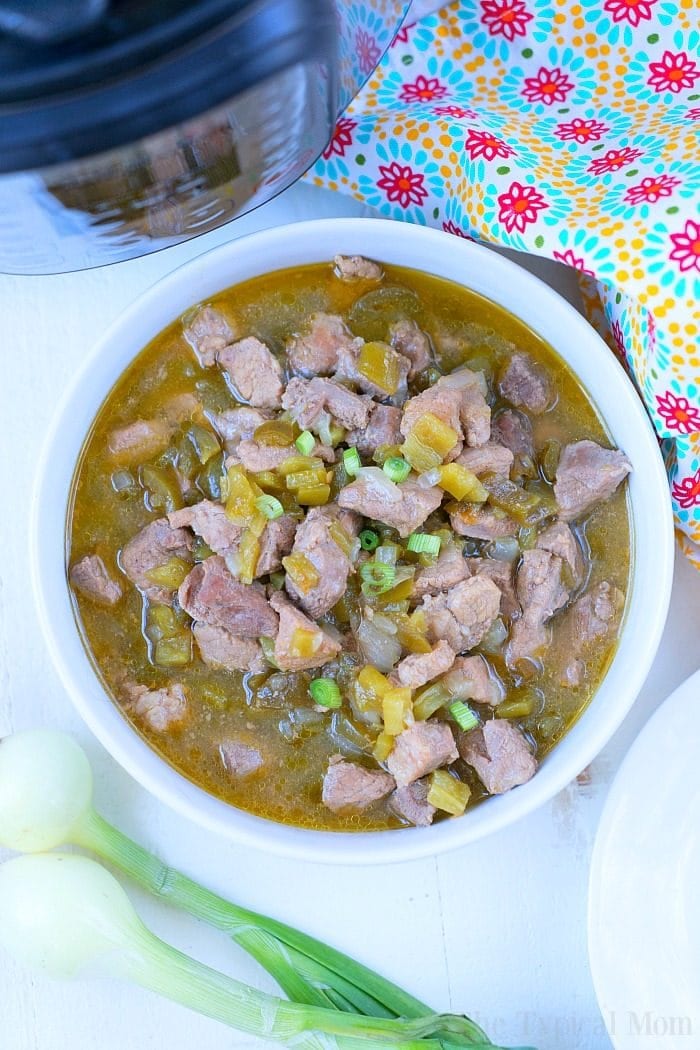 Instant Pot Chili Verde
This is something we have made time and time again over the years since this first go around. If I don't have time to wait all day and cook this in my slow cooker this is my go to for sure.
Pressure cooker

a Ninja Foodi or Crockpot Express can be used too

3 lb. pork roast is what we used
canned green chiles

or make smoked chiles

just remove seeds and stems
add in roughly chopped
if not it will have high heat to the dish

diced jalapenos, I used canned
green enchilada sauce

or salsa verde

Onion and garlic could be added too (minced)

some like diced green peppers as well

Olive oil
What is chile verde made of?
The meat is typically chunks of pork shoulder in a green chile sauce of jalapeños, chiles, garlic, and tomatillos. He couldn't find the last ingredient so those were left out but I don't think it was missing anything at all at the end of the day.
You can of course add those if you can find them. Some use Anaheim peppers or poblano peppers as well. You can use your Ninja Foodi or any brand machine you have.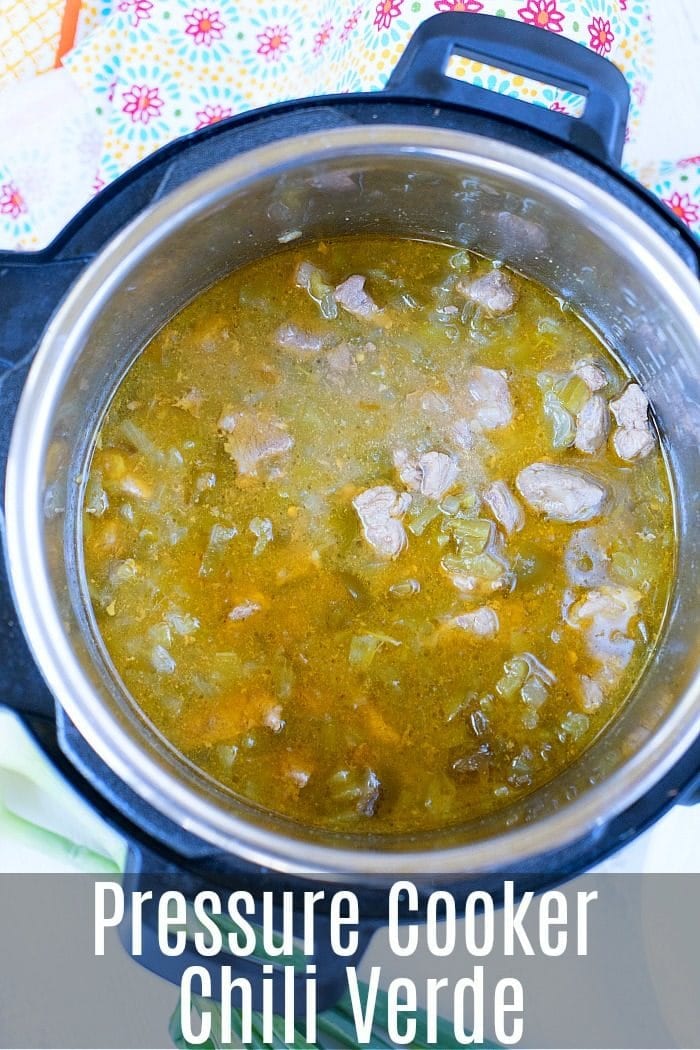 Colorado Pork Green chili Instant Pot
If you love hearty meals with a kick…this definitely has some heat. You will love this easy pressure cooker recipe!
I would say the heat level on the amount of ingredients we added was maybe a 6 out of 10. Just decrease the jalapenos if you want it milder or you could leave them out entirely. When it comes to the sauces you can typically find a range too. From mild to medium and hot make sure you read the labels!
I don't like extreme heat. This was just on the verge of being too spicy, but just enough to make it really tasty!
I had only cooked a pork roast in a whole form but this time we removed most of the fat first, and cubed it so it didn't take nearly as long to pressure cook. It came out so tender I just couldn't stop picking up more and more pieces and popping them into my mouth when it was done.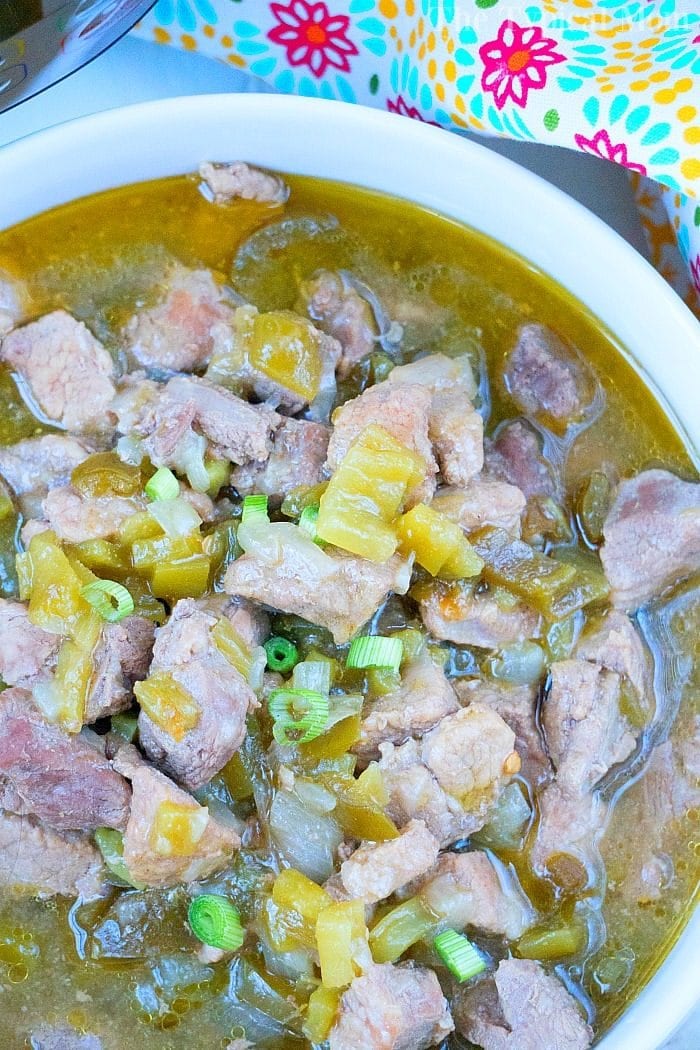 Yes it takes quite a while to cook pork so tender it just falls apart when touched with a fork but not under high pressure like this! That is why this is my go to method for cooking meats of any kind, especially large cuts. It would take almost all day to cook it any other way and get it this fork tender, that is why I'm obsessed with this machine.
Smaller pieces aren't as difficult to cook. Yes we make the best pork chops in the oven still but when it comes to really large chunks like this, the IP is the way to go. After you try this you may never use your oven again. 😉
How do you thicken green chili?
Whisk together 1/4 cup of cold water or broth and 2-3 tbsp of flour or cornstarch until smooth. Set your pressure cooker to saute and stir that into the chili. Once the liquid boils it will begin to thicken.

Allowing it to sit and cool for 15 minutes at the end will thicken it as well.
Initial cooking time is just 30 minutes on high pressure which is really fast! I'd venture a guess that if you baked the same thing in a dutch oven it would be well over 3 hours to get the same results.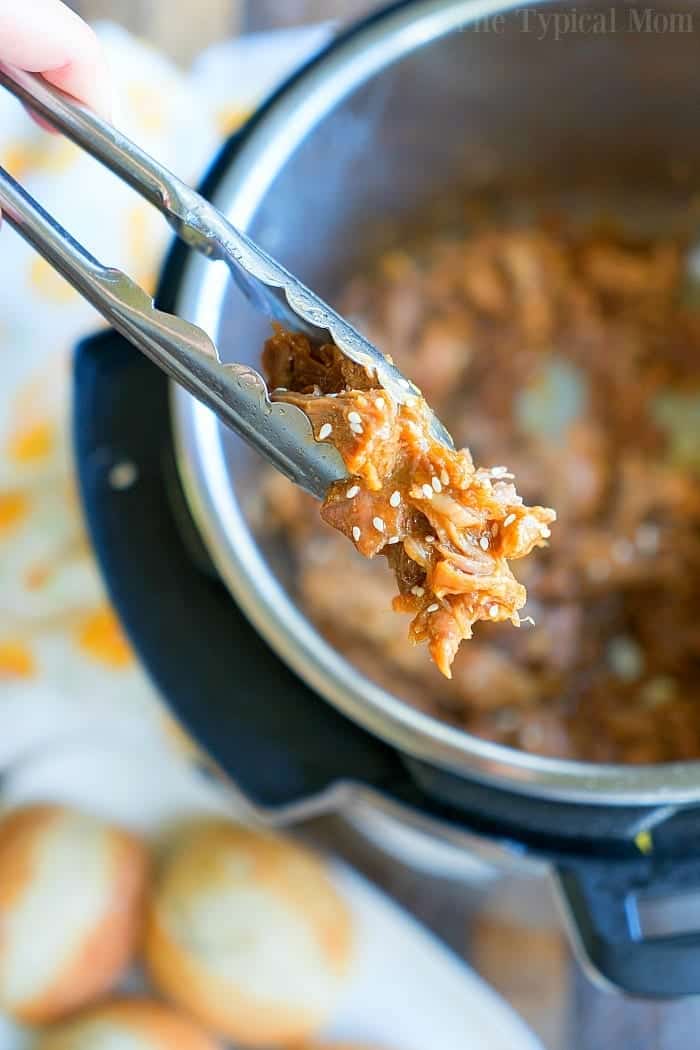 Looking for other Instant Pot dinner recipes? I mean we have a lot on our site because I use it almost on a daily basis but I will list just a few that might peak your interest after making this one;
What to serve with your pressure cooker chili verde:
Top with sour cream and add cilantro to the top is great when making tacos.
Serve it up in bowls with white rolls on the side. Sometimes we just serve it over white rice too!
Can you freeze chili verde?
Typically it can be refrigerated for up to 4 days if you have leftovers. If you don't think you'll eat it up in that time I'd store it in freezer bags, lay them flat and freeze. That way you can defrost and enjoy within the next 3 or 4 months. The tomatillo base (if you cooked tomatillos) can be frozen for up to 3 months too.
Want to see a few of my favorite things that I am totally obsessed with?? Take a peek and see how many you might already have…twinsies!
Looking for more easy family recipes and tips? LIKE The Typical Mom Facebook page?
Then sign up for my free newsletter, and follow me on Pinterest! 😉
***** If you LOVED this recipe give it 5 Stars below and let everyone know what you thought about it. 😉
Pressure Cooker Chili Verde
We made this pressure cooker chili verde from scratch the other night and it was amazing! Tender pork roast with chiles with a ton of flavor and spice.
Instructions
Remove fat from outside of pork roast (optional), cube it into 1.5″ pcs.

Set Instant Pot to saute and add olive oil and pork roast, brown outsides of meat then turn pot off/cancel.

Remove meat and deglaze pot using your 1 c of broth to get bits of meat off bottom of pot (deglaze instructions above recipe card). Leave chicken broth in pot.

Put meat back into pot with diced onion and enchilada sauce.

Close lid and steam valve and set to pressure high for 30 minutes.

Do a quick release and add diced jalapenos and chiles.

Put lid on and close steam valve again and set to pressure high for 10 minutes.

Do a quick release and enjoy!!
Nutrition Facts
Pressure Cooker Chili Verde
Amount Per Serving (3 oz)
Calories 458
Calories from Fat 144
% Daily Value*
Fat 16g25%
Cholesterol 171mg57%
Sodium 1138mg49%
Potassium 1087mg31%
Carbohydrates 10g3%
Protein 62g124%
Vitamin A 640IU13%
Vitamin C 6.8mg8%
Calcium 21mg2%
Iron 2.2mg12%
* Percent Daily Values are based on a 2000 calorie diet.